Volcánes Acatenango and Fuego.
During our three week hiatus from cycling at Lago Atitán we climbed the popular local peak Indian Nose a couple of times. On our second visit we hiked in the dark from San Pedro and arrived at the summit an hour and a half before sunrise. This peak on the crater rim is so steep that from the top you feel as if you are hanging over the lake. The shadowy, conical forms of Guatemala's volcanoes seem to march away in the distance towards Antigua and beyond, and they all sit dormant but one: Volcán de Fuego.
As we stood in the dark that morning, Fuego repeatedly erupted with brilliant red bursts that shot up into the night sky. As the stars faded and the brightness of morning grew the red glow disappeared, replaced with ash columns that drifted lazily away from the summit of the cone. We knew we had to see this closer up.
The very active cone of Volcán de Fuego sits only two kilometres from Volcán Acatenango (3976m), which has become a very popular climb for both tourists and locals alike. Several outfitter and guide operations run from the enchanting colonial town of Antigua which sits in a highland valley, hemmed in by both Fuego, Acatenango and the slightly smaller Volcán de Agua. From high on Acatenango hikers have a grandstand view of Fuego erupting, as it pulses towering columns of ash into the sky by day and by night, firey rocks that tumble down its slopes.
Lacking both clothing for sub zero temperatures or backpacks we used the services of a local community guiding service to climb the mountain, but departing from their usual itinerary of only one night on the mountain we took extra food and water and stayed another night independently.
After collection by van in Antigua we met with 16 other people at the guides' operations base at a house in the village of La Soledad, where we hired warm jackets, gloves and hats to supplement the leggings and fleece jackets we'd picked up for a few dollars in the Antigua market. We repacked our gear into a couple of hired packs, and in a move inspired by the greatest imperial explorers also hired a porter to carry our extra eight litres of water, on top of the eight litres we had between us already, as there's none on the mountain.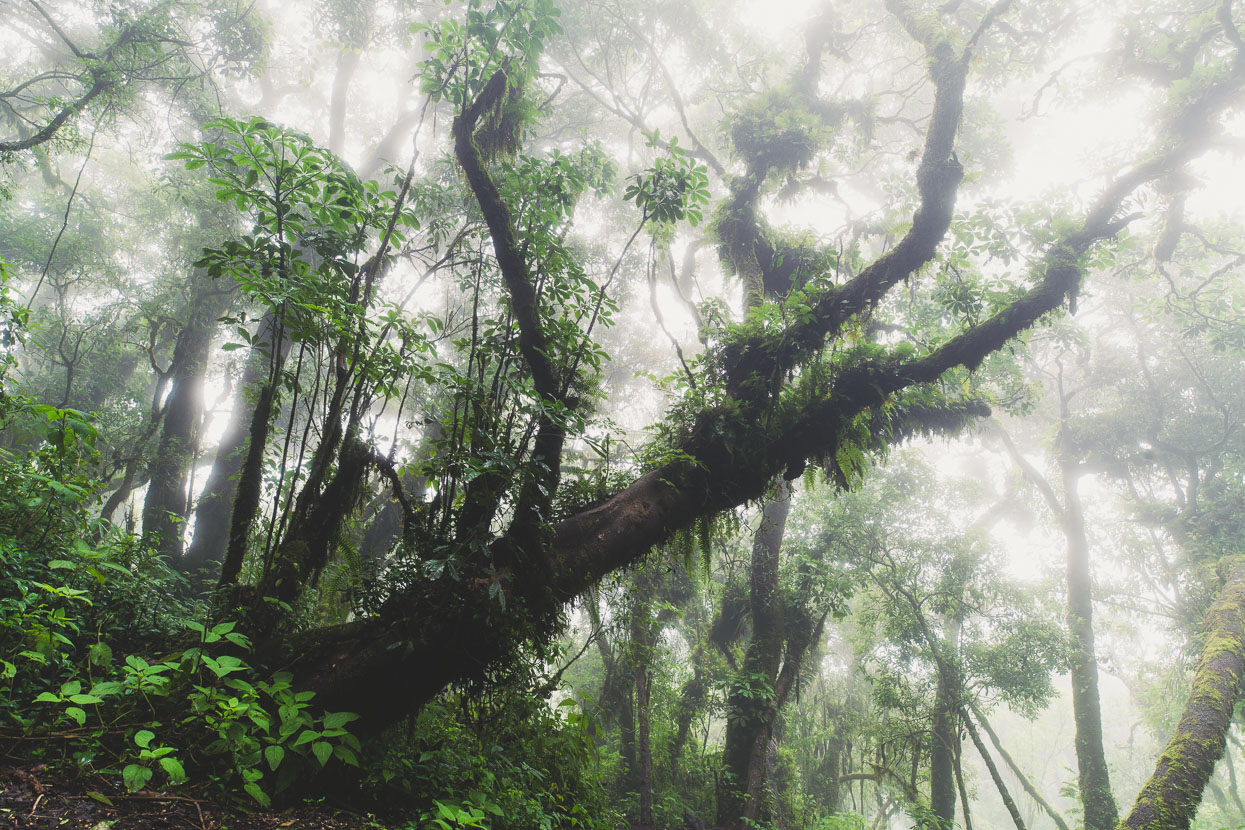 The trail starts steeply up through farmland. As we climbed higher we left behind the rich green uniformity of the maize fields and climbed into the mist and the cloud forest. Gnarled trunks, sometimes laden with ferns, spiraled towards the canopy and mosses draped the branches; it reminded me a lot of NZs west coast forest. Finally we broke above the cloud into pine forest, which grew from tussock slopes dotted with flowers.
We couldn't see Fuego as we ascended, but its occasional booms reminded us it was there, as did the volcanic ash that sprinkled down on top of us as we walked. At first we thought it was raining. Higher up the mountain the ash was building up on the bigger tree leaves.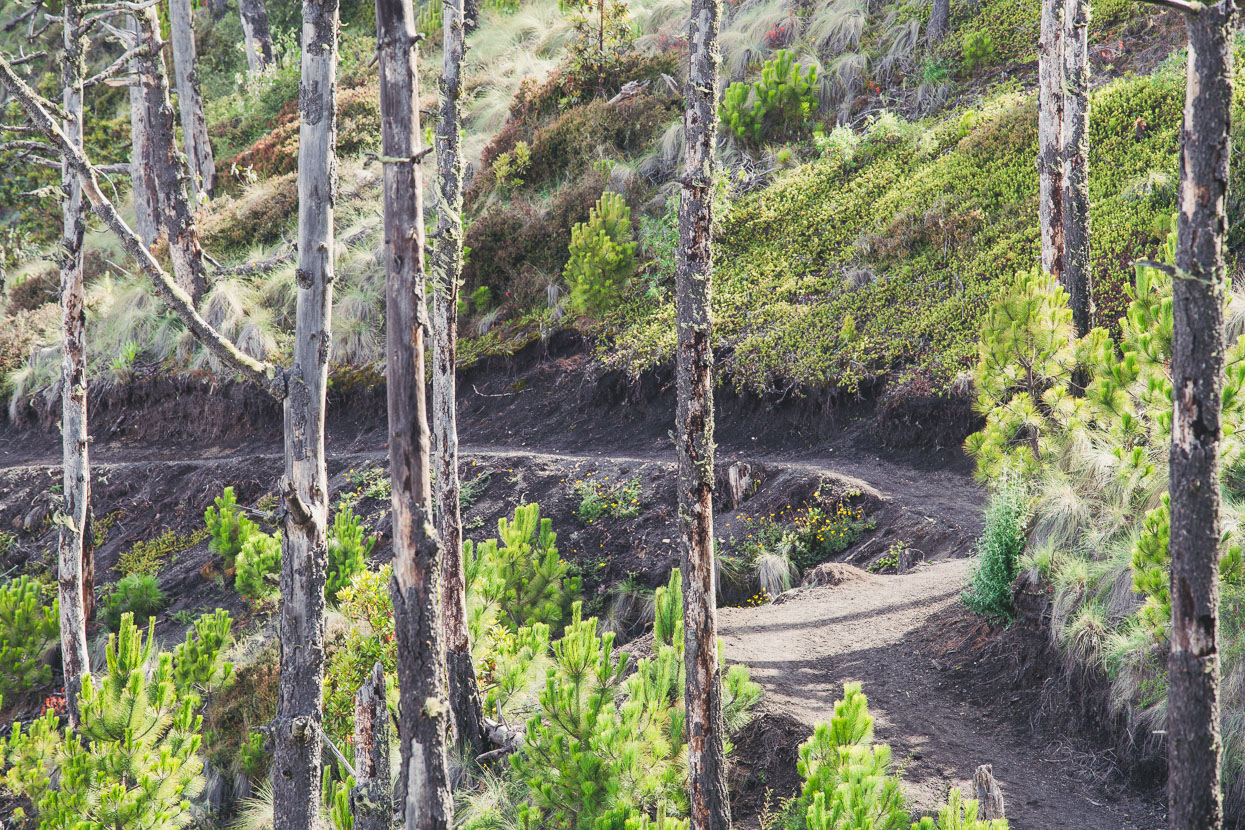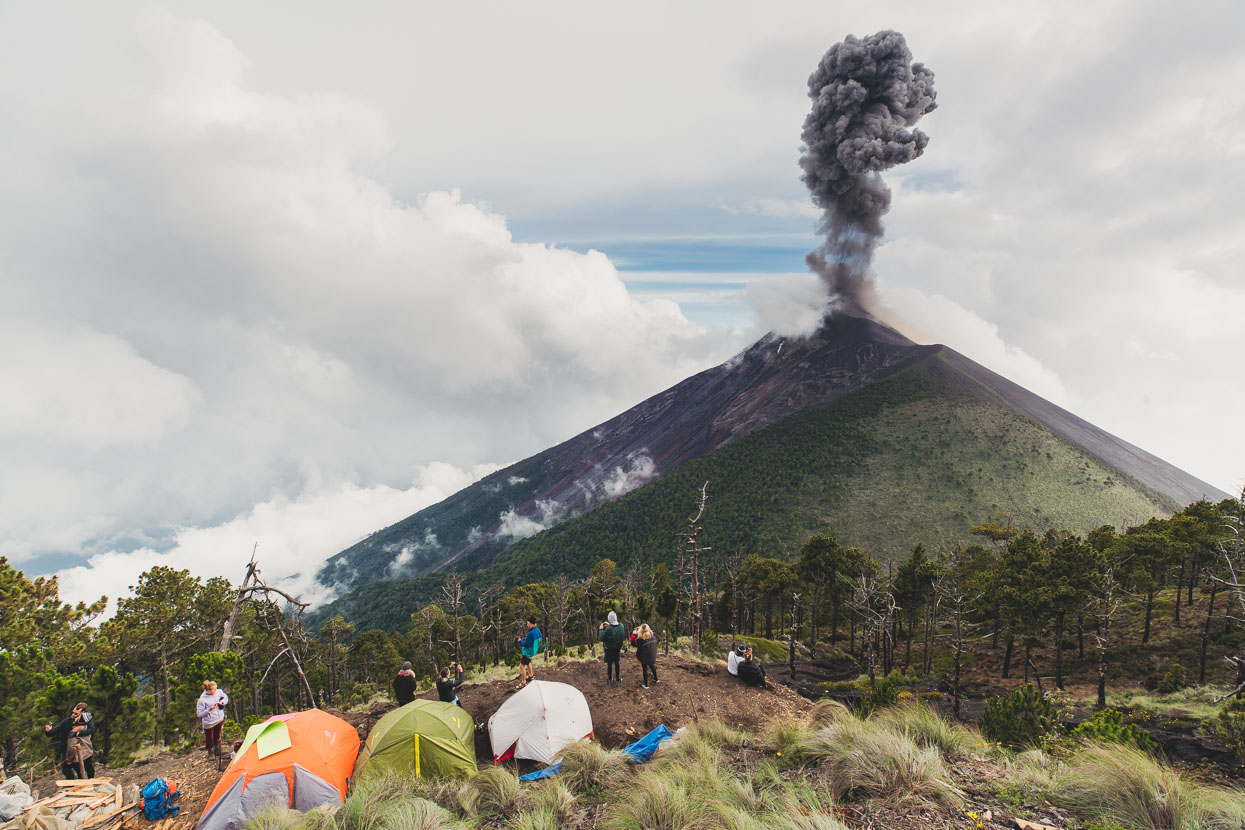 After a climb of roughly 1200 metres we reached a ledge chopped into the mountainside about 350 vertical metres below the summit that the guides use as basecamp. Tents were pitched while people settled in to watch the spectacle of Volcán de Fuego.
With regularity Fuego spews ash and rocks into the sky – usually in a rapidly growing column of roiling rock fragments and dust before billowing out into a mushroom cloud suspended in slow motion against the sky. Sometimes the eruptions are accompanied by a percussive boom that shakes the ground we stand on.
A steady westerly was blowing the giant ash clouds our way and about 15 minutes after each eruption it sprinkled down on our tents, which the guides eventually covered with large sheets of plastic. Between eruptions I'm forced to cover my camera with a dry bag to keep the ash off it, but still my focus ring starts to make crunching sounds.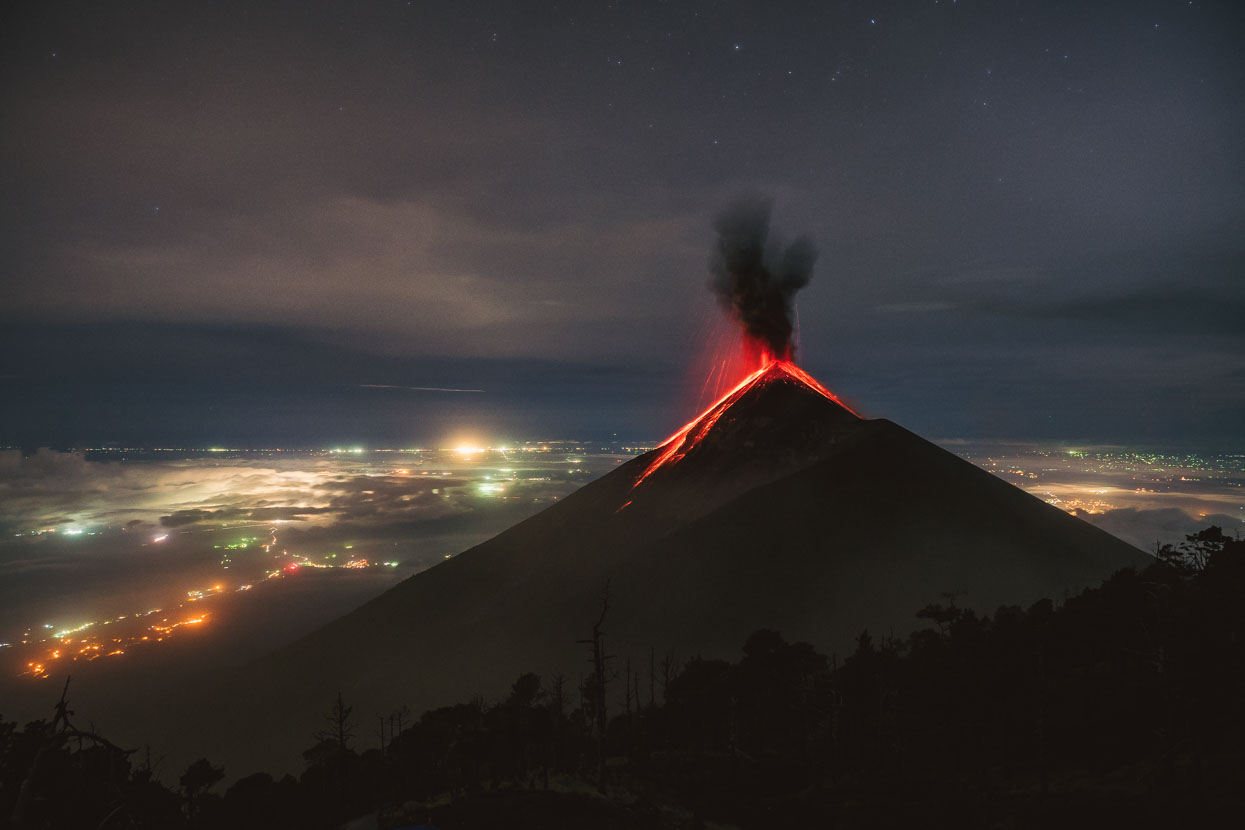 By night is when Volcán de Fuego really turns on its show and the reason for its name Volcano of Fire becomes clear.
Fuego's strombolian eruptions – which by day are barely distinguishable from the ash eruptions – throw fiery red cinder and lava bombs far into the sky and tumbling hundreds of metres down the mountain's slopes. Sometimes these explosive displays come frequently and we're all woken by the mountain's booms.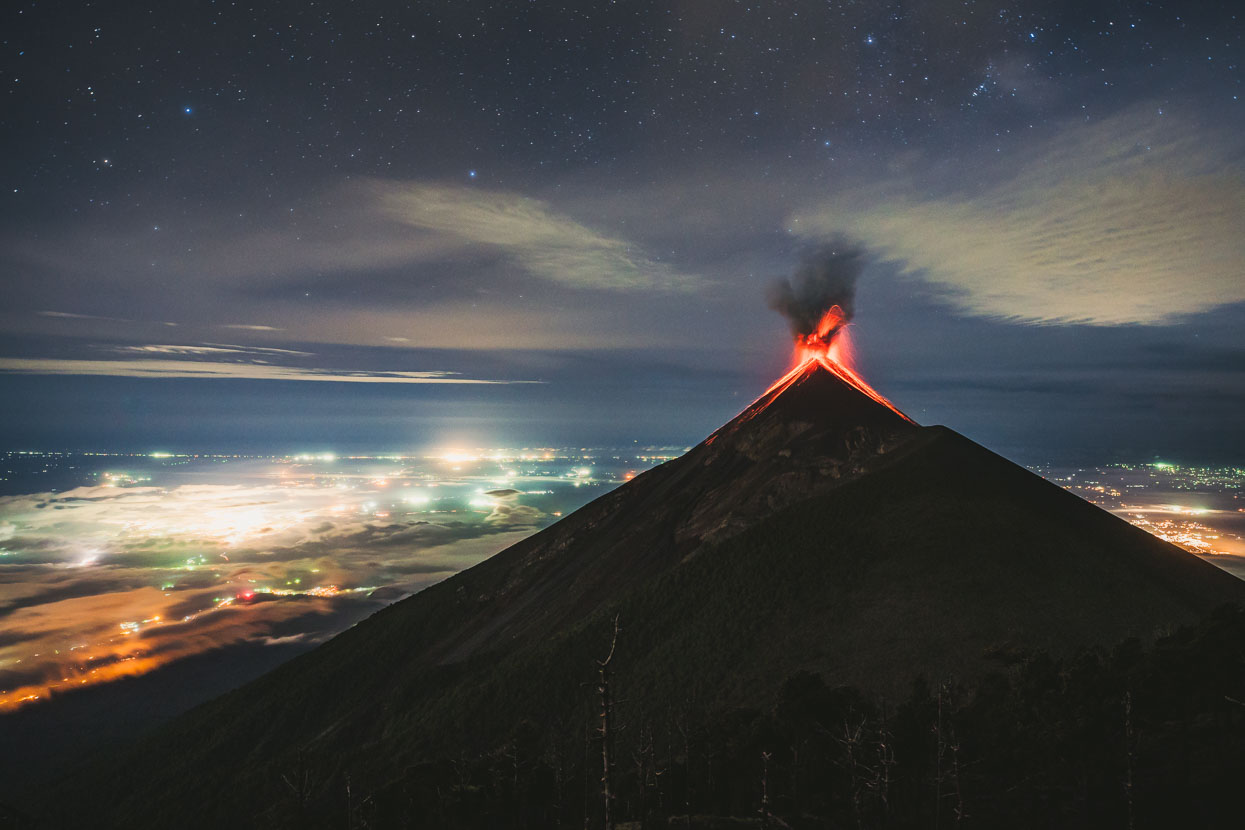 Beyond the mountain, a broad volcanic plain – dotted with the lights of hundreds of settlements – slopes down to the Pacific Ocean.
The guides' ramshackle shelter of pine logs and plastic sheets glows from the light of a fire while we look east towards Volcán de Agua (3760m) and the rest of Guatemala's volcanic chain beyond. Sometimes we can see a red glow from the also active Volcán Pacaya.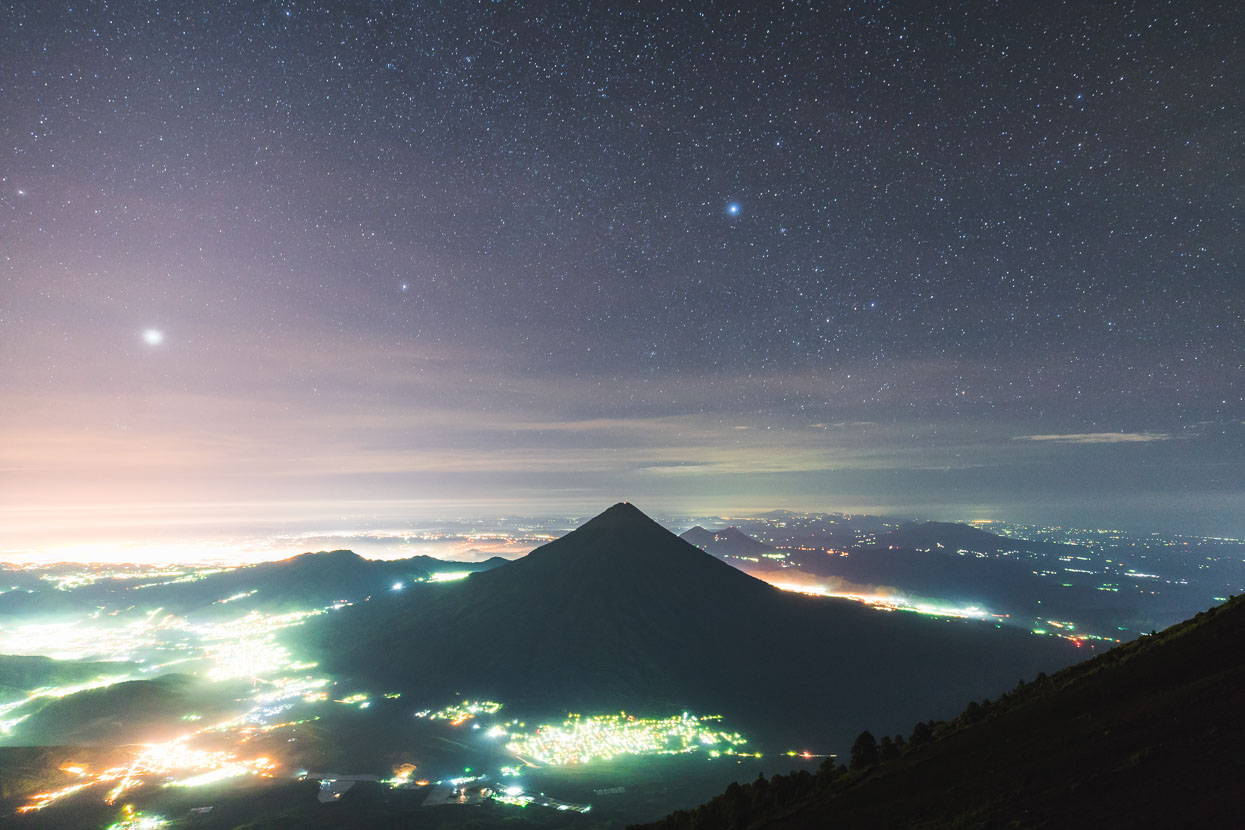 Normally the guided groups depart camp for the Acatenango summit climb at about 4am, but I'm keen to get some photos with the stars so we leave about 30 minutes earlier. The guides won't let us go on our own though and so one of the three guides accompanies us up to the summit and waits while we sit in the cold and dark making photographs. This shot's looking towards Volcán de Agua again with the lights of Antigua and Guatemala City below.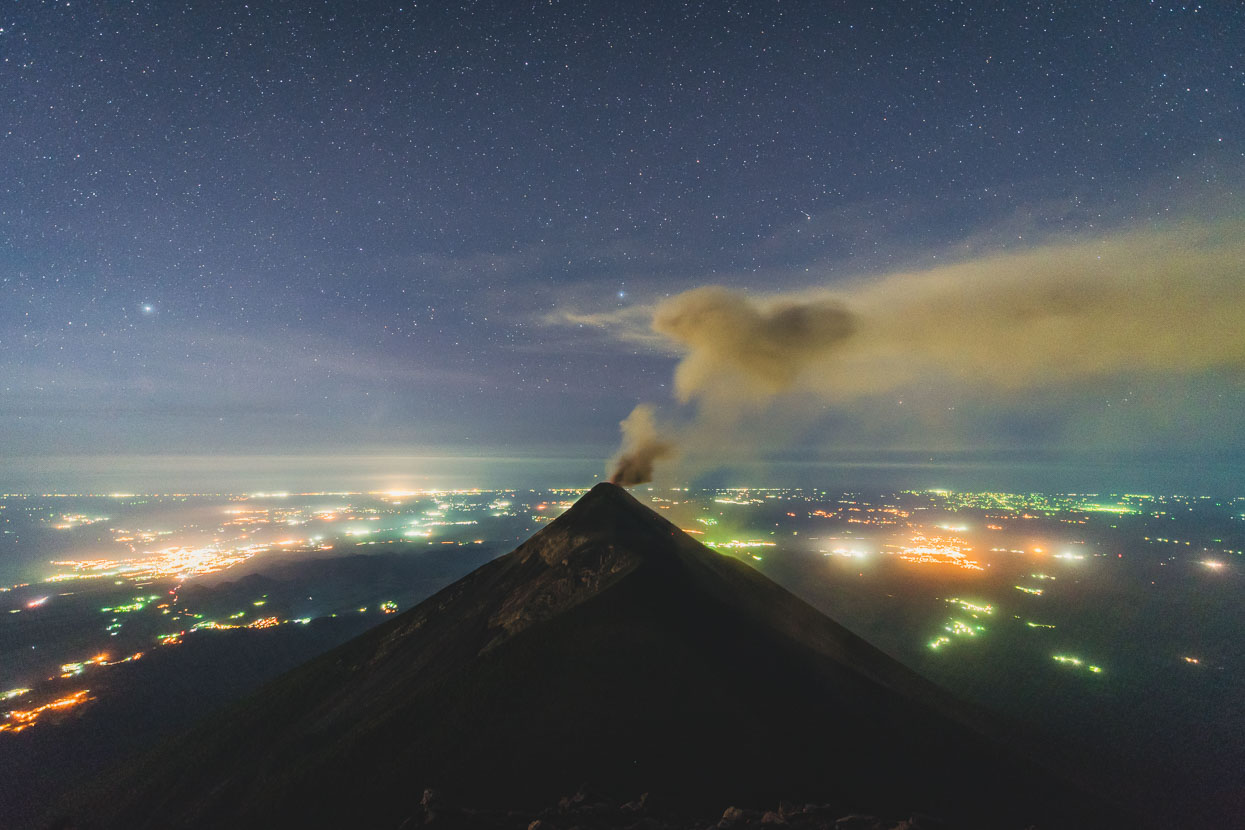 We reach the barren, breezy summit after about 40 minutes and find a semi sheltered spot to wait for the dawn, looking straight towards Fuego and the plain. Fortunately the wind had changed to an easterly overnight, blowing the ash into a long stream and away from us.
An 8 second exposure as an ash eruption spirals into the sky and glowing cinder rolls down the slopes.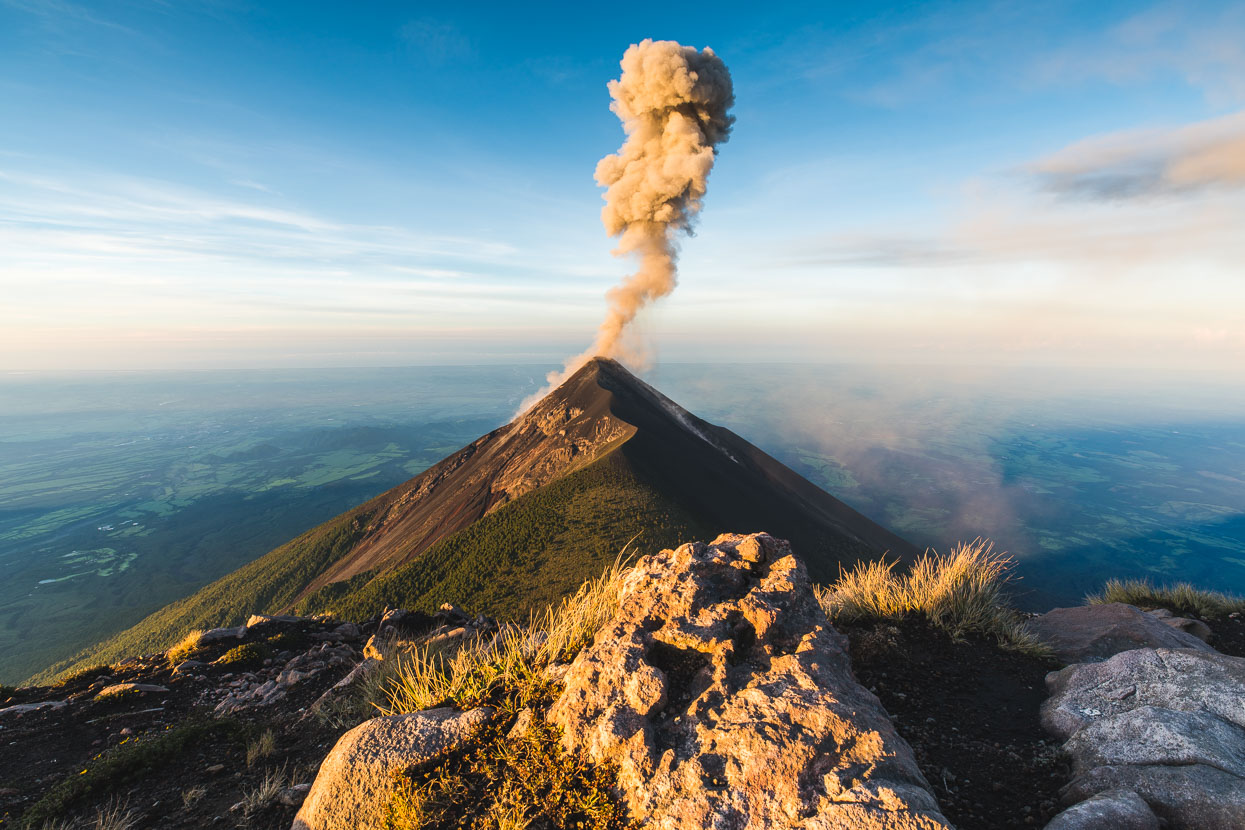 The newly risen sun brings more colour and detail to the landscape, as the ash continues to rise into the sky.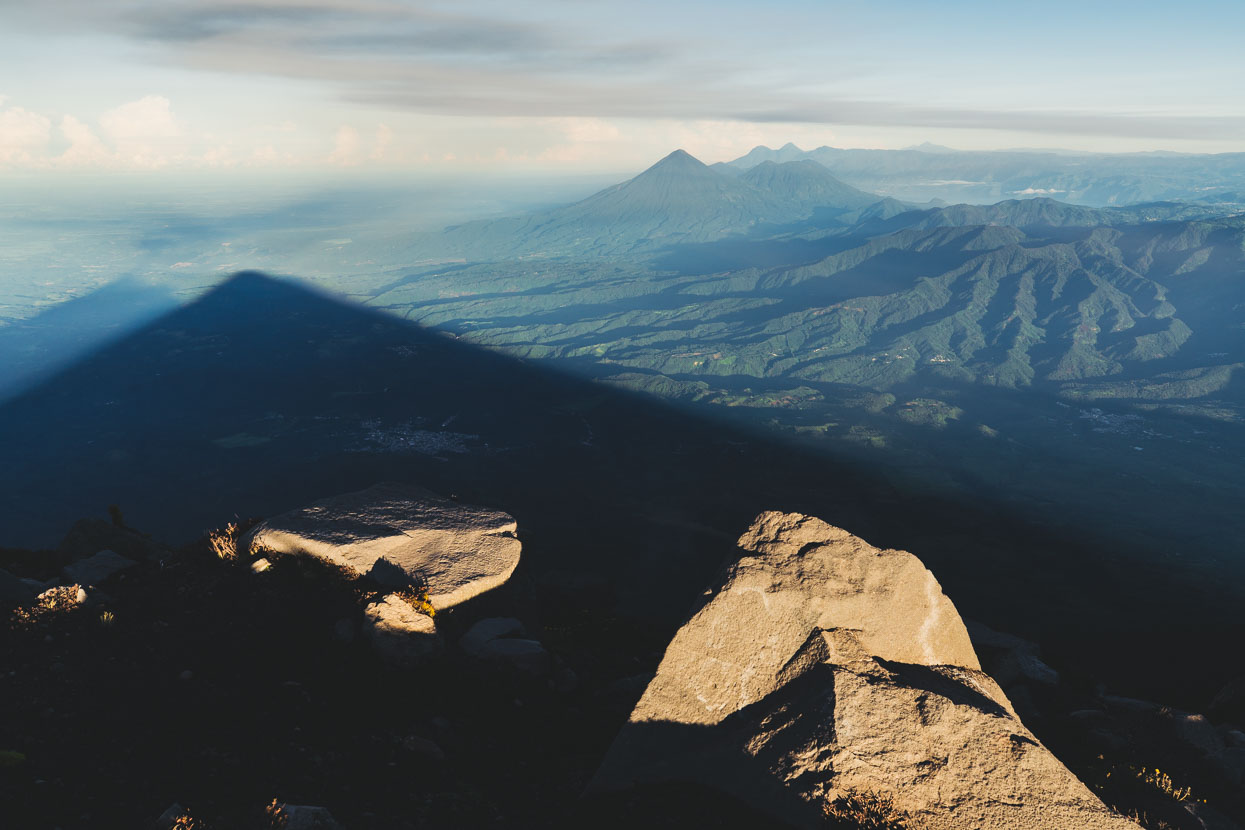 Looking north west from the crater rim back towards Lago Atitlán and Volcan Atitlán (left). Fuego and Acatenango throw their shadows across the land.
By this time the rest of our group was also enjoying the morning light and wandering around the scoria cone of Acatenango. Our guide Samuel had finally warmed up after his cold wait with us too…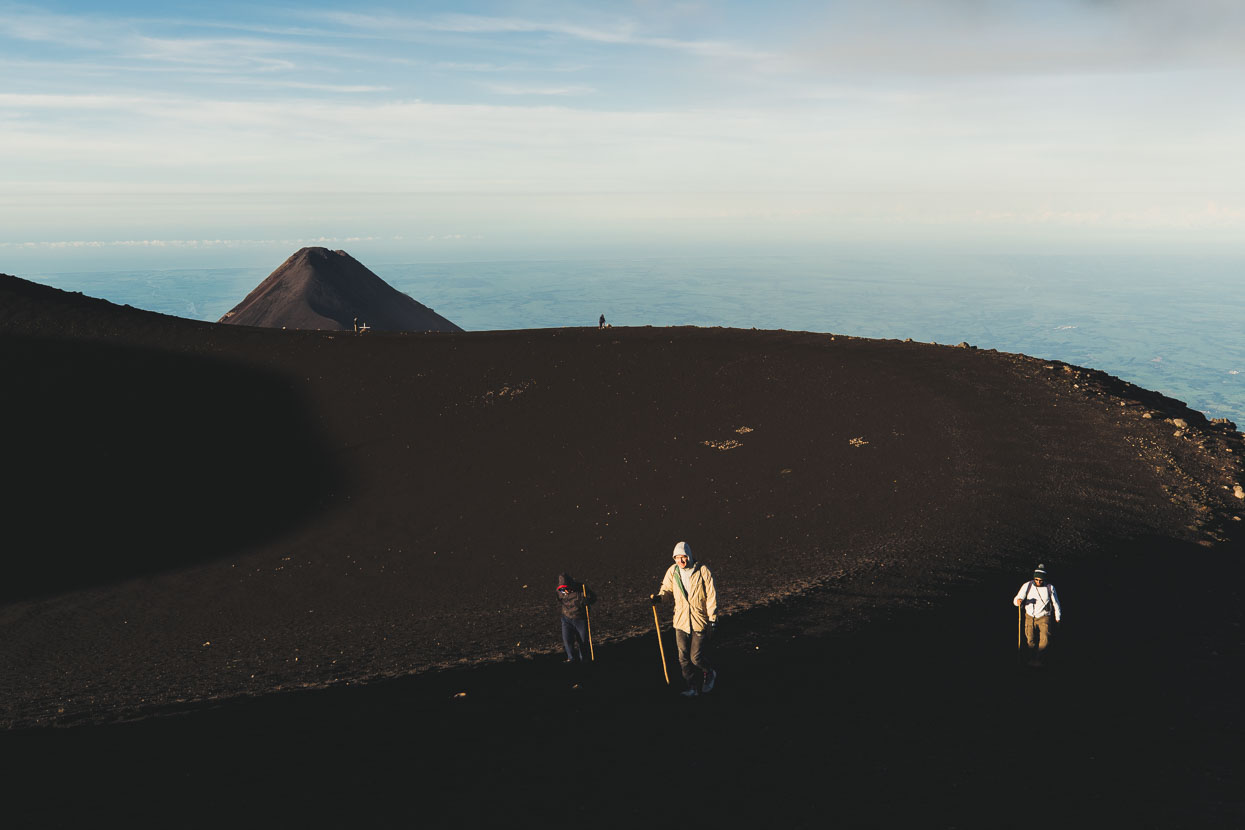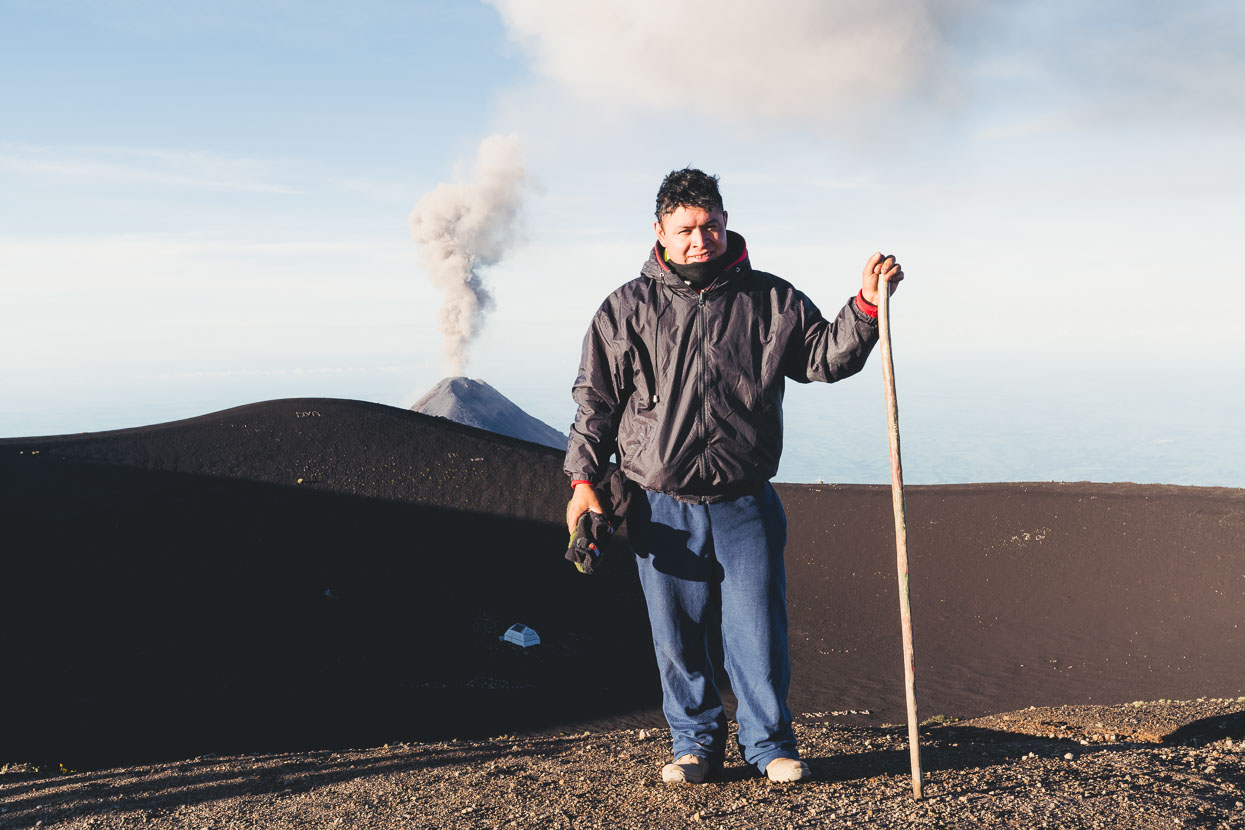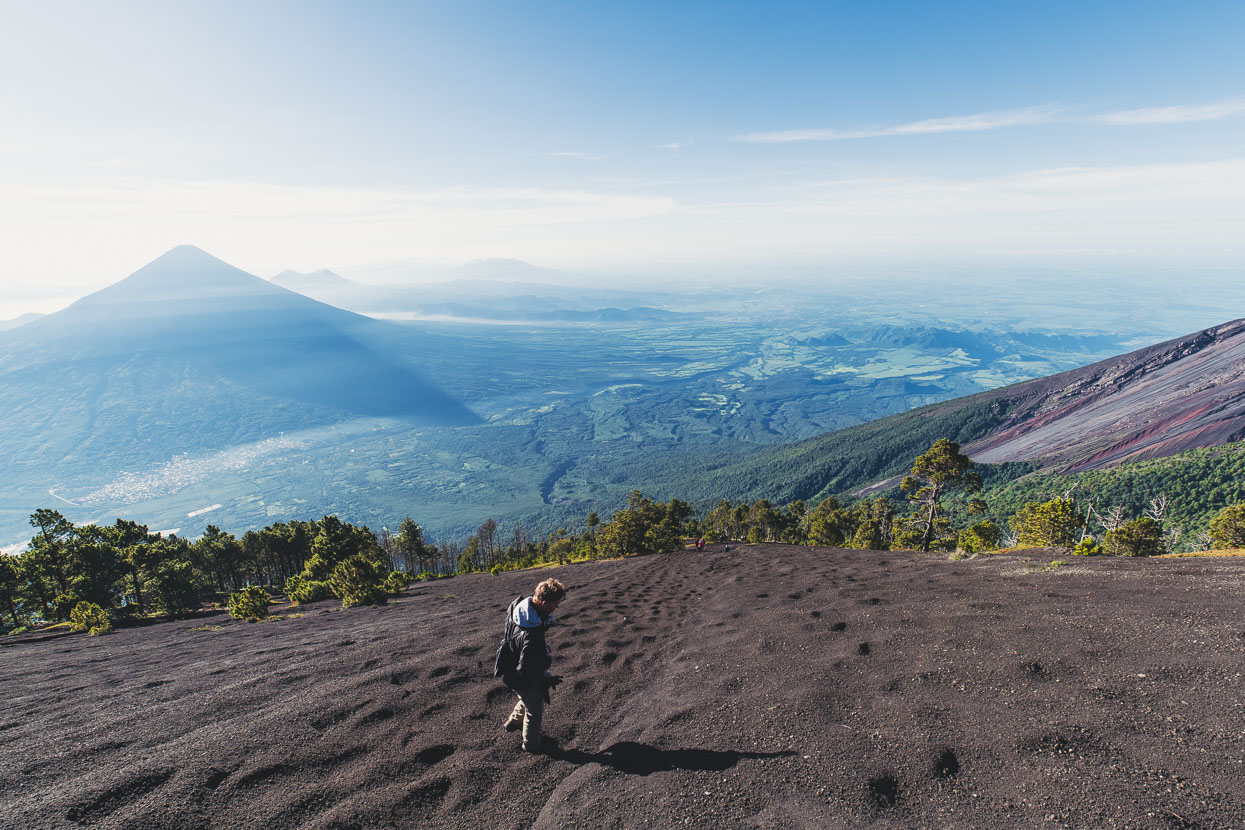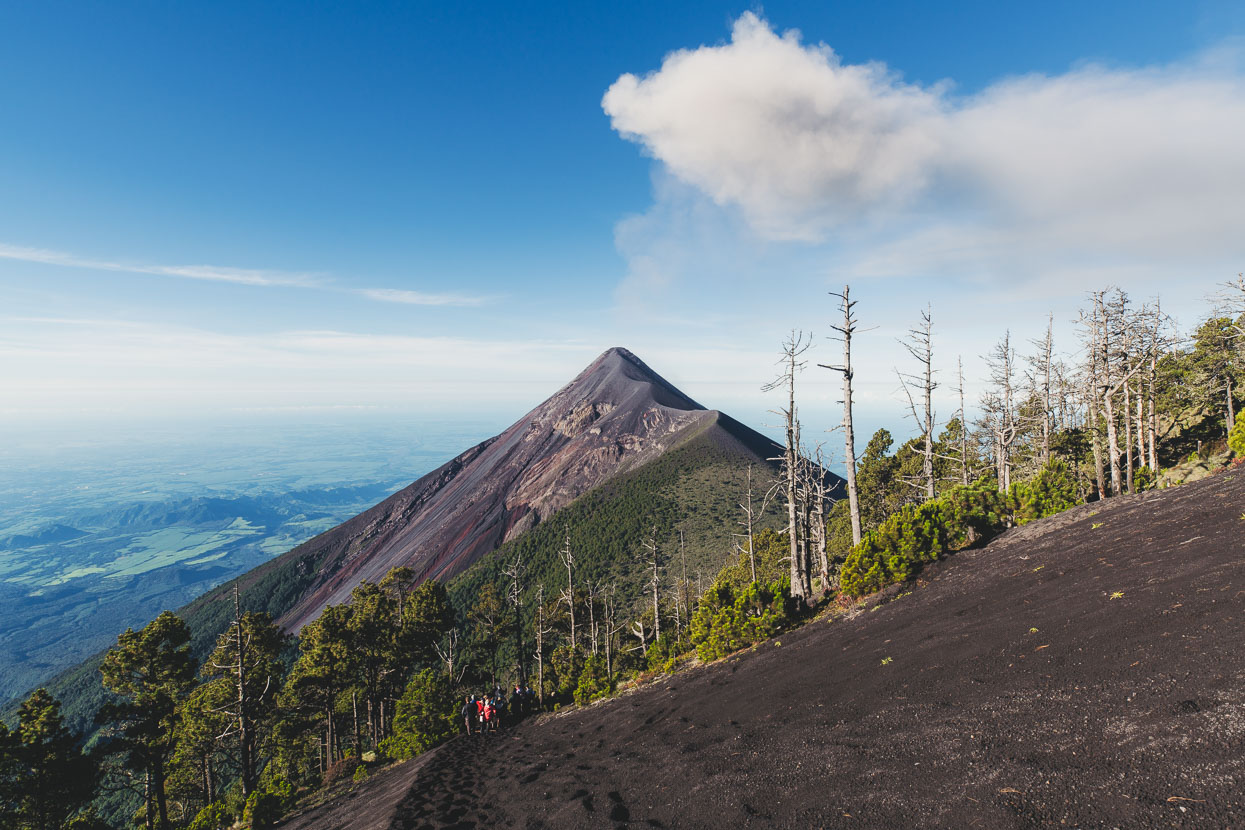 Back at camp our group breakfasted, packed and left and we said goodbye to the five other Kiwis who'd been in our group – the most New Zealanders we'd since since we left the country! We spent the rest of the day enjoying the sun, napping and just sitting watching Fuego. About 4pm the next guided group arrived and we had fresh company in the form of a great couple of Lithuanian cyclists we'd met back down in Antigua. Toma and Sirvydas are nearing the end of a Canada – Panama ride, and like us could not resist the novelty of camping beside an erupting volcano.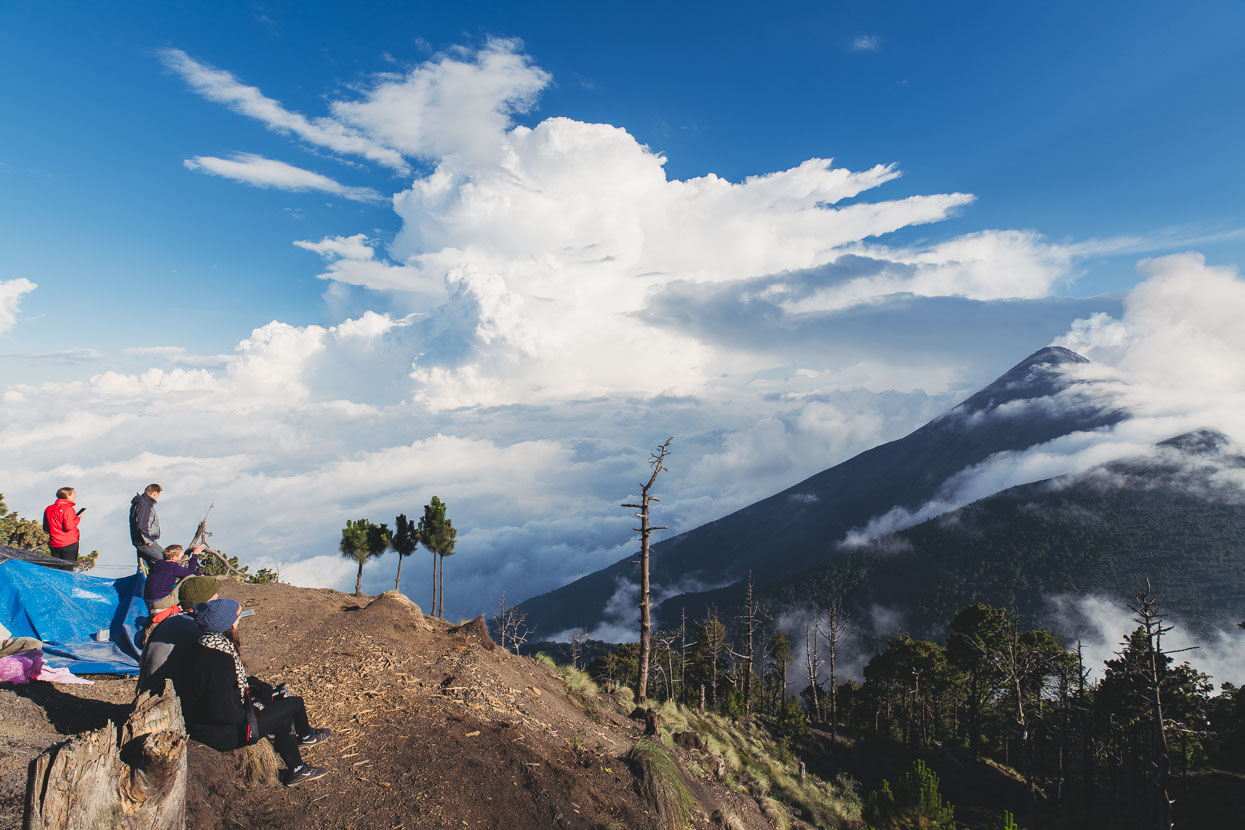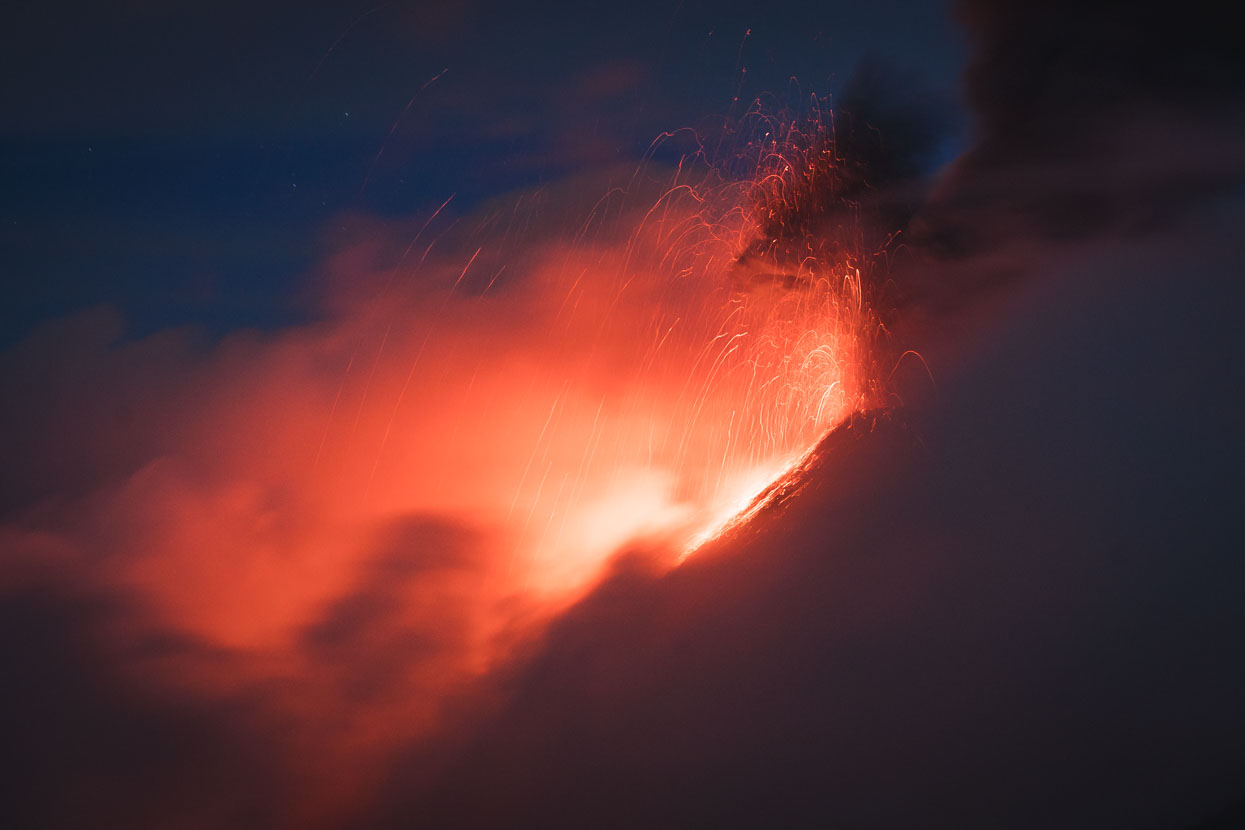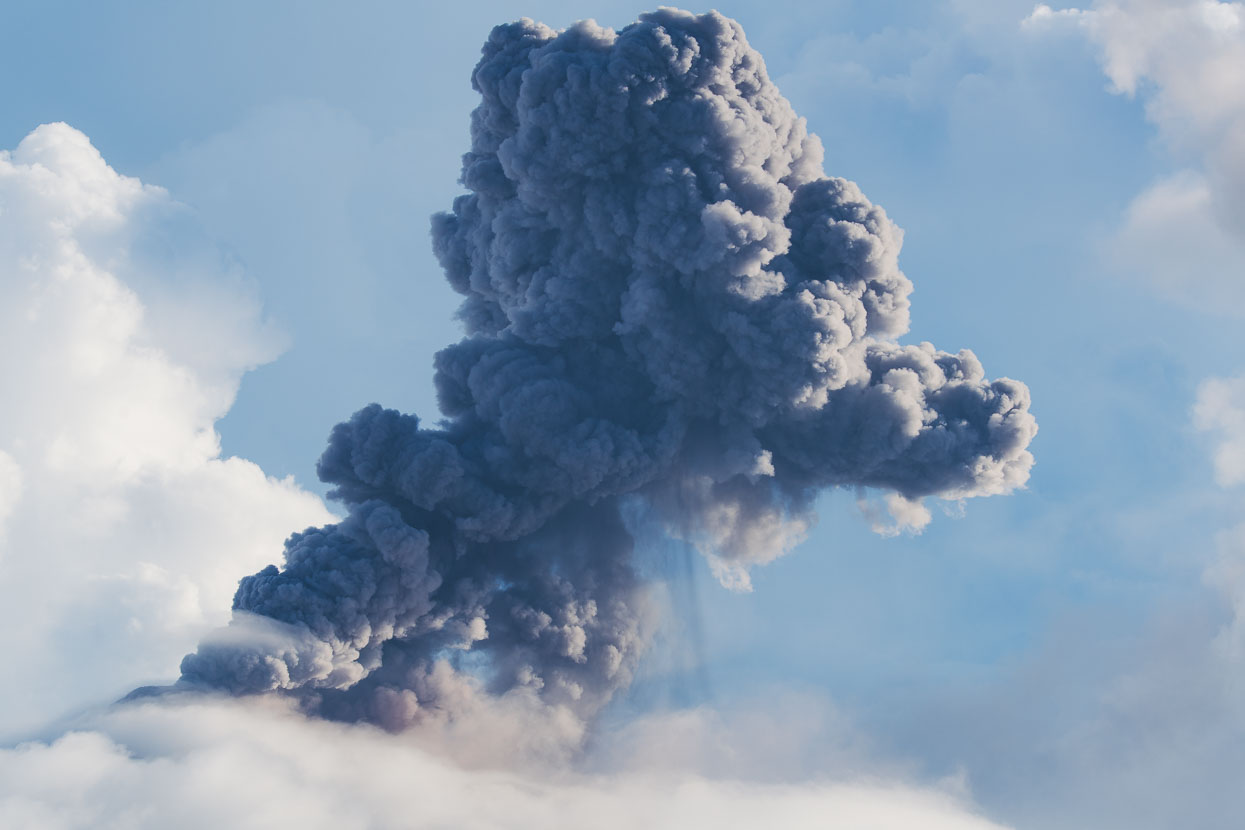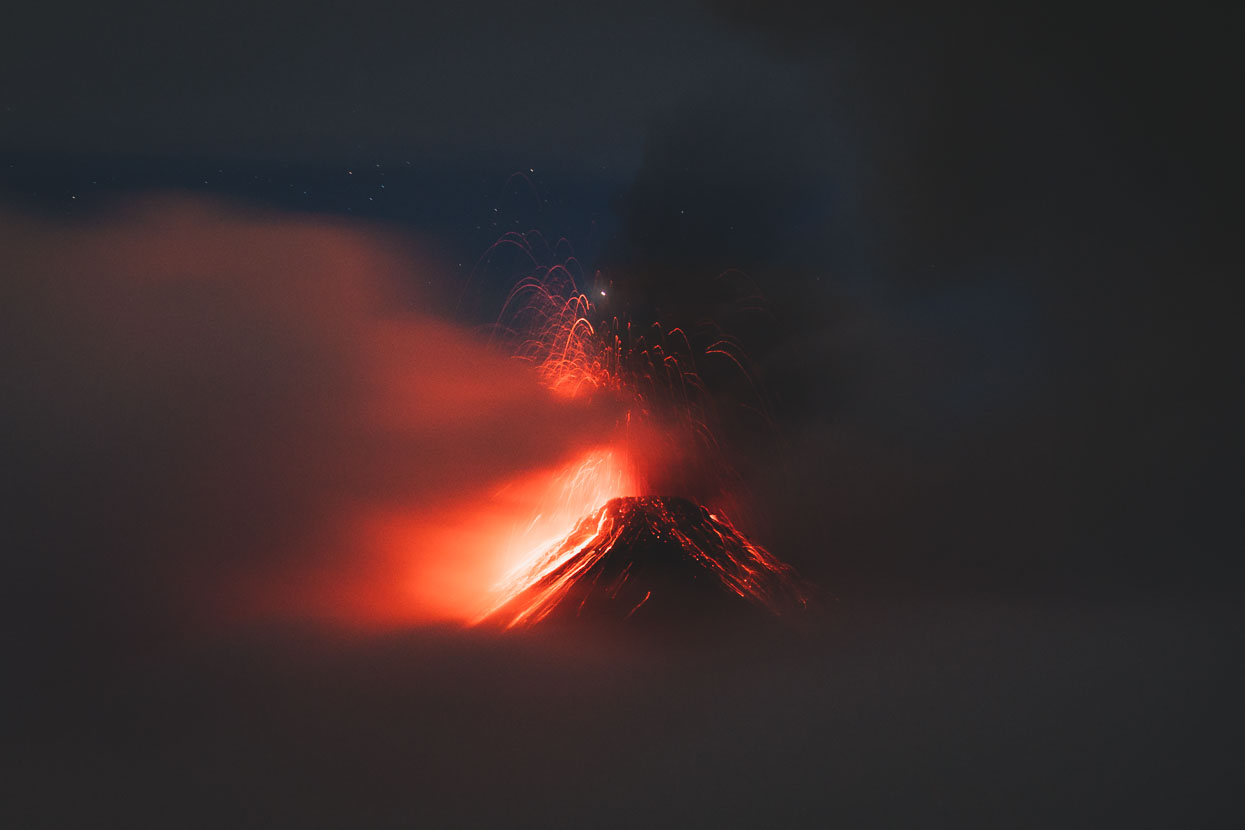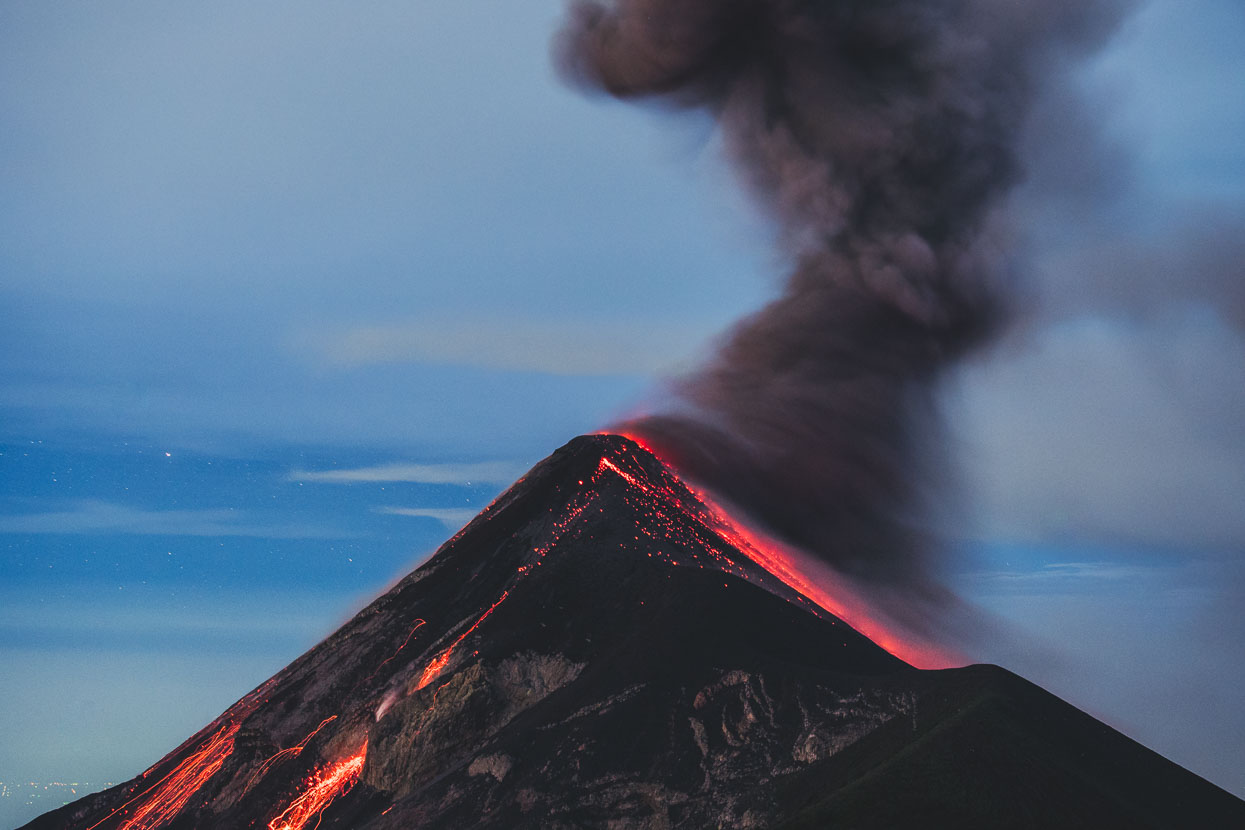 Fuego's incredible display continued for a second night, and I spend several hours waiting on the hillside above camp for bigger and brighter explosions.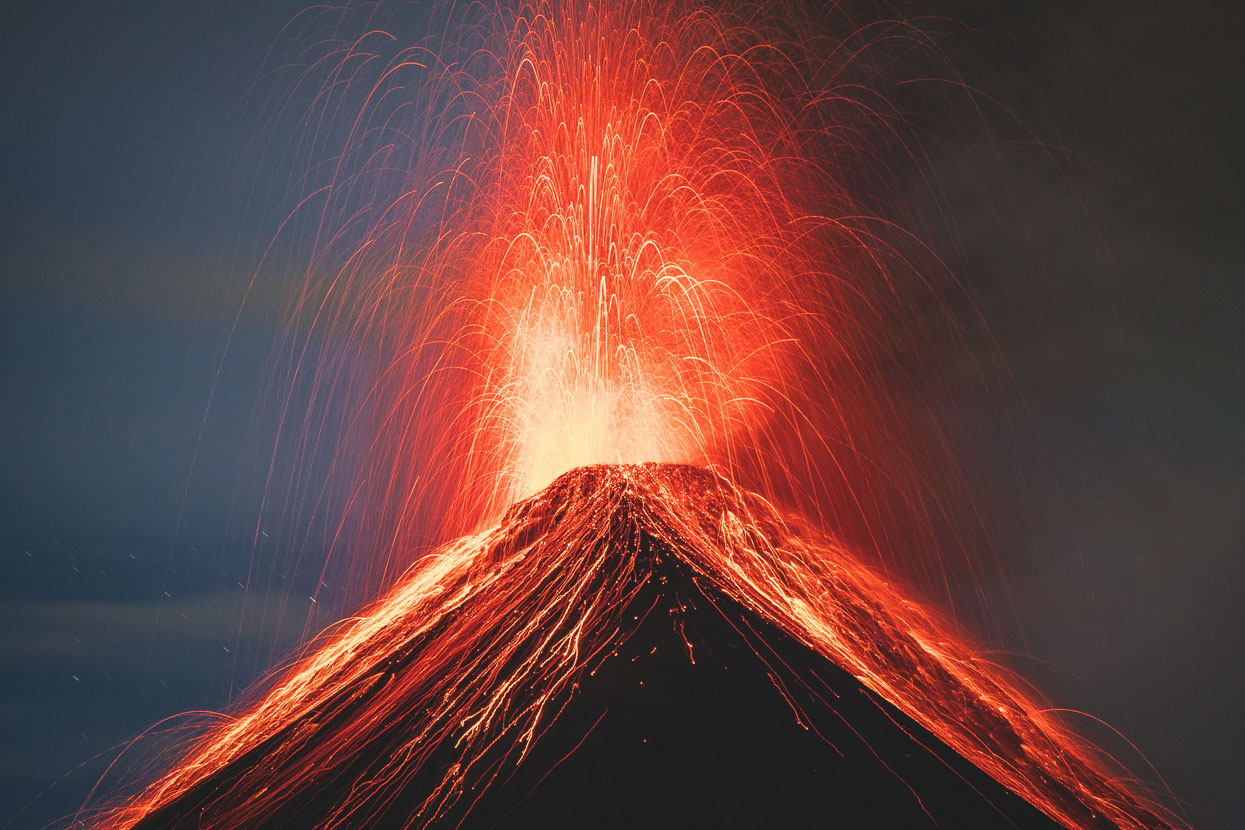 Familiar with the route and on our own this time Hana and I made a second hike up to the summit in darkness. This time frost sat on the plants and rocks and a stronger, colder wind was bringing the temperature well below zero. We found a big rock to hunker down behind, sitting on our packs and set up for more shooting.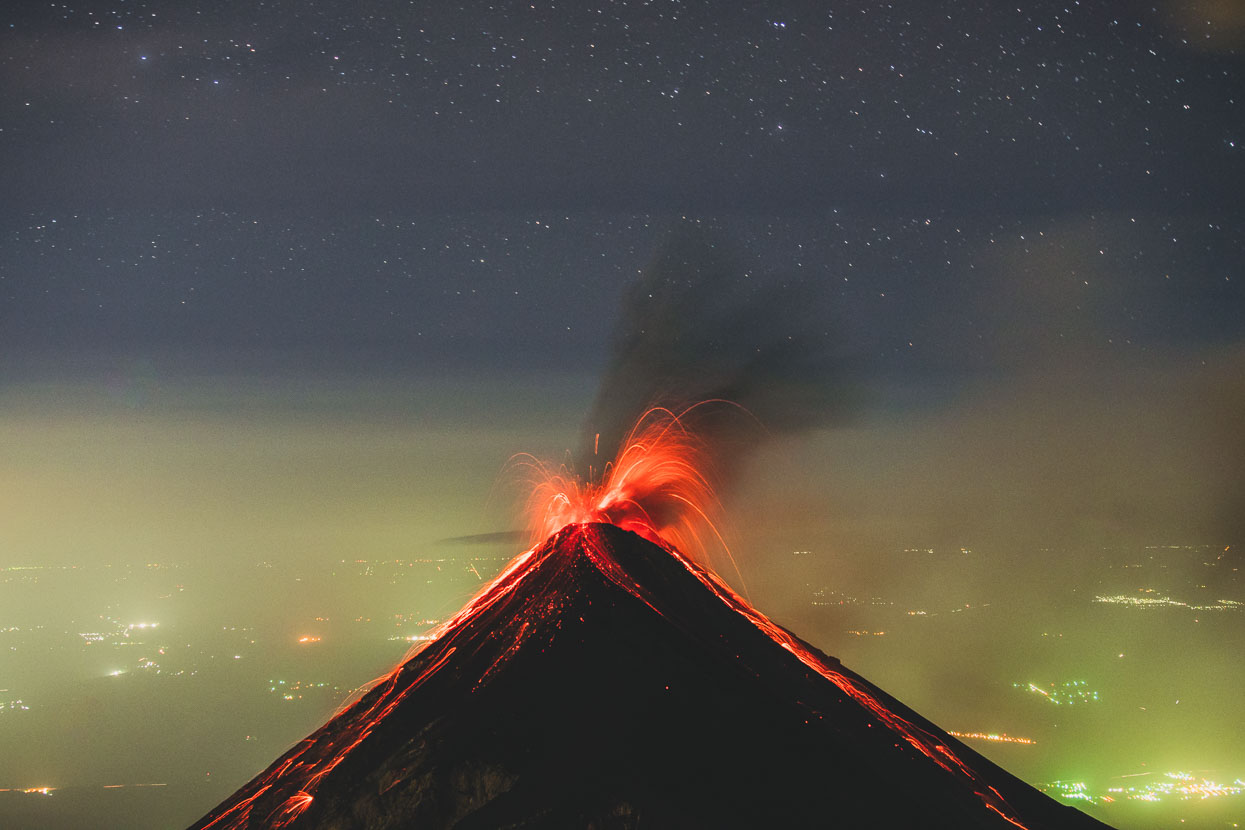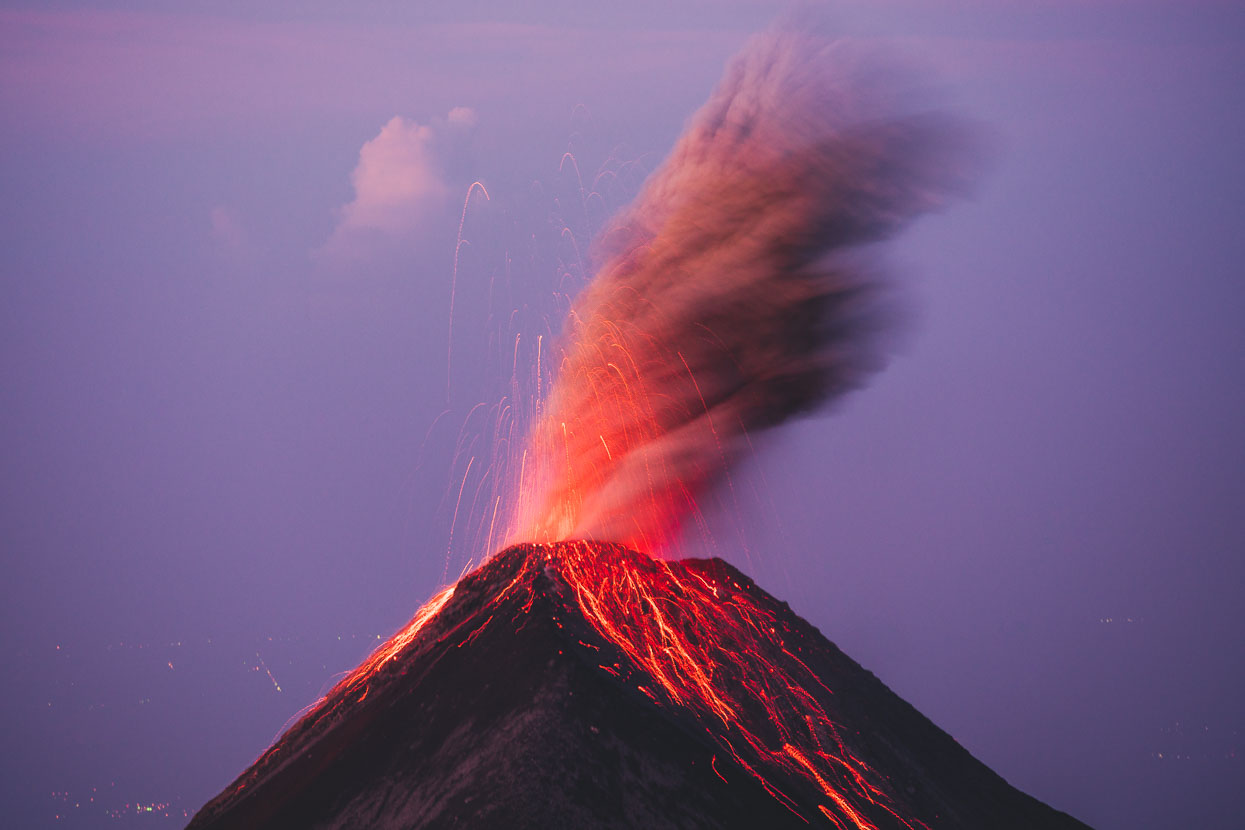 Presently Volcán Fuego is going through a phase of increased activity. In May this year it was producing ash clouds up to five kilometres tall and pyroclastic flows down its slopes, as well as ejecting rocks in a radius of up to 5 kilometres around the mountain. Only a few weeks before our trip tourist activity had ceased due to slightly more vigorous eruptions than we experienced. Eruptions of this mountain have been recorded since about 1524. 1974 saw its most recent really large eruption which produced huge pyroclastic flows visible from Antigua.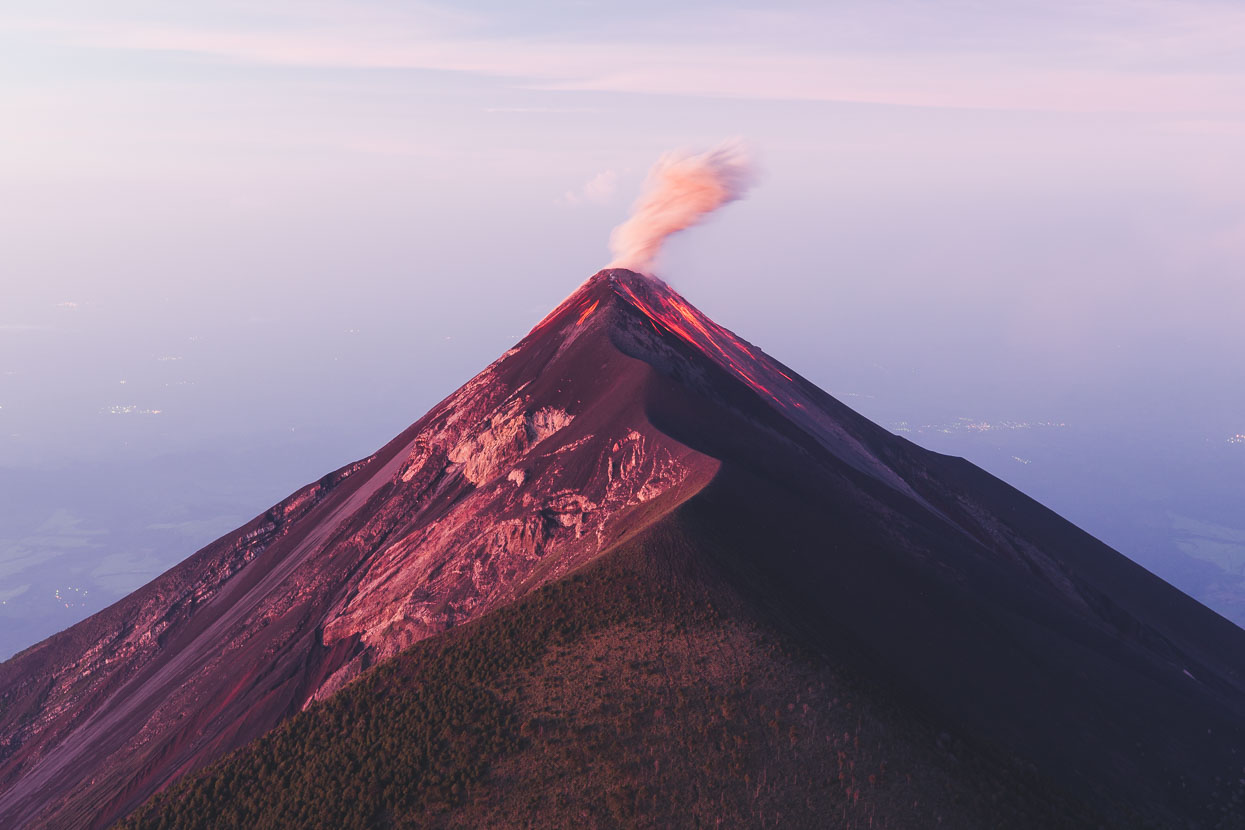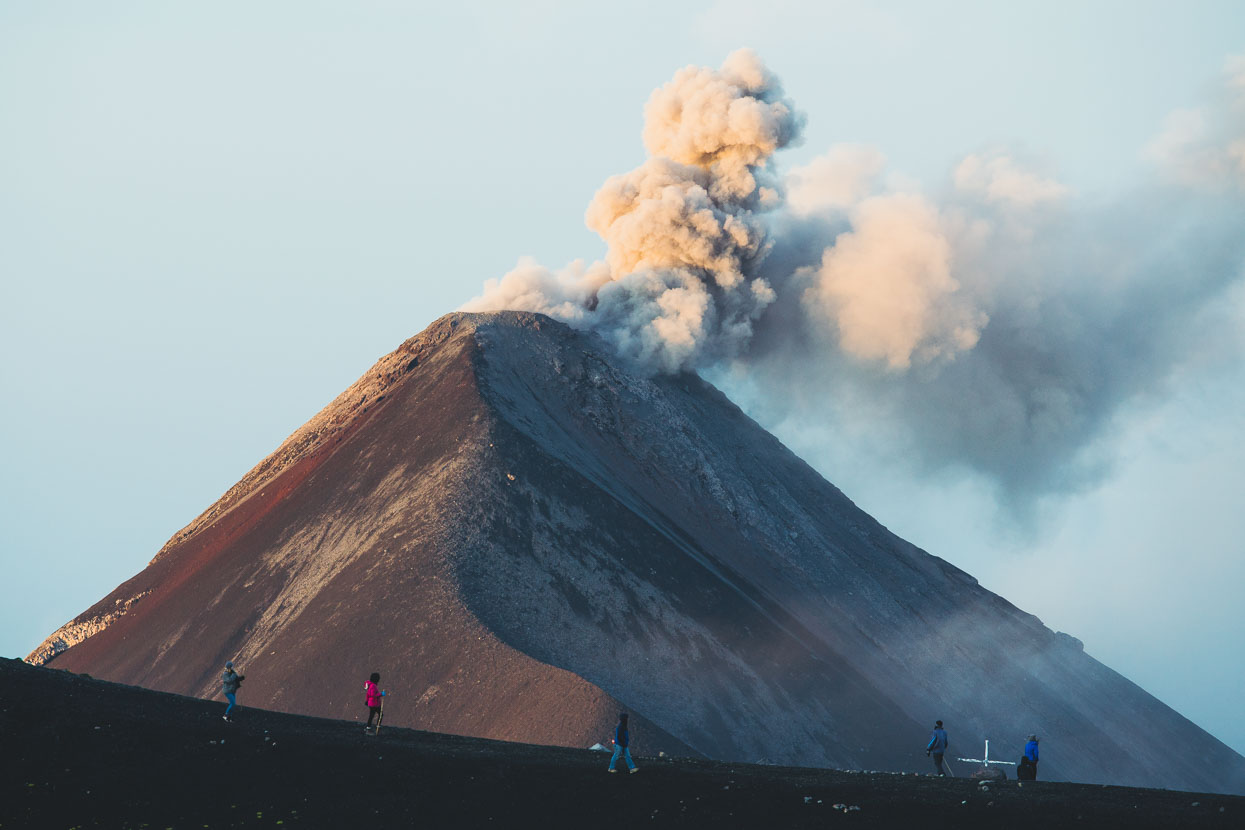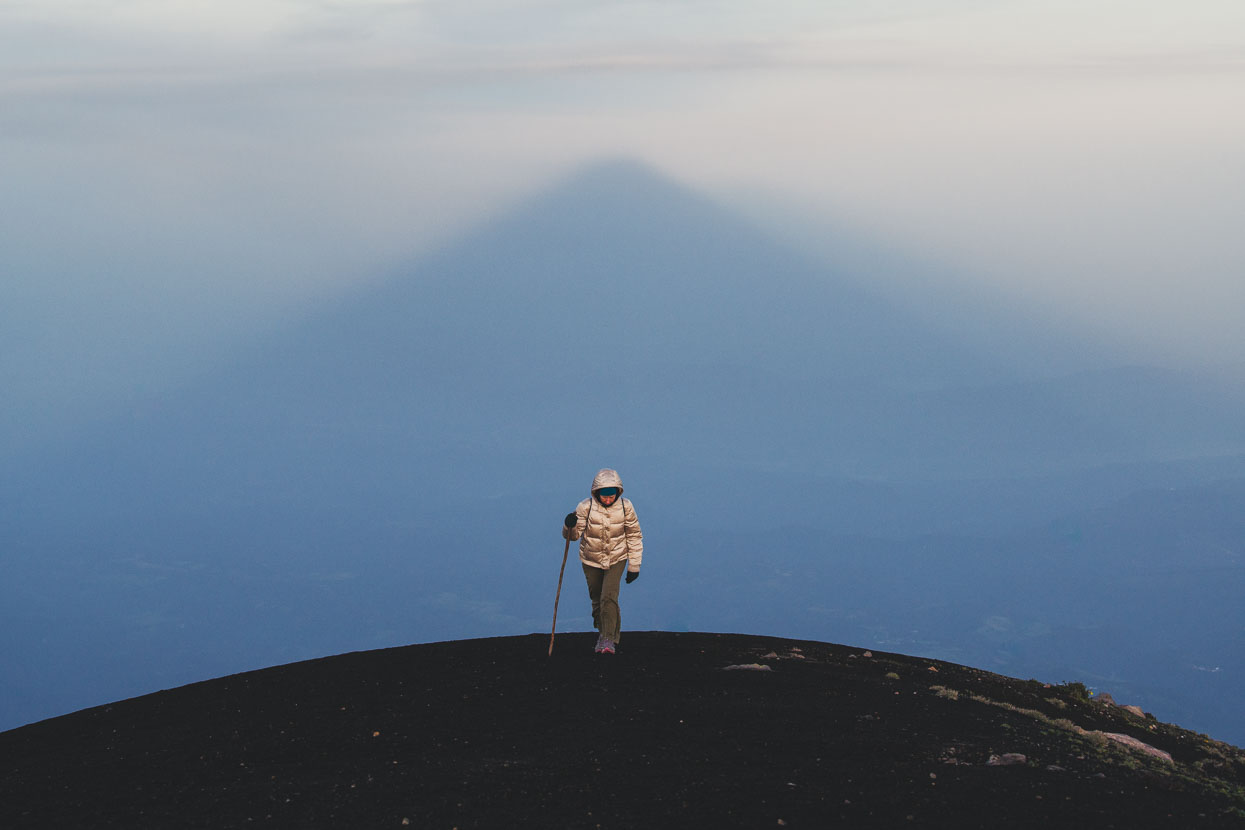 A hired down jacket and some $10 second hand running shoes from the market made Hana's trip a lot more comfortable.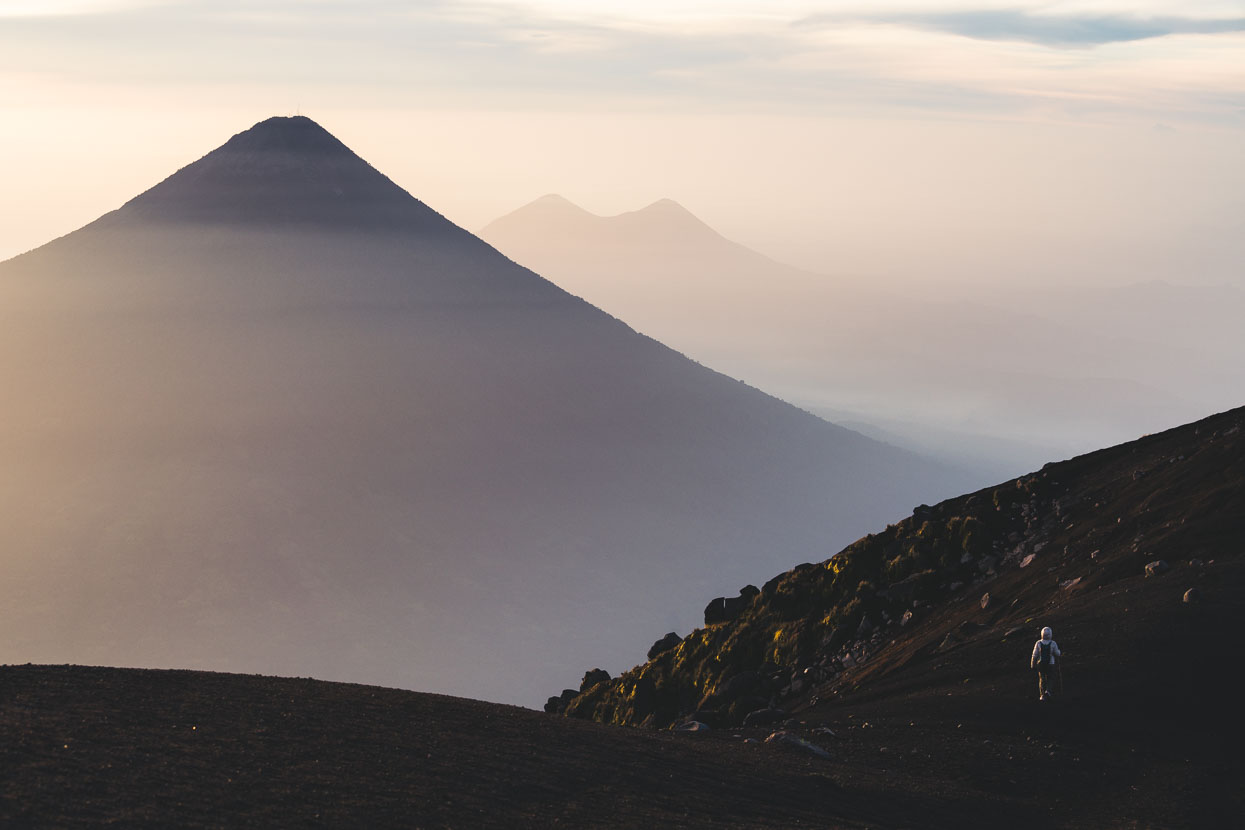 The view west to Volcánes de Agua and Pacaya shortly before we headed back to camp.
BETA: For our Volcán Acatenango ascent we used the a local village collective from La Soldedad who also operate the search and rescue operations on the mountain. They were friendly, professional and easy to communicate with for planning the trip. At time of writing they have no website, but you can contact Gilmer Soy: sologui5630 (at) gmail.com
We paid Q350 each, plus Q50 park entrance fee. Pack and clothing hire was roughly Q25.
Do you enjoy our blog content? Find it useful? We love it when people shout us a beer or contribute to our ongoing expenses!
Creating content for this site – as much as we love it – is time consuming and adds to travel costs. Every little bit helps, and your contributions motivate us to work on more bicycle travel-related content. Up coming: camera kit and photography work flow.