Seven days climbing into the Guatemala Highlands.
The romantic notion of pioneering explorers 'walking off the edge of the map' is something that has always appealed. Such exploits might elicit thoughts of untracked Himalayan valleys and searching for lost cities in the Bolivian jungle; however, truth is, walking off the edge of the map is not difficult to do at all.
As we discovered in the remoter areas of Mexico and again more recently in Guatemala, huge sections of countryside are effectively unmapped. Between Guatemala's rural upland towns of Lanquin and Chichicastenango we passed countless cultivated areas with scattered settlements that simply do not exist on Open Street Maps or Google Maps. It's almost as if there's a world of people out there who officially do not exist. Generally, between OSM and Google Maps the road coverage is there, but we usually only get any clue as to whether resupply locations exist if we look at Google Earth – the only place untold Mexican and Guatemalan villages seem to exist. Using routing tools such OsmAnd and Google My Maps (I'll write more about this in a future post), we're able to link networks of inter-village tracks and roads that you'd never be able to combine with conventional mapping. It's a powerful tool, but a huge part of the fun is setting off on these routes and discovering the secrets of the land that even the maps don't know.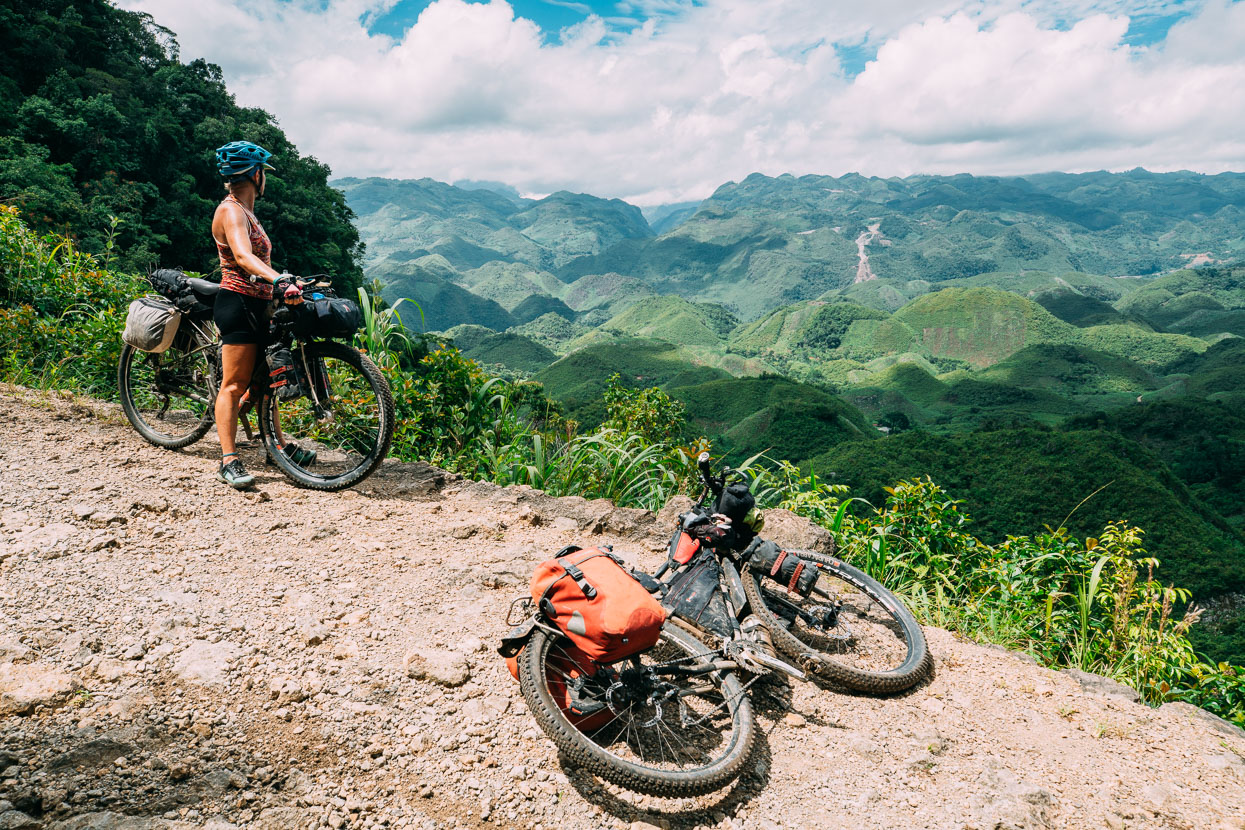 From Lanquin to San Pedro Carcha (a day's ride) we followed a route devised by OsmAnd, but set off knowing little about what we might find out there. The highway out of Lanquin was already dirt when we turned off it a few kilometres out of town and rode into a convoluted karst landscape of endless steep hillocks, deep gullies and occasional villages (most of which weren't on our maps). It was spectacular country but the riding was tough with a lot of relatively short but very steep climbs. The surface was variable – sometimes with lots of loose stones, but usually fairly ridable.
Given that it's the Central American wet season, we've seen much less rain than expected. Peten and Belize got pretty wet at times, but since we've been back in Guatemala any rain has usually been very brief and road conditions are good – except for the odd surprise puddle.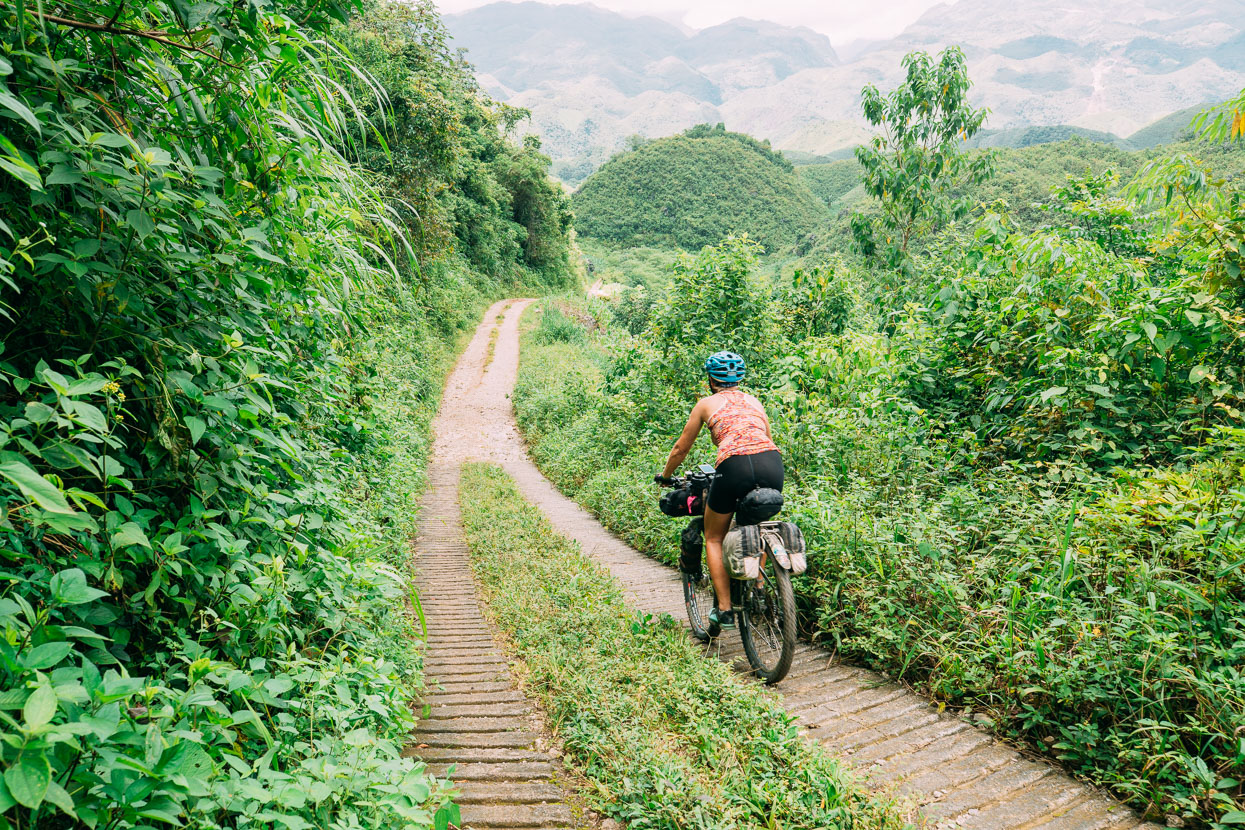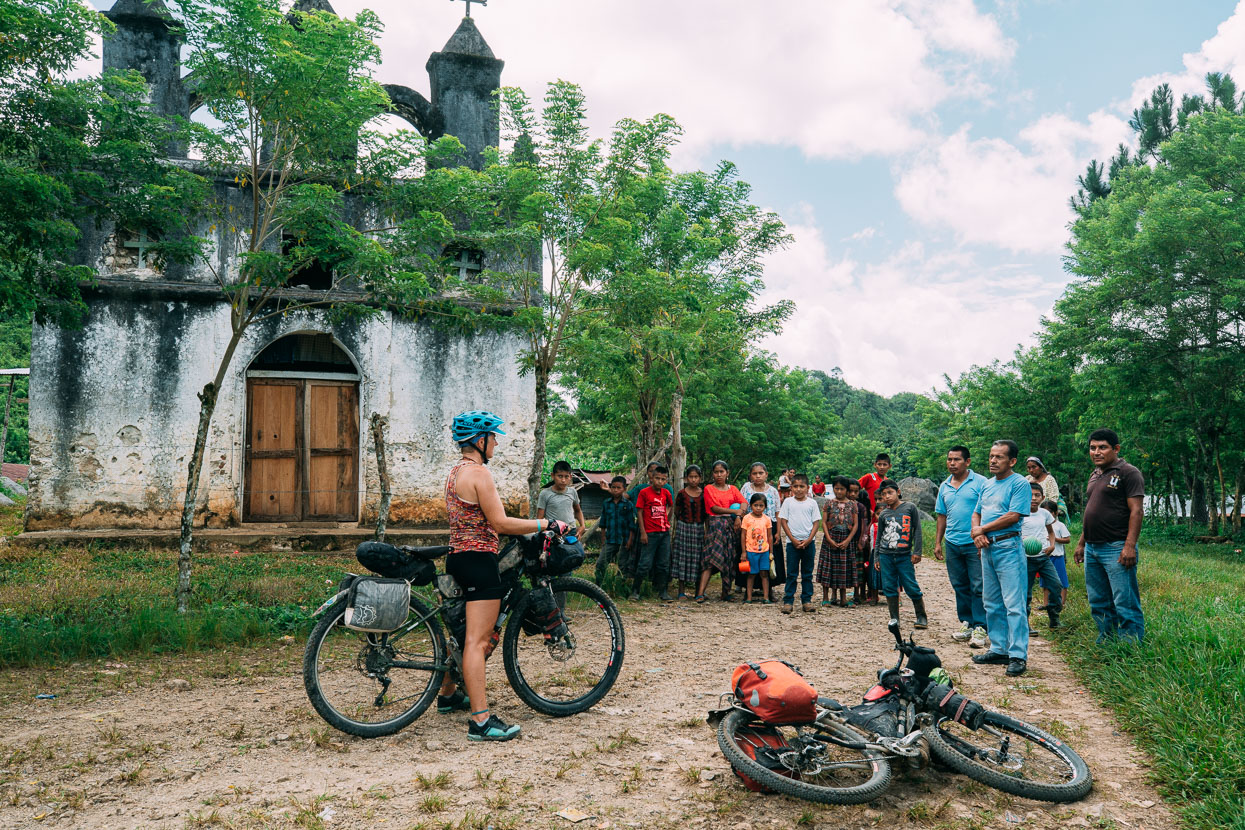 We got a friendly reception in most of the villages we passed through, although sometimes the women – especially older women – look at us in a way that's bordering on unwelcoming and it's very hard to make eye contact or to get much of a reply to a 'buenas dias'. I think it's shyness, but also we know none of the Maya languages that are far more commonly spoken than Spanish here.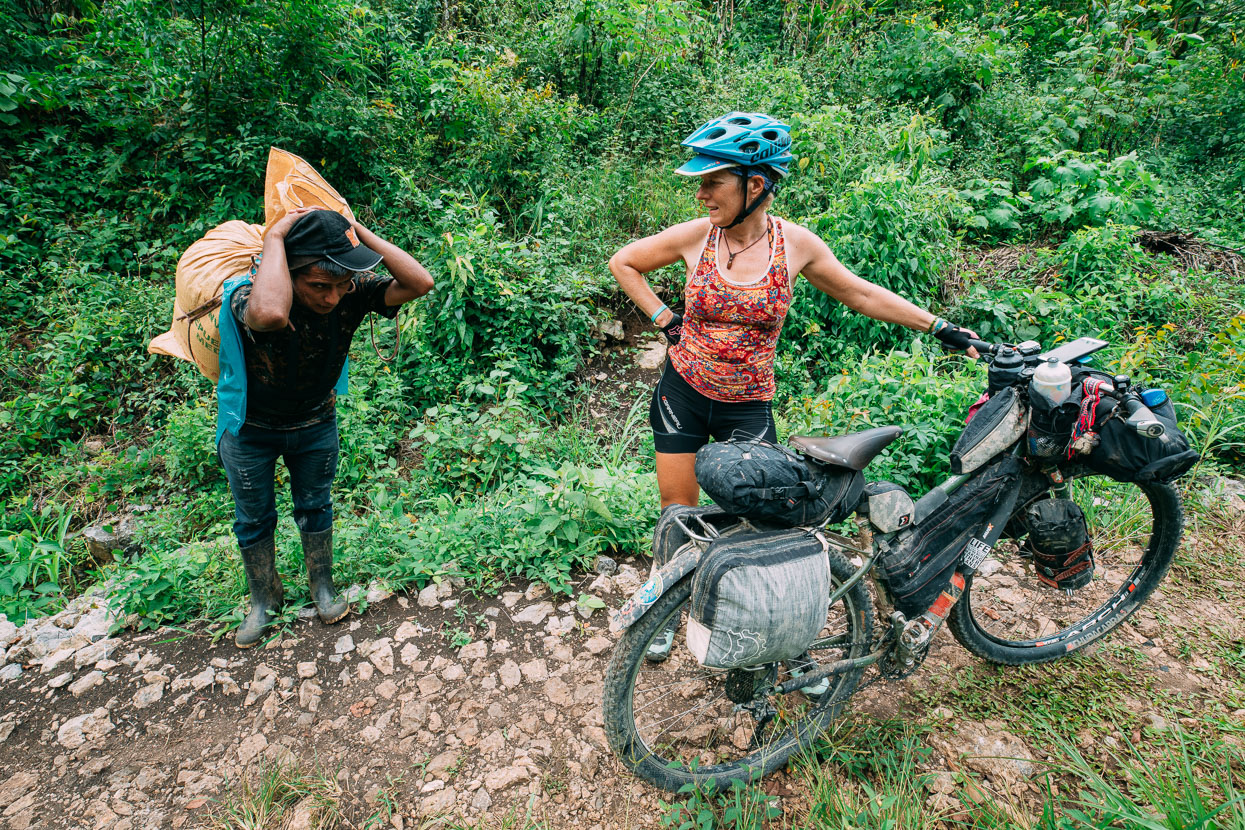 Despite carrying TWO bags of cement on his back, with the aid of a headstrap, this fellow stopped to chat.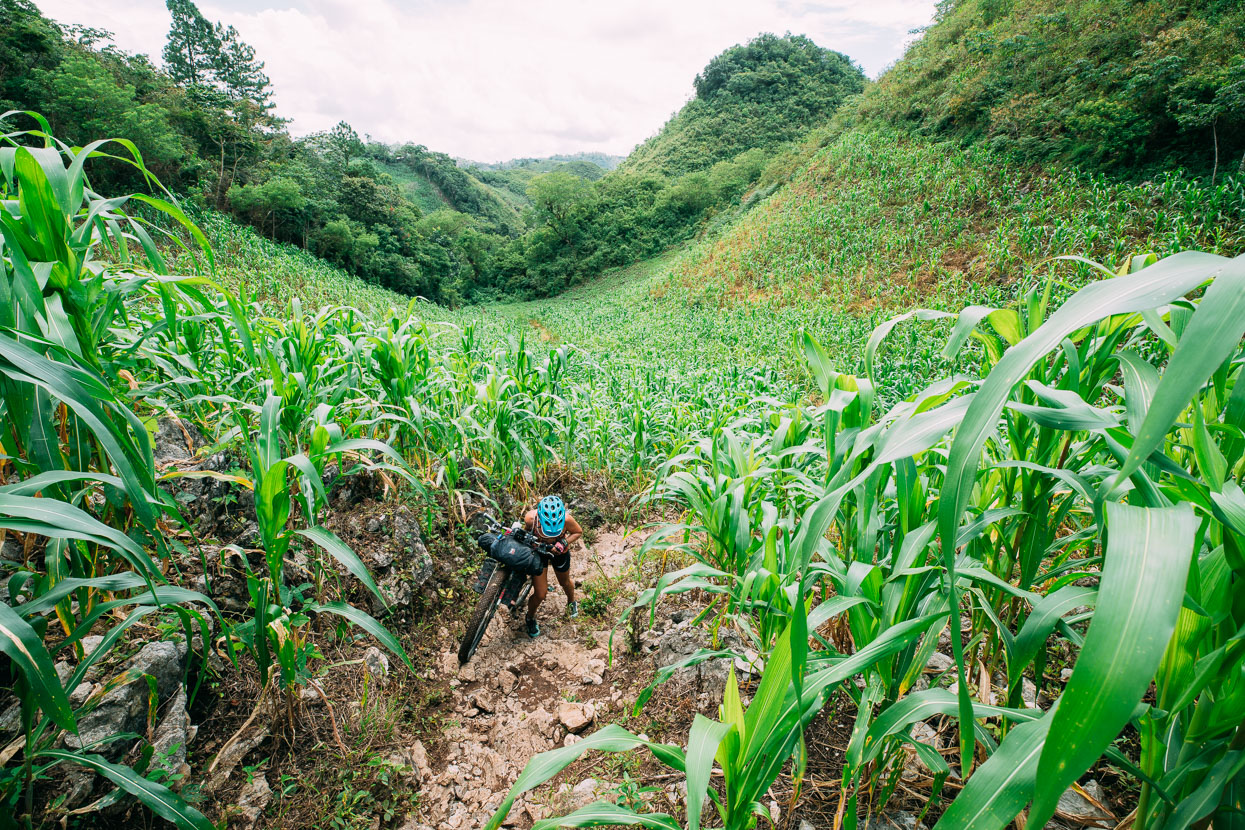 The grovel of the day came when one track petered out into a milpa (cornfield) where it became a foot trail that joined a gravel road after about 800 metres. A short grovel, but it was a physical one; hefting the bikes over blocks of limestone on a greasy track. It was totally worth a short struggle though for the remote opportunity that the rest of the route offered.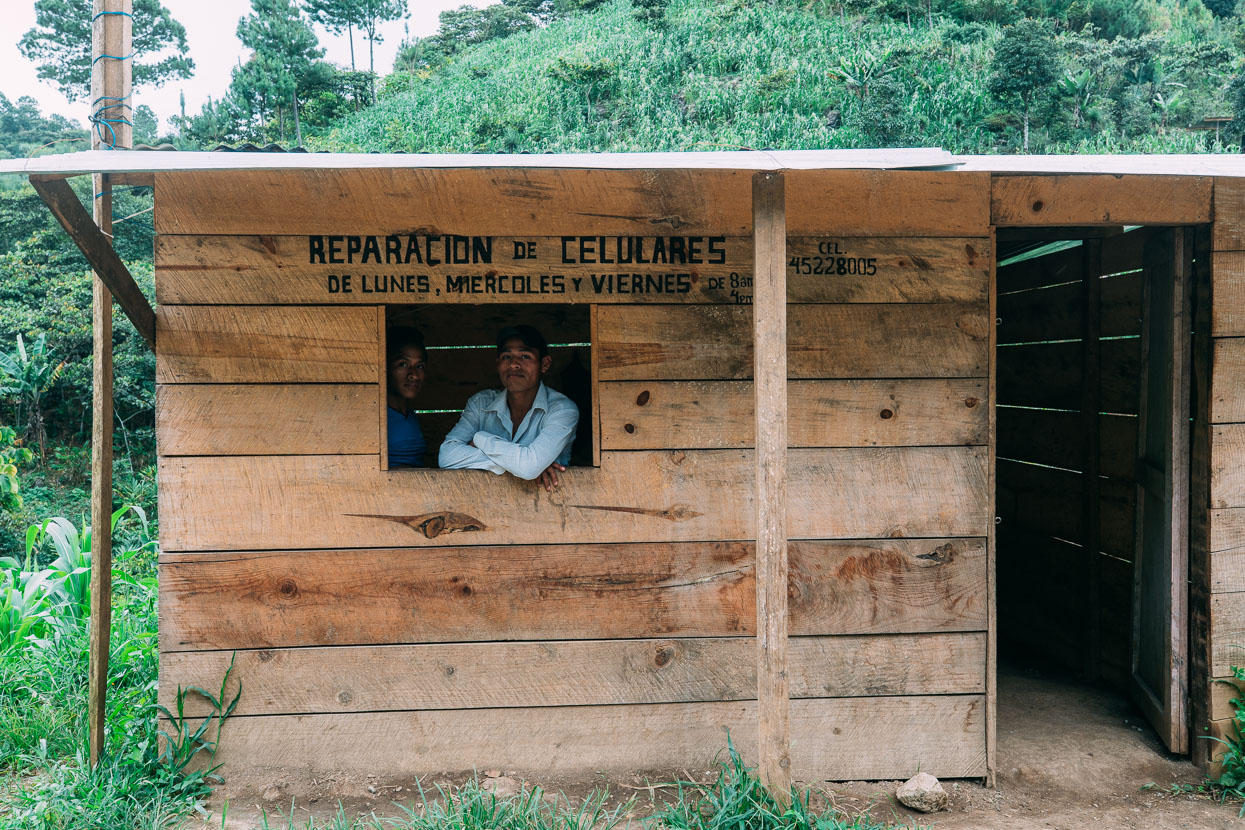 It's true that mobile phone ownership has soared in developing countries and the likes of Samsung make many budget models aimed at these markets – and they need them fixed just like anybody else – even in the middle of nowhere.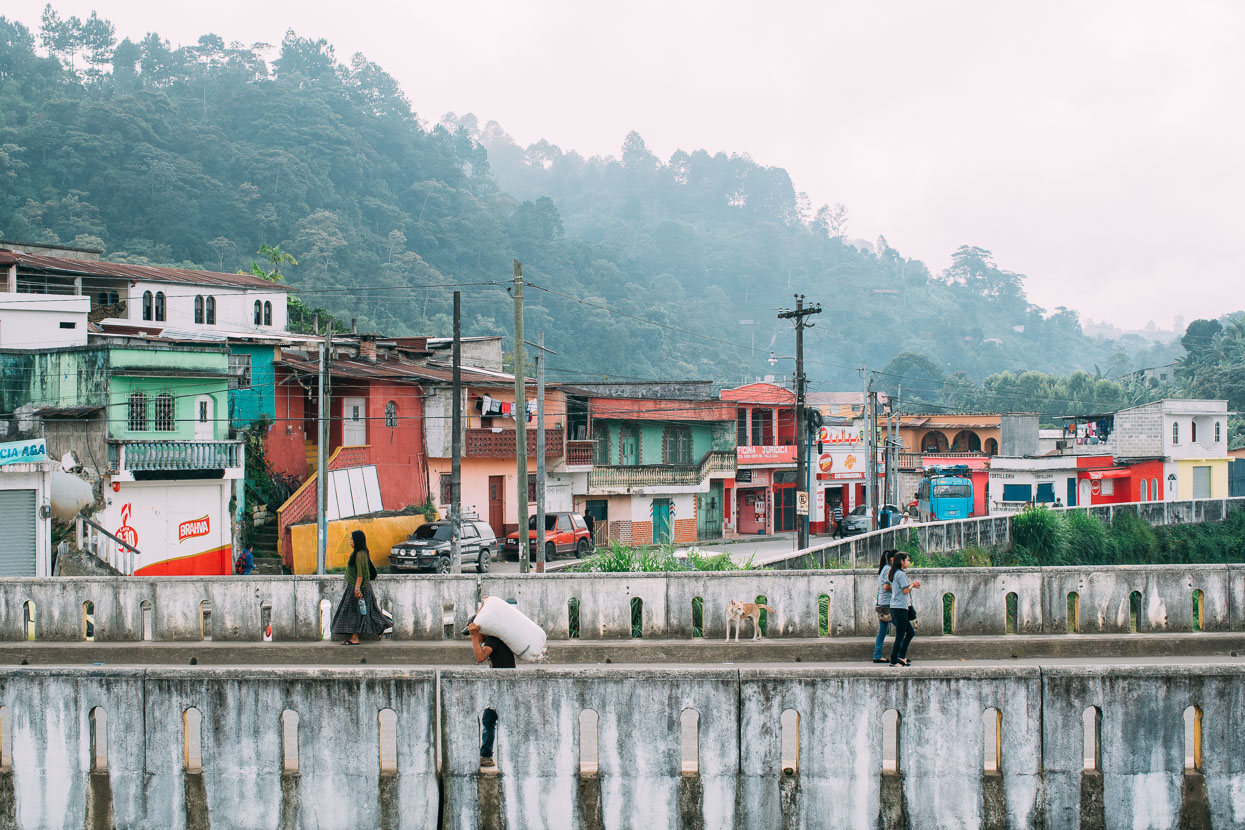 After a day of over 2000 metres of climbing, and most of it very steep, we were happy to reach the scruffy highland town of San Pedro Carcha. Mostly it was refreshing to be in a 'normal' Guatemalan town away from the tourist-inflated prices of Lanquin.
Our room was nothing to write home about of course, although the shower with on-demand heating deserves a note for threatening electrocution for any over zealous showering manoeuvres.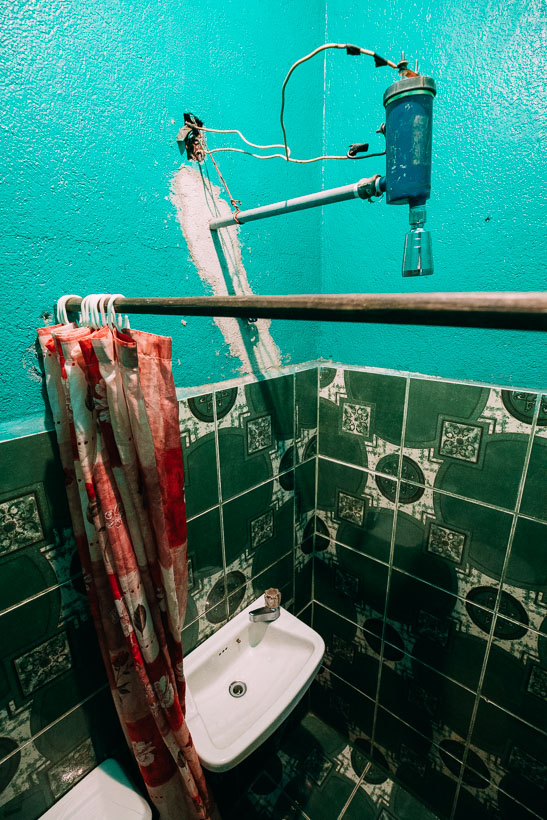 We've been surprised in Guatemala by how consistently Maya women – and many men wear traditional (or at least modern-traditional) outfits. Each village and town has its own identity and style of dress. This shop was wall to wall with tightly rolled bolts of cloth, mostly from Quetzaltenango (Xela).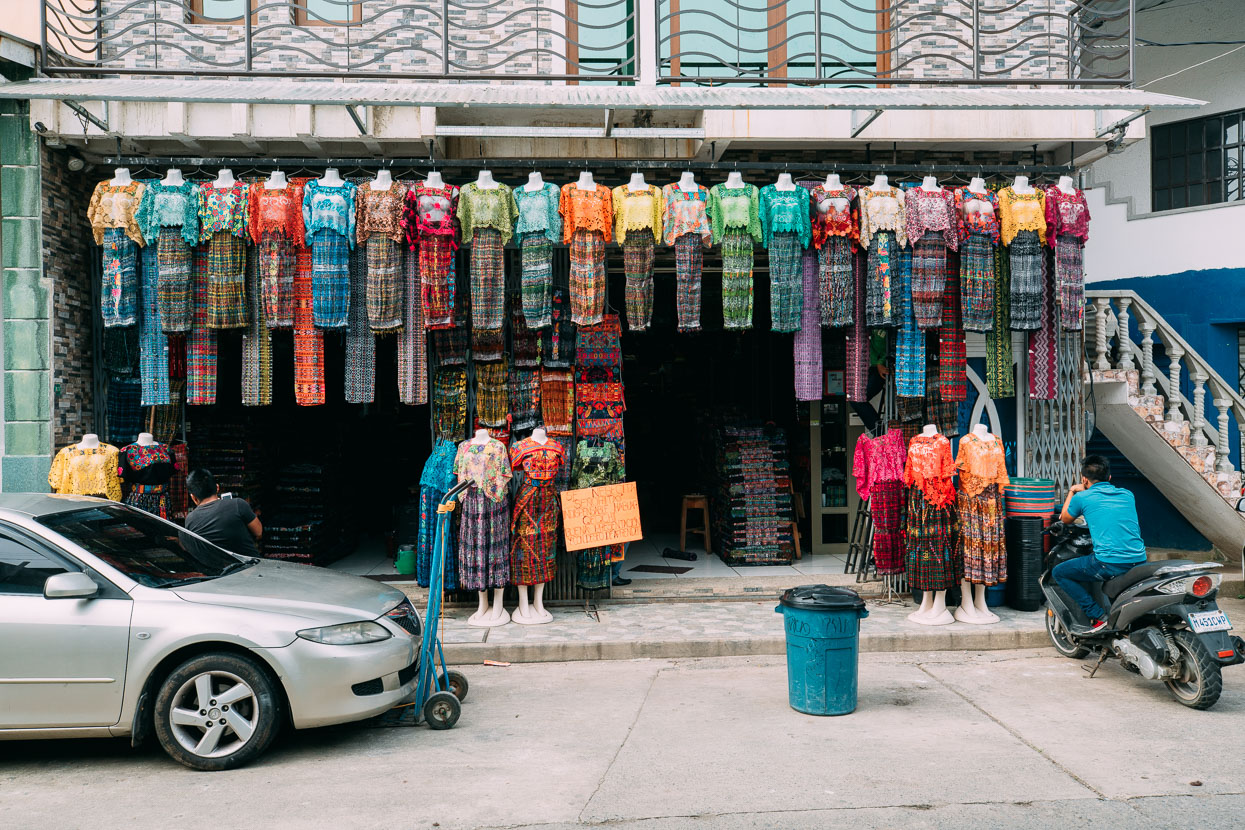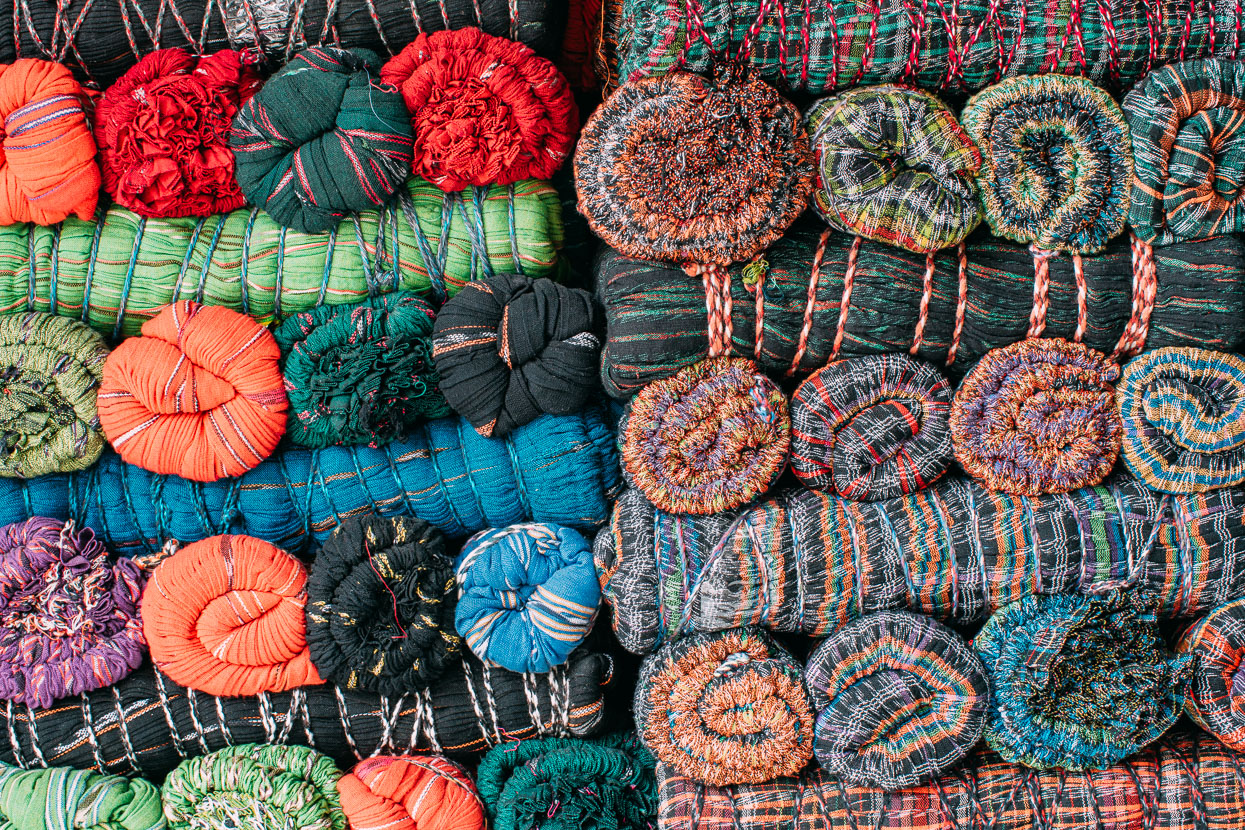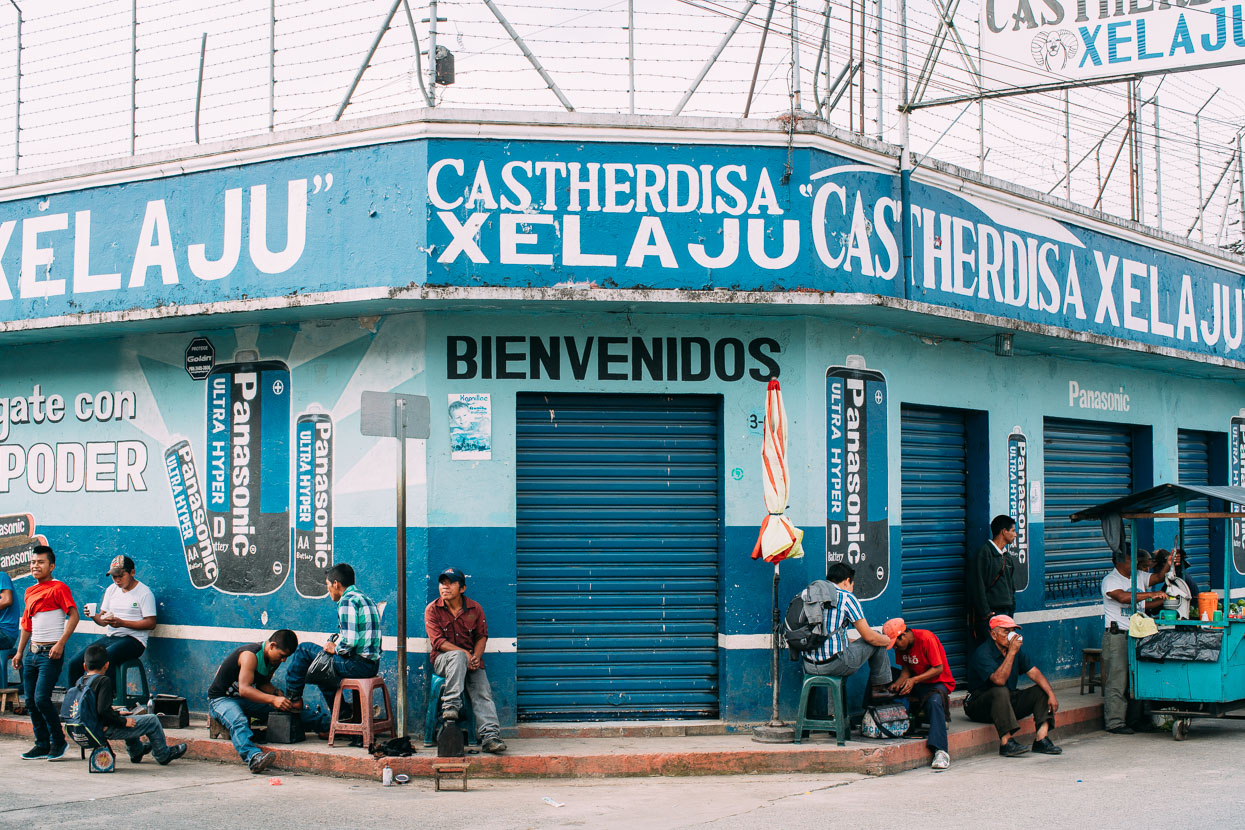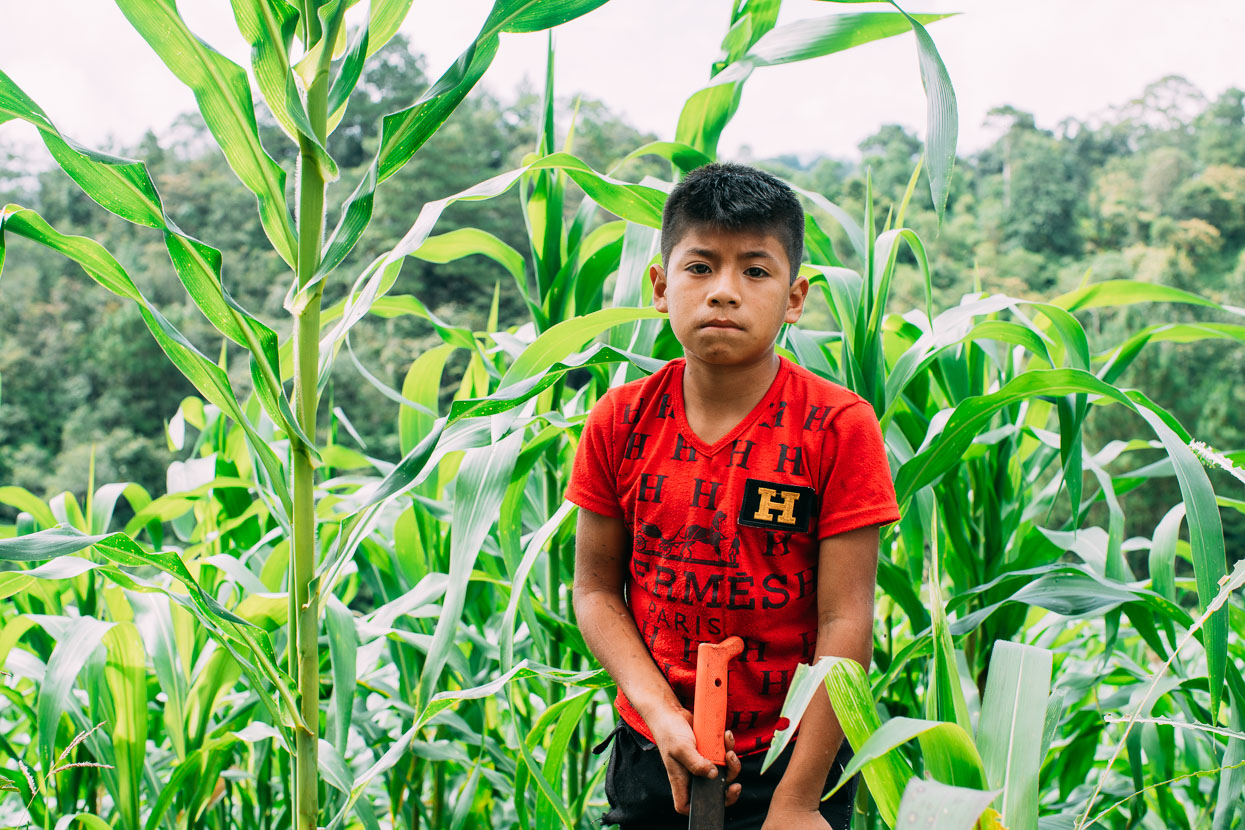 The fun continued straight out of San Pedro Carcha the next morning with a series of tracks, footpaths and roads linking small villages and crossing tea and coffee plantations across to Santa Cruz Verapaz, where we joined a paved highway through to just outside Tactic. This boy was busy at work on his own weeding the milpa with his machete.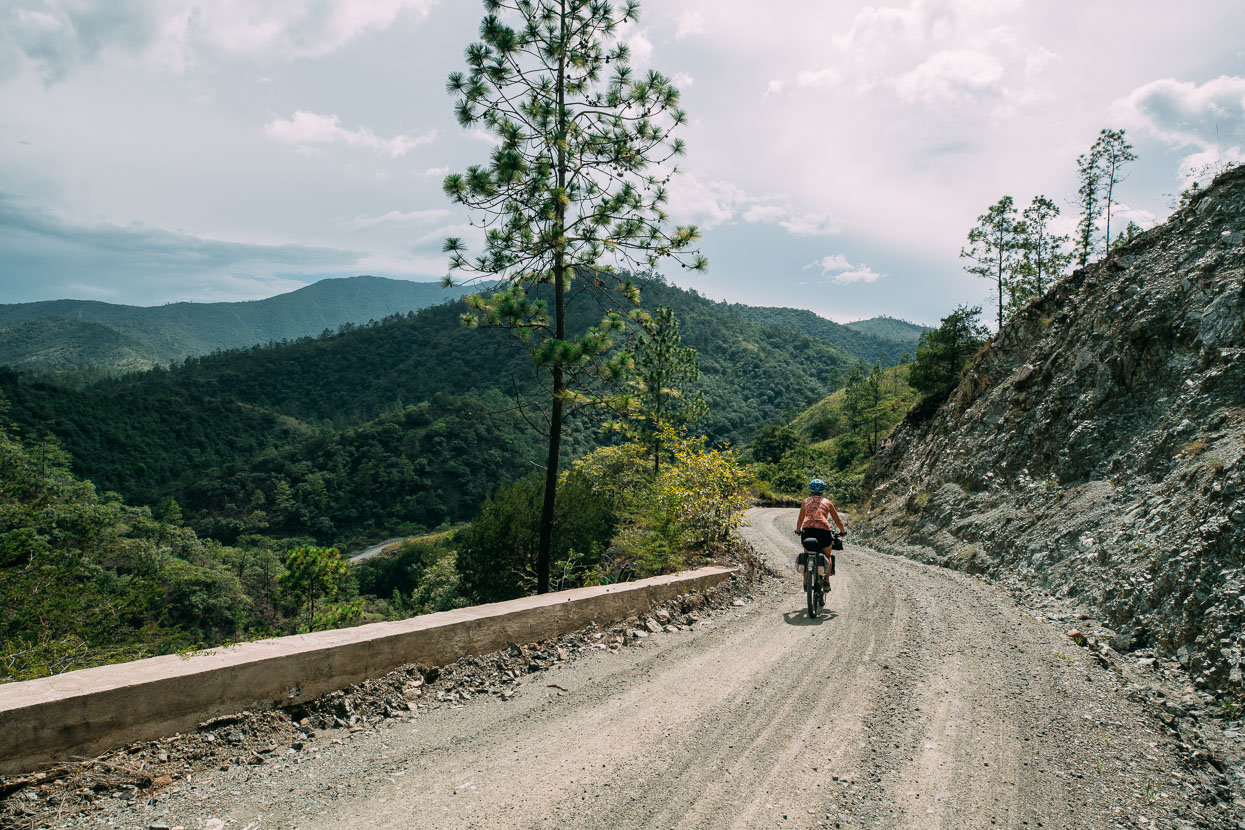 Since Lanquin we'd been in an environment of mixed jungle and broadleaf which had changed to pine and oak as we'd gained height. After Tactic we left the upper Polochic Valley via a dirt road pass and our surrounds changed completely, replaced with scattered pine and much more arid valleys. This really pleasant mountain road took us through the sparsely populated Quetzal Sanctuary towards Salama.
Sometimes you just have to eat.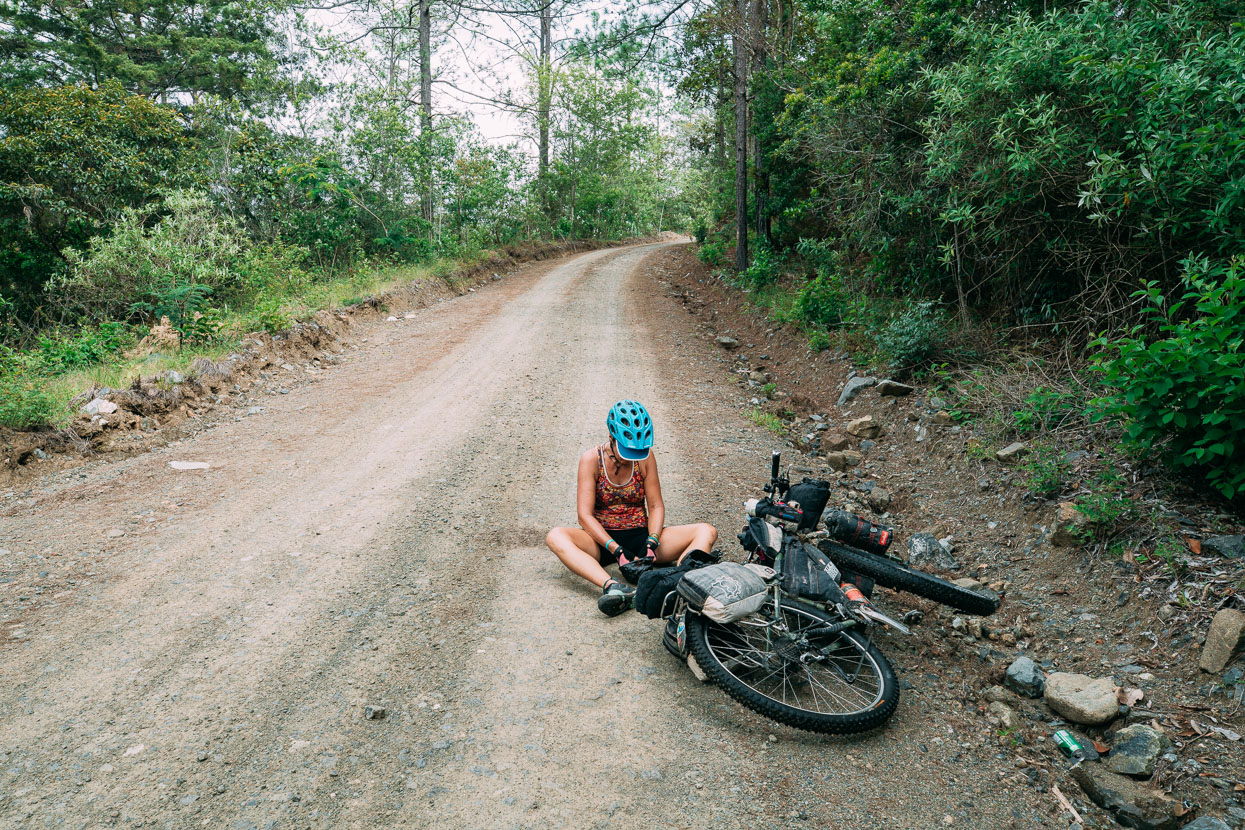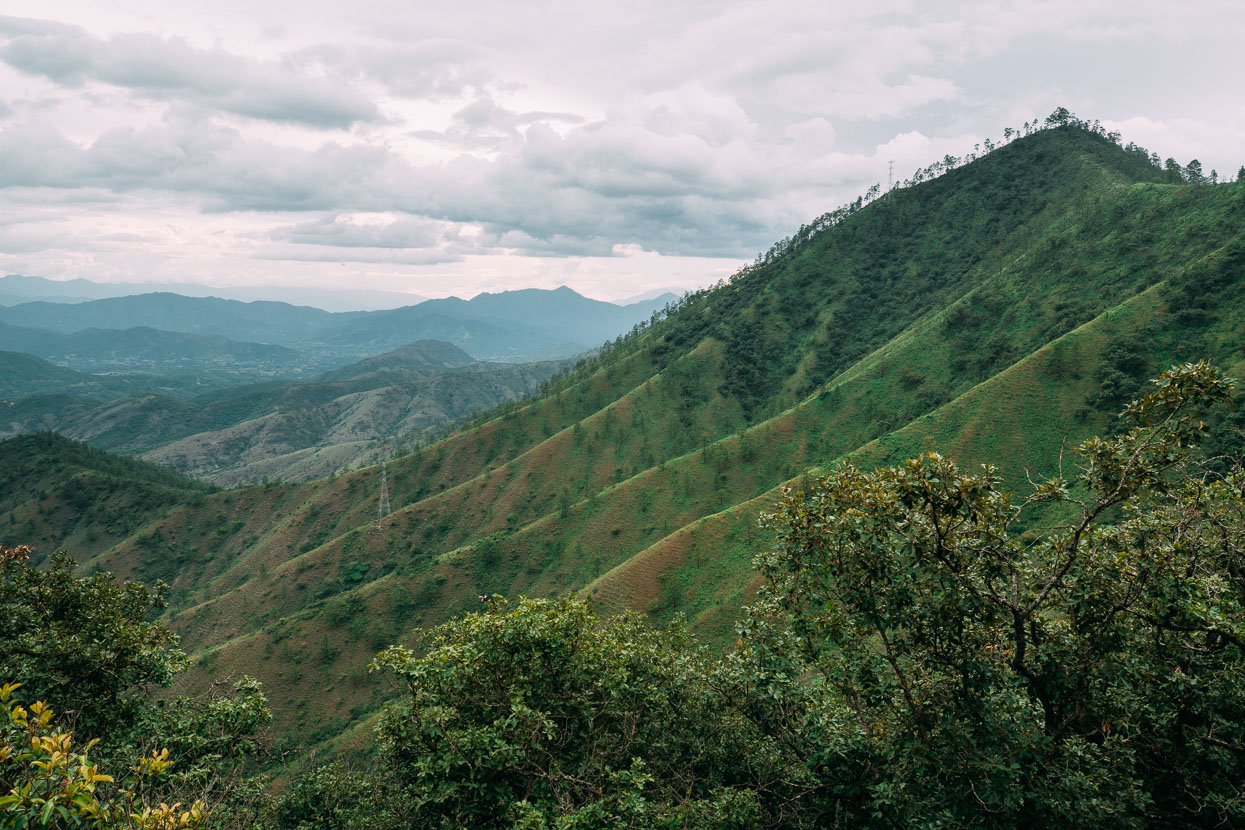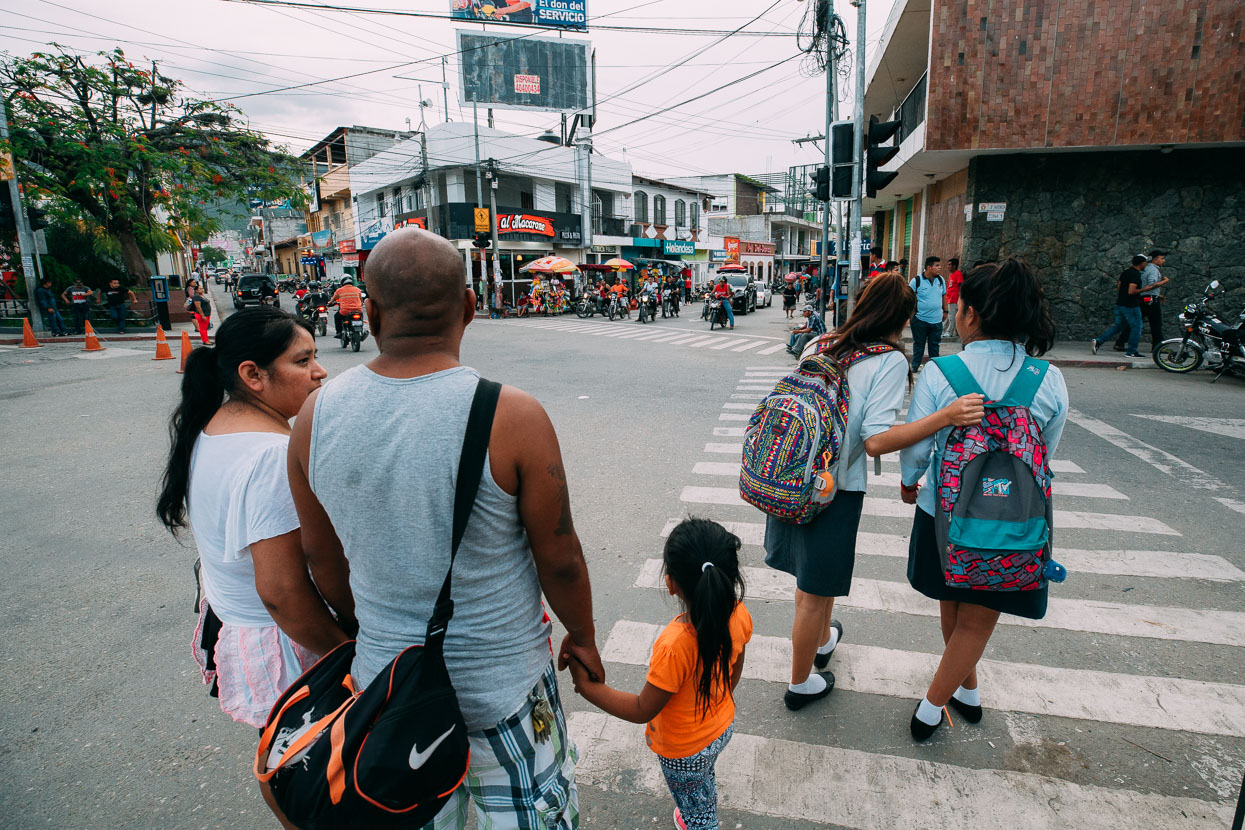 After Lanquin and San Pedro Carcha, the populated farming town of Salama felt prosperous. Fast food stores, shops filled with shiny Chinese-made motorcycles and later model cars on the streets were a change, and so was the mixed population – more ladino than Maya and there were even a few quite white faces probably due to the influx of German settlers in the 19th and 20th centuries.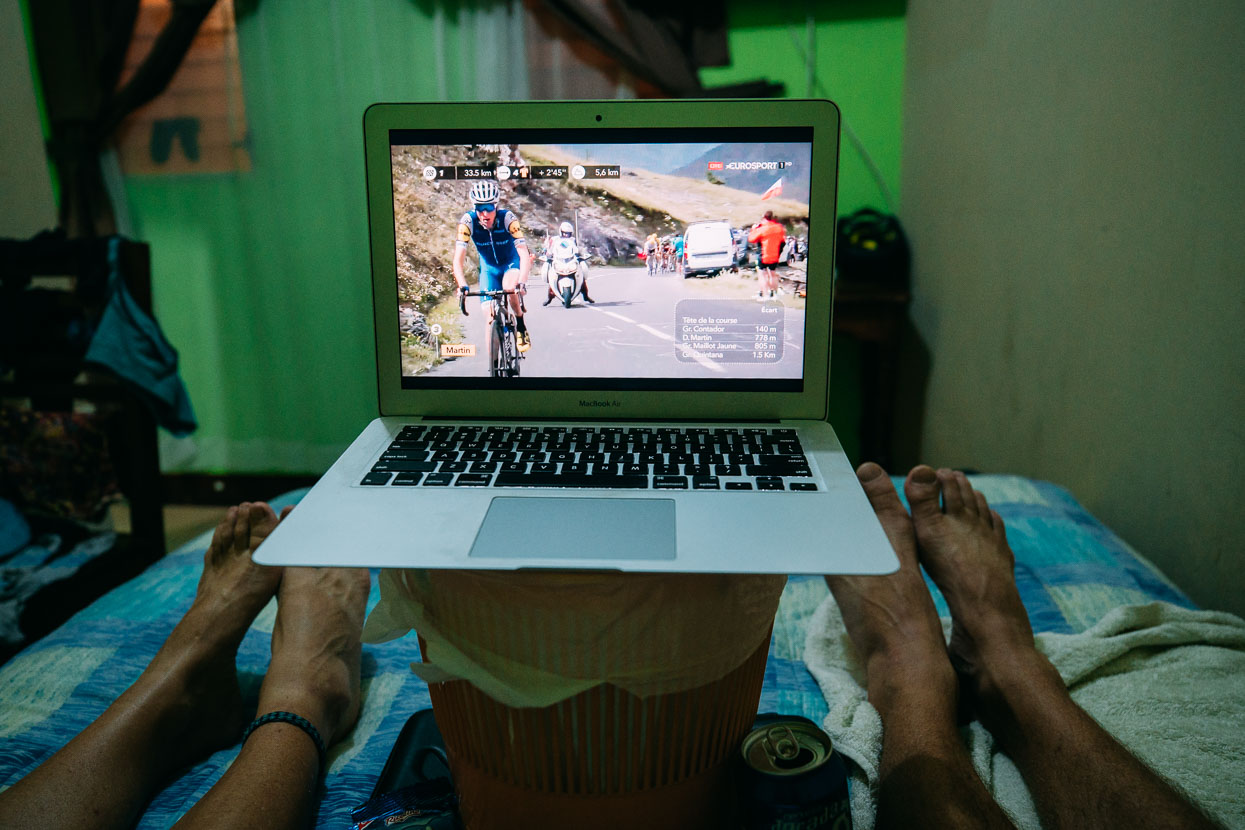 The internet was even good enough to catch up with a bit more Tour de France. Our hero Dan Martin on the attack again in the Alps.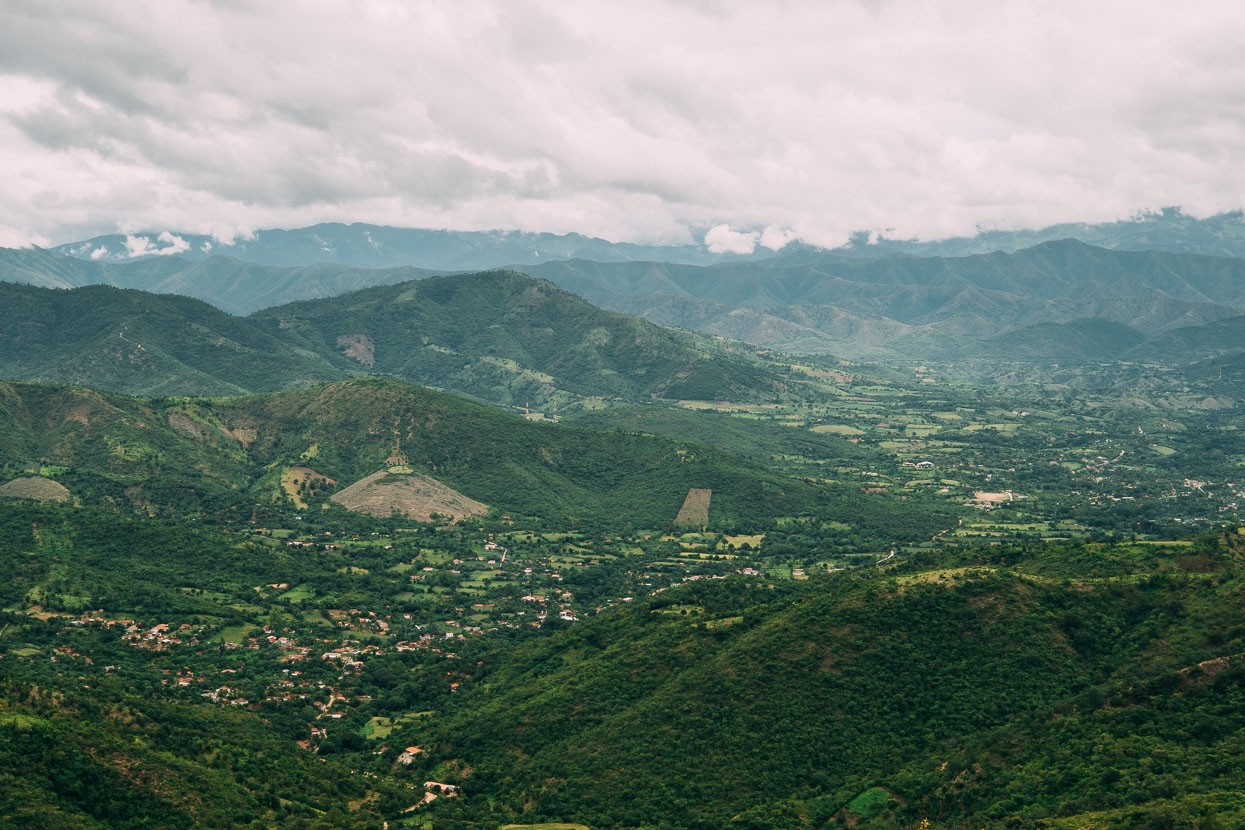 A blissfully smooth road climbed out of San Miguel Chicaj towards Rabinal at a gradient that was sensible for a change.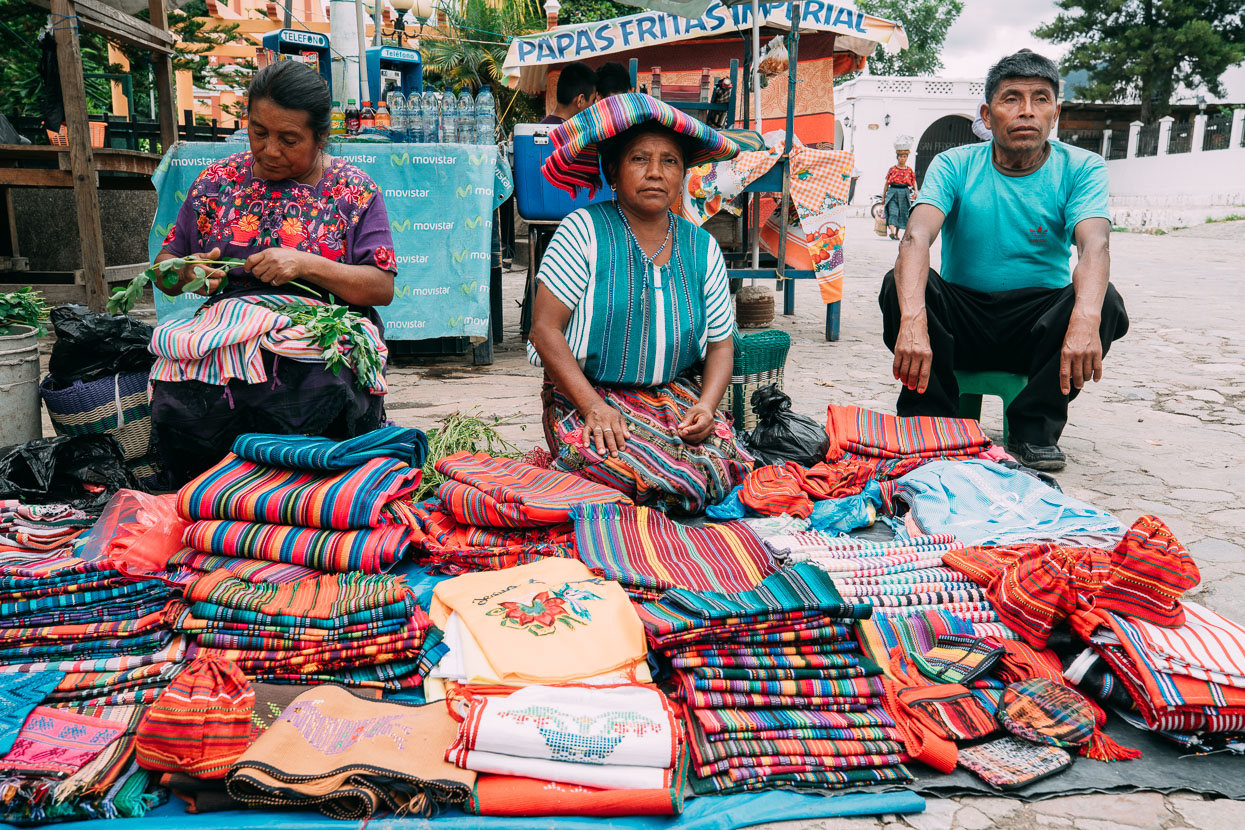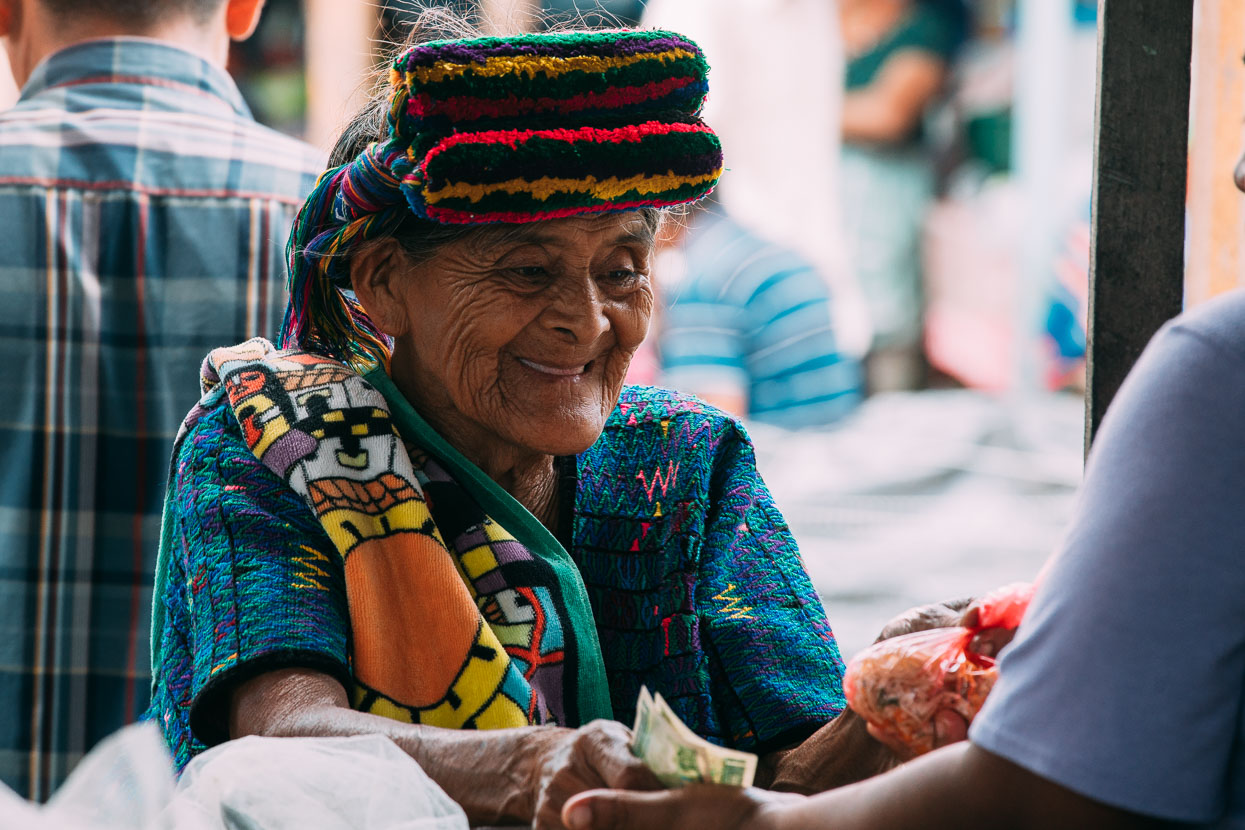 We arrived in Rabinal for lunch and wandered the bustling market briefly to catch a few candid portraits of local people. This old lady is wearing traje (traditional dress), including a brightly coloured headband.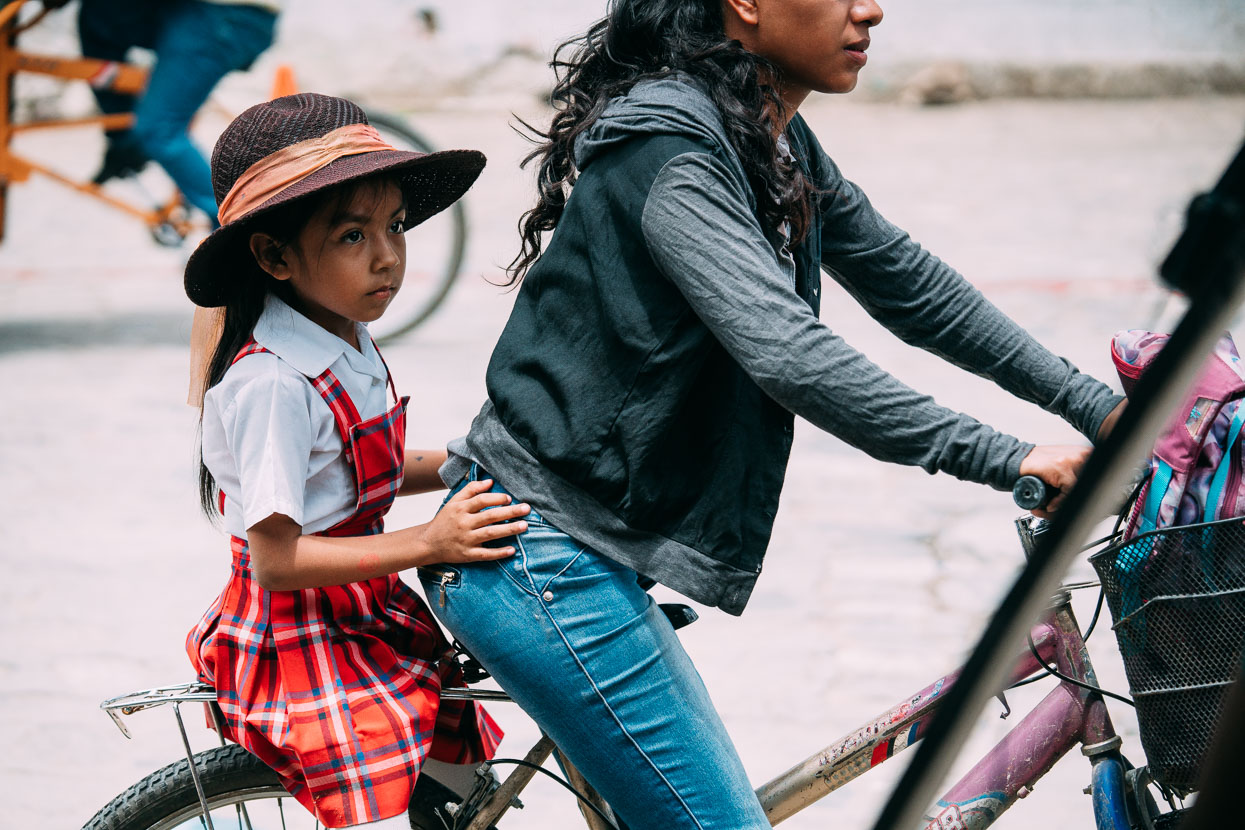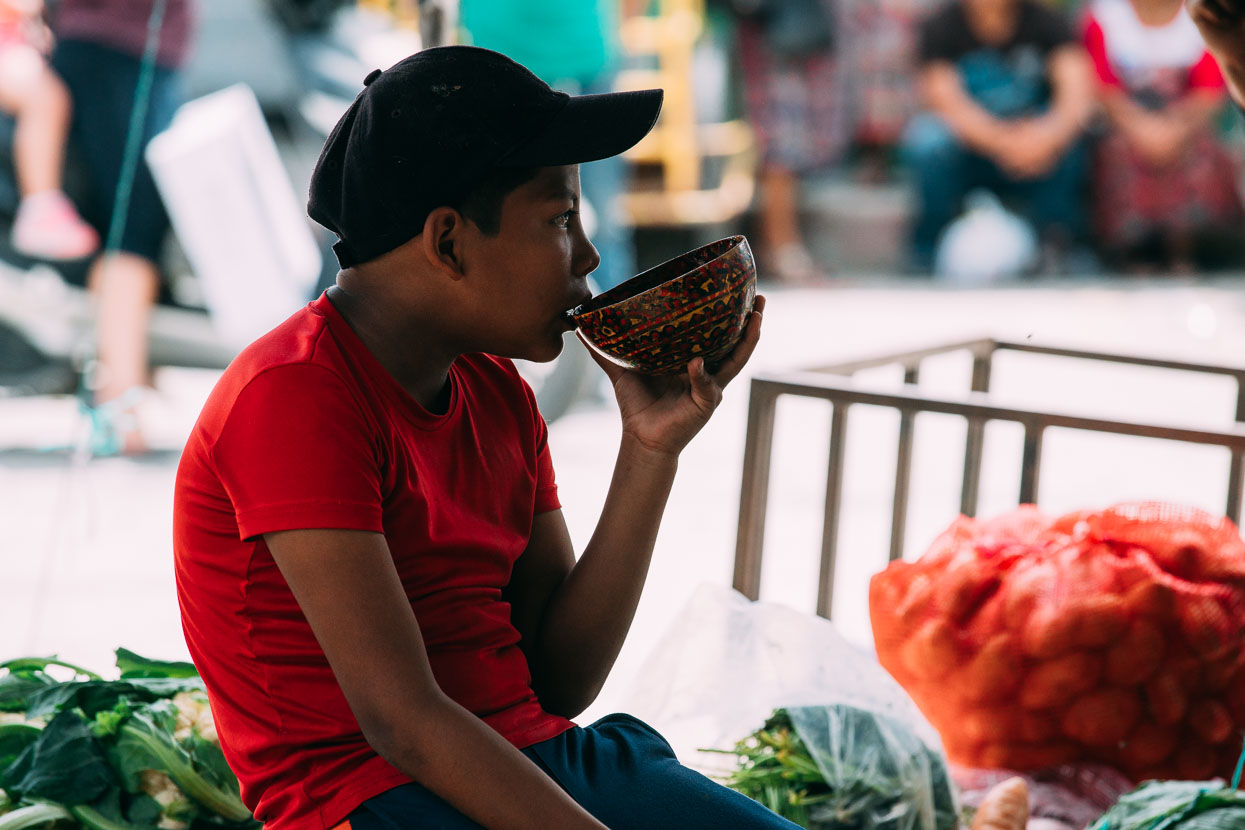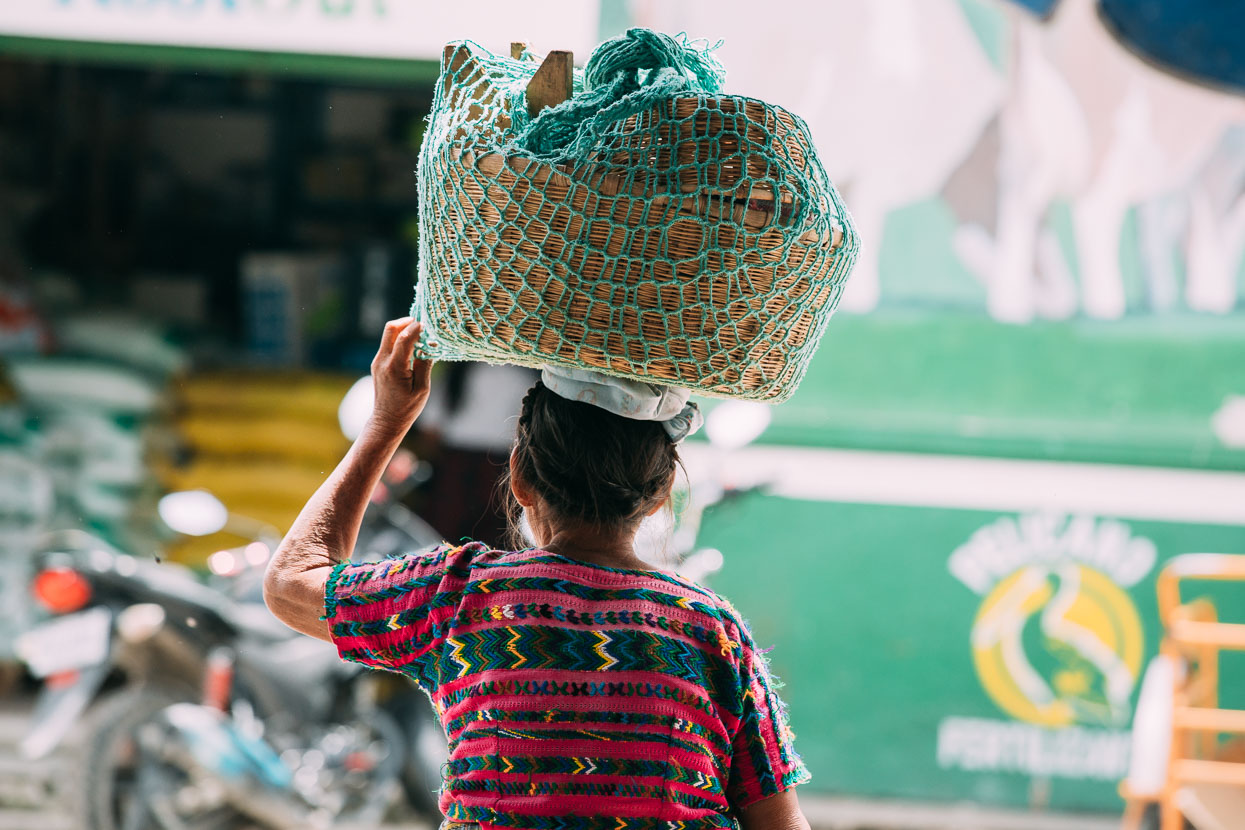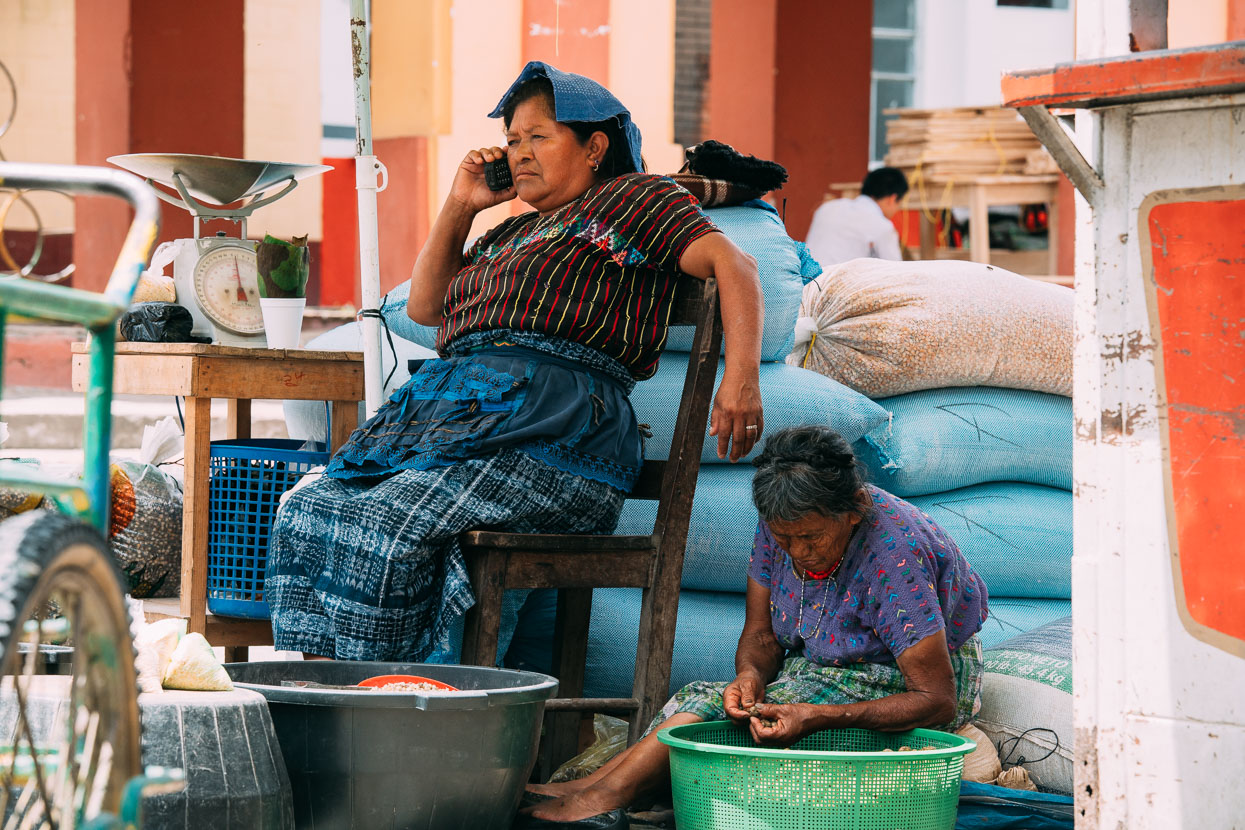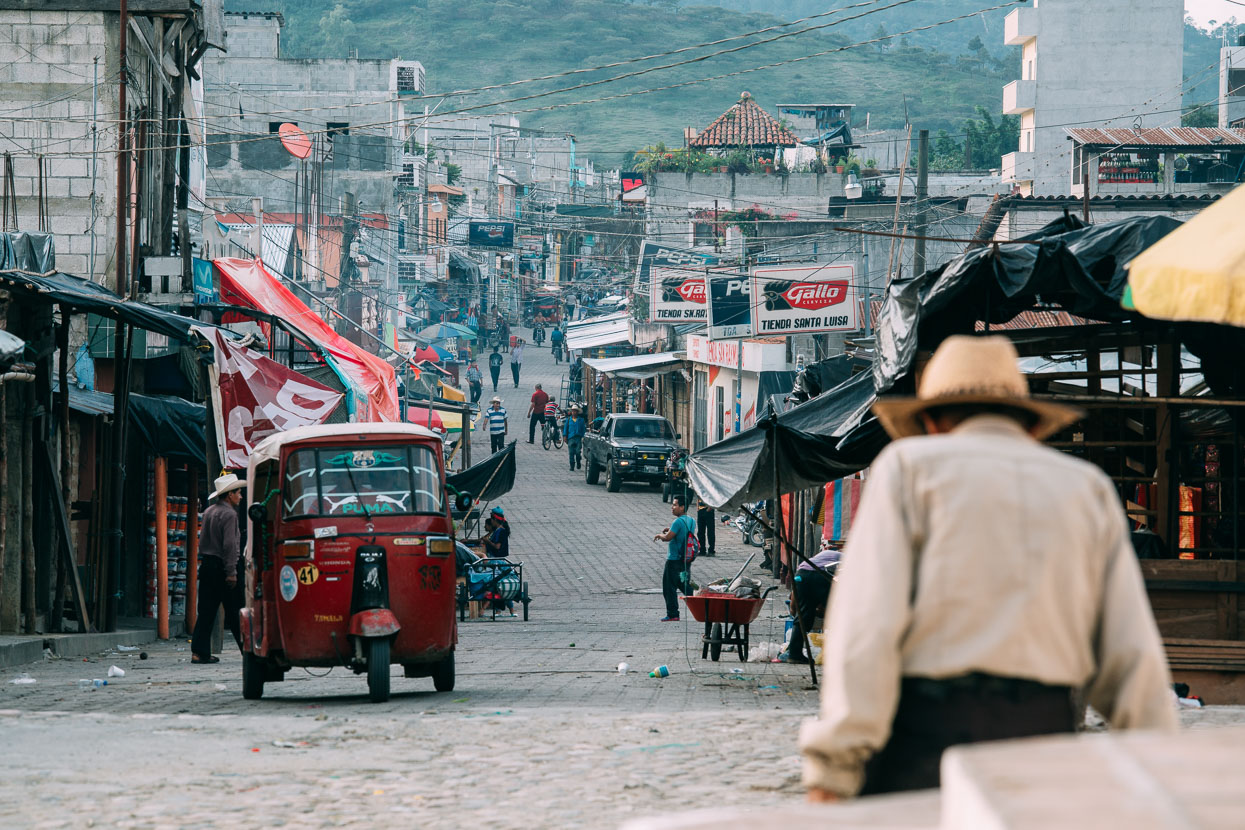 Our stop for the night was in Cubulco, a small town tucked into the edge of the valley at the base of the Sierra de Chuacus. A glance at even reasonable printed maps indicates Cubulco as being the end of the road, but there is a very steep and reasonably good road climbing out of town over the Chuacus and another probably equally difficult road heading north west. In anticipation of both Cubulco's remoteness making it an interesting spot to check out and the brutally steep road to come we took a day off.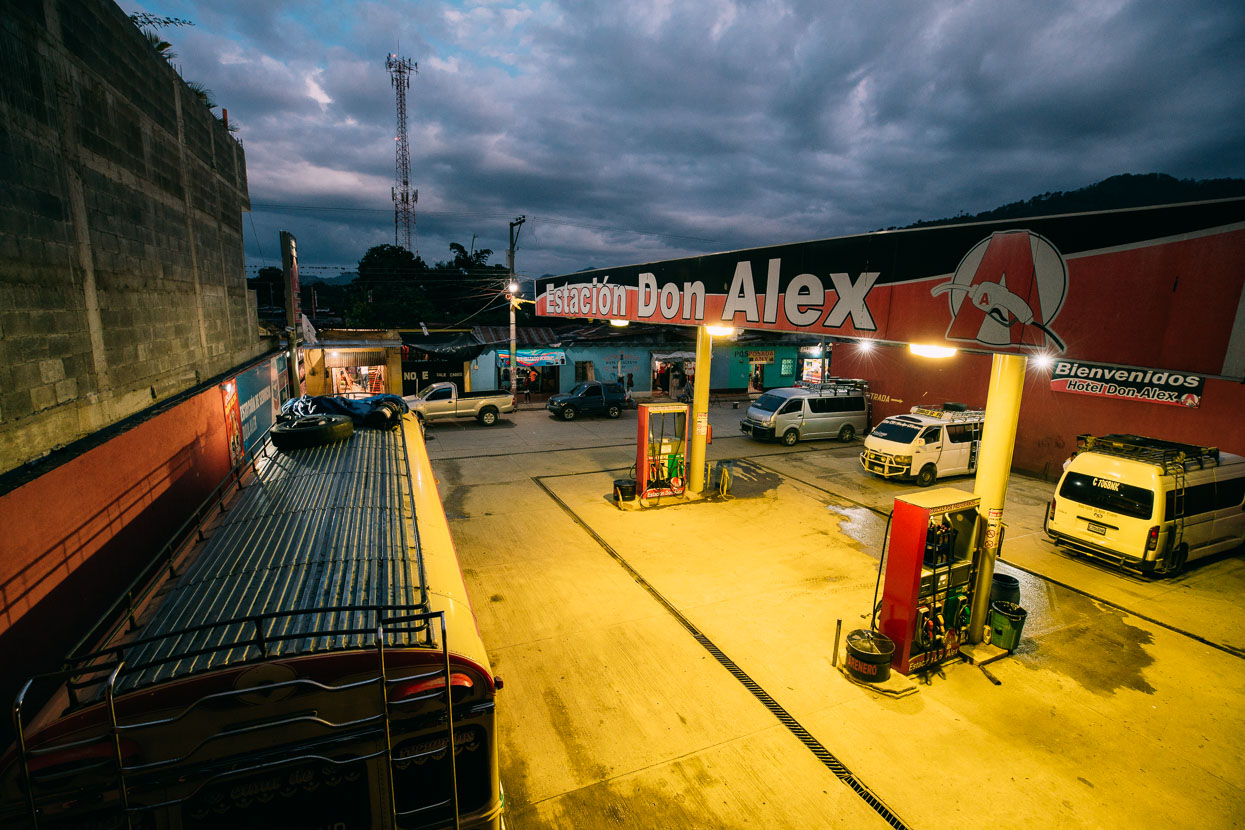 What we hadn't anticipated was that it was Cubulco's annual fiesta week and that the town would be bustling with visitors from nearby villages bringing wares to the street market. We negotiated a colourful maze of busy streets and sideways glances in search of a hotel and found one at the gas station, which also doubles as the transport centre for every chicken bus and mini van departing town. It was hardly quiet but it was very handy to the energy of the centro area that we were so keen to see.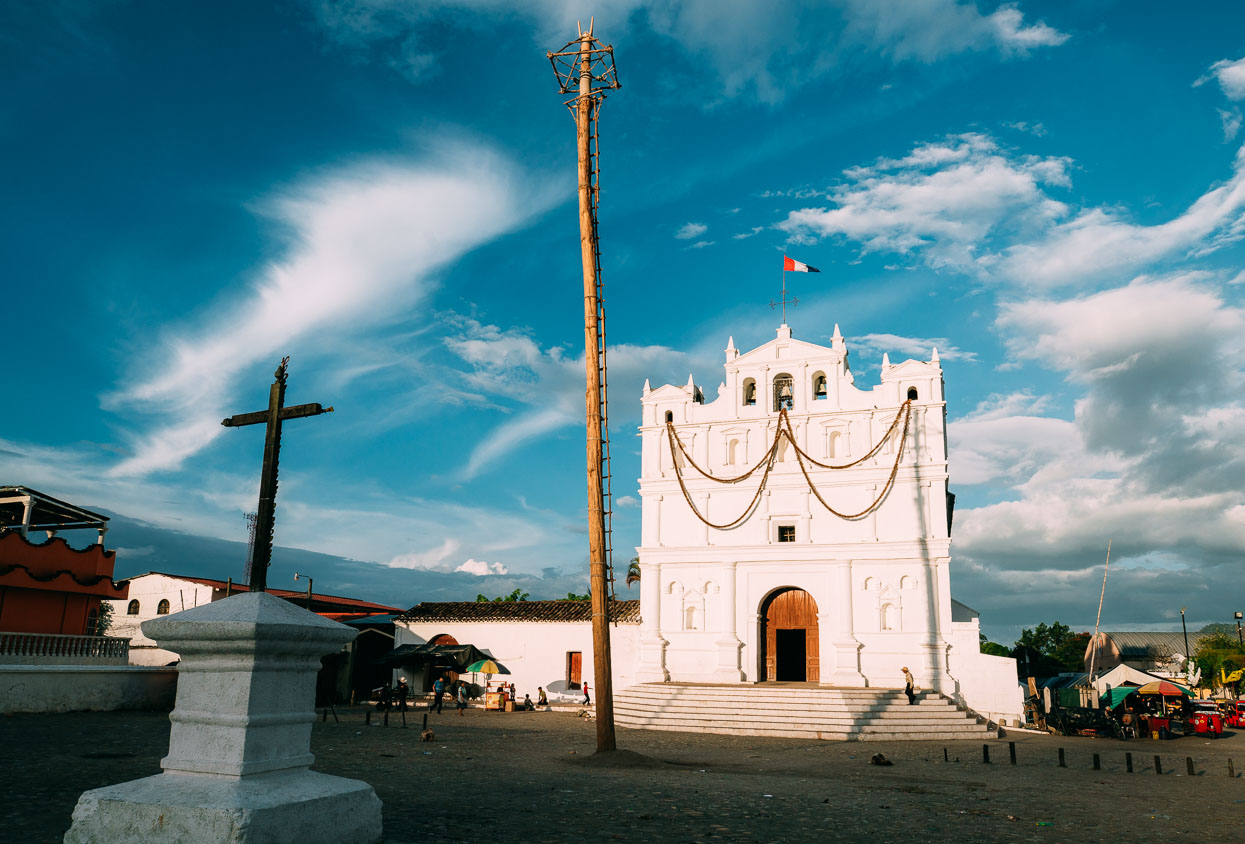 Sadly we missed Cubulco's Palo Volador (flying pole) ceremony by two days, but the pole still stood in the rubbish strewn plaza outside the church. This risky ritual involves men gradually lowering to the ground from 20 metres on ropes while spinning around the pole in dizzying circles.
Despite missing the Palo Volador, Cubulco was a fascinating place to hang out. The town had a slightly unhinged frontier town feel about it. A feeling that might have been reinforced by the man I chatted to briefly outside the gas station who had adjusted his t-shirt to show off the large automatic pistol he had tucked into the waistband of his pants. Despite this slightly prickly introduction to the locals we encountered friendliness, indifference and plenty of curious stares in equal measures as we walked around town.
The streets were alive with people hawking everything from chickens to tamale pots to maize grinders carved from rock from the volcanic highlands. Most of the men wear cowboy-style sombreros and carry machetes on their hips like swords, sheathed in intricately crafted leather. Women walk with baskets on their heads, drunks lie inert on the footpaths and shoe shine boys call to us cheekily – 'greeengo, how are you?' cracking up with embarrassment when we answer in English.
The colour, the noise, the vigour of the markets, the grimy streets and the characterful people were an intoxicating mix that I found fascinating. One of those places that sets a new paradigm for what you think you know about the world.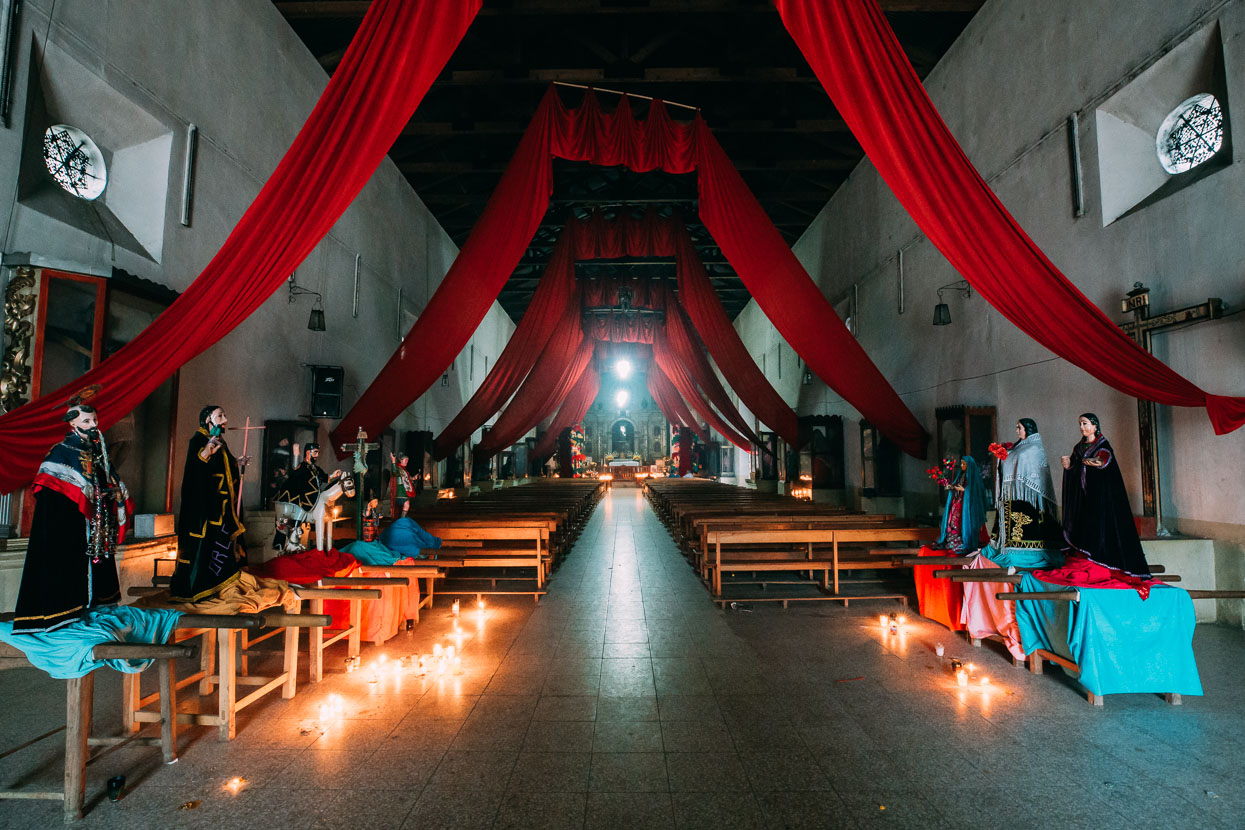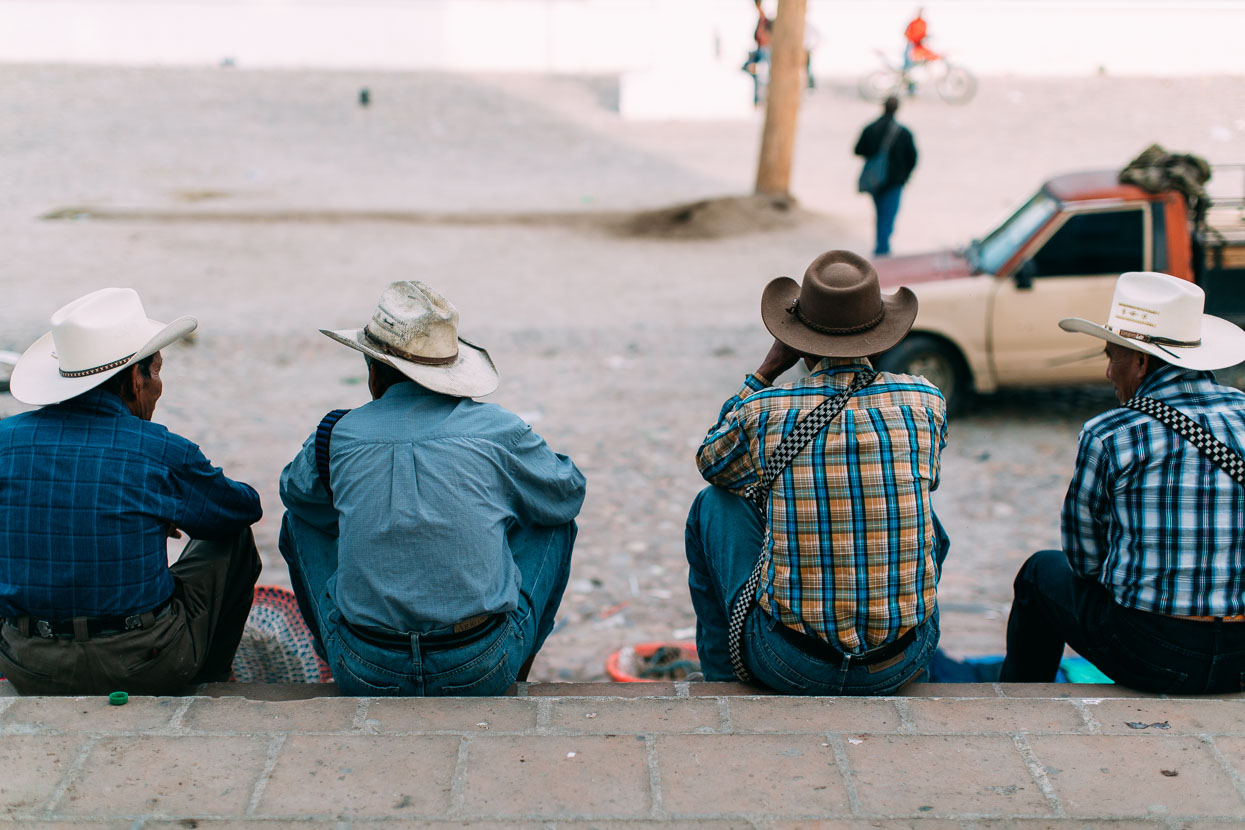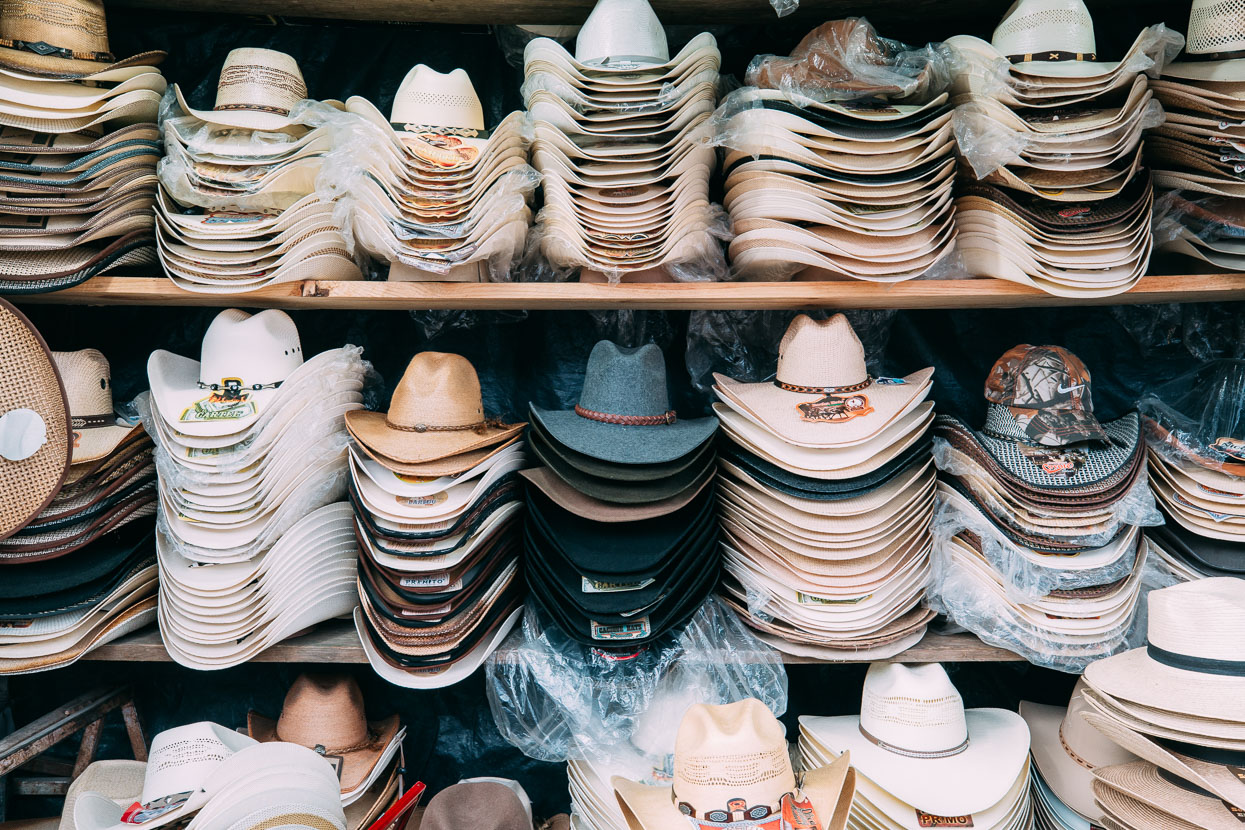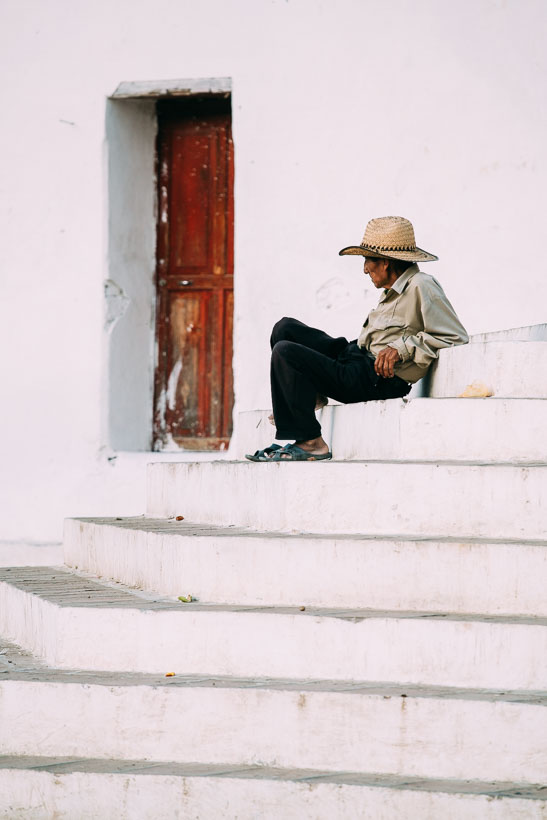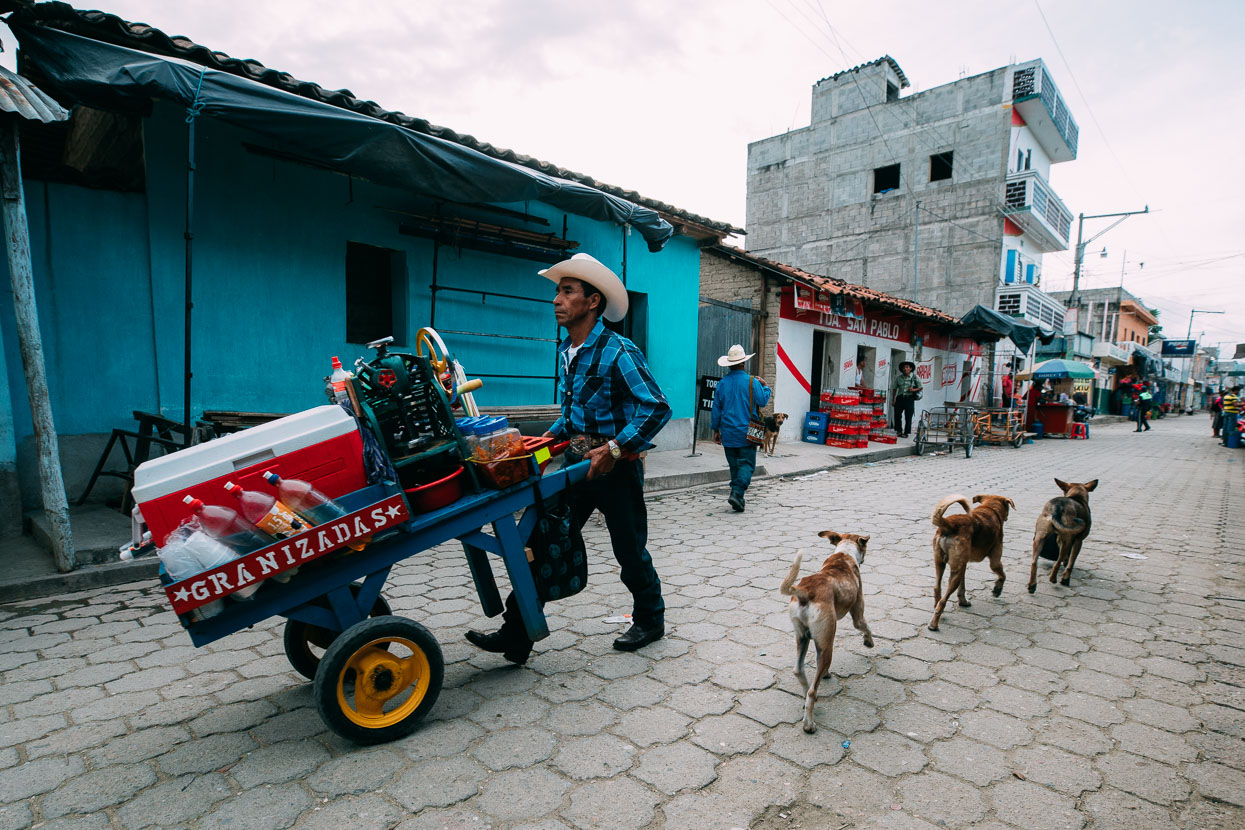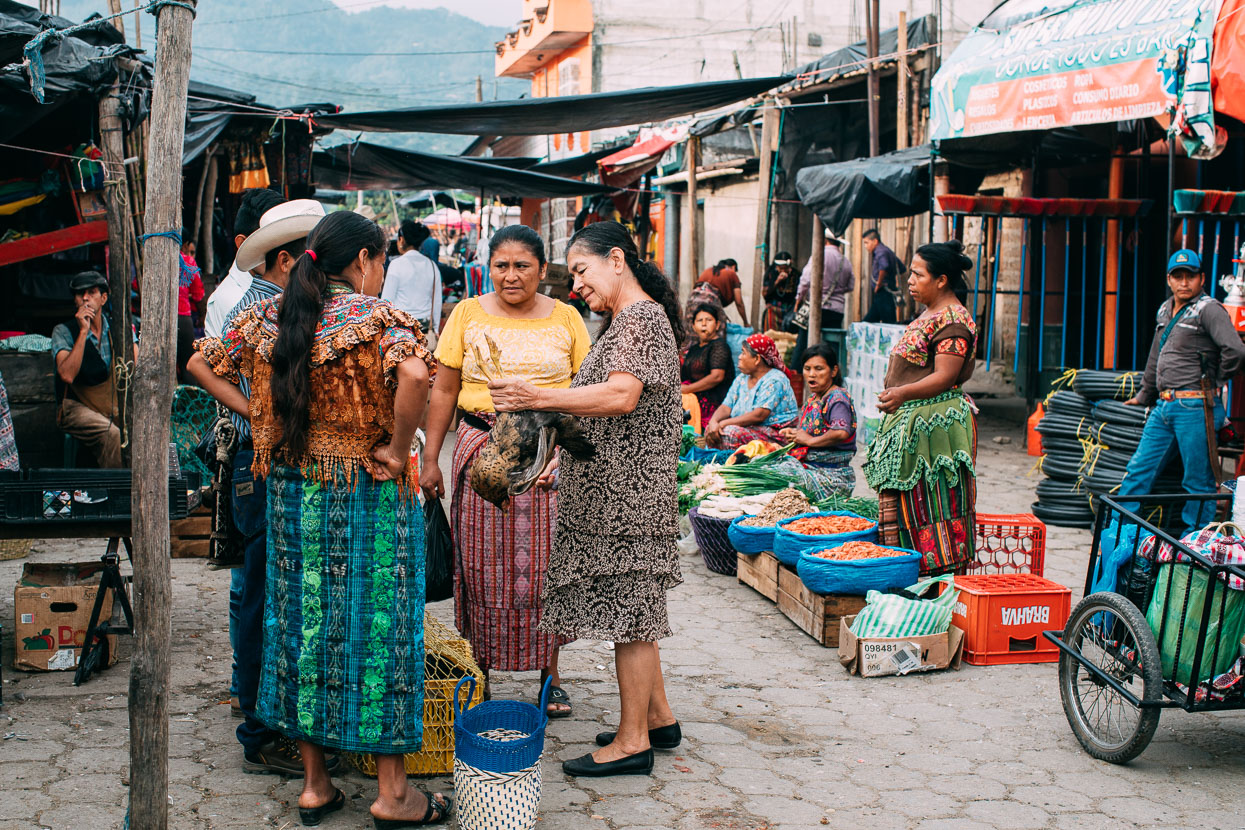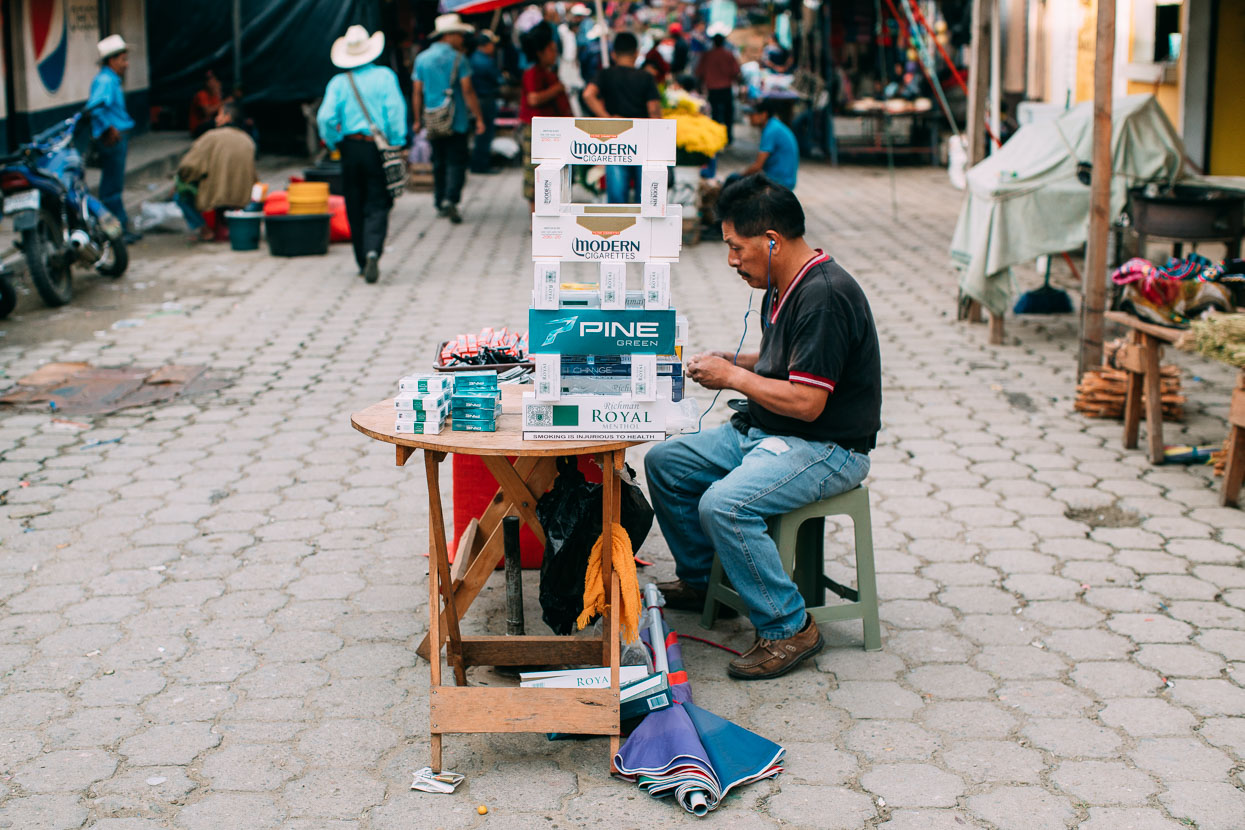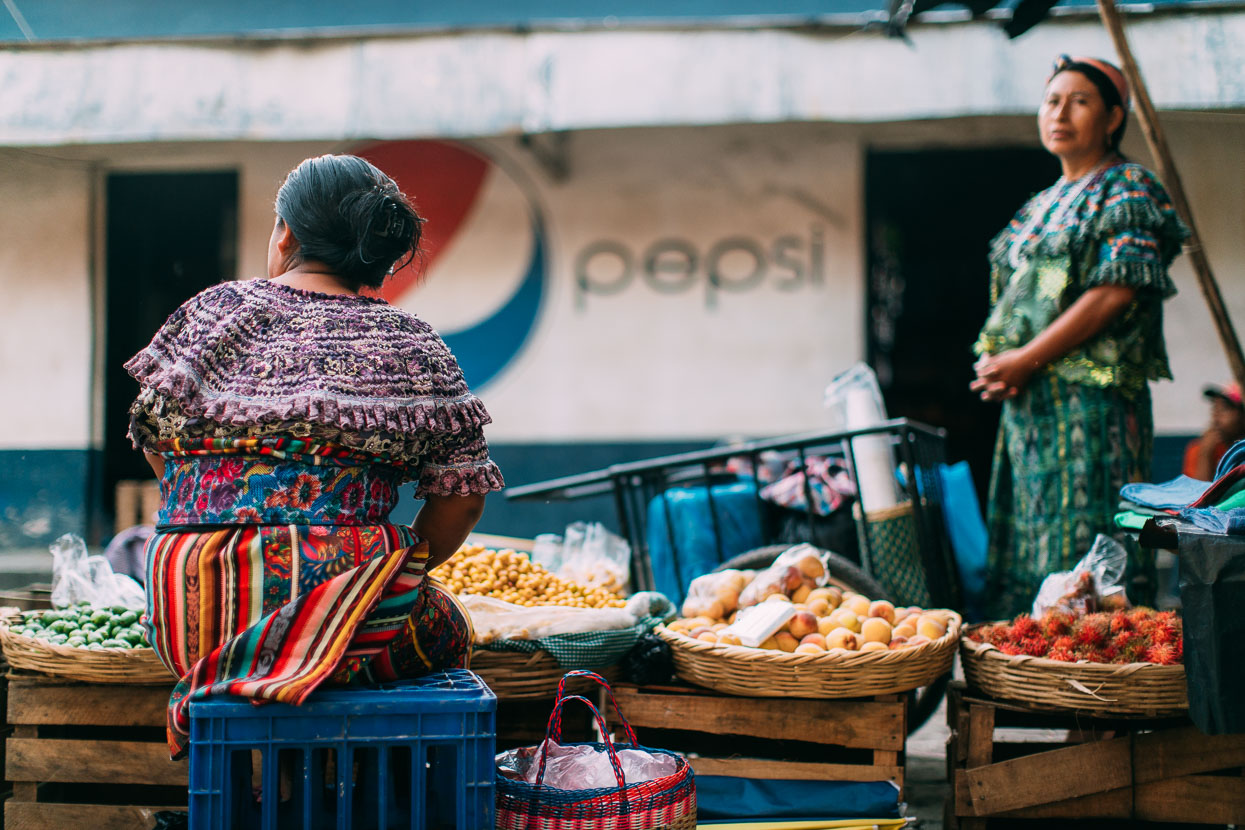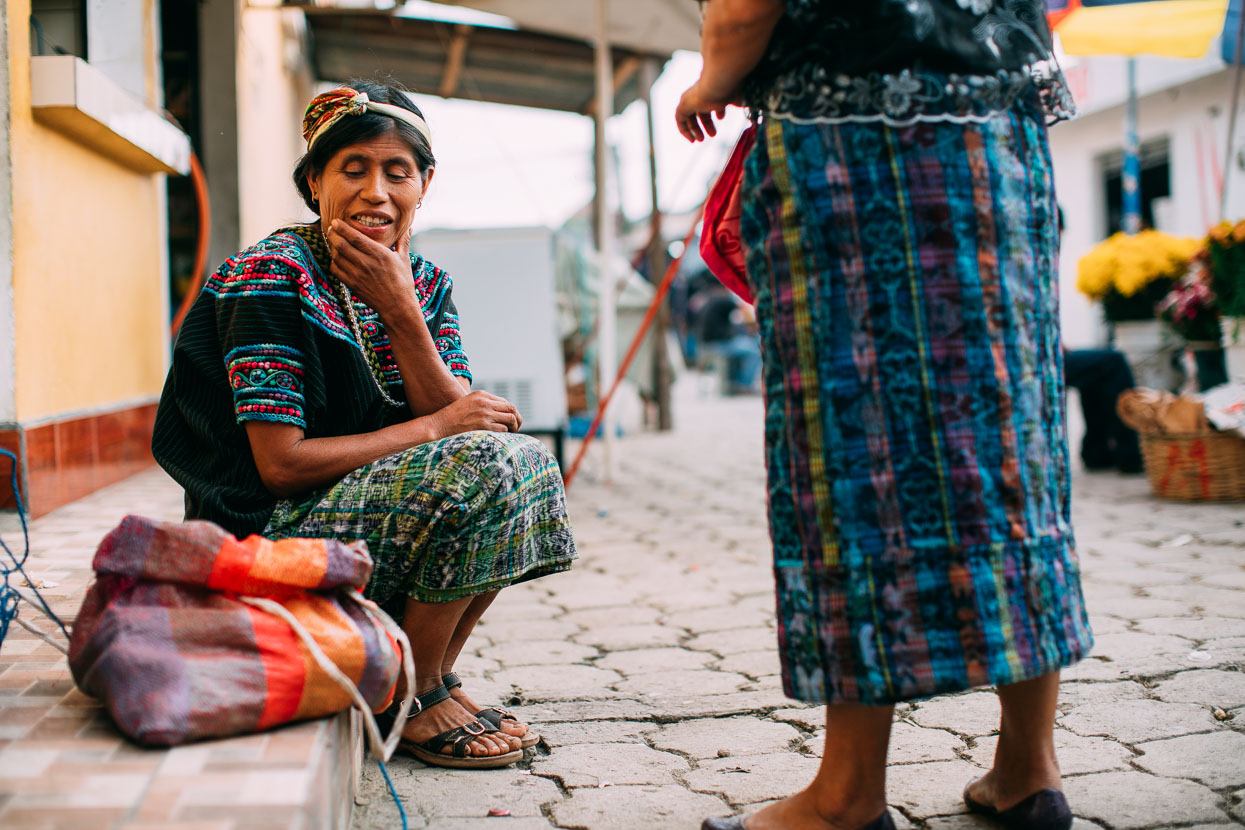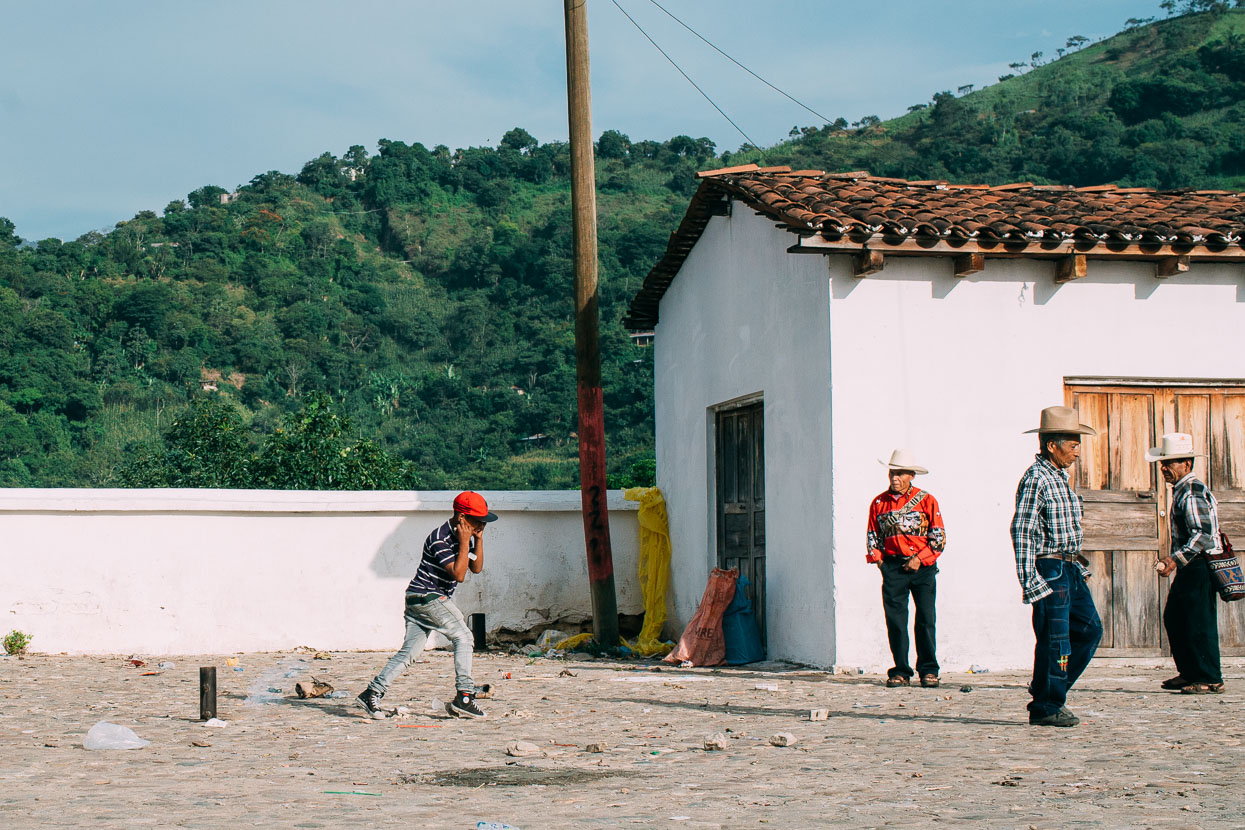 No fiesta takes place in Guatemala without fireworks. In this case a humungous one fired from a small mortar. We never quite get used to the explosions. They're usually without warning and very loud – often making us jump out of our skin.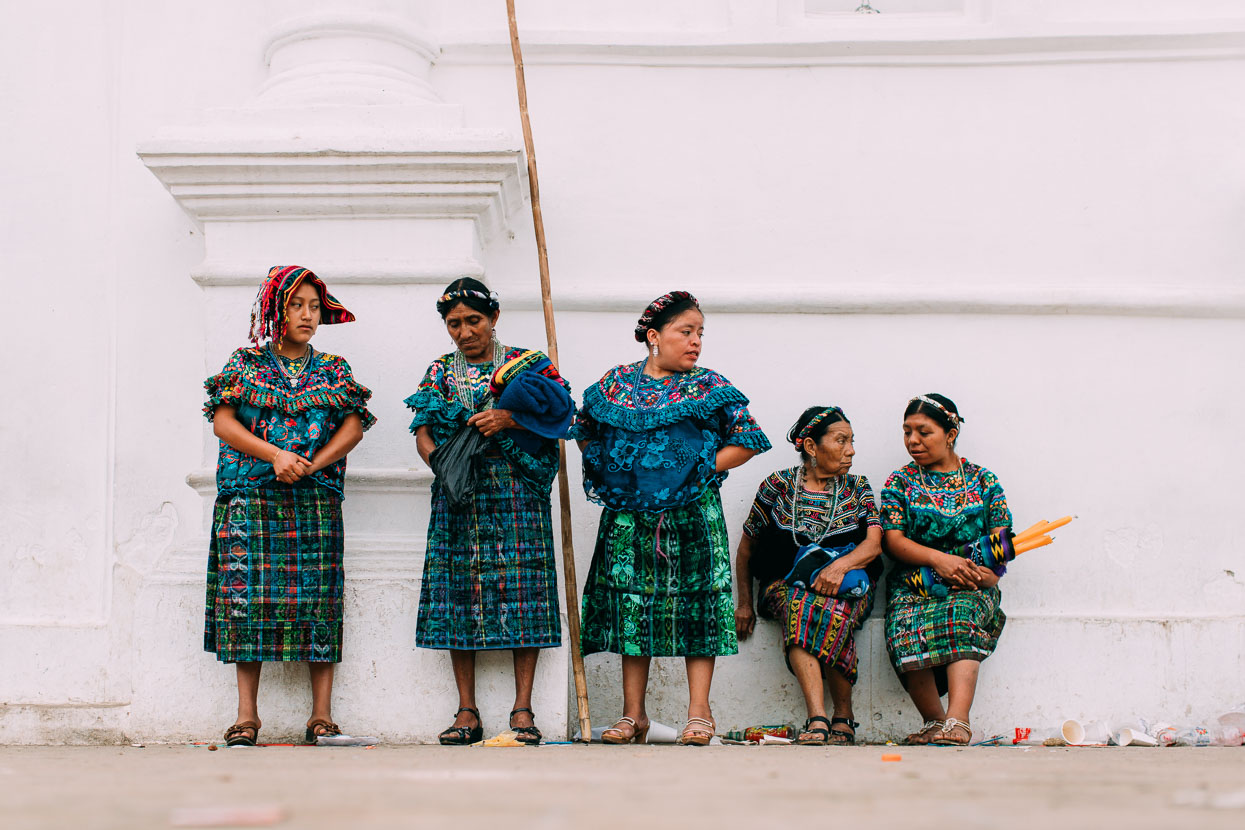 These women were waiting for a ceremony to begin inside the church, which would later flow out onto the street in a colourful and energetic parade of dancing, drumming and singing while men carried effigies of saints. Being the only travellers in town it was cool to see such events taking place not for the sake of tourist entertainment, but purely for for the sake of these peoples' firm beliefs and customs. That these traditions are being kept alive is great.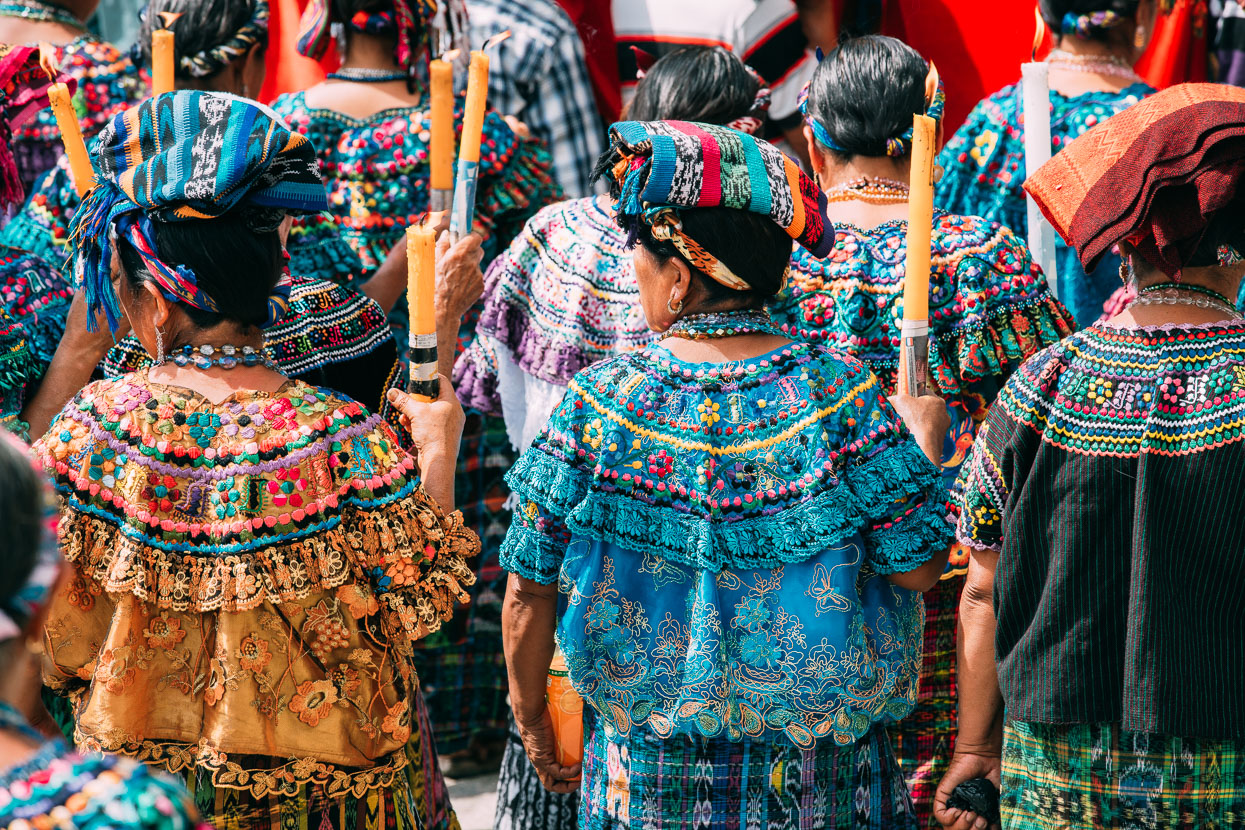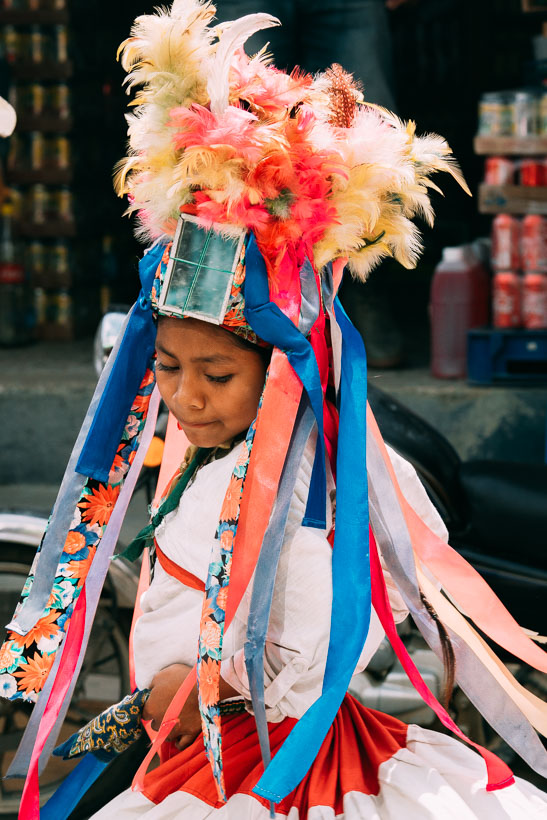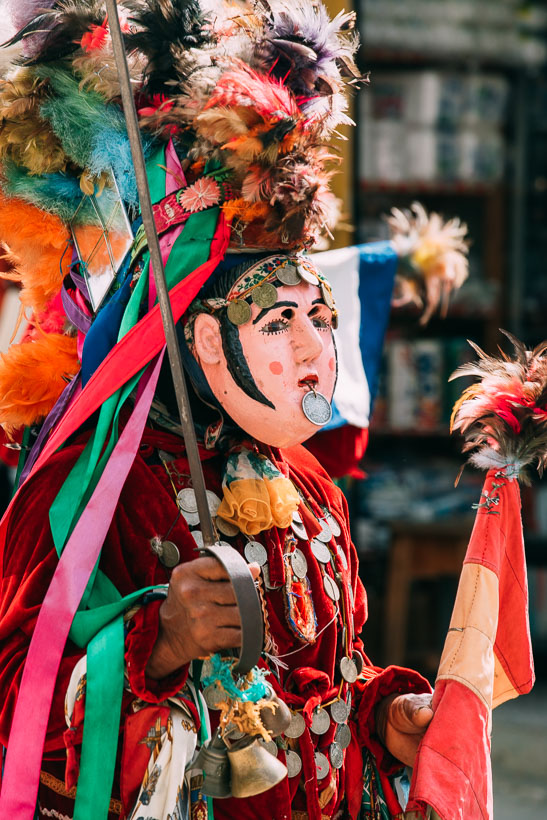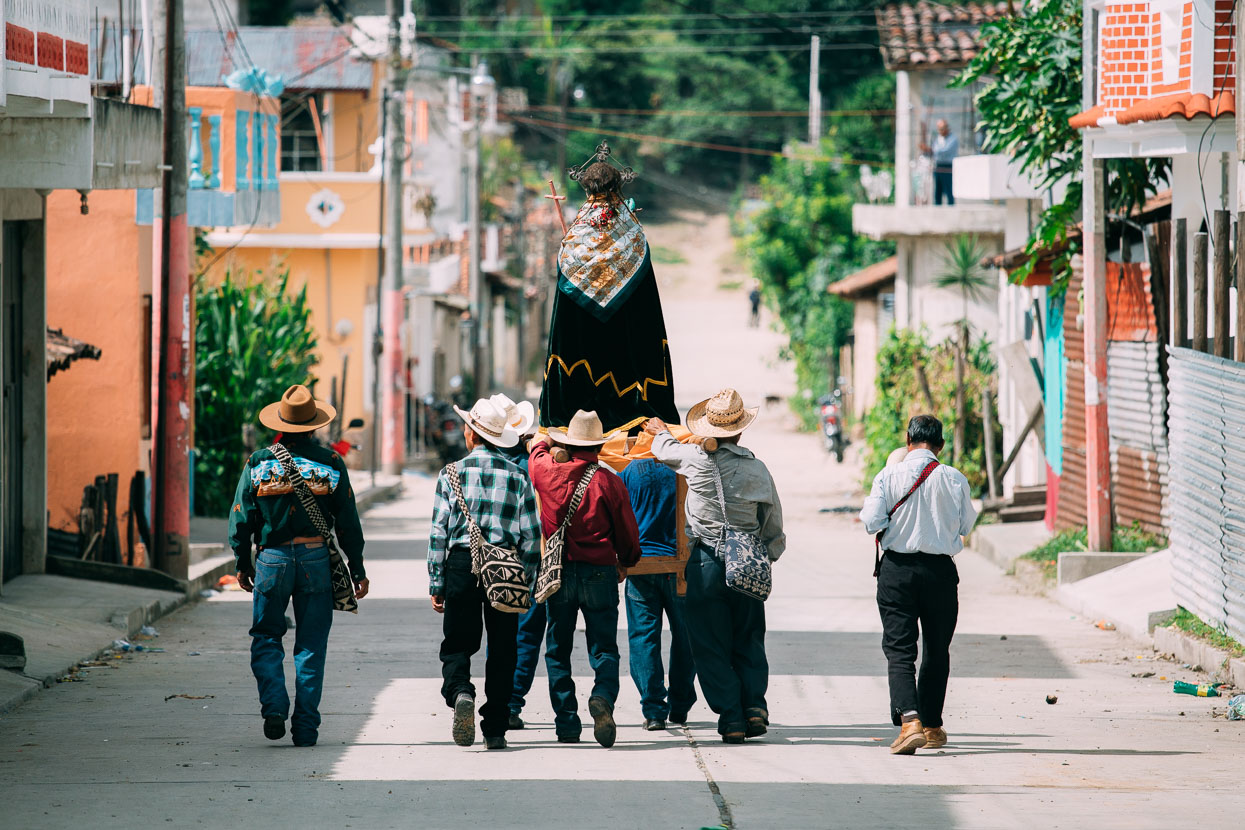 I couldn't figure out why but these guys separated from the parade and wandered off down a side street, with their saint still hefted high.
Our route out of Rabinal towards Joyabaj took us over the Sierra de Chuacus via a very steep road that climbs to about 2280 metres. The surface was a concreted on most of the steepest pitches, sometimes just in two strips, but where we could we were often zig zagging up the road and wishing we had more than our 36t x 22t easiest gears. We're both considering a 11-40 cassette for the Andes now.
That day we rode only 37 kilometres, climbed over 2000 metres and about half of that distance was downhill!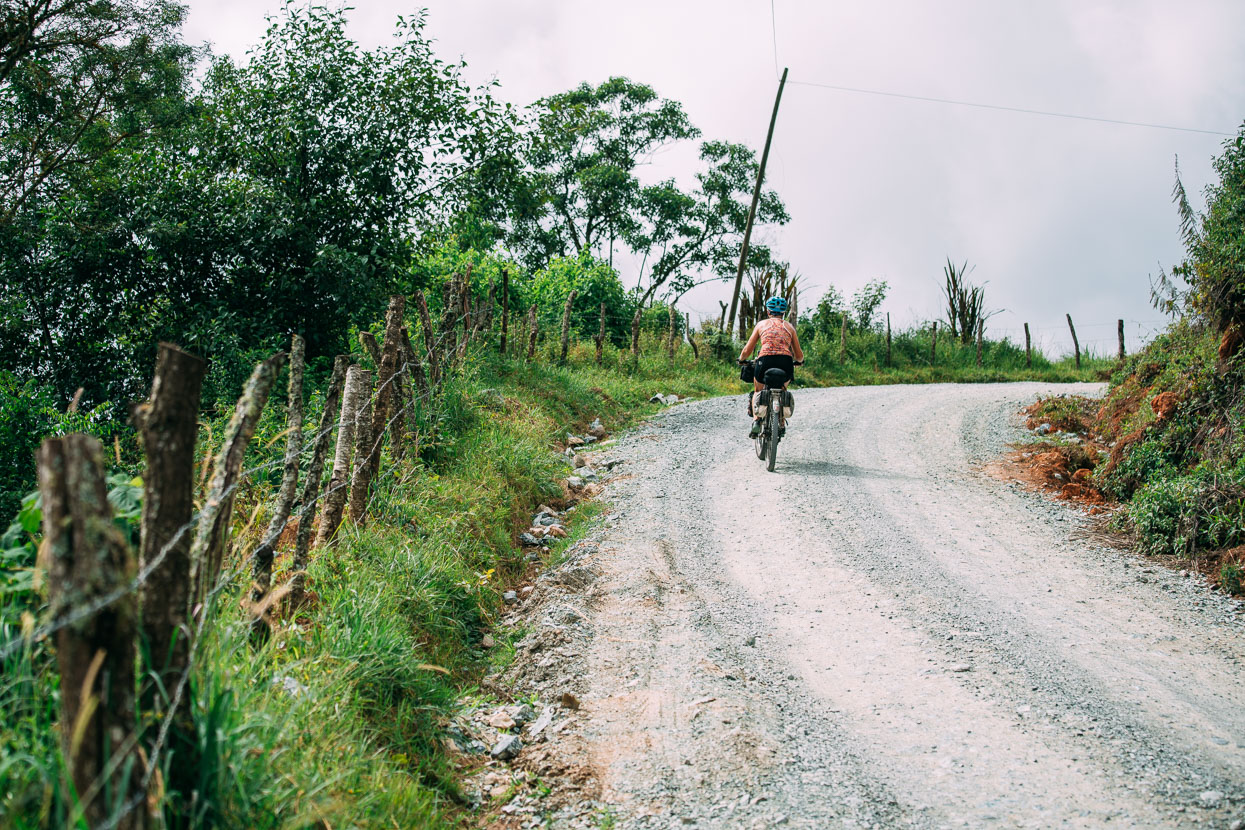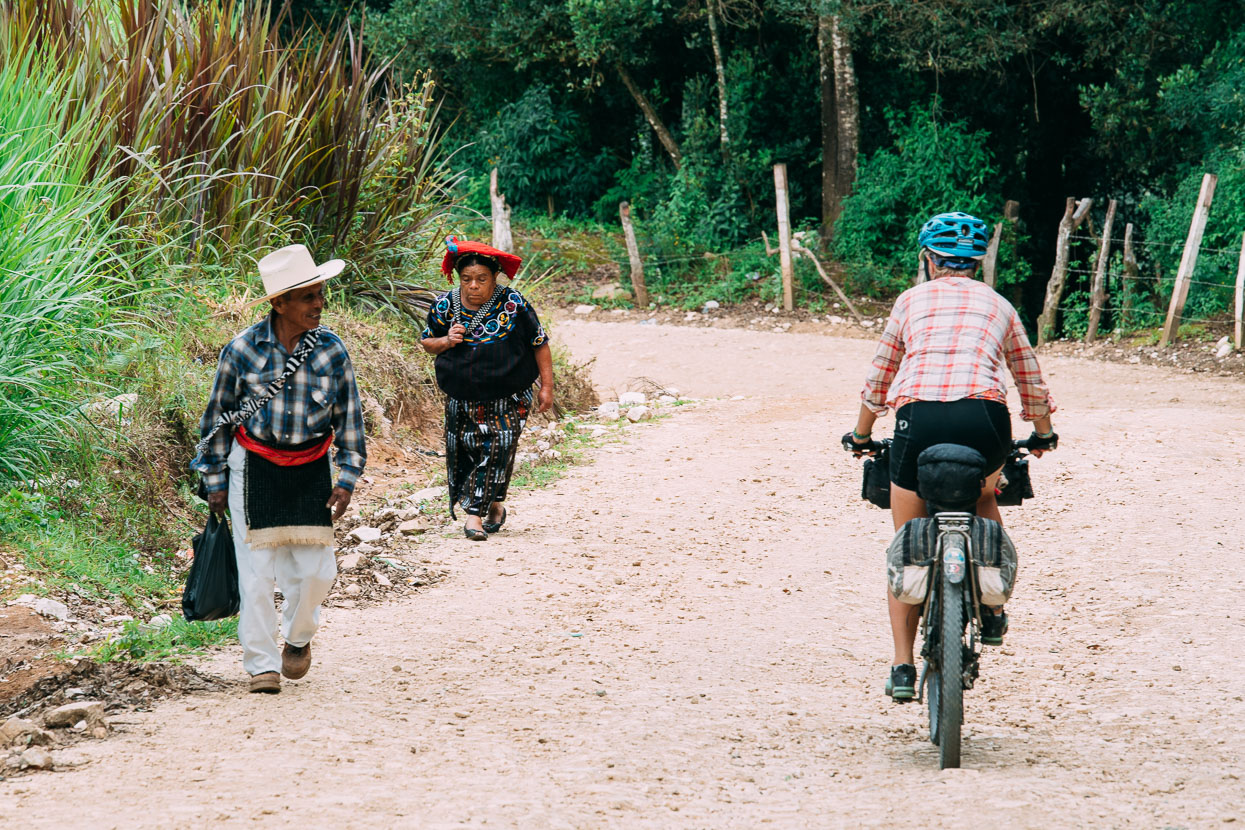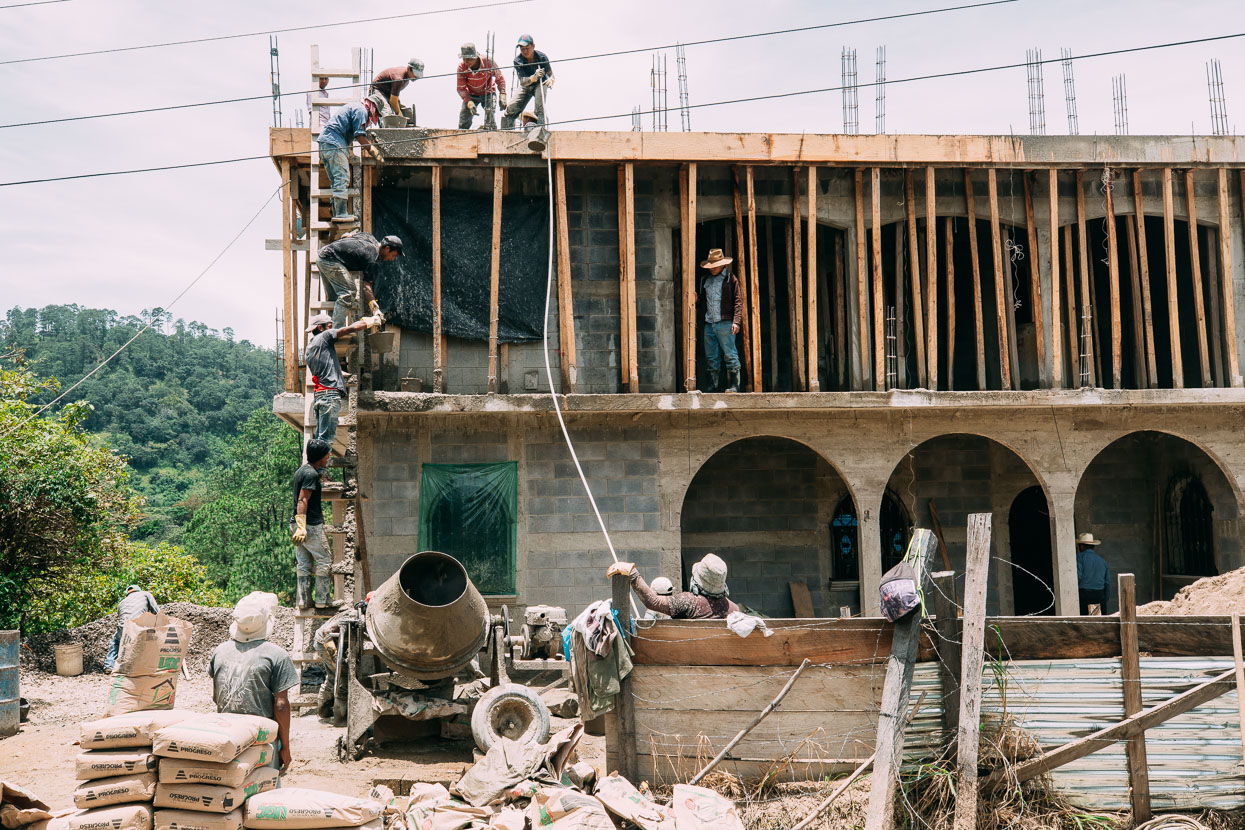 Approaching Joyabaj we came across a team concreting a house floor. No calling up the concrete truck here: these guys had a chain gang of amazing efficiency hauling buckets of concrete up the ladder before returning the empties.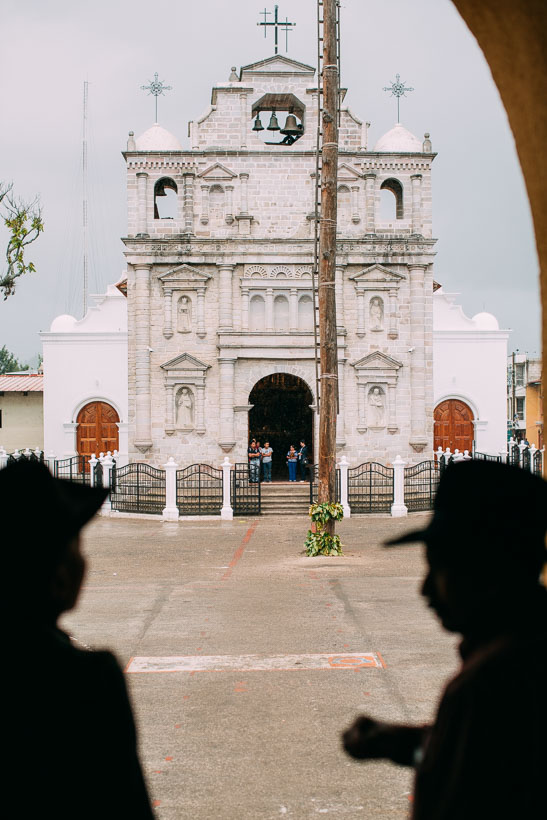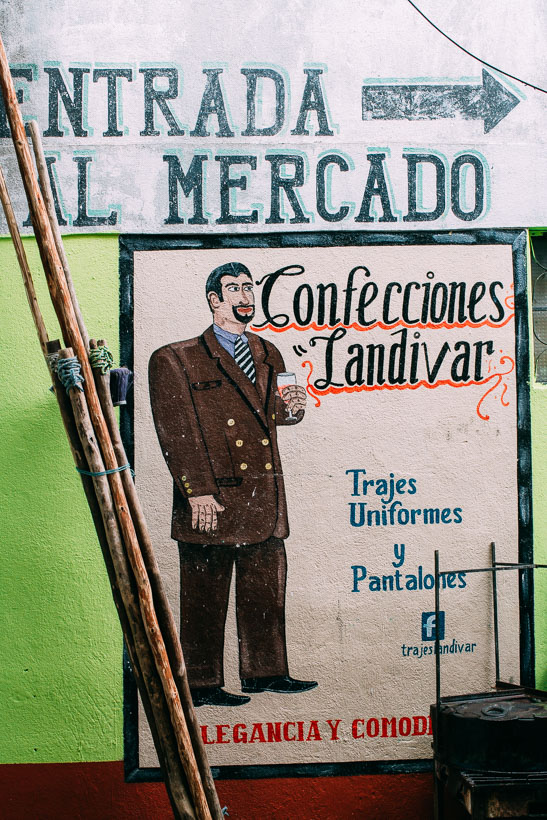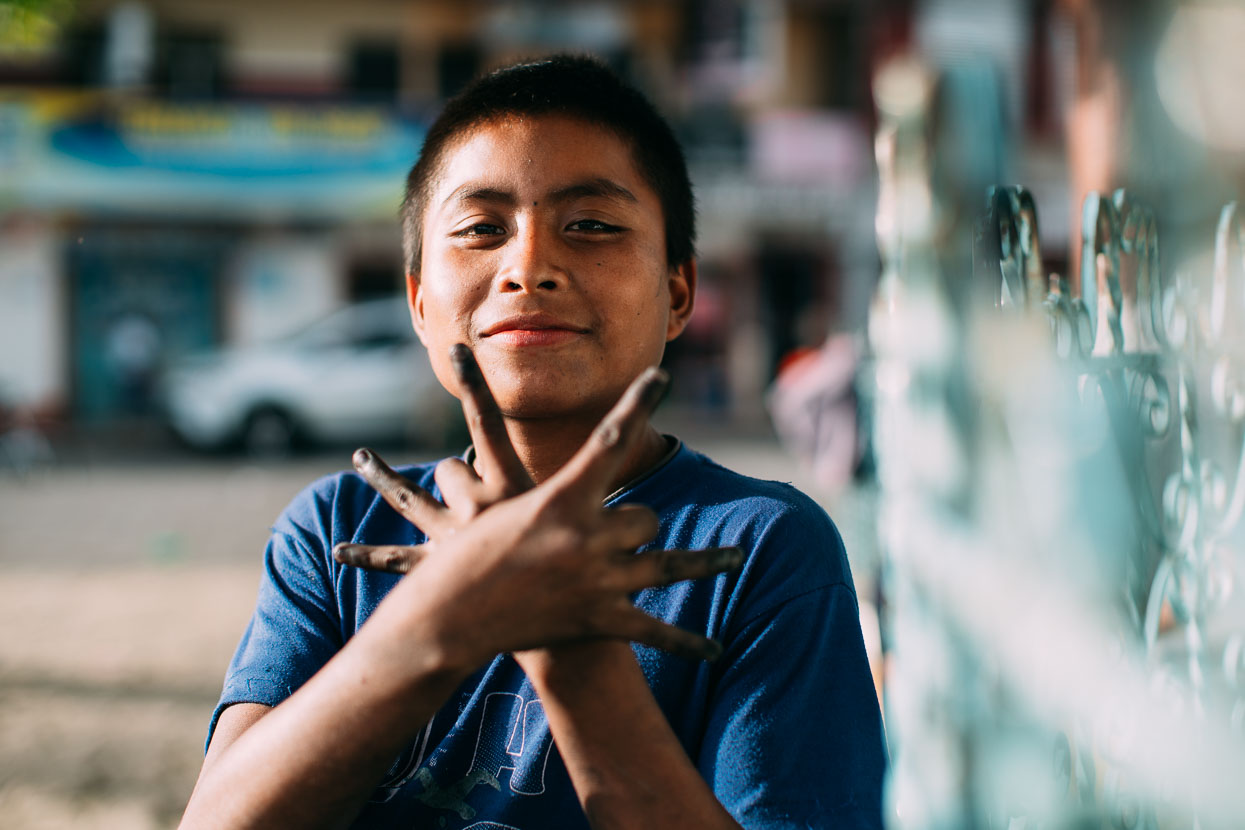 A shoe shine boy in Joyabaj.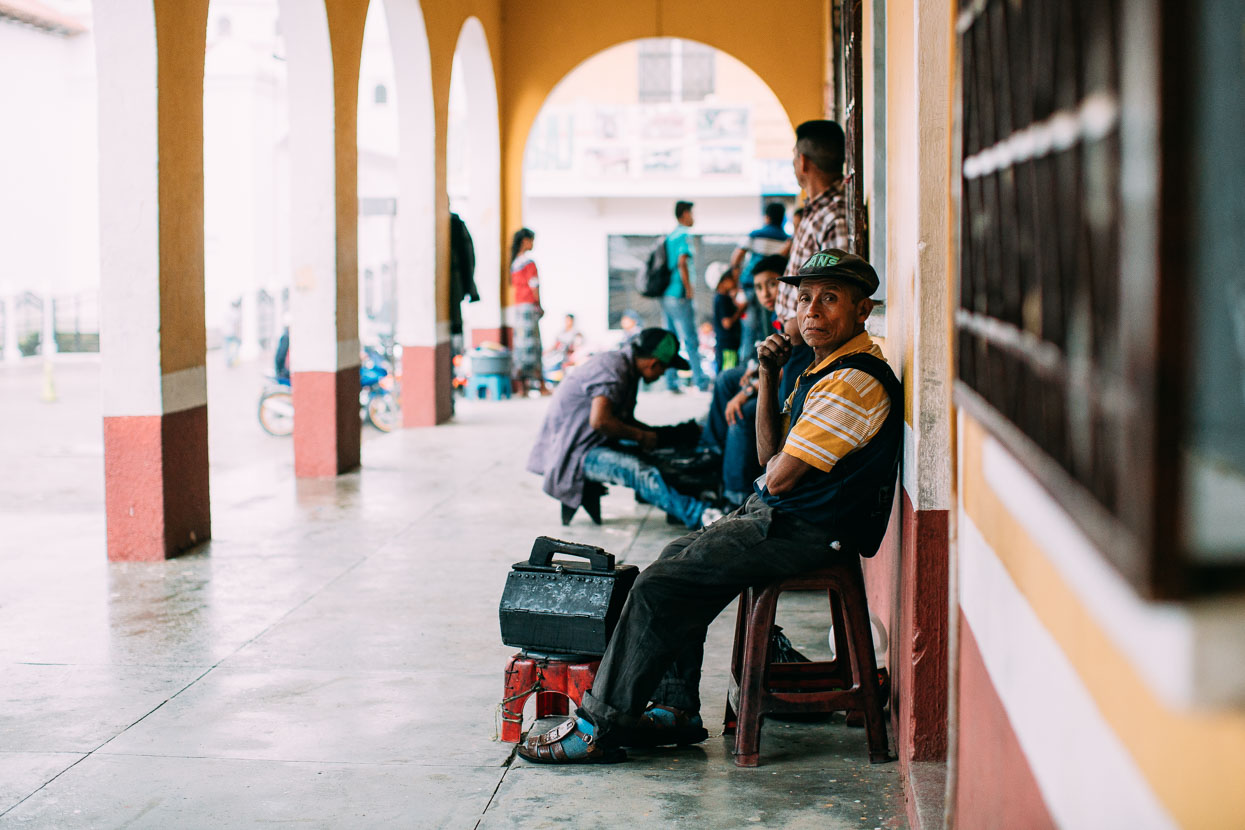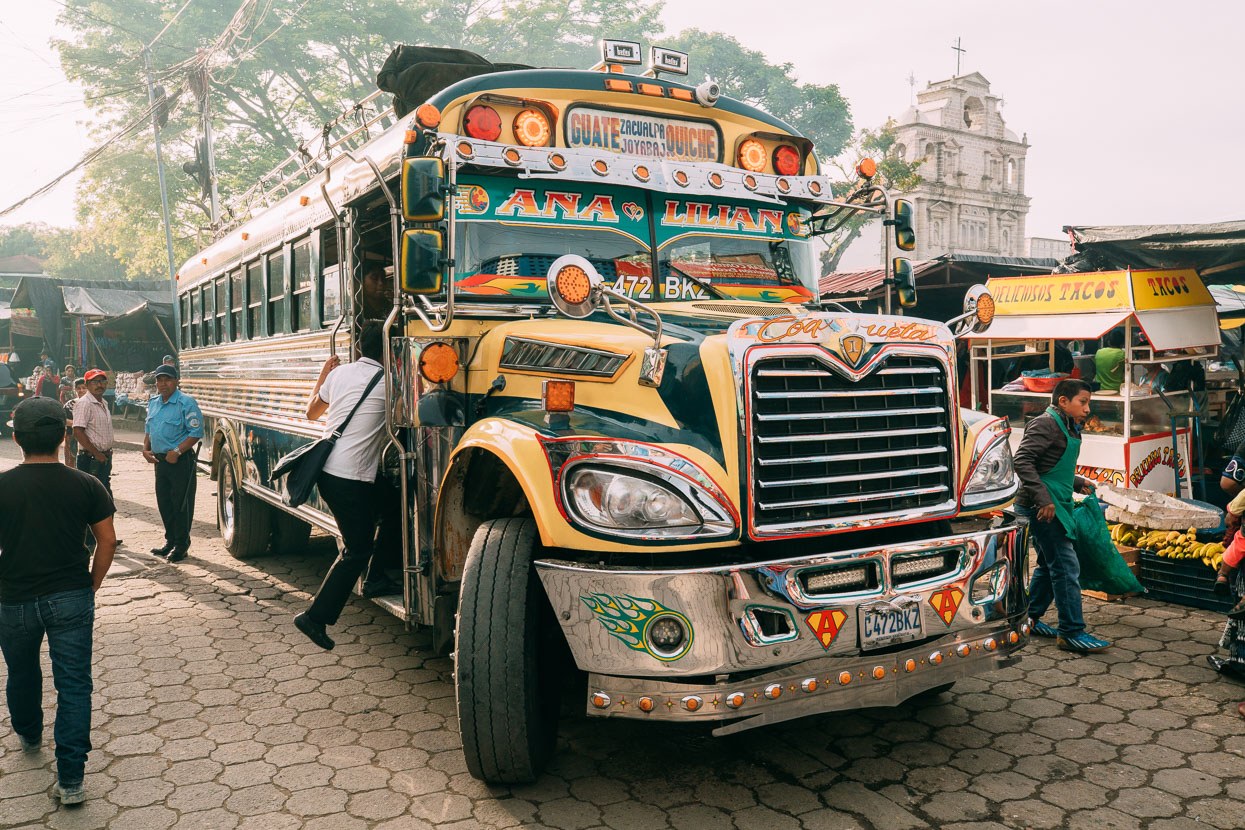 The chicken bus is to Guatemala what double deckers are to London. These ex-US school buses are the #1 intercity transport mode and are ubiquitous. We've seen the full spectrum; from the battered and unloved on Peten's rough roads to polished pride and joys.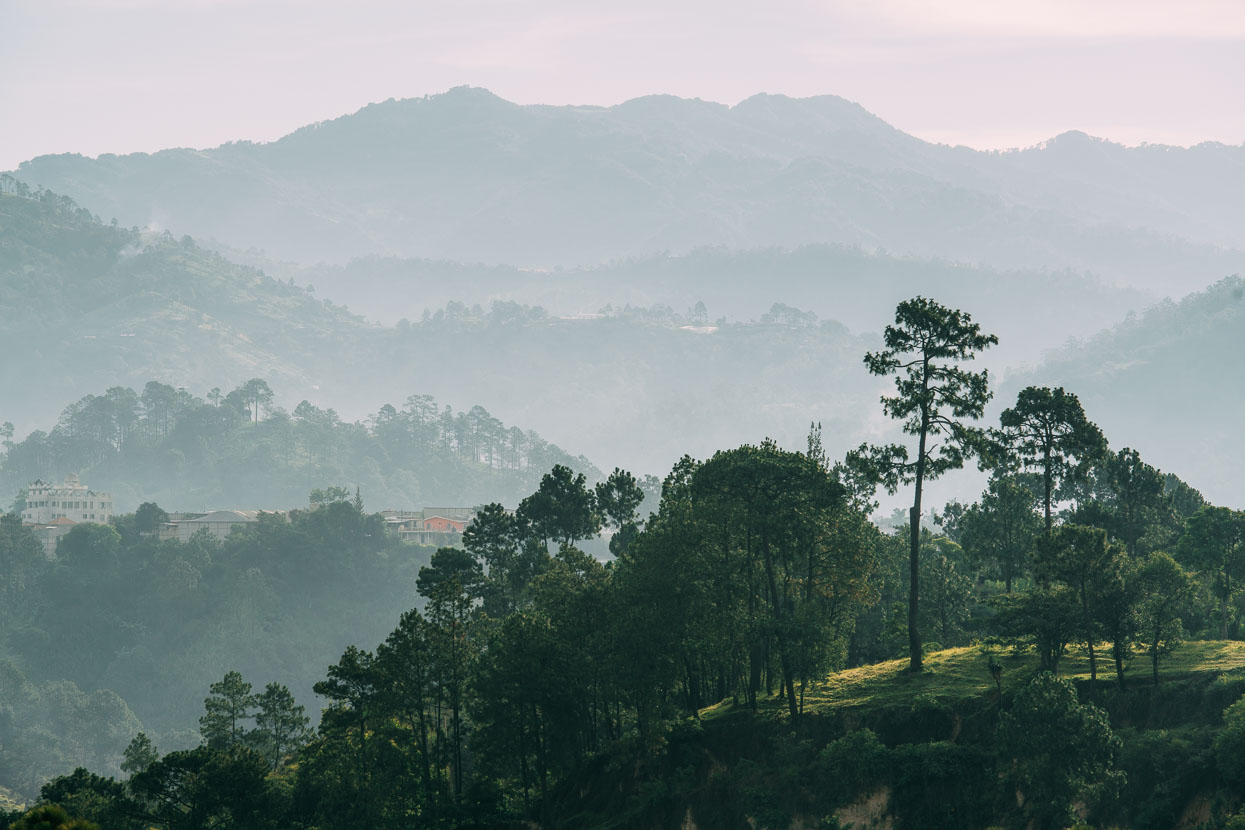 The never ending hills of Guatemala's highland provinces.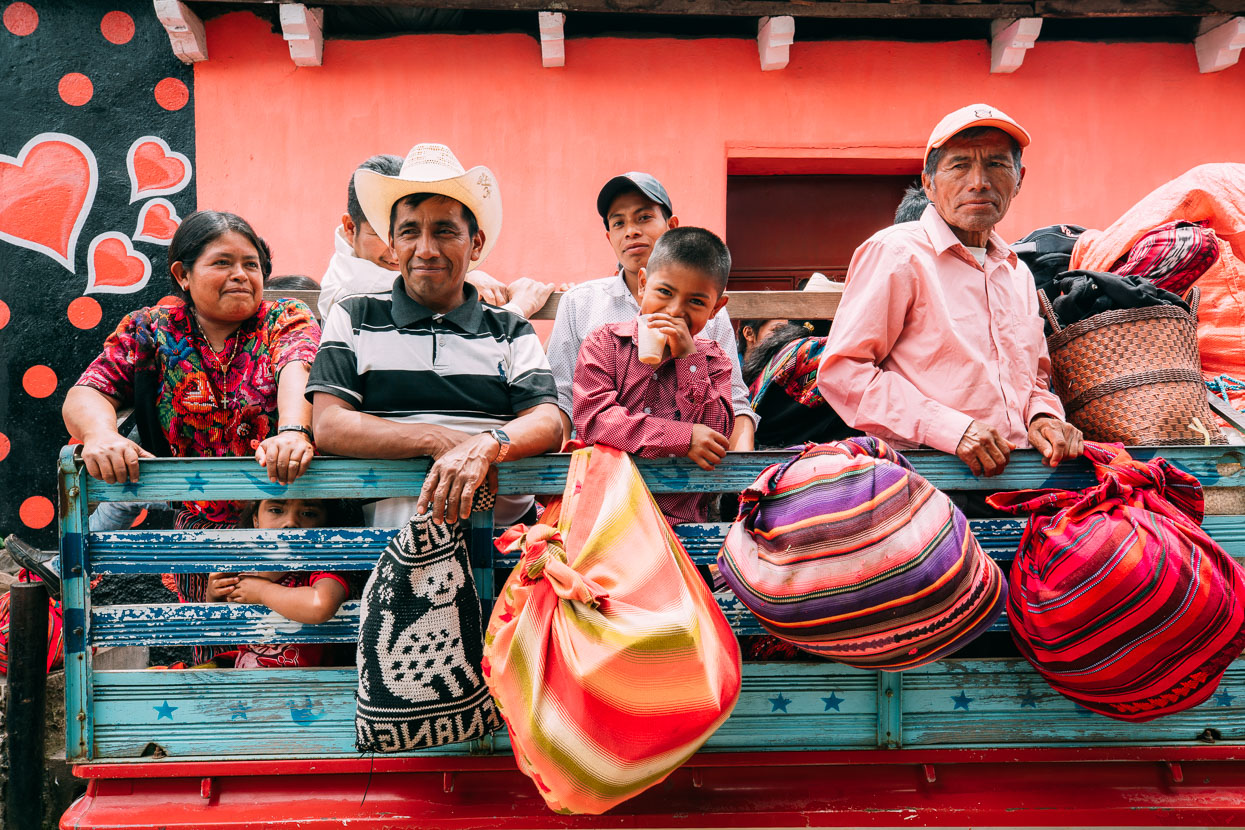 Market day in Chiché meant choked streets and pickups loaded with people going to and fro.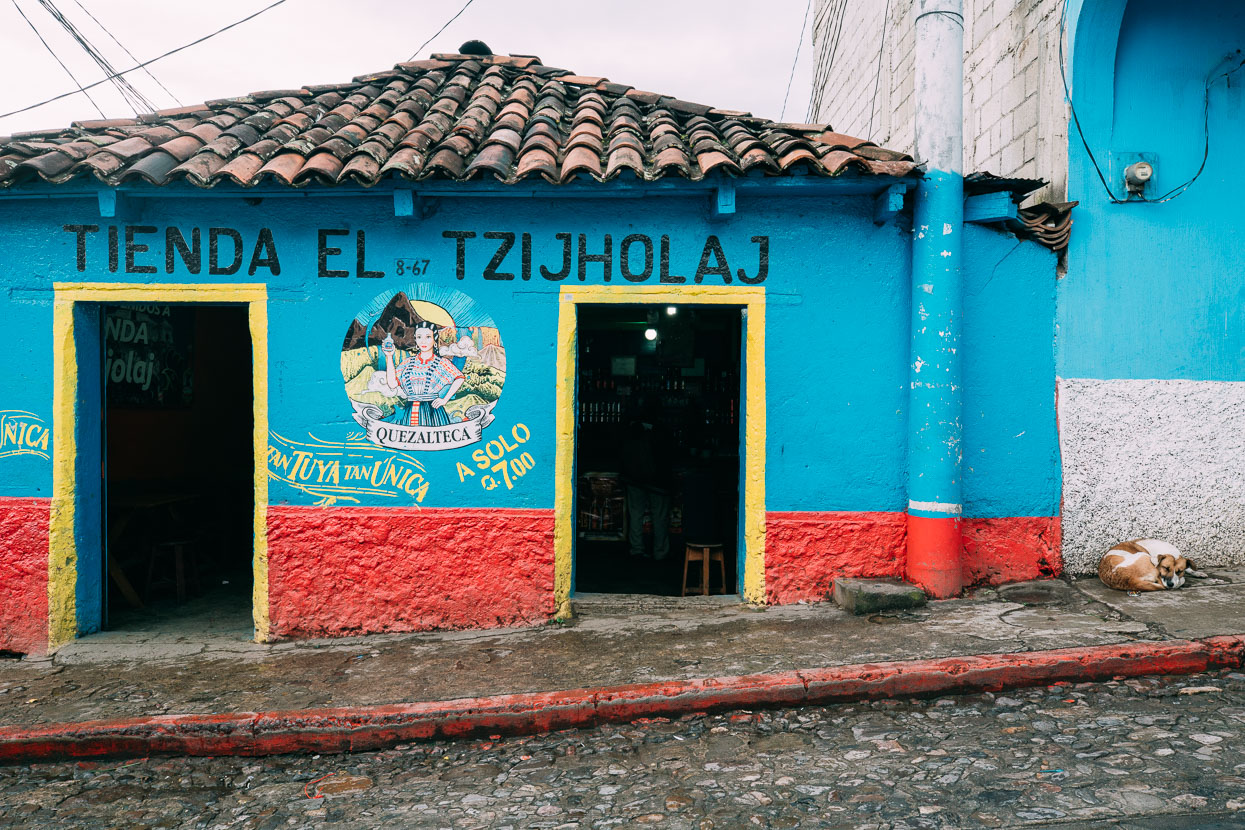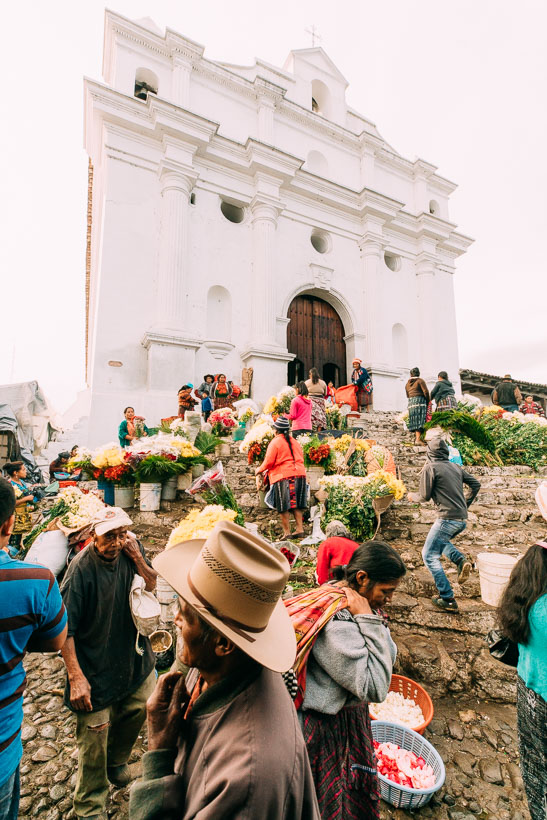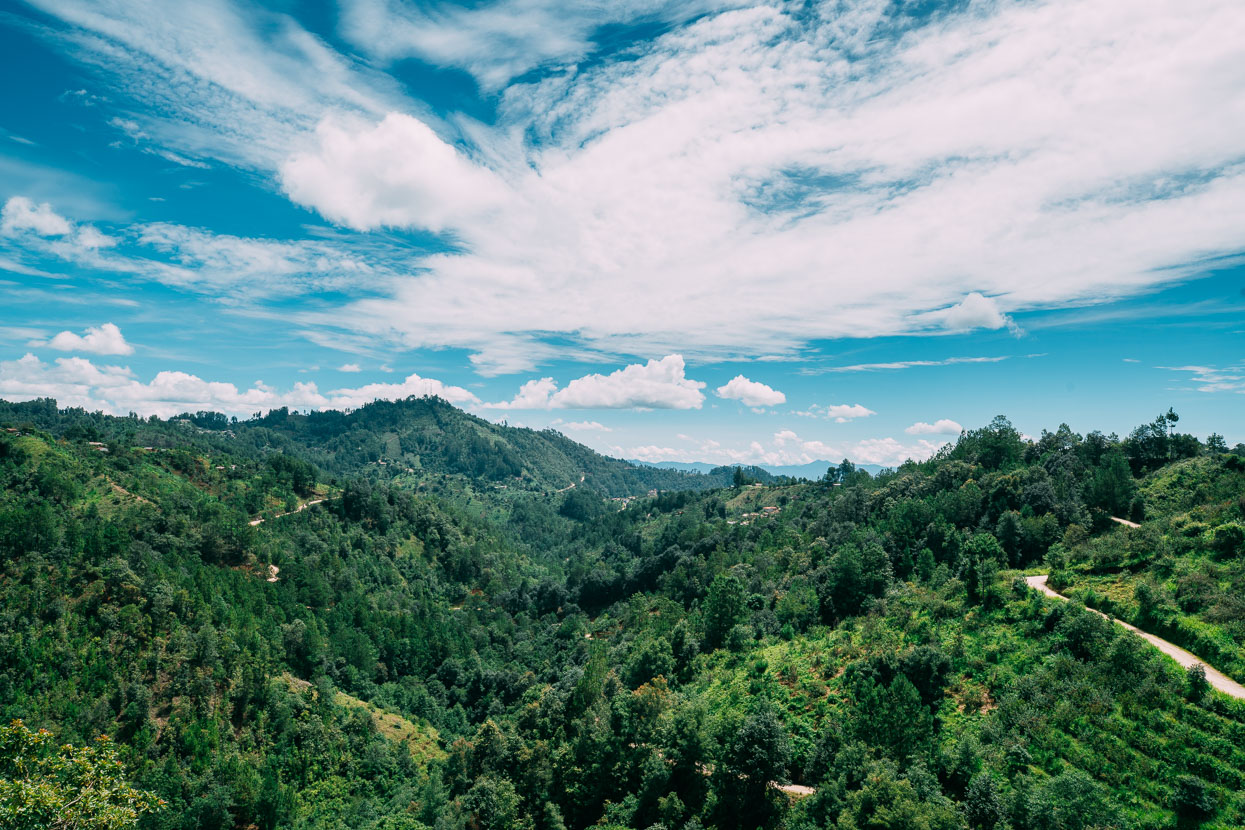 Beyond Chichicastenango our dirt road wove through corn, coffee and orchards before joining paved Highway 15 and then briefly the Pan American Highway.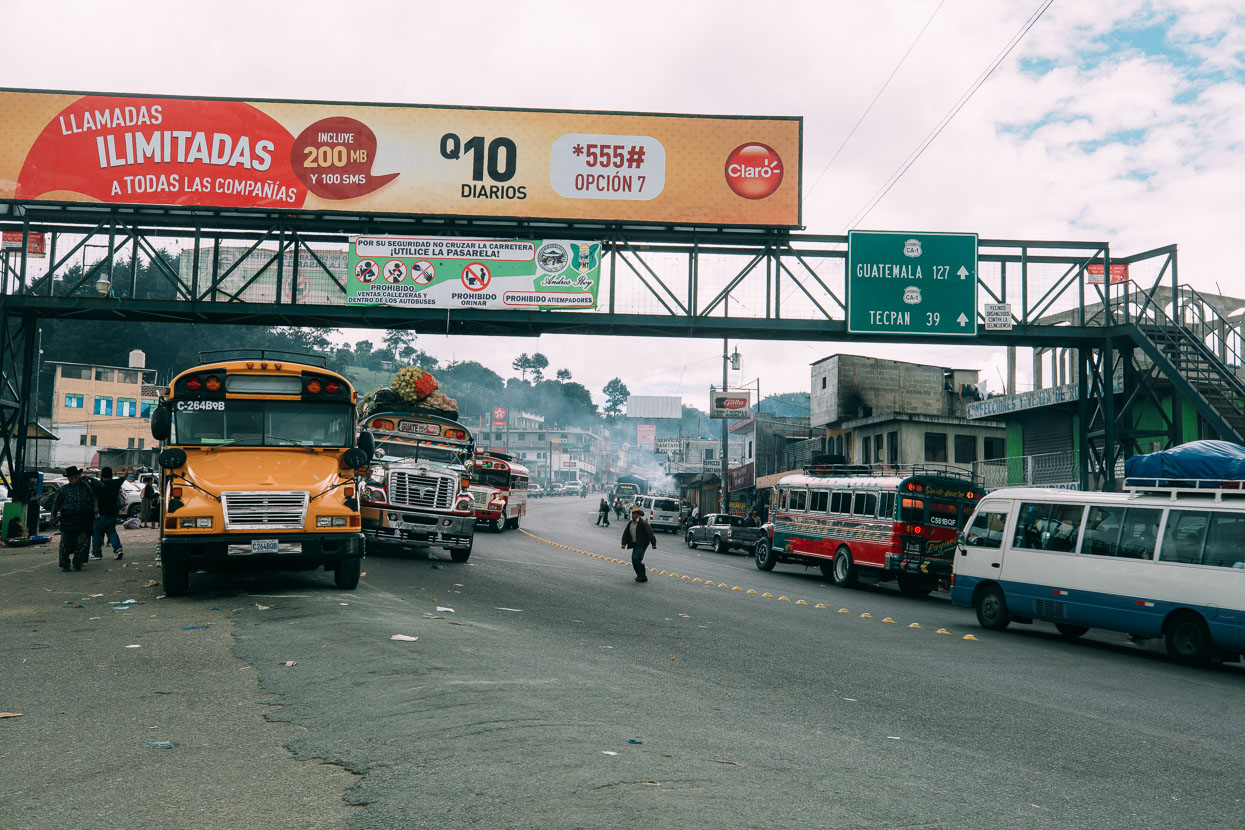 Just a few minutes of Pan American Highway was plenty to remind of us everything we dislike about touring on highways in Mexico and Central America – the noise, pollution, fast traffic and roadside rubbish.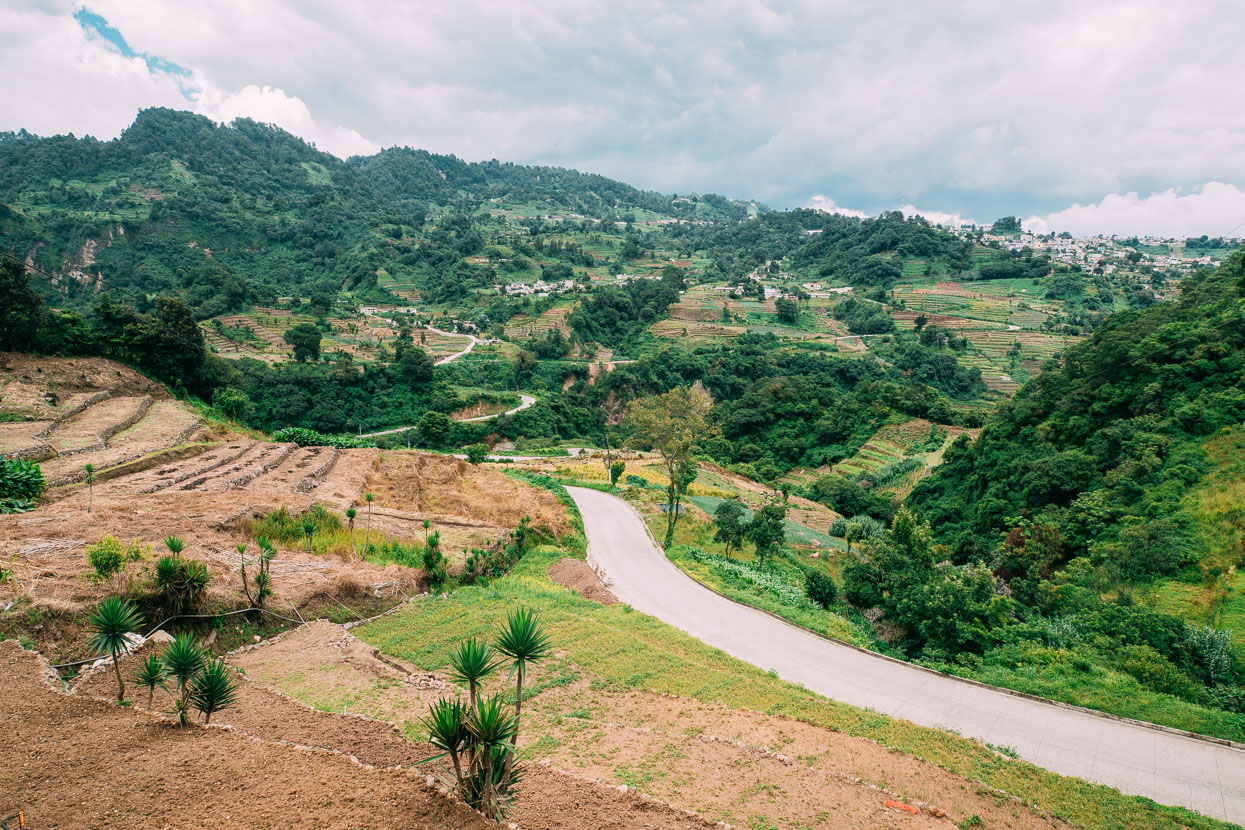 It was a fast downhill run on pavement to Solola (in the background here) close to Lago Atitlan, where we turned west towards San Jose Chacaya.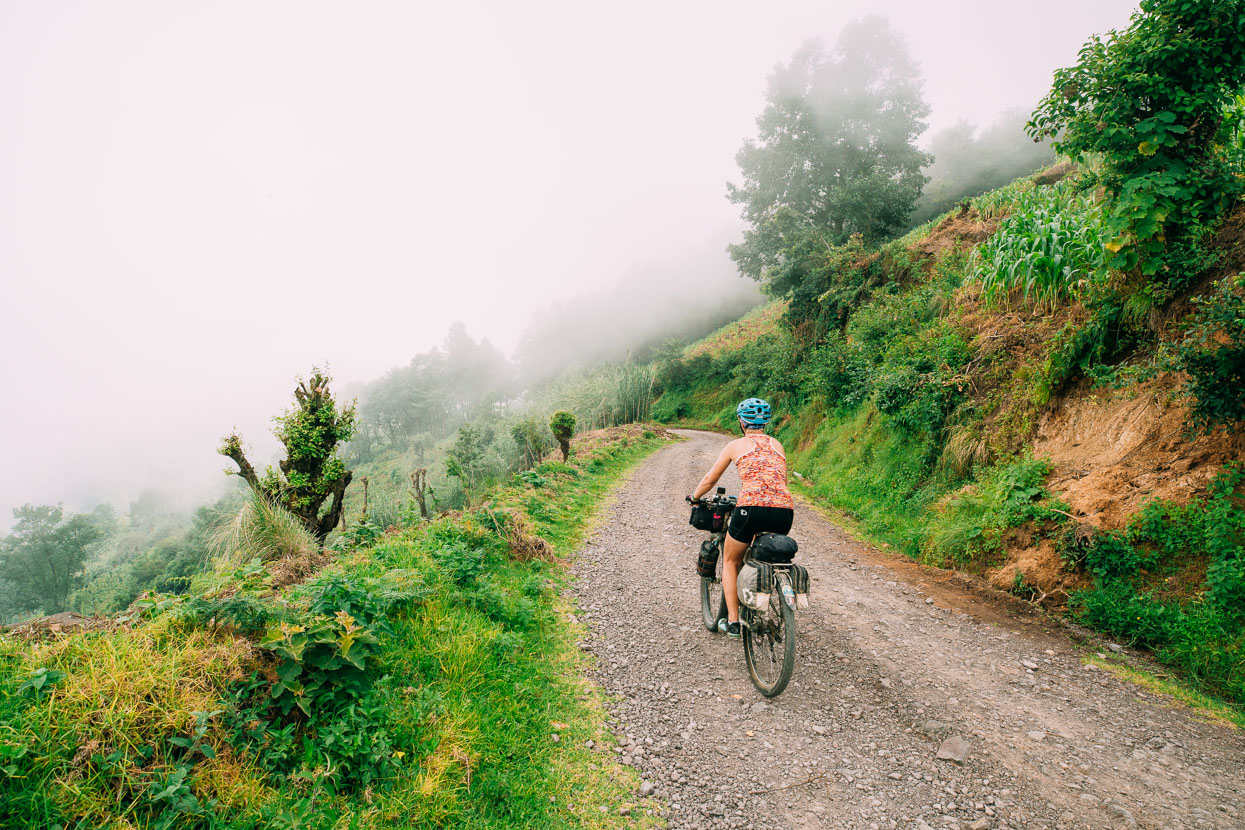 On tired legs the hills en route to Chacaya and beyond were a grind, but the road was virtually deserted. After Chacaya the road turned to dirt, then back to concrete briefly through a reasonably big village that doesn't exist on maps, then back to dirt.
On Google Earth we'd spotted a tempting looking single track that descended from the road below this village right to the lake-side village of Tzununa. It was a tempting proposition and we assumed it to be a well trod footpath linking two villages, seeing as there was no road linkage between these villages located on lake shore and crater rim.
During the afternoon I'd been imagining the rad photo I was going to take of Hana carving around a dusty single track corner with the sparkling blue lake in the background.
It wasn't to be. We followed our GPX track off the road and onto a narrow track that was immediately overgrown in waist high grass and low hanging branches. Optimistically we carried on hoping it would improve (and knowing we had no other certain alternative to reach the lake). After 100 metres we were restricted to mostly walking. And then the thunder cracked. Shortly after it started to pour with rain. And the trail deteriorated further, often rock covered or muddy where it traversed under loose bluffs. It took an hour and a half to descend 426 vertical metres. Were this trail cleaned up it would be a pretty awesome way to arrive!
We got a brief respite in the rain, but by the time we neared the bottom it was pouring even more heavily, turning the now wider track into a stream of tumbling stones and brown water.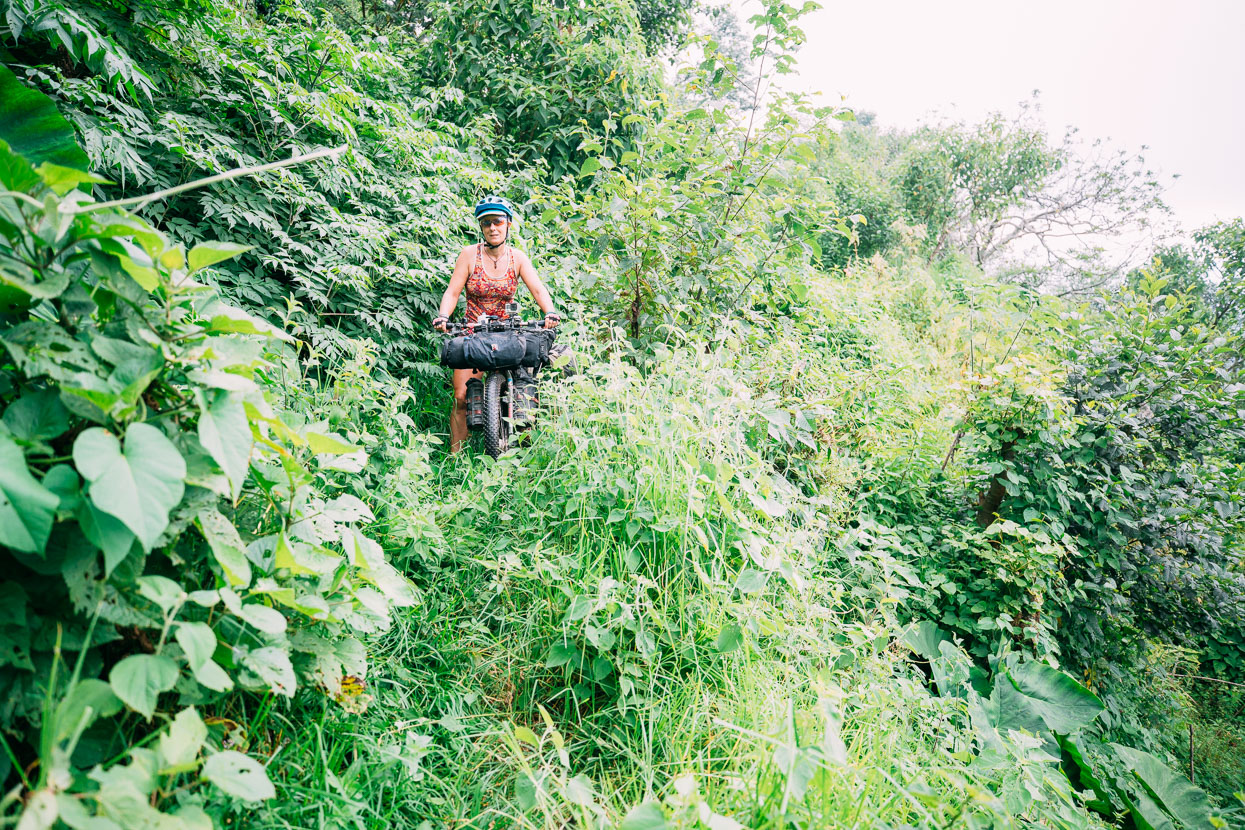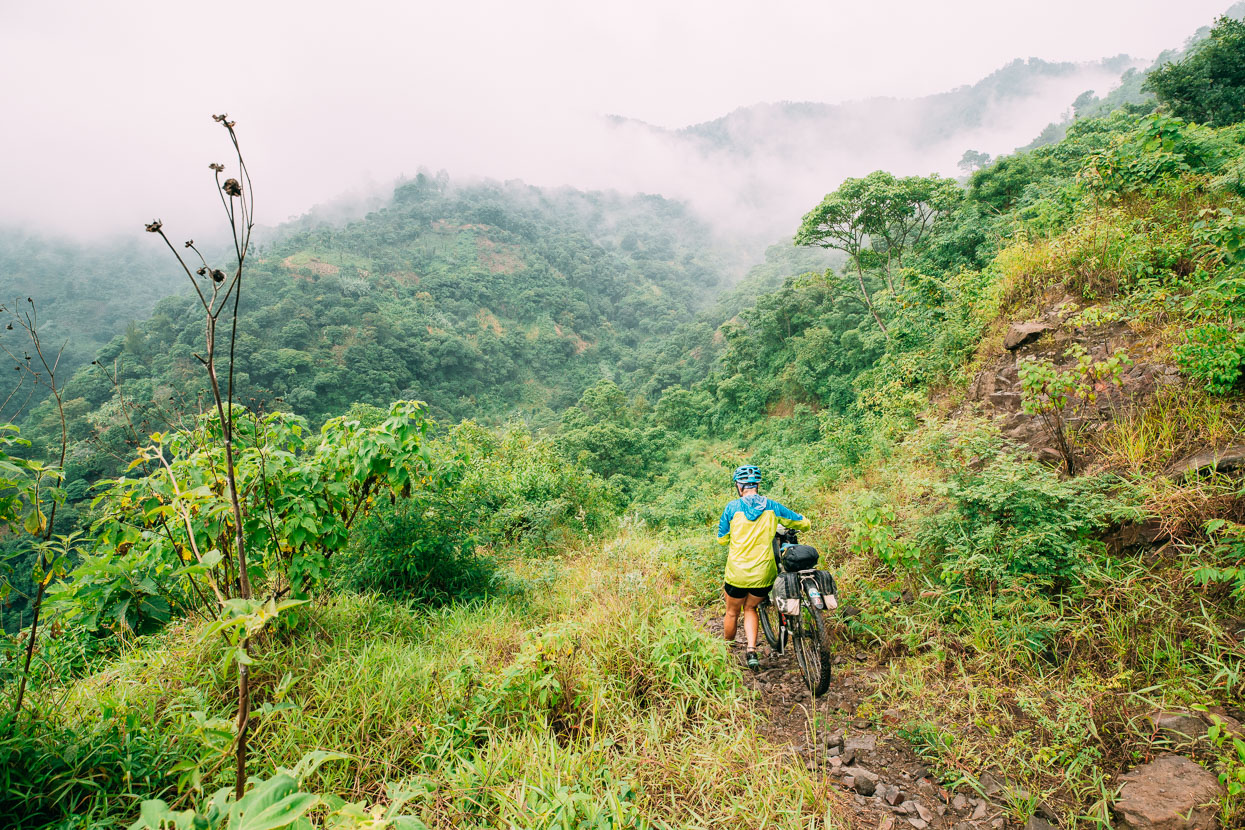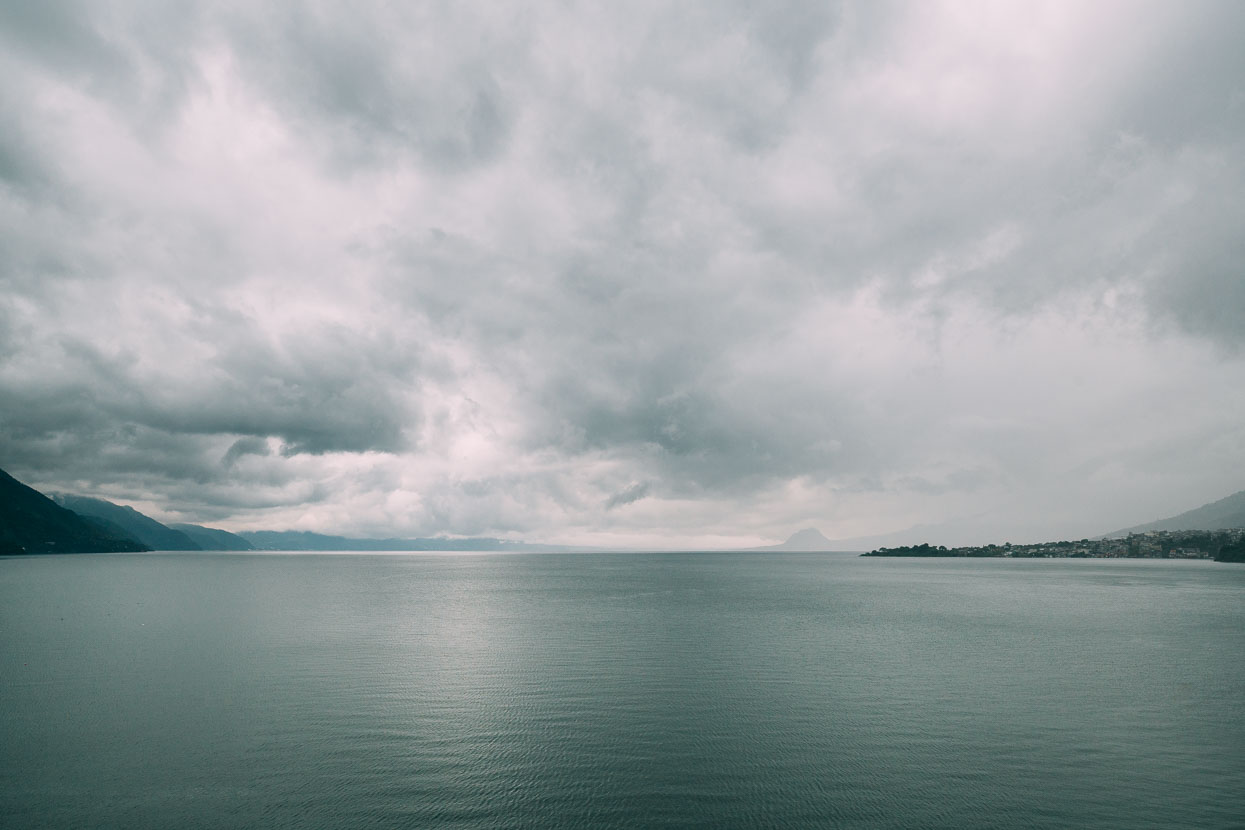 People love to quote Aldous Huxley for the nice things he said about the beauty of Lago de Atitlan. It's mega beautiful for sure, but our first impression was definitely at the moodier end of the spectrum as we dodged water filled potholes riding into San Pedro La Laguna in growing darkness.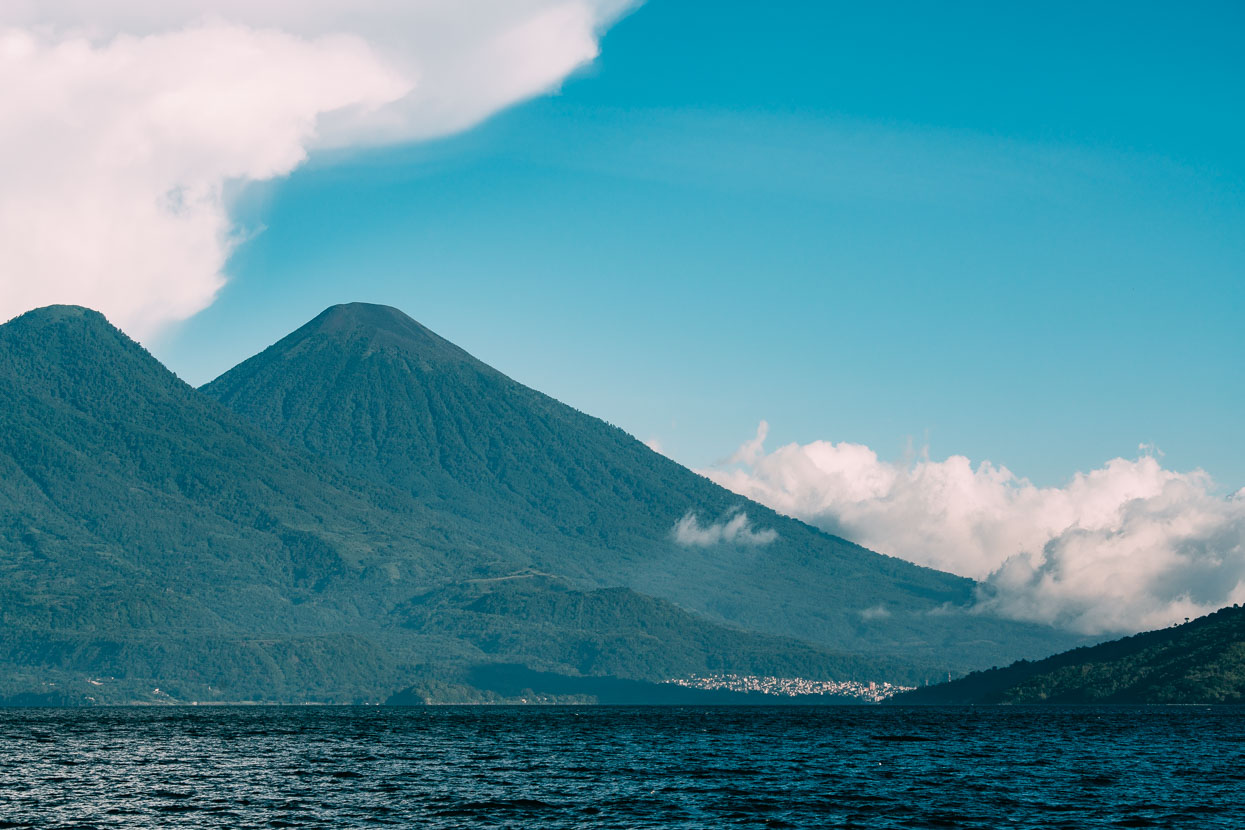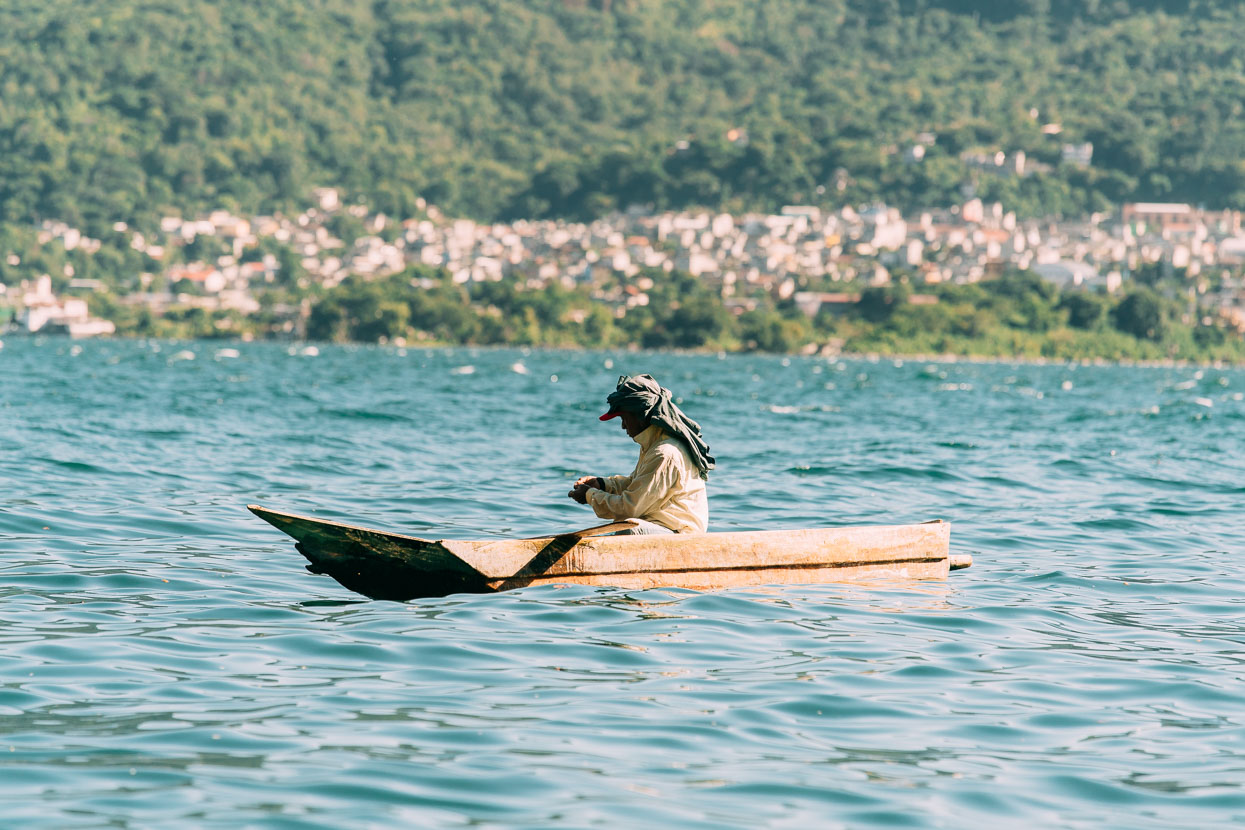 Has to be said it's a much more beautiful place in better weather, but the changing moods of this huge volcano-ringed crater lake are one of the things that make it special: the calm of the lake and gentle light in the clear of the morning, through to the afternoon thunderstorms that turn the water dark and choppy and bring bursts of heavy rain. We've seen many moods in the nearly two weeks we've been here – staying in a room at the Orbita Spanish school while we pause for three weeks to work on our vocab and verb conjugations.
Hasta luego!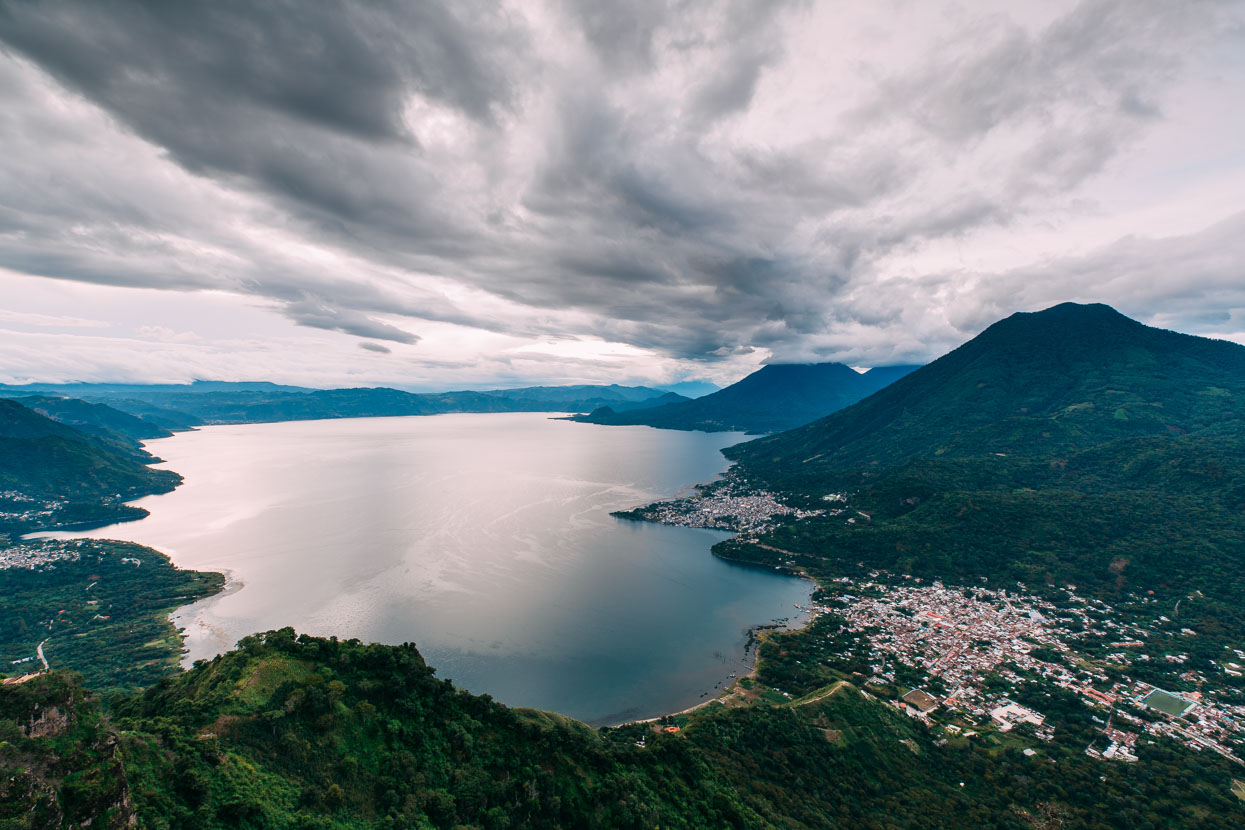 Do you enjoy our blog content? Find it useful? We love it when people shout us a beer or contribute to our ongoing expenses!
Creating content for this site – as much as we love it – is time consuming and adds to travel costs. Every little bit helps, and your contributions motivate us to work on more bicycle travel-related content. Up coming: camera kit and photography work flow.