Flores, Tikal and Uaxactun.
Life on the bikes has seen a change of pace since we returned from our El Mirador adventure. Partly it's the energy sapping humidity of Petén – the thick, hot air here seems to reduce one to a baggy pile of hammock-slung skin and bones, unwilling in the midday heat to do much more than slug water, eat mangoes and relax. But the real reason is timing.
Originally we'd planned to be starting the Peruvian Andes by now, but a couple of months back in Oaxaca city we realised things were getting very tight. Our mountainous and indirect route through Mexico had taken longer than intended (and was totally worth it), and to make peak season for the Andes we were going to have to smoke it through Central America and Columbia, or leap frog ahead and then return to Central America later. Something neither of us wanted to do.
Our reasons for this tour are far more than simply ticking the countries off and crossing the finish line. Cycle touring for us, on this journey in particular, is a way to witness the story of the landscape and it's people as a contiguous whole – an unbroken flow that allows us to see changes and juxtapositions country to country. Hence, we've reset the goal posts somewhat and decided to add 8–12 months extra to our timeline, with the intention of finishing in Ushuaia in autumn 2019.
We're aiming to start the Peru Andes about June 2018, and so have a surplus of time for Central America, meaning we'll probably add a light weight ride the length of Cuba into the mix and can really take our time in Central America. Extra time is a novelty for us – all time pressure is gone for the time being and with that comes a deepening sense of relaxation. Looking back at the over 17,500 kilometres we've covered in the past 12 months brings a huge amount of satisfaction, but also the realisation that we've been moving forward with a fair bit of momentum. Taking our time in Central America will mean extra days off, time to earn some money, do some more Spanish study, some light weight side trips on the bikes and give us a change of emphasis – something that's valuable on a tour this long. South America is sure to be all about moving forwards again as we try to make the best of the seasons traversing the Andes.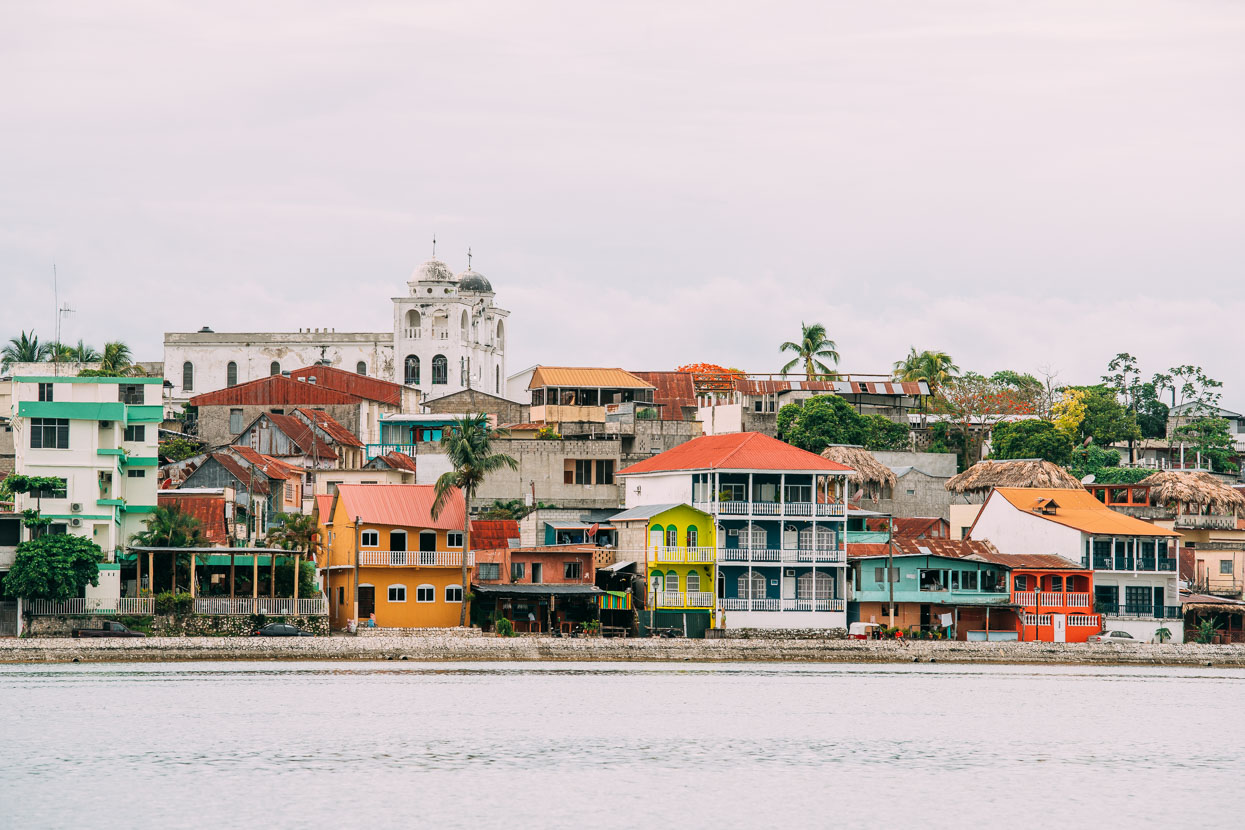 Footsore after the 82 kilometre return hike to El Mirador we decided to have a 'holiday on the holiday' in Flores. This tiny village on the Isla de Flores was once the Maya village of Tayasal, but was gradually built over after the arrival of the Spanish, who reportedly didn't think much of the thicky jungle covered humid lowlands of Petén. Maybe they found the humidity draining too.
These days it's a pleasant and chilled tourist town and a base for visitors to Tikal and other nearby Maya ruins. Linked to the mainland with a causeway, the 'island' only takes 30 minutes to wander right round, long enough for you to probably want to cool off in its pleasant waters.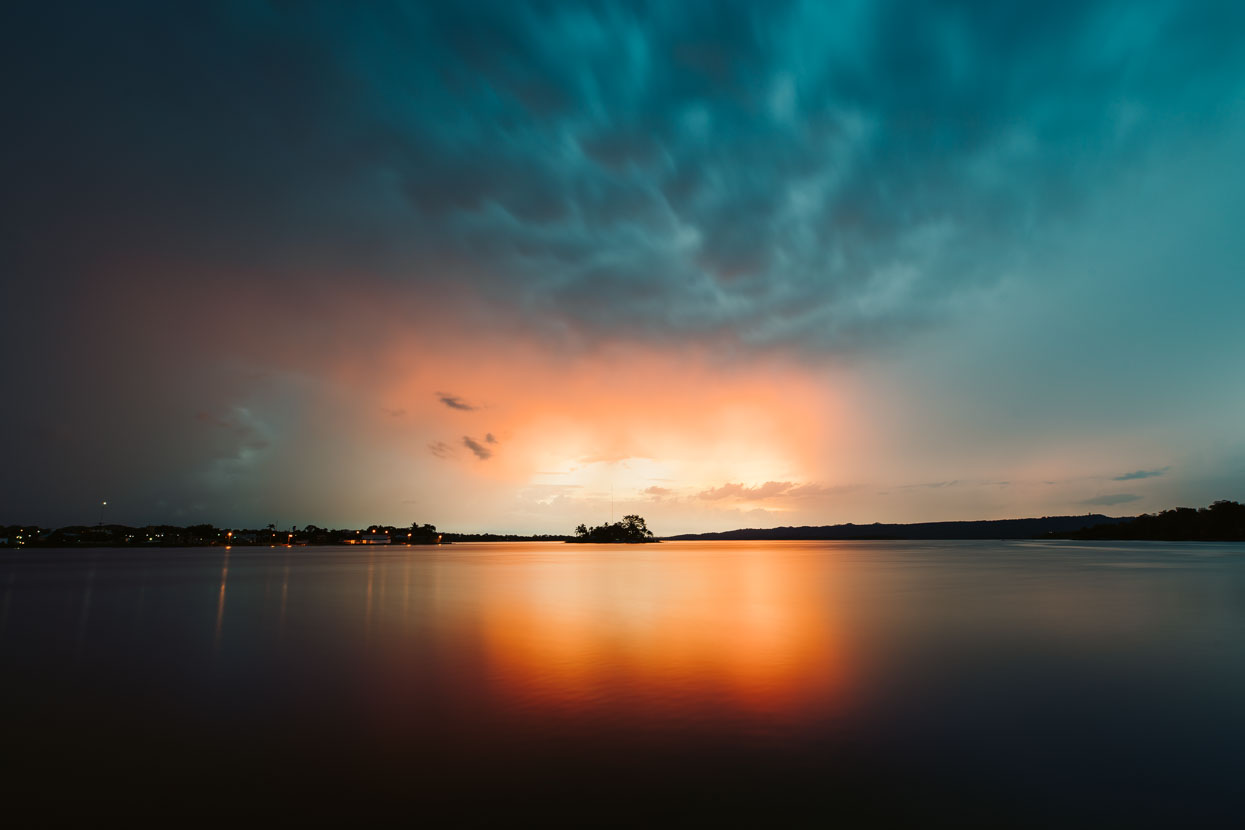 It's a place of peaceful waters, sometimes epic sunsets and invites you to linger and watch cumulus billow above the jungle as the day heats. But the wet season is upon us now and like clockwork afternoon thunderstorms roll in – distant thunder hinting at their imminency. With the heavy rain the air cools, making for 'fresh' (as the locals call it) evening temperatures.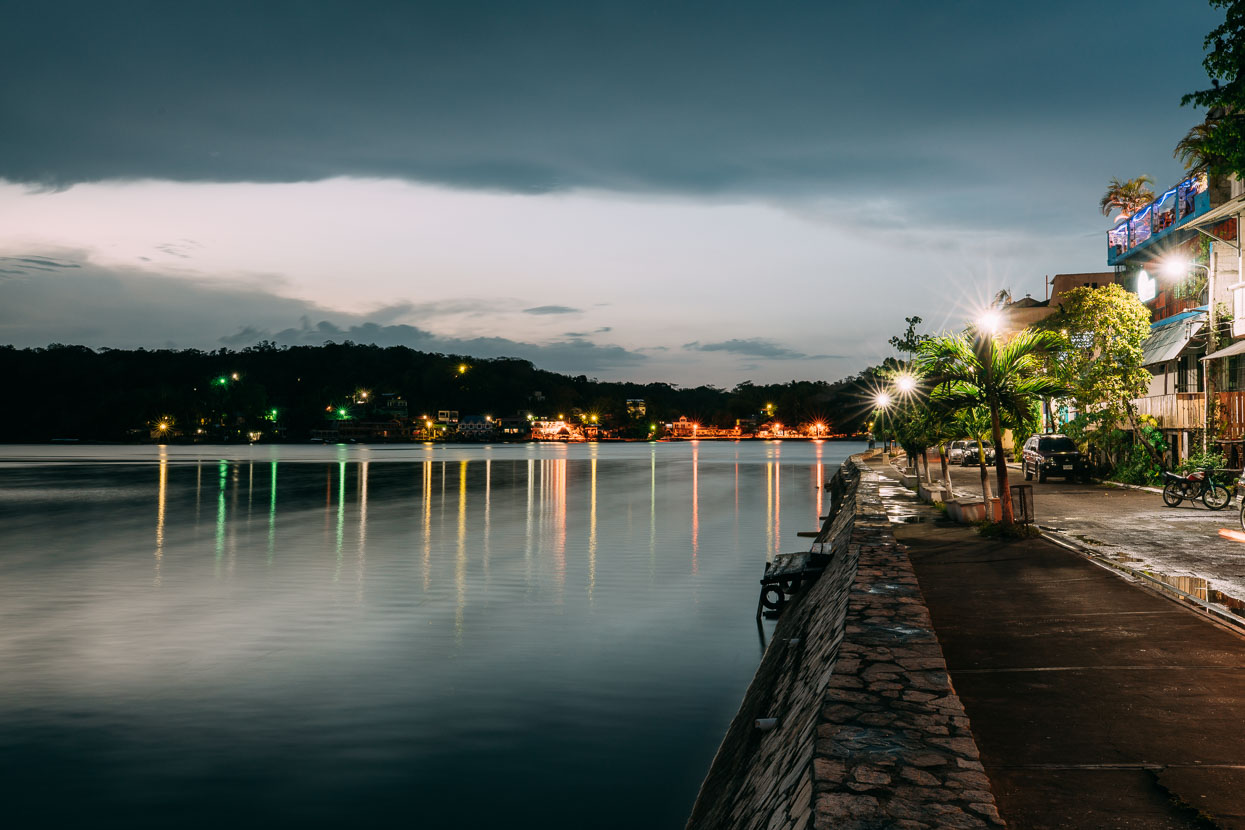 A 5 minute lancha ride takes you to a peninsula with an island-like feel just opposite Flores.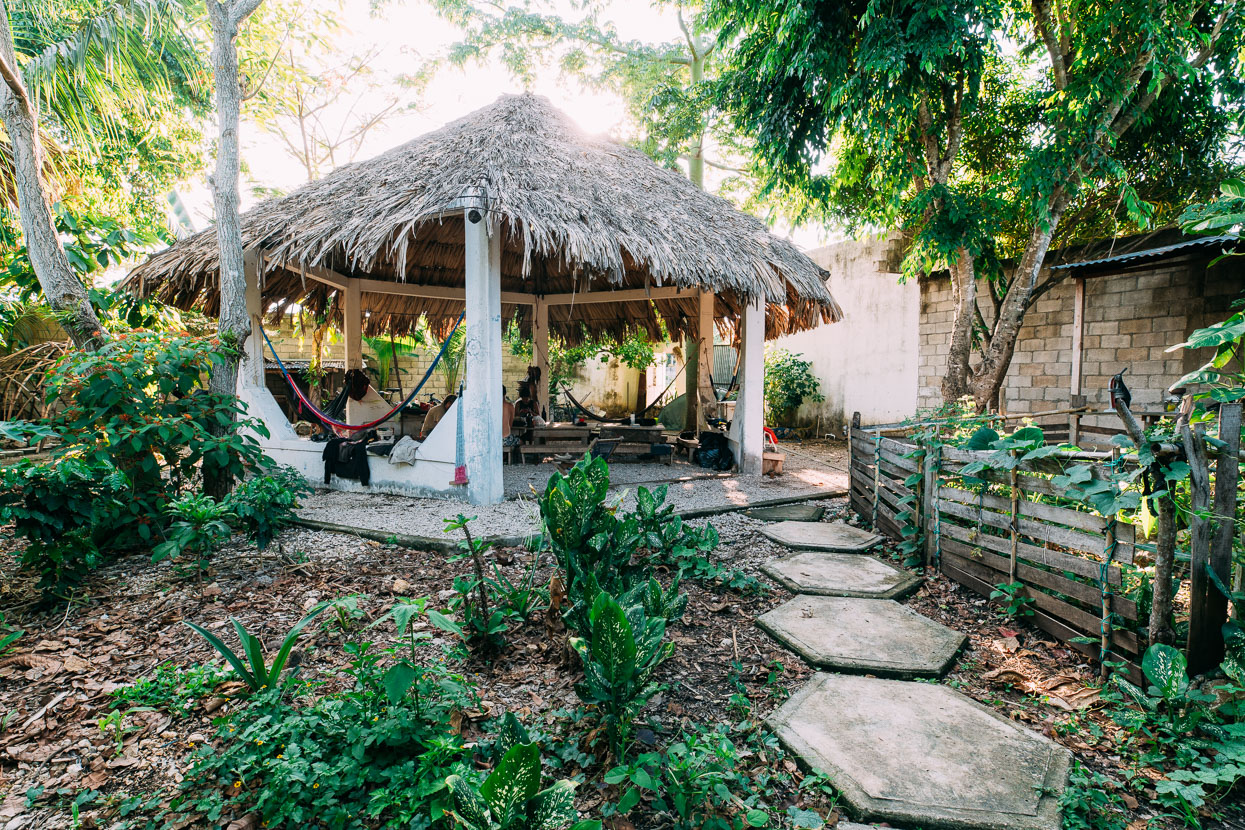 After three days we returned to the sanctuary of La Danta Project, who are based in San Benito, one of several small towns, merged into one, on the mainland near Flores. It was through these guys that we booked our Mirador hike. La Danta run a permaculture programme, homestays, accommodation, Maya craft and food workshops and are hugely knowledgeable regarding all things Petén. They're bike enthusiasts too, and that's how we came to be there: via the Warm Showers cycling host network.
From a distance La Danta's white painted concrete compound, opposite some simple local dwellings and down a rough dirt road looks like an abandoned workshop, overgrown by jungle. But once inside it's a beautiful, shady and lush – if not somewhat rustic – sanctuary. This rainforest haven is home to Memo, his wife Angelica (both pictured below), and their four kids.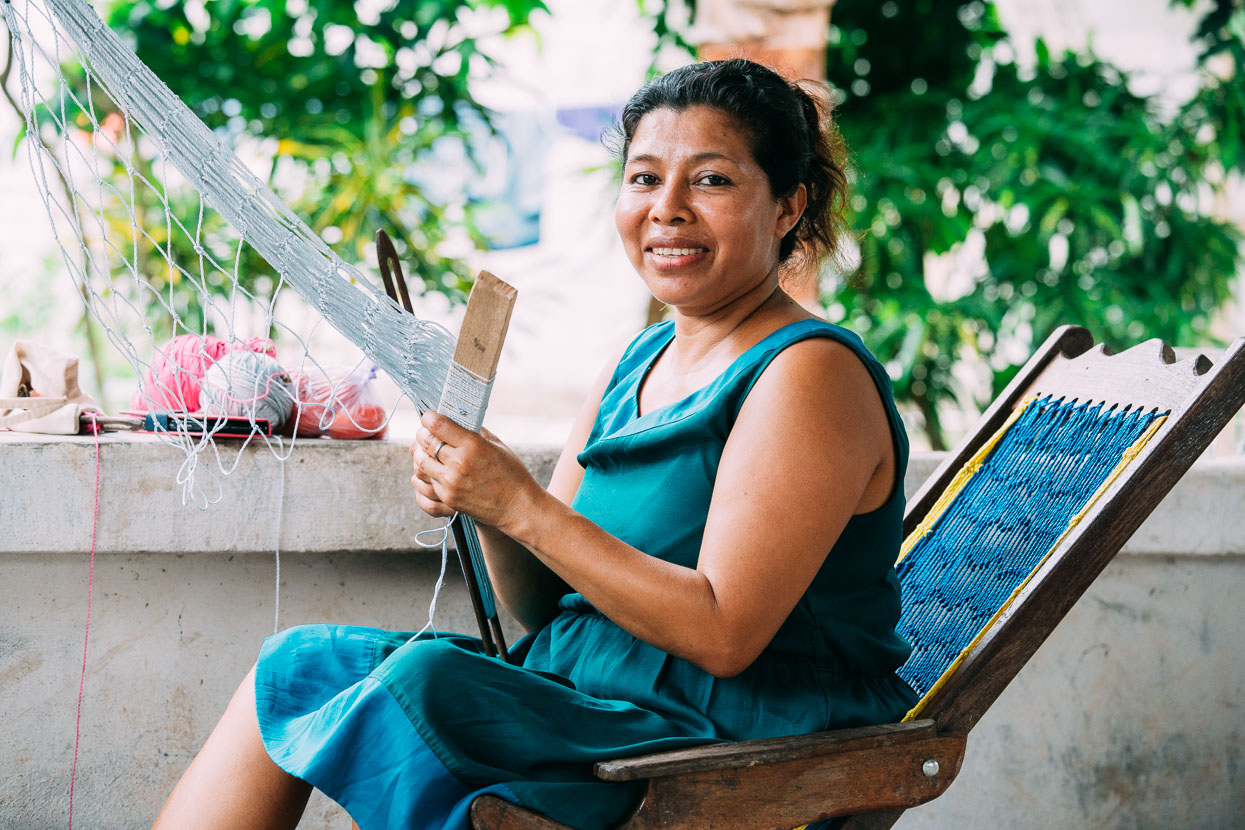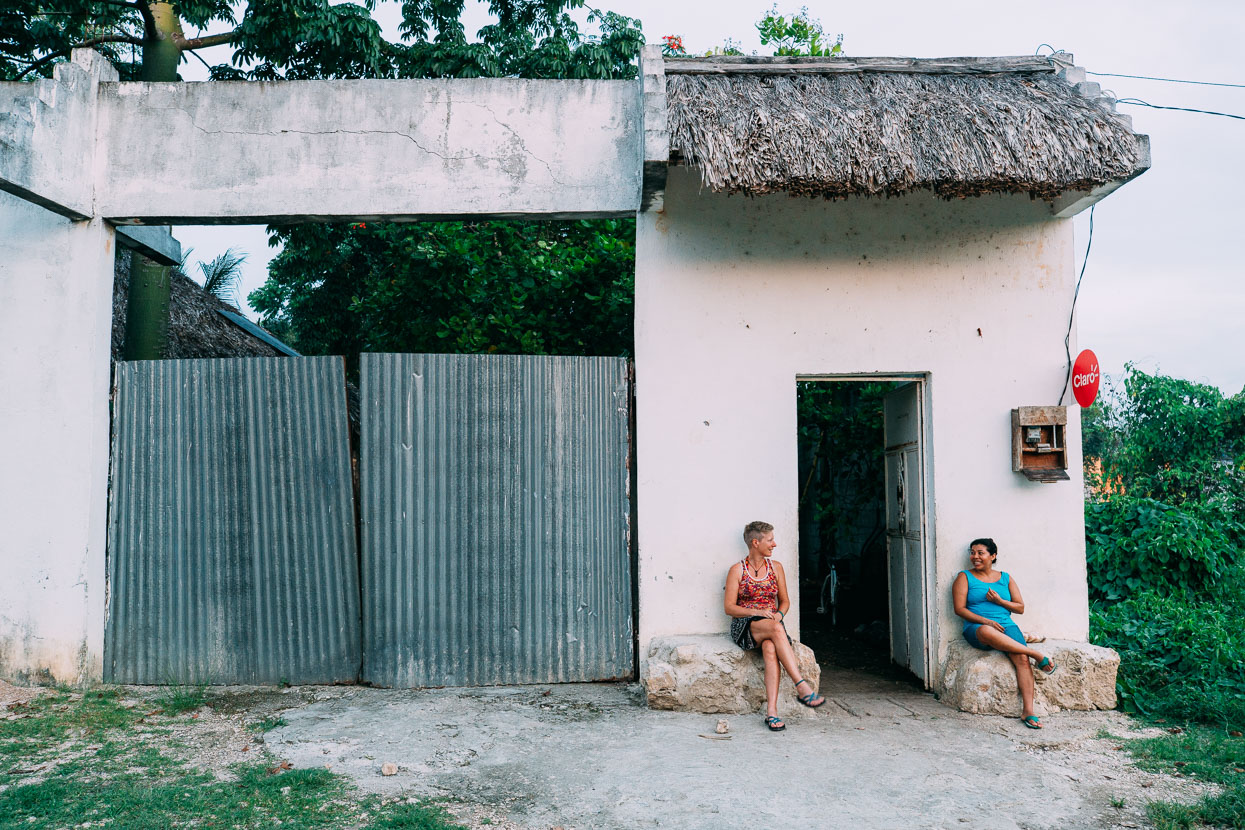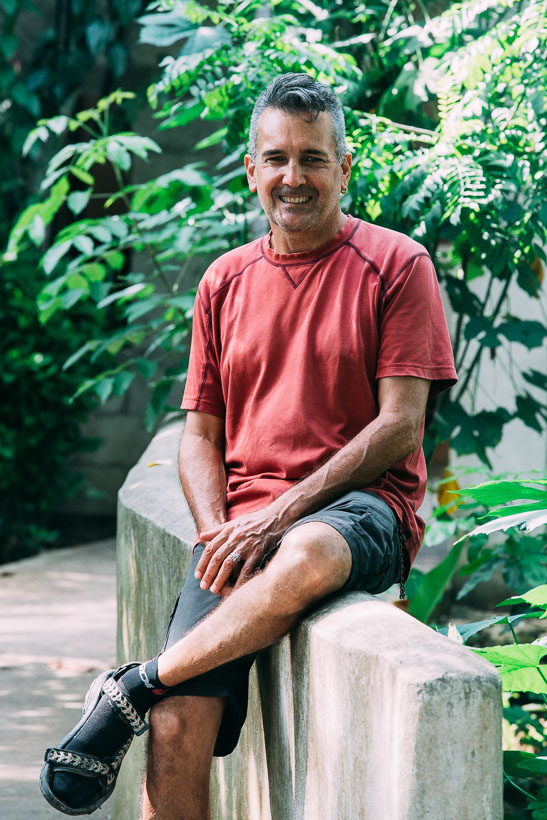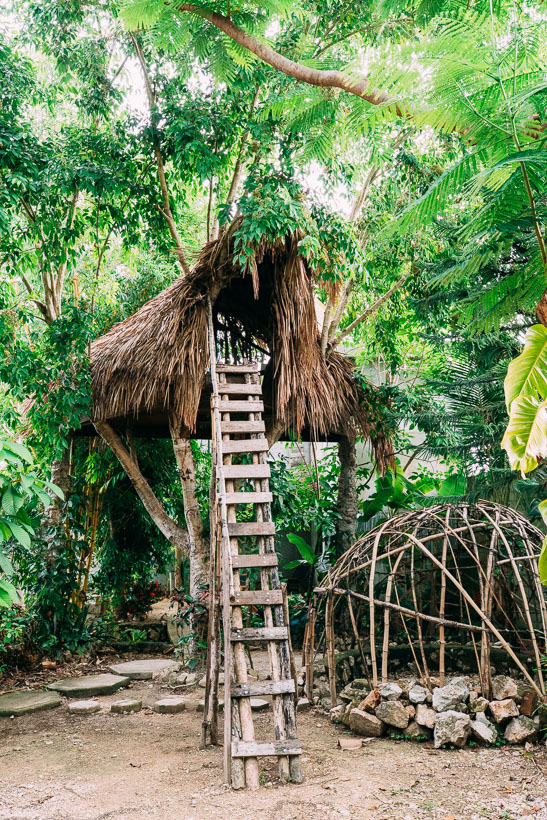 We spent about 10 days at La Danta, filled with Spanish lessons, some magazine writing and a couple of days flat on my back or slumped in a hammock after I got floored by a stomach bug probably picked up on the El Mirador hike (that's #3 in only two months! Not doing too well on that front).
During that time quite a few cyclists, all headed in different directions, passed through. Below, Jonas (Germany) riding north from Ushuaia, and Tree (Canada) who started in San Diego and Hera (Holland) a southbounder too who also started in Deadhorse, AK, shortly after we did. Estrella Technicolour, Sven and Raul also hung out for a few days. It was great to share stories with other cyclists after so long. Being out-of-season along the Great Divide back in the USA, then early season on the Baja Divide and off road through most of the rest of Mexico we have met very few other cyclists, and those we did meet in Mainland Mexico we'd already met briefly back in Alaska (two couples), and another in Mazatlan. It's been a solitary journey for us, to say the least.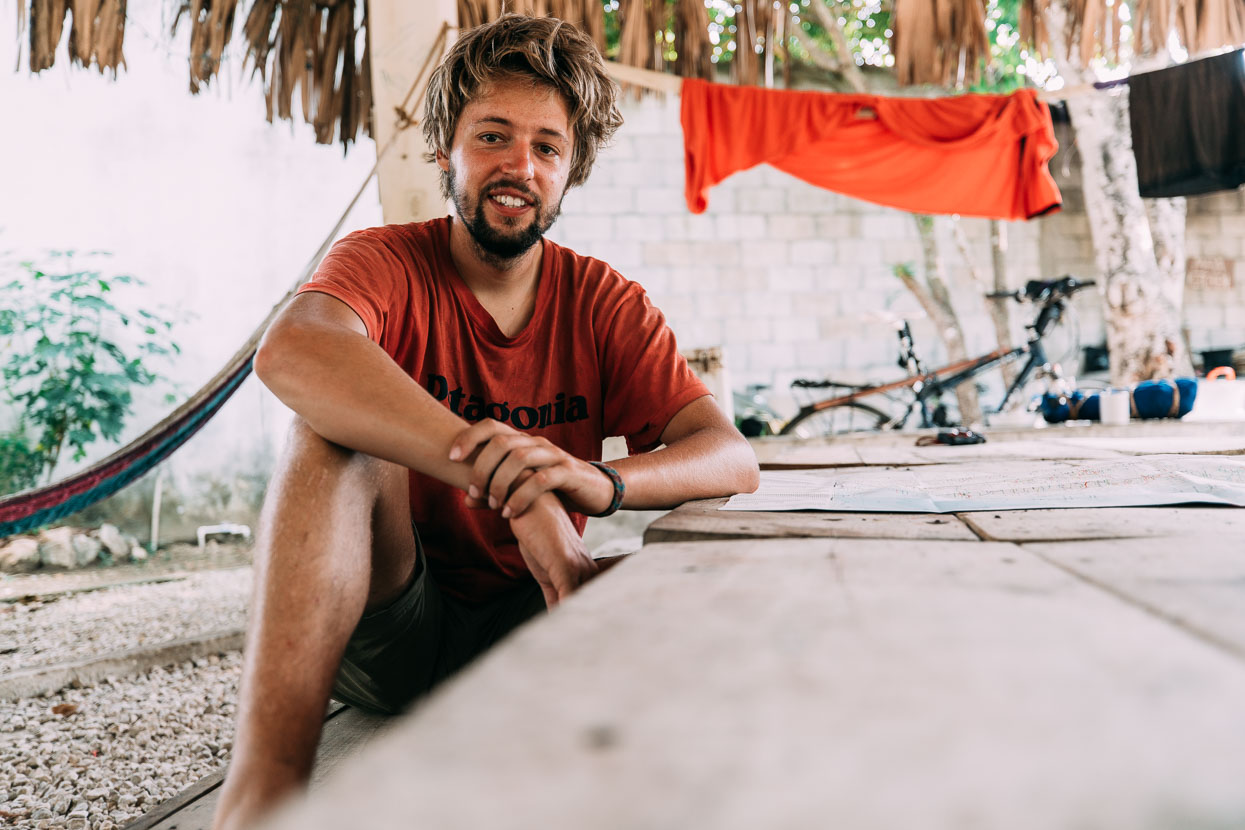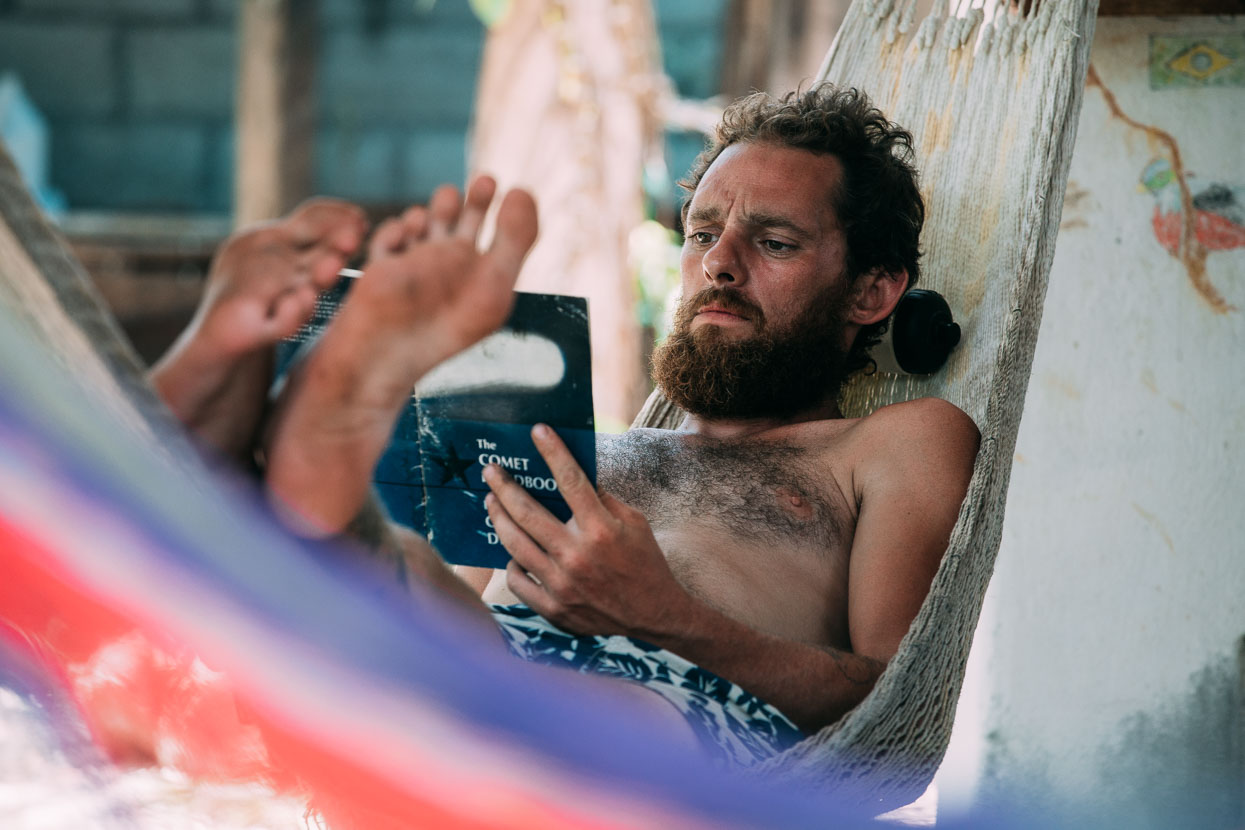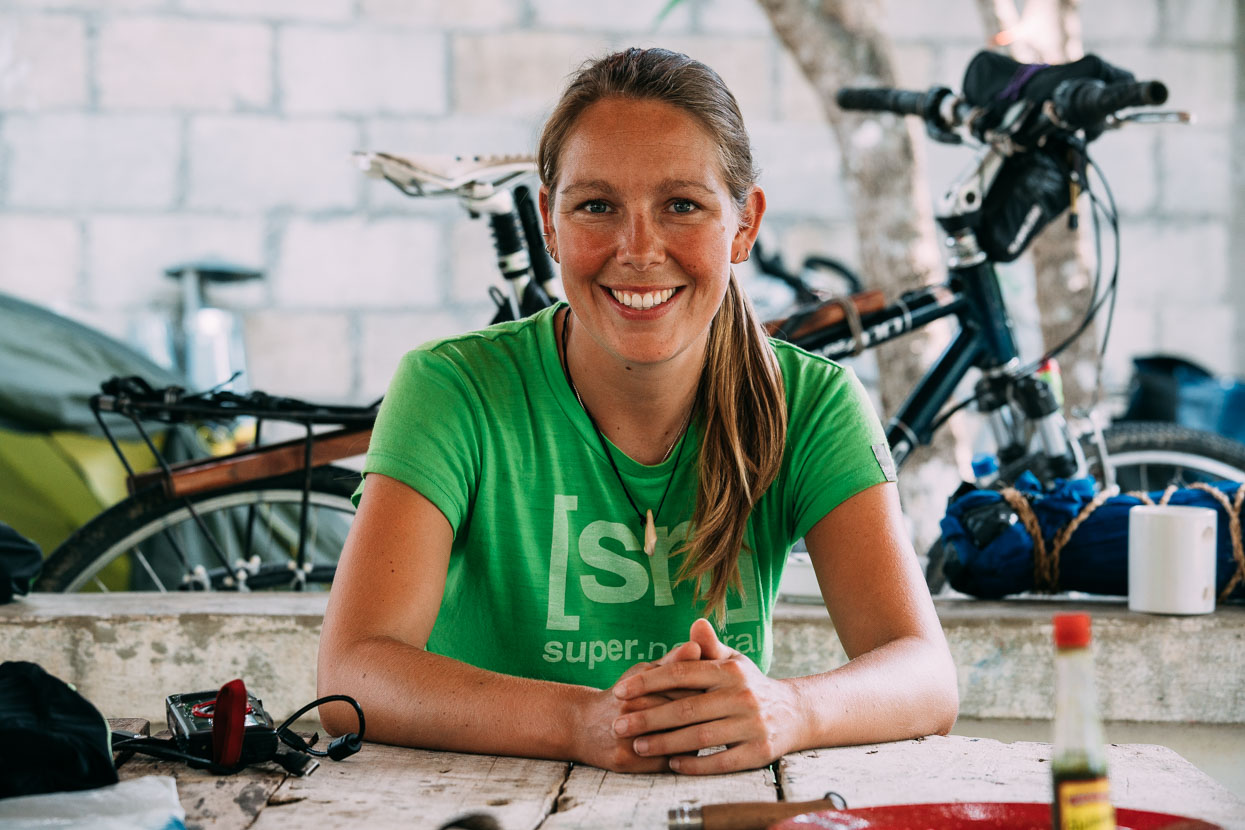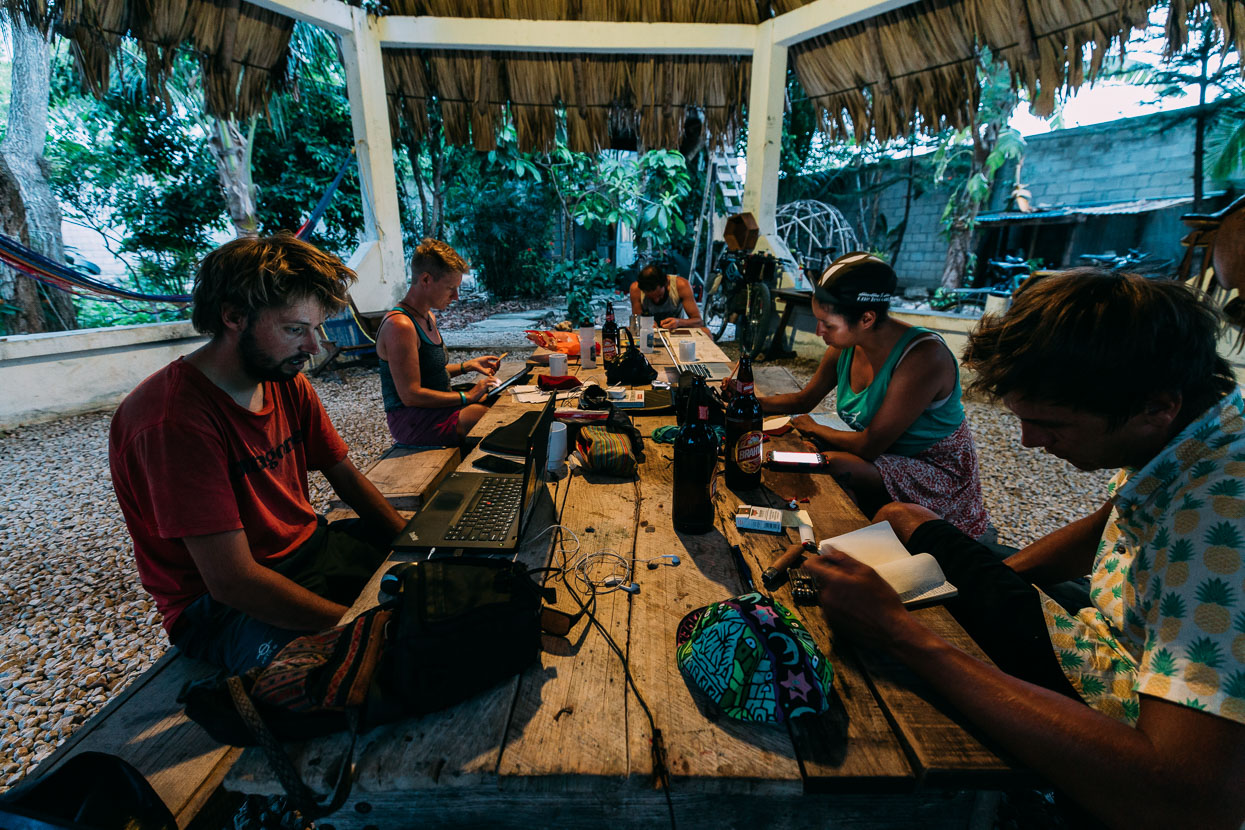 La Danta's palapa – centre of the universe for cyclists passing through Petén. Life here for 10 days was fun. Cold beer for $2/litre was a five minute walk down the road. On the next corner two women and sometimes their daughters cooked tortillas all day under the shelter of a scrap of corrugated iron, operating well into the night by candlelight. Street hawkers would come and shout through the door hatch: mangoes, papaya, melon or burritos. Some people would even take orders and return the next day with a full meal. Afternoons would sometimes see us scatter for cover as a vigorous blast of cool wind would bring ear splitting thunder claps and pouring rain that leaked through the old thatch of the palapa and beat on the tin roof so loud you'd have to shout.
Two dogs, a cat, a water-loving snake, tarantulas, scorpions, ants, iguanas and frogs and toads of all sizes called La Danta project home too.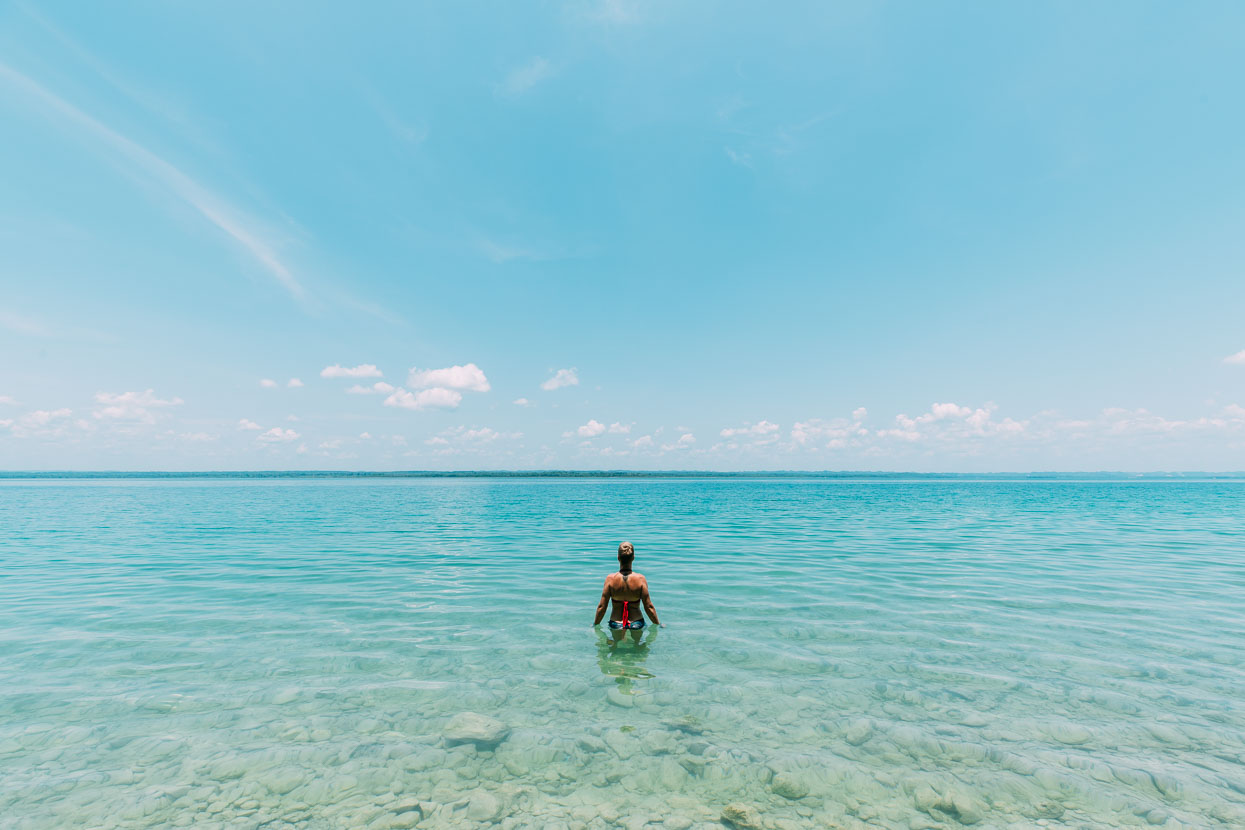 Finally we got back on the road, but with a change of pace as there were four Maya temple sites we wanted to visit, meaning shorter than normal days as we temple hopped our way east towards Belize. The northern route around Lago Petén Itza was a good choice. We expected pavement but got a narrow and sometimes rough dirt road, no traffic and found a fantastic place too cool off in the clear limestone-toned waters of the lake.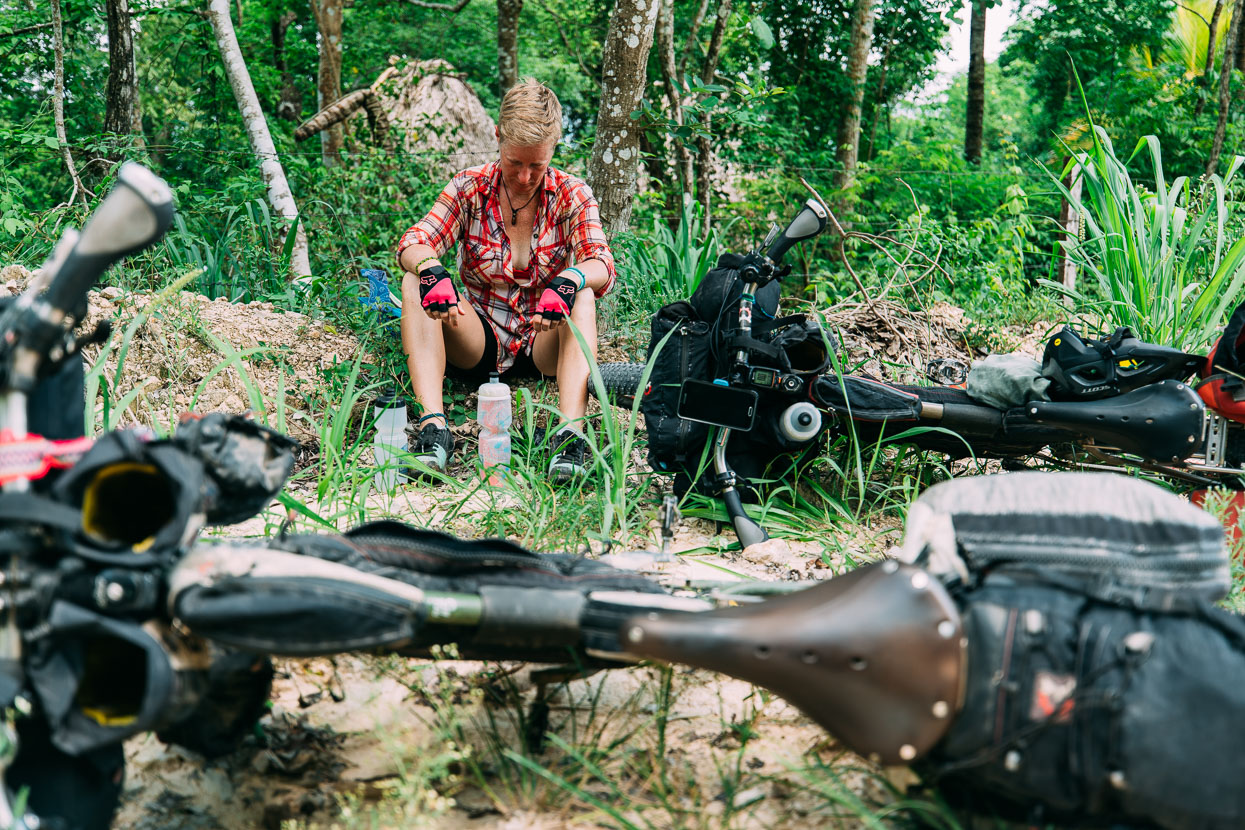 But despite cooling off the short steep hills got the better of us in the midday heat – into the high 30's – and we both overheated, I guess from losing some conditioning after nearly three weeks off the bikes.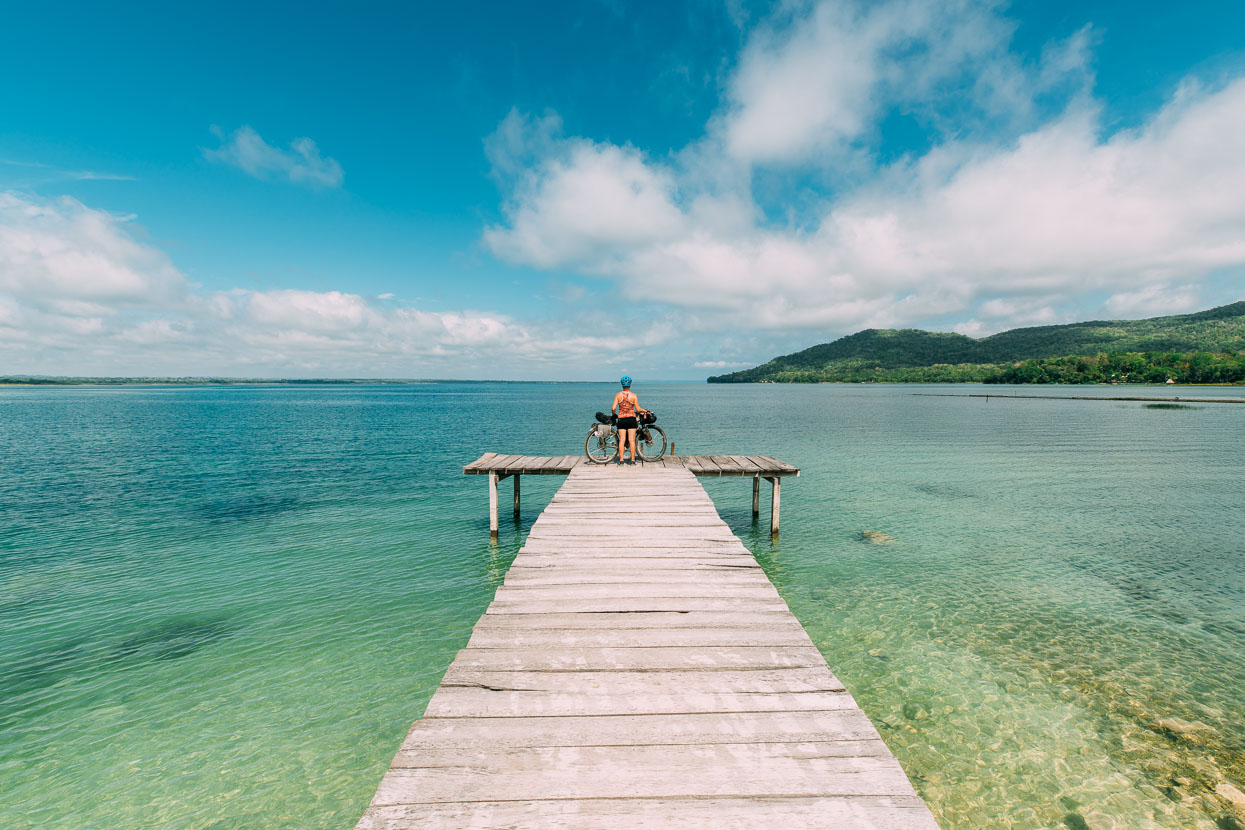 We spent the night in El Remate at the eastern end of Lago Petén Itza, a sleepy and pleasant village along the main access road for Tikal, and with you another great view of the jungle fringed lake.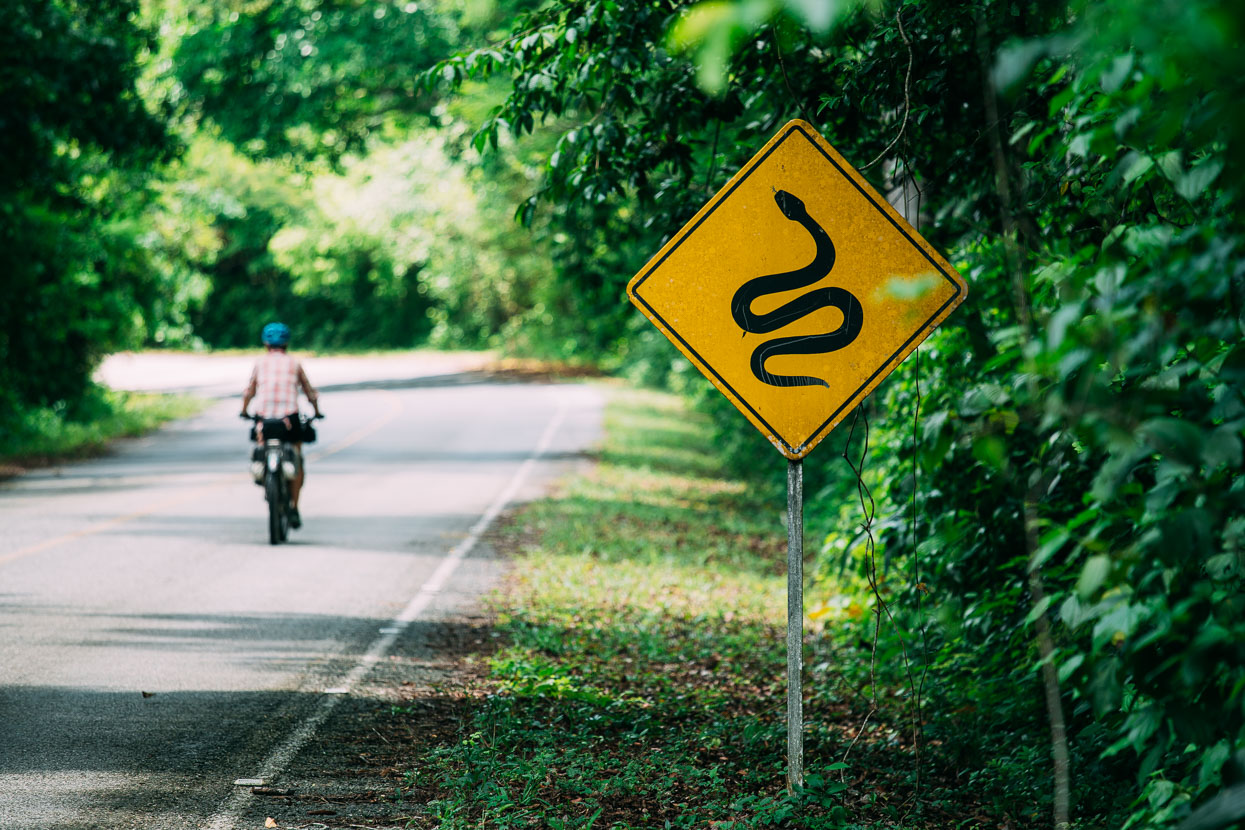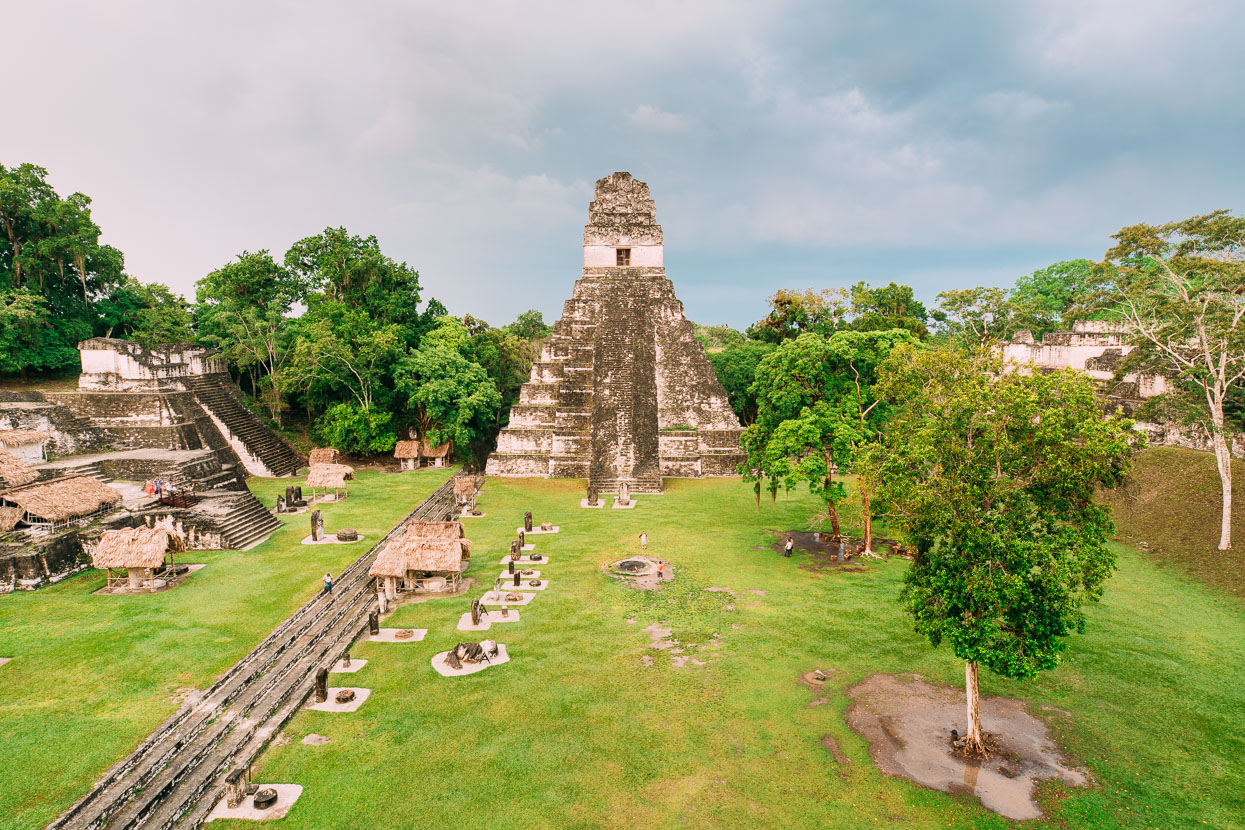 Tikal is one of a kind – and possibly my favourite of all the Maya sites we've been to. Despite its popularity, its easy to avoid the crowds if you arrive early. Wandering around at 6.30 am we had the place to ourselves for a while and the bigger crowds don't tend to arrive until mid morning. The distinctive steep pyramids here are the signature of Tikal, but so too is the rich jungle setting: parrots screech in the tree tops, toucans emit their odd frog-like croaking sound, lithe spider moneys make impossible leaps between trees, the roar of howler monkeys penetrates the forest and agouti and coatimundis feed busily on the forest floor.
A mixture of restored and unrestored ruins keeps the place from feeling too pristine and some ruins lie completely jungle covered still. A day spent here is not just about the ruins, it's about the entire setting of this magical place.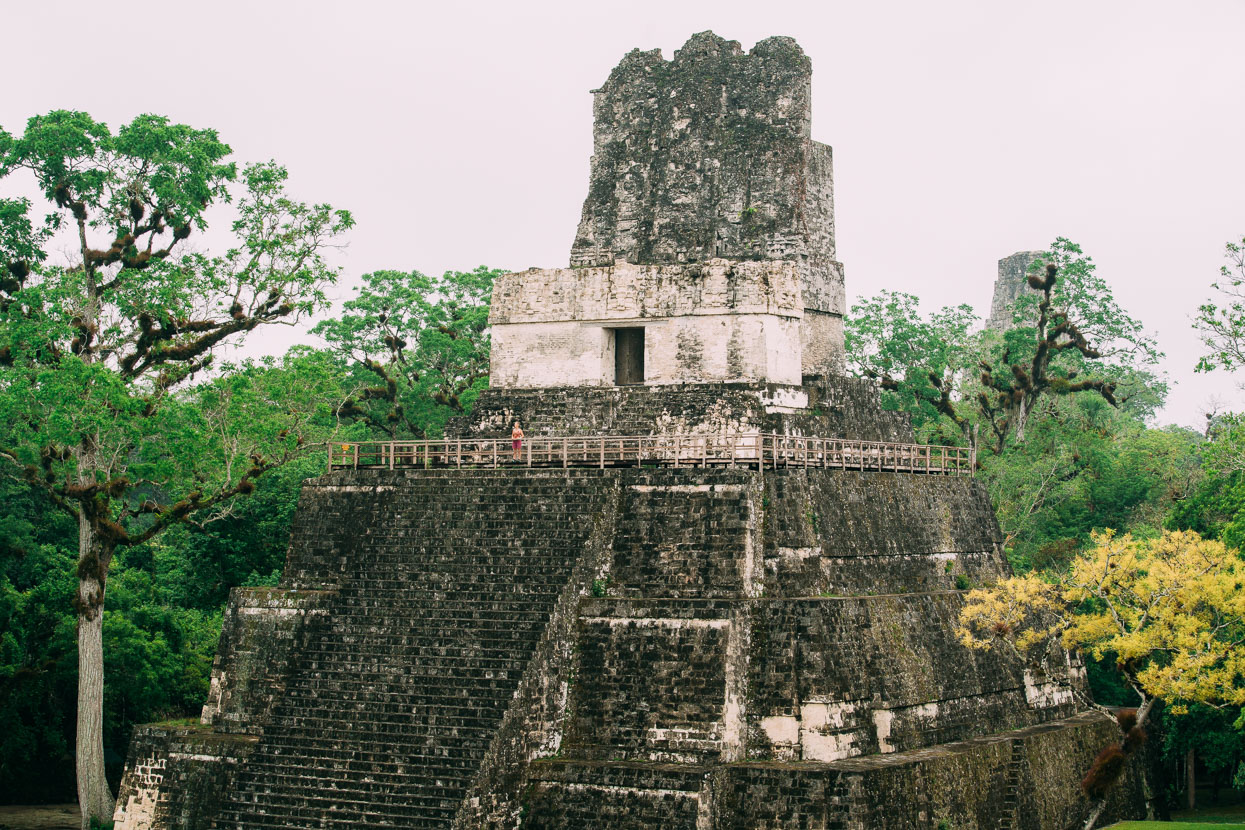 Temple II – the Temple of the Masks. Built as a funerary monument for the wife one of Tikal's kings.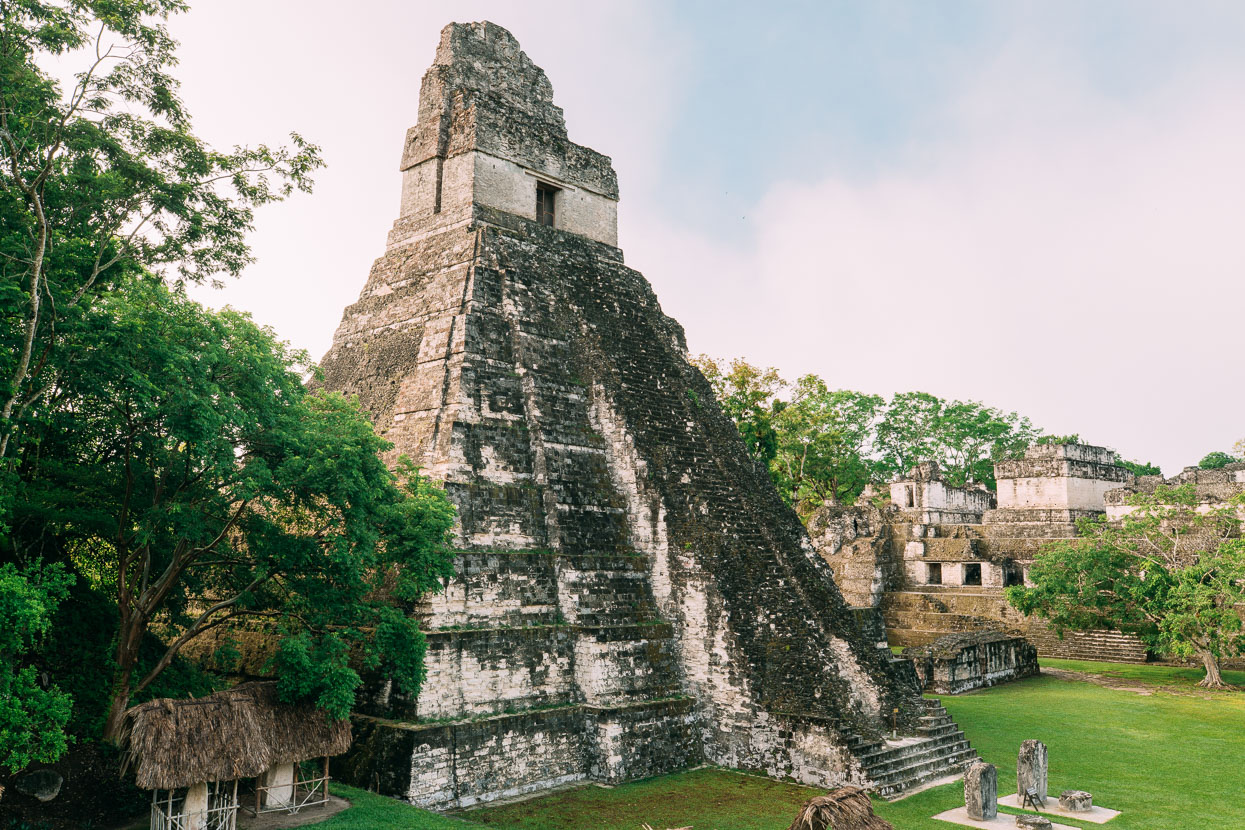 Temple I – Temple of the Great Jaguar. Built AD 682–734 as a monument and tomb for Jasaw Chan K'awiil I, one of Tikal's greatest rulers. Architecture here dates back as early as 400 BC, but the cities apogee was during the period 400–900 AD when close to 10,000 people lived in and around the city. The rich limestone upland soils provided good agriculture and the forest abundant animals. There's no natural water source nearby, so the Maya constructed elaborate hydrological schemes to collect water in large bayos (reservoirs).
While the temples seem evocative as they are – partly crumbled and moss covered – at this city's peak they would have been pristine; plastered with stucco and painted red, with masks and other decorations painted a range of colours. The Maya created a unique and very distinctive universe for themselves in their heartland of the Petén basin, and Tikal is just one of dozens of large cities in this region.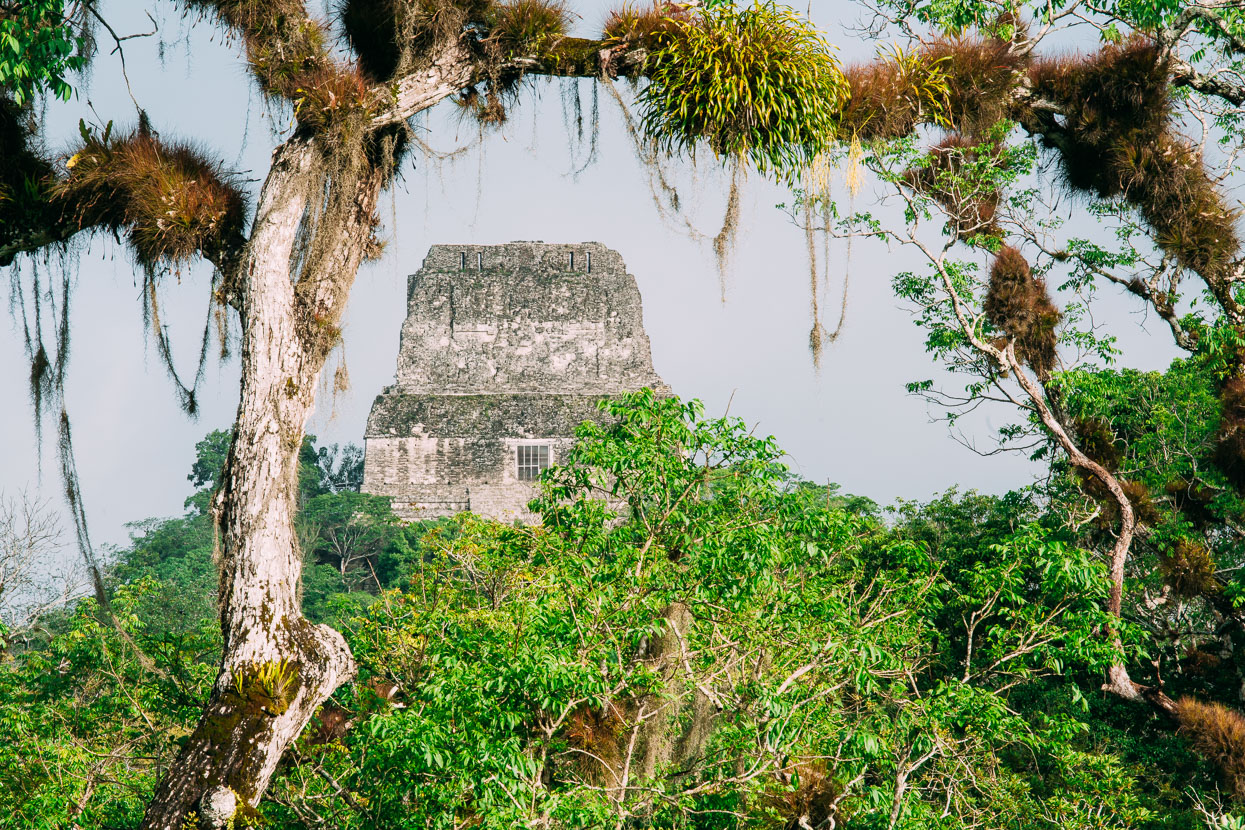 A telephoto shot through the jungle canopy to the 65 metre high Temple IV – this is the classic 'sunrise temple', visited on Tikal's sunrise and sunset tours. Compared to Mexico's sites, Tikal is expensive to visit, and on top of that if you wish to enter early for sunrise you have to buy an additional ticket and pay a guide – even if you are familiar with the site from a previous day's walking around (as we did). There's no doubt Tikal is seen as a cash cow for the Guatemalan tourism authorities, but despite the expense, we loved it there. It cost us NZ$170 for a day ticket (6am – 6pm), a sunrise ticket (4am – 8am), a guide just to walk to Temple IV, and two nights camping on the edge of the site.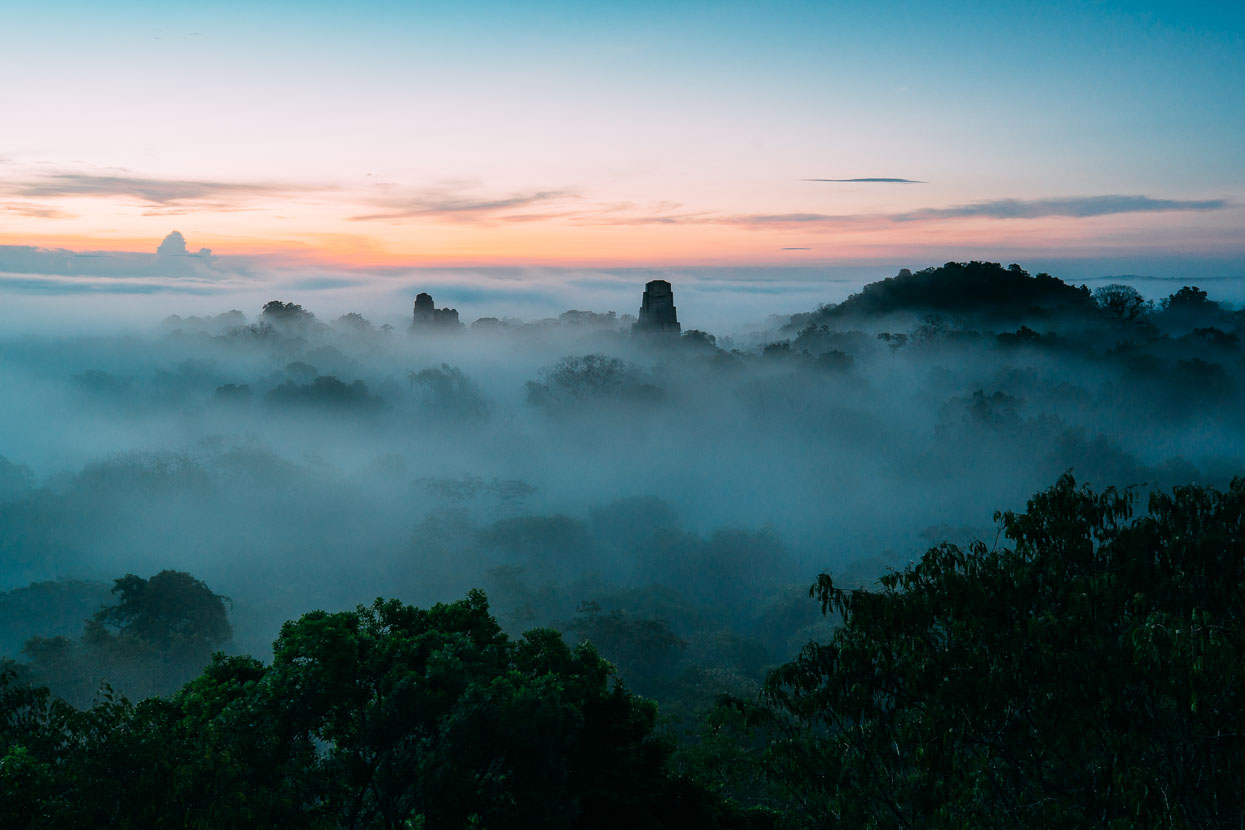 We arrived at Temple IV in the twilight. A near full moon was setting behind the temple, casting light over the misty tree tops. To the east the glow of the approaching sun breached the horizon but the famous temple tops were nowhere to be seen, lost beneath a thick cap of mist. We waited. As the dawn warmed the mist slowly dissipated, revealing the roof combs of the ancient temples and adding an incredible atmosphere to the dawn.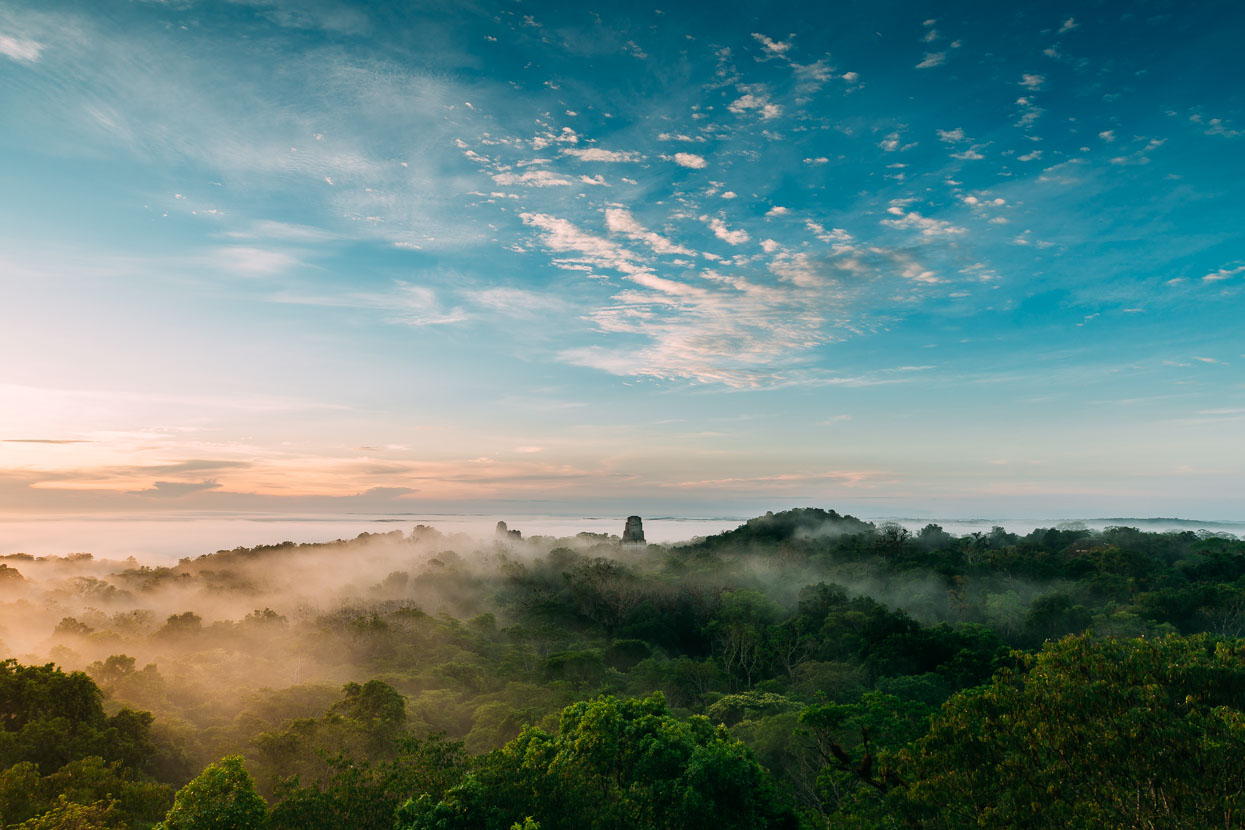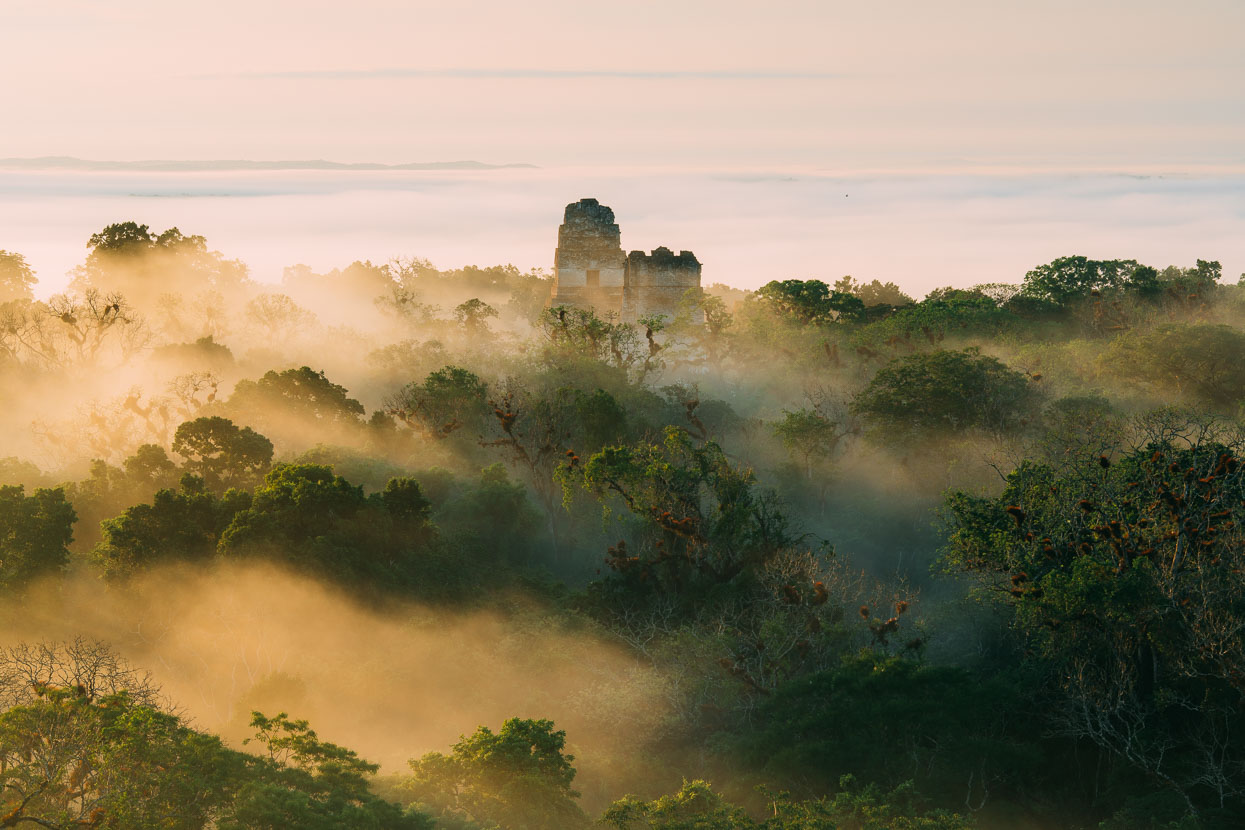 I could watch the antics of the howler monkeys for hours. One adult and baby played in the trees – the adult would hang from a branch by its tail, while the baby dangled below it held only by its hands. The adult would drop the baby several metres down into the tree tops below, only for it to then scurry back up the trees, down the adult's body, to be held by its hands and then dropped again.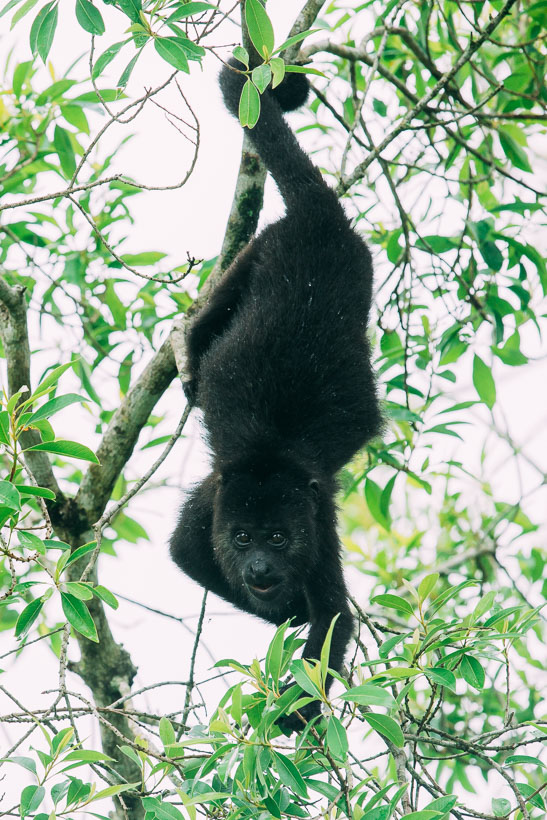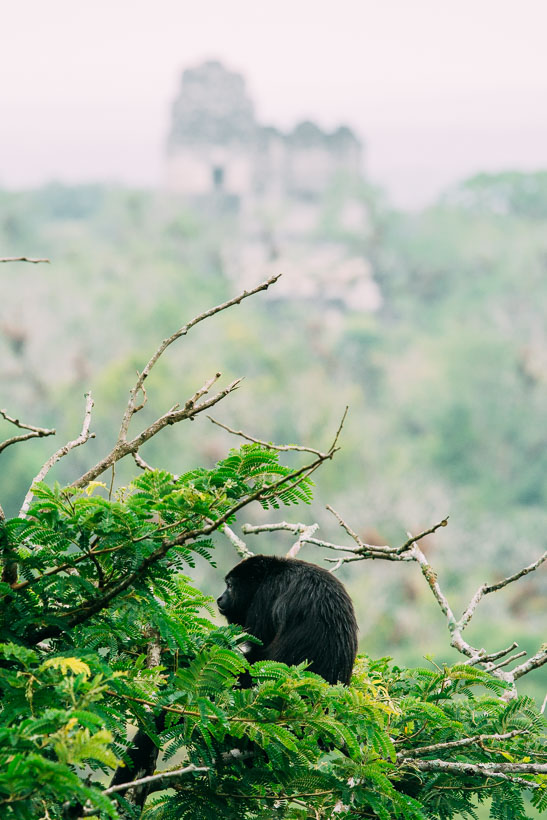 Below, a cute agouti – like a very large, short haired and short tailed ground squirrel, and a colourful epiphyte Tillandsia brachycaulos.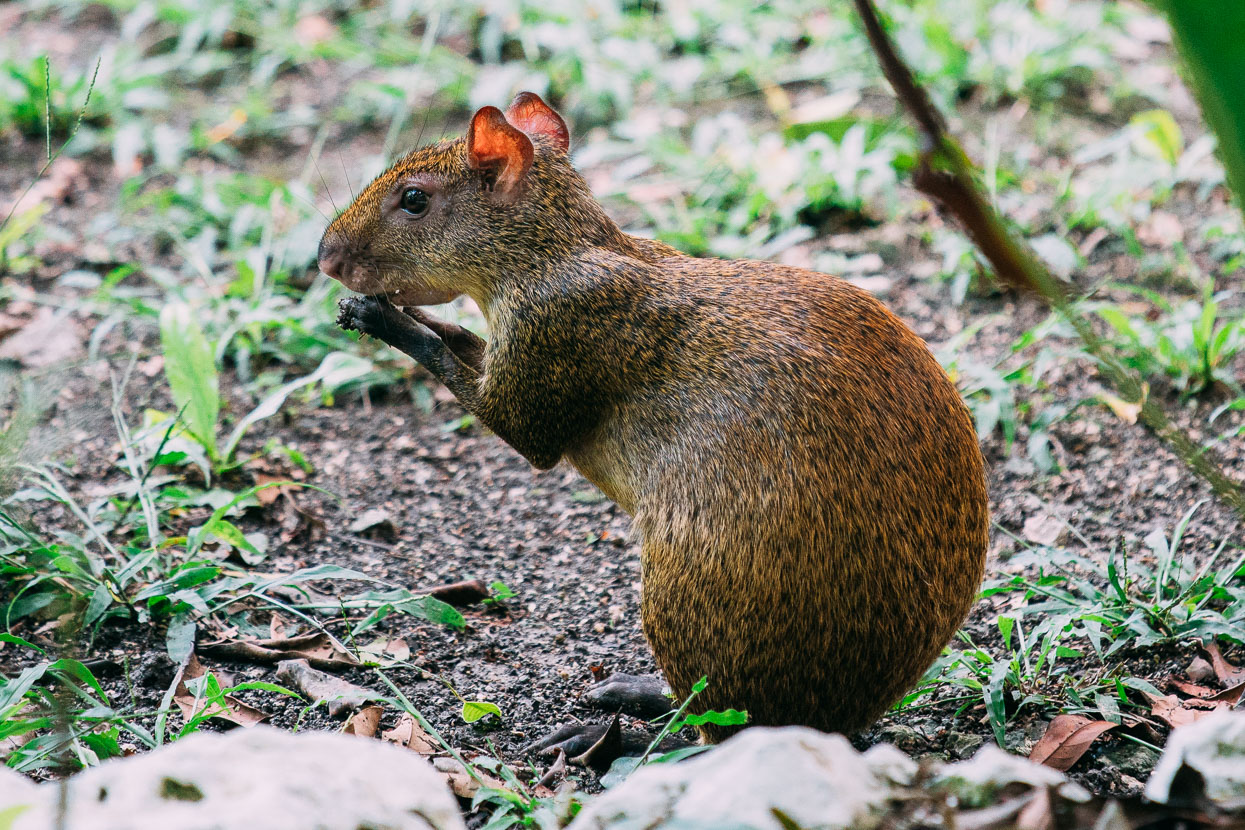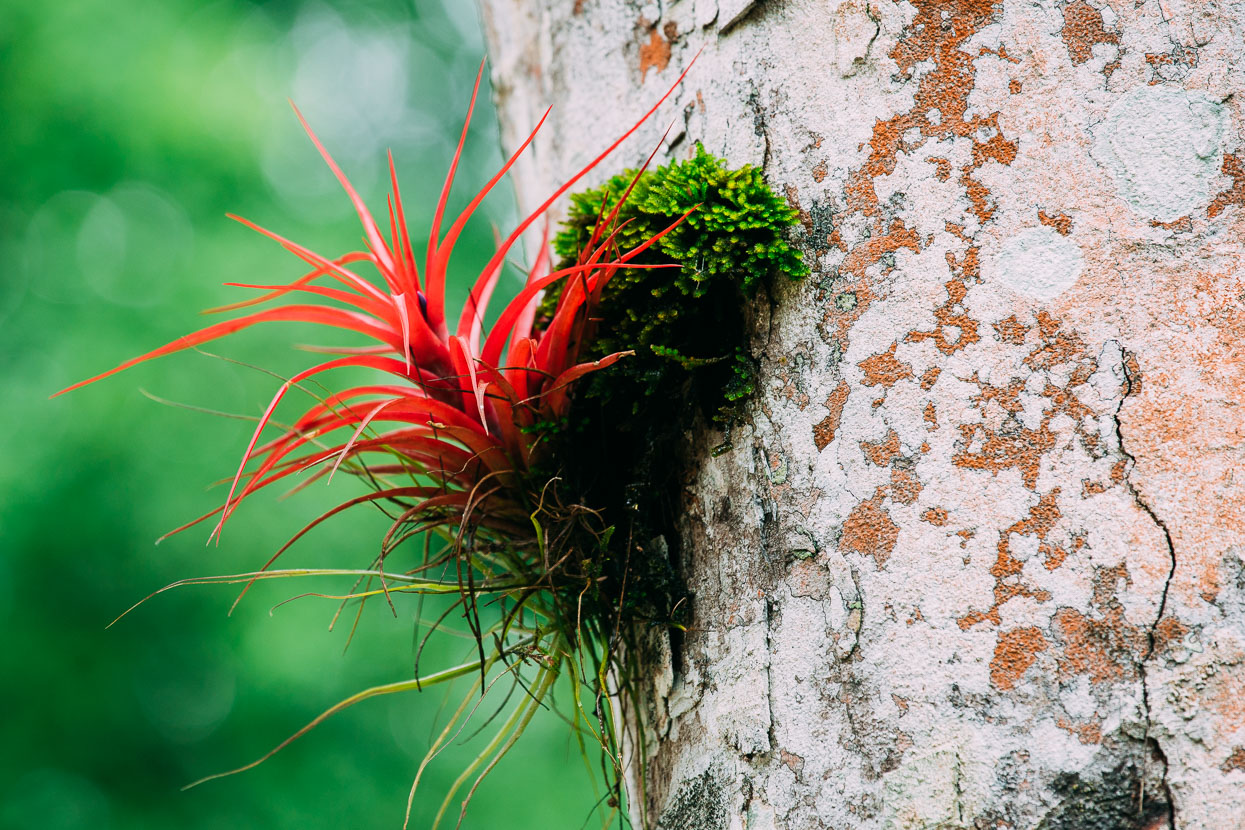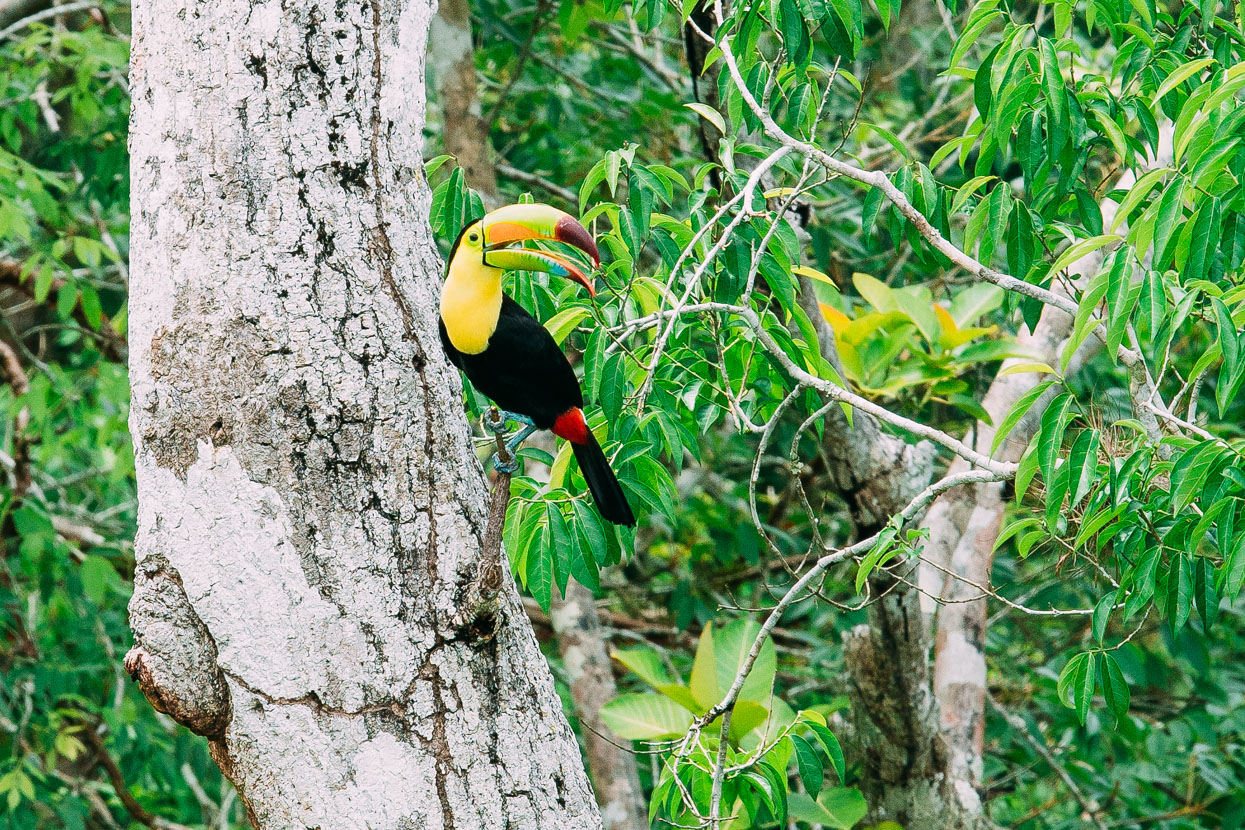 Toucan real, we watched this amazing bird for a while as it flew back and forth from tree trunk to tree tops, feeding its babies. They often nest in woodpecker nests.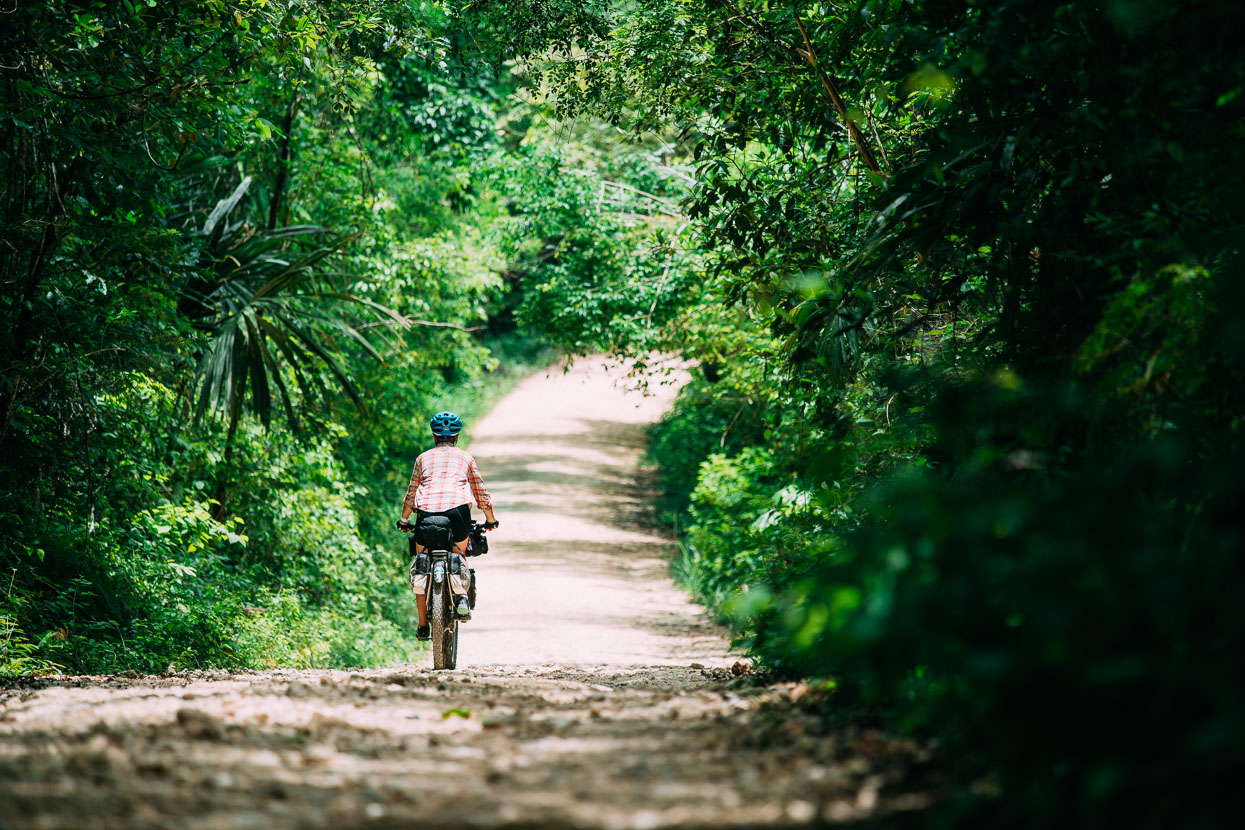 Tikal lies about half way along a single road that penetrates the jungle to the north of El Remate. And for most tourists Tikal is as far as they go. But 23 kilometres further north – deep into the Maya Biosphere Reserve lies Uaxactun, a small village and the ruin of another, much smaller Maya city. So north we rode, along a fantastic narrow dirt road, first crossing the remainder of Tikal National Park and then entering the Biosphere Reserve.
We stopped at Uaxactun, but dry season riders note: several other more primitive jungle roads and tracks lead to several other Maya sites from here, including El Zotz, El Mirador (reportedly needs clearing of wind fall), Rio Azul and San Bartolo. Much adventure is possible here and the local people we met were all very friendly.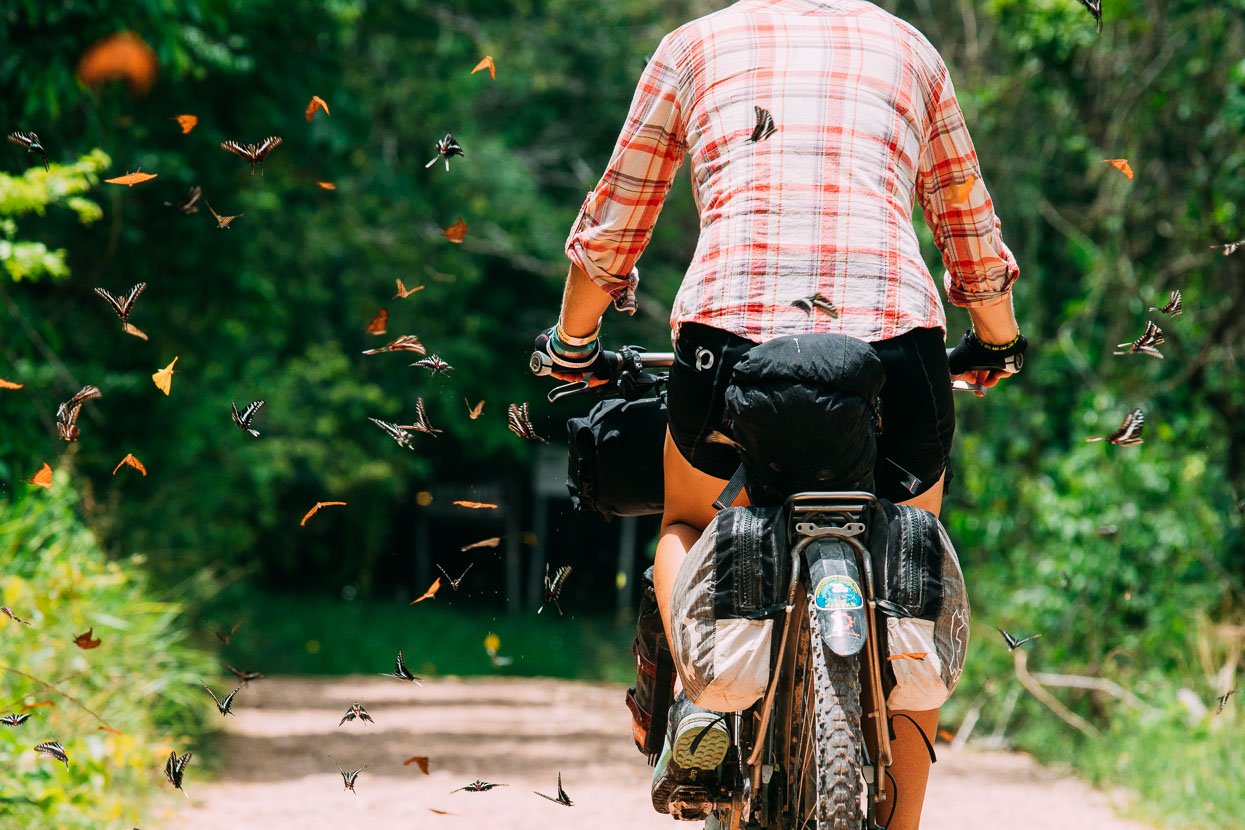 Aside from Mexico's mariposa reserve we'd never seen so many butterflies.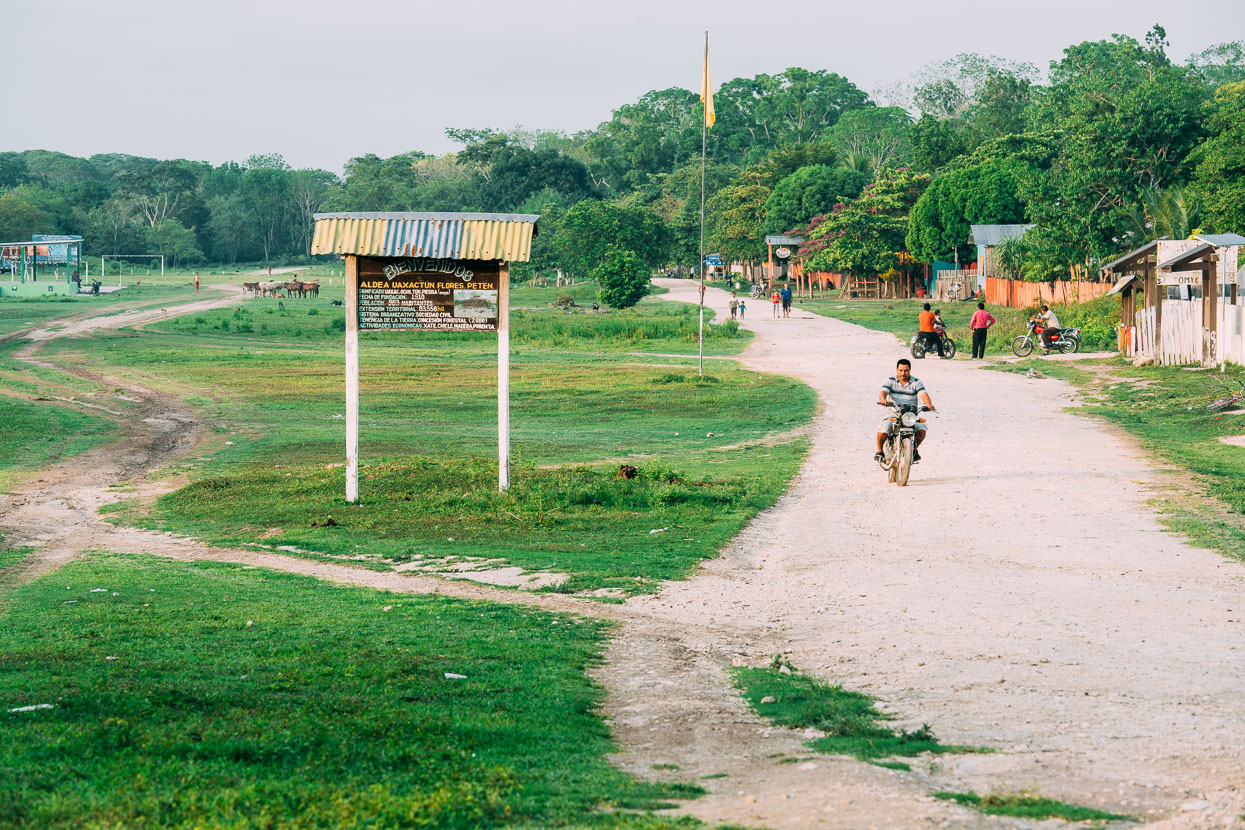 The ruins of Uaxactun were for a long time only accessible via an airstrip carved into the jungle in a shallow valley. The airstrip is now flanked by the village of Uaxactun, first established about 100 years ago as a chicle (gum harvesting) camp. The airstrip hasn't seen an aircraft since the 1980s, but helicopters drop in from time to time bringing wealthy tourists or archaeologists.
We found a palapa to pitch our tent under for the night at Adana's Lodge and headed off to check out some of the temples which are in separate 'groups' either side of the airstrip. This remote village itself is interesting to wander; there's many thatch buildings, crude walls of local timber, rock fill and plaster and tiny stores selling the usual staples of coca cola, cigarettes and crisps, although we did find fruit here and there too.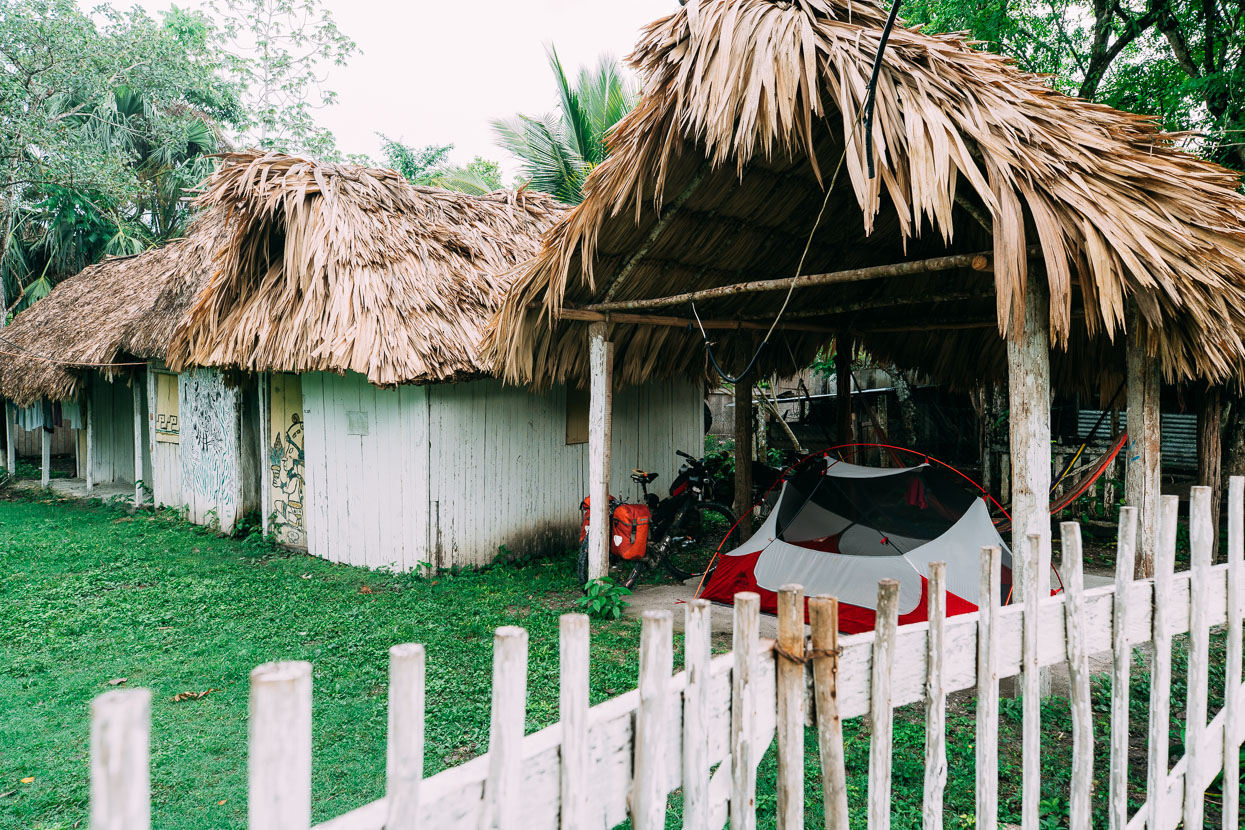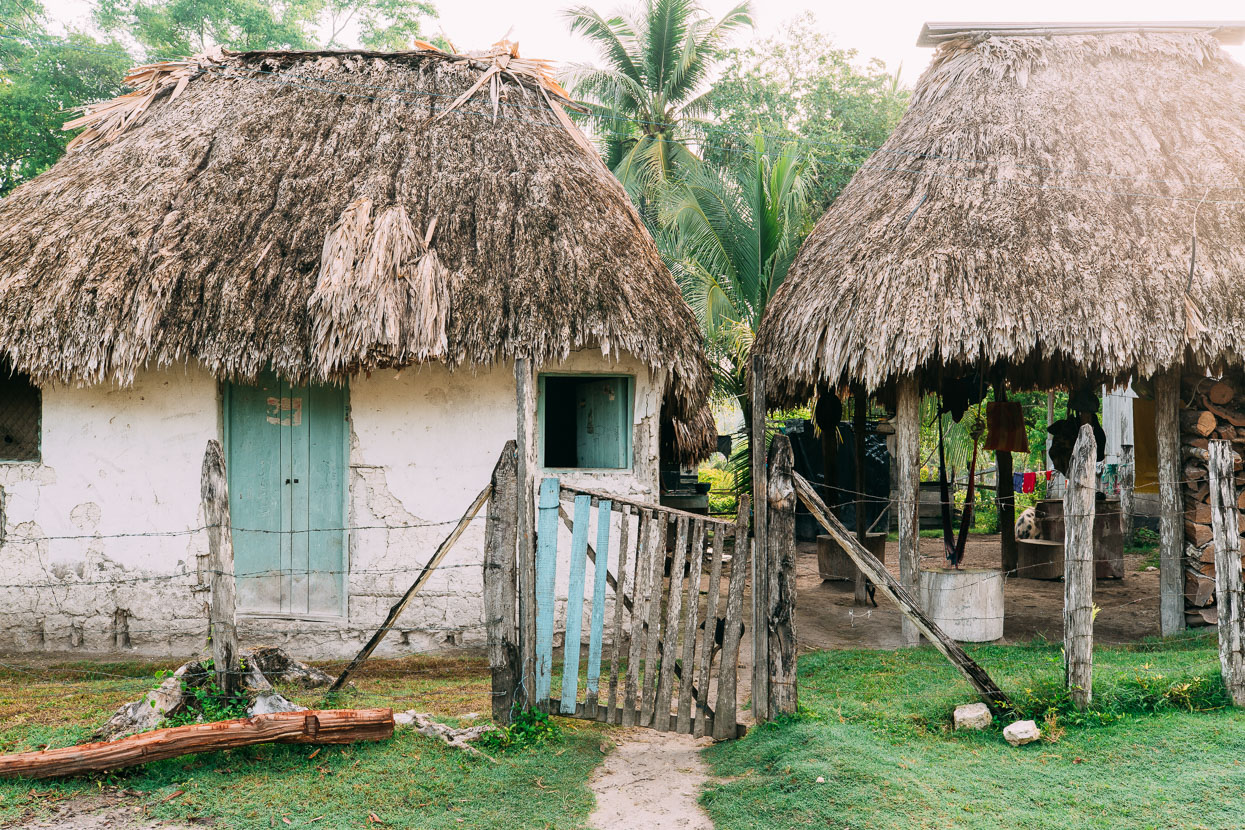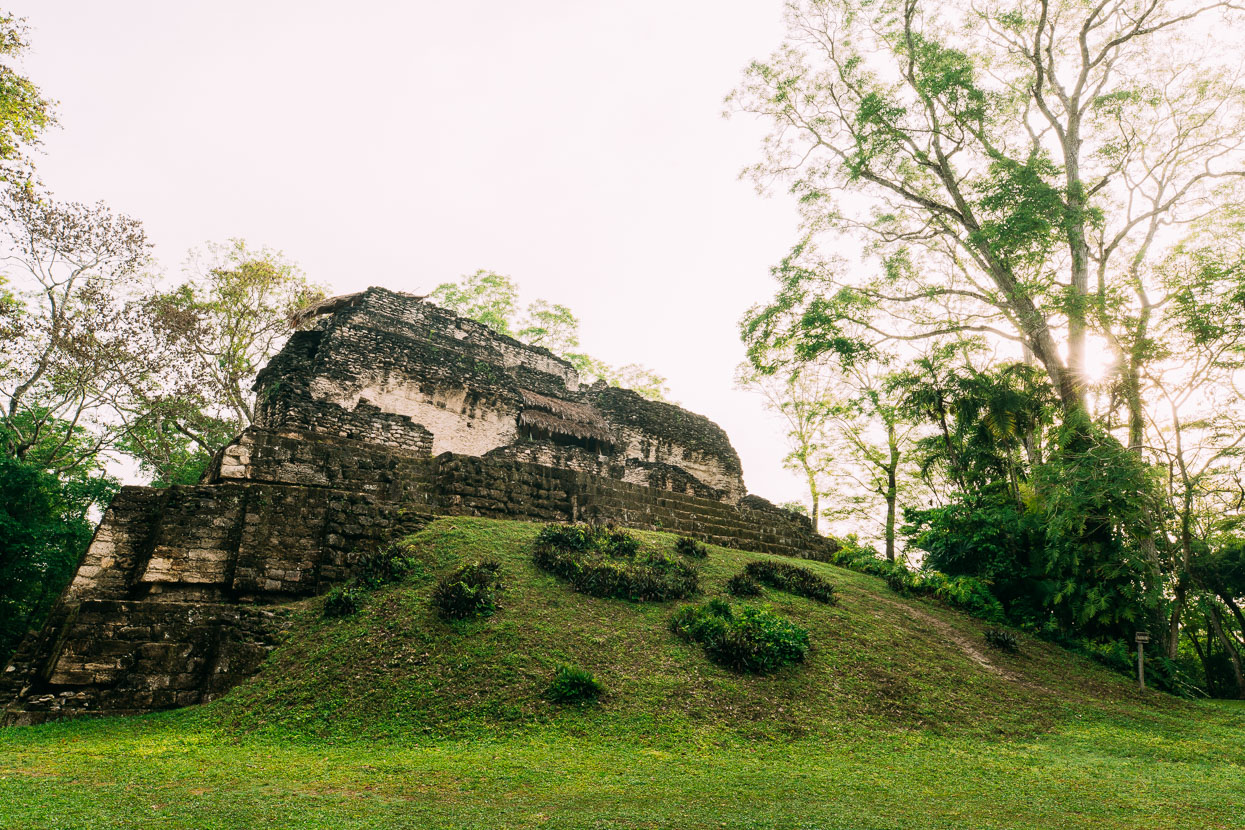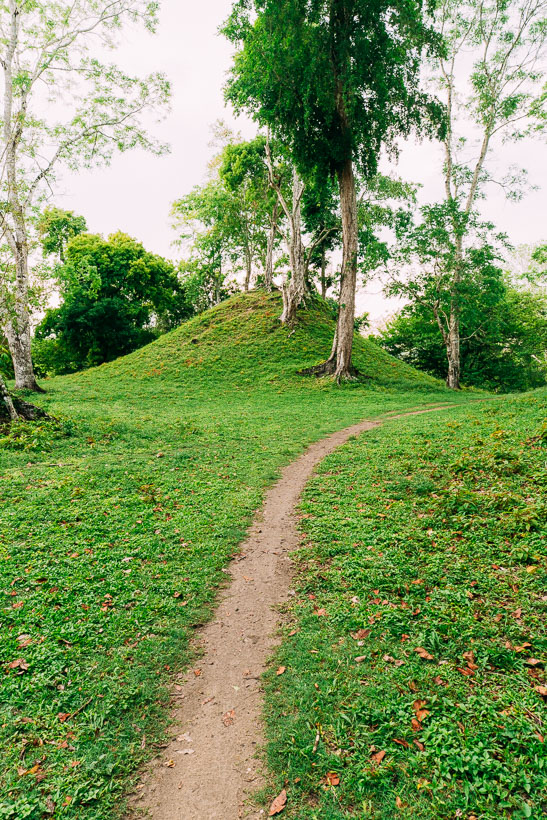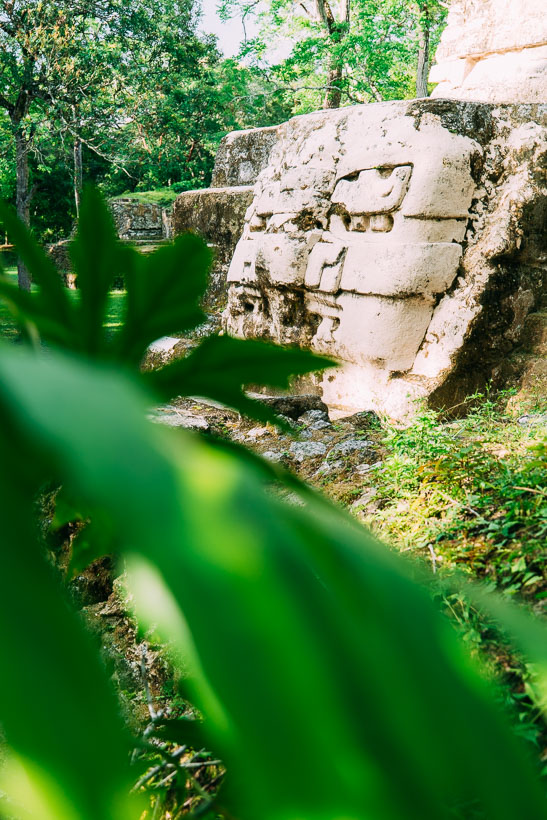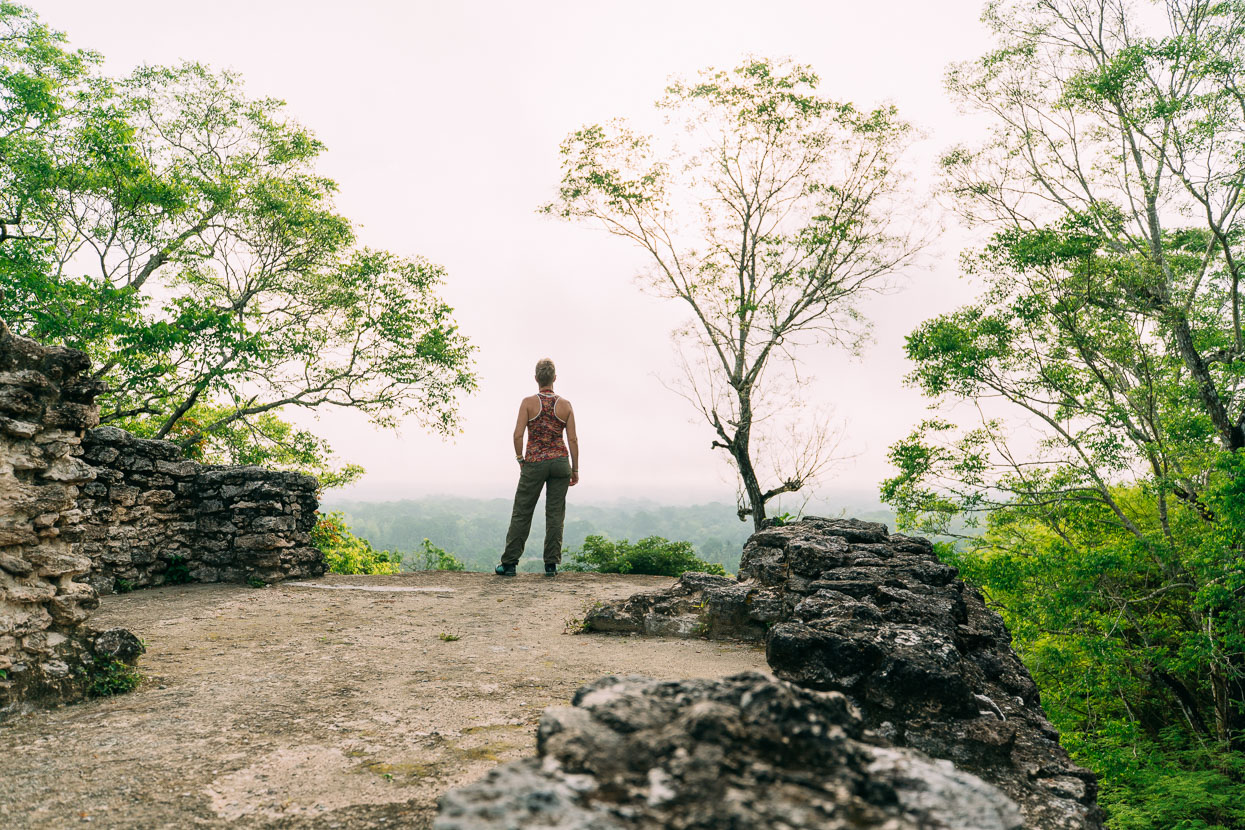 It's hard for any site to compete with Tikal's incredible architecture and surroundings, and Uaxactun's buildings are definitely less impressive, but the site has a peace and charm that makes it well worth continuing on to. Notably the Maya have an astrological 'centre' here, a complex of four pyramids: comprising one 'observation' pyramid and three small pyramids perfectly aligned with the sun's solstice and equinox positions.
Mexico and Central America has its own distinctive breed of turkey and we often see these confident birds gobbling and strutting their way along the road sides.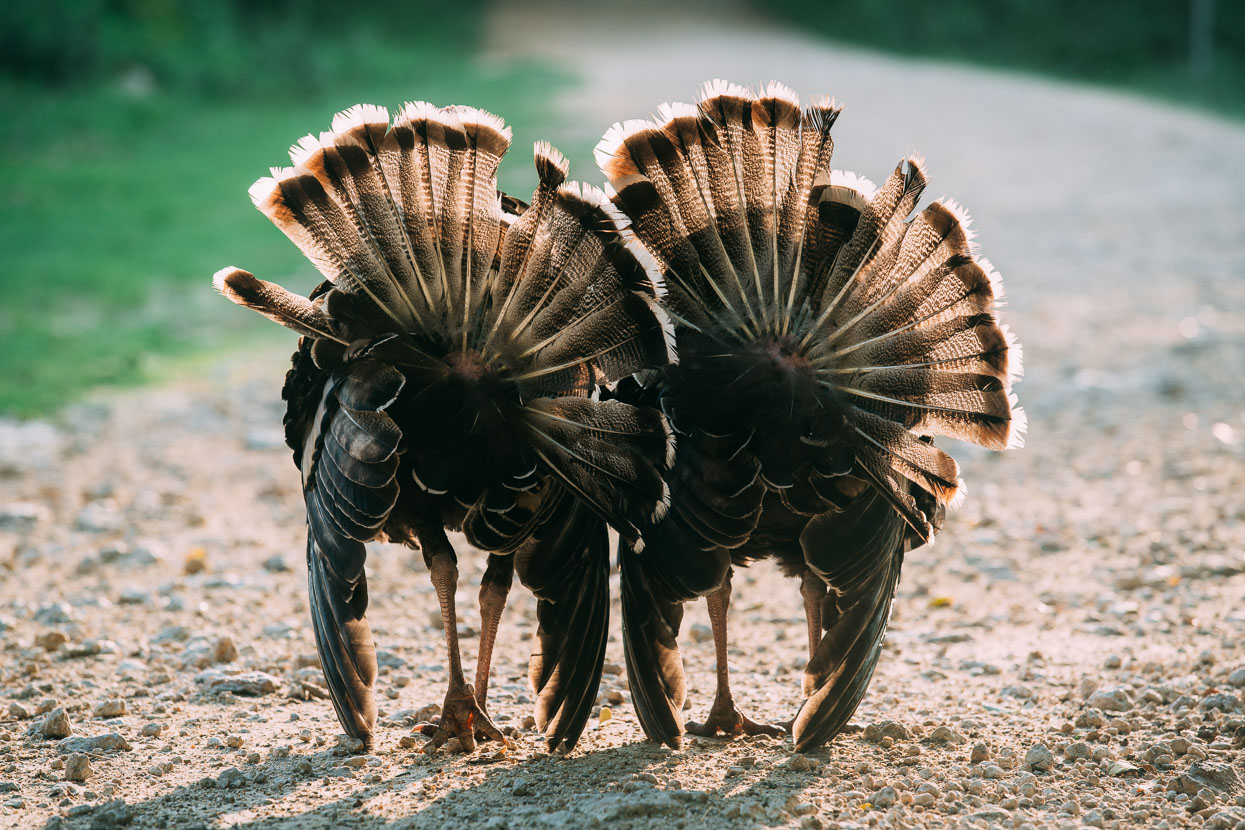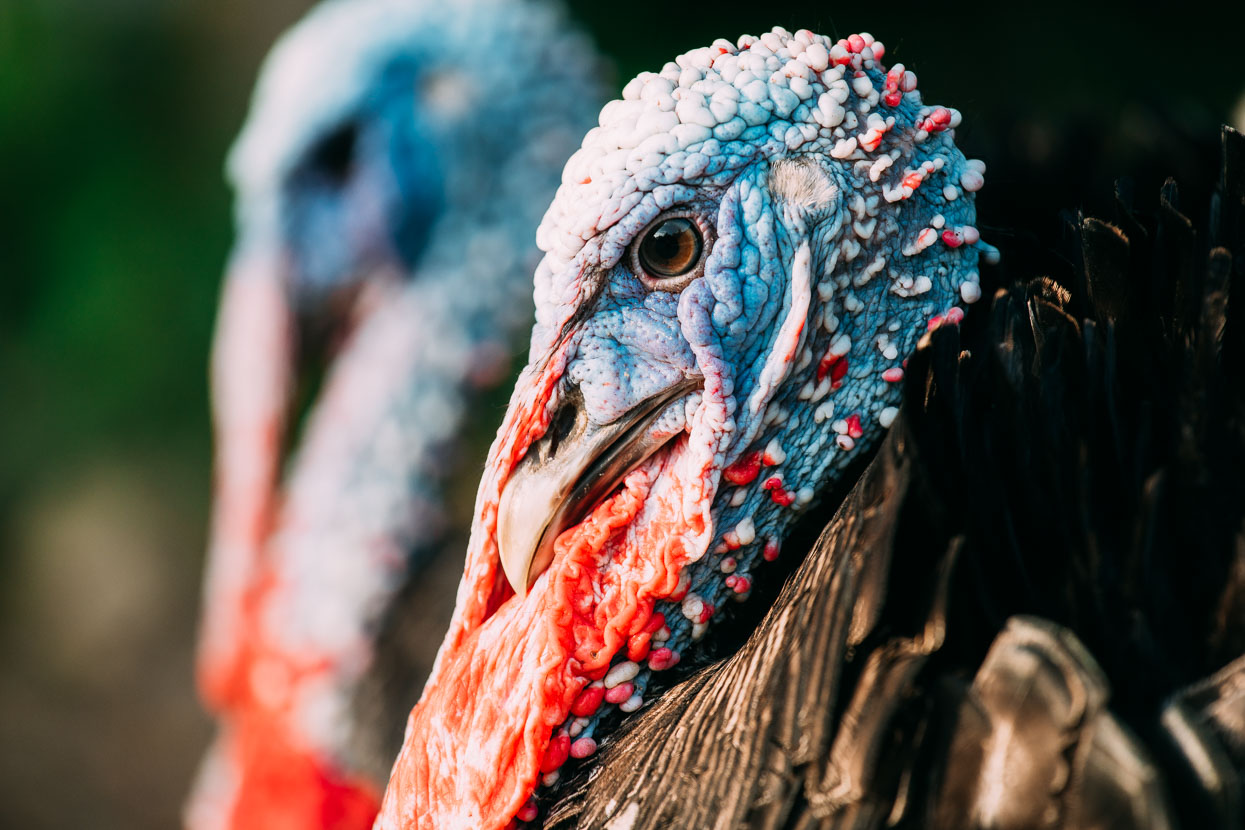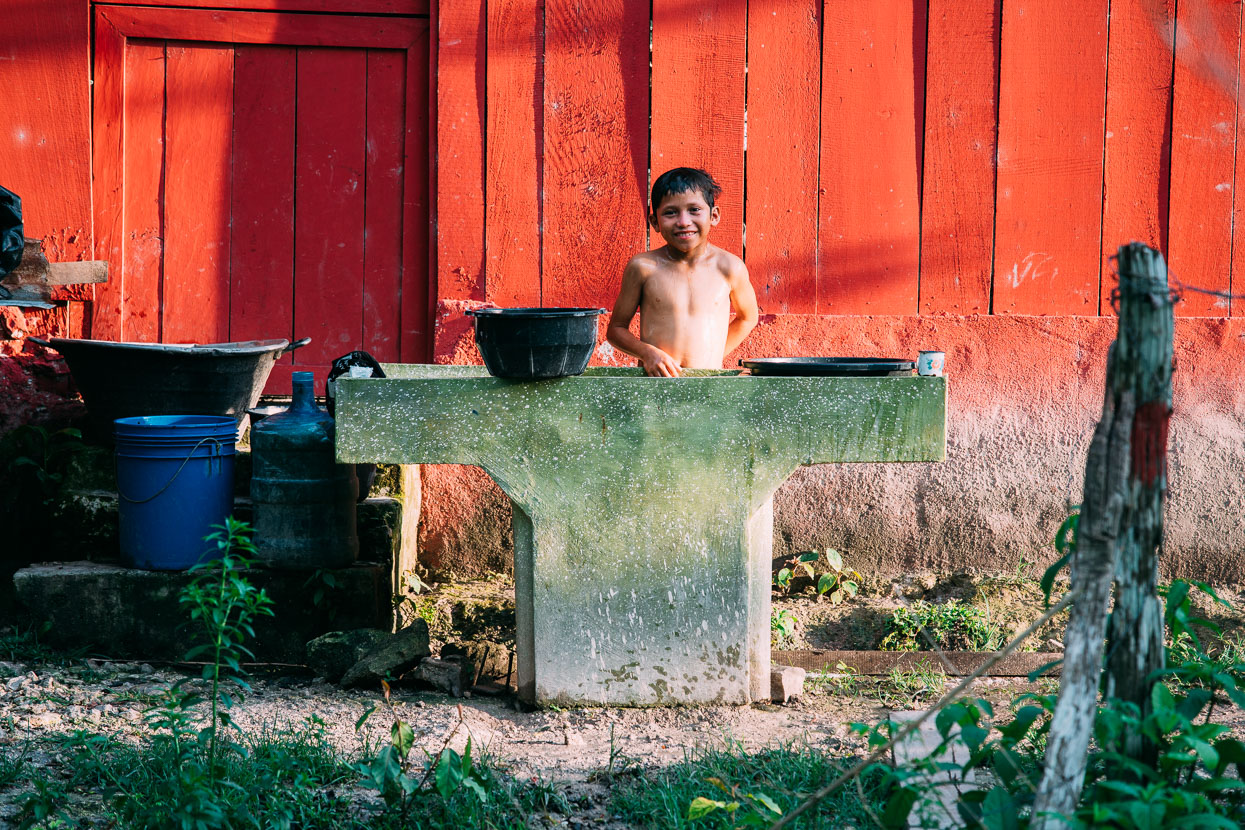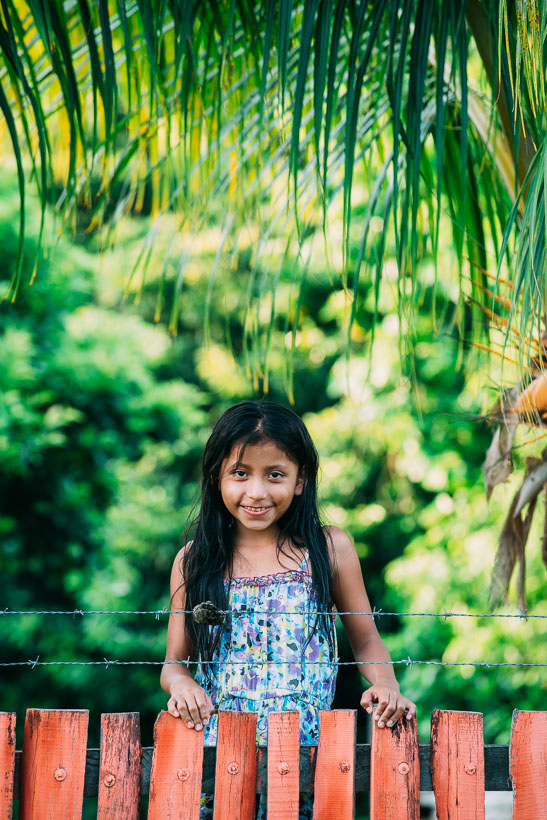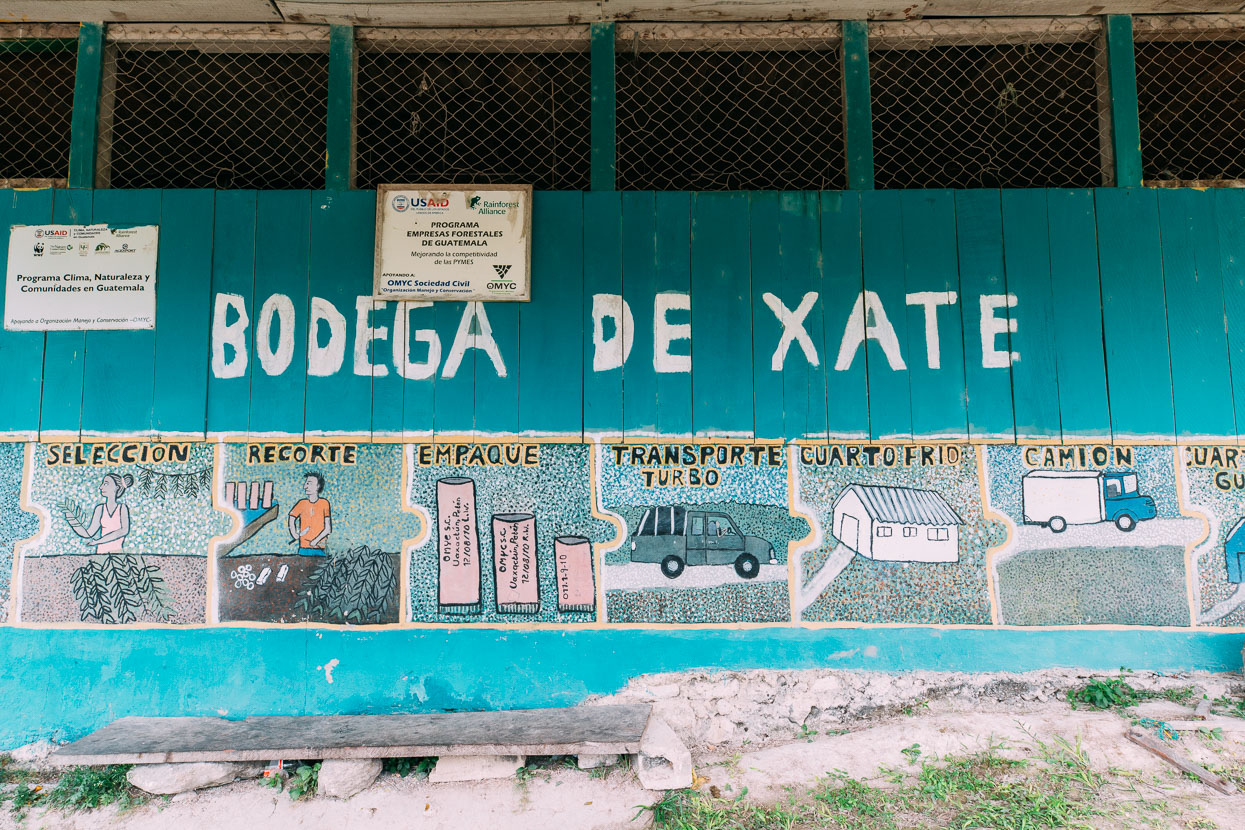 Aside from a trickle of tourists, Uaxactun's income staples are managed forestry and xate. The latter is an attractive fern sought by the international flower arranging industry and is a major export item. The ferns reportedly hold their colour and don't wilt for 60 days, making them an easy export.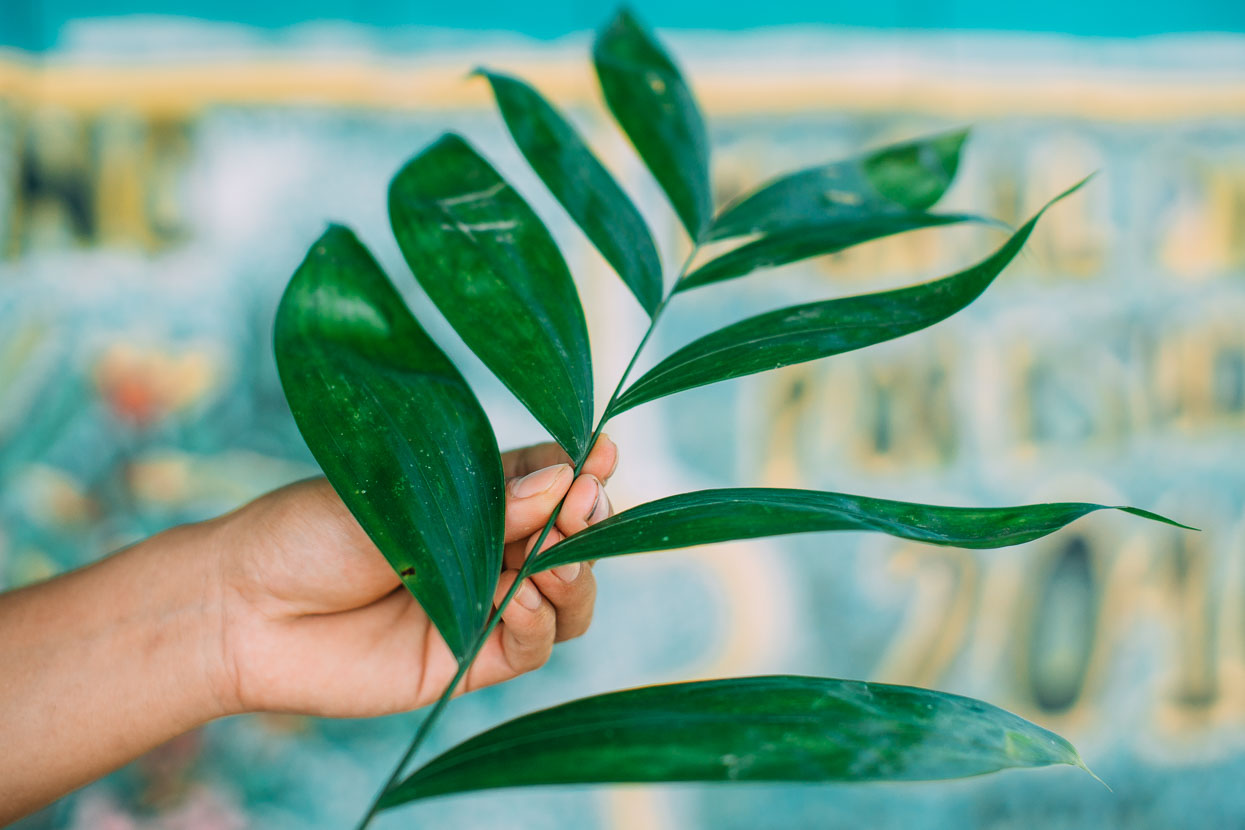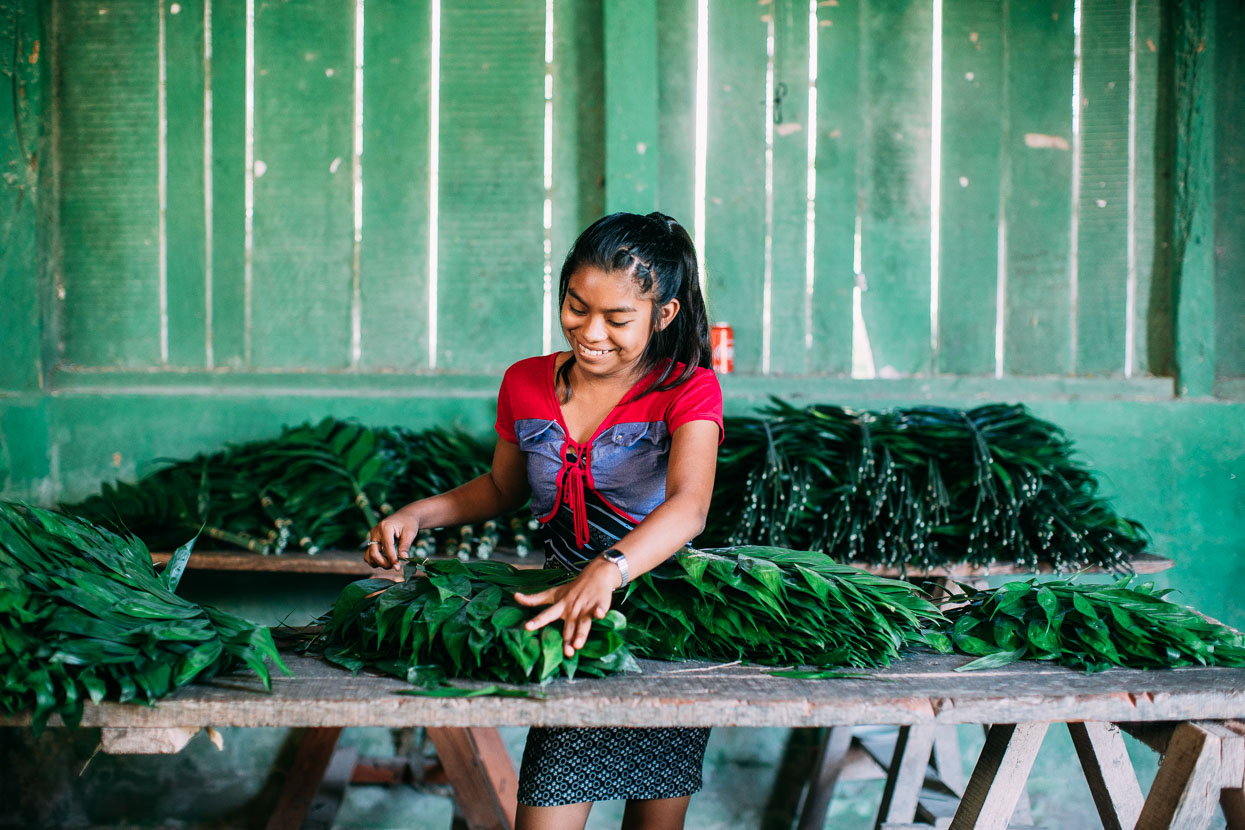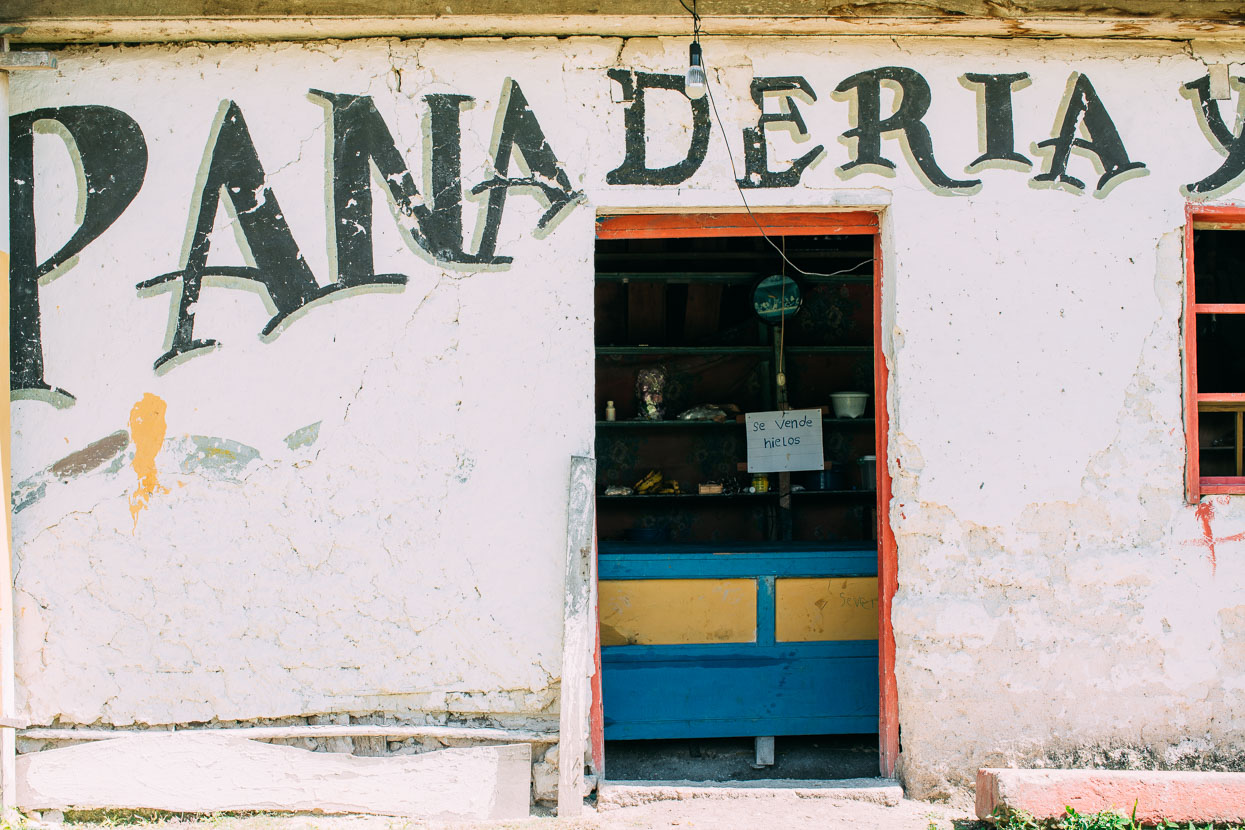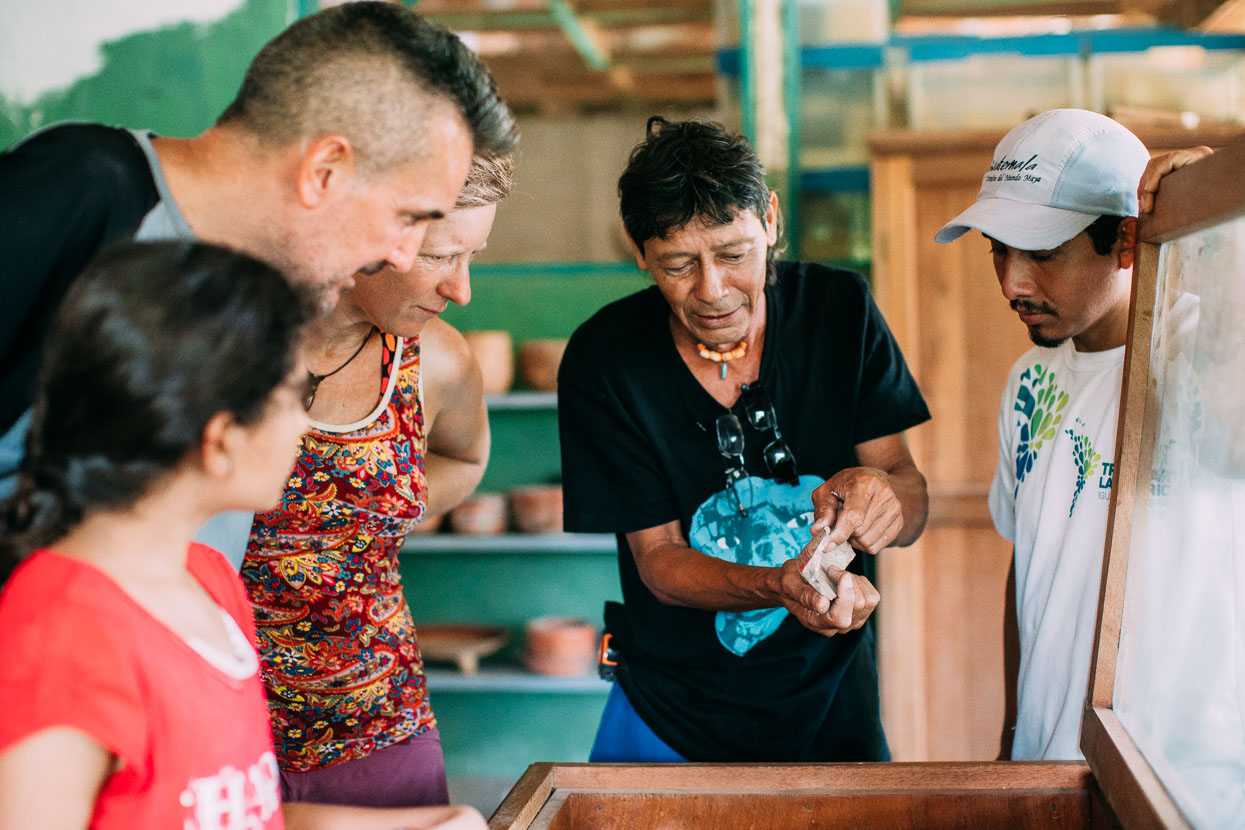 Quite by chance Memo (La Danta Project) and his daughter Peralie happened to visiting Uaxactun too, researching cycling possibilities and we joined them for a visit to the town's tiny museum. Hundreds of Maya artefacts are stored here: their diverse pottery, jewellery, tools and even a couple of skulls. The museum custodian Antonio (centre) showed us a lot of objects and it was nice to see such items outside of the confines of glass cases and artificial lighting.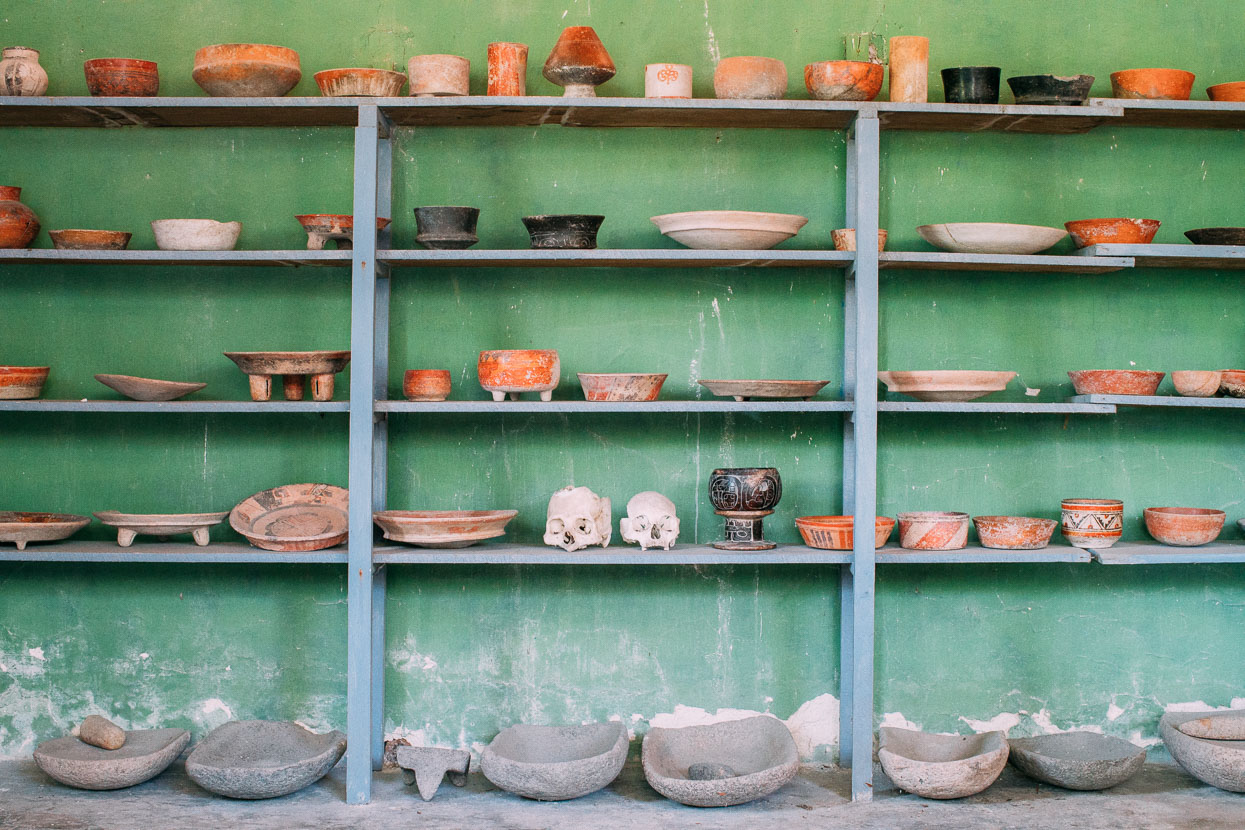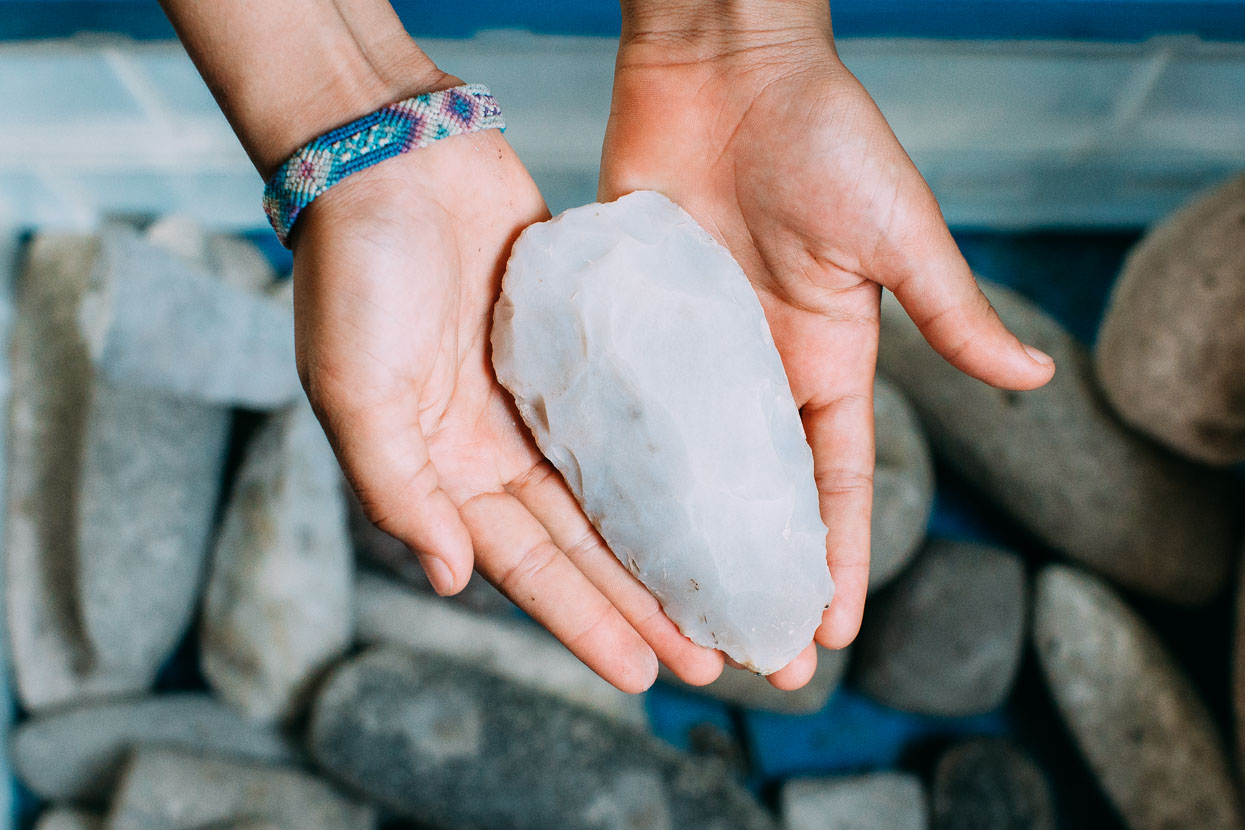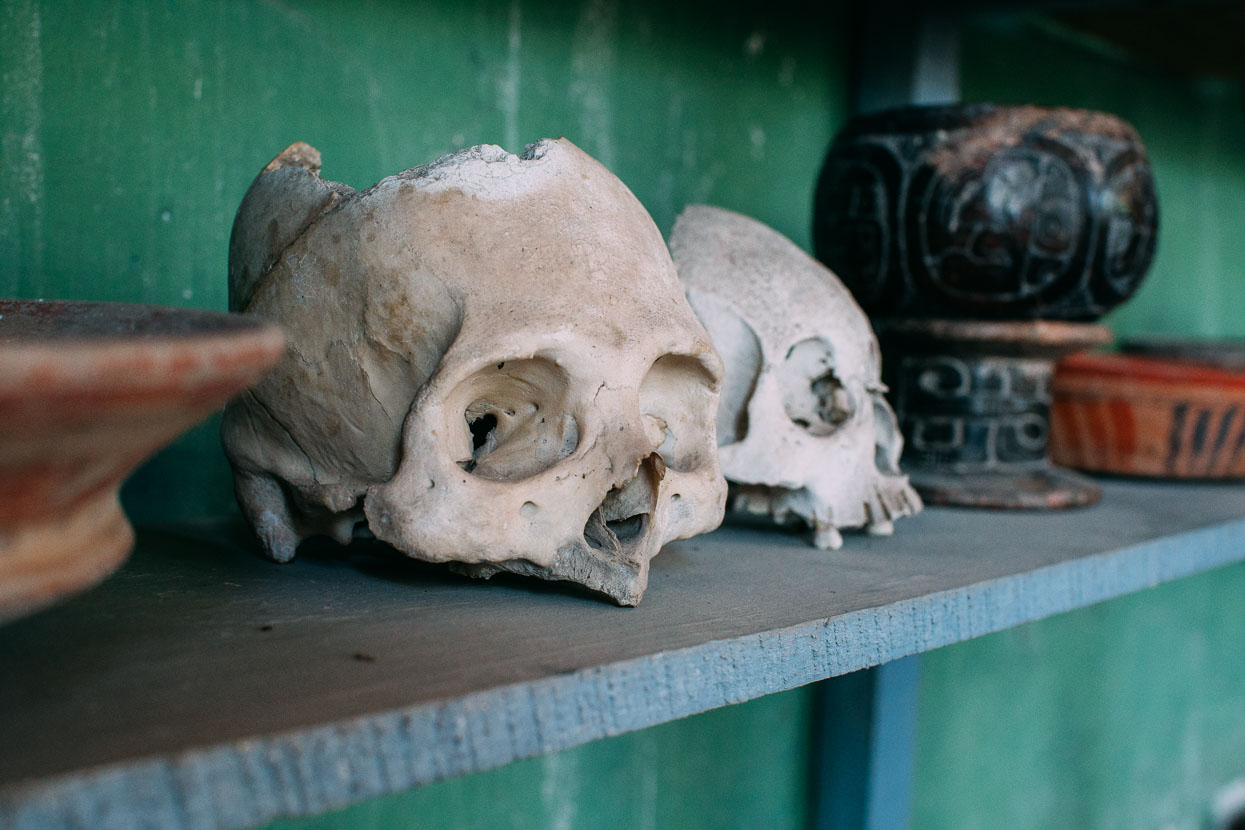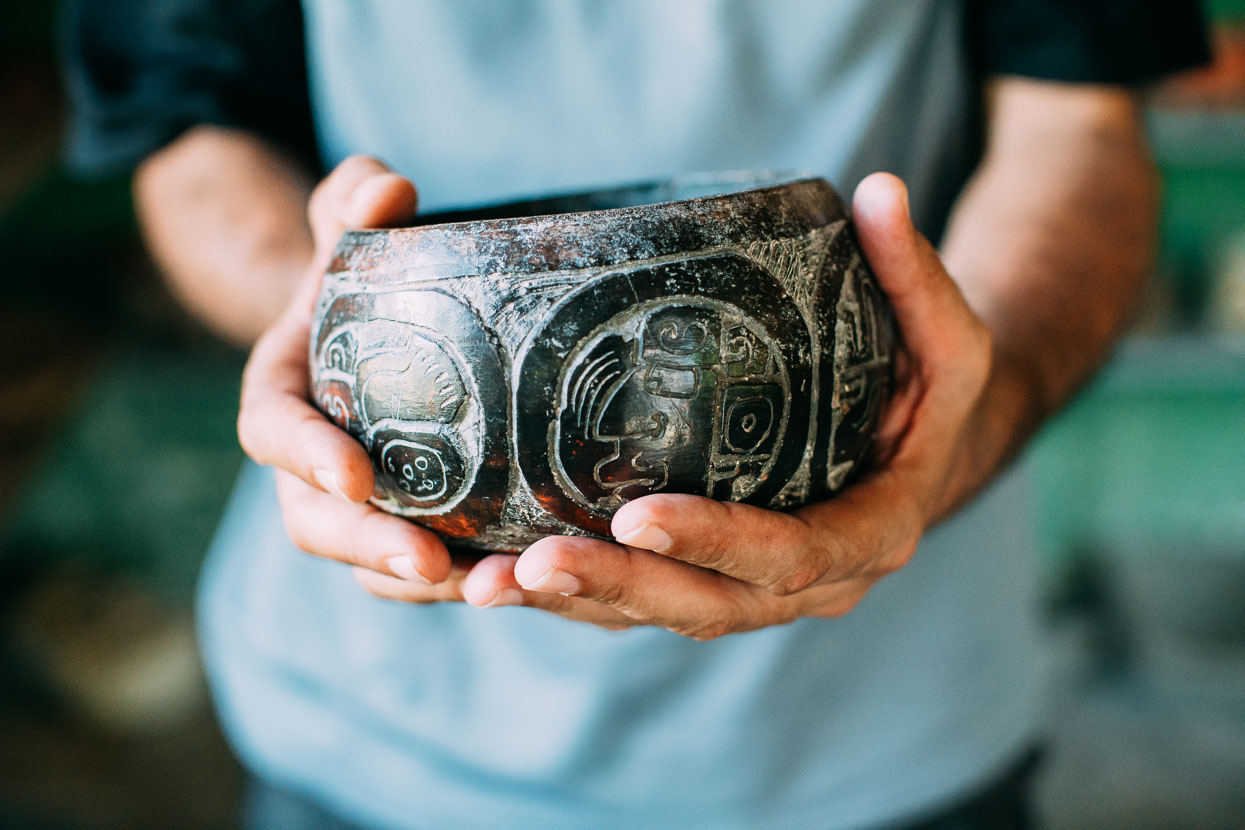 Memo holds a bowl that's at least 1100 years old.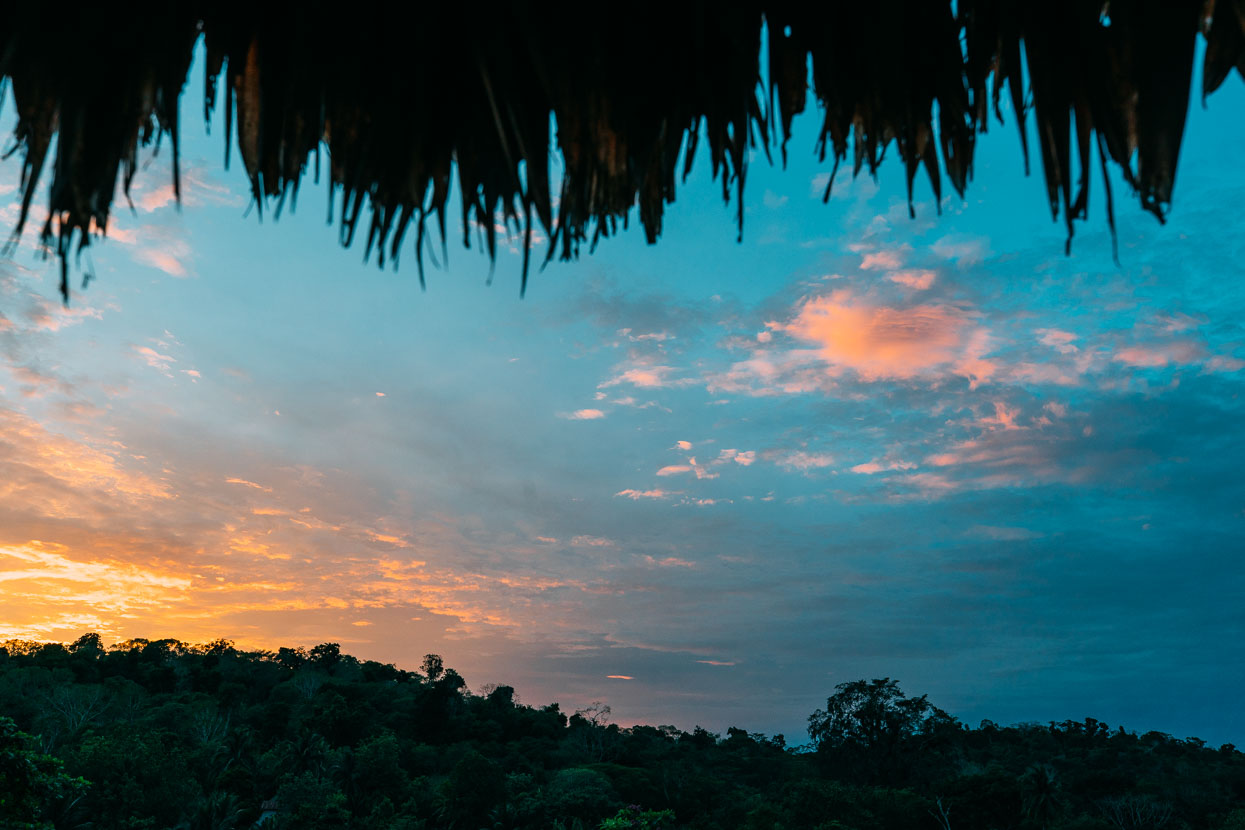 Do you enjoy our blog content? Find it useful? We love it when people shout us a beer or contribute to our ongoing expenses!
Creating content for this site – as much as we love it – is time consuming and adds to travel costs. Every little bit helps, and your contributions motivate us to work on more bicycle travel-related content. Up coming posts: camera kit and work flow, route planning & navigation.