Mayan ruins deep in the Petén Basin.
When early aviators, including Charles Lindbergh, made the first flight over the immense Mirador Basin of Petén, Guatemala in the 1930s they were surprised to see clusters of small jungle covered volcanoes jutting above the canopy.
The remote 'volcanoes' were what is now known as El Mirador: the colossal pyramid remnants of what had once been a city-state at the epicentre of the Pre-classic Maya universe. Home to a ruling class that governed directly over an estimated 200,000 people and dominated a region that may have been home to over 1 million Maya, scattered across many more smaller cities and settlements.
The Mirador Basin is part of the much larger – and sadly threatened – Maya Biosphere Reserve, an extensive lowland rain forest region that is part of 50,000 square kilometres of forest which extends into both Mexico and Belize. It's one of the largest remaining areas of tropical humid forest in the world. Although an earlier European explorer had noted the scale of the Mirador pyramids in 1885, it wasn't until 1972 that a Harvard University archaeologist mapped and explored part of the area, leading to excavations and restoration that continue to this day and which have revealed considerable knowledge about Pre-classic Maya.
We both have a fascination for the Maya; having visited several temples during our travels here in 2010. We've continued that exploration on this trip with visits to Tonina, Bonampak and Yaxchilan. When we arrived at La Danta Project (our Warmshowers host) in Flores, Guatemala we enquired about El Mirador and heard there was a five day hiking tour heading in at 5 am the next day. Suffice to say we jumped at the chance. There are no roads to El Mirador, only a hiking/biking trail and a longer quad track. Most visitors either walk in via a 5-6 day return trip or fly in via helicopter. We'd orginally been eager to ride the 80 kilometre return hiking route, but recent restrictions by CONAP, the Guatemalan body responsible for Maya ruins, made that look like a tricky prospect, so on foot it was.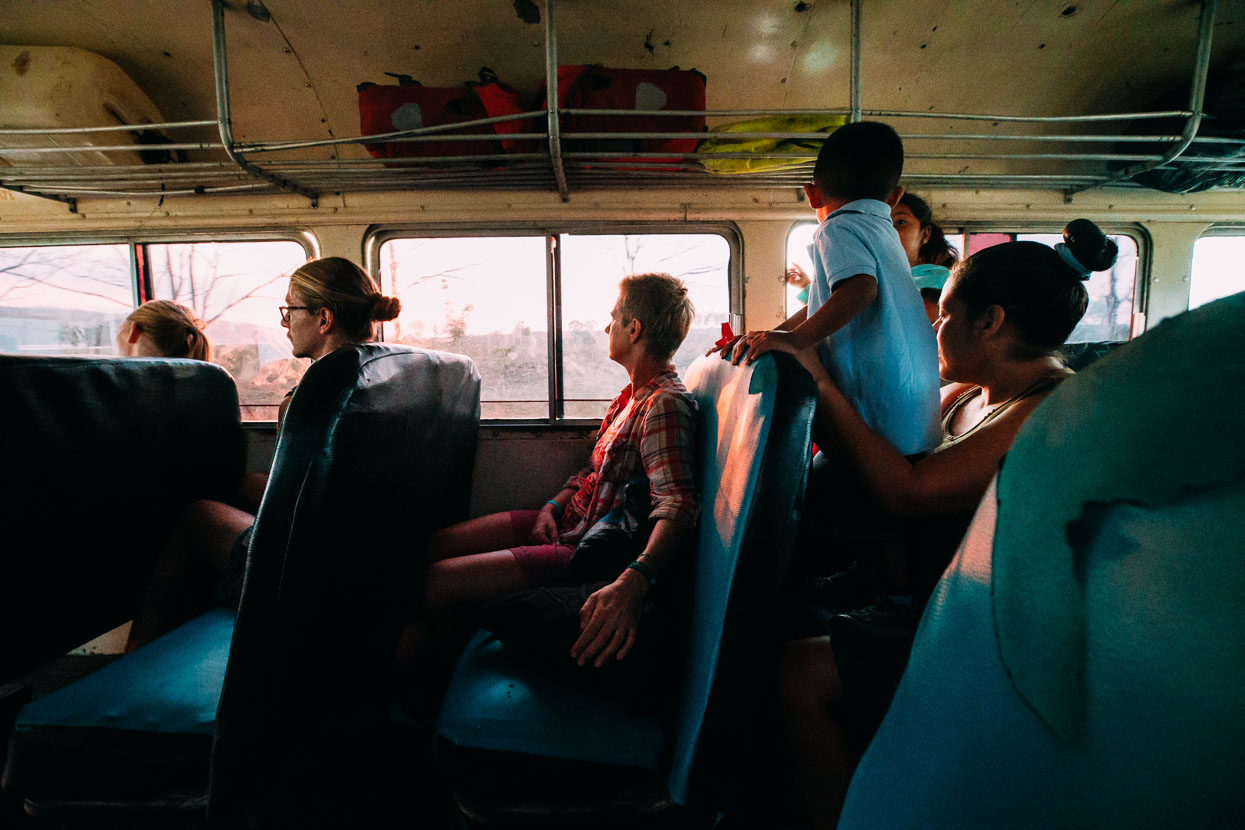 A four hour 'Chicken Bus' ride took us from Flores to Carmelita, a tiny trail-head village that's now the base for the Cooperativa Carmelita – a local operation that runs hiking tours to El Mirador; providing guides, mules and cooks for groups large and small.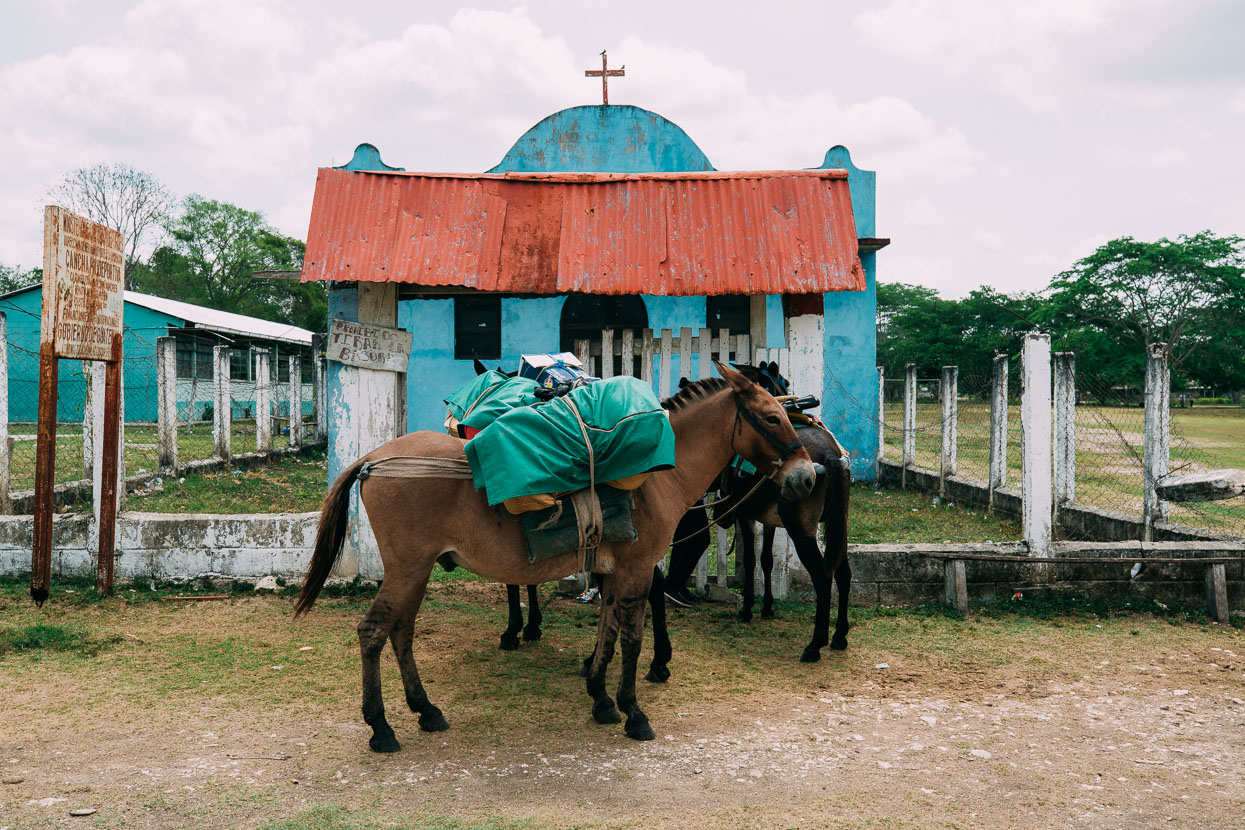 Our three mules, loaded and ready to hit the trail.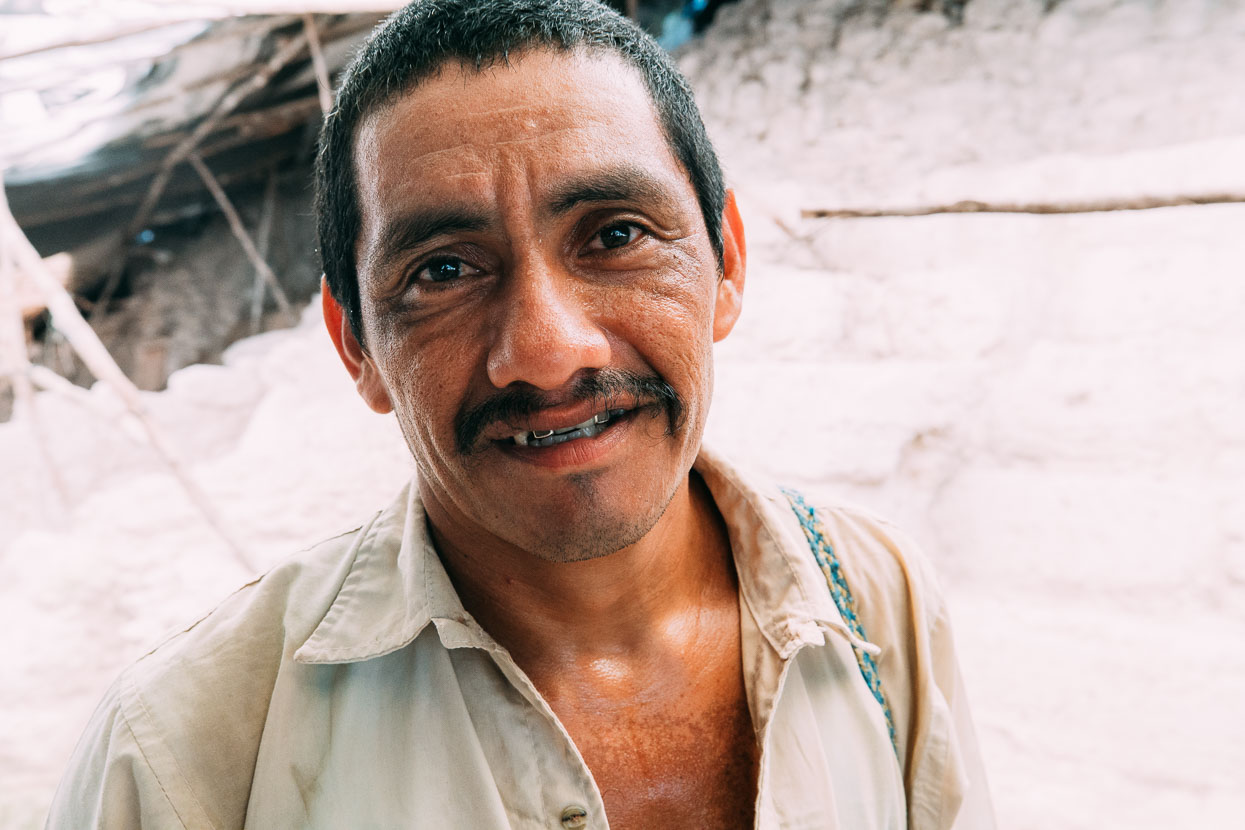 Guide Rudi: energetic, knowledgeable, amiable – the perfect guide. He'd first visited the ruins as a 14 year old and has been guiding there for 26 years.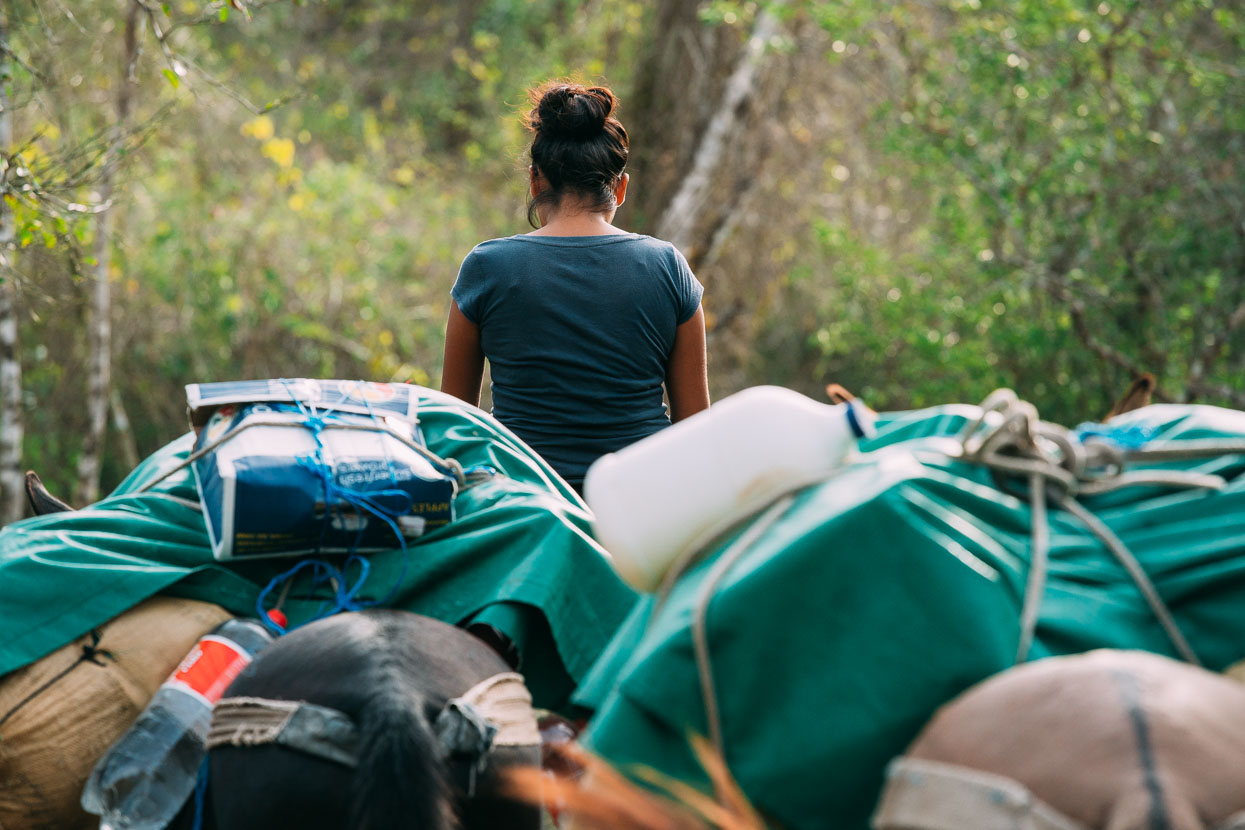 Cocinera Clara atop the mule train.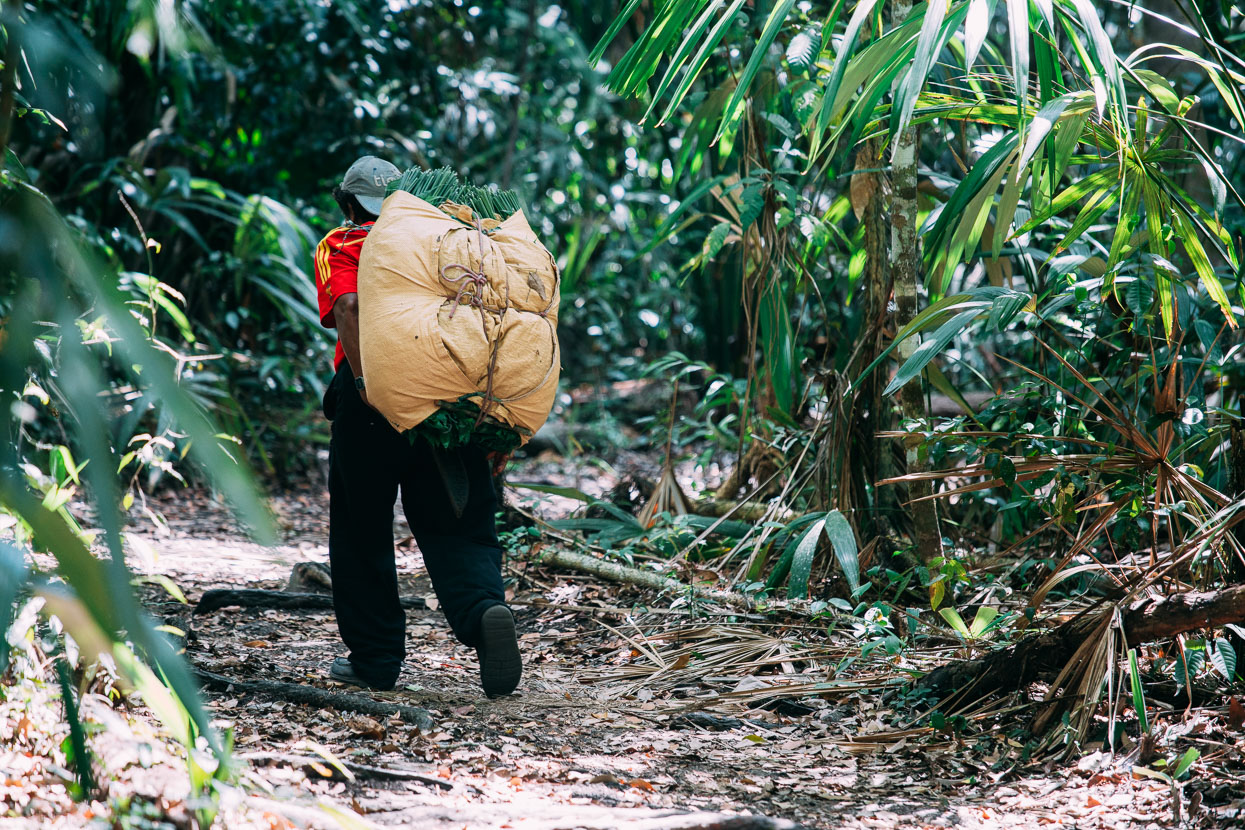 Chamaedorea palm, for floral arrangments, is a major export and is sustainably harvested from the forests closer to Carmelita. We met a few of these local men hauling out big loads.
Another sustainably harvested crop is chicle – the gum from the sapodilla tree used for traditional chewing gum and harvested by chicleros during the rainy season. The tree bark is scored in such a way that it dribbles down to a cup at the base of the tree.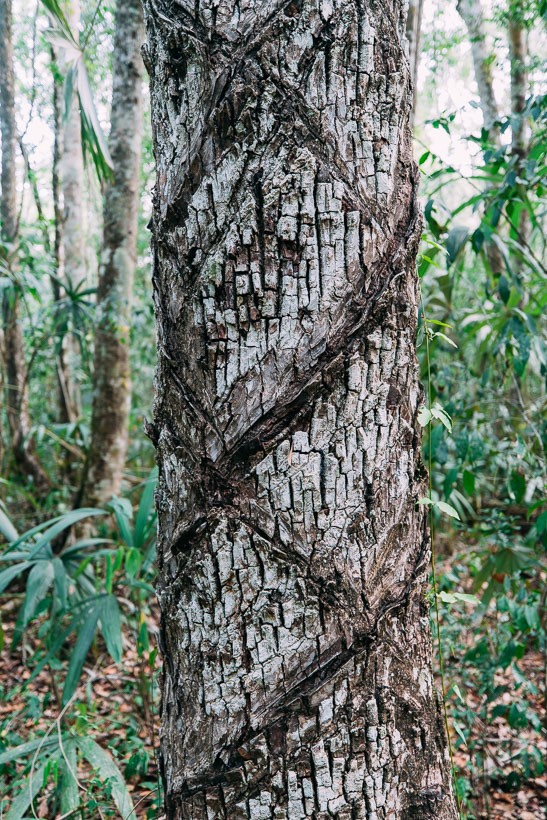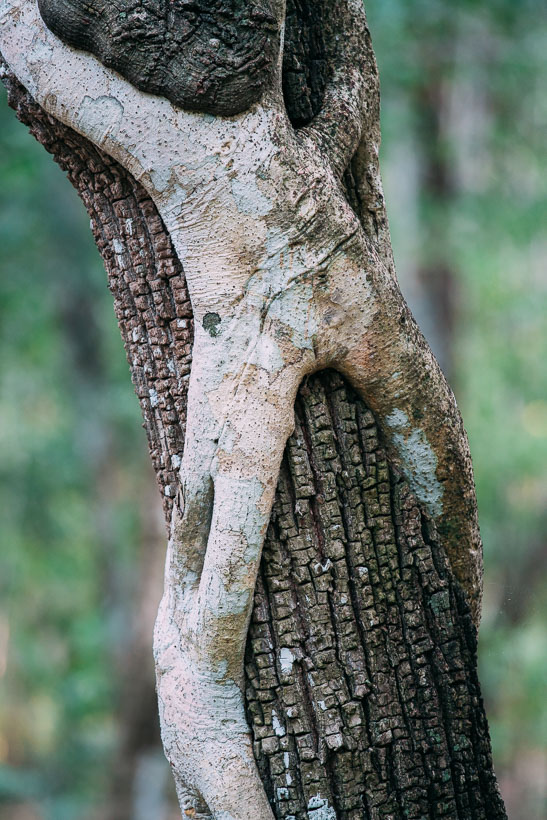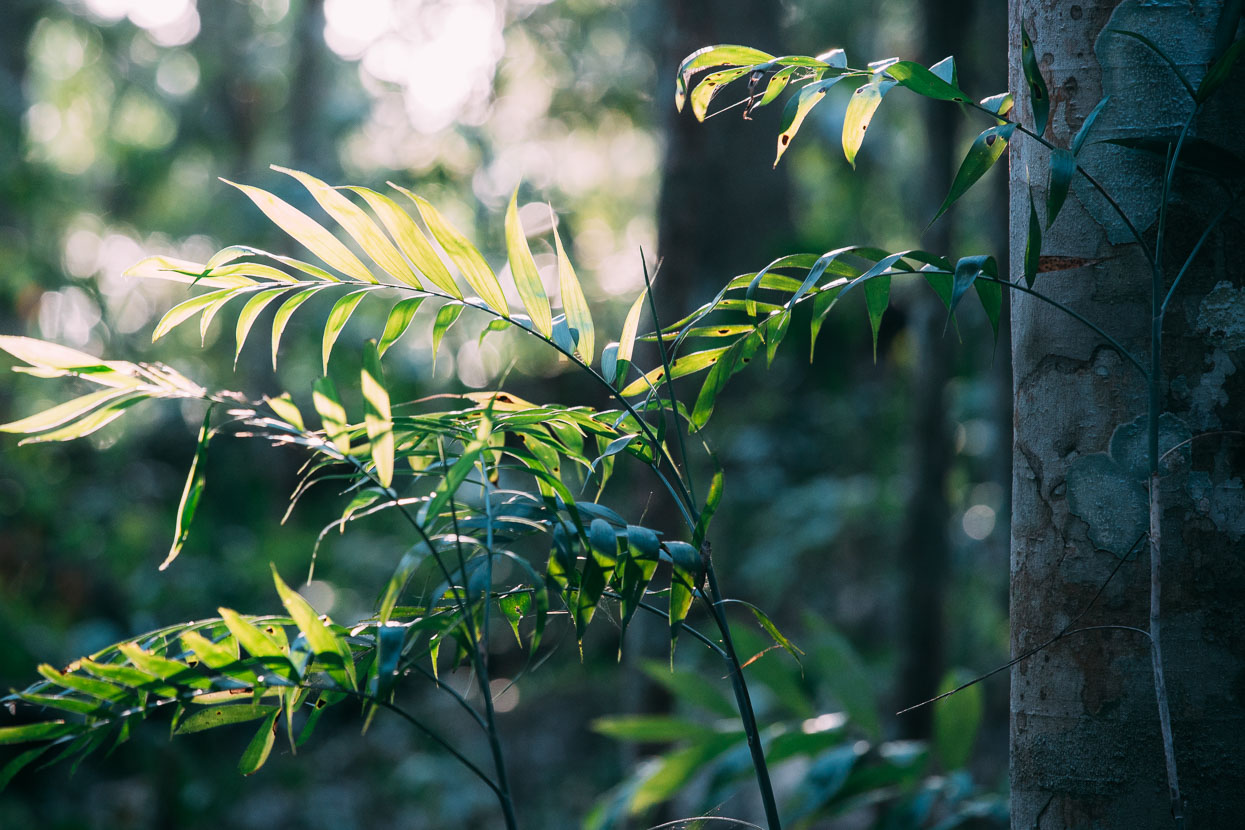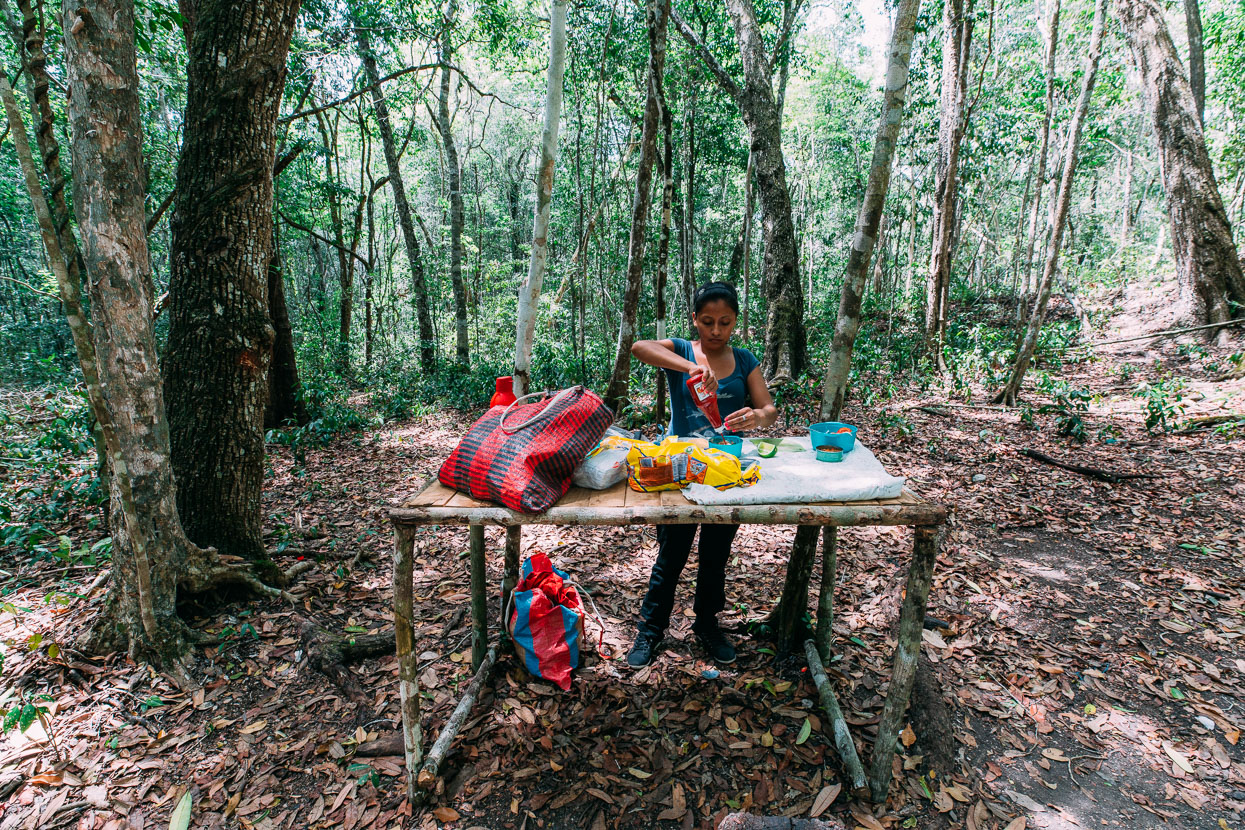 Lunch stop in the forest. We walked 18 kilometres on day one, and 23 on day two. Spending day three at the El Mirador ruins before spending a further two days walking back out.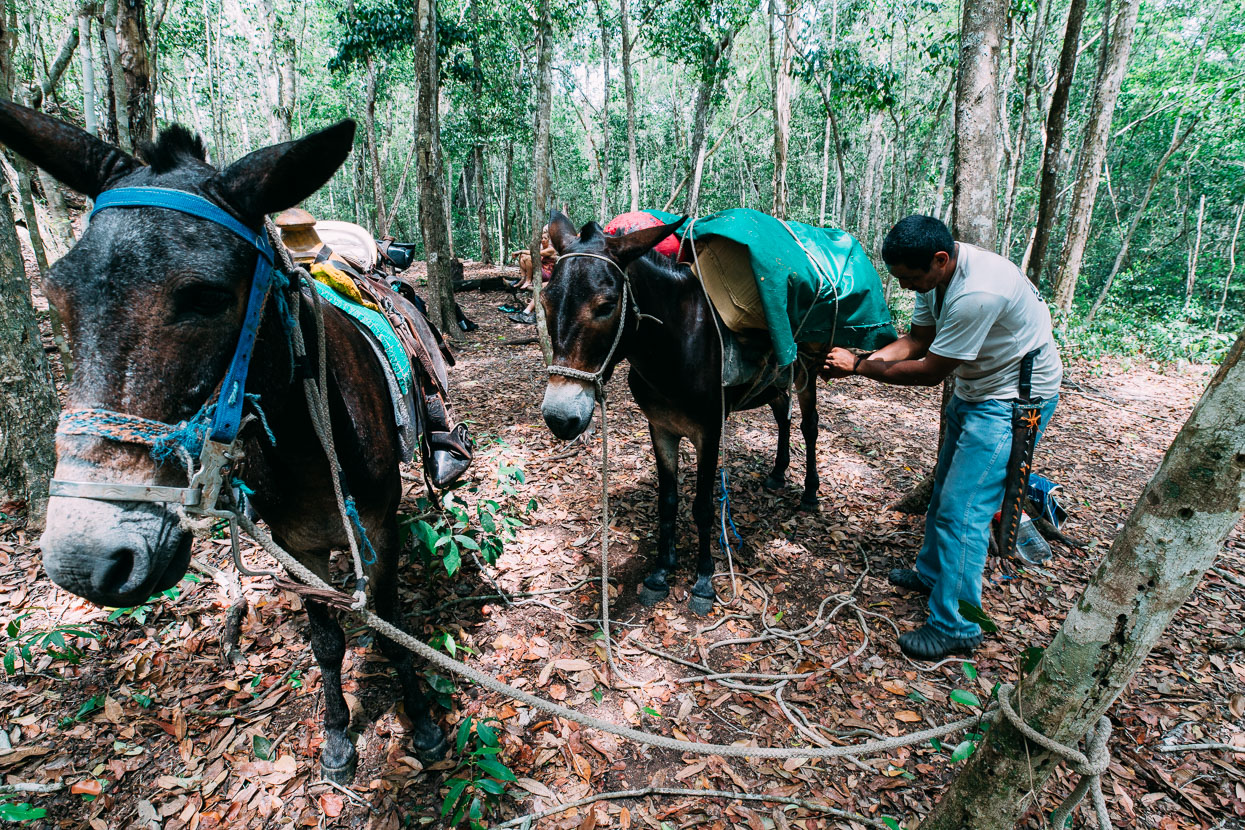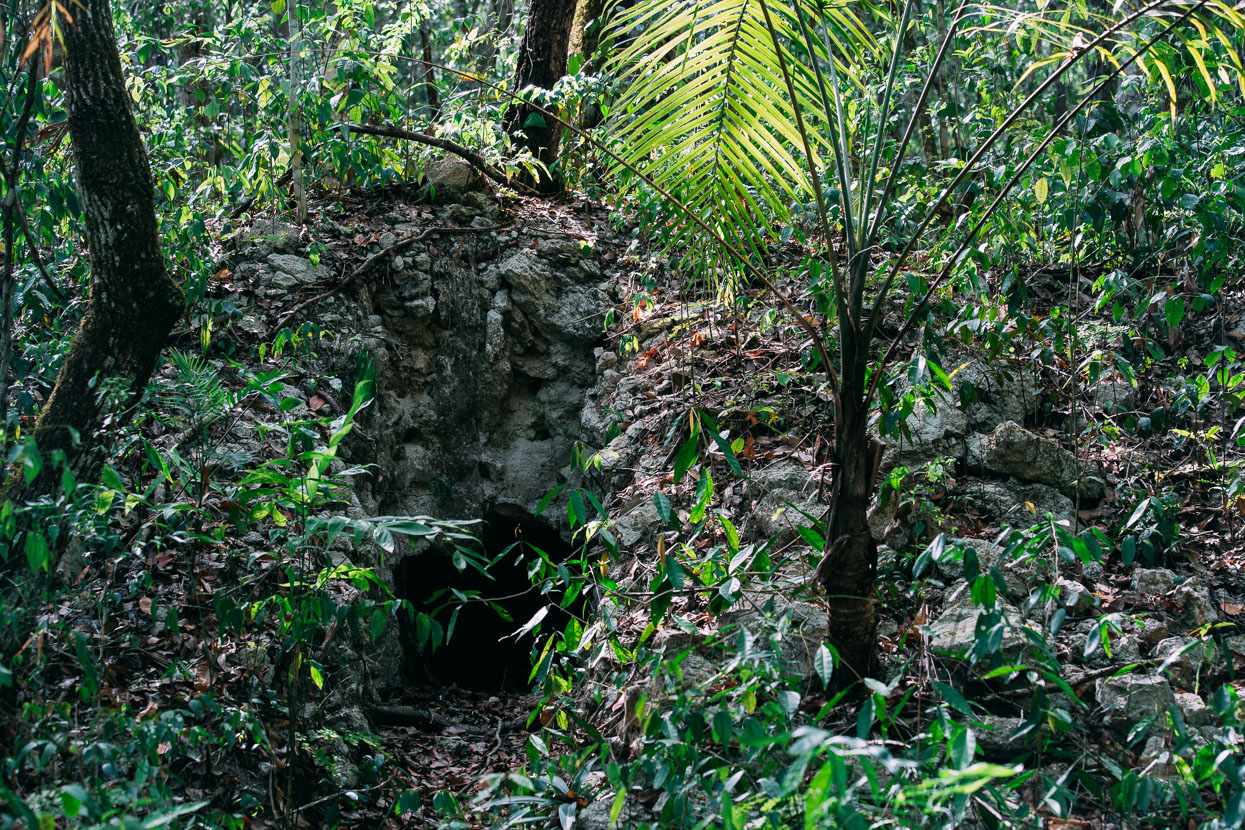 Between Carmelita and El Mirador lies Tintal, a small city that was connected to El Mirador by way of a sacbé (white road); an elevated causeway of crushed limestone. These were common for linking larger cities with their satellites throughout Maya civilisation. The first clue we had that we were nearing this city were a series of long ago looted ruins – obvious by trenches dug directly towards the centre of the structures. Sadly many of the Maya sites, of which there are dozens, have suffered from systematic looting throughout the Maya Biosphere Reserve. The Maya elite were often entombed with jade masks, carvings and pottery which has considerable value on the market today. For a developing world population that suffered nearly 30 years of brutal civil war the temptation to loot Maya ruins must have been big.
Declan and Anna, both travelling independently in Central America and Mexico and our companions for five days in the Mirador rain forest. We were lucky to have such great company for the hike and to be with people who were equally psyched for early starts and lots of exploring.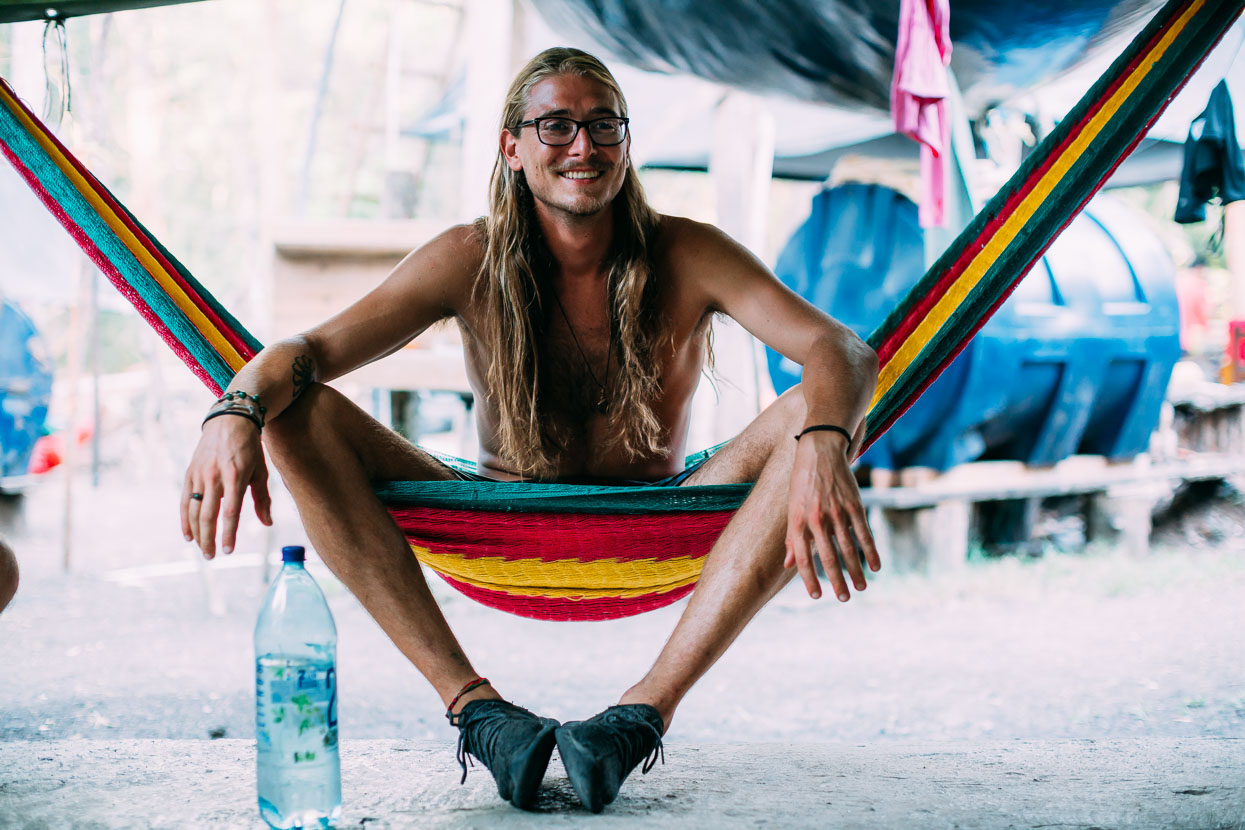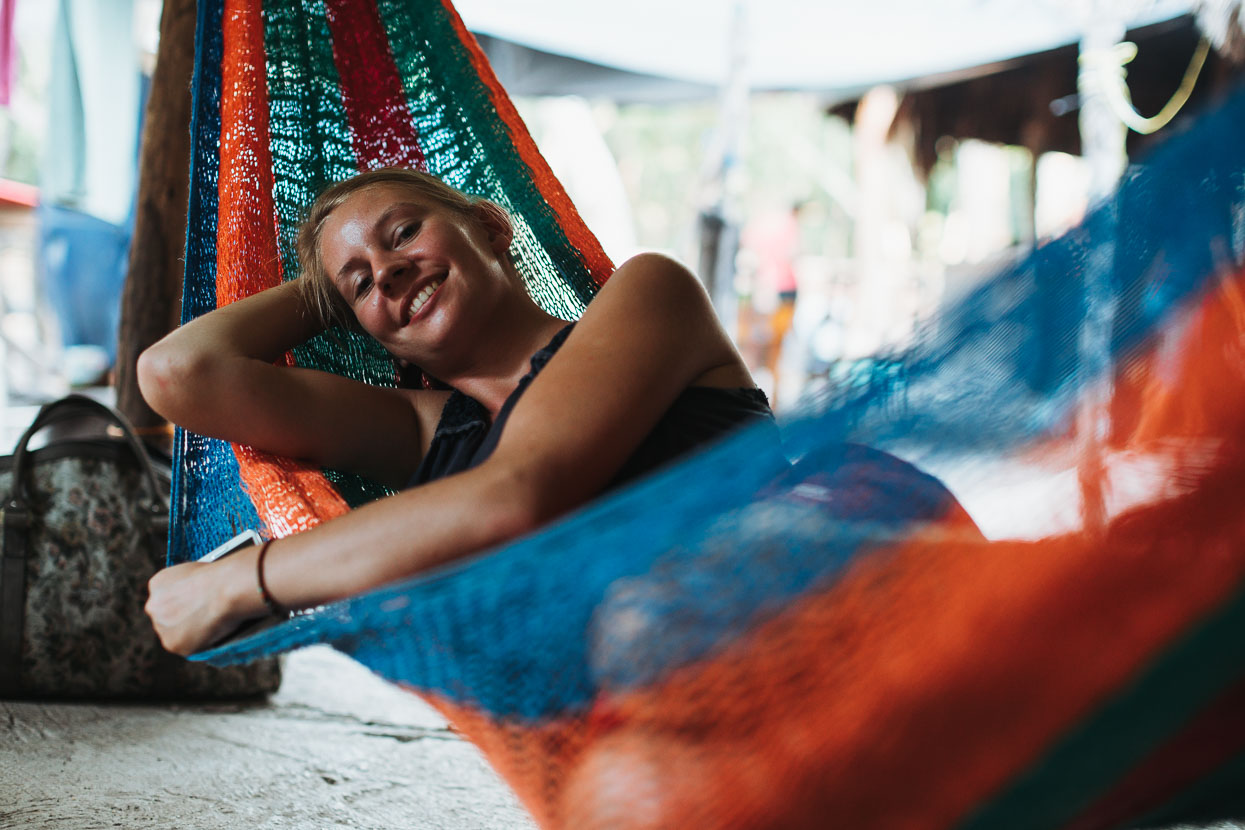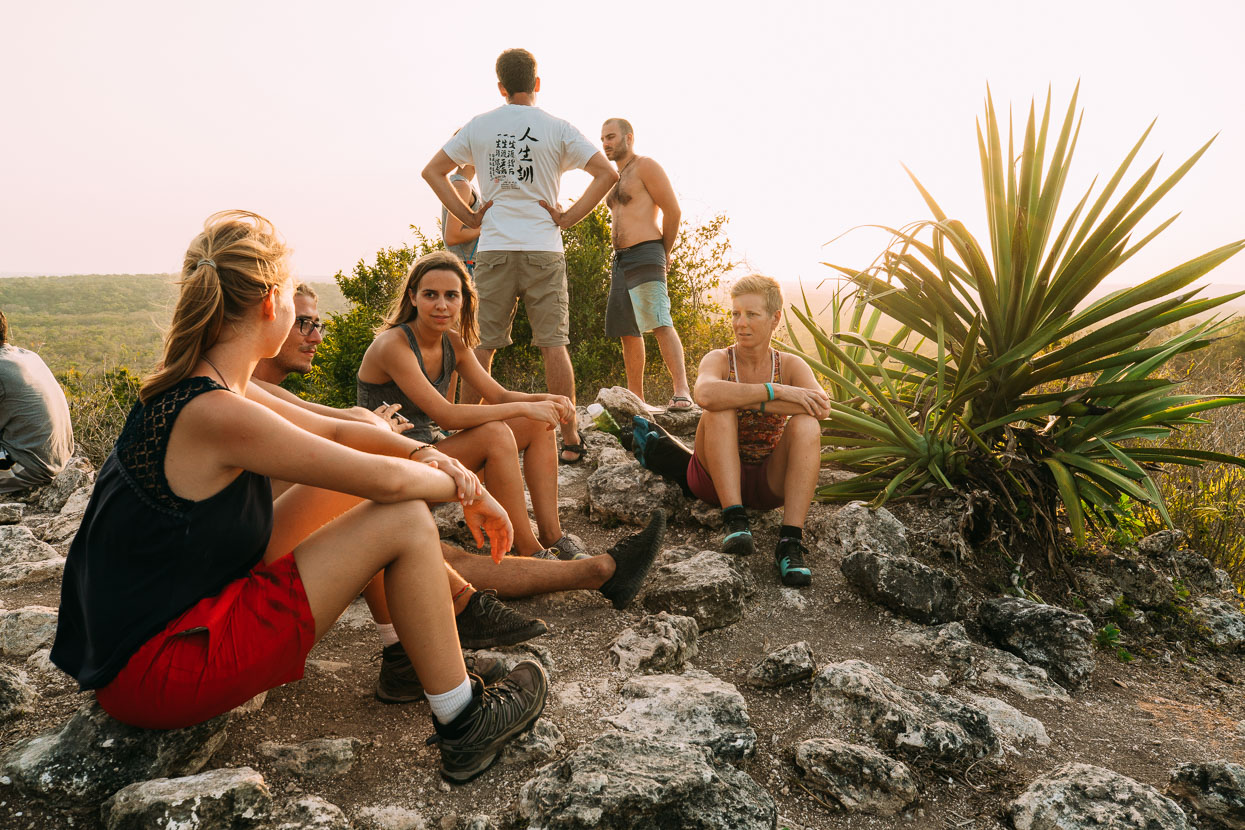 We stopped in the area of Tintal for the first night, where the cooperativa and archeologists have a substantial base camp set up. A short hike out to the Catzin pyramid for sunset finally took us above the forest canopy and gave us our first sense of the isolation and expanse of our surroundings. 360 degrees we were surrounded by an unbroken forest; the only clue to the former extensive city hidden beneath it is the forest covered form of another pyramid just adjacent. There are no other clues. It's just us and some other hikers, a dense forest below and an infinite blue sky above.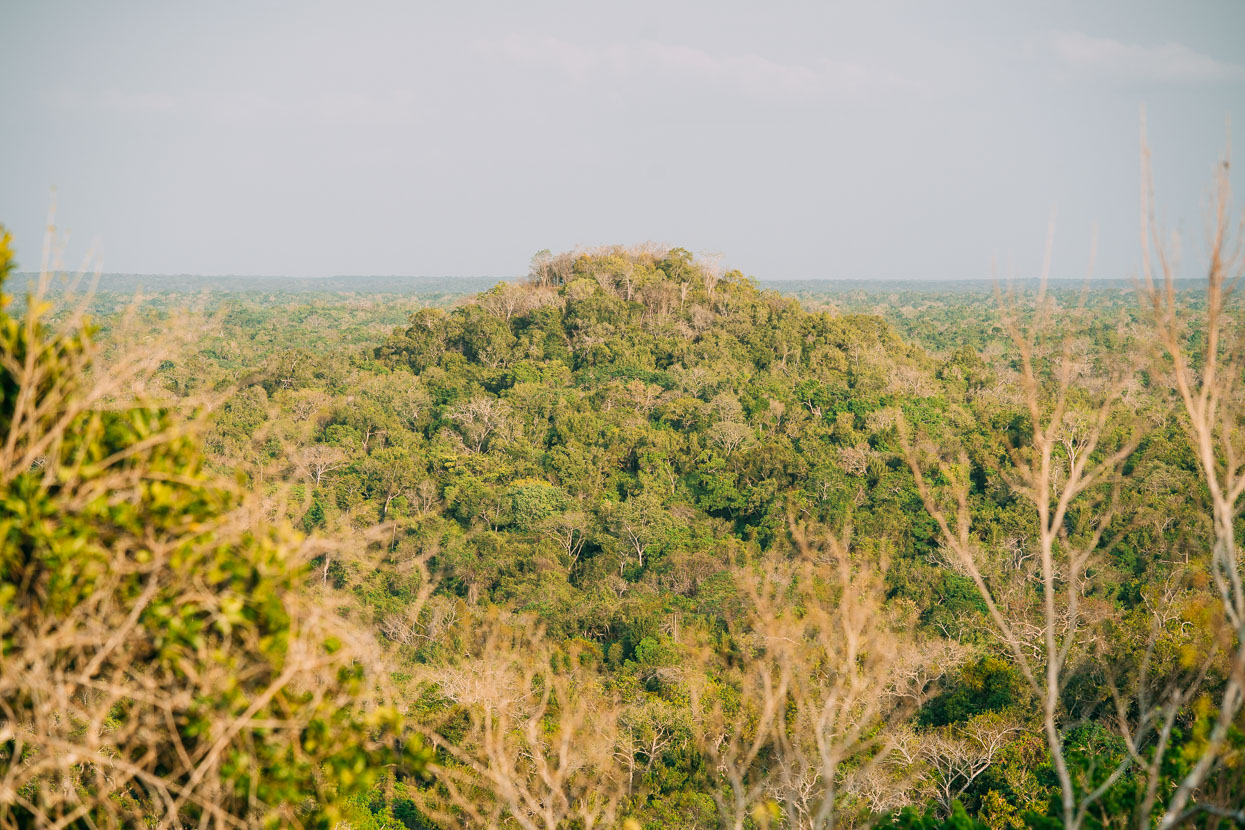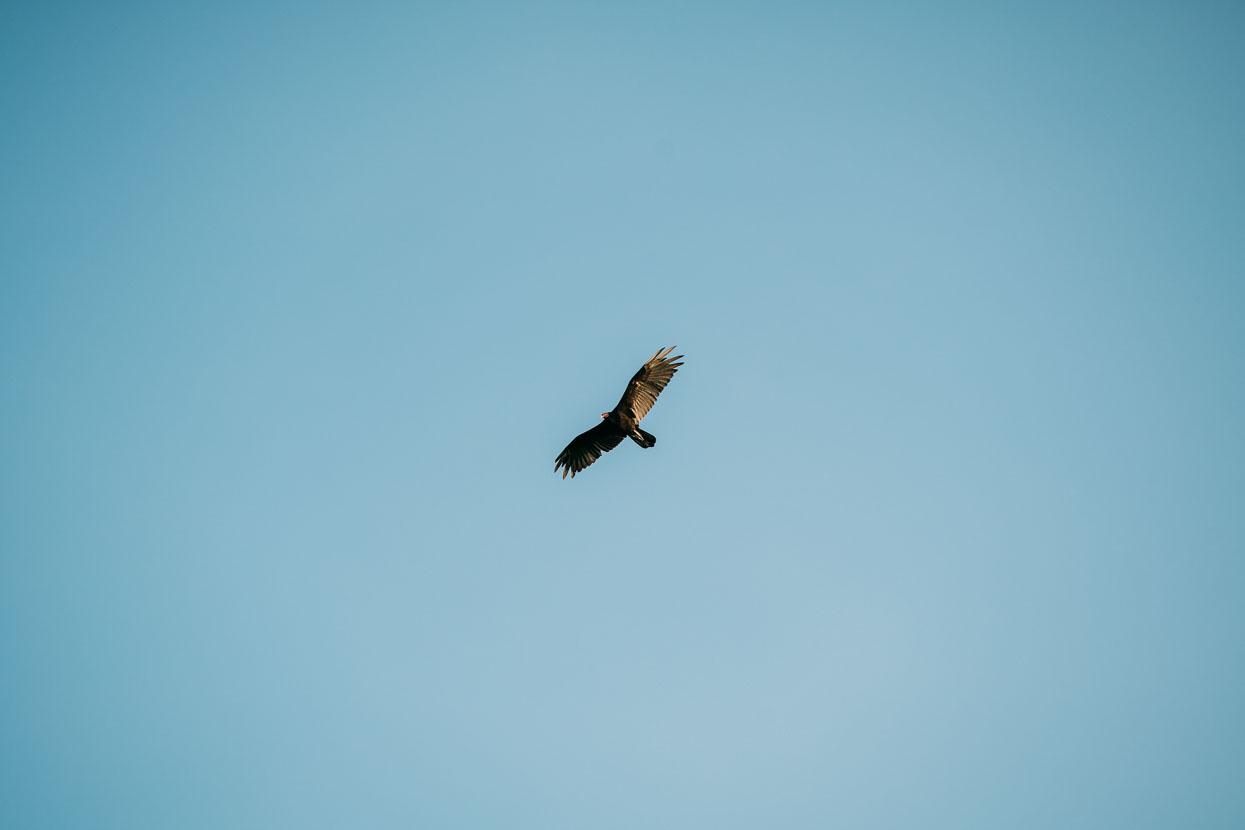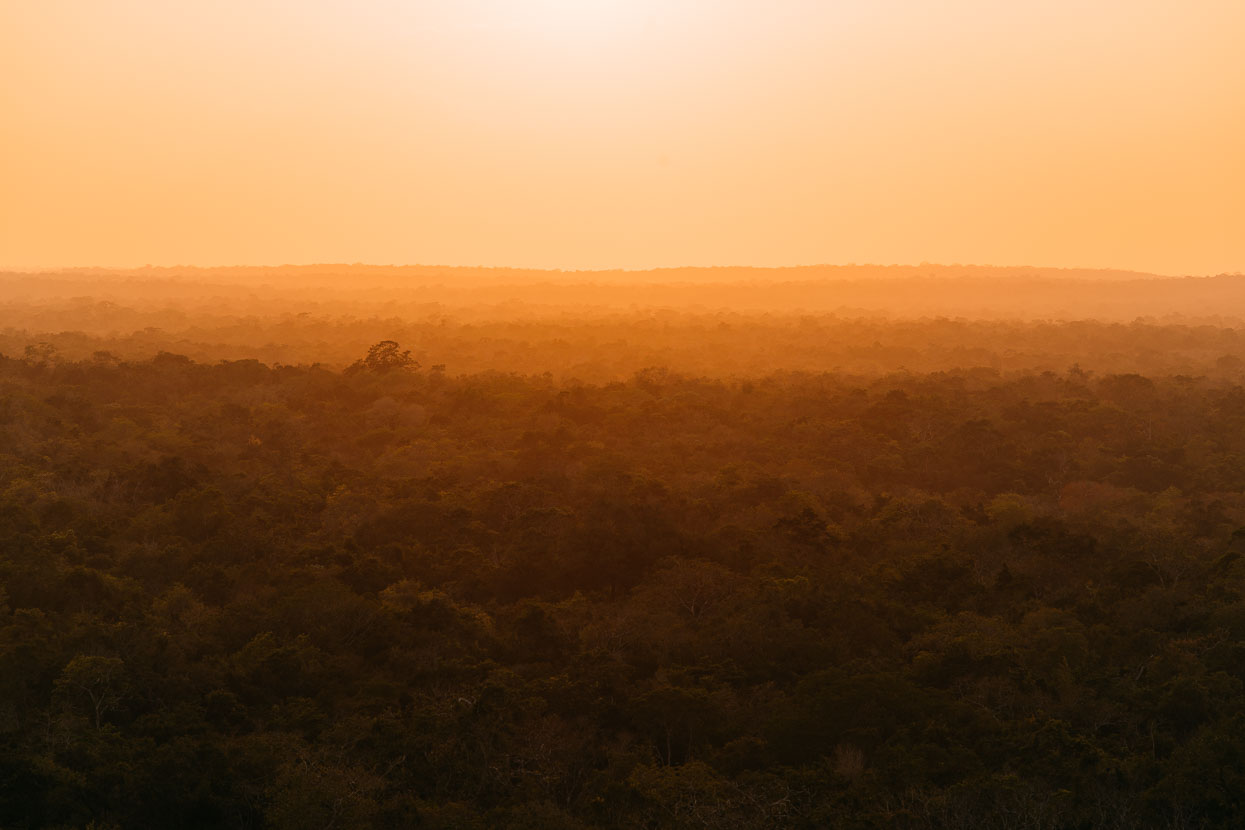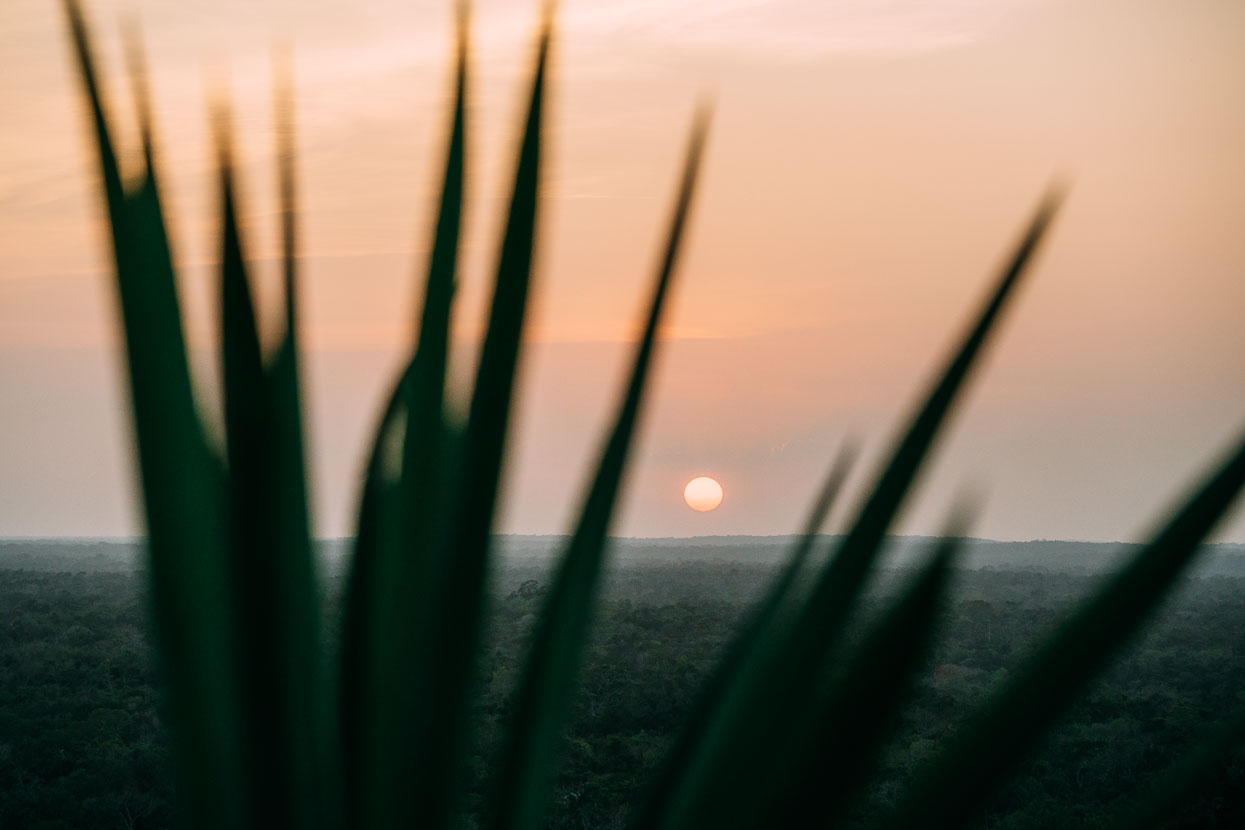 As the sun sets the forest is alive with the chatter of thousands of birds and screams of howler monkeys – visible only for the shuddering in the tree tops.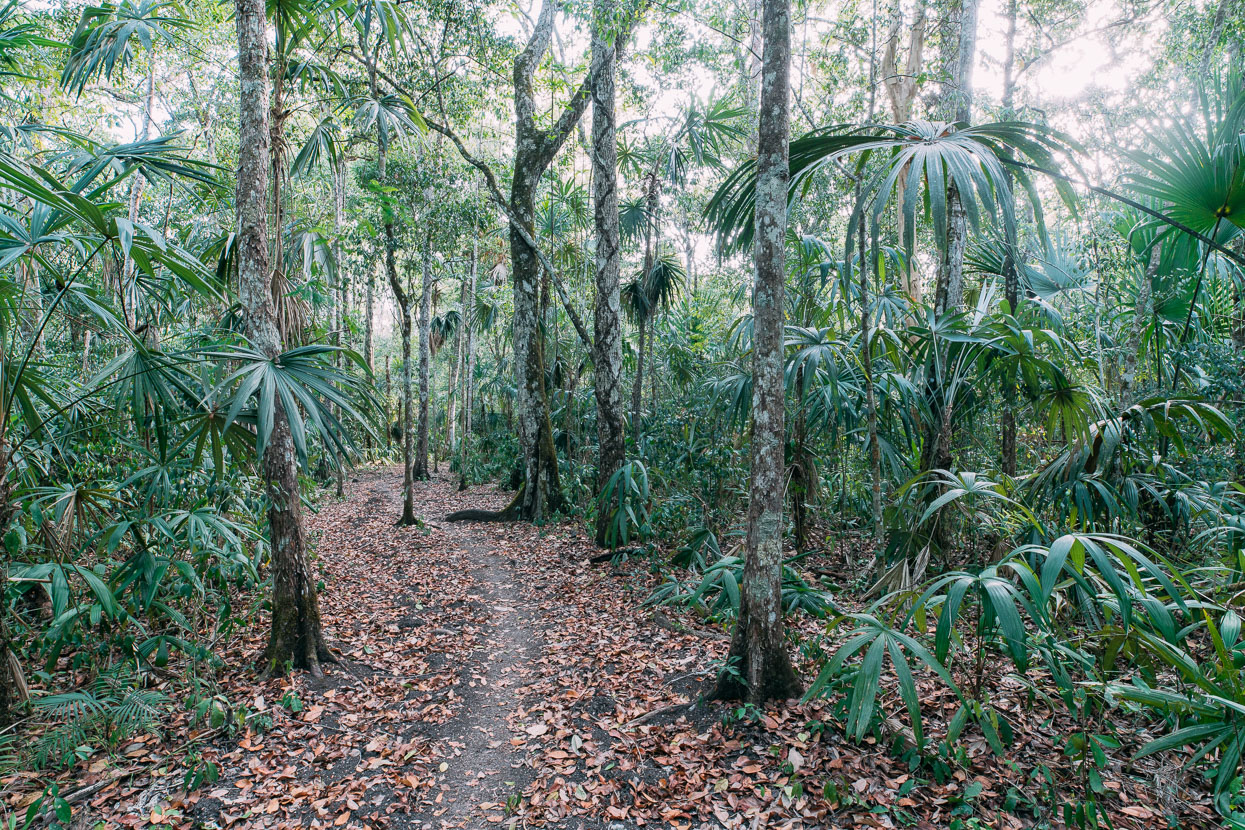 We're up at 5.15 am the following morning and on the trail by 6.30 am. The mostly double track of the previous day now a beautiful single track through a variety of forest types. The walking's mostly flat, sometimes along old sacbé, with a few short uphills as it crosses small limestone ridges.
A piece of Maya ceramic and a javelina (similar to a wild pig) skull. Pre-Classic Maya society suffered a widespread collapse throughout the region sometime between 100-200 AD, but was reoccupied for a time about 600 AD. This pottery may be from that time, when the inhabitants were prolific in the manufacture of Codex-style ceramics.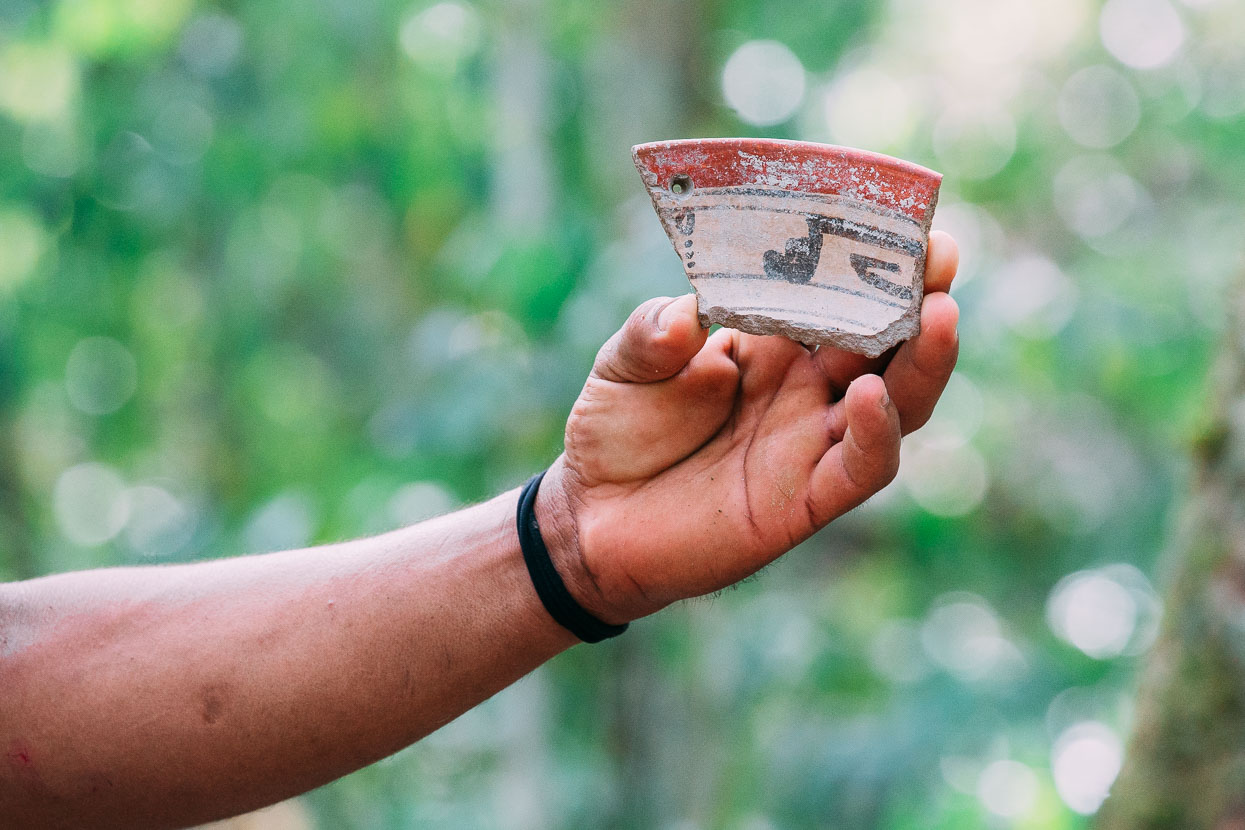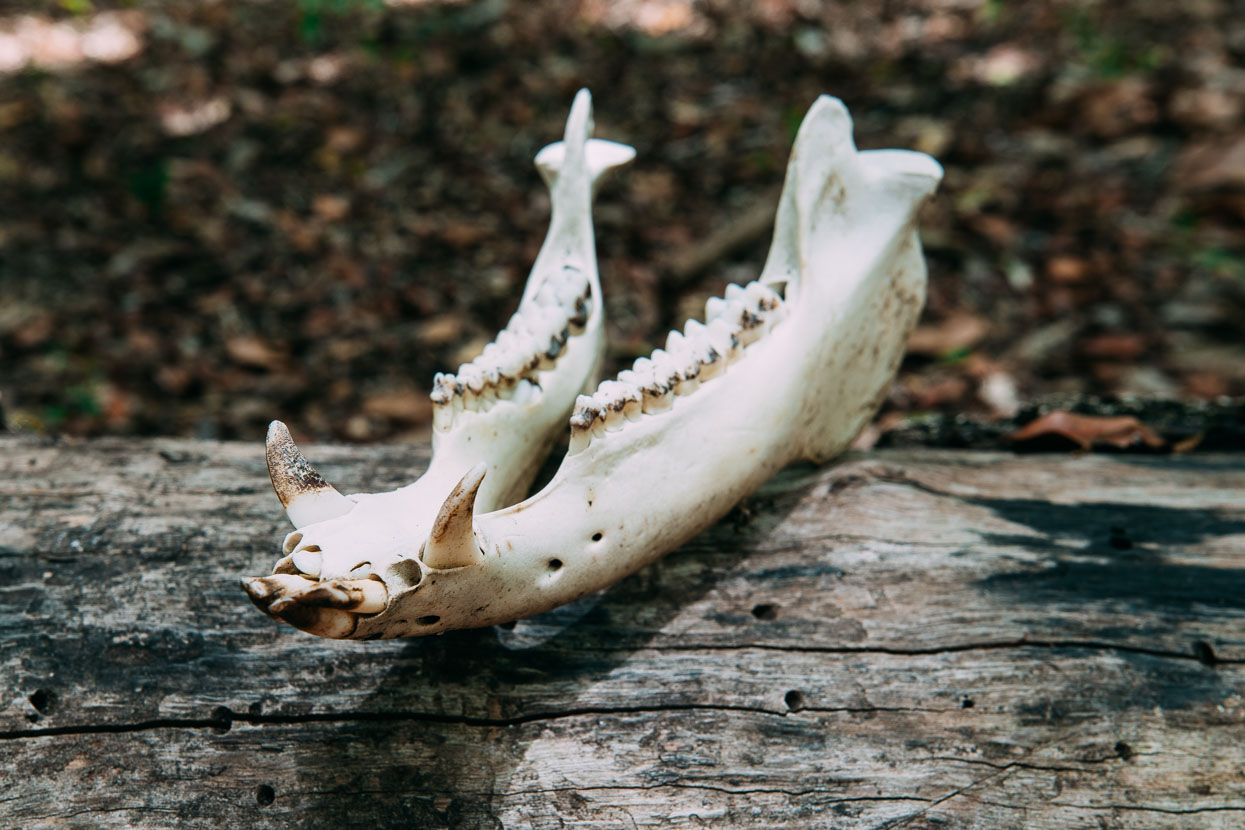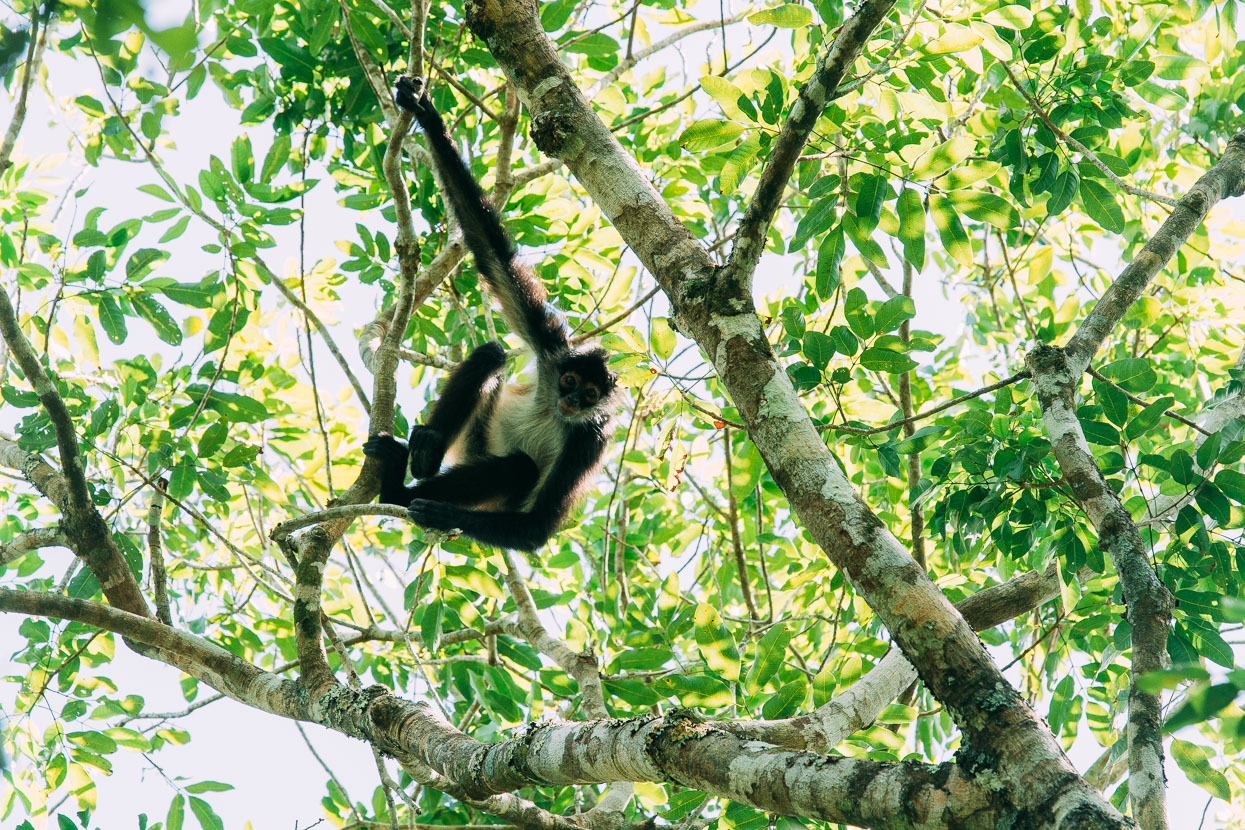 Along with howler monkeys we often saw the sometimes curious spider monkeys too. When they're not feeling so curious these incredibly agile creatures would vigorously shake their canopy-top branches and throw sticks at us.
The twin structures of La Muerta, at the edge of the Mirador complex.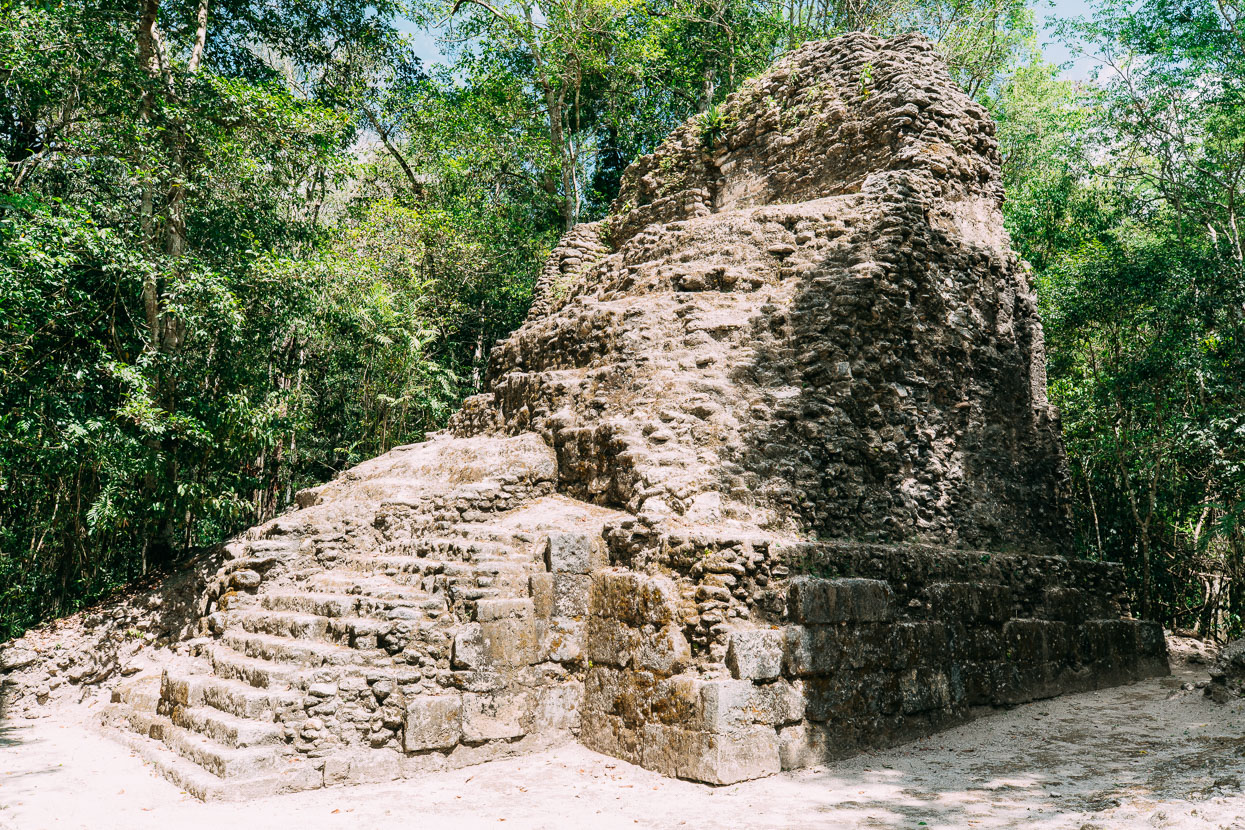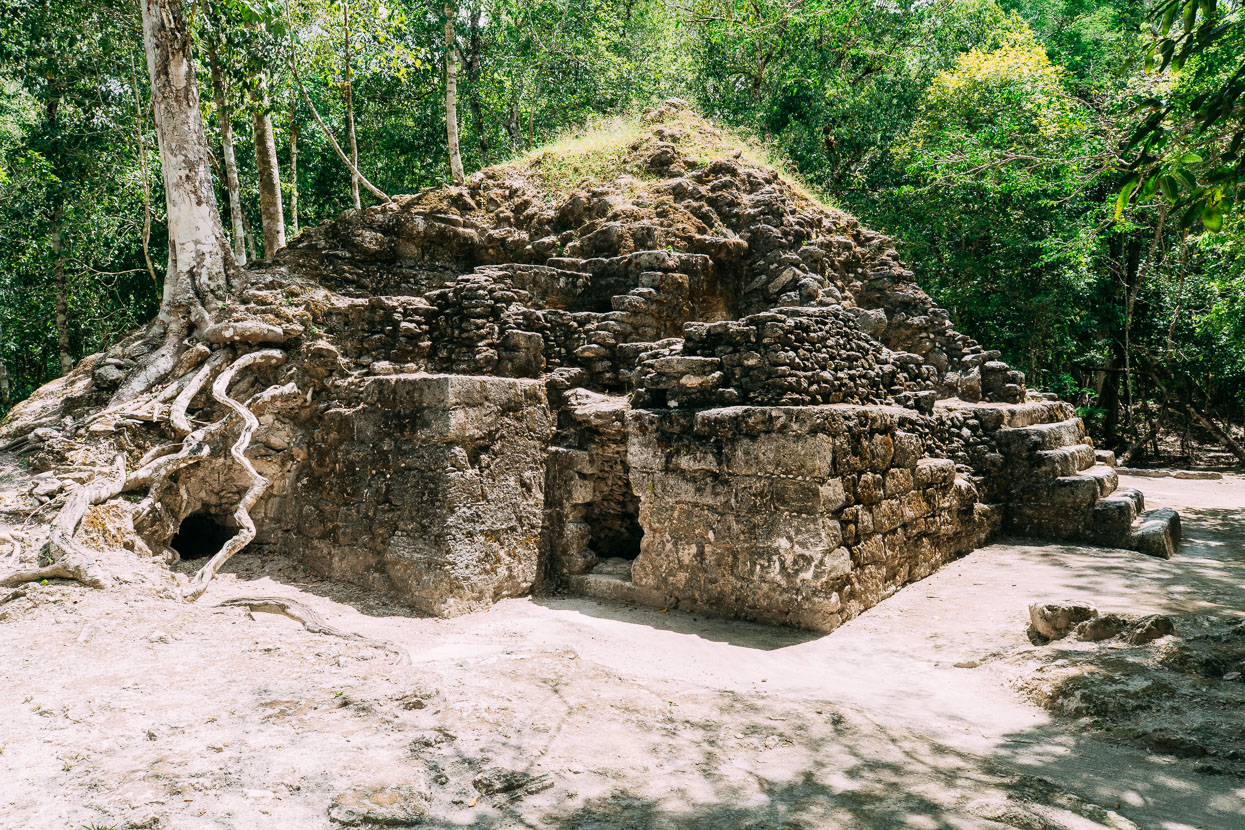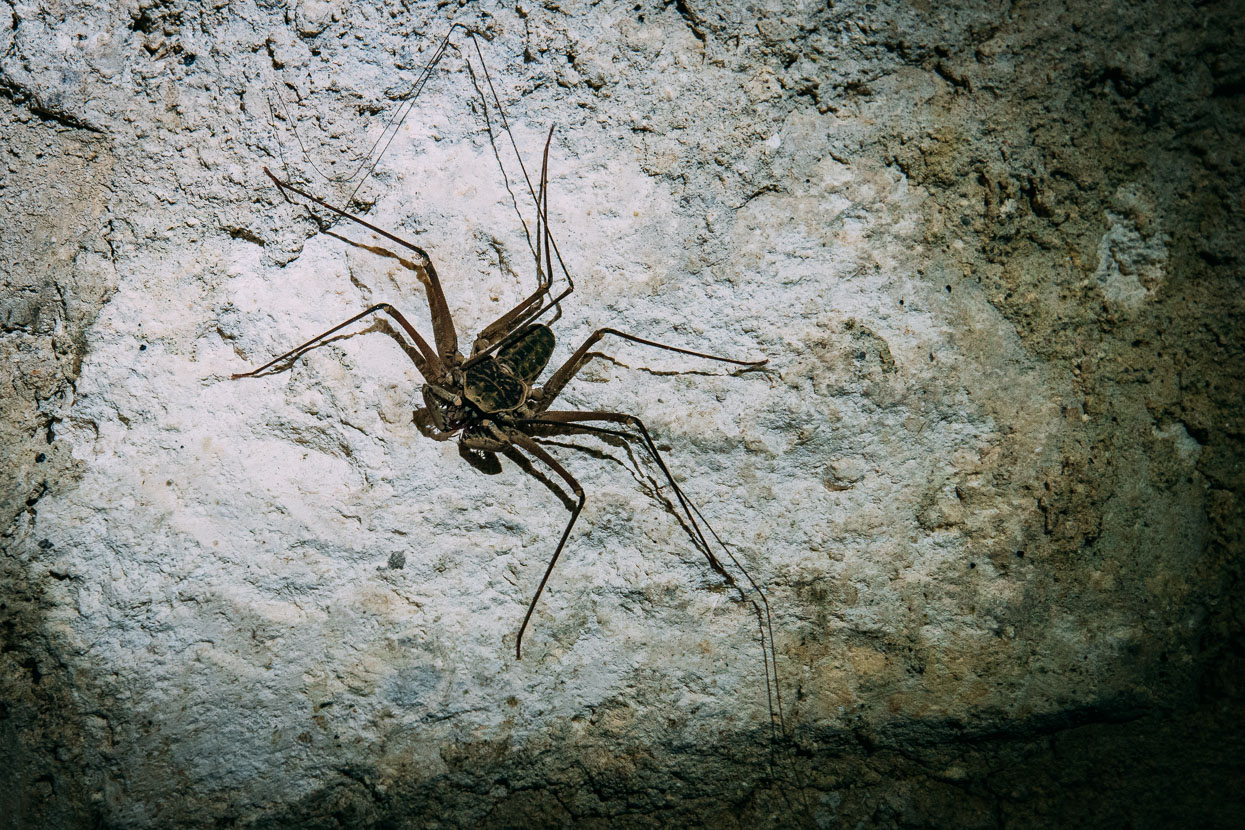 A scorpion spider – this one was easily the side of my hand – inside a chamber at La Muerta.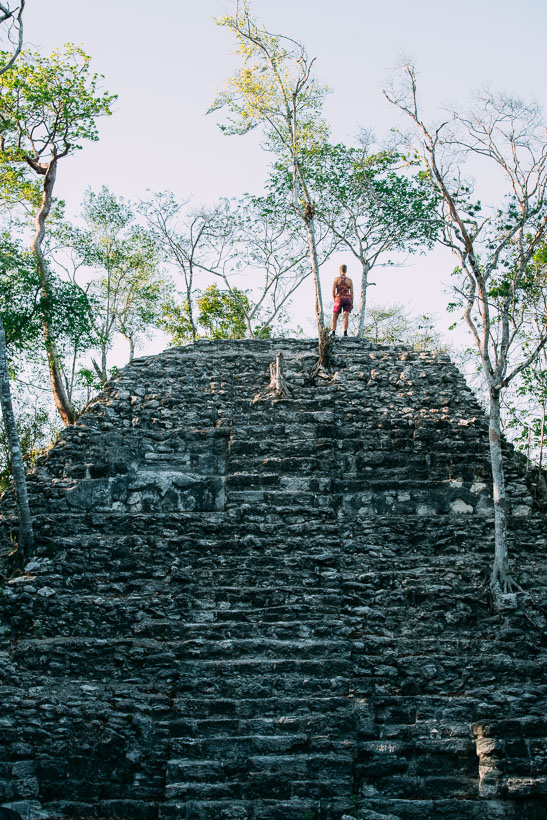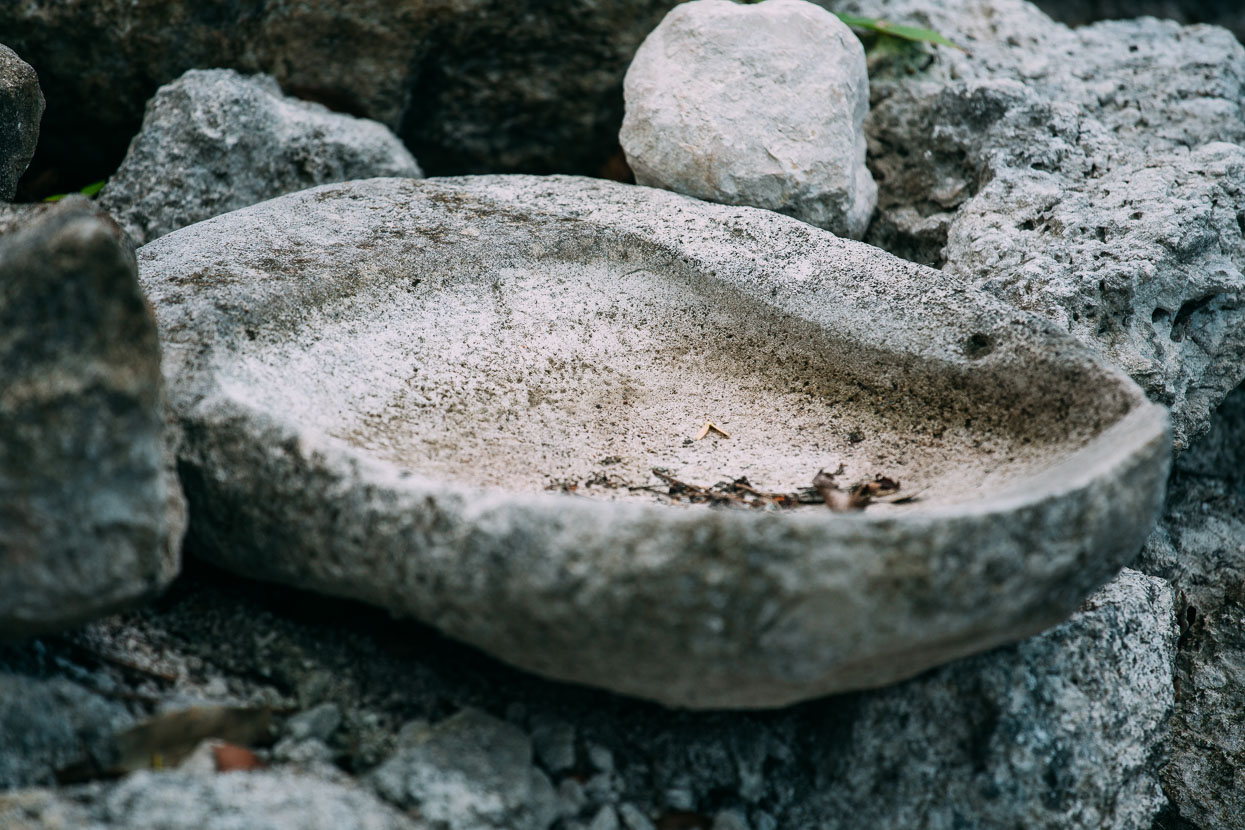 After settling in at camp we headed to the El Tigre pyramid for sunset. This complex, like much of El Mirador is still undergoing excavation. Often we saw these maize-grinding bowls – obviously so commonly found that they're just left where they're dug up.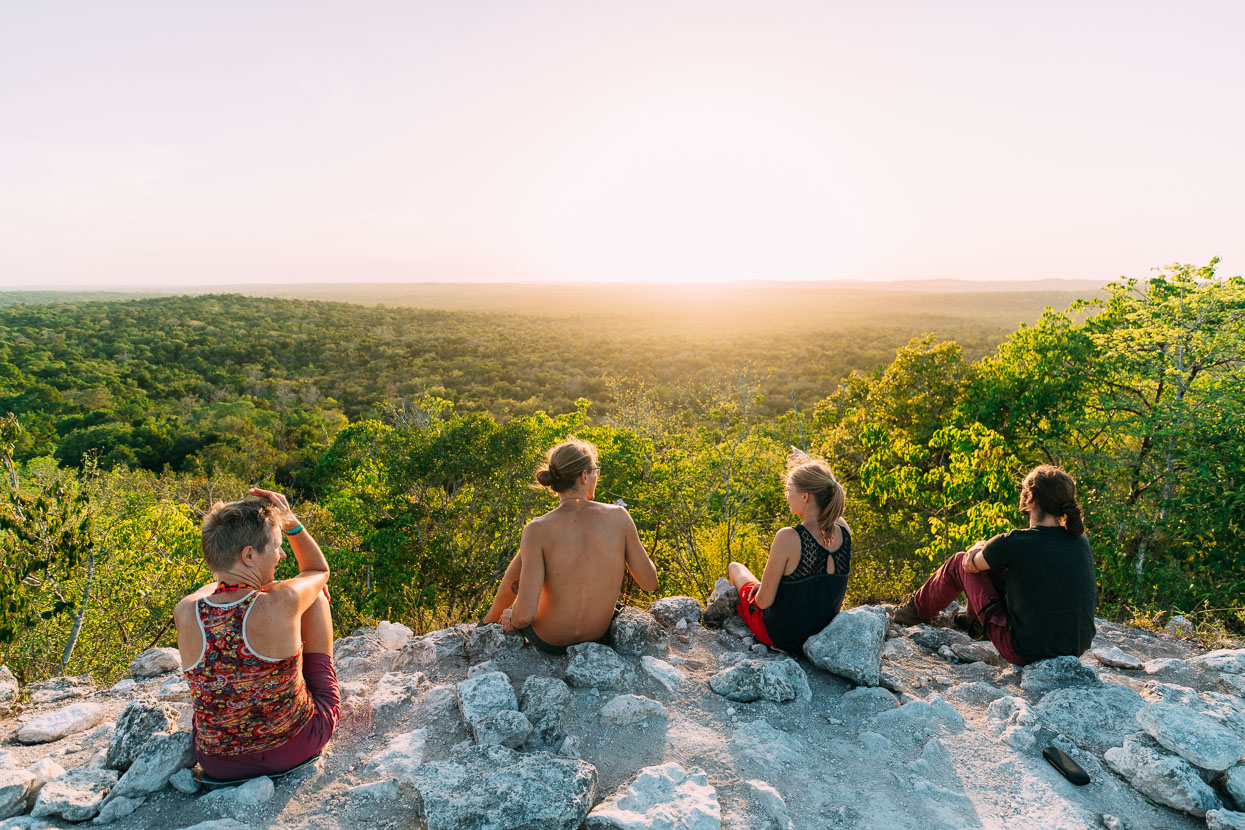 Opposite us sits La Danta (a 35 minute walk from camp) – one of the largest pyramids built by the Maya at 74 metres in height, but now swallowed by the forest and only partly cleared.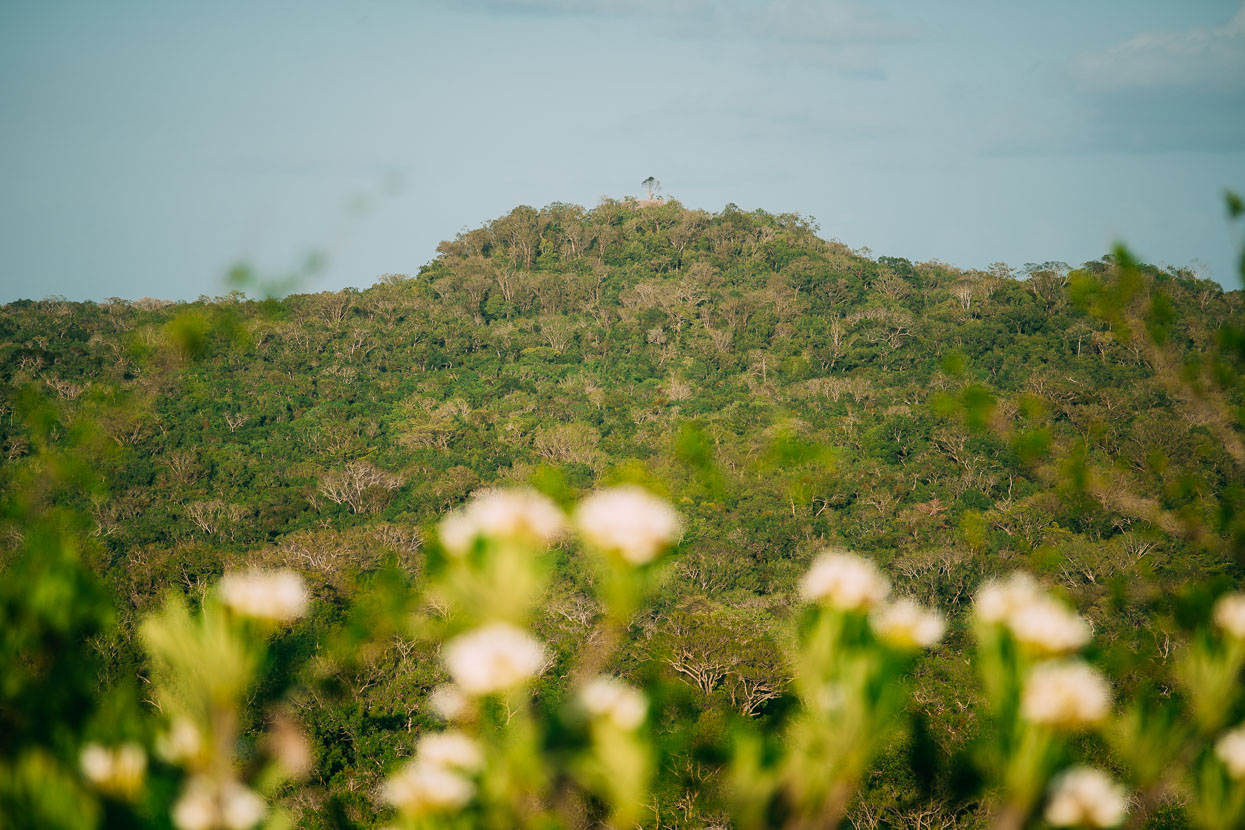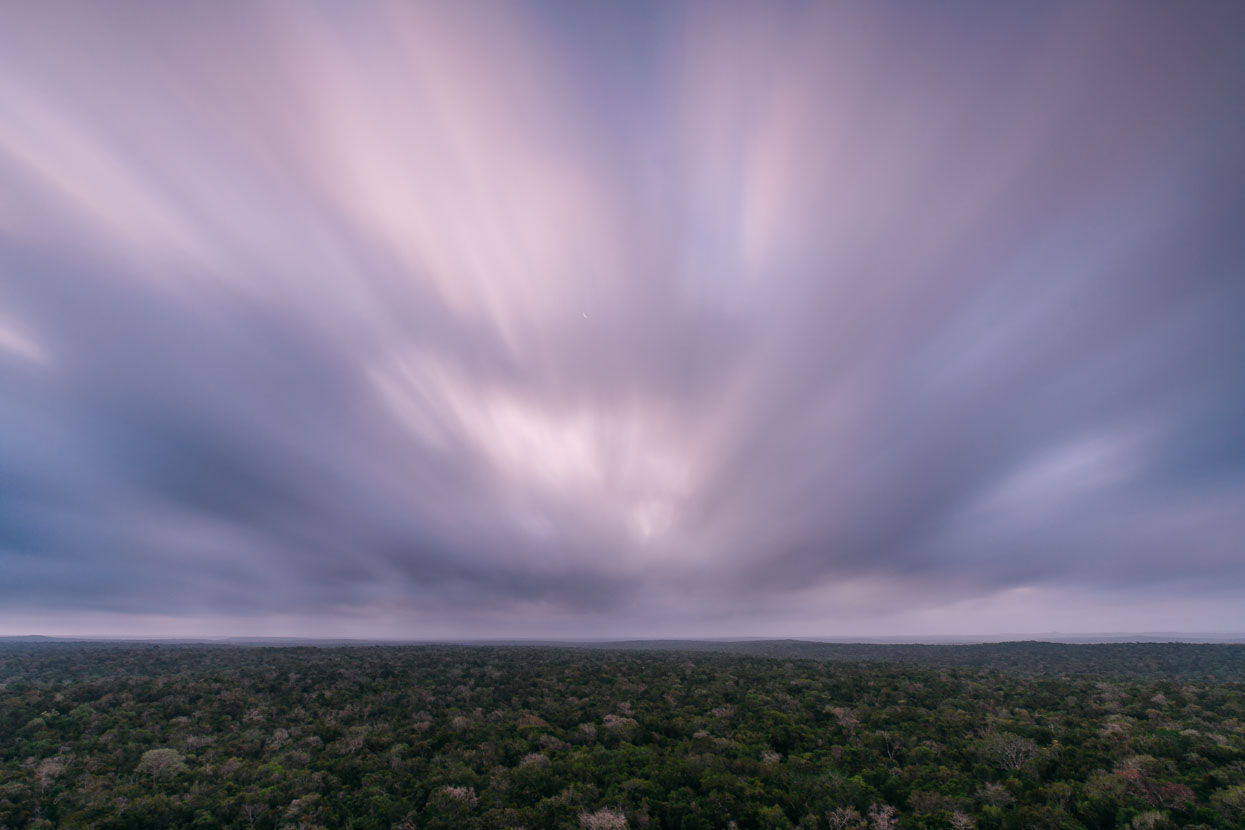 We head to La Danta pre-sunrise the next day, walking along the remnant of a great causeway and up tier upon tier of stairs built by the toil of slave labour. Finally a shaky wooden staircase leads us up the steep back side of the pyramid. A steady wind pushes a ceiling of thick cloud over the top of us, blotting out the sun and lending a different perspective to this exposed and incredibly isolated place.
All around us the forest extends to the horizon. There are no lights, no roads, no visible tracks, no jets flying overhead. The view is punctuated in a few spots by the truncated triangles of other nearby pyramids, and later when it's clear we can make out Nakbe, a day's walk away and Calakmul, over the border in Mexico. They're the only man made structures we can see.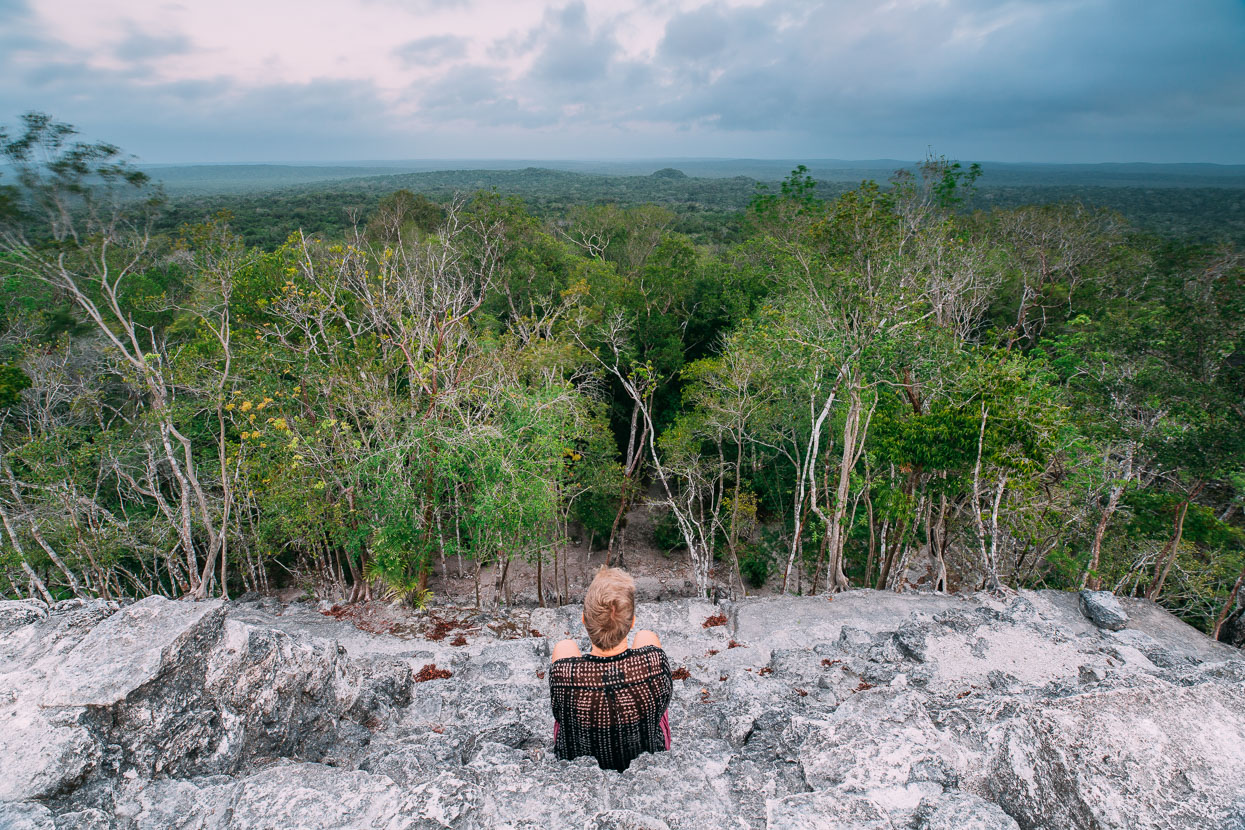 This site is no Palenque or Tikal. Restoration is extremely limited and the vast majority of this former Maya superpower is beneath thick soil and even thicker forest. In some ways it's an intangible experience, but the imagination is a powerful tool. Standing on top of La Danta, with the breeze at my back, I look along the direction of the causeway we walked in the dark and try to imagine this city at the height of its power 2000 years ago.
At that time the forest proximate to the city was long gone; used for structures and burned for the manufacture of stucco – made from lime, ash and other materials – which the Maya used extensively to adorn their temples with friezes and for the interior and exterior lining of buildings. It was a much more colourful place than it appears now too; most of the temples would have been painted red, with pigment extracted from trees. Blue and cream were were also used in their colour palette.
200,000 people take up a lot of space. The ruling class and upper echelon of society: the kings, priests, astronomers, artists and military occupied the inner sanctum of the city while the rest would have been accommodated in thousands of small settlements and structures based around thatch buildings. Smoke would have risen from cooking fires. The sacbés would have led the eye to cities up to 20 kilometres distant and the rock quarries must have been scars on the landscape, like any quarry today. During its heyday the Maya Biosphere Reserve region was reportedly the most densely populated region on earth and one of the most advanced: the Maya created a written language, were successful architects and astronomers and created a stratified society capable of empire building.
But now these edifices stand in silence; the diaspora of their people total. The forest has long ago reclaimed the land and monkeys outnumber humans here now.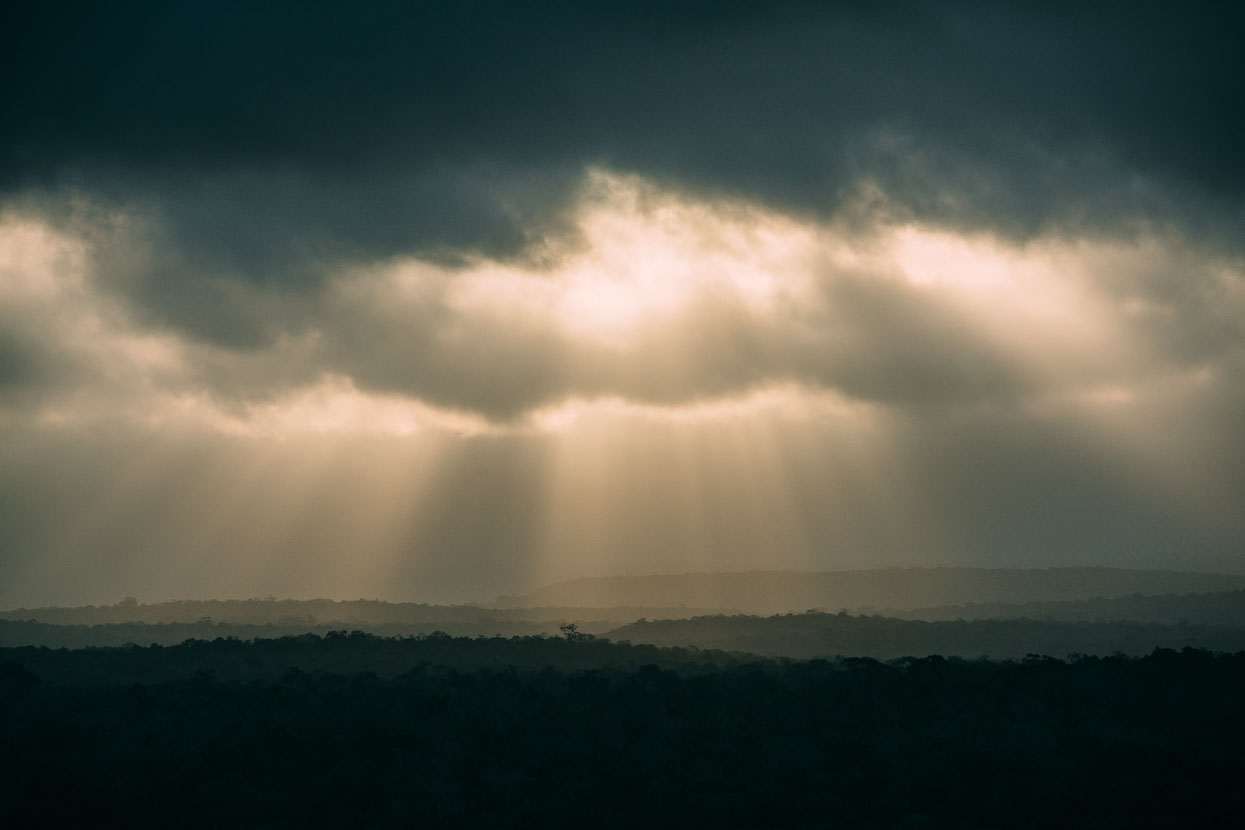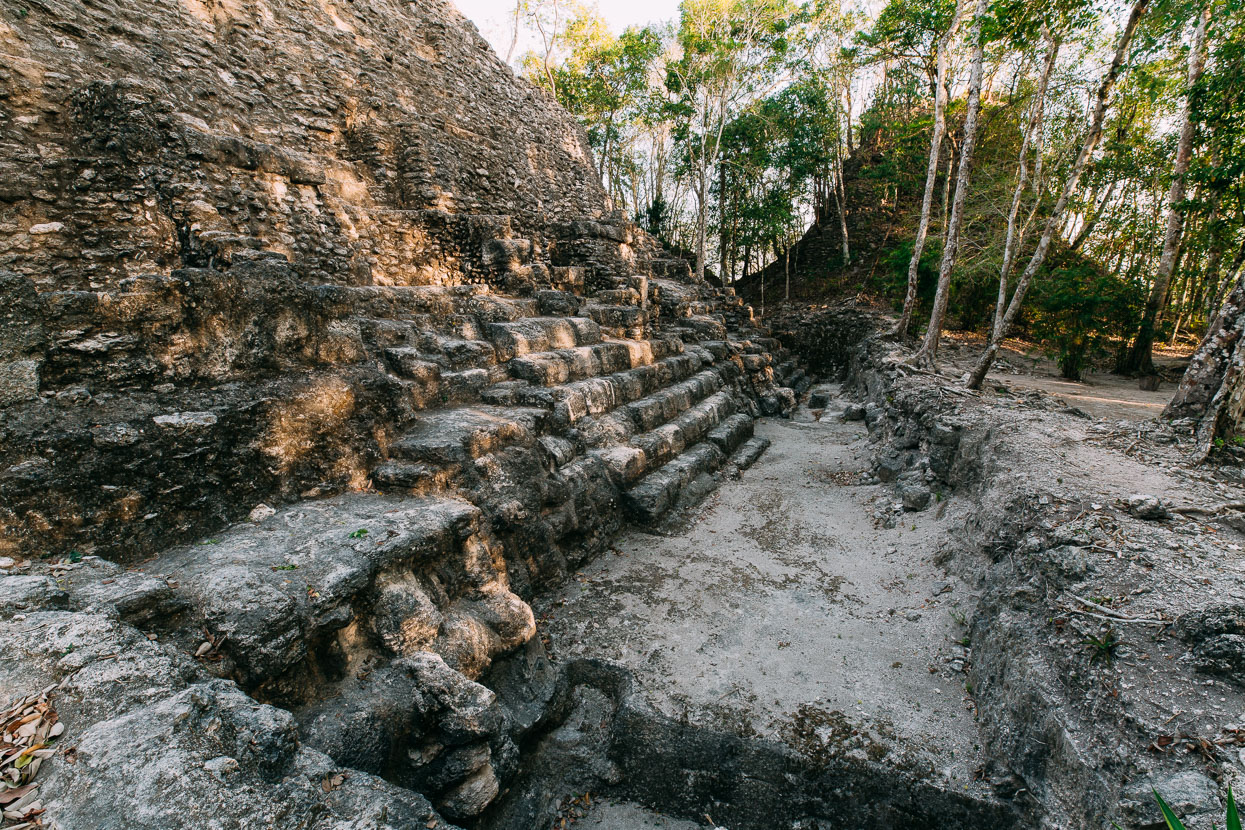 After breakfast back at camp Rudi takes us on an extensive tour of some of El Mirador's best exposed ruins. Archeology work here is ongoing and significant discoveries are still being made. The 'Panel of the Swimmers' is a large stucco frieze along the edge of an extensive and intricate water collection system. The frieze relates the Maya creation myth, and was only uncovered in 1998 and work on it continues. Due to the wet season and limited funding, the majority of the archeology work here is carried out for only one month, about July, when over 300 archeologists arrive on site to pick up where they left off last season. Many ruins are covered in black plastic sheeting or protected with foam mattresses. Rudimentary soil screens, tables and even cableways are seen throughout the forest as we walk around.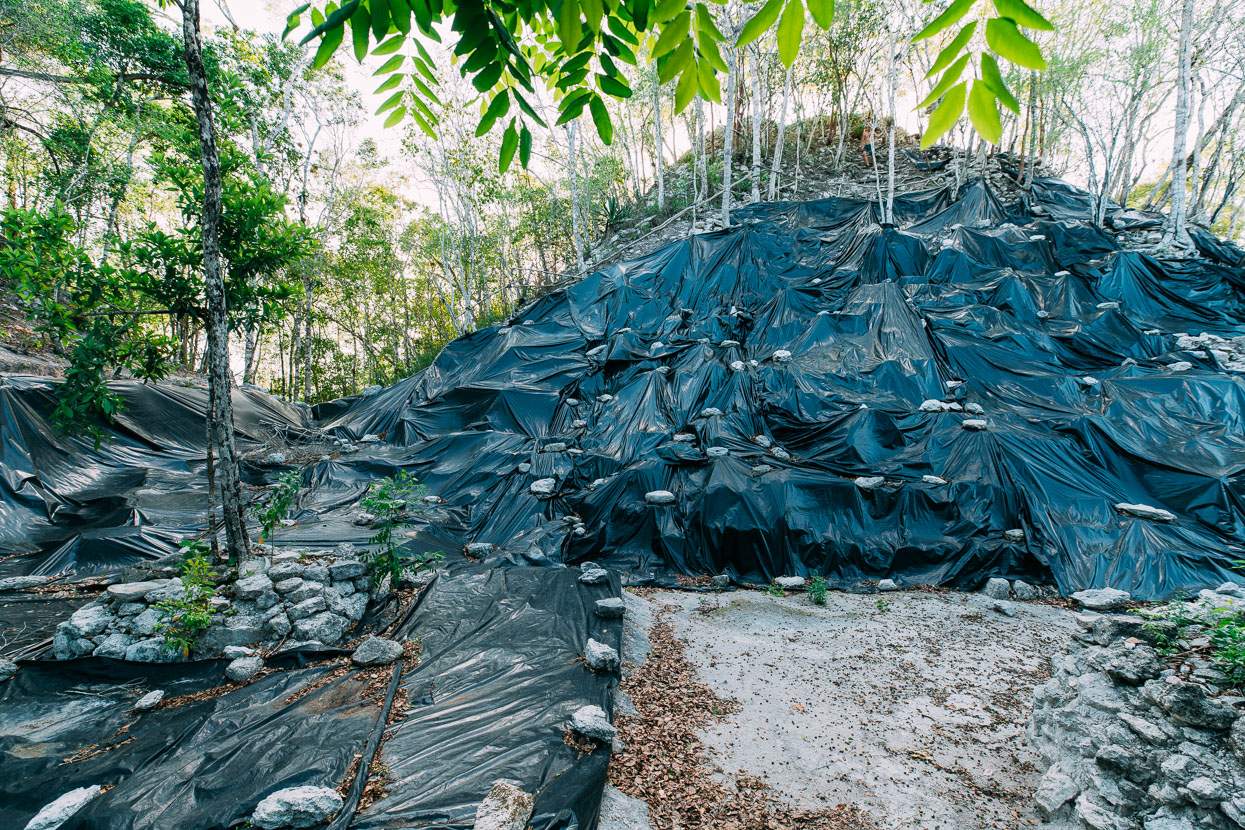 At Tintal I spoke with a skeleton crew of archeologists about their work at the site. Their aim there is to work more on the outskirts of the city, to try to build a broader impression of Maya civilisation as a whole and not just to focus on the ruling classes.
'You have to realise it was like a dictatorship,' the archeologist tells me.
'There is an impression out there of a peaceful and creative Maya people who were at harmony with the forest, but this is false.
'There was great inequality in their society and the poor were very much controlled by the rich. Who do you think build these pyramids? It wasn't the kings. A massive amount of labour was required. They were warlike too, and sought to increase their labour force and dominate trading routes'.
'They also rampantly consumed resources, and it was probably this that led to the collapse of their society in the Mirador basin.'
I can't help but dwell on the fact that humankind seems to have learned no lessons from the Maya.
Today the most common theory as to the Maya's Pre-classic demise at El Mirador seems to be famine, brought about by deforestation. The Maya relied extensively on wet season swampland – bajos – for both water and agriculture. Nutrient-laden mud was transported to cornfields and crops and it's hypothesised that deforestation caused silt and clay to infil the swamps, destroying the keystone to their agricultural system. This may have brought about an uprising again the elite and a general dissolution of their society.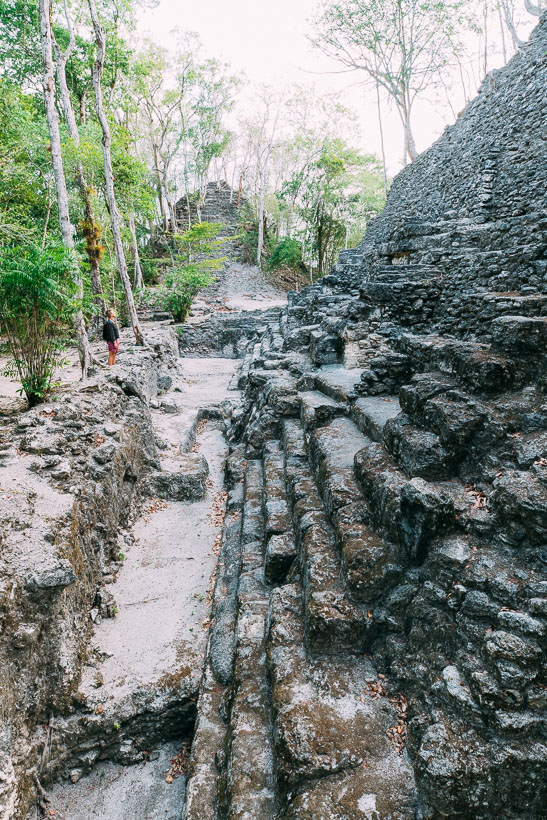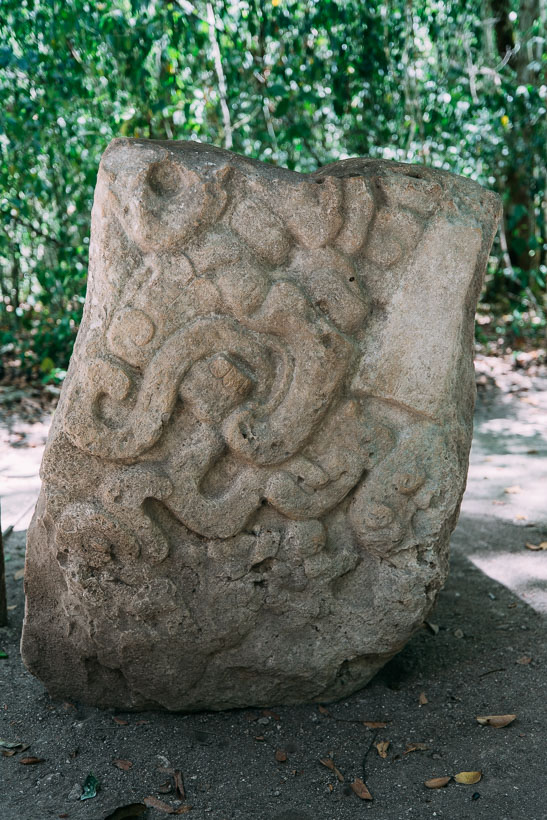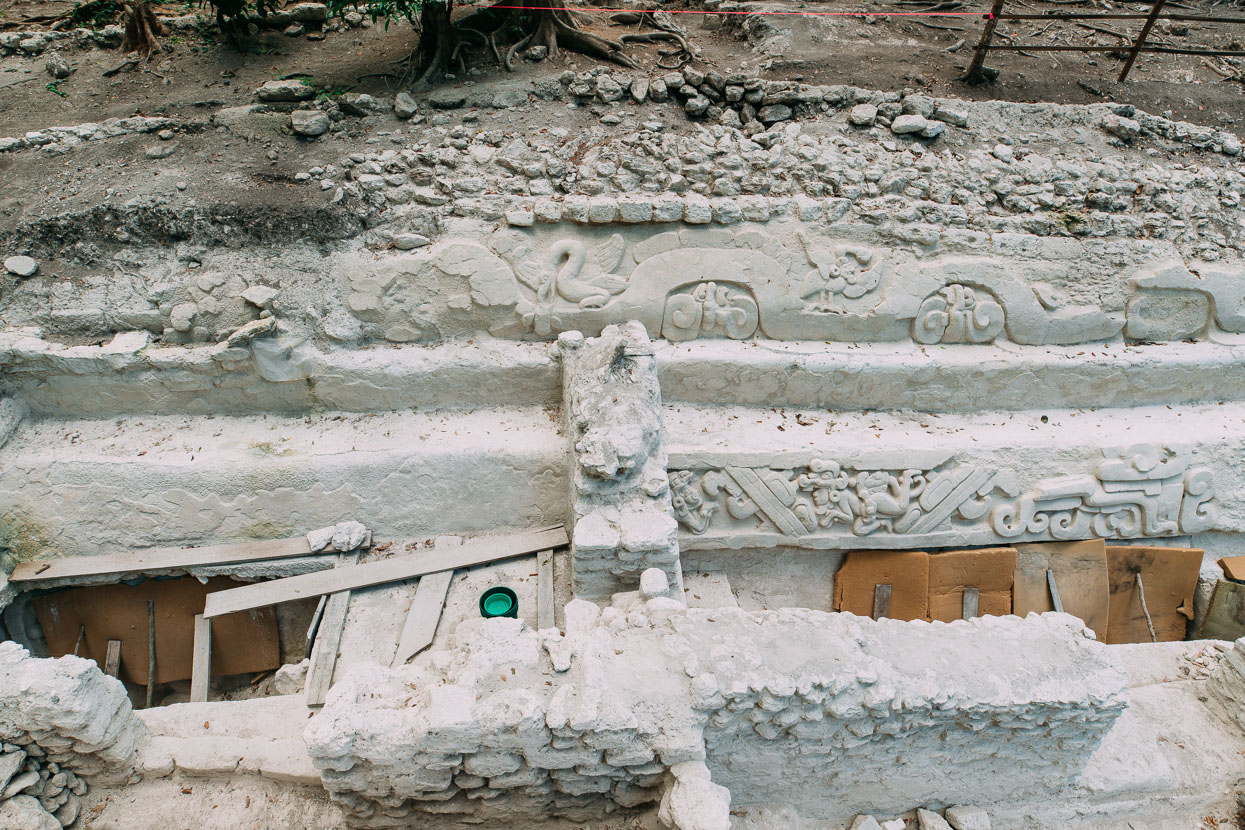 The Panel of the Swimmers site.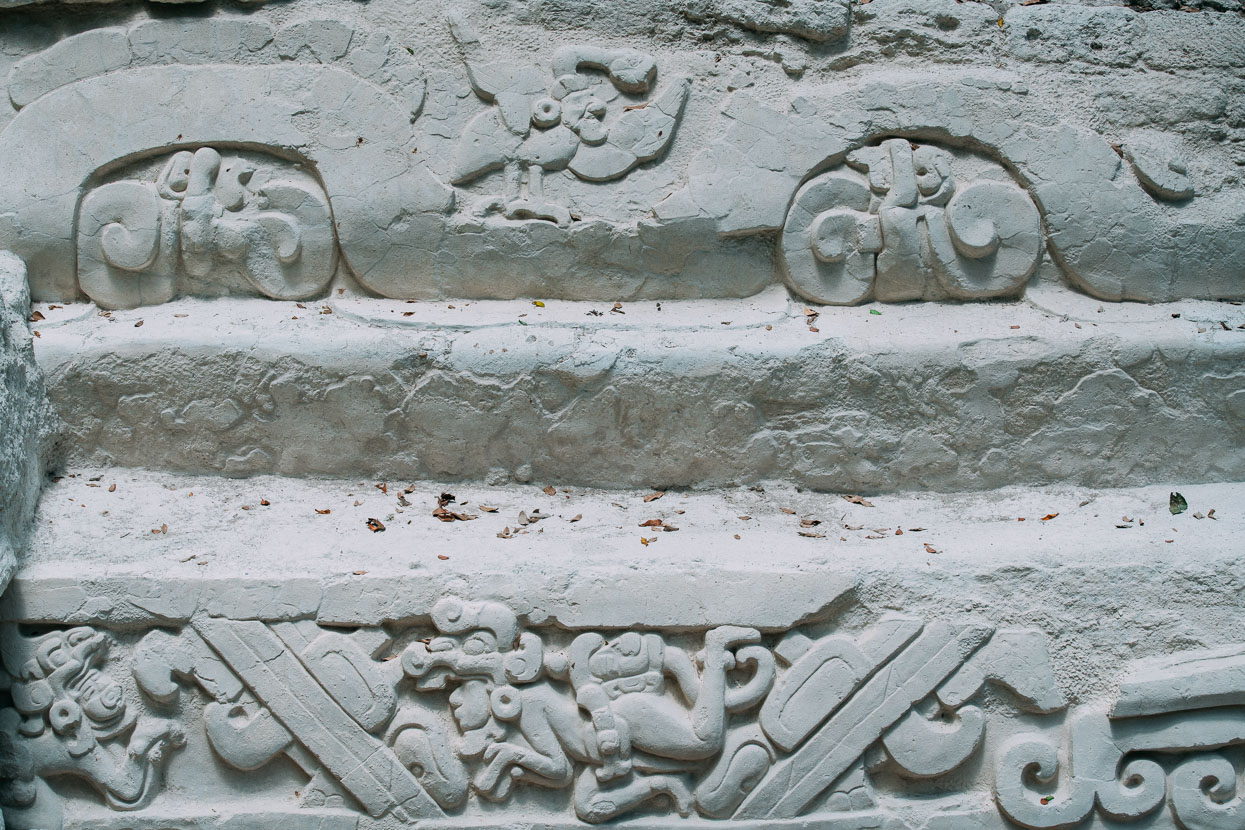 In some places polycarbonate shelters protect the ruins from UV and rain damage.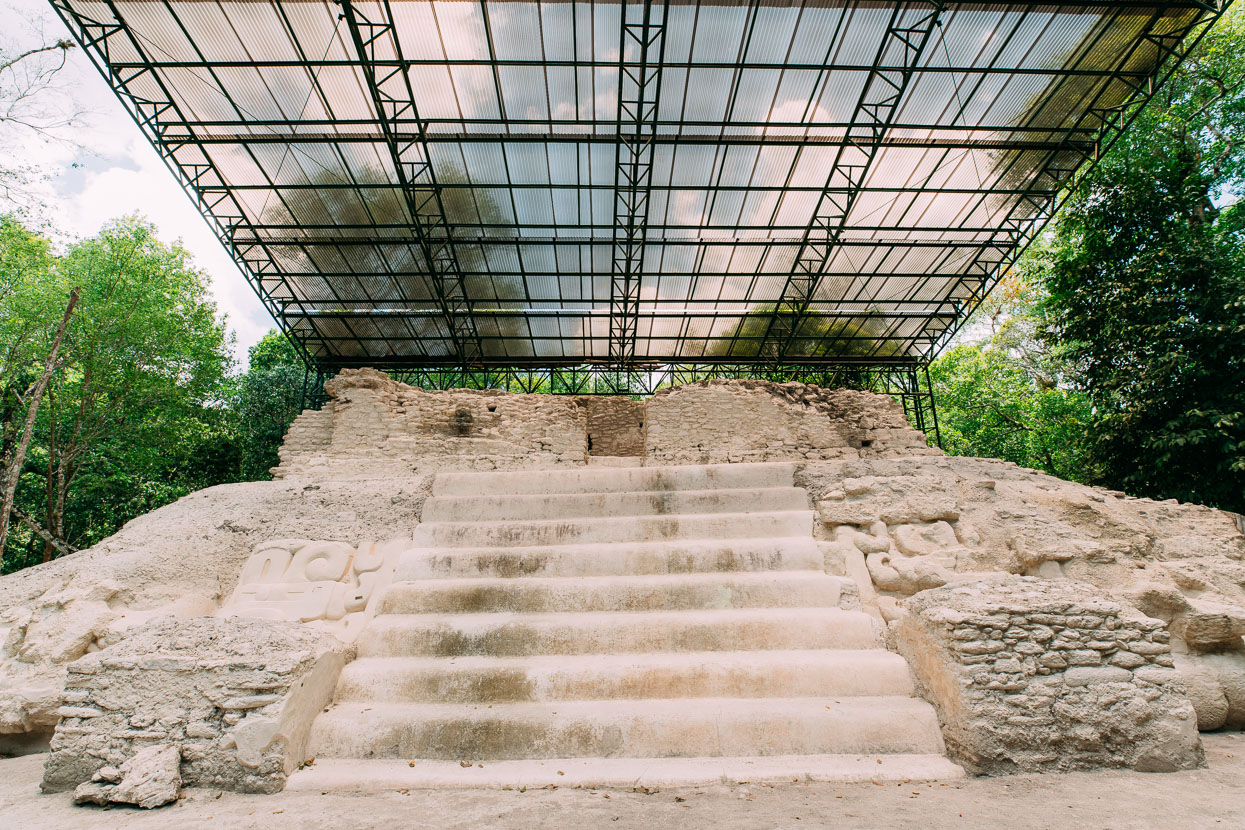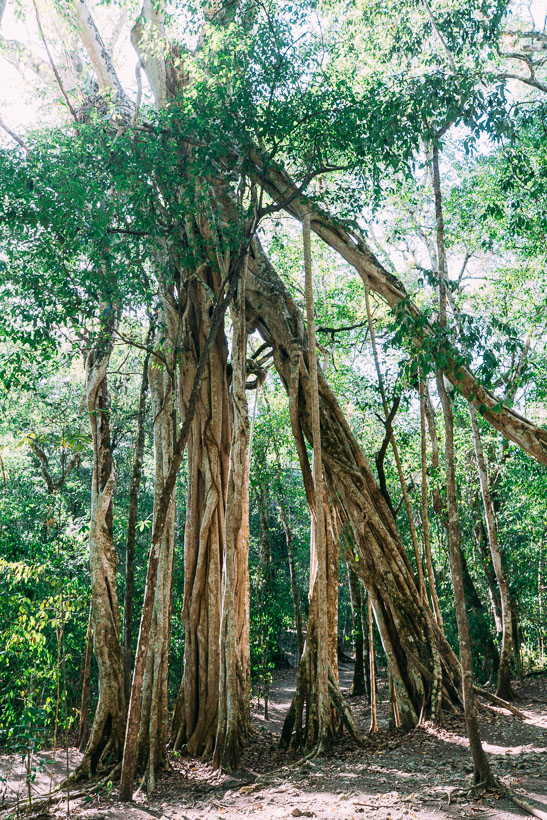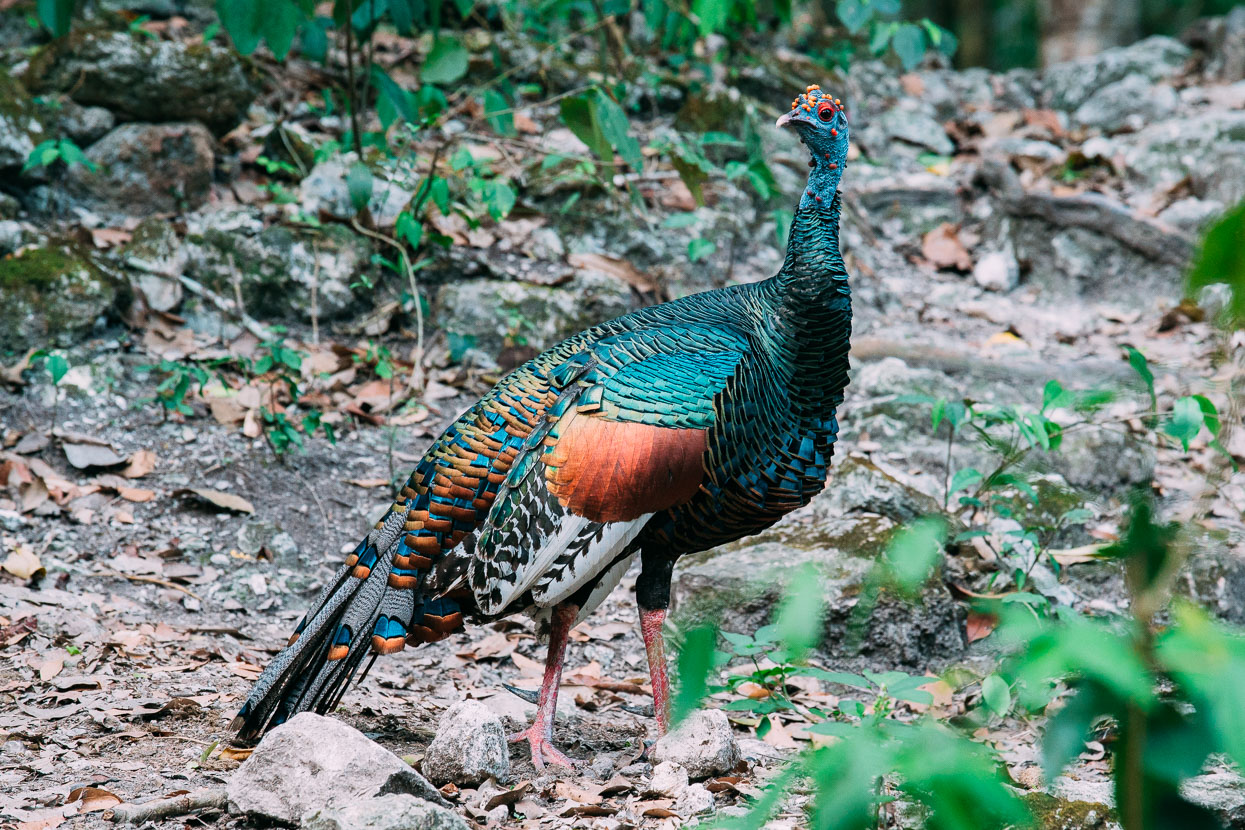 Wildlife spotting was a highlight of the hike into El Mirador. Along with howler and spider monkeys we saw tapir, coatimundi, agouti, grey fox and the iridescent oscillated turkey. At Tintal, a tarantula close to the size of my hand nonchalantly wandered into the middle of camp and later, after an animal spotting walk, I saw a large scorpion walking in the direction of camp; probably hunting tarantulas.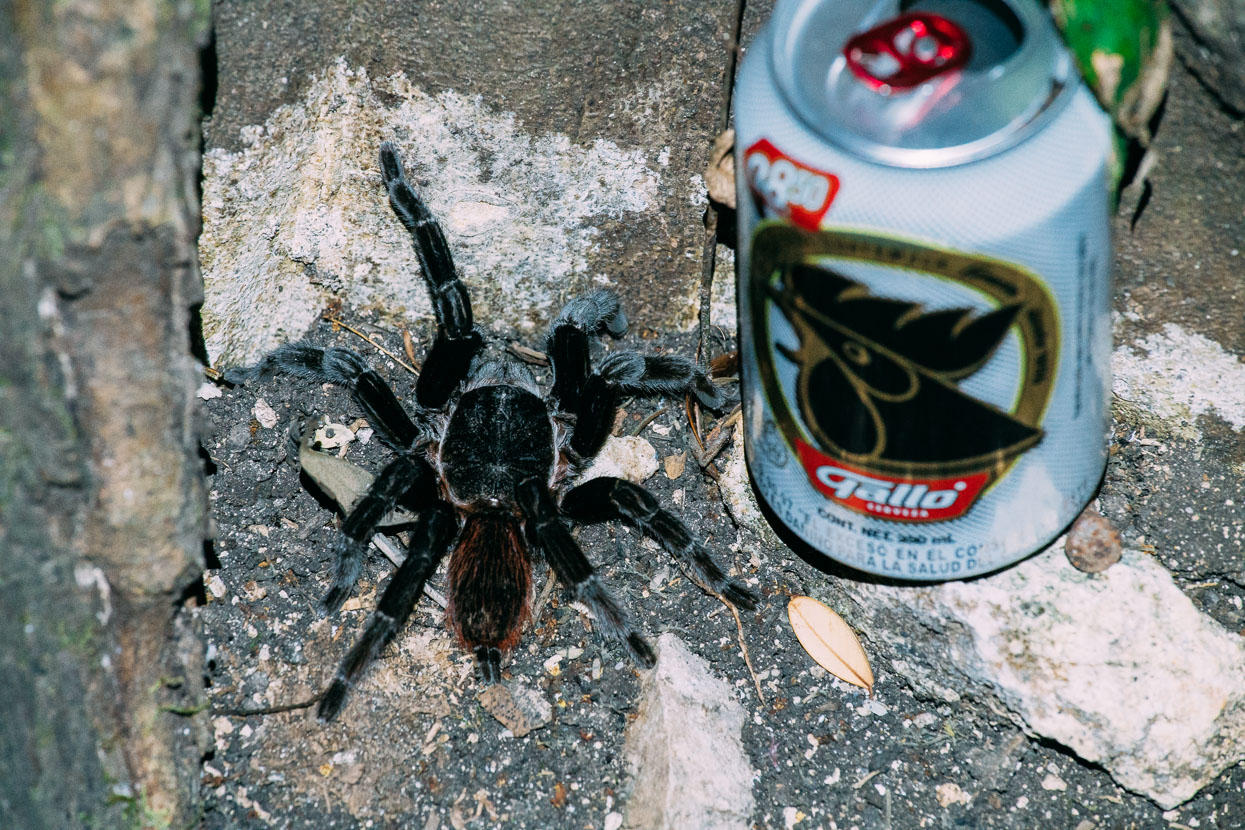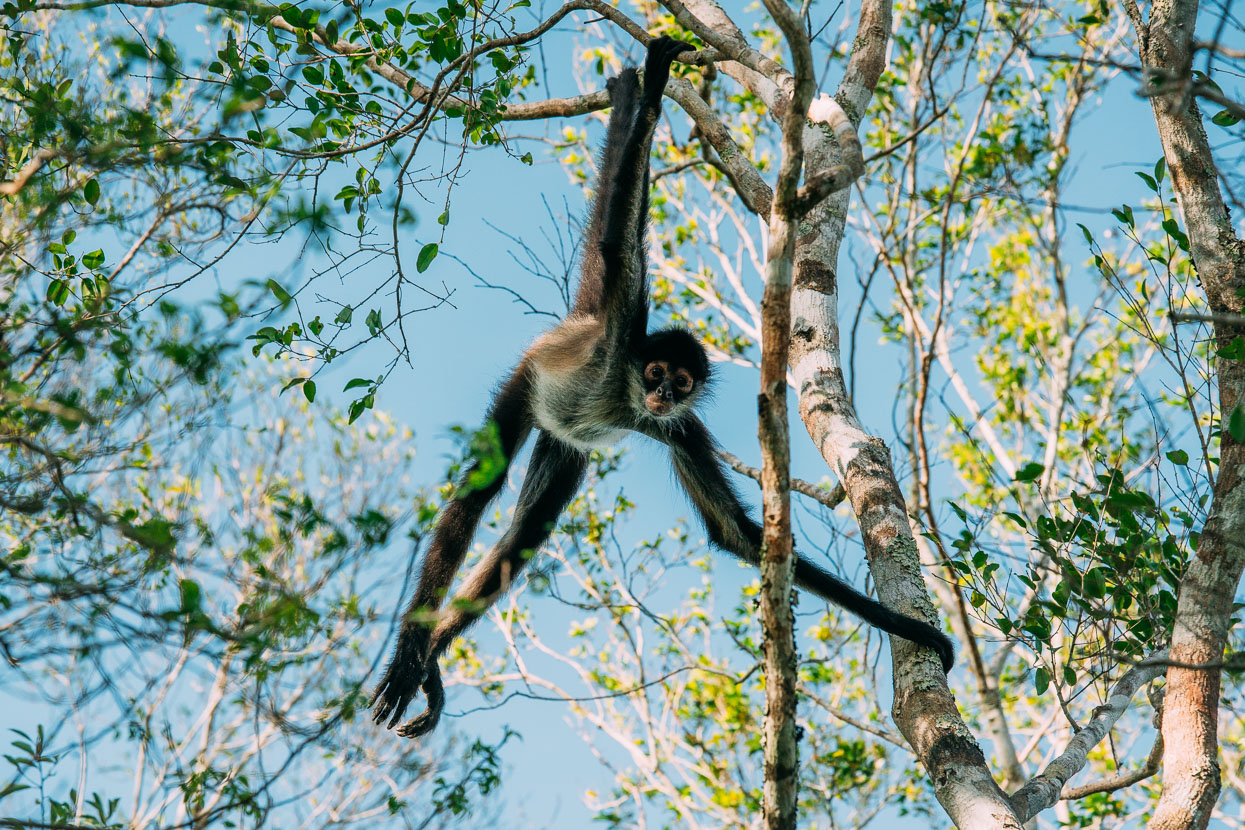 The finale of our time at El Mirador was a perfect sunset atop La Danta. Late afternoon light sprinkled the forest with warmth as we began the tiered ascent towards its summit. Near the top a crowd of spider monkeys and a couple of howlers closed in around us, circling and stopping, draped in the trees, to stare. Just as curious of us as we were of them.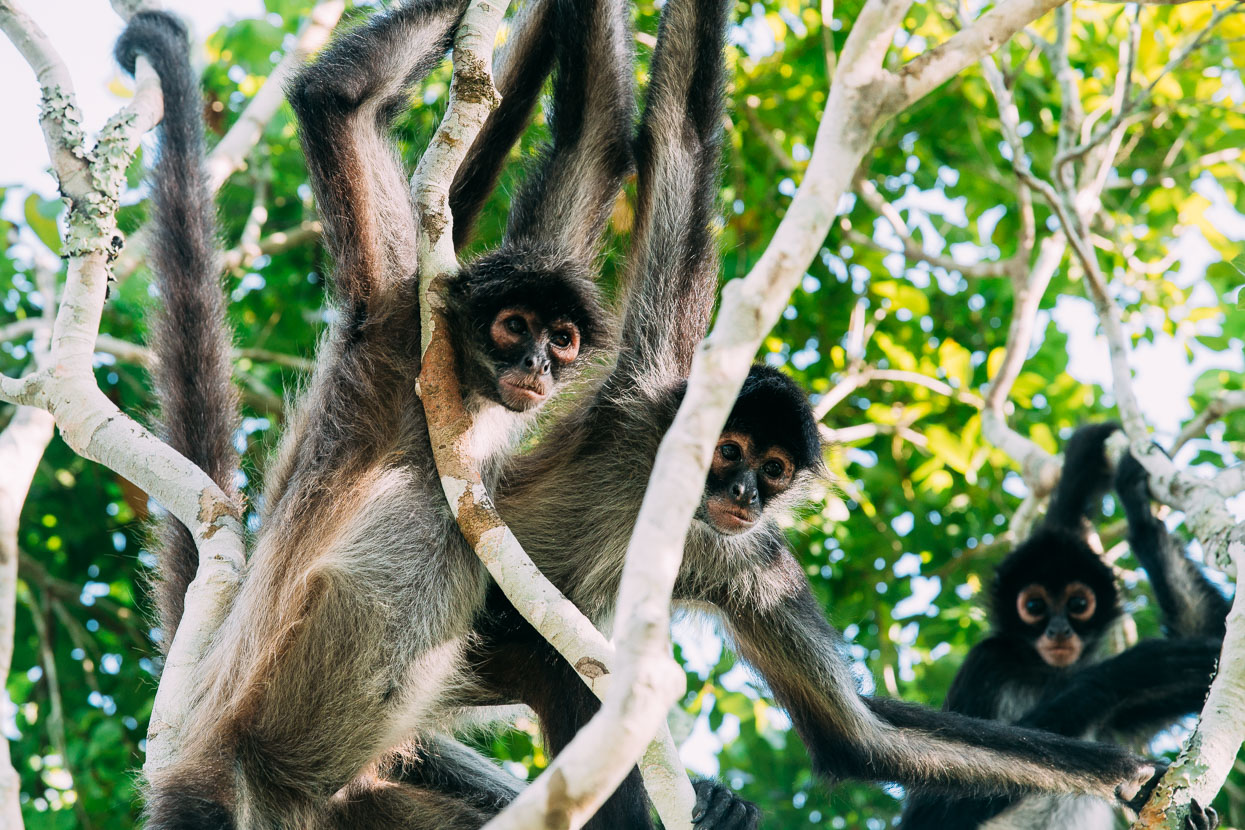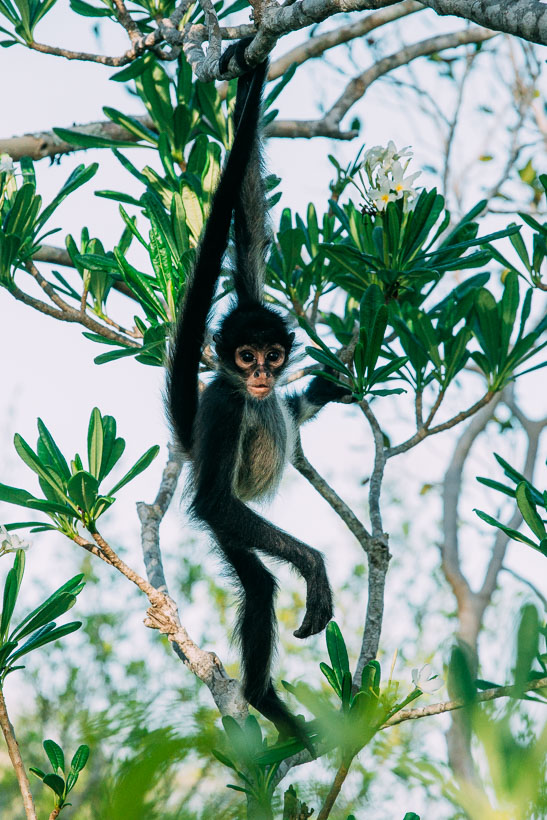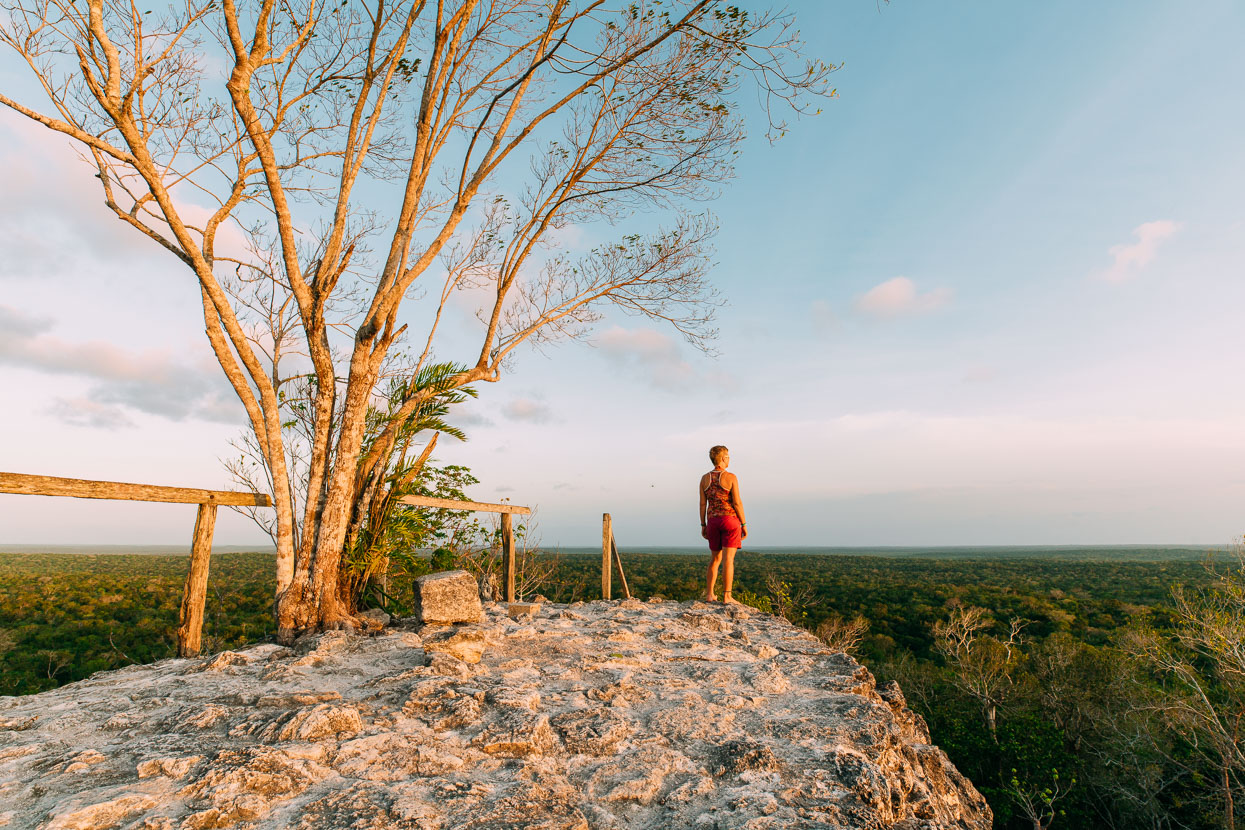 Just us, an endless forest canopy, and a 2000 year old ruined city.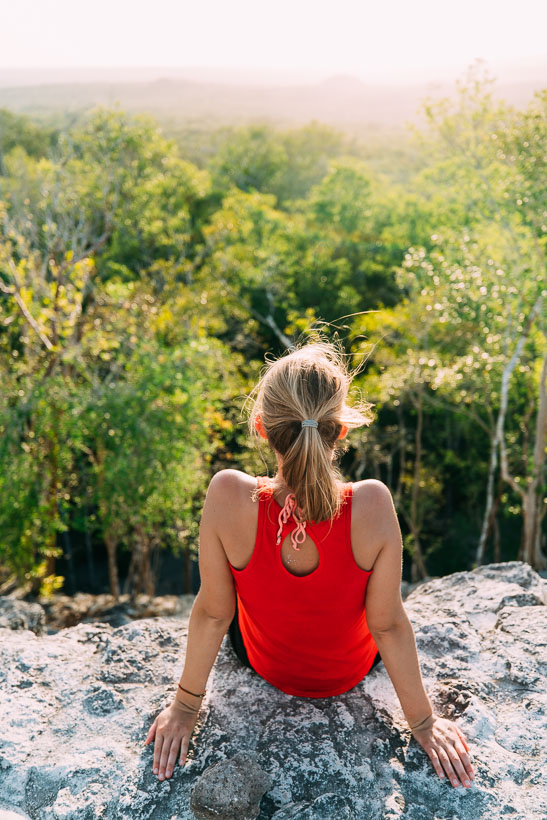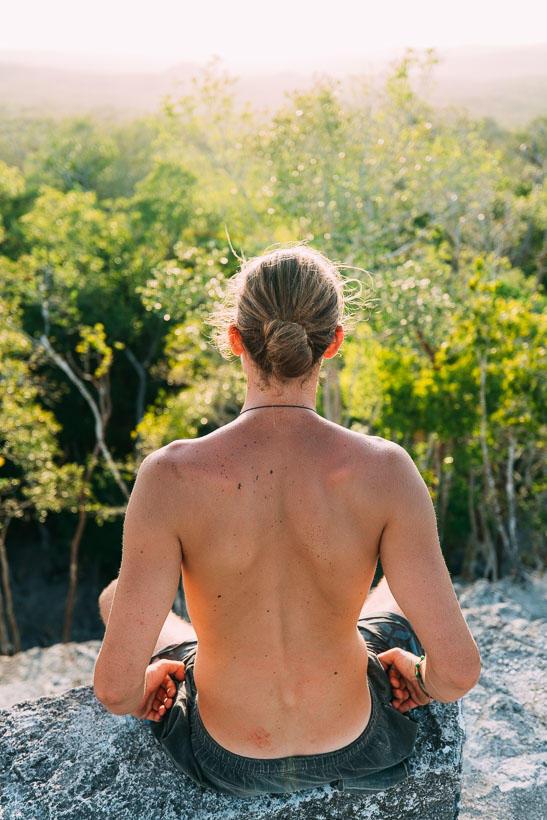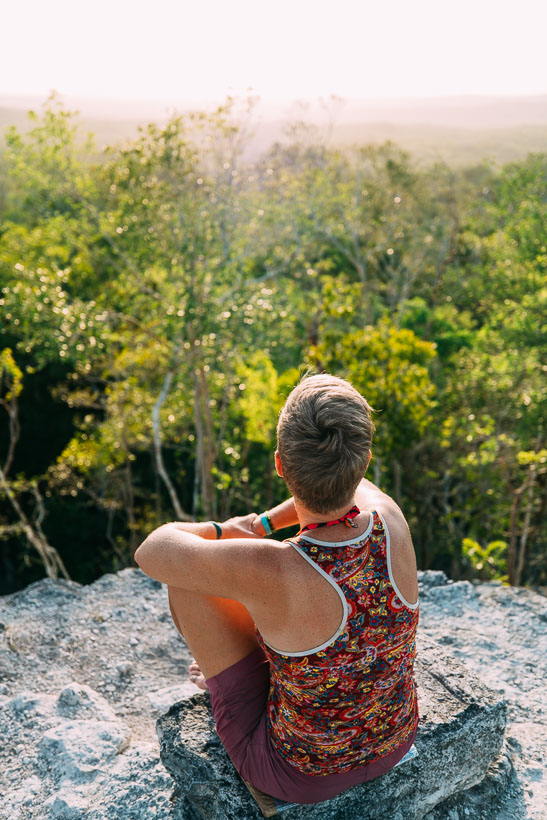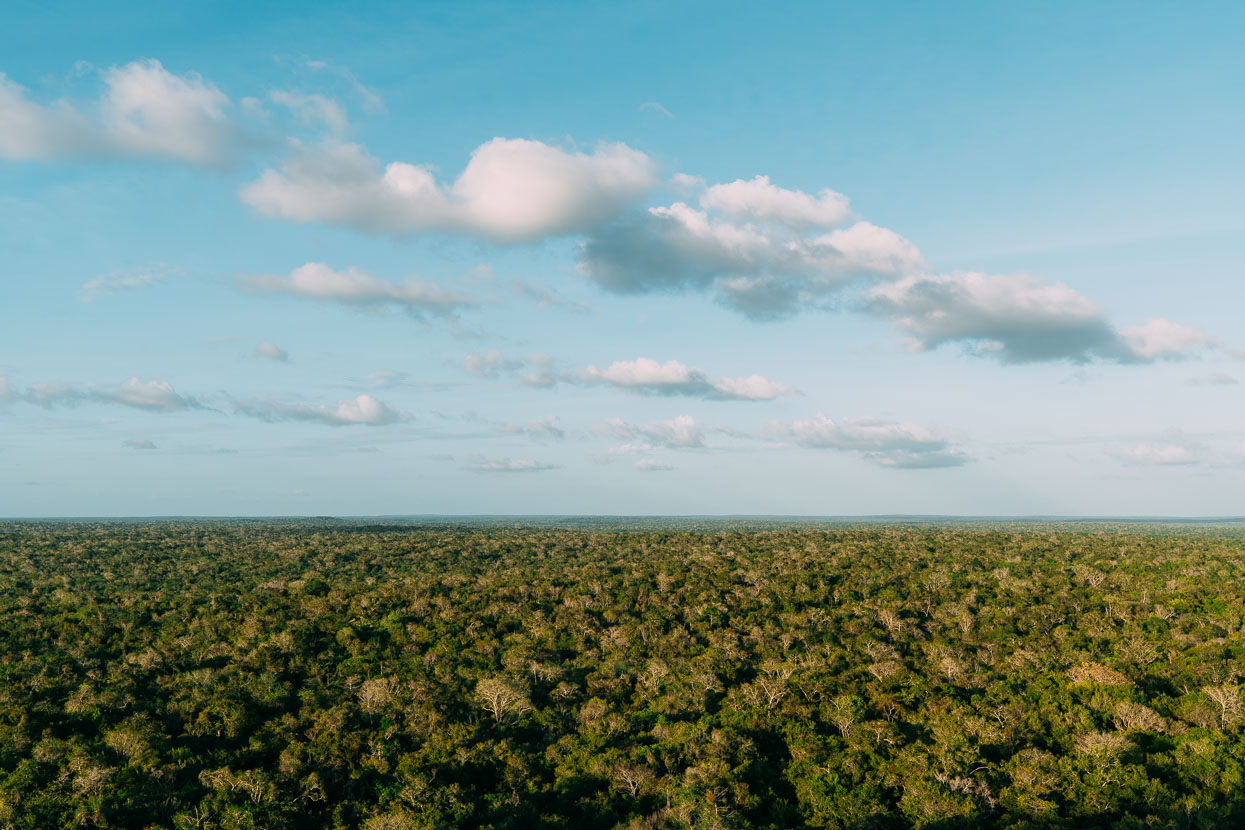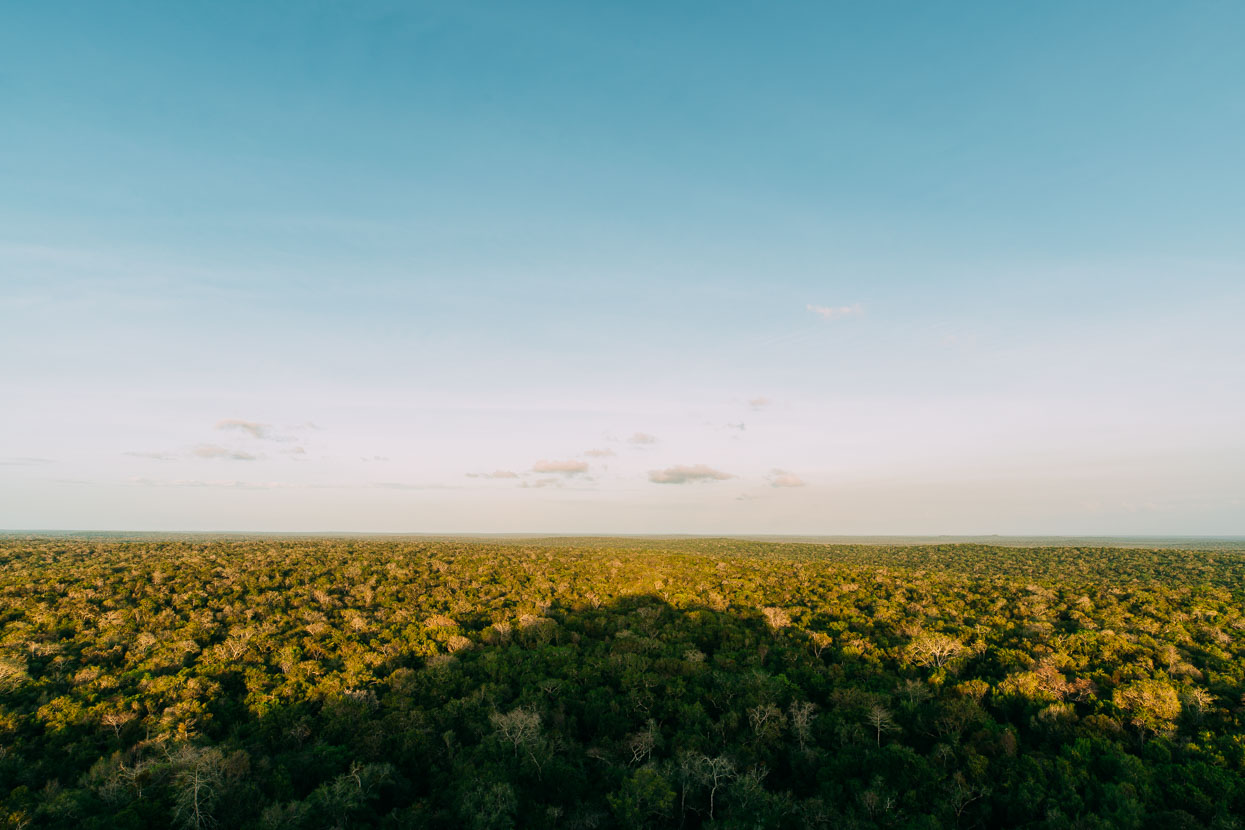 La Danta throws a shadow over the canopy.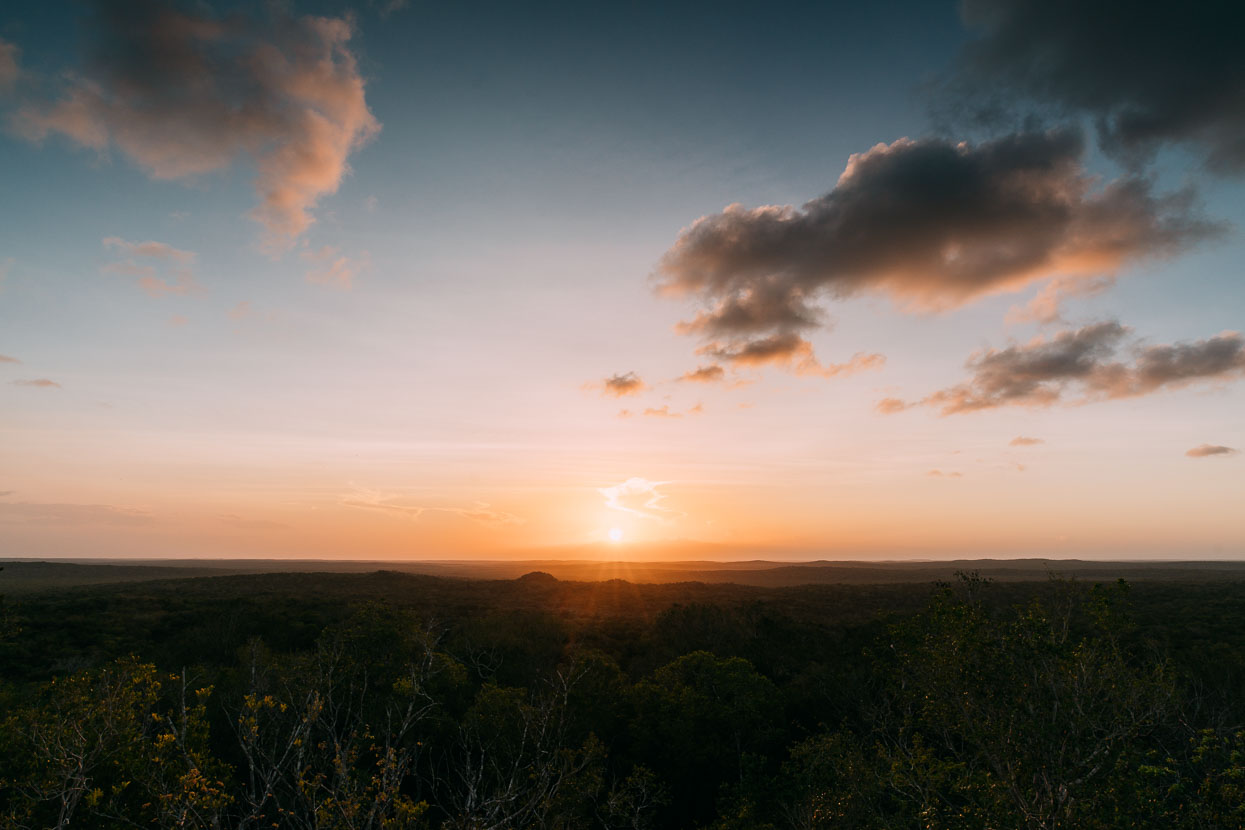 Back at Carmelita, sweaty in the midday heat, hungry and eager to find a cold beer I bumped into the archaeologist I'd been talking to. She was on her way home after a 30 day stretch on site. We talked for a few moments and I asked if they'd made any interesting finds.
'Yes', she said, her eyes widening a little.
'Six human heads. Five males and a single woman. We can tell that the womans's head had been burned.'
'They were in an infilled chamber. But it didn't have the signs of a proper burial.'
I asked if the heads had maybe been moved from the bodies after a typical burial.
'Actually, there were vertebra fragments and other bones, so we think these heads were placed here soon after removal from the body.'
_ _
Do you enjoy our blog content? Find it useful? We love it when people shout us a beer or contribute to our ongoing expenses!
Creating content for this site – as much as we love it – is time consuming and adds to travel costs. Every little bit helps, and your contributions motivate us to work on more bicycle travel-related content. Up coming posts: camera kit and work flow, route planning & navigation.