Mountain of Wolves.
Somehow Mexico has had a way of chilling us out. After the pressure to get the Great Divide done before winter closed in on us it has been a change to have a more open timetable – picking and choosing where we spend our time and having the flexibility to just stop for an extra day if we reach a place we like.
So far this country has been full of surprises (mostly good ones) and it seems that for every place you have heard about in Mexico, there are three others that are equally interesting for their own reasons. We have been captivated by the charm of many of the cities and villages we have seen so far, and the friendly people here.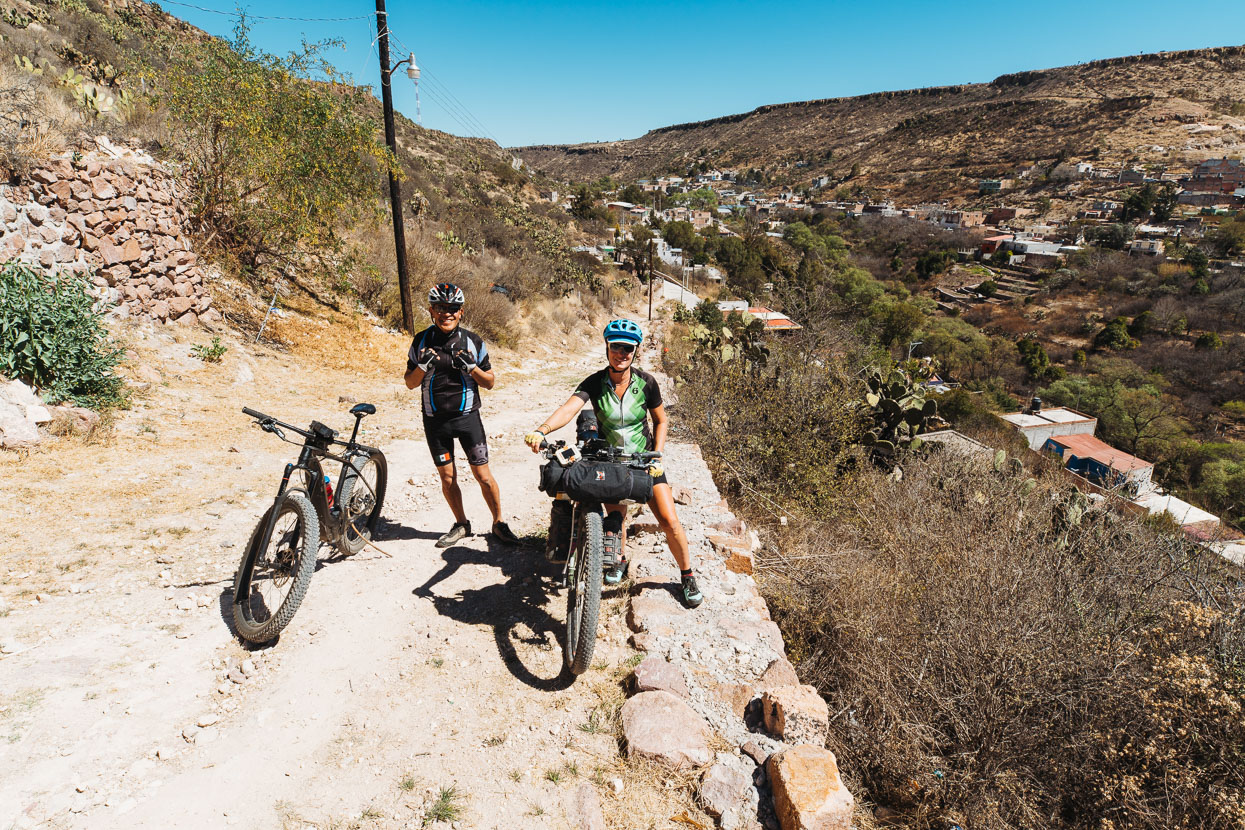 We continued on from Zacatecas generally following Scott Pauker's route, headed initially in the direction of the big valley city of Aguas Calientes in the basin below Zacatecas. We invited our Warm Showers host Franciso (he and wife Sandra had been fantastic hosts for three days) to join us for the first day. Francisco came along on his new full suspension E-bike (electric motorised) but promised not to use it unless it got really steep – which it did a few times…
The route followed a mix of pavement and dirt for the morning, before dropping into the cute canyon town of Genaro Codina. We restocked water there and continued out into an arid and dusty landscape. A long afternoon of gusty wind and rolling hills followed.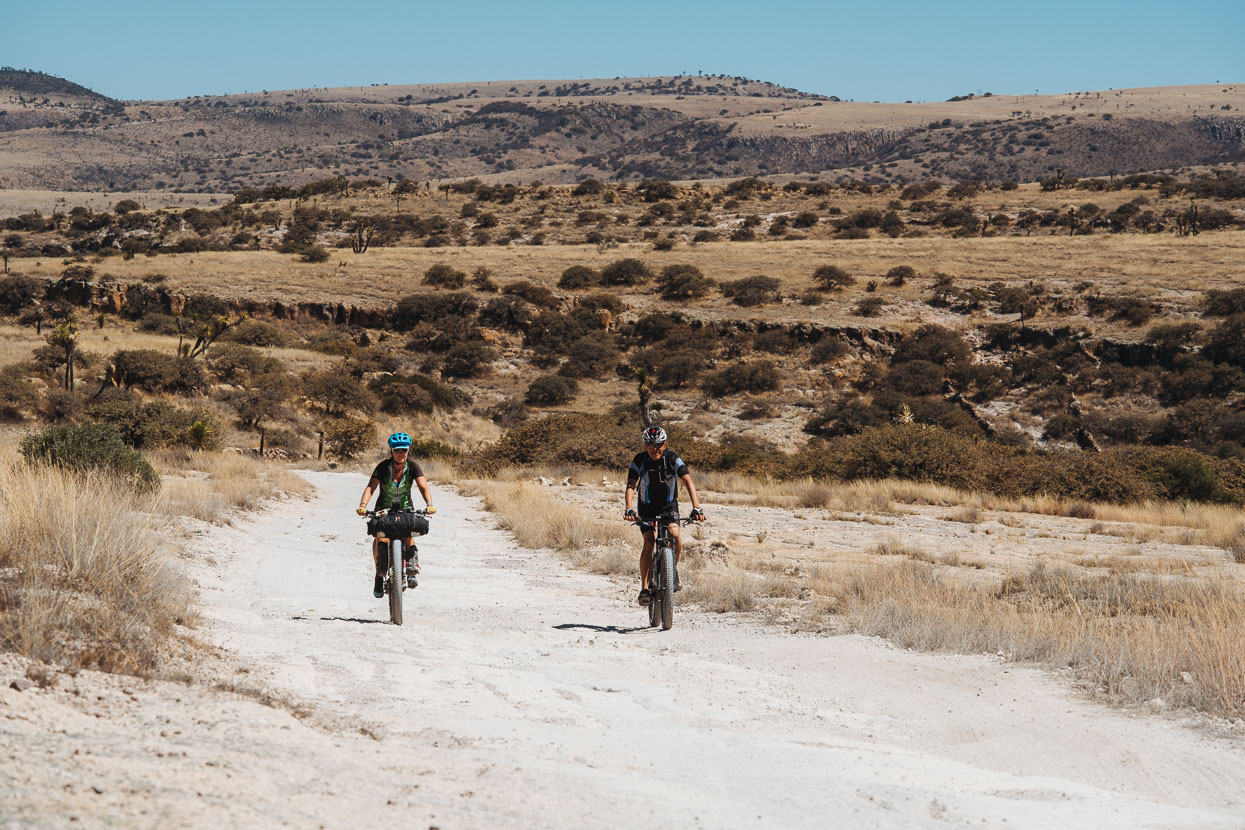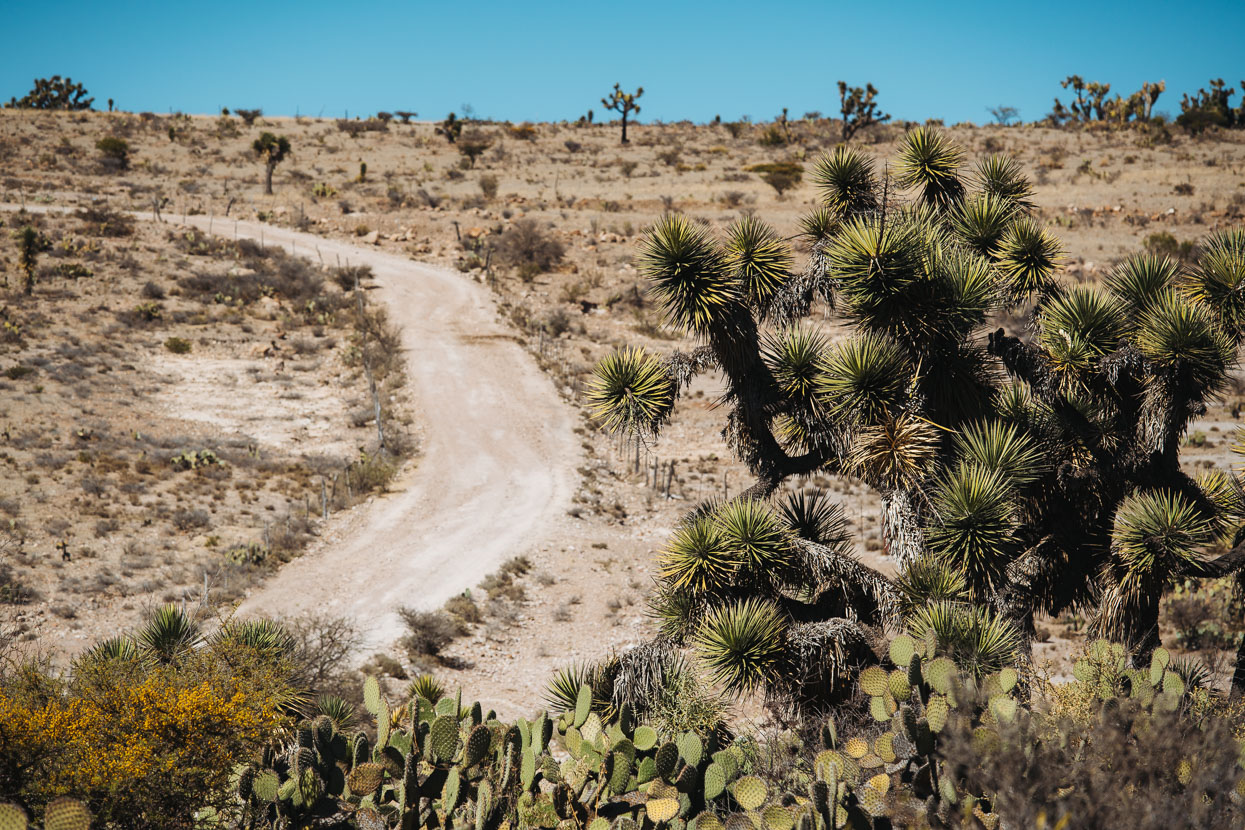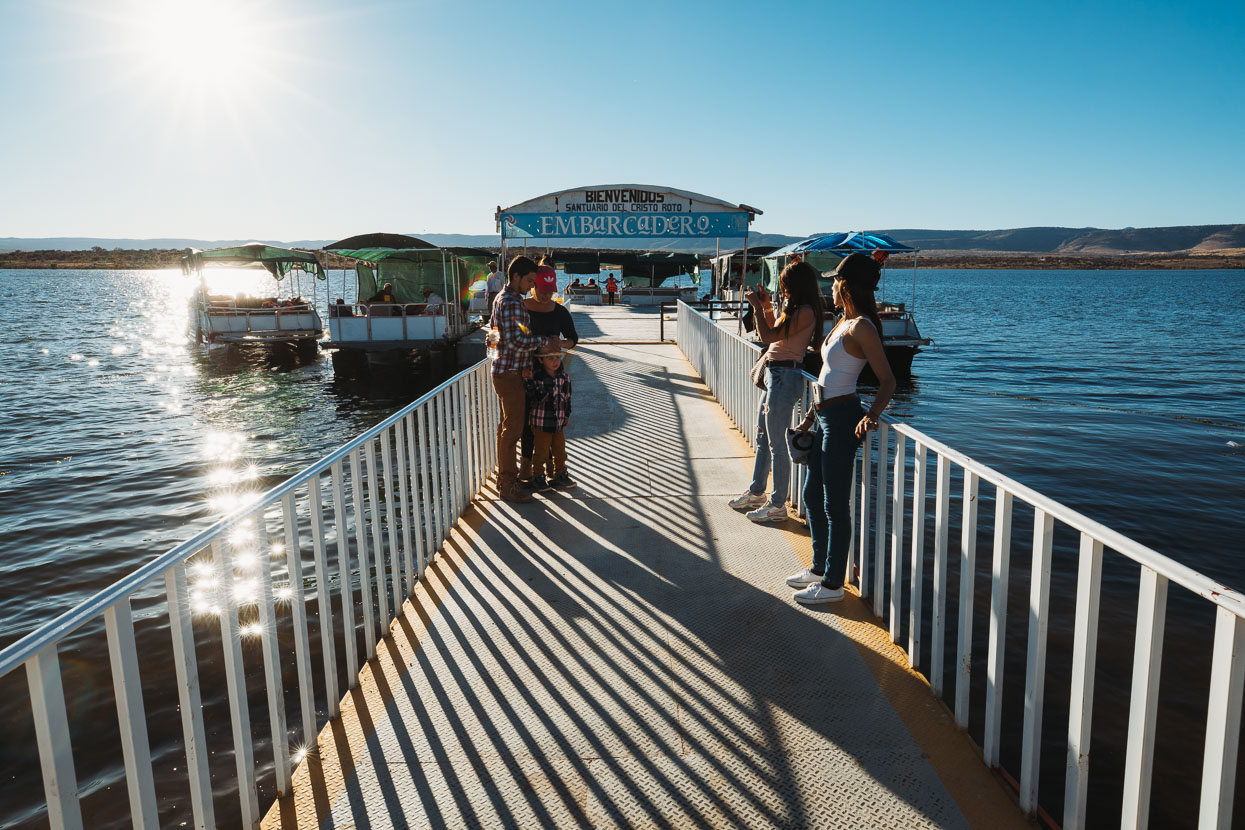 The end of the day found us in San Jose de Gracia – one of Mexico's Pueblo Magicos – towns recommended for their interesting history, architecture or location. The town wasn't anything special compared to others we've seen, but it was a Sunday. Sunday + Place with Water in Mexico = Crowds. Being late in the day the tour coaches were starting to leave but the lake edge still bustled with people heading out on boats to see a huge figure of Christ out on an isla.
Sunday is also Pollo al Carbon day in Mexico (barbeque chicken). So we took a table and rehydrated and devoured chicken with salsa, salad and the ubiquitous tortilla.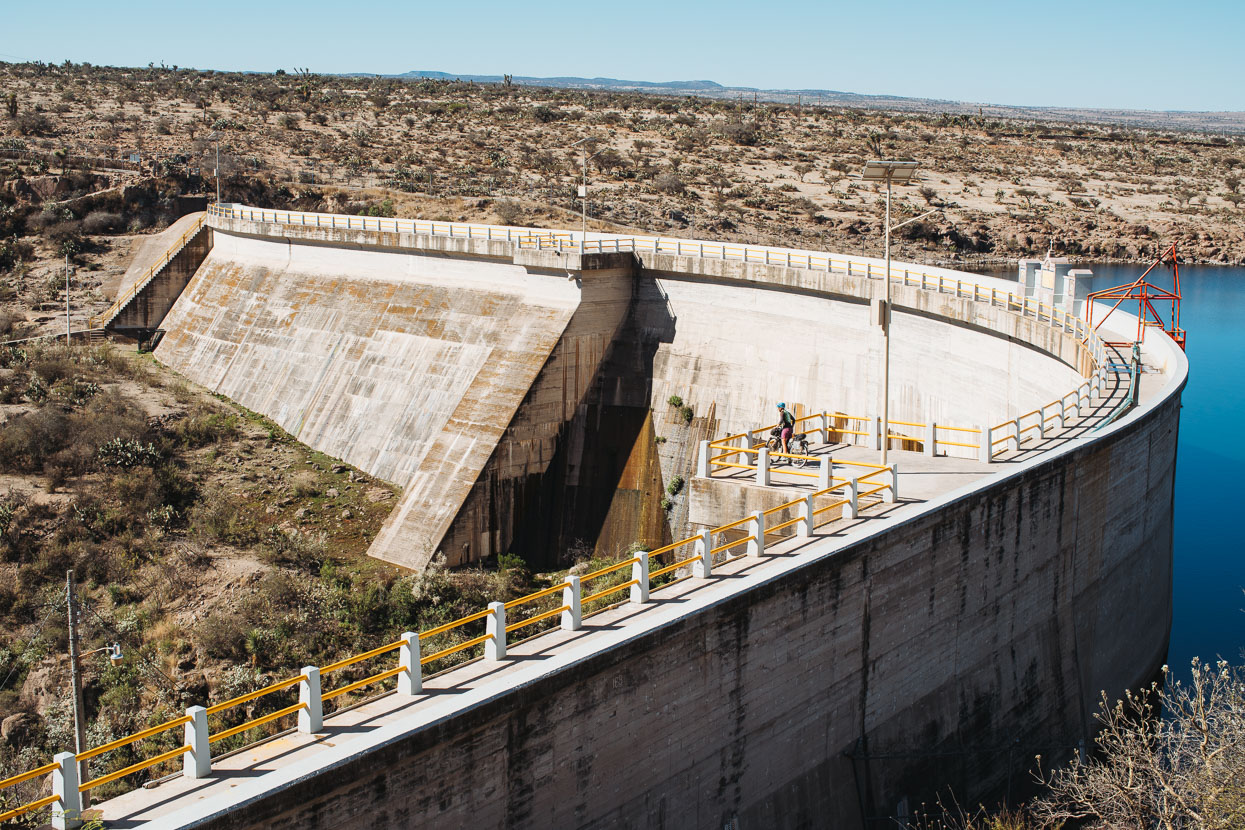 We've come to discover that in central Mexico lakes aren't lakes at all – they're reservoirs (presas). In fact with water so scarce, it's hard to imagine that many of the towns we visit are sustainable at all. I guess water is stored in the wet season (summer) and has to make do for the year.
Franciso had recommended to us an 'alternative' route to bypass Aguas Calientes that made the most of the mountains lying to the citys west, rather than crossing the basin directly. It's popular with local mountain bikers and sounded like a good ride. He gave us a GPX file but no other solid info on the trail conditions, or surface. Challenge #1 was figuring out how to negotiate the dam.
Did we drop into the canyon infested with cactus and rocky tracks that we weren't sure linked up? Or use teamwork to lower the bikes down from the dam via the Stairs of Despair?
We chose the latter.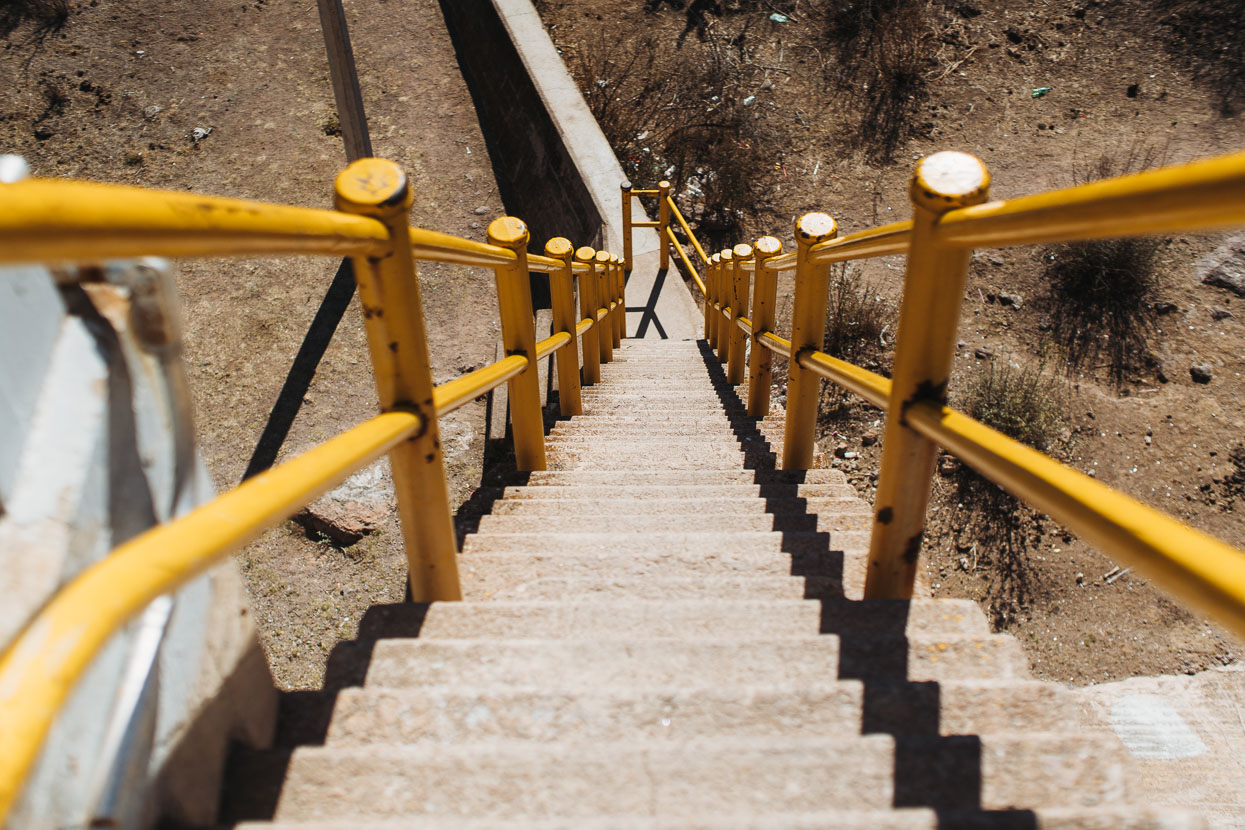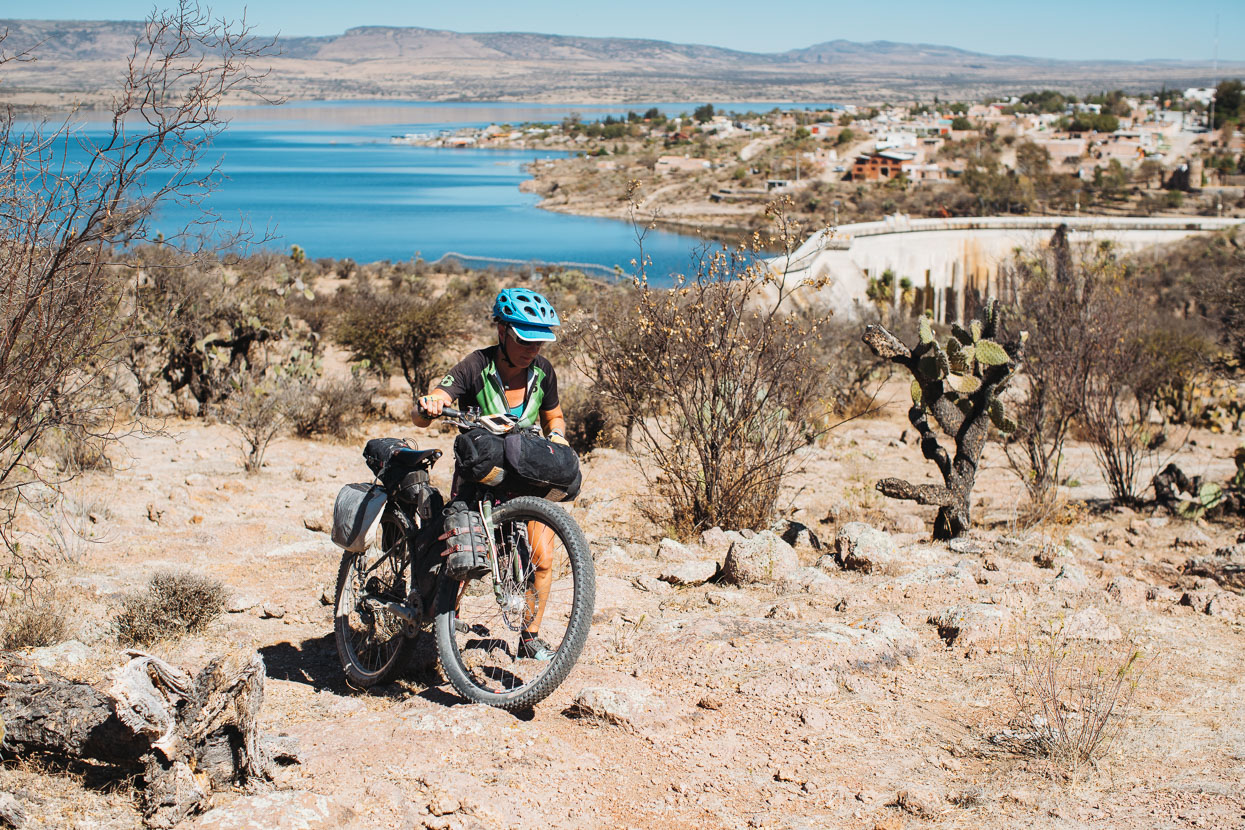 We made a short ride/push up through scrub and cactus until we picked up an animal track.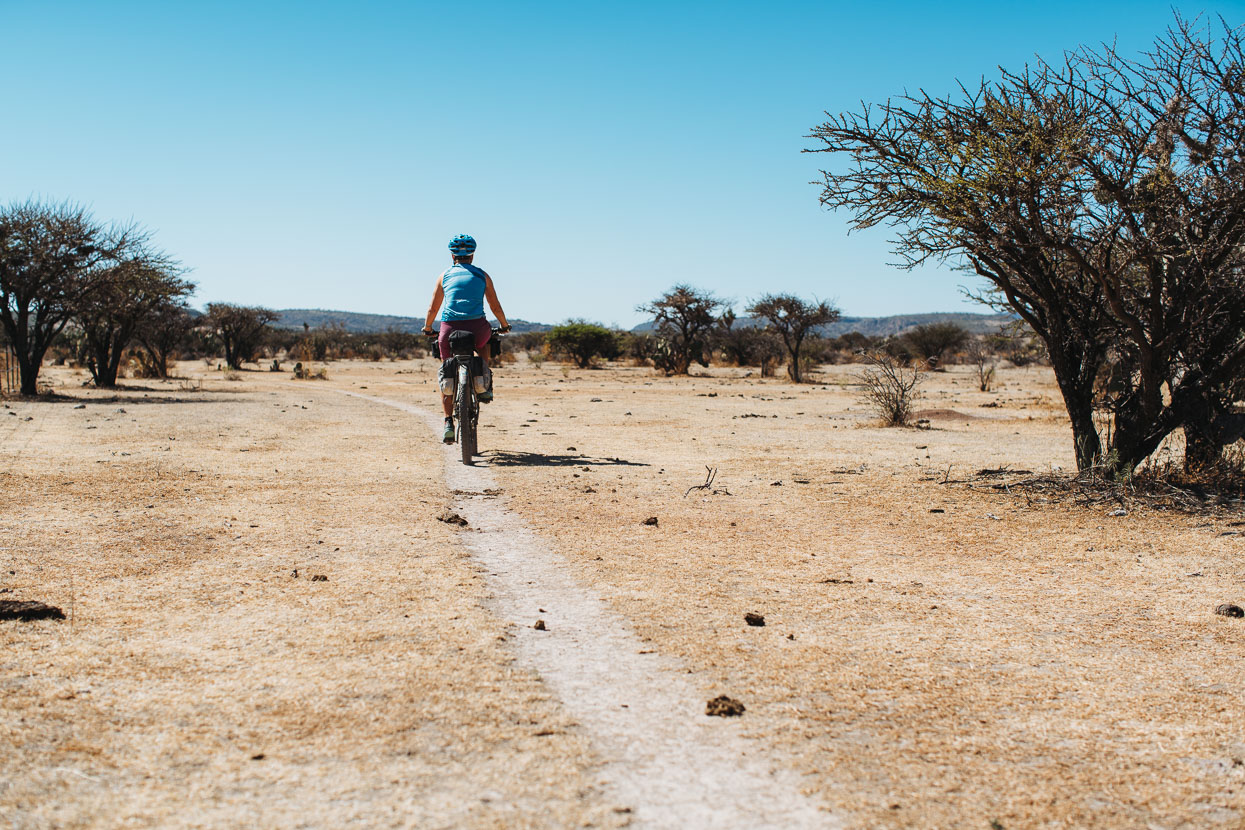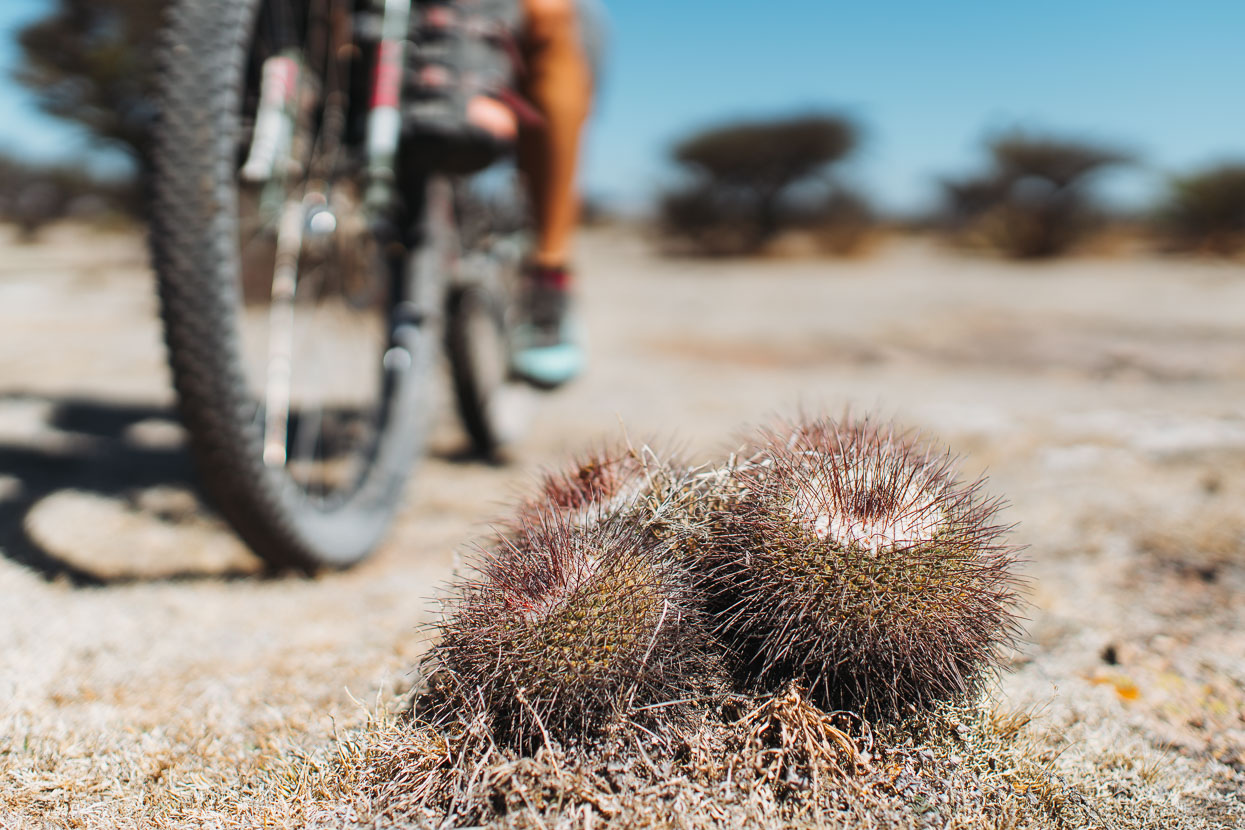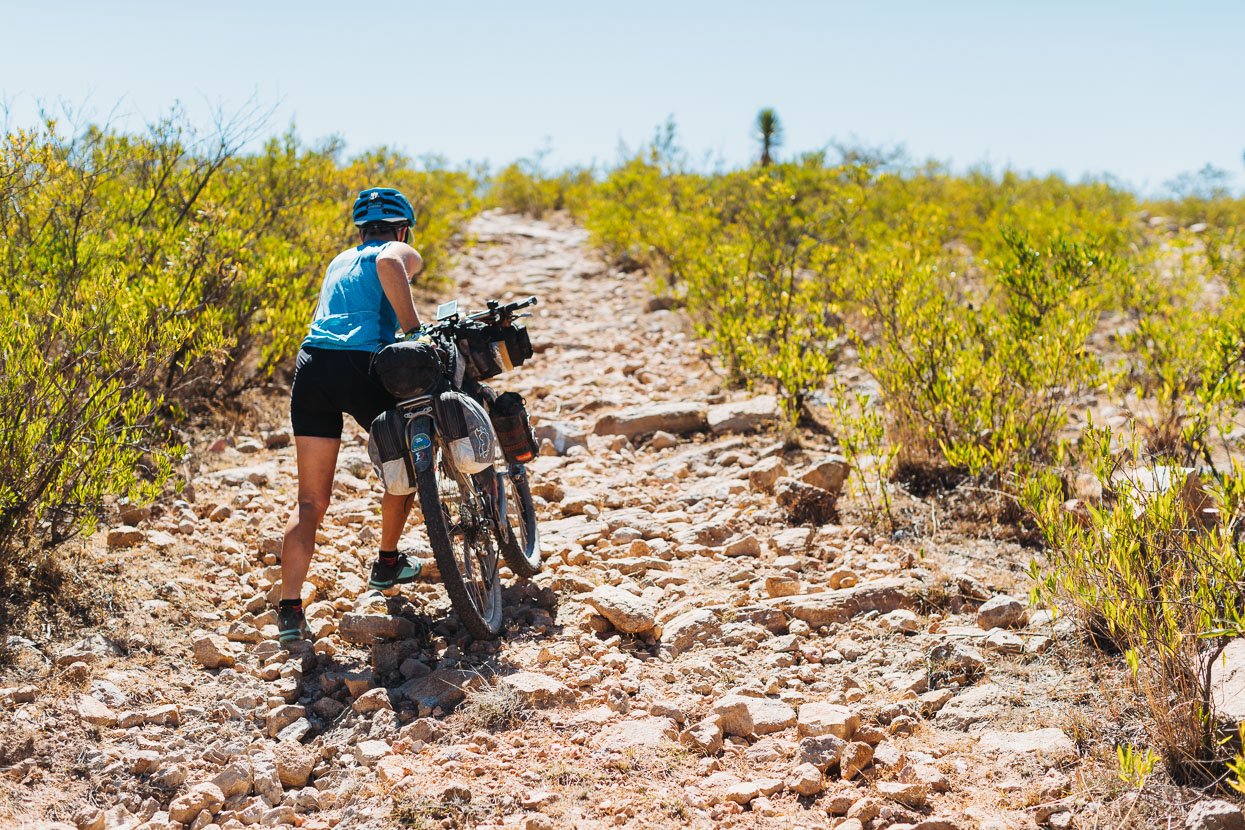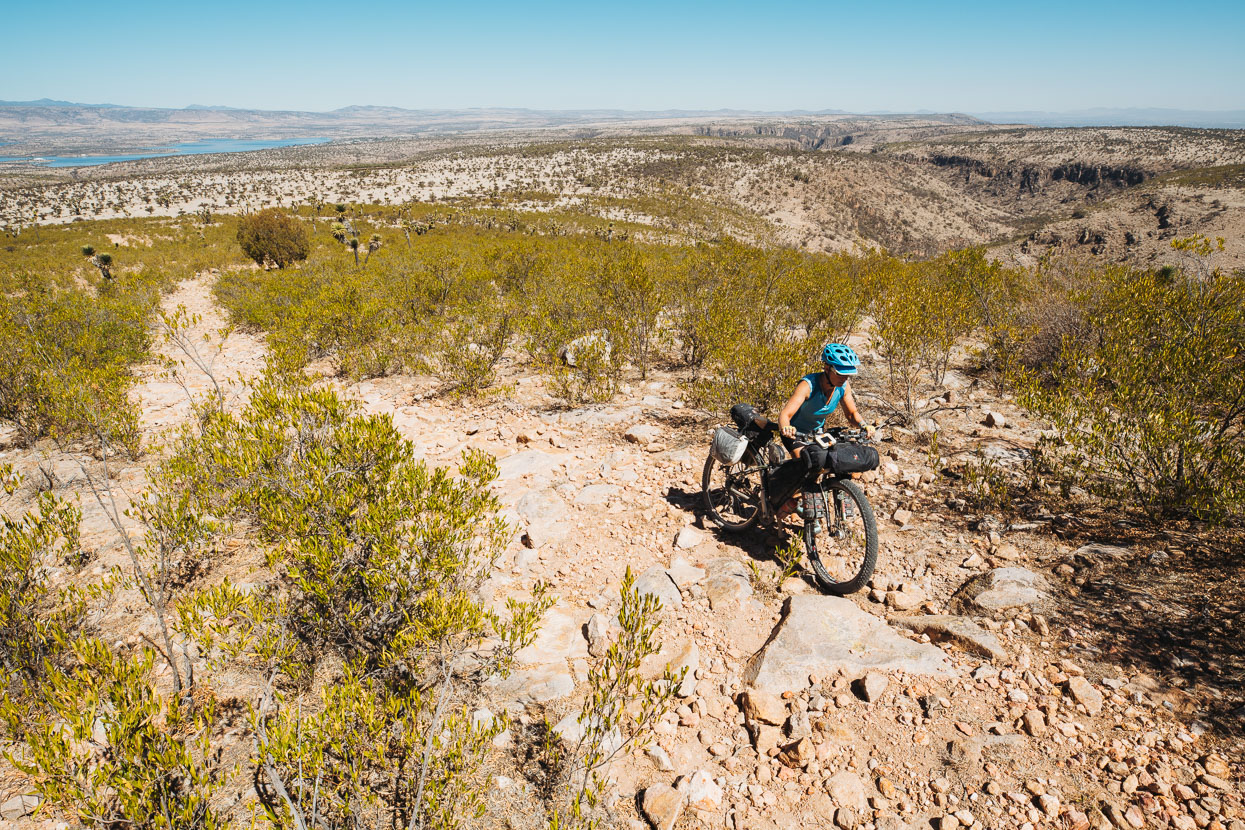 Which led to an unrideable, rocky, 4WD track. We pushed for a while to the top of the hill. Hard work, but the views were worth it.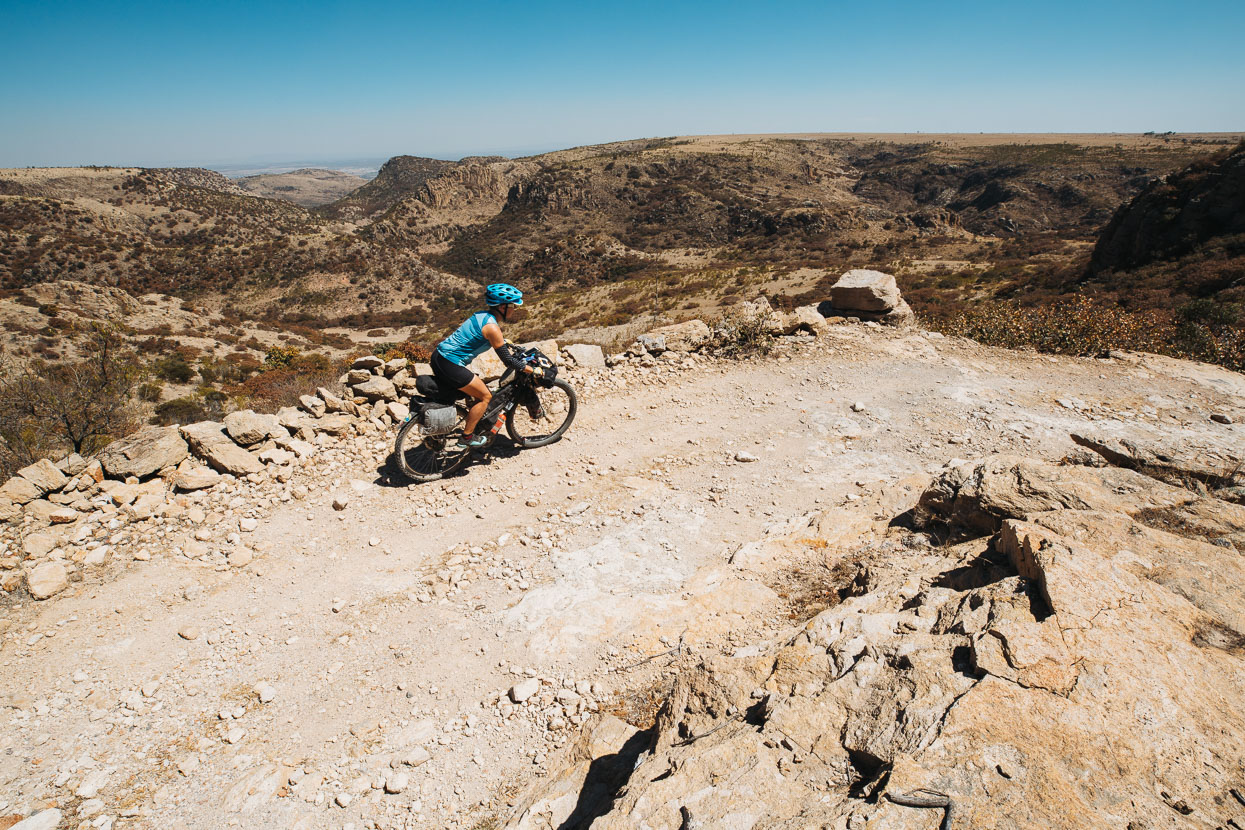 From the top of the hill the route follows the crest of the range south – undulating along the ridge. We saw no-one until towards the end when we closed in on a village on the outskirts of Aguas Calientes. The riding was fantastic; following double track and fire roads, mixed up with the odd section of rocky single track. Just what we like and totally manageable with our Ogres and 2.4/3 inch tyres. The only downside were the multiple locked gates, which sometimes necessitated removal of panniers and front wheels so we could drag our bikes underneath.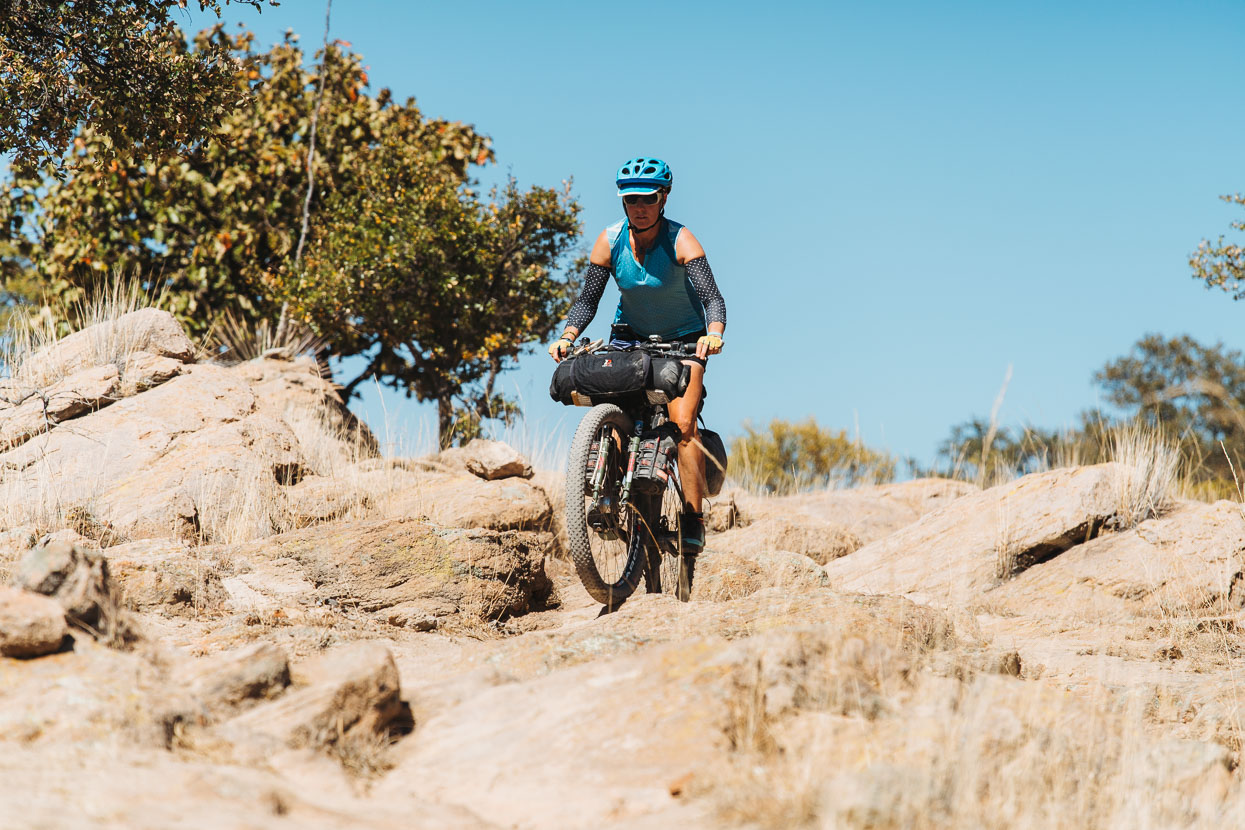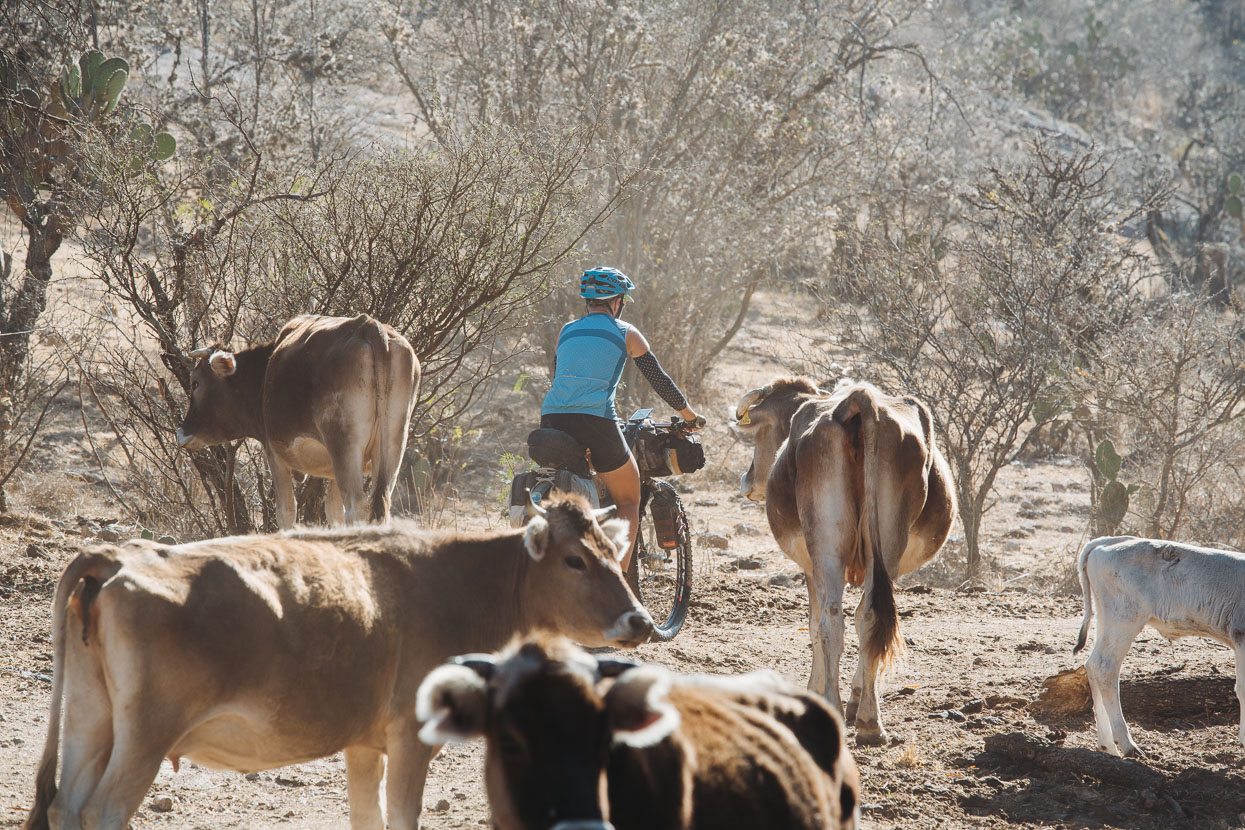 In the late afternoon we stopped for some cold drinks at a small shop on the edge of the Aguas Calientes basin, before riding on into the valley via mostly quiet paved roads. We hit one of the main highways south of the city close to dusk. With a huge Mitsubishi factory in the vicinity it was like a mini USA, with Chain fast food, convenience stores and mainstream hotels. We uncharacteristically ate burgers in Carls Jr and then looked for a cheap hotel – finally taking refuge in the Coyote Express for 300 pesos (NZ$21 including breakfast!).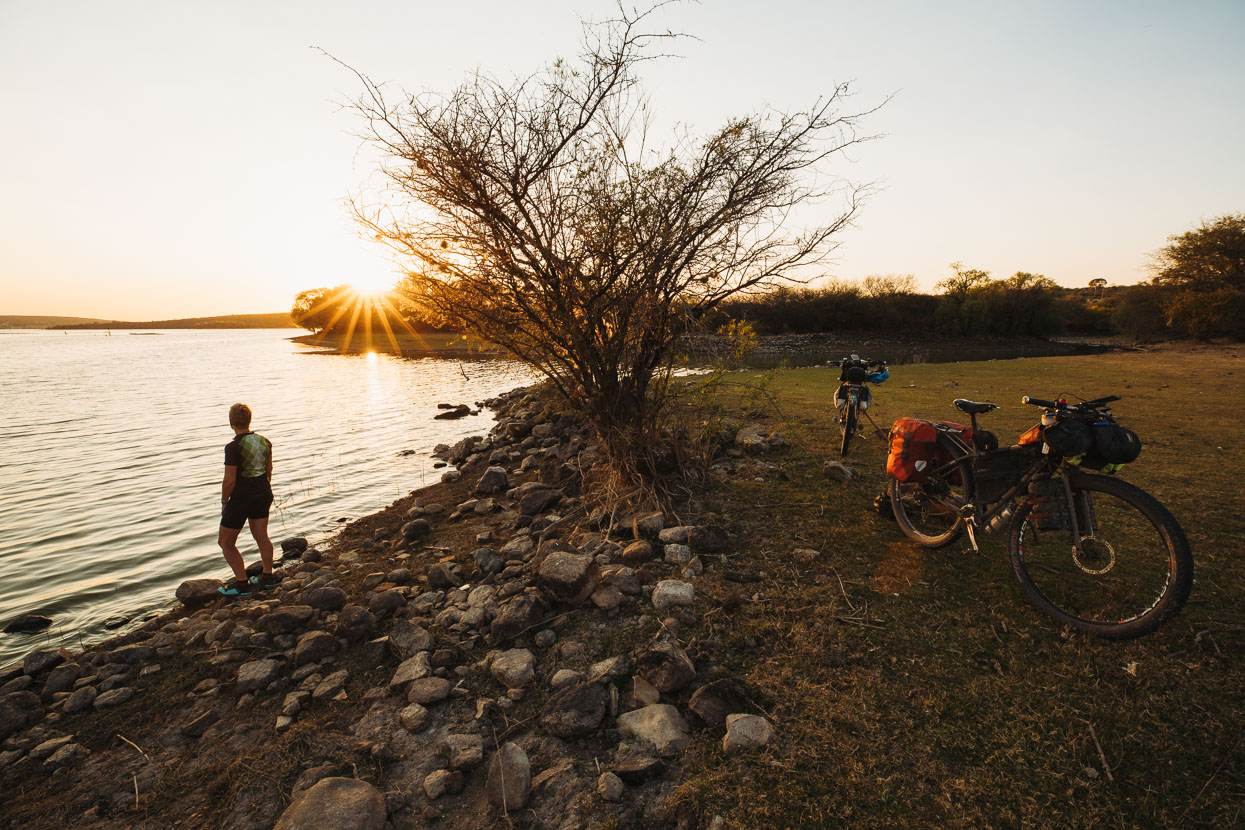 The following day was almost entirely flat and rolling paved road as we crossed the basin towards the Sierra de Lobos. Camp that night was much more tranquil on the edge of Presa la Sauceda. We asked the farmer over the road for permission for this nice site and he assured us it would be safe.
We climbed steadily into the hills on 4WD roads the next morning. One man we met on the way up a hill we was on his way to work on 'road repairs'. We caught up to him some time later, raking the larger stones off the road like he was grooming a zen garden.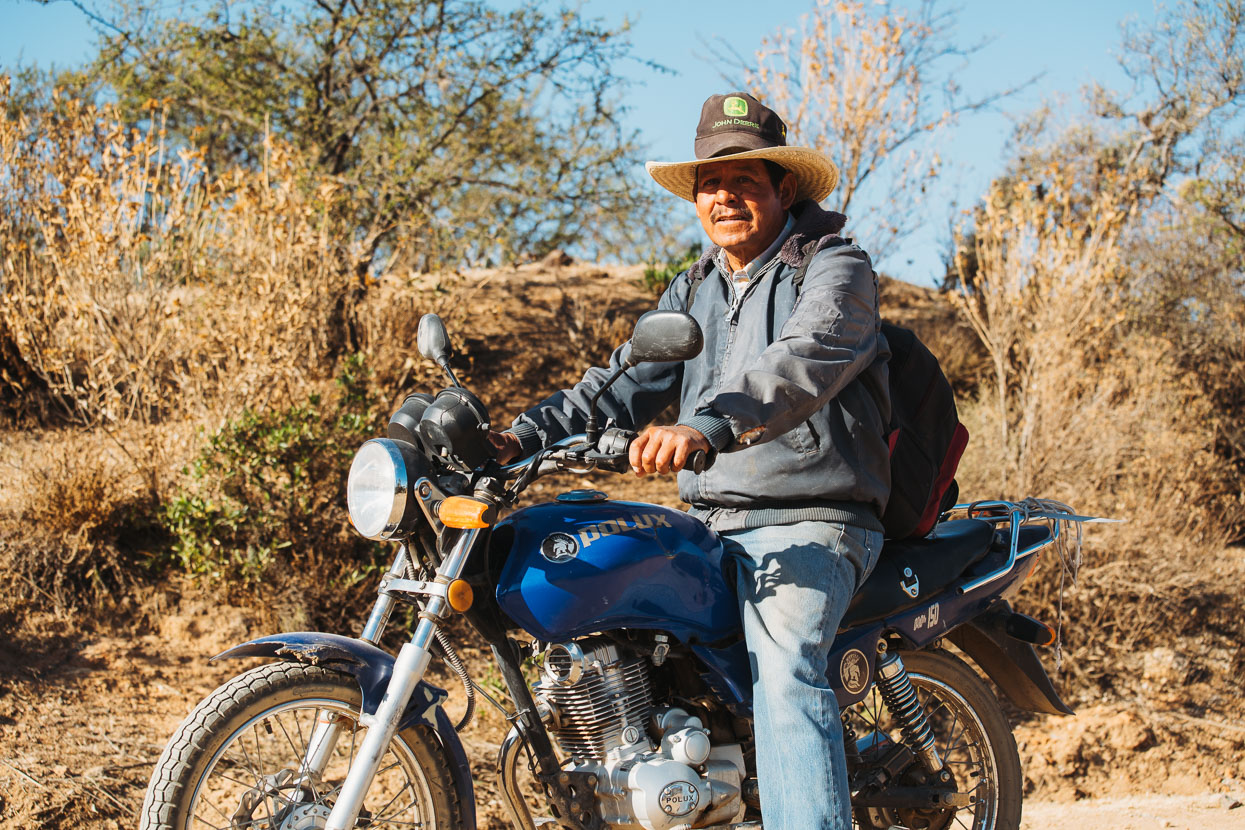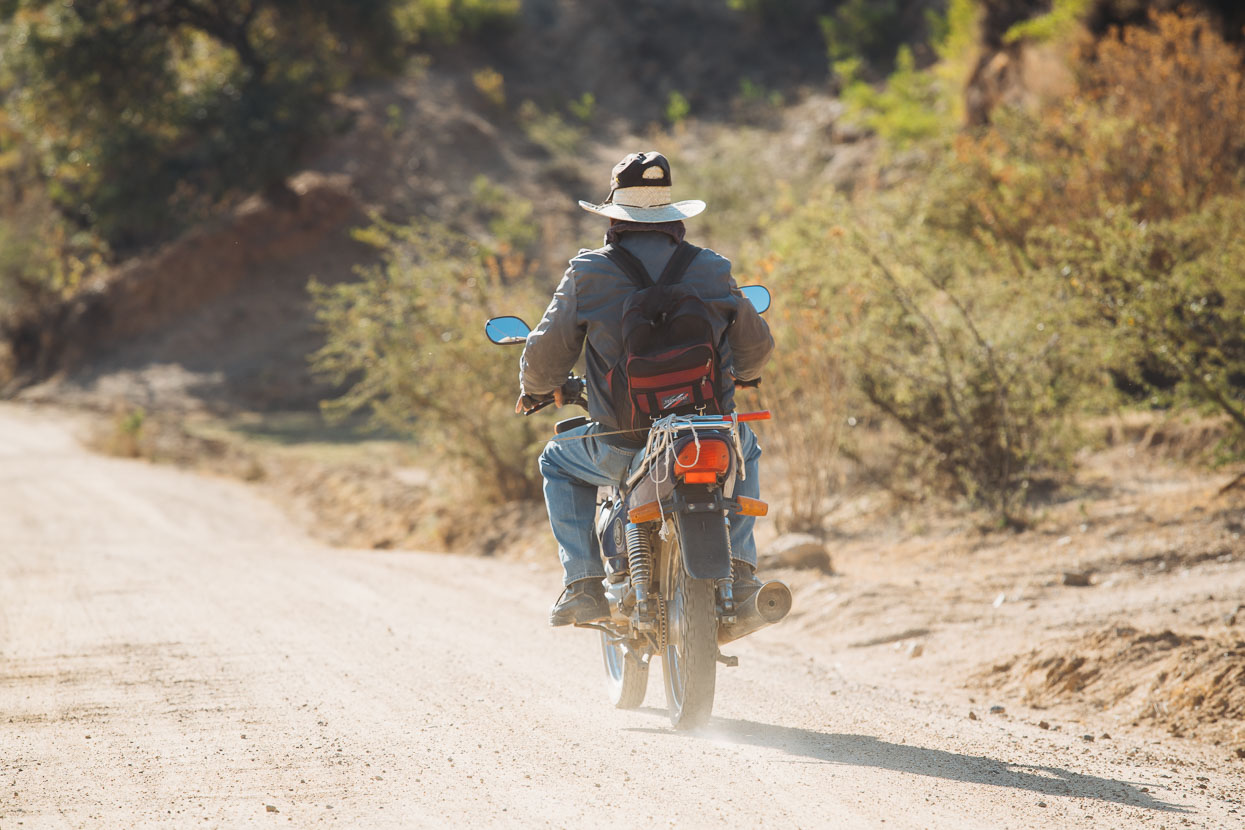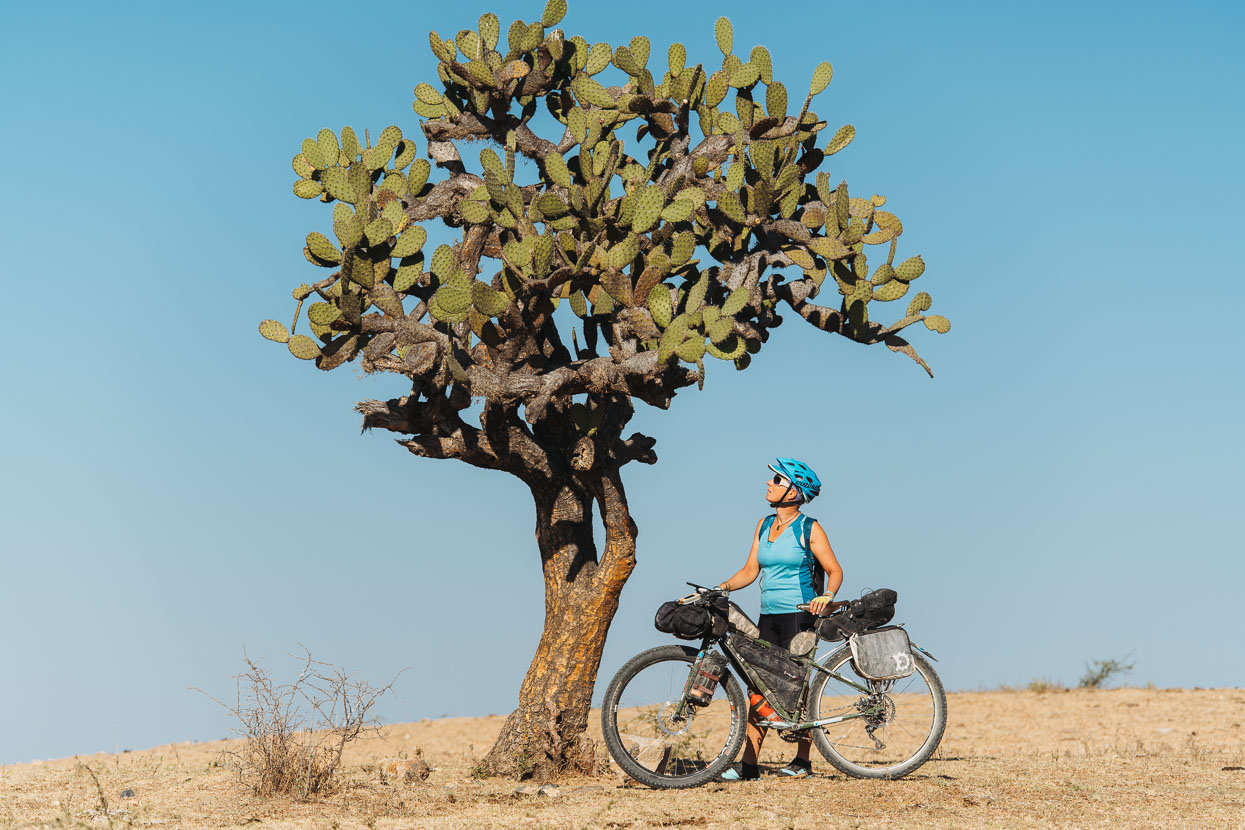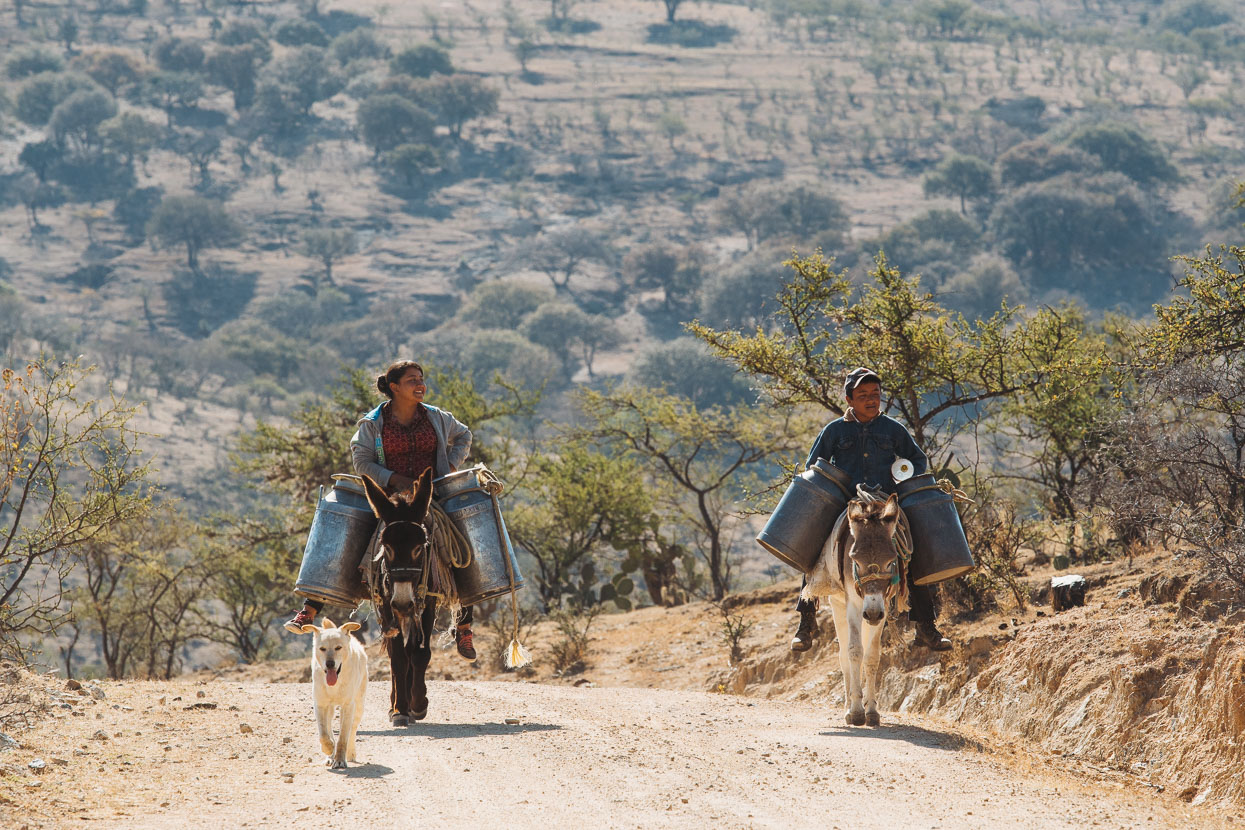 We were headed towards a pueblito – just a small collection of private dwellings in the bottom of a gully, but caught the 'milk run' on our way down. These burros carry about 5 litres of goats milk in each pail – on its way to larger village to be sold for cheese production.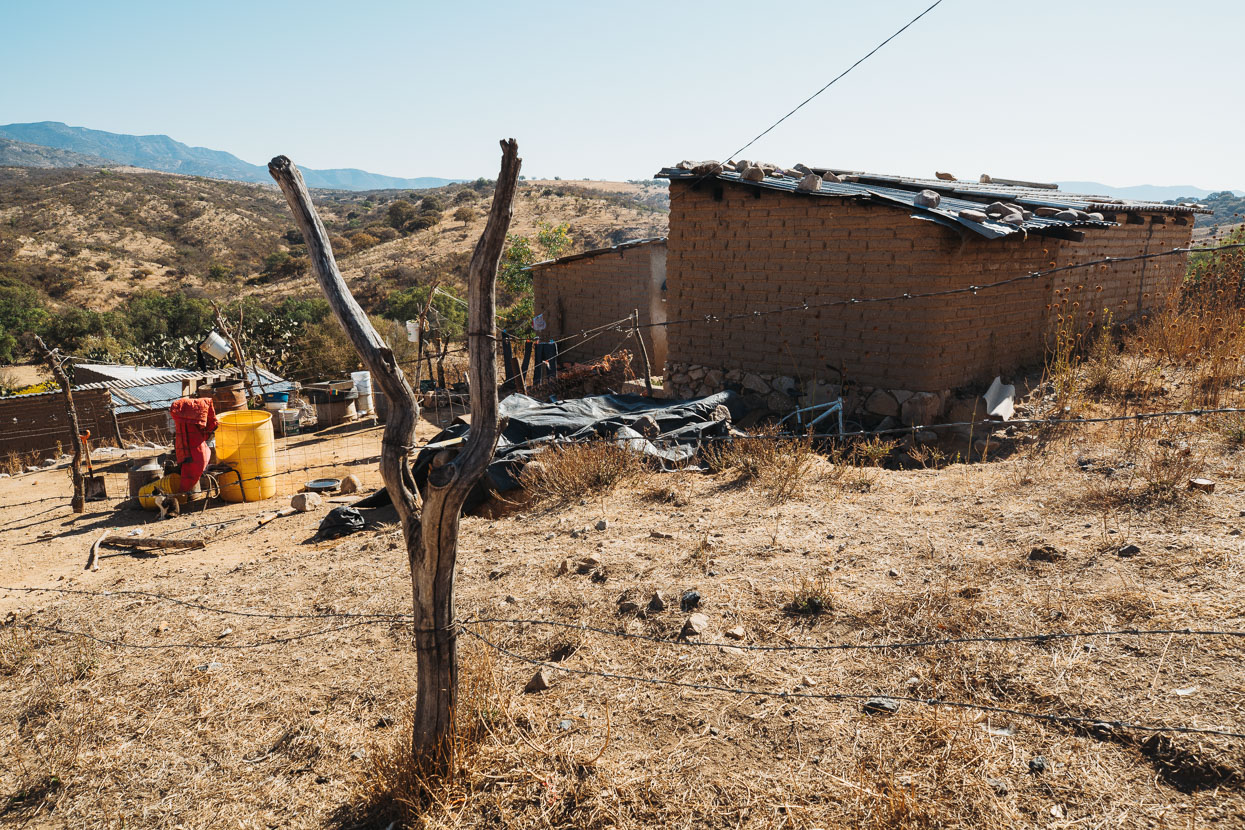 The simplest of dwellings. Mud brick is a very common building material here – even with some modern house builds.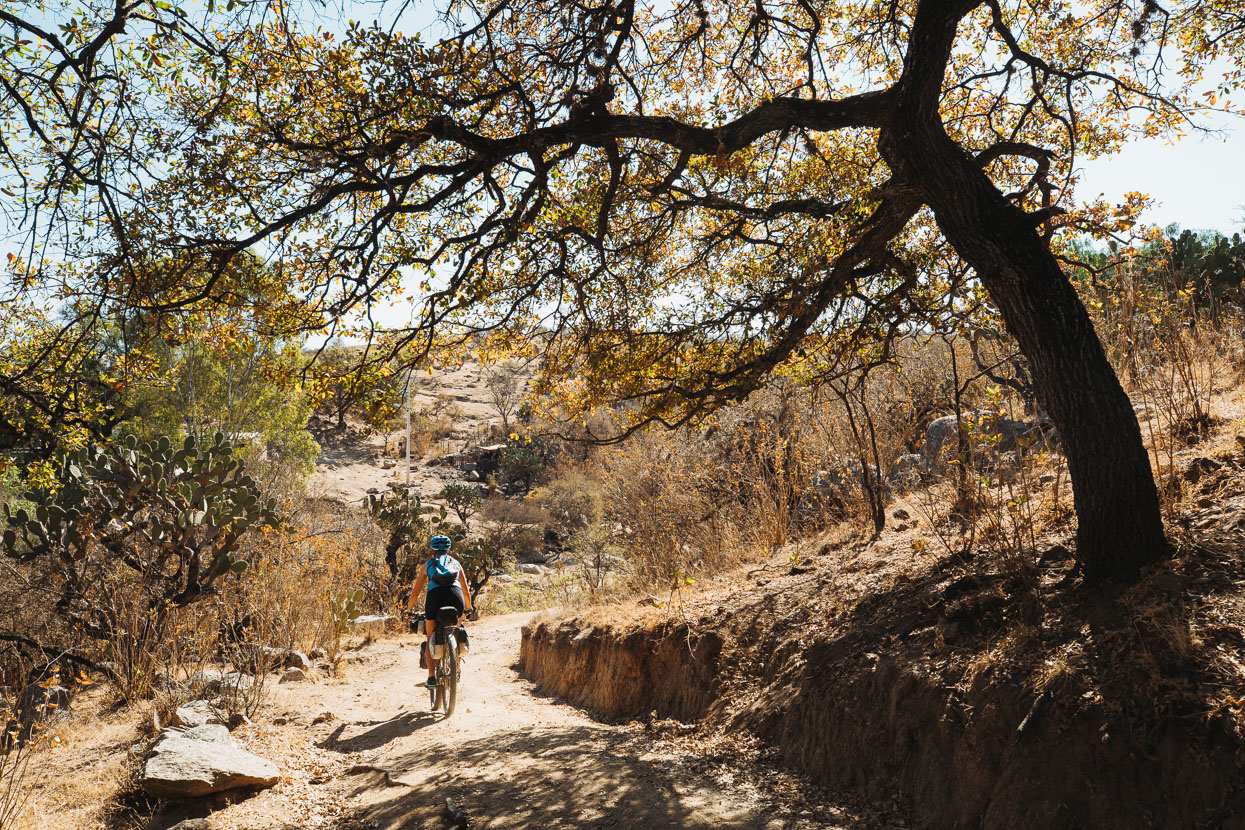 Our at times unlikely route followed foot trails and simple vehicle tracks past a couple of pueblitos before emerging at Comanja de Corona with an improved road onwards.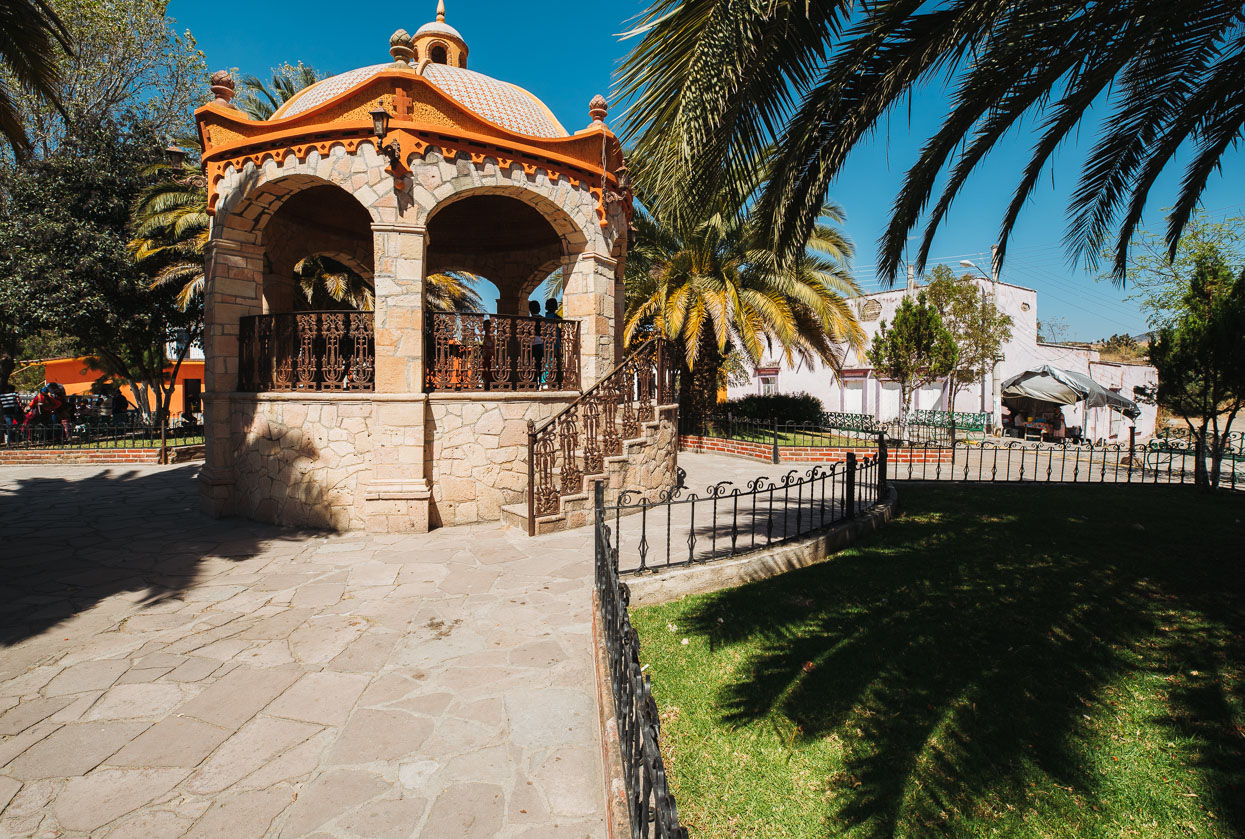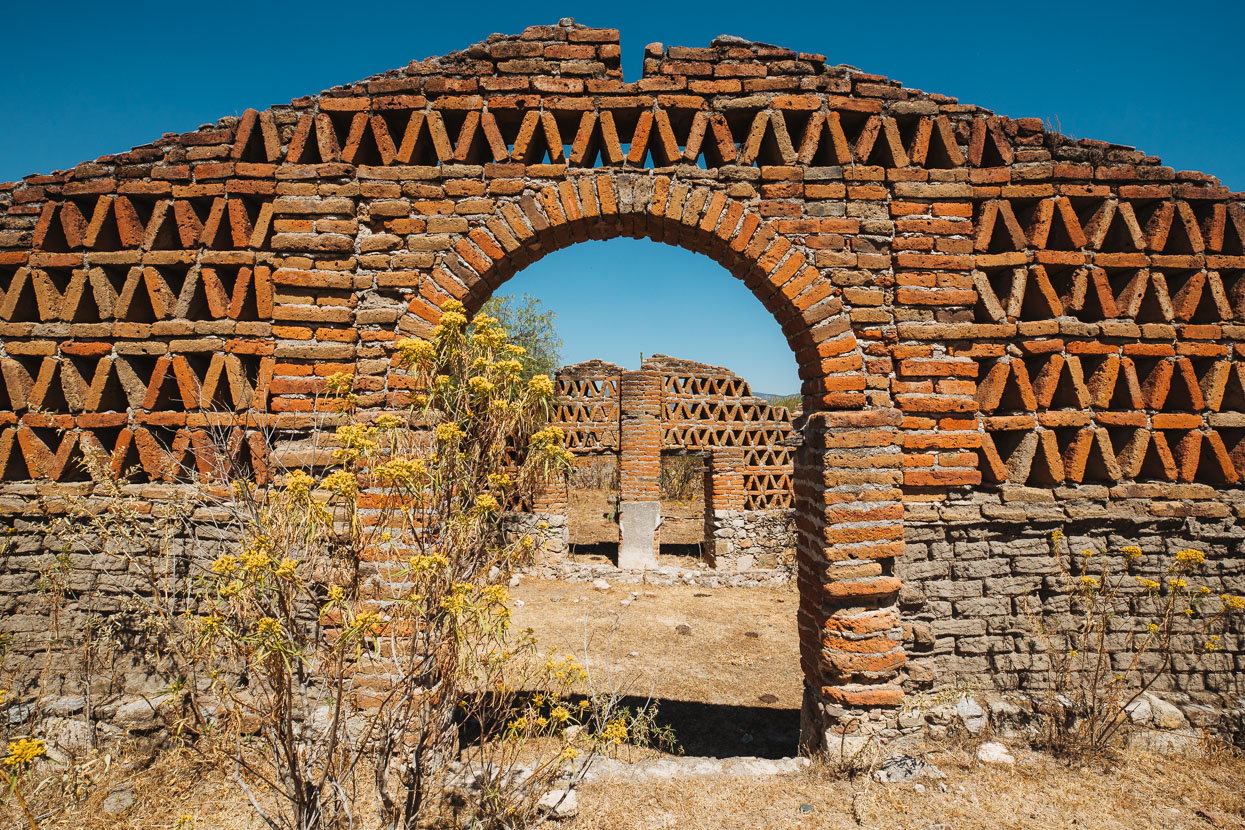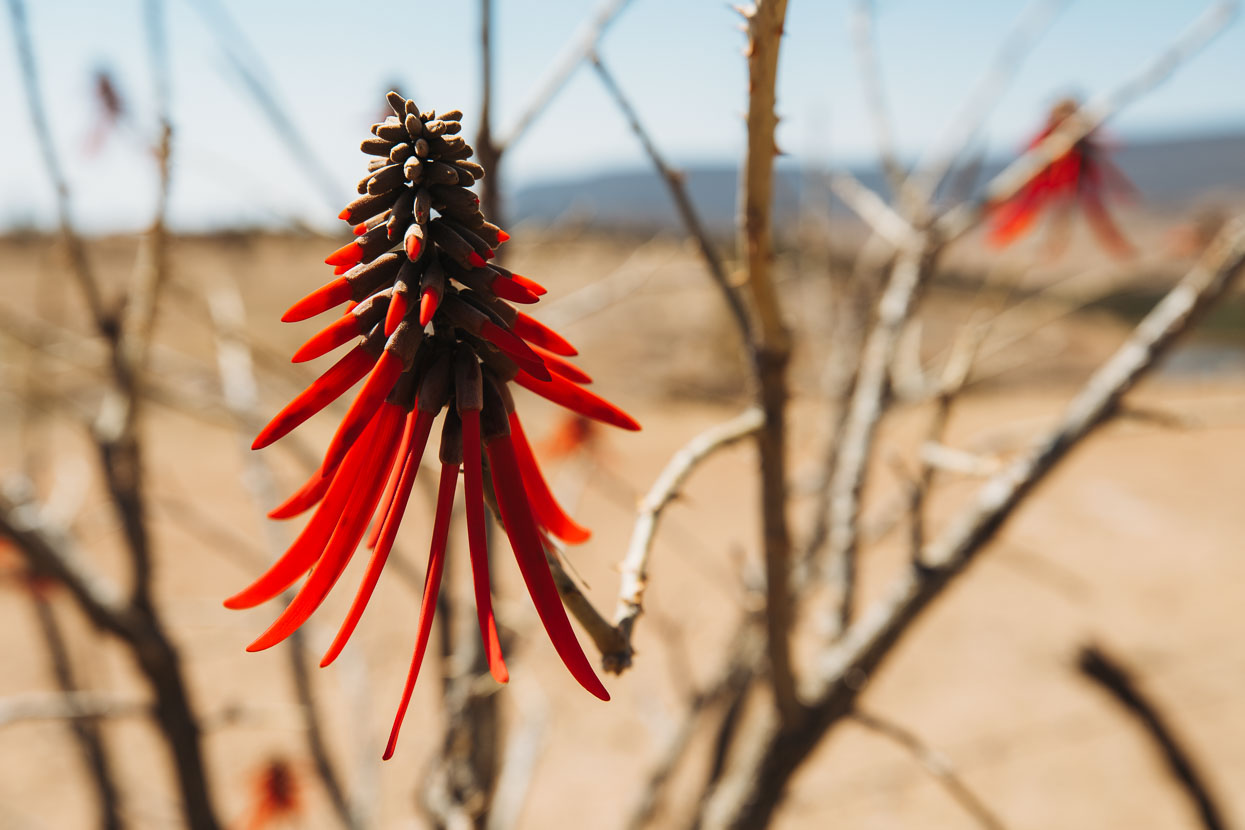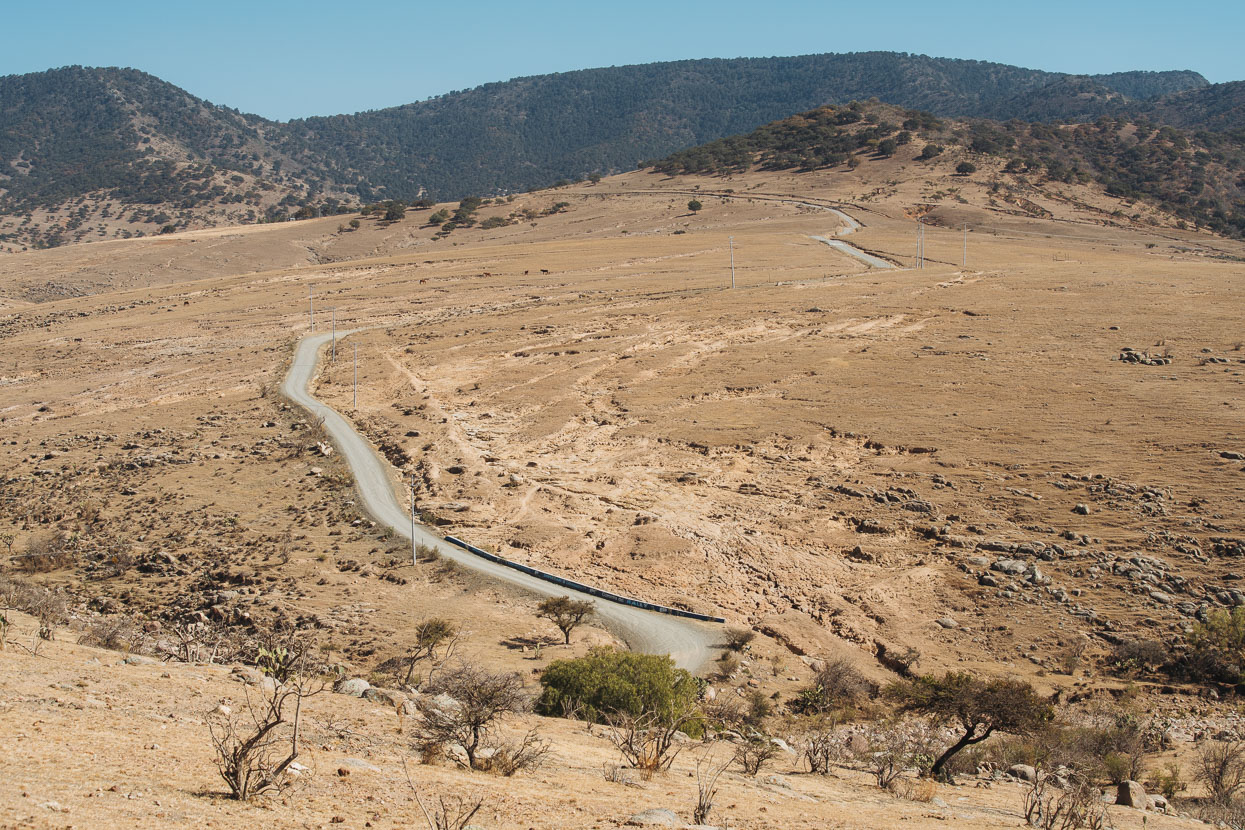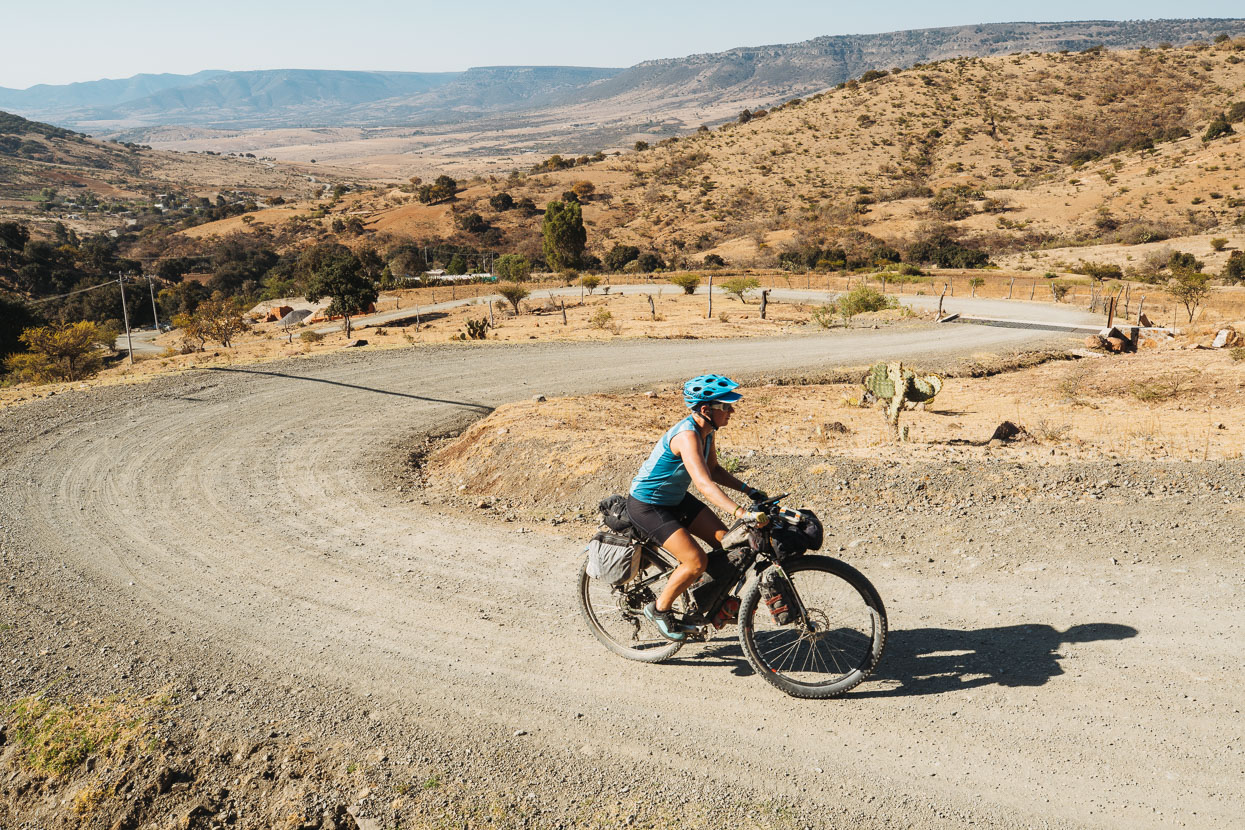 The road undulated much of the rest of the day through a couple of small settlements, before hitting a steep 400 metre climb at the end of day. A final challenge after a day of very nice bike packing through challenging and interesting country.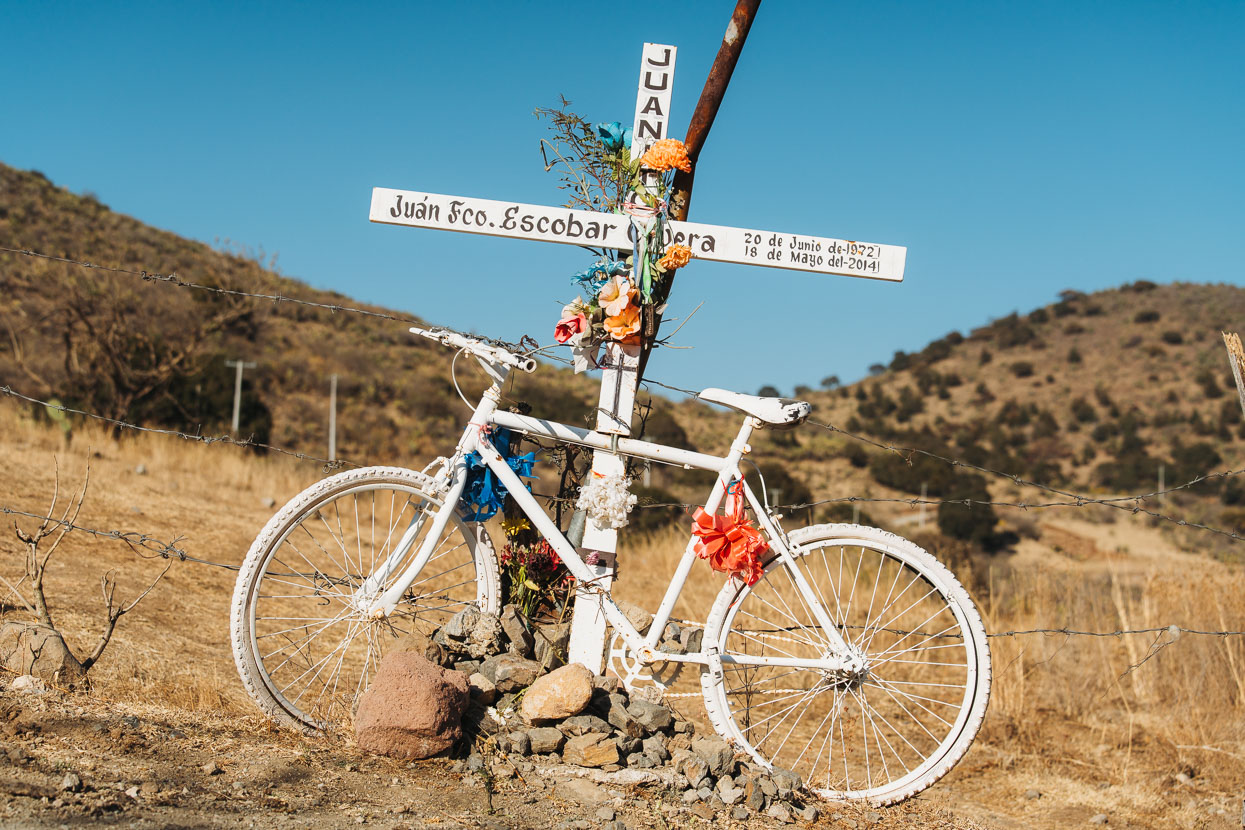 A sad roadside memorial for a cyclist killed on these roads.
A long and windy gravel descent took us towards the city of Leon and its big, humid valley – thick with haze and air pollution.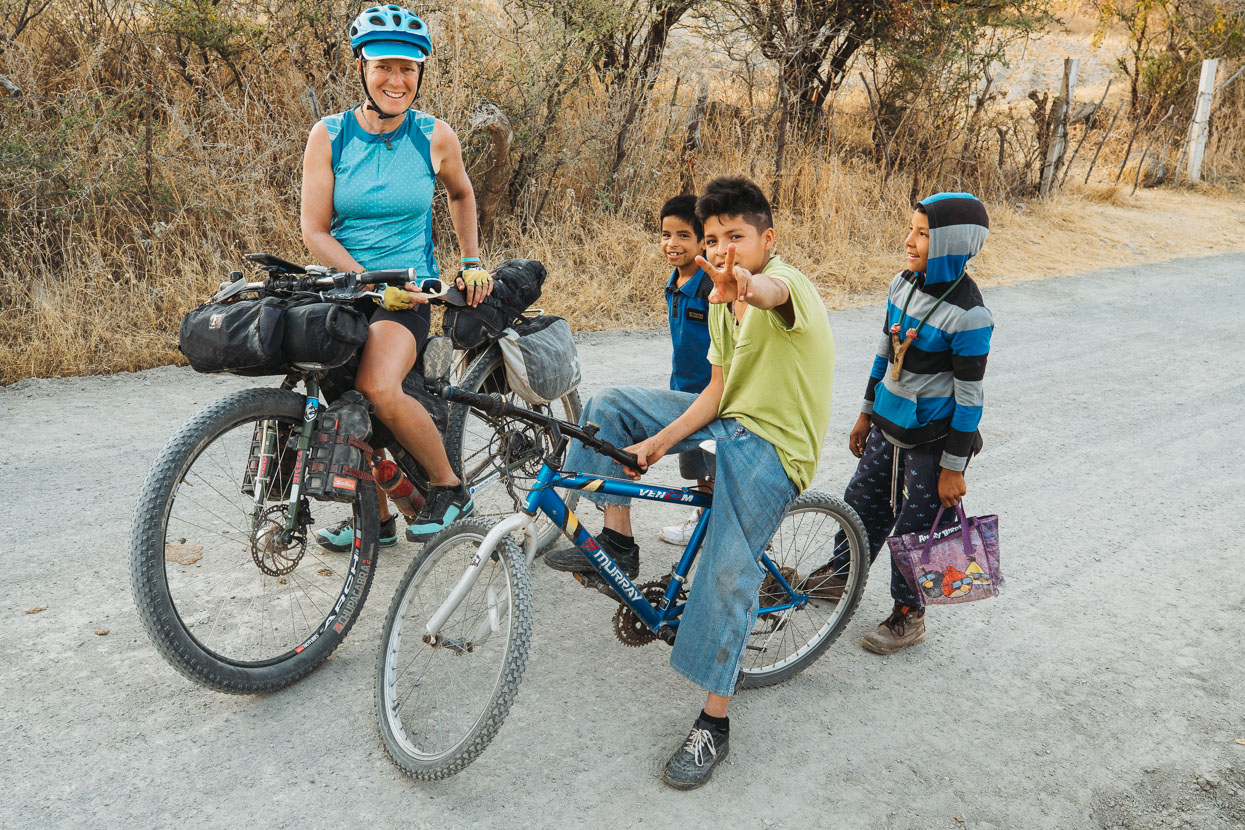 On the way we caught three young kids on one bike. Headed home with a bag full of fish they'd killed with a slingshot. A 'race' down towards their village on the outskirts of Leon followed.
We asked in the village about accommodation, but turned up nothing, so decided to ride into Leon to find a hotel. How hard could it be…? At dusk we dodged traffic along a busy road. The air hung thick with humidity. The noise and dust unsettling after a quiet day in the mountains. The roads we have ridden so far in Mexico have been so quiet we are totally unaccustomed to traffic zipping by now.
We asked the bomberos (firemen/emergency services) if we could stay at their station, as is quite common practice by cyclists in Mexico, but were turned down due to the quarters all being full. Blood dripped off a stretcher nearby as they helpfully gave instructions to a hotel.
We broke our cardinal rule and rode in the dark for quite some time through dodgy looking neighbourhoods, heads turning and people staring as we rode by. Others were totally indifferent, as we have often noticed in the bigger cities.
After riding circuitously across the city in darkness we reached a hotel that was so close, yet so far. A 4-lane 100kmph highway separated us and the traffic was very heavy. We waited five minutes, expecting a crossable gap. Finally we got across to the median strip, but the traffic was even heavier there. We wait more. Five minutes, then 10, then 15. No luck. We start walking down the median, careful not to fall into the high speed traffic and finally find a crossing point. The hotel's expensive by Mexican standards. We don't care. We're happy to have a bed, a shower and a feed.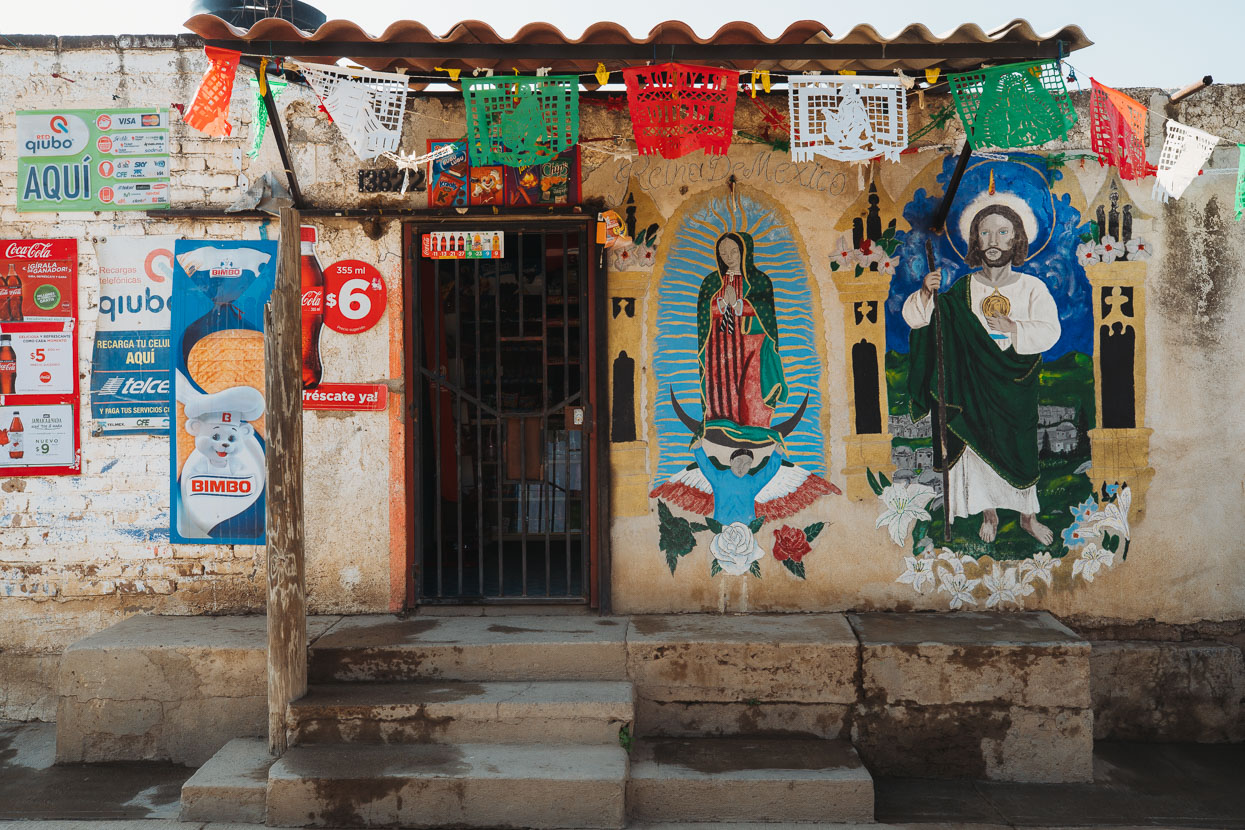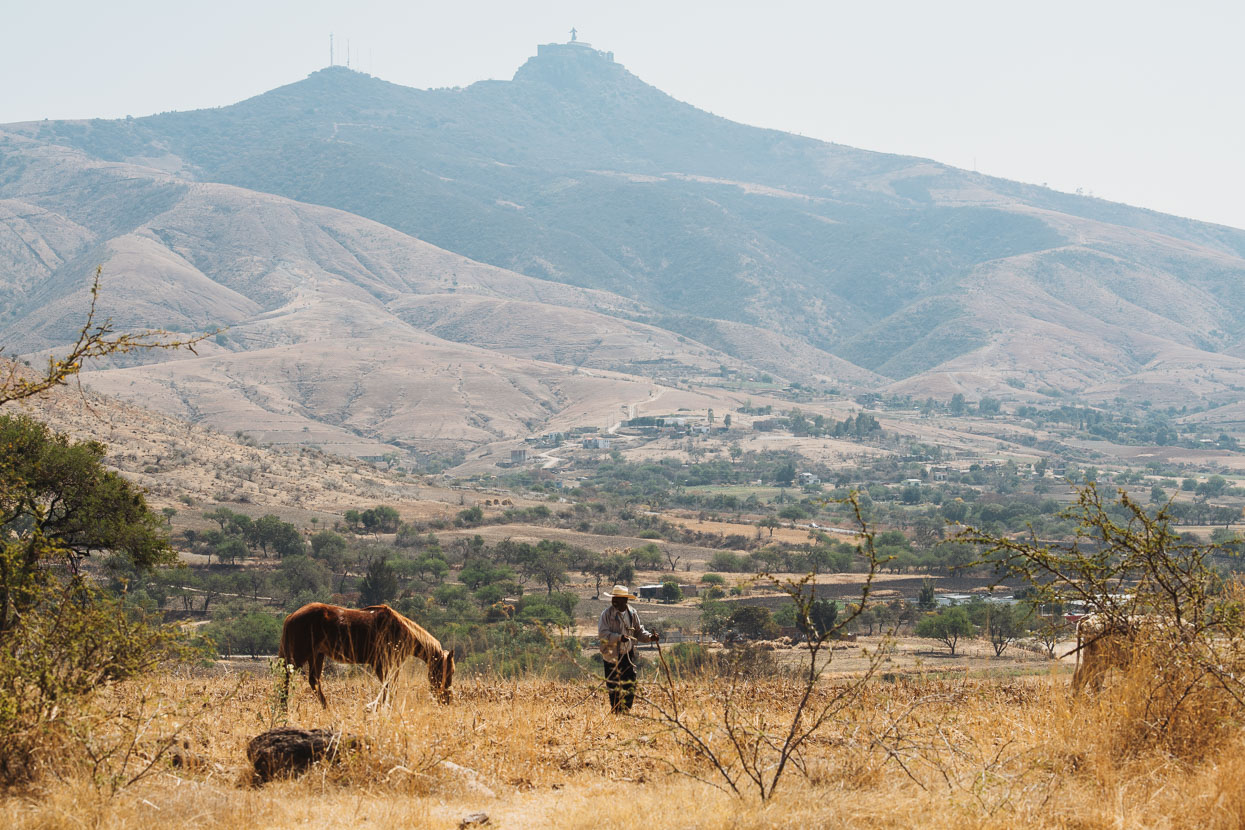 One final challenge remained between us an Guanajuato – a formidable climb up Cerro del Cubilete. This mountain is famous for a huge Christo del Rey atop its summit. Apparently the second largest in the world. It's a hugely popular spiritual site for Mexicans, but for us it was a place to pay homage to the art of hill climbing.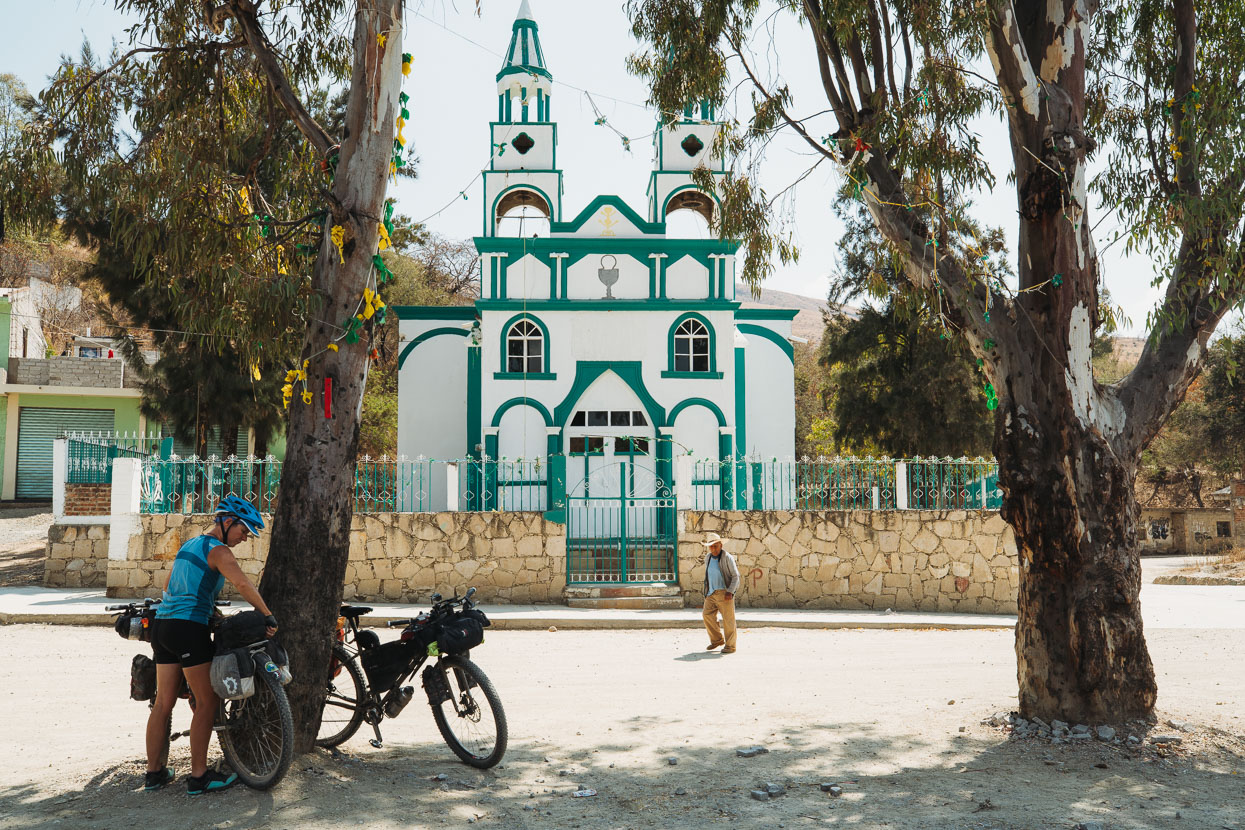 There's two paved roads up the mountain and a dirt track that starts from a small village at its base. Why ride paved roads when you can grovel up a steep 4WD track on a hot day?
For us, hard work brings a true sense of engagement with the task of our Alaska to Ushuaia tour. We love the challenge – the sense of achievement, the peace of remote roads and the way food tastes after a hard day on the bike. We each have the ability to choose our own level of challenge in life, and choosing the hard road (most of the time) is a challenge we have set ourselves. At the moment I can't imagine doing this ride any other way.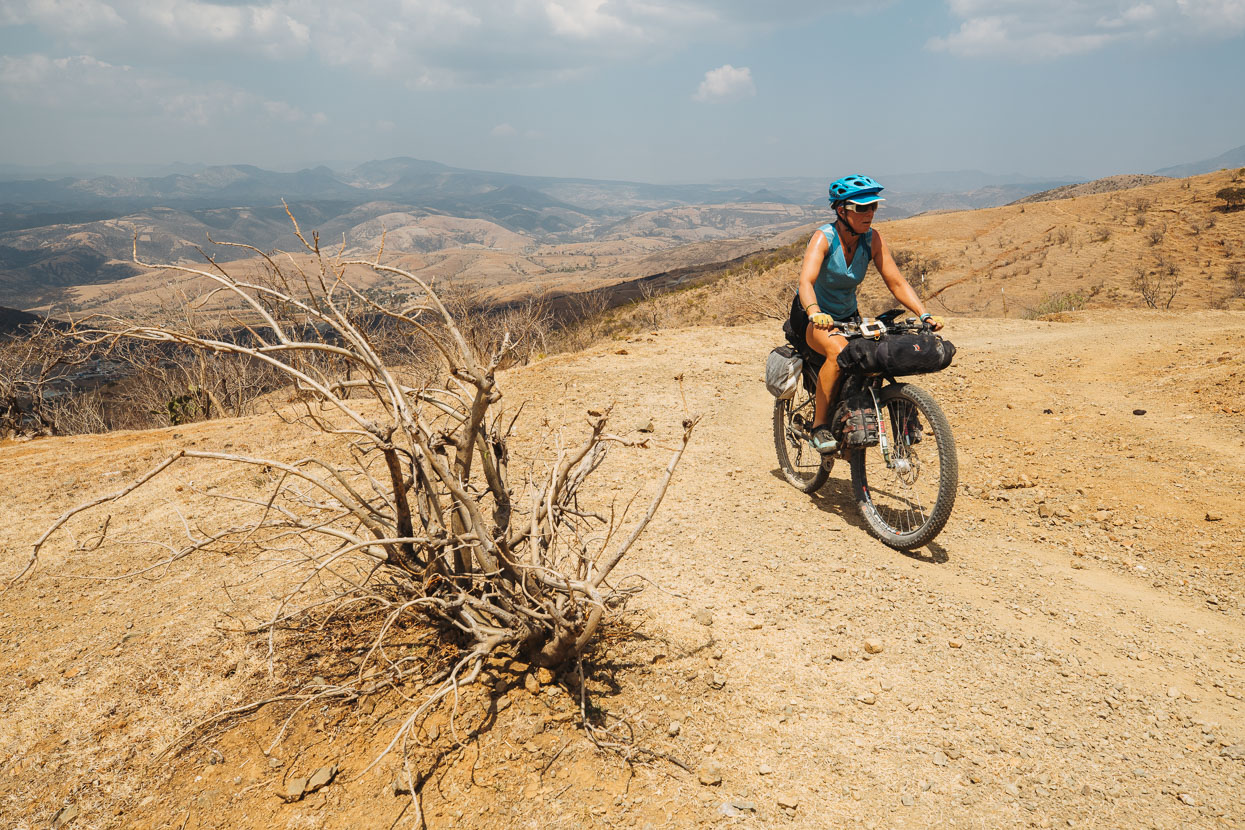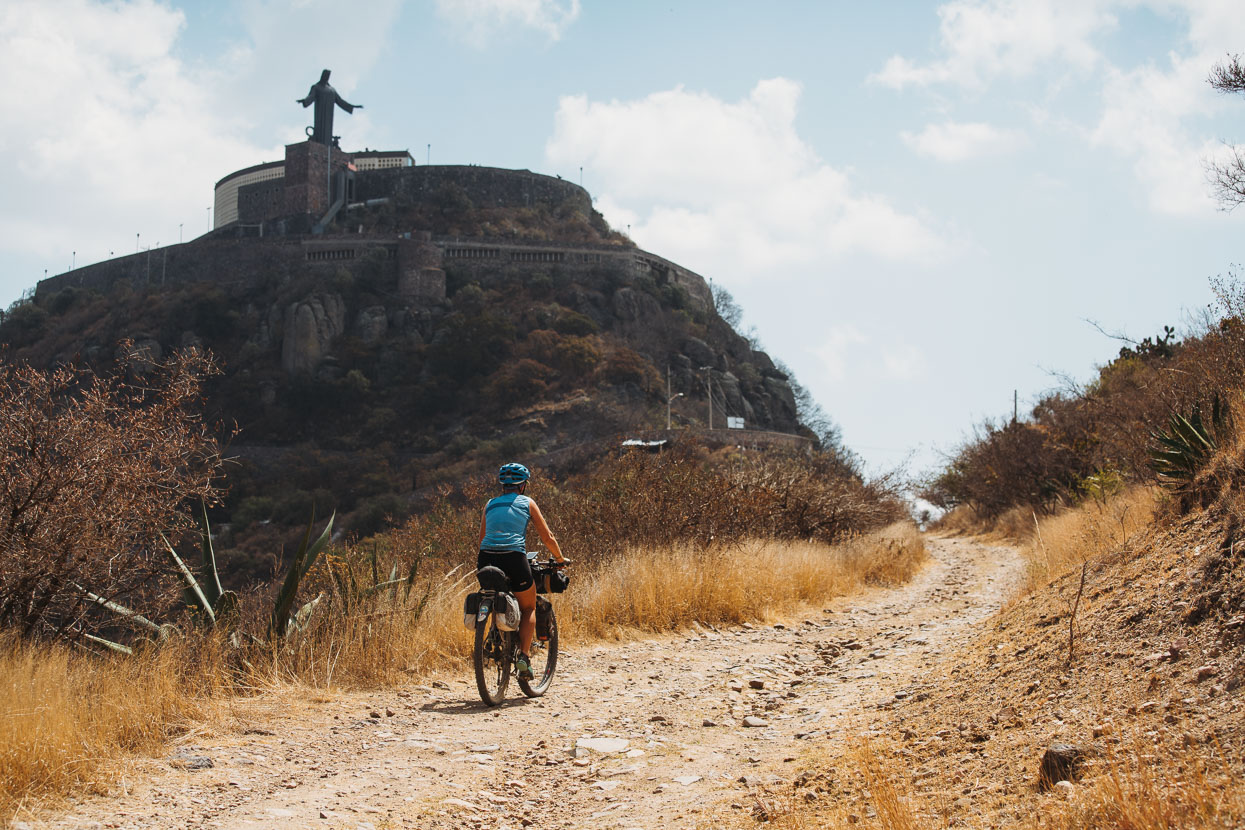 After a couple of hours of steep riding and sometimes pushing we topped out.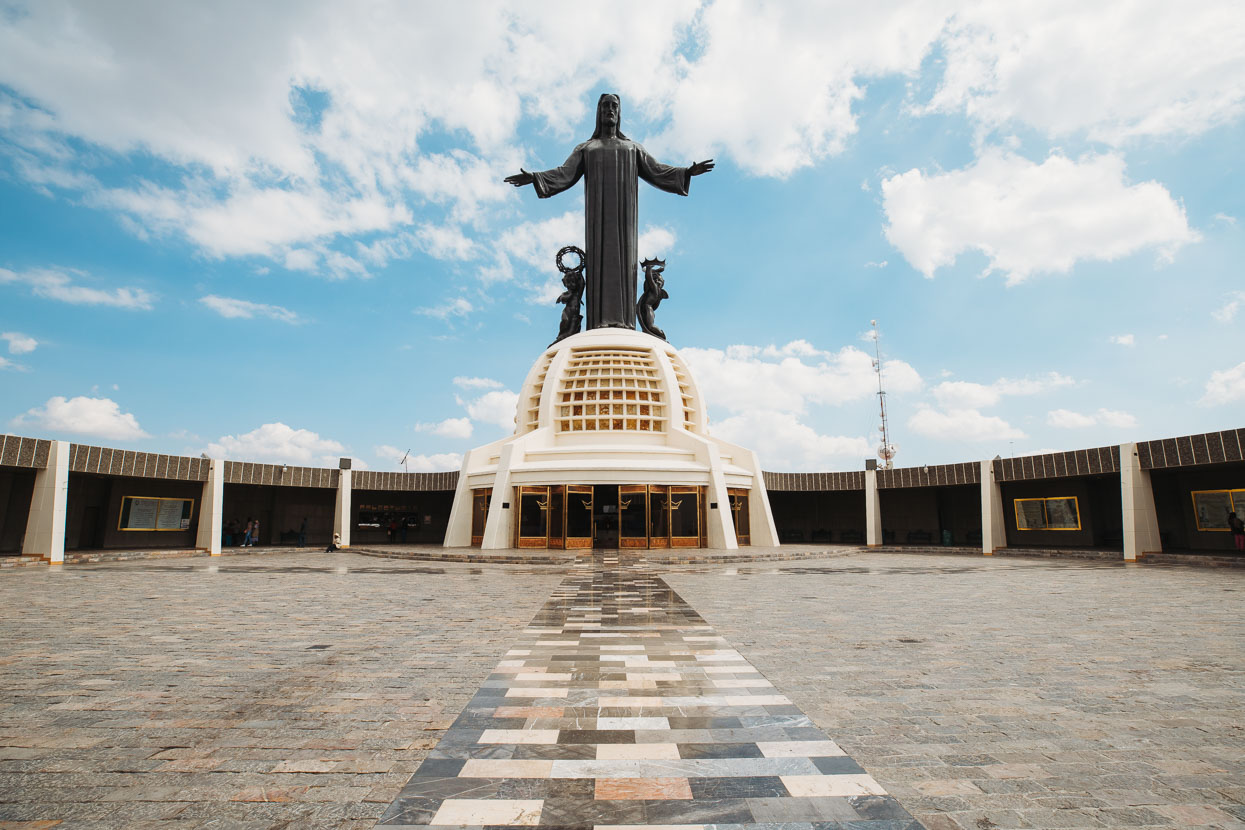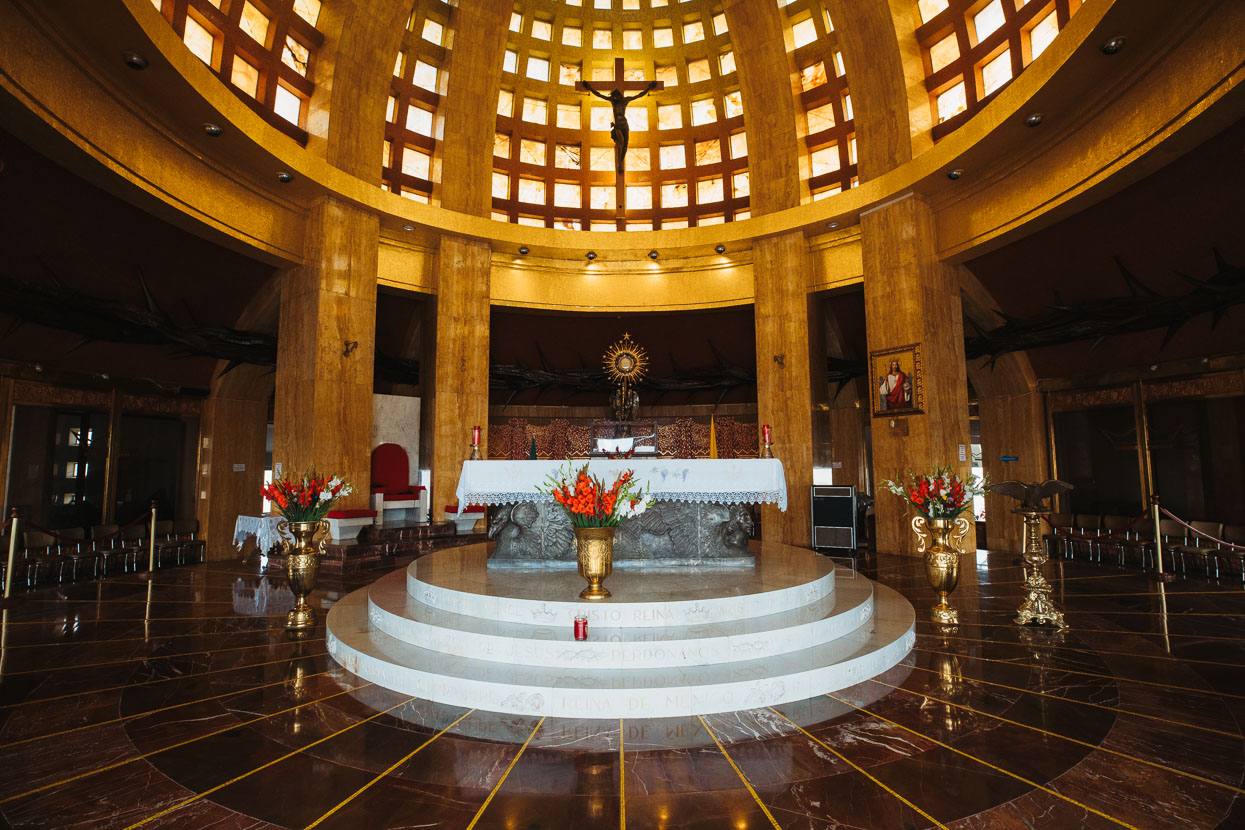 Quite a few Mexican tourists who'd made the journey to this holy location came and shook our hands, posed for photos with us and generally showed amazement that we'd ridden up there at all. We didn't even need to mention the rough dirt track.
After lunch we continued along the ridge following legendary fake cobbled roads. The road surface is concrete, pressed with a cobble-shaped mold, to make one of the most terrible paved riding surfaces possible. Not much of a problem on fat tyres but i'd hate to ride it on a 2 inch tyre.
Eventually the road drops off the ridge and winds its way down towards the city of Guanajuato, nestled in the bottom of a deep valley. This ancient colonial silver mining city is famous for its labyrinthine network of tunnels. Originally used to redirect a river, the tunnel network was expanded over time and is now used to shift traffic away from the narrow streets of the centro.
We were following a Google Maps route to our Air B&B booking, but of course lost the GPS signal in the tunnels, and consequently ourselves. A classic wild goose chase followed until we popped back out to the surface in completely the wrong part of the city. Picking a 'walking route' with OsmAnd got us there with no further subterranean adventures, but then there were the stairs to negotiate…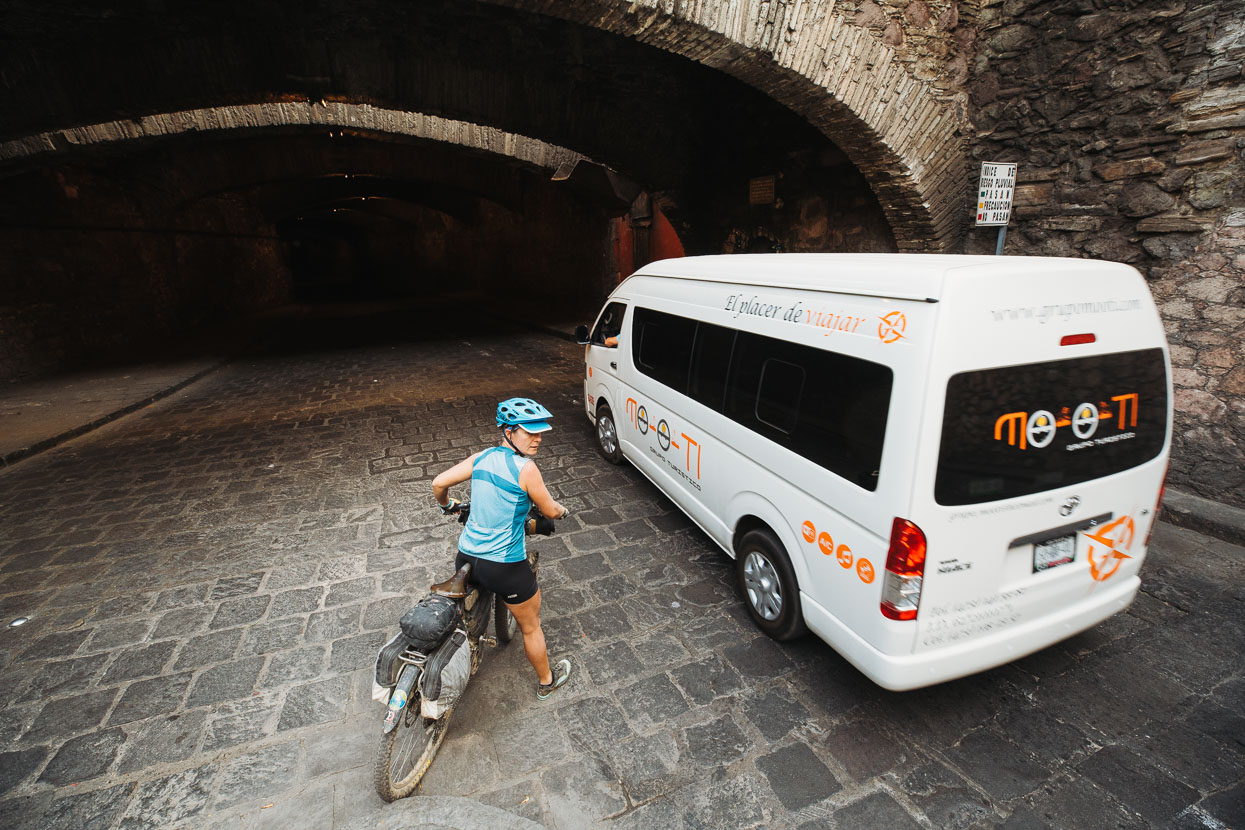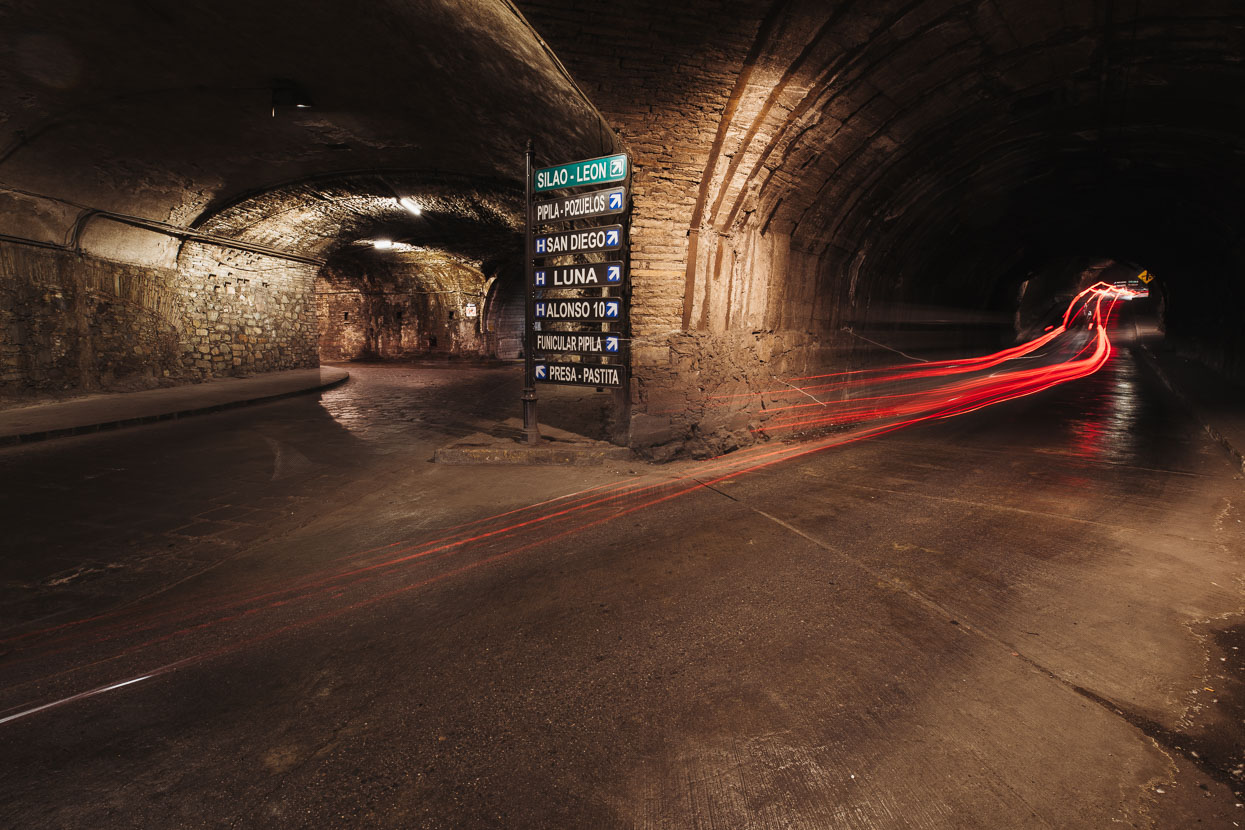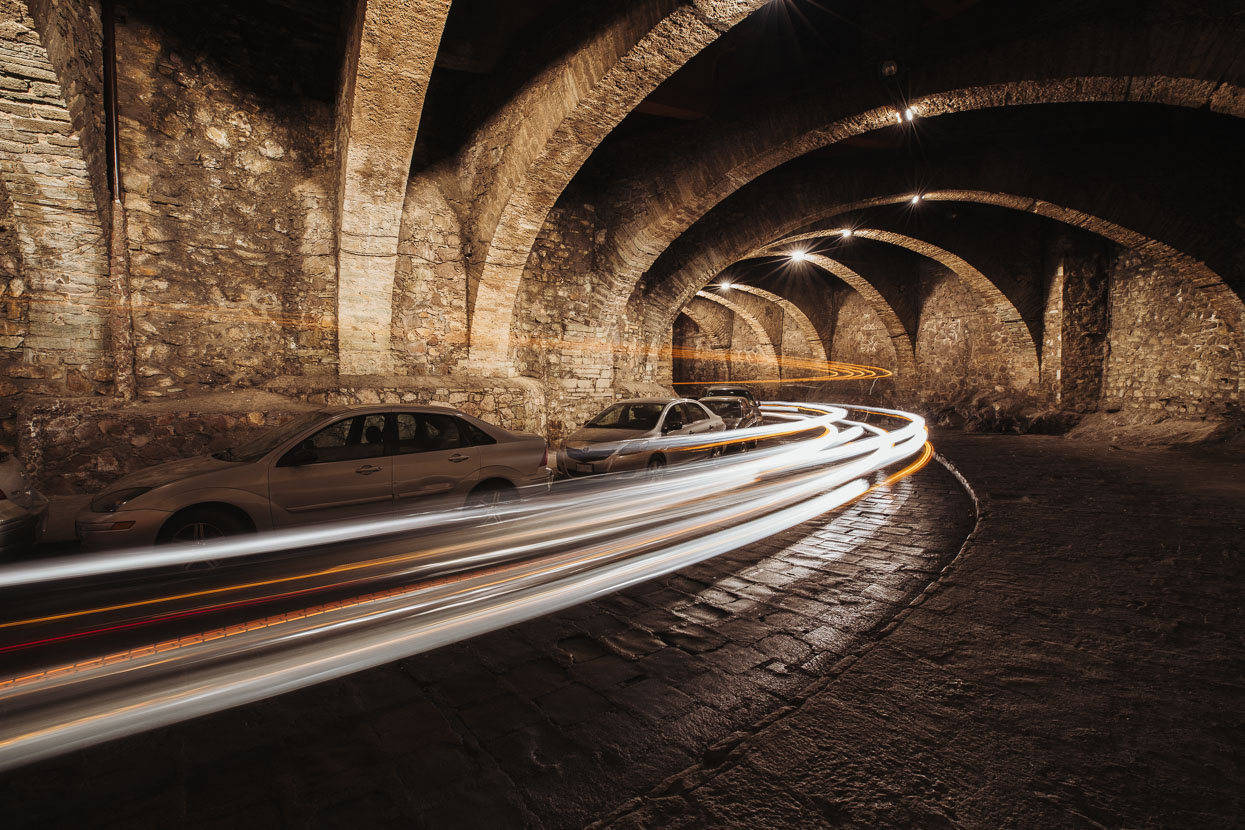 Our Air B&B host welcomed us and then left for the weekend, so we had his cute place, complete with a rooftop bedroom to ourselves.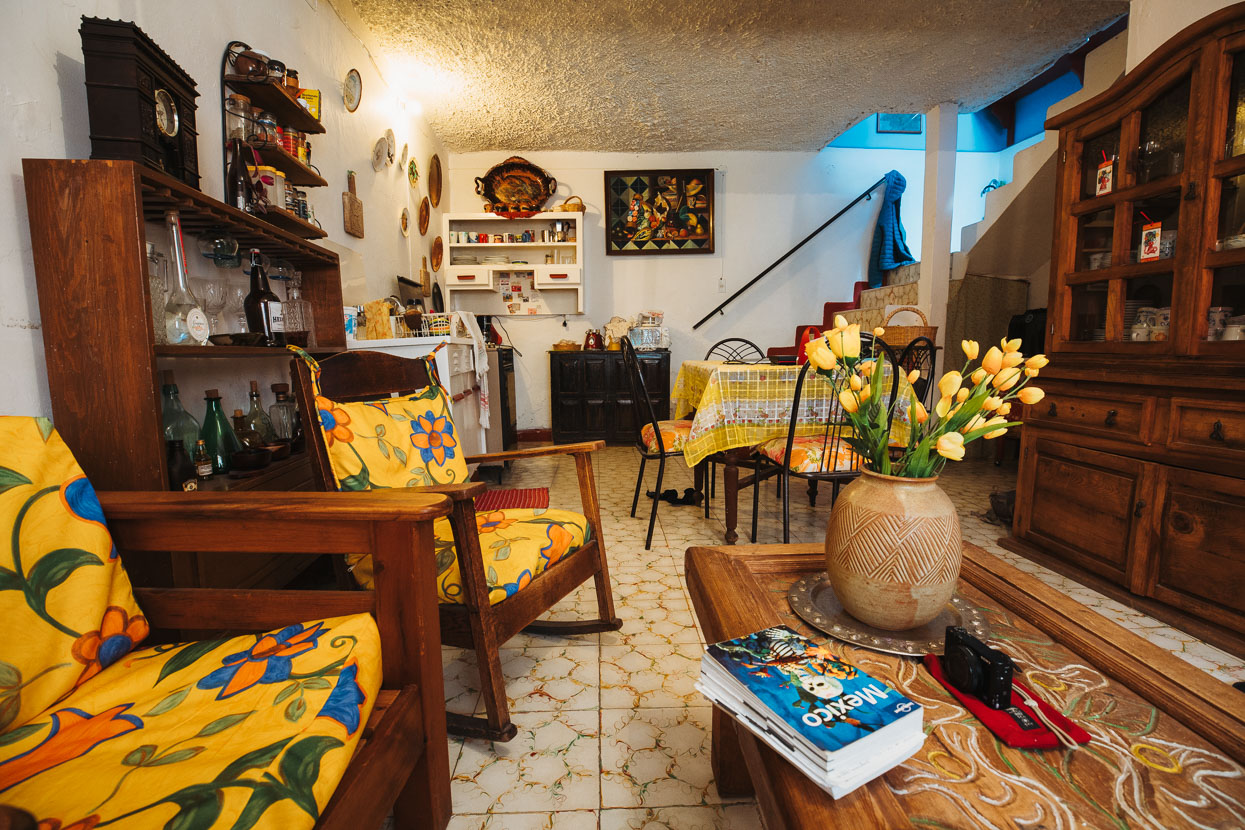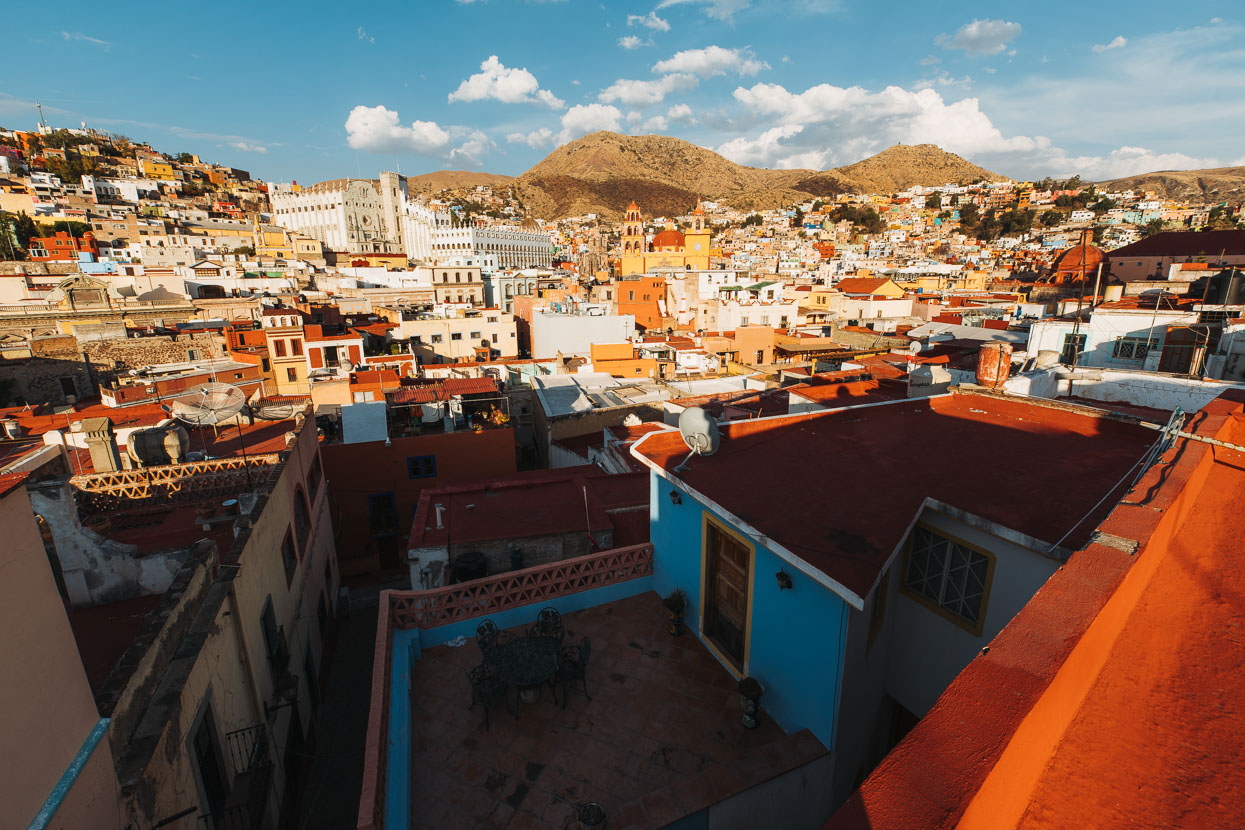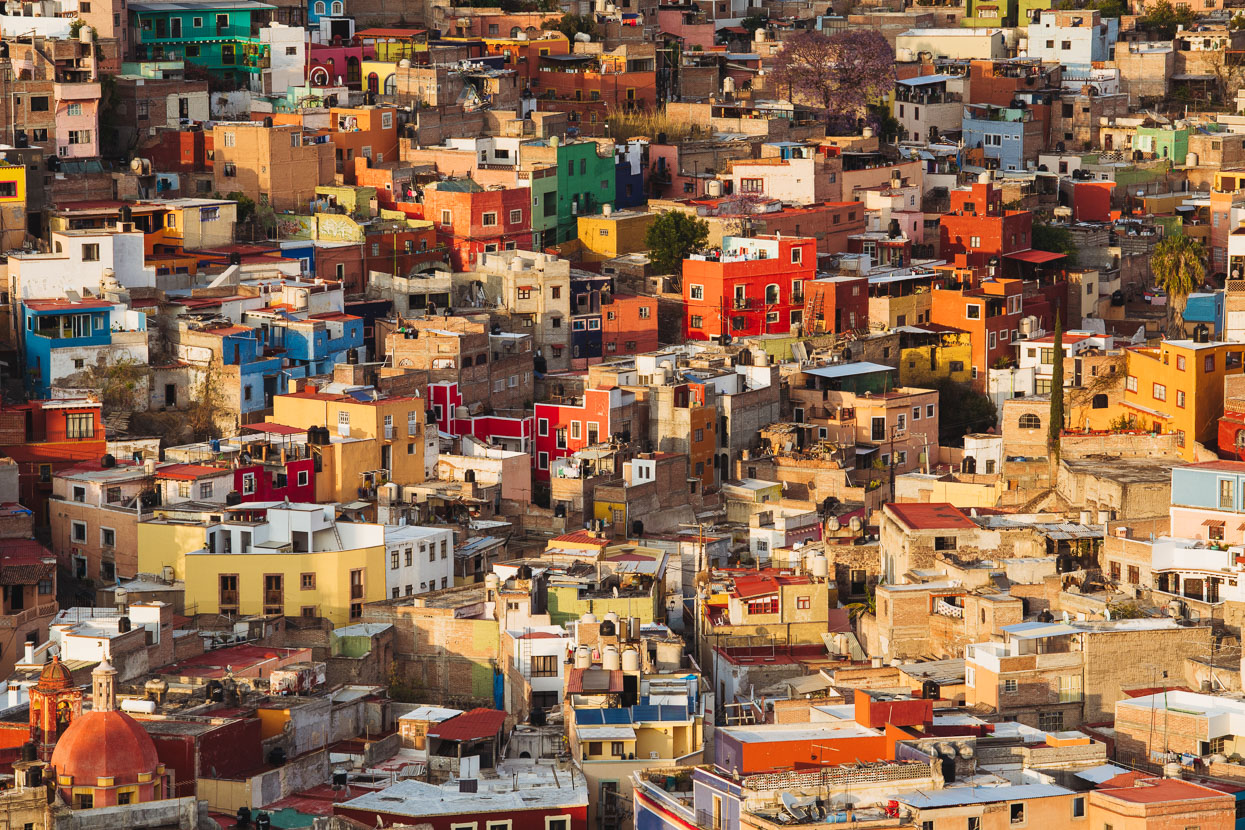 Guanajuato is a visual feast. There's no other way of putting it. Brightly painted homes are stacked like Lego blocks up both sides of the valley and the city is negotiated by an apparently random and totally unplanned network of callejons (alleys) which link equally maze-like roads and funkily shaped plazas. It's very easy to get lost. Cradled in the bottom of the valley, dotted through the centro, are the jewels of the city: the cathedrals and university.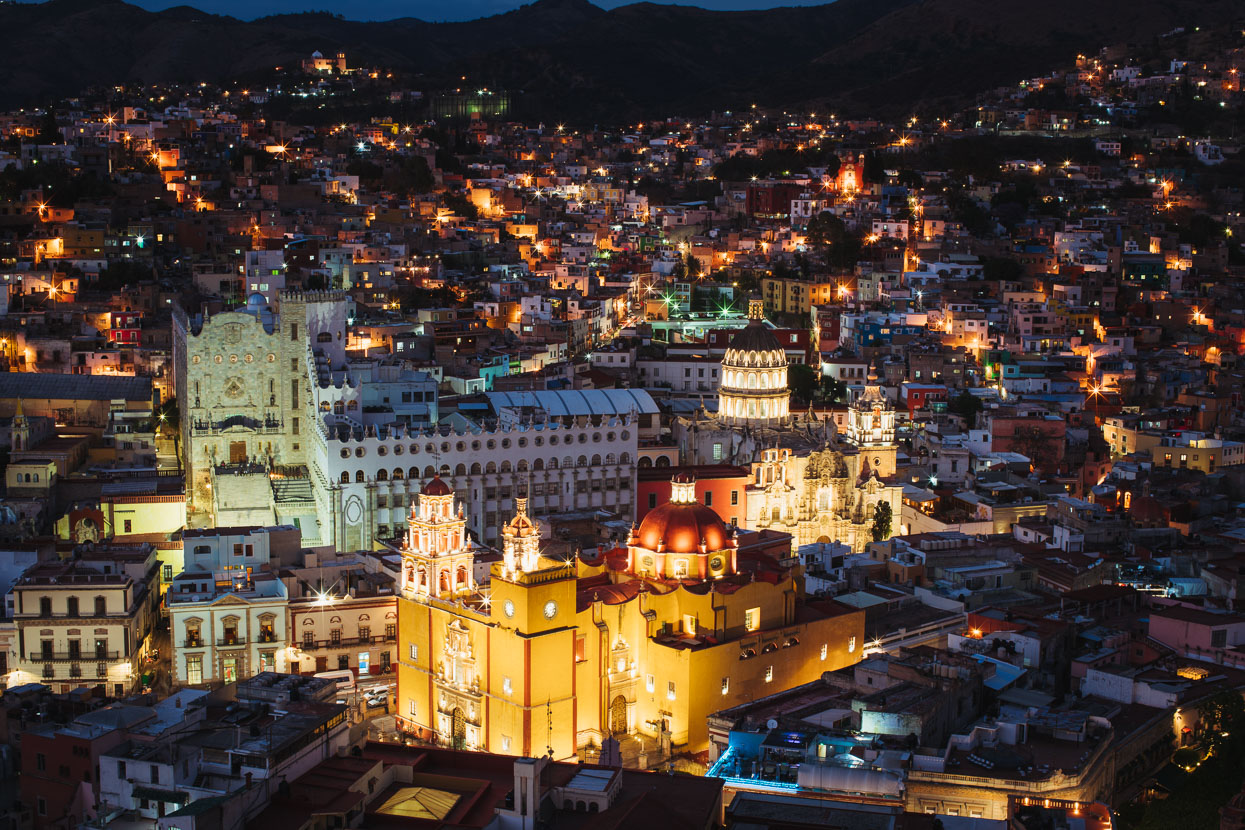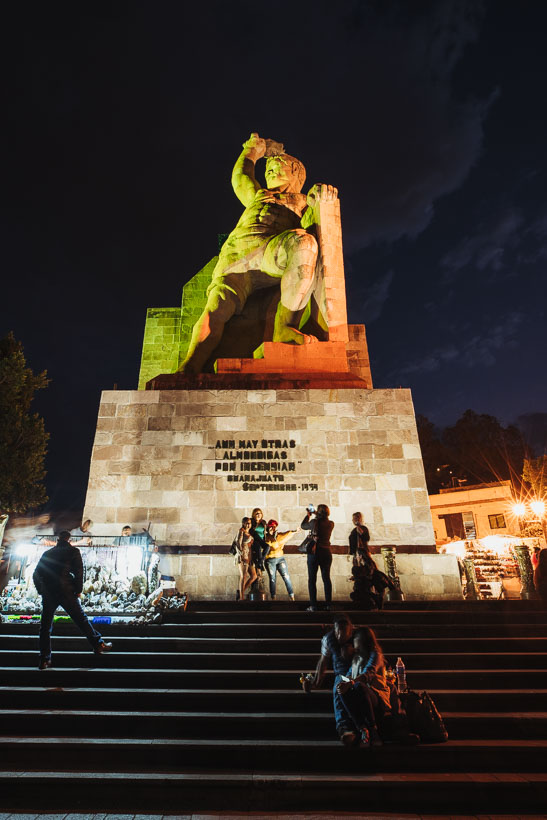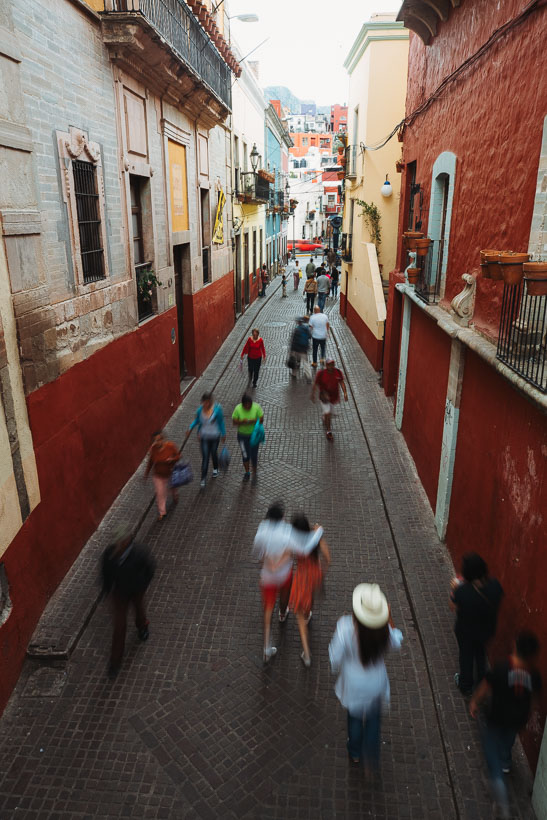 We were booked in for a week of Spanish study at the Escuela Falcon, and as part of the package booked a 'family stay' with the Zamora family, comprising the elderly Rebecca and her son Paco. We stayed with these lovely people for the week. Sharing breakfast each day with them and a couple of other Spanish students before heading off to the school to learn to pronounce the Spanish alphabet, roll our R's properly and conjugate our verbs. A week is not long for Spanish study but it was enough for us to both see significant improvement in our grammar, vocabulary and comprehension and build on the basics we already had from a two months travel in Mexico and previous study (in Hana's case).