La Mariposa y la Volcan.
Guanajuato had been good to us: 10 great days enjoying and exploring the city, with five of those days spent in class studying Spanish. 10 days in one place feels a lot when you're used to being as mobile and transient as we are, so it was refreshing to hit the road again.
We were generally headed in the direction of the famous monarch butterfly reserves north west of Mexico City. With their final departure north to Canada imminent, we hoped we'd still catch them in time. From the monarch reserve at Cerro Pelon our next plan was to ride right over the top of a 4300 metre volcano before turning in a generally south easterly direction towards Oaxaca.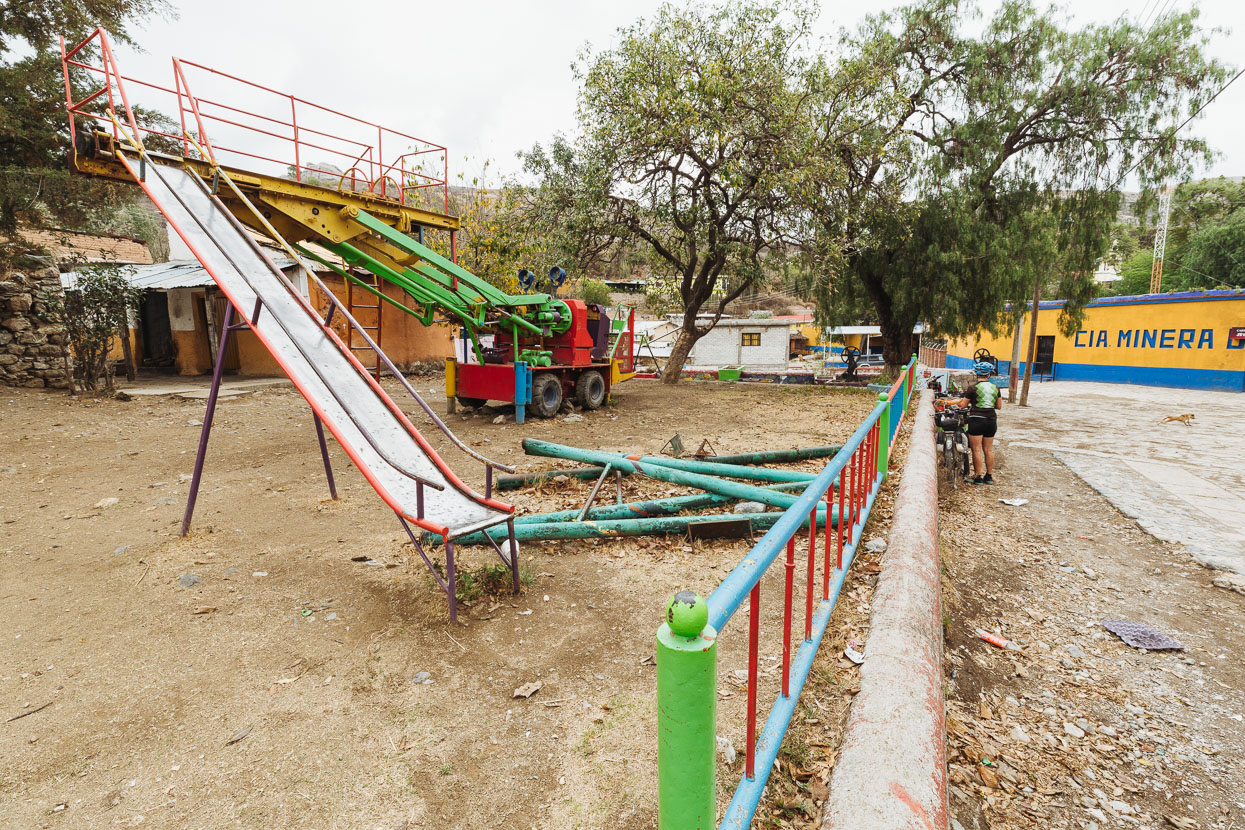 We hit up Google Maps in 'walking route' mode to see if it would give us a direct option to ride through the mountains towards San Miguel de Allende. Most people ride via Dolores Hidalgo, by either road or dirt, but we managed to turn up a more direct route – as long as we could get past the operational mine that the route went through a couple of hours out of Guanajuato.
After a steady climb out of the city we dropped down to a mining company village at the edge of the mine area. We liked the mining equipment repurposed as playground facility in the village square. Not much goes to waste in Mexico.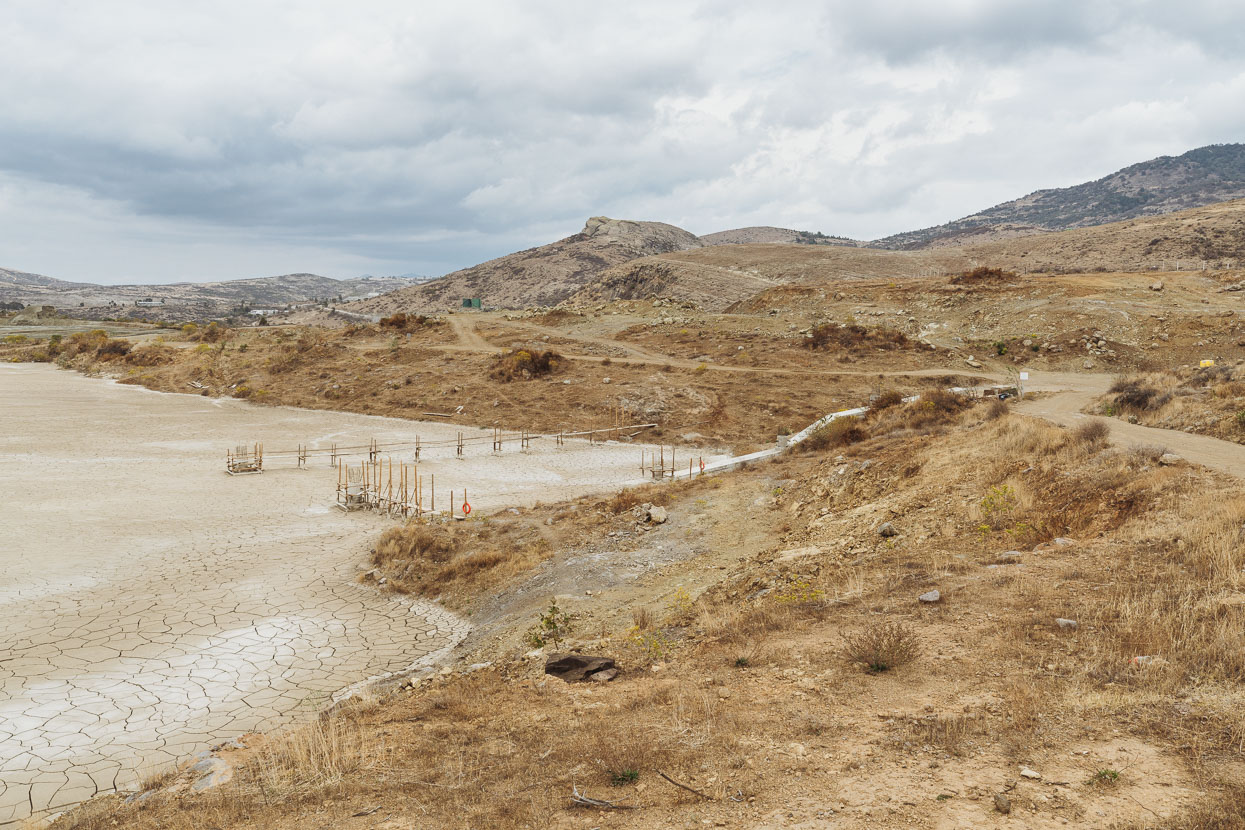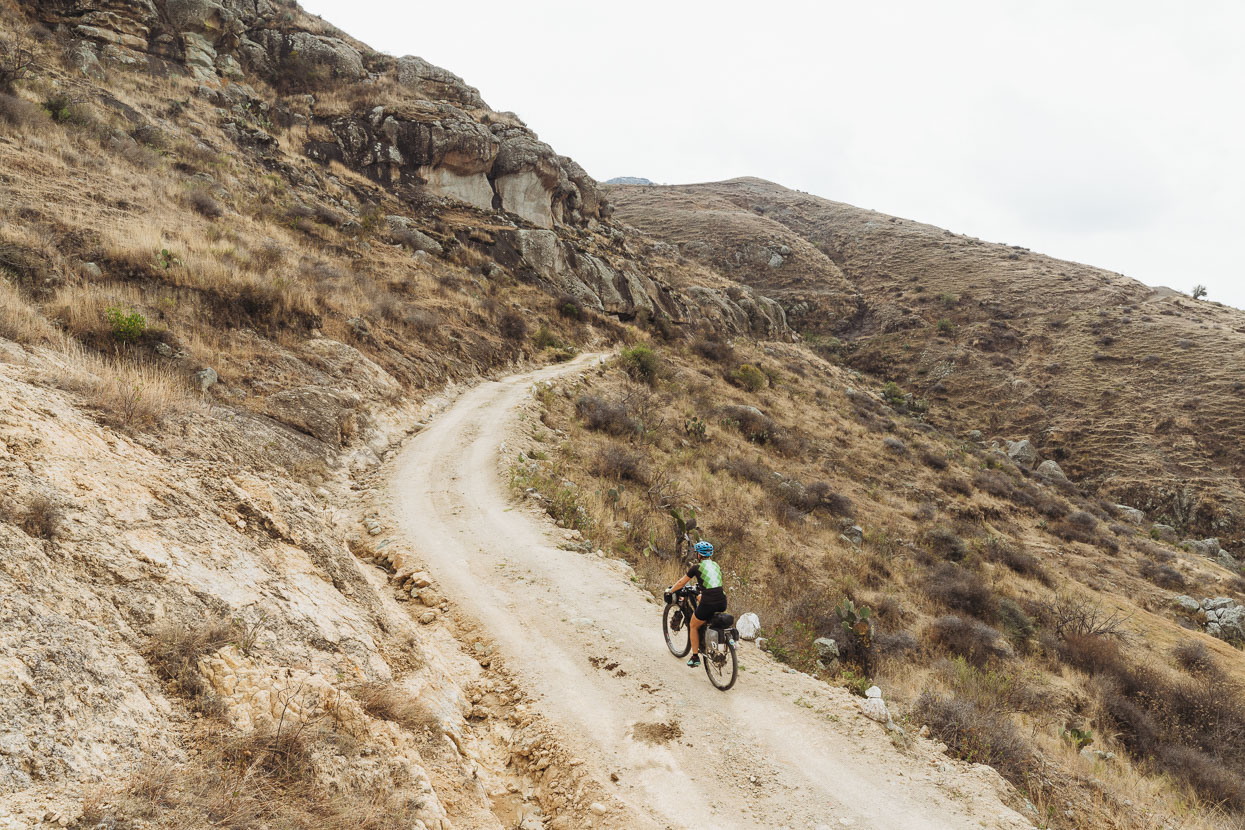 It was a Sunday so the mine was fairly quiet – but still operational. A couple of personnel saw us but didn't approach us or hint that we shouldn't be there. So far so good…
A small section of pushing cross country followed when our road ended unexpectedly at some pits, but we rejoined it further up the hill. From there we left the mine area and made a short and steep climb to a saddle on the range.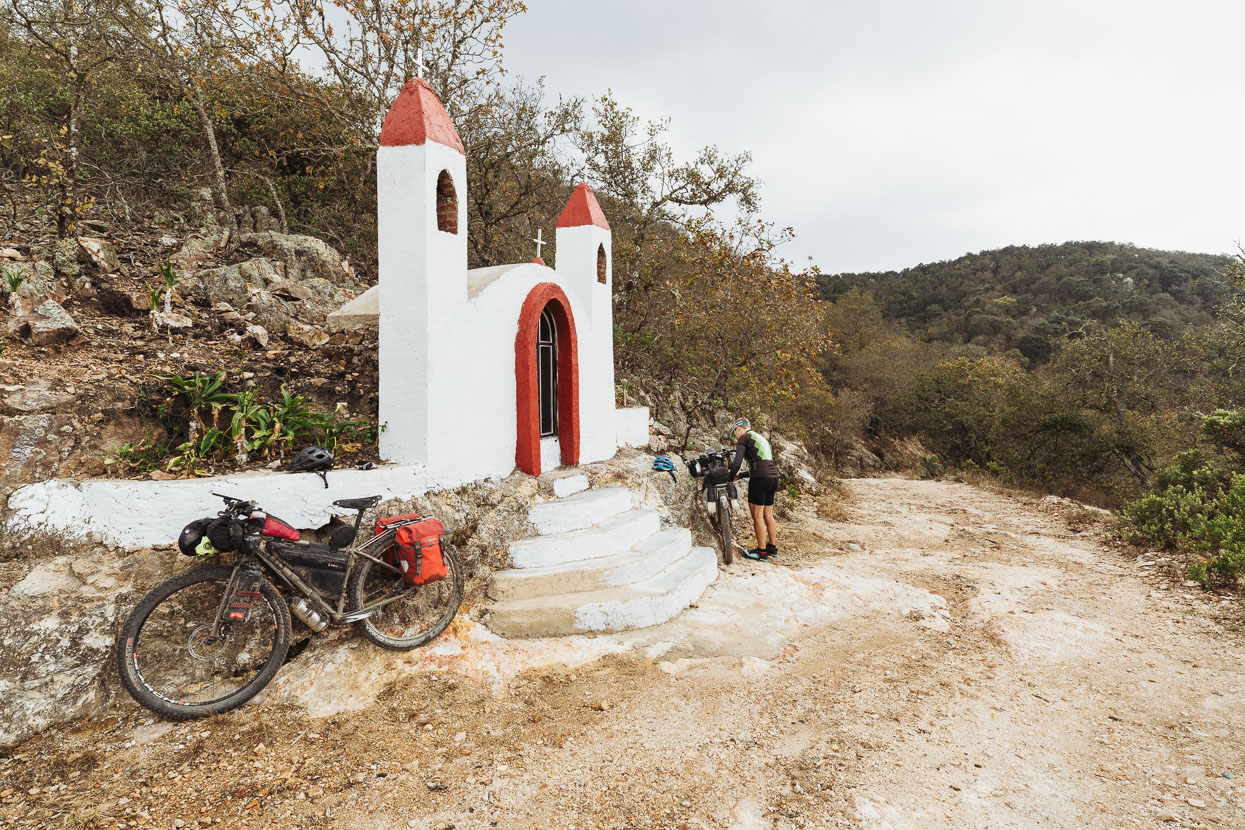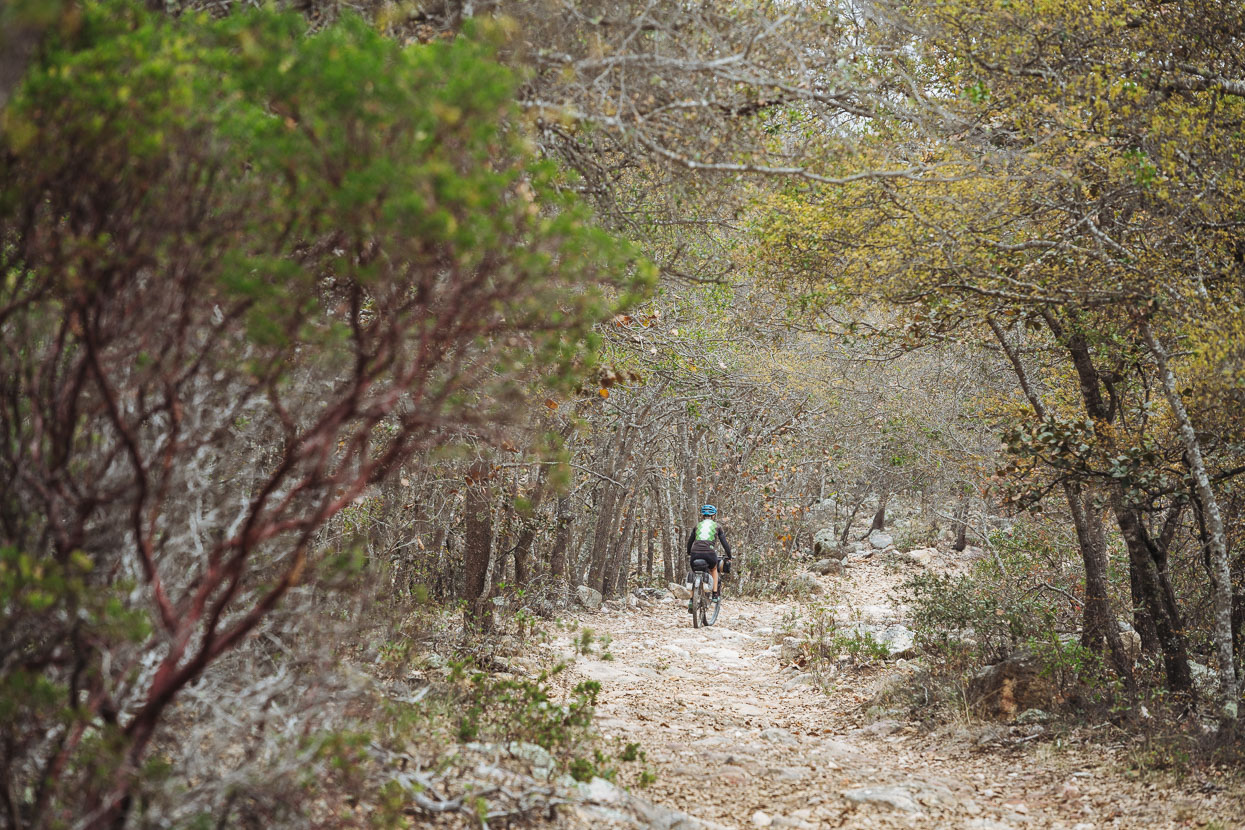 From there on the riding was really pleasant through the most forest cover we'd seen since near Durango. A rough and completely deserted 4WD track traversed the ranges before dropping into the broad valley between Dolores Hidalgo and San Miguel de Allende. A classic ride.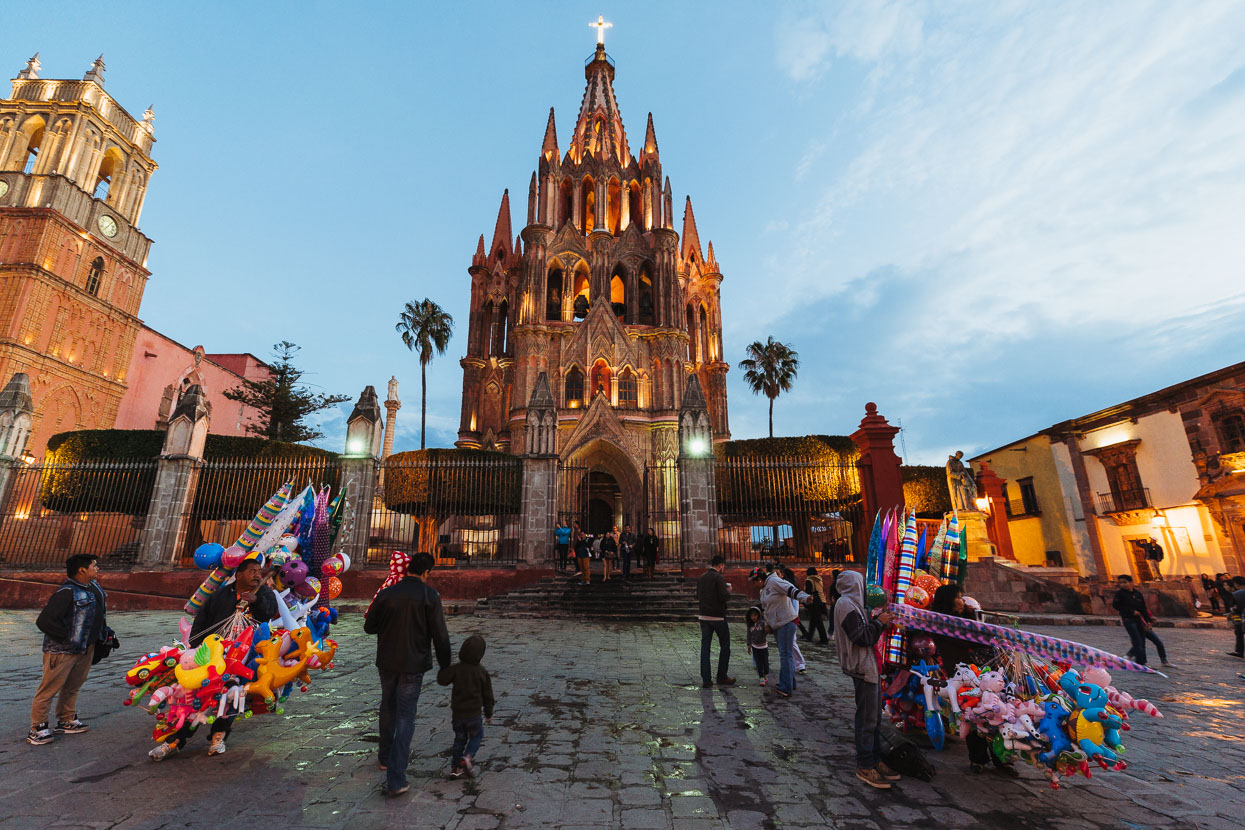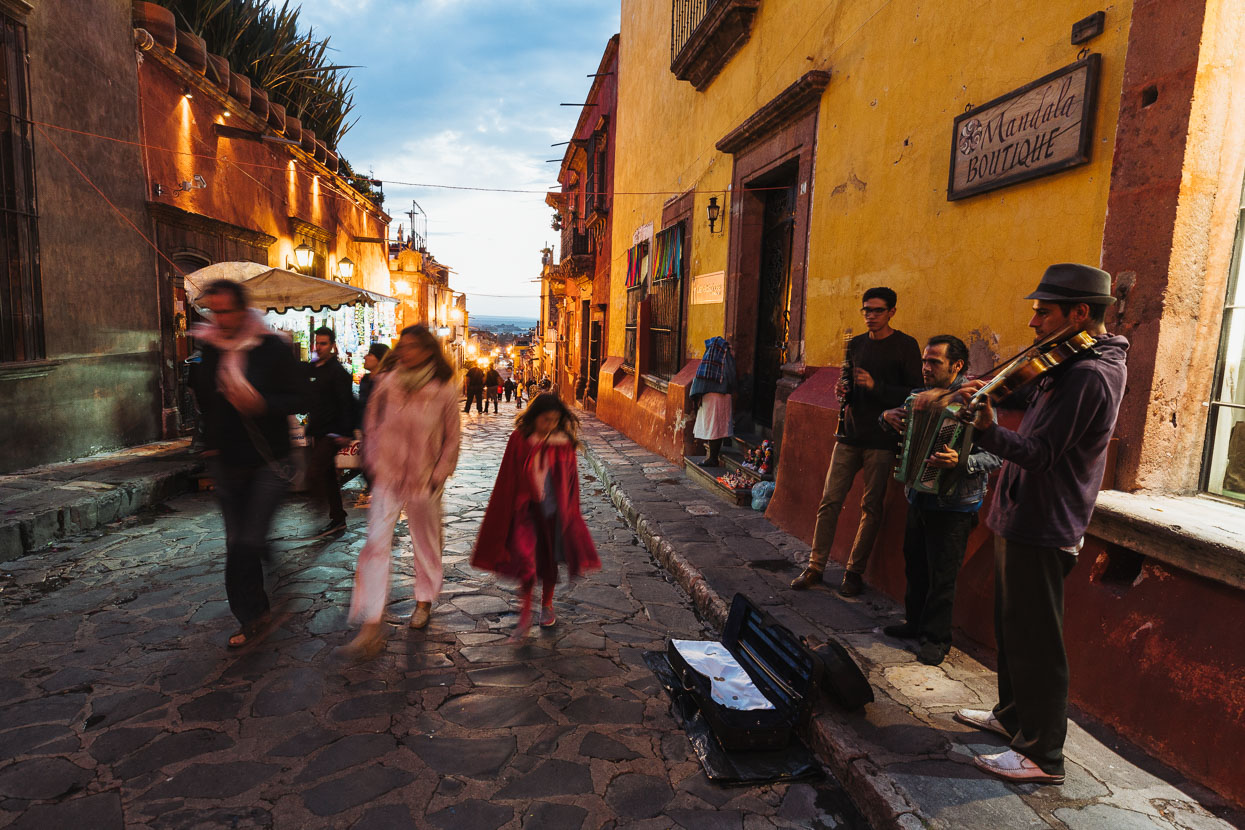 We hadn't heard much good about San Miguel de Allende, one of Mexico's recommended 'Pueblo Magicos'. Everyone we spoke to seemed to think it was packed with US and Canadian retirees and that it was too touristy. We were pleasantly surprised. Sure; it's a little touristy, and there were many gringos quietly enjoying the morning sun in the zocalo just like Mexicans do, but the architecture and cobbled streets of the centro area are very appealing – along with an utterly beautiful fairytale cathedral. We only stayed one night there, but we enjoyed it.
Beyond San Miguel de Allende a mixture of pavement and dirt led us towards the large town of Apaseo del Alto and then the Sierra de Puruagua.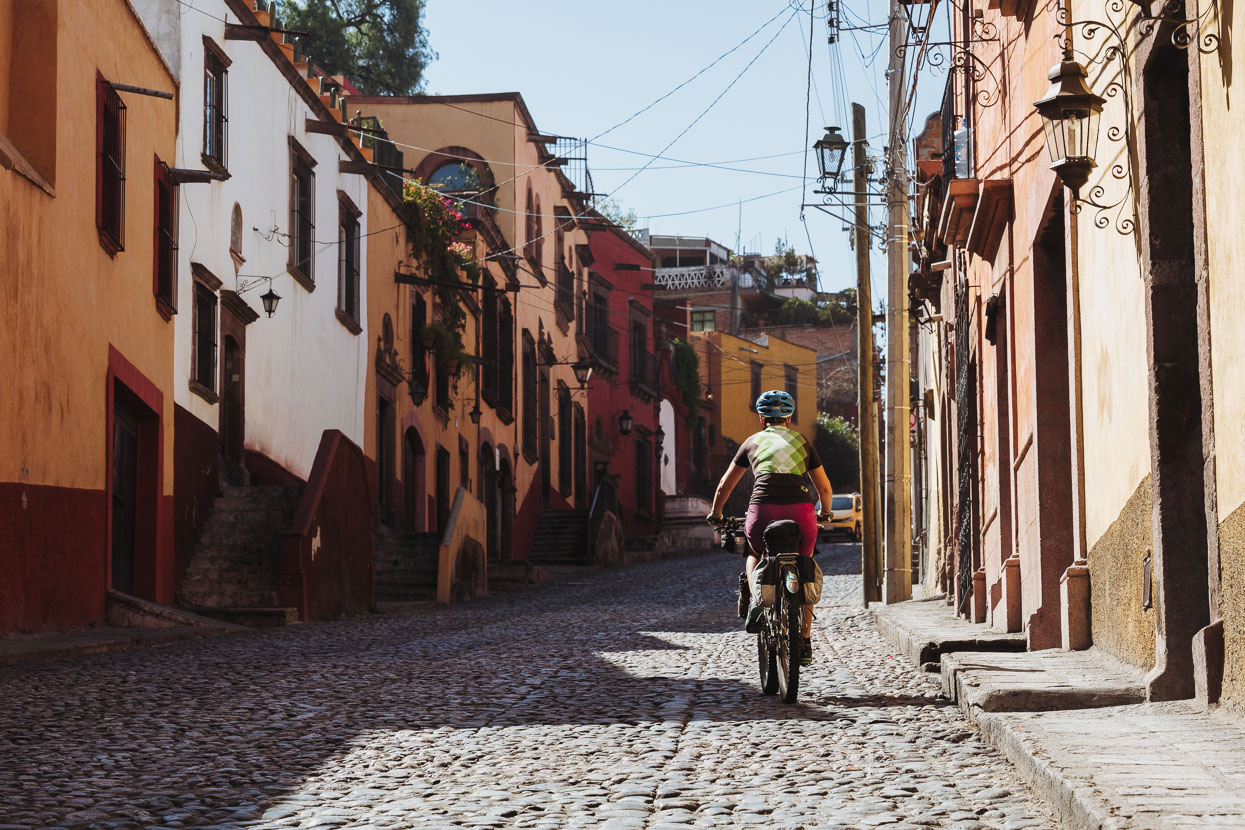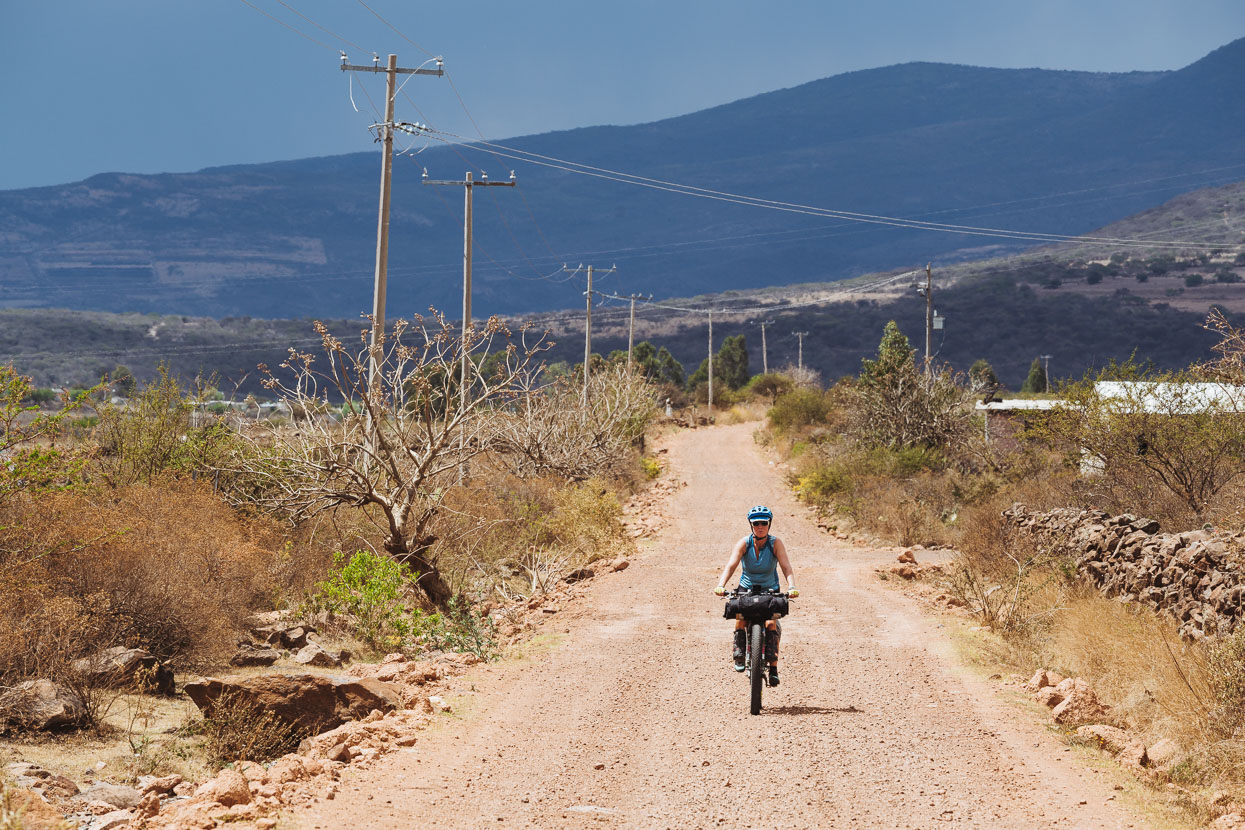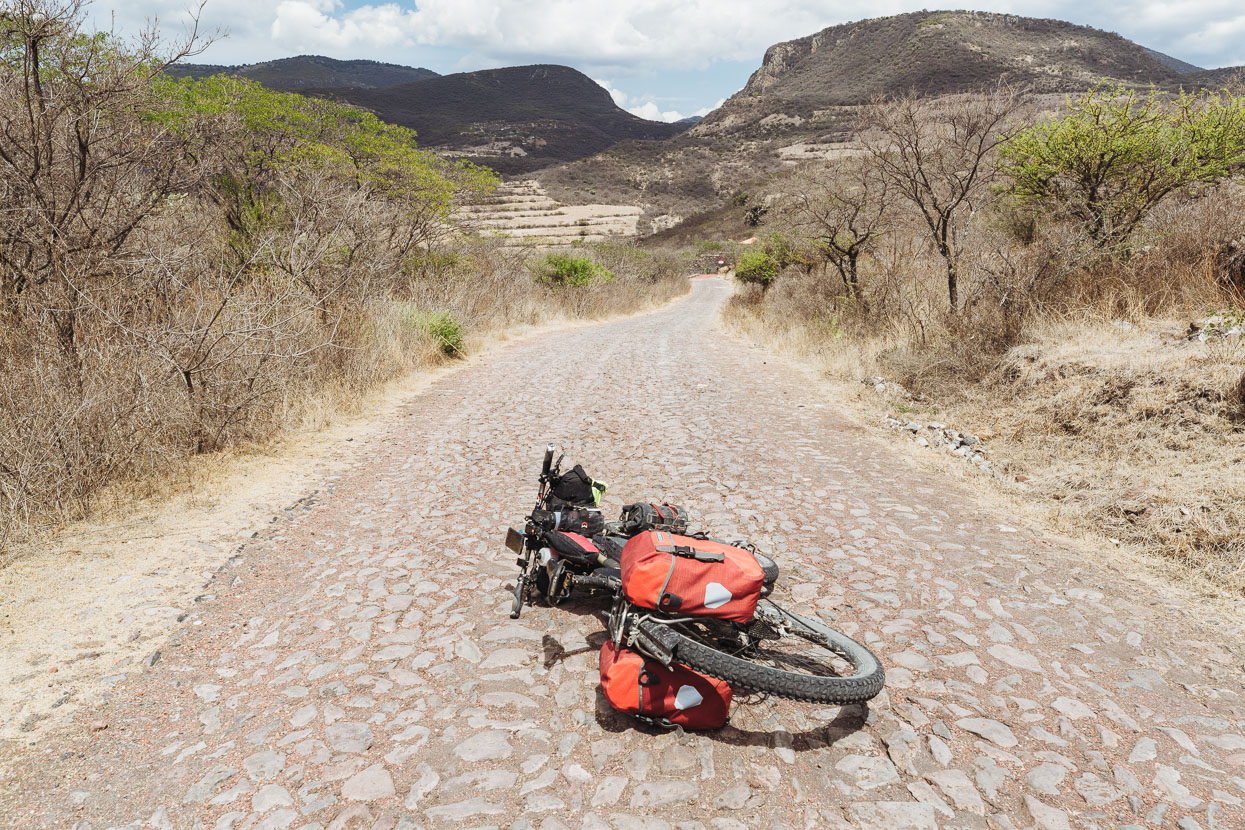 A cobbled section of road between Highways 111 and 45D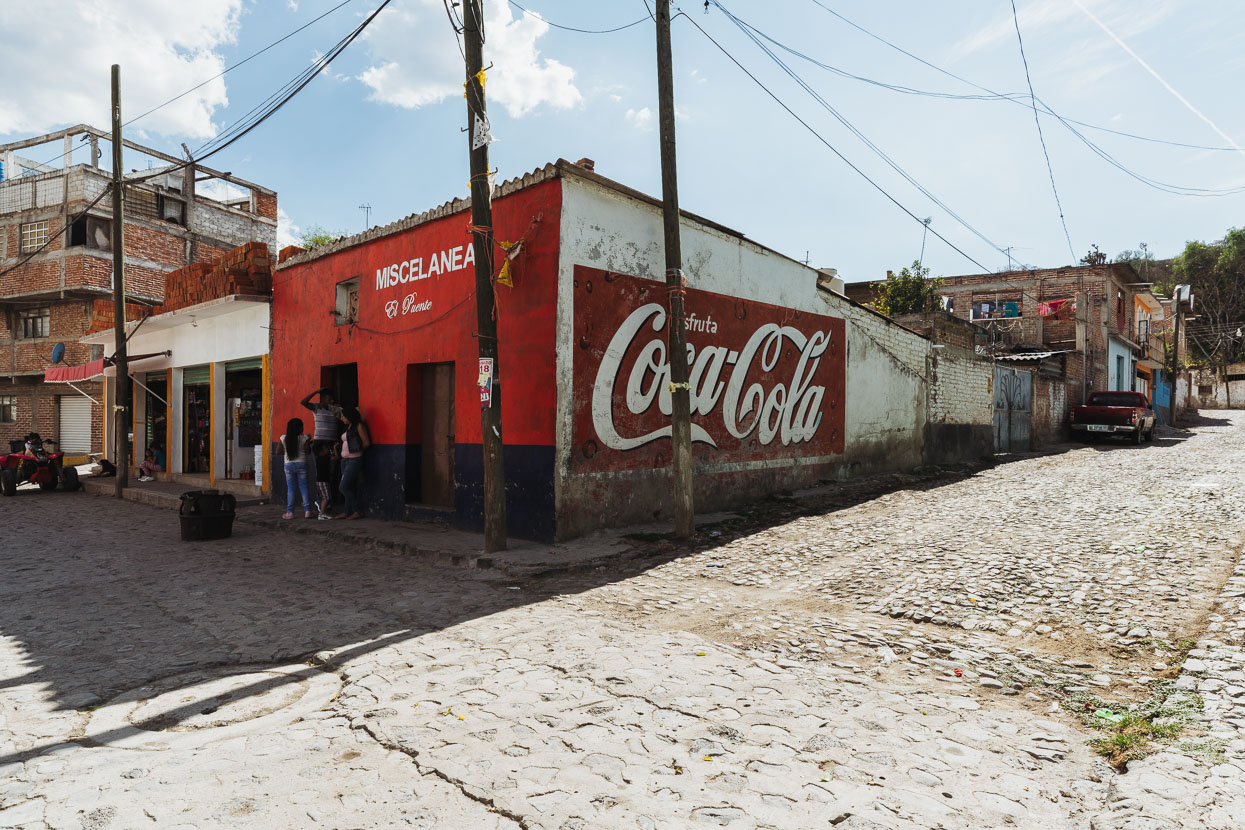 We weren't expecting much of Apaseo de Alto, being a highway town between two bigger cities, but as we have come to discover Mexico is full of surprises.
Catholicism is in your face and prolific in Mexico. From what we have seen, people (especially in the rural areas) have a high degree of spirituality – to the extent of being superstitious. Life, and indeed most towns, revolve around churches and cathedrals; many of which date back hundreds of years. Bells rung throughout the day remind you of the presence of the church, and wake you early any day of the week. Apaseo de Alto seemed even more centred on spirituality than other towns we had visited. Even the dogs go to church!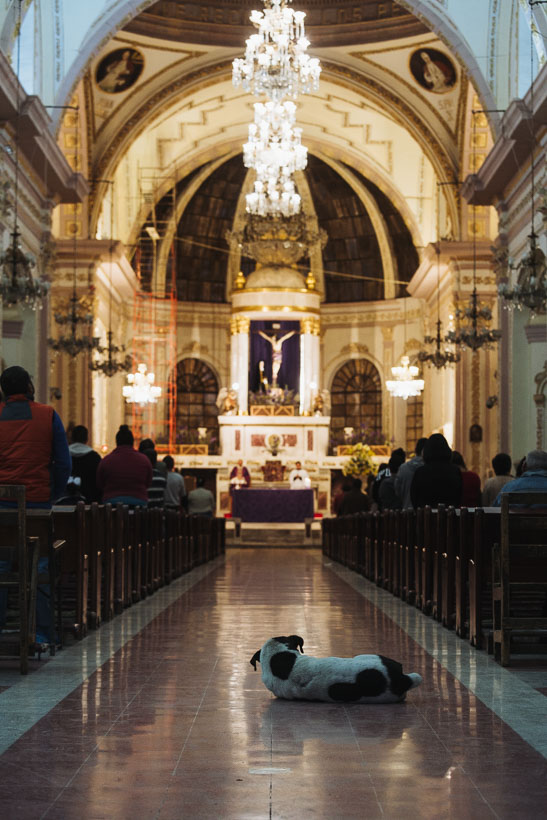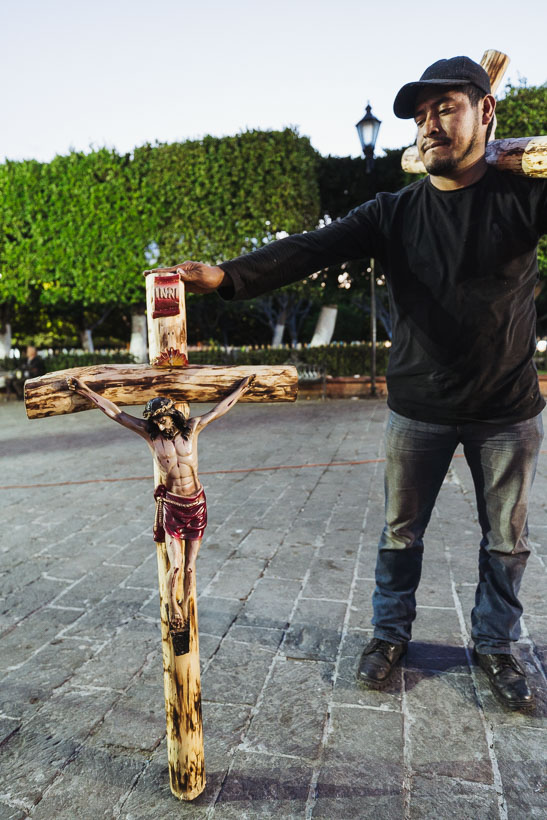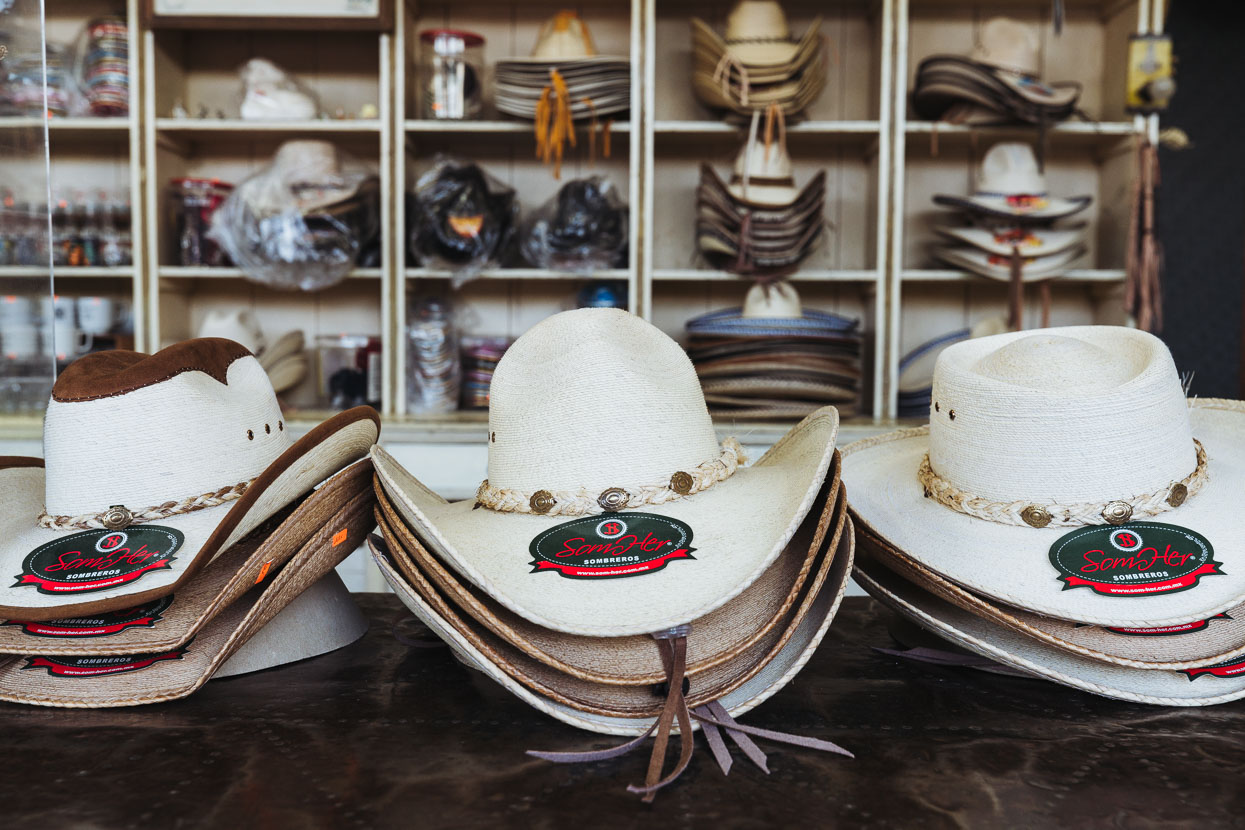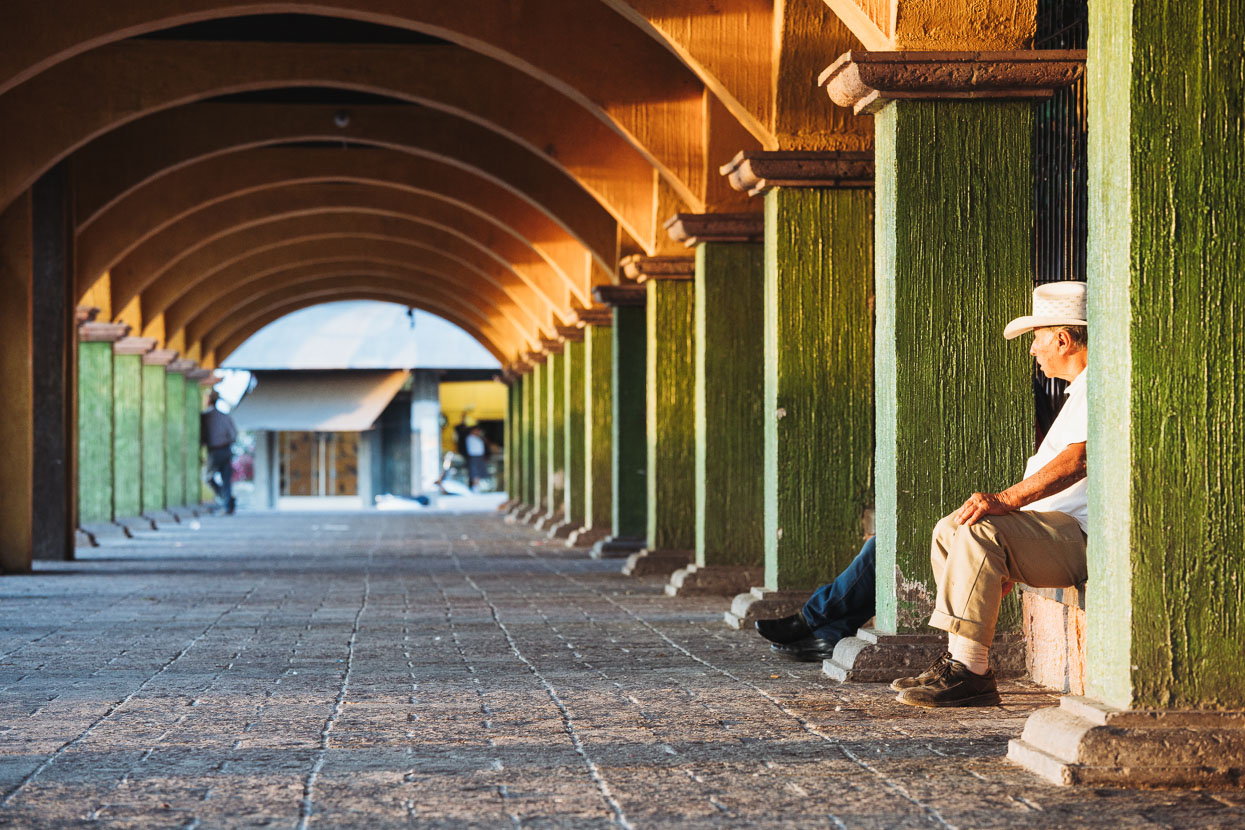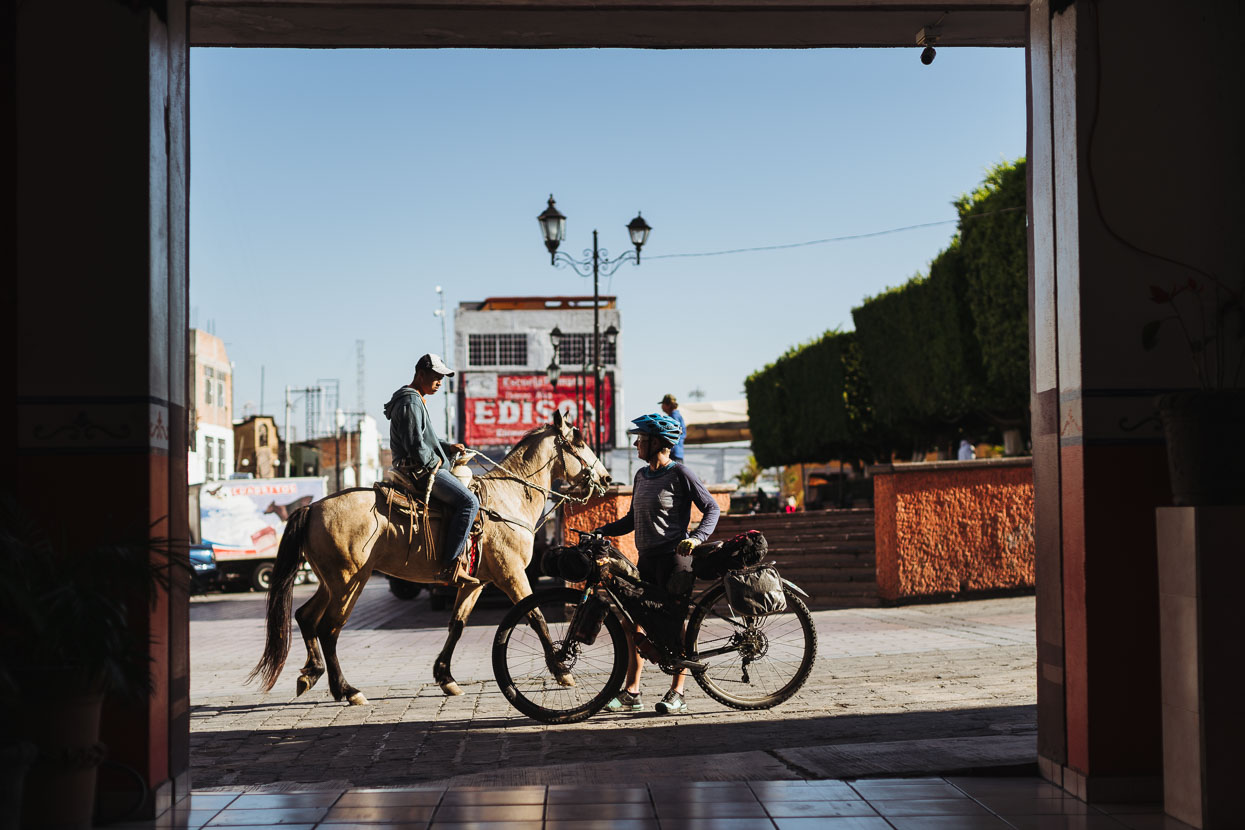 An old mode of transport meets an even older one…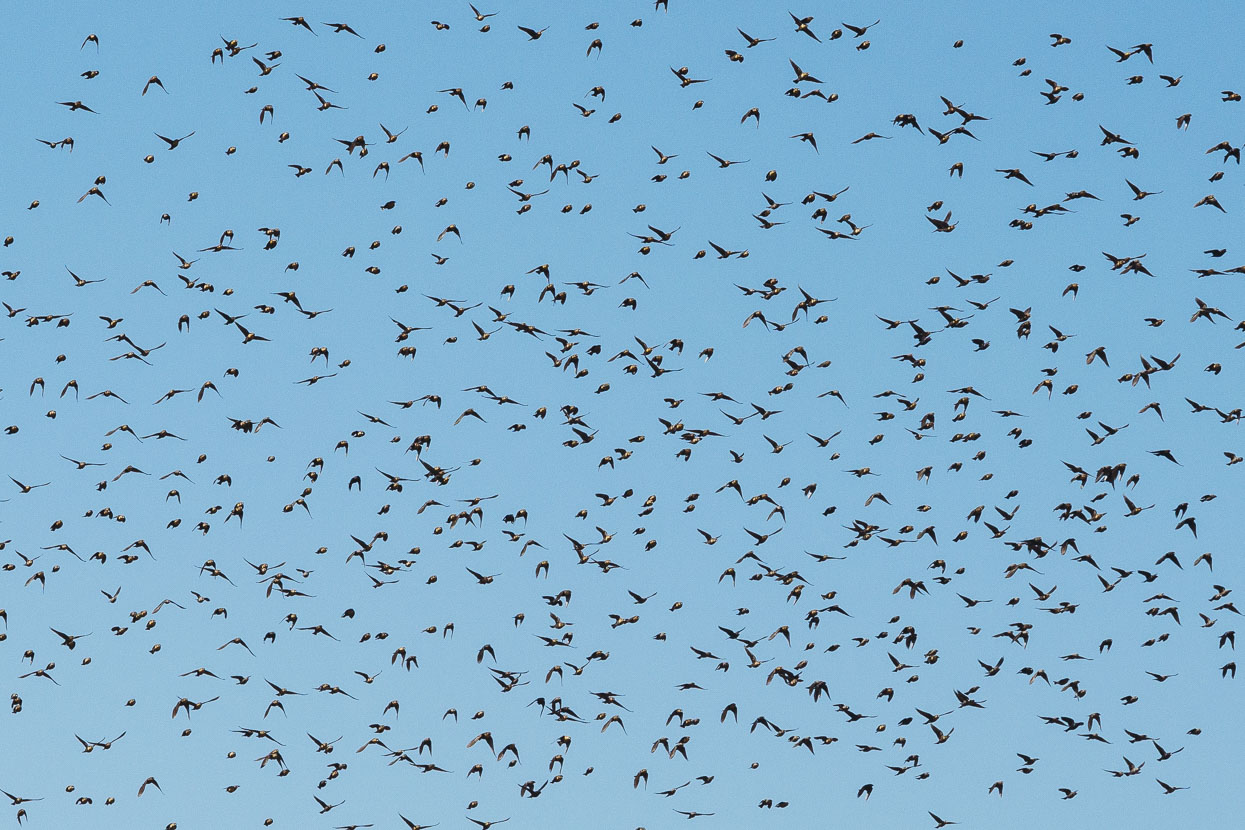 A huge flock of birds we saw en-route to Jerecuaro. They'd take flight suddenly and noisily – morphing in the sky like a giant shape-shifting organism, before landing together.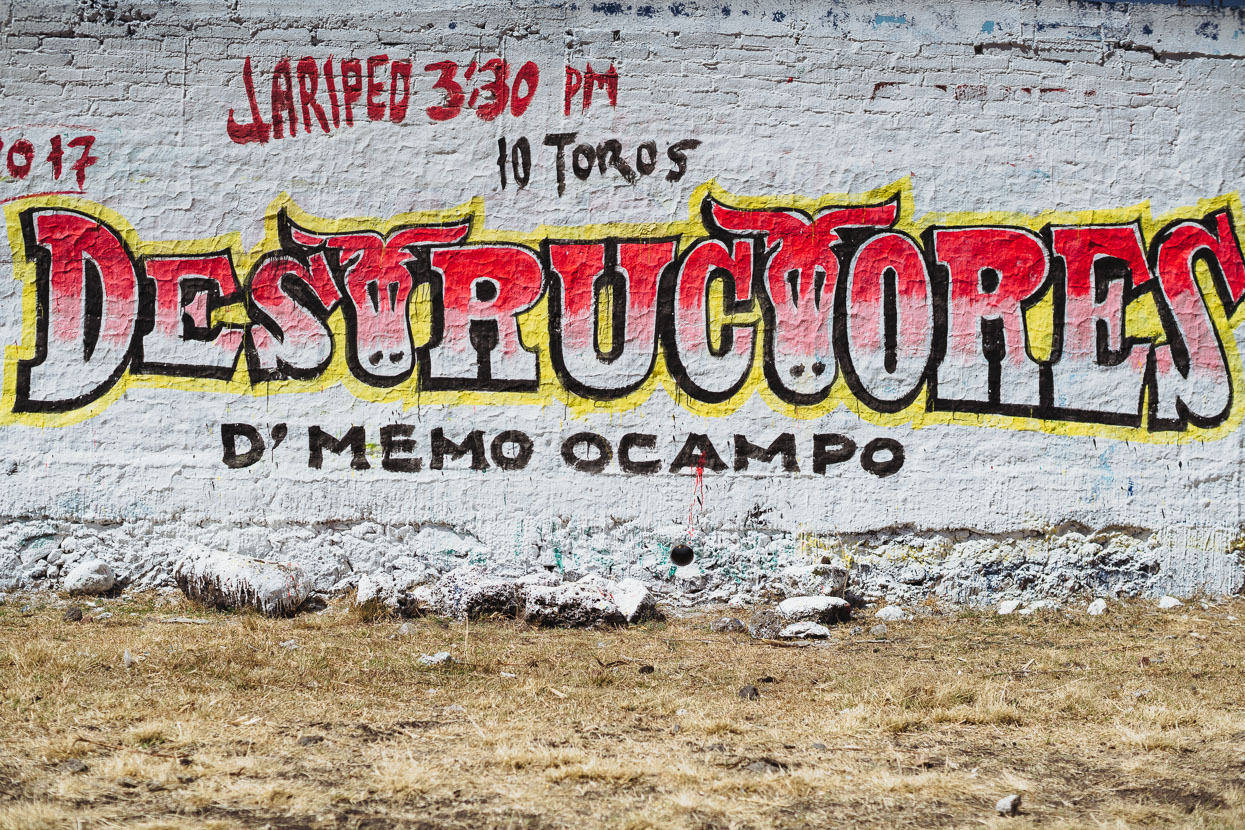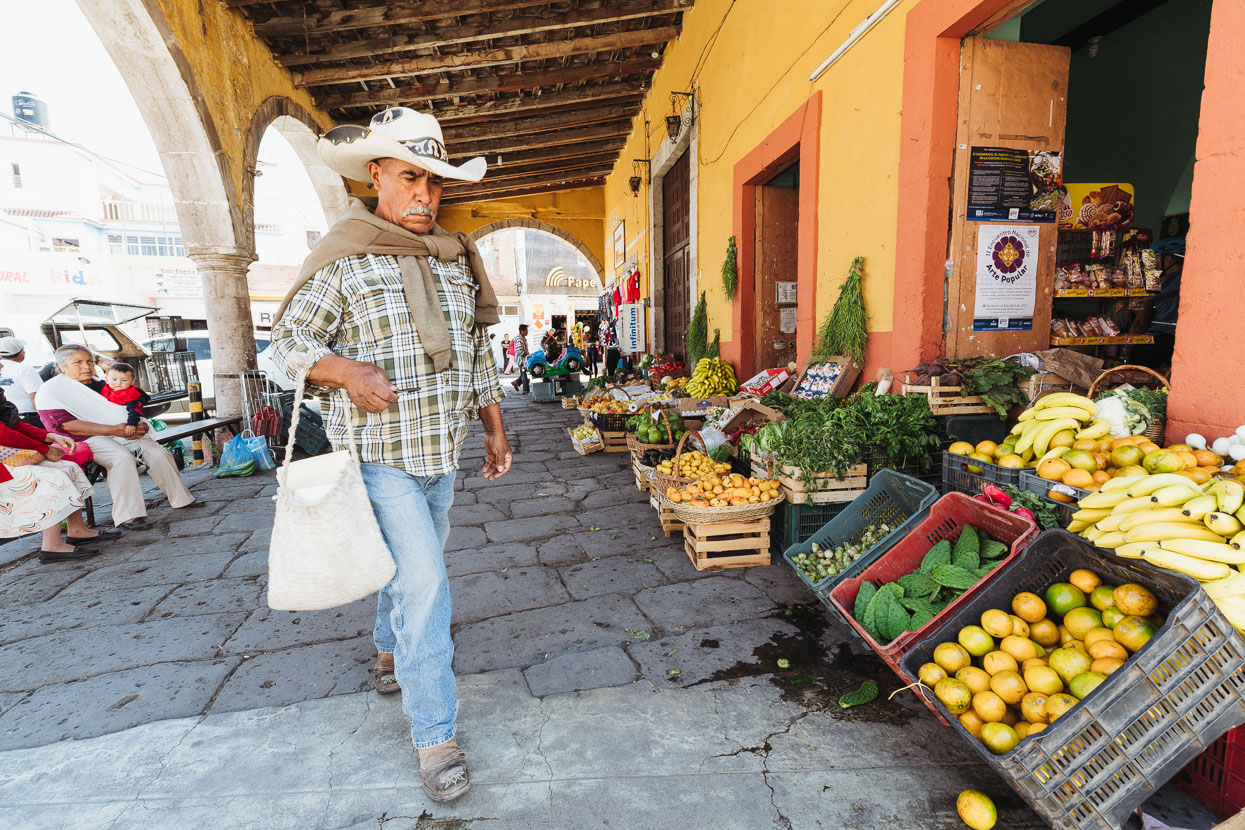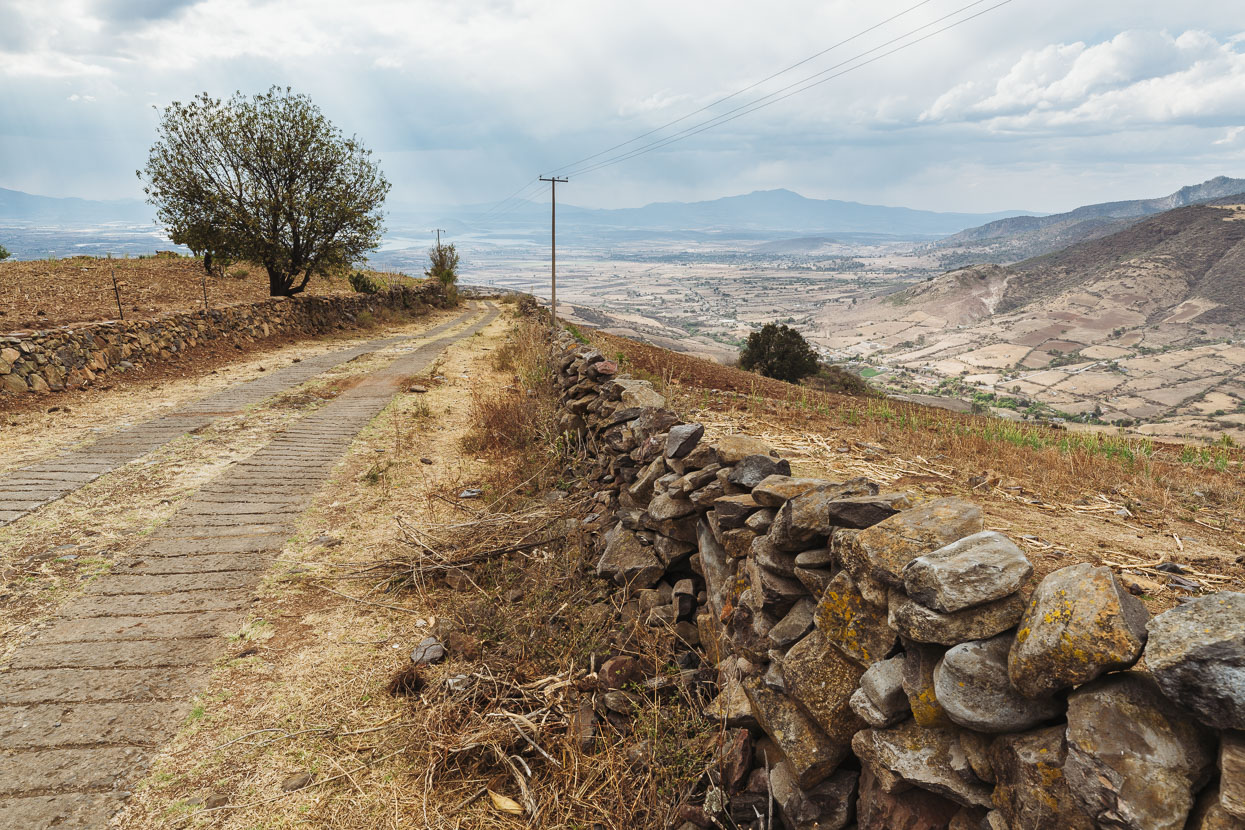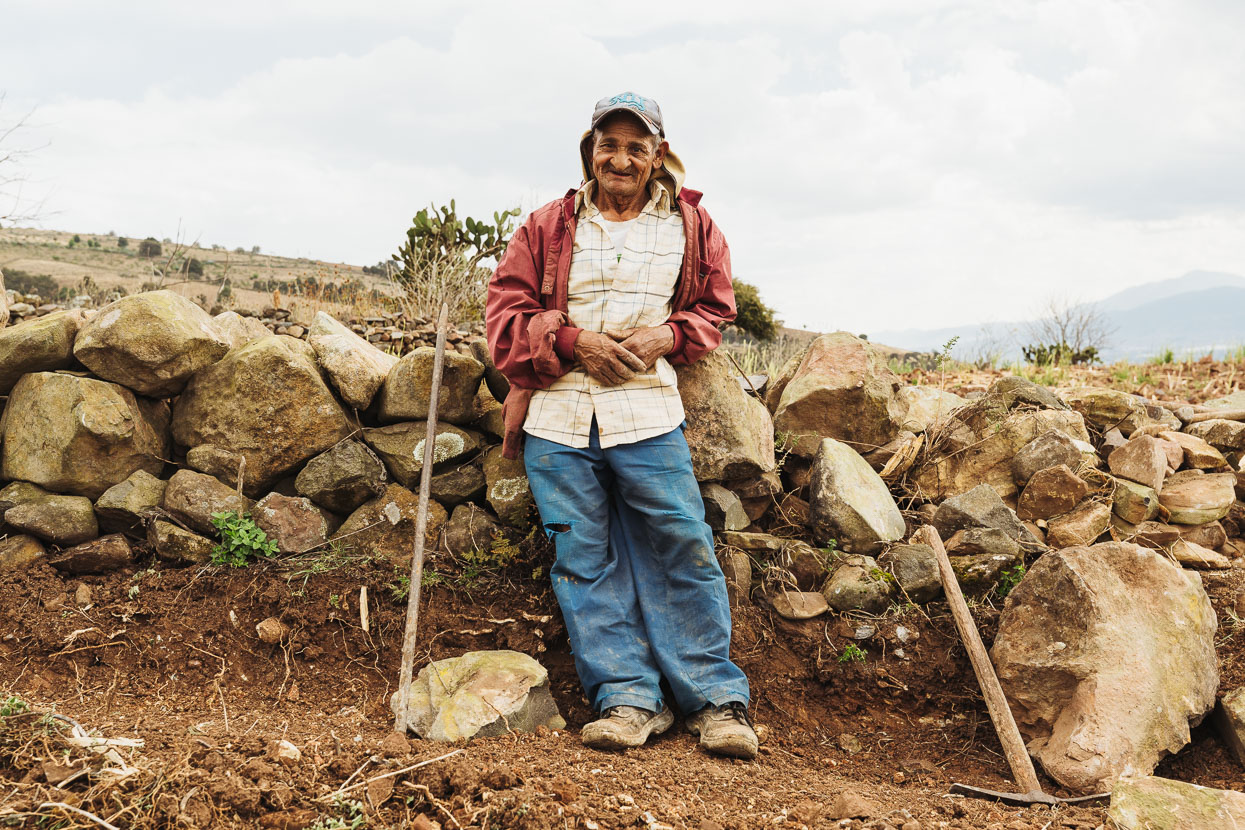 We rode into the bosque briefly between Chilarillo and Puruagua before beginning a long and very steep climb into the Sierra de Puruagua. Much of the way the road was two concreted strips. We met an old man who was making neat work of rebuilding an ancient stone wall. I gave him a granola bar in return for a photo. He looked hungrier than me.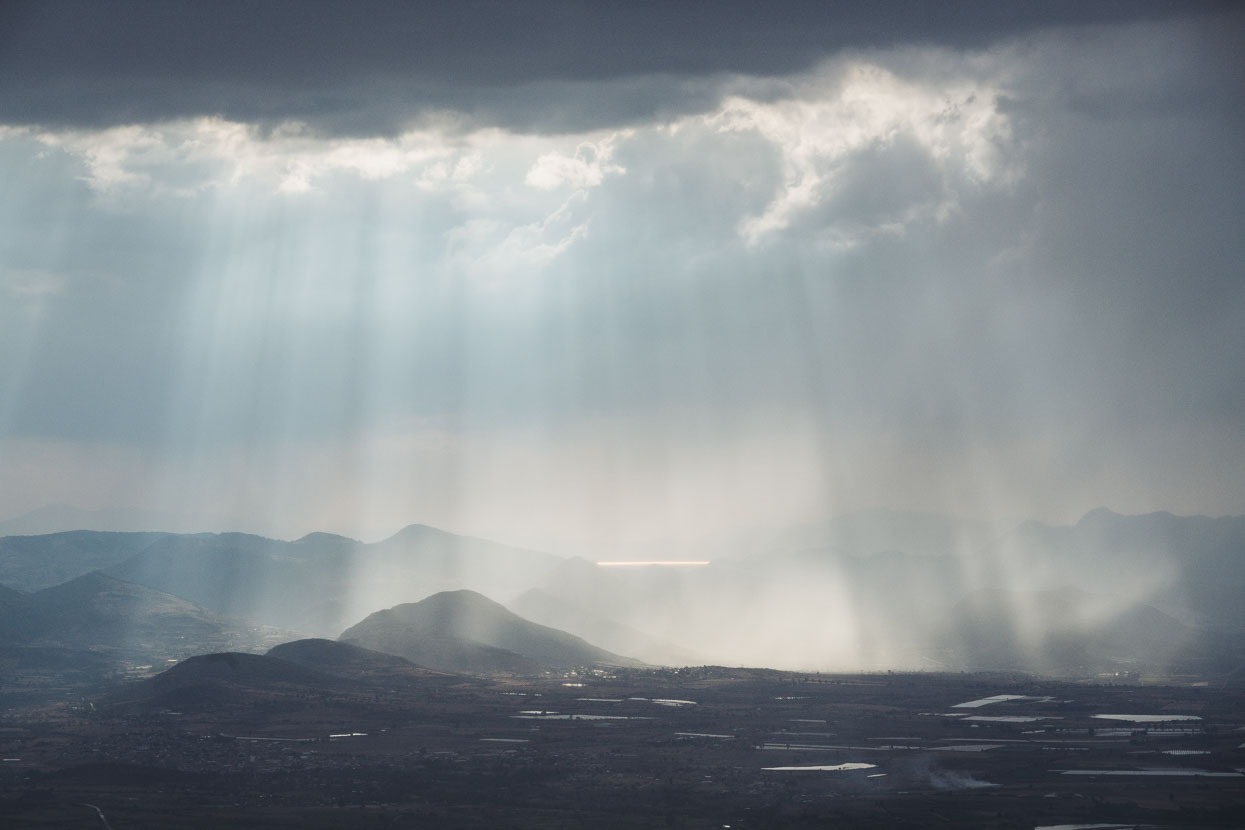 Thunderstorms rolled over the plain as we slowly gained height.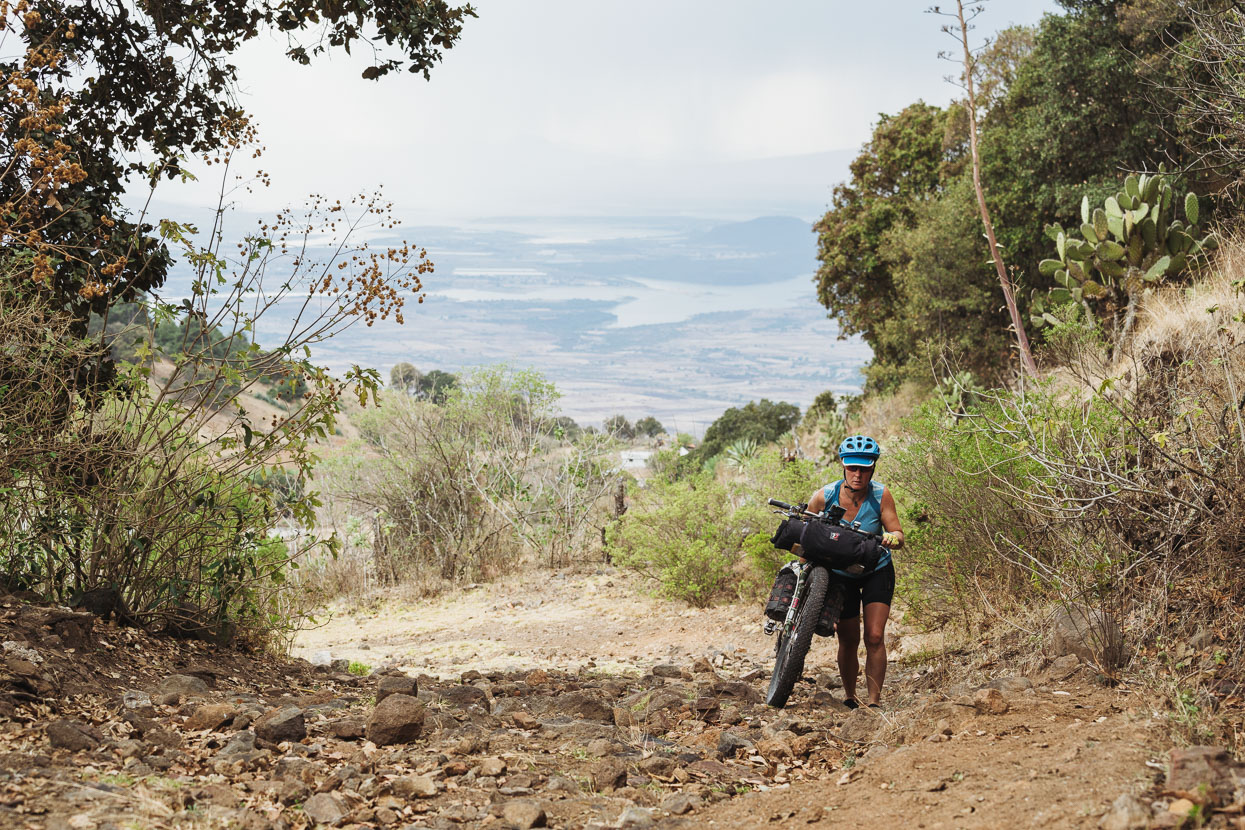 Finally the steep road became completely unpaved and covered with rocks – unridable for us heavily loaded, so we pushed for a while until it got near the top of the range and improved. Only to unimprove slightly further on. We collected some water from an old lady living in a hut here and rode on further to camp.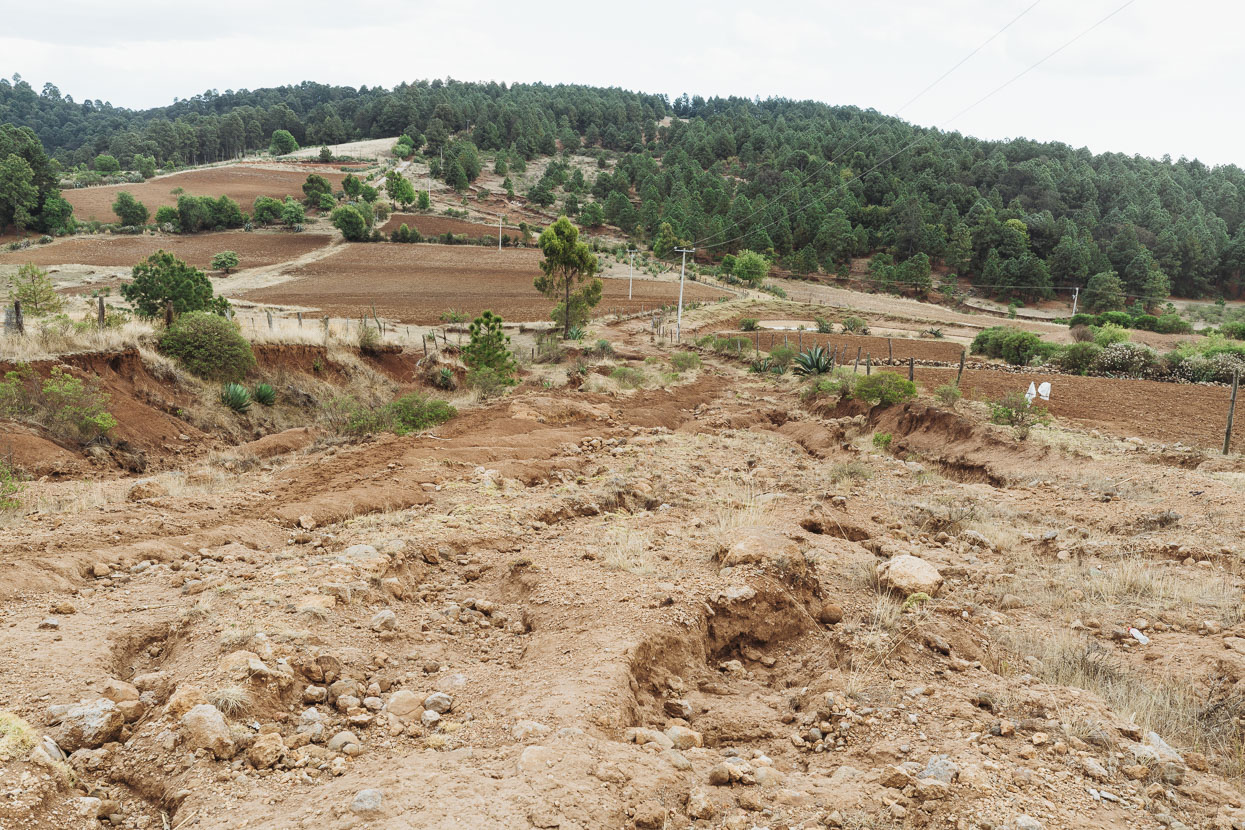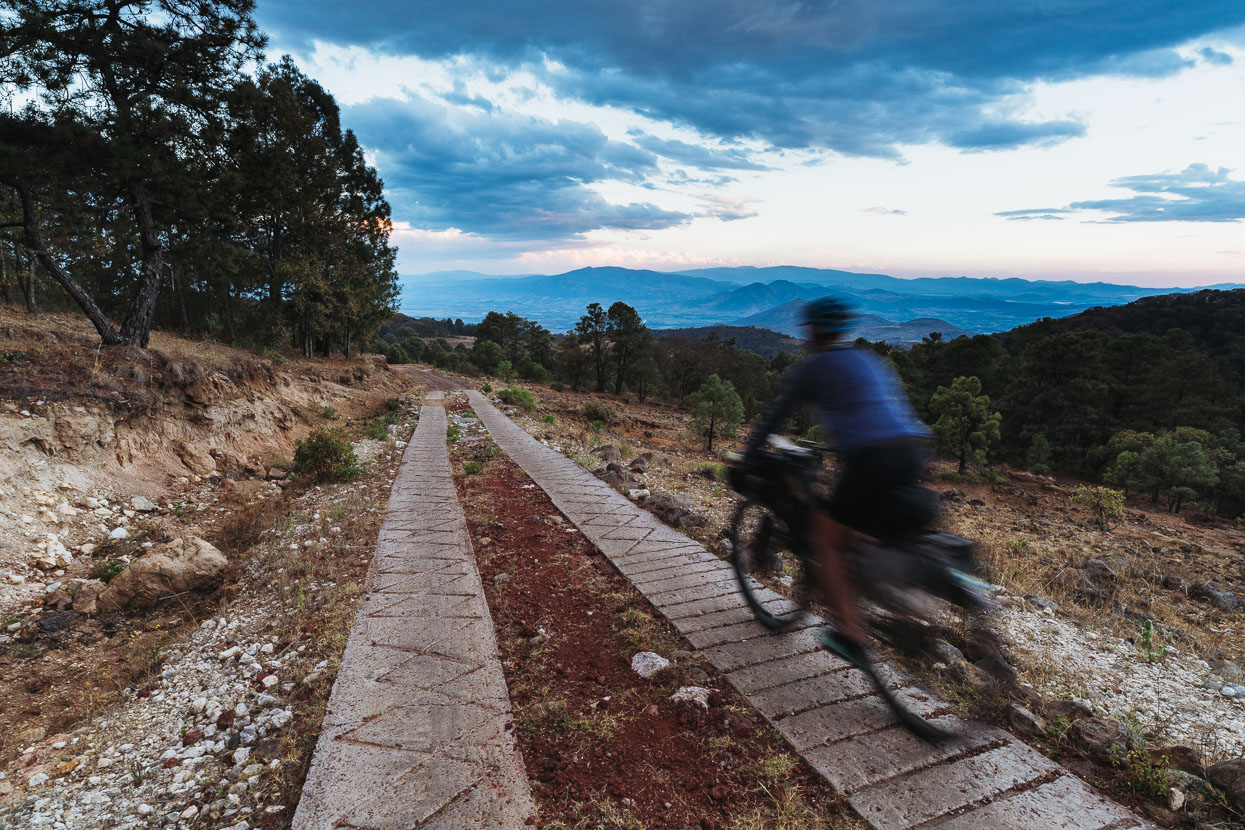 Just near dark we found a nice spot to camp in the forest. Unfortunately I developed a spell of vomiting during the night that continued the next morning. Unable to hold down even water, we descended off the range down a dirt road and slowly pedalled to a decent sized town to try and recover.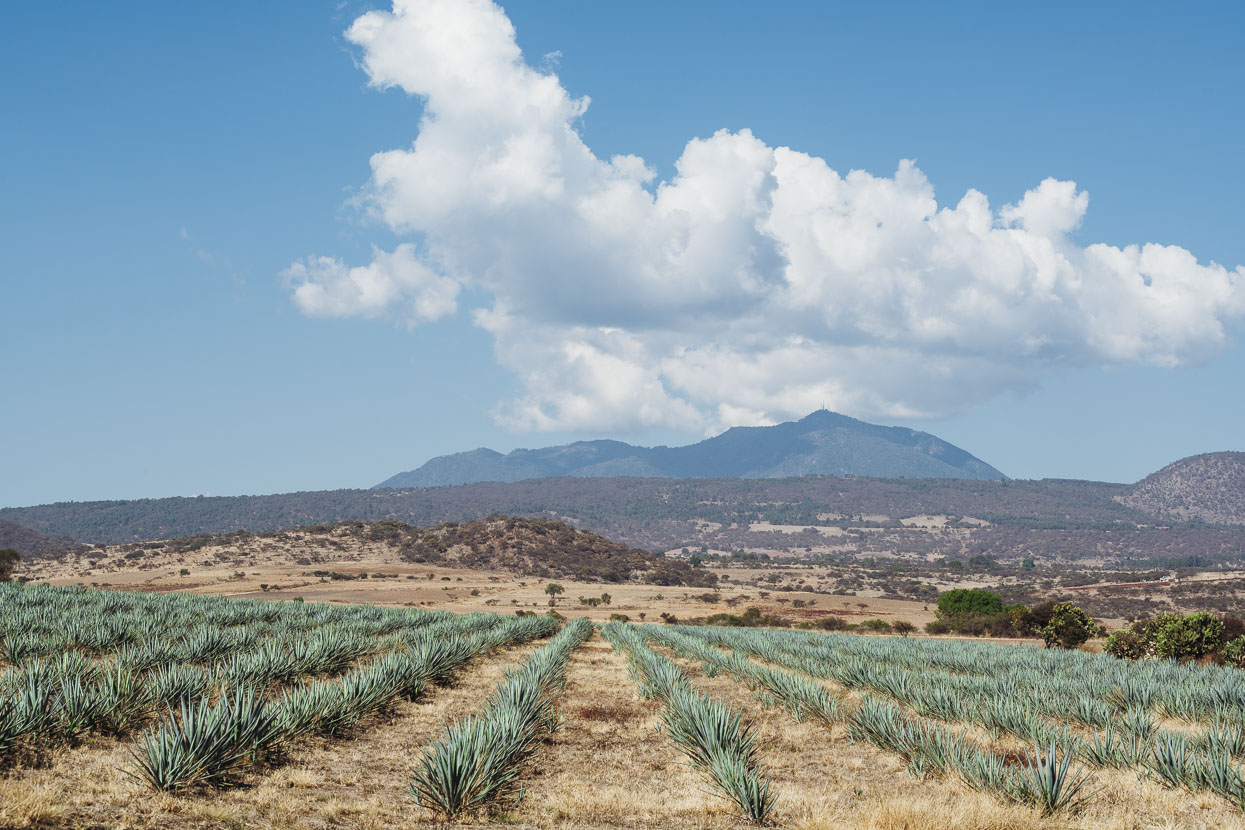 Next day I was back on the bike and not feeling too bad. We passed agave plantations (for tequila) on the way to Zitacuaro before finally hitting some big forest reserves in the monarch butterfly region. It was fantastic to be in the forest again.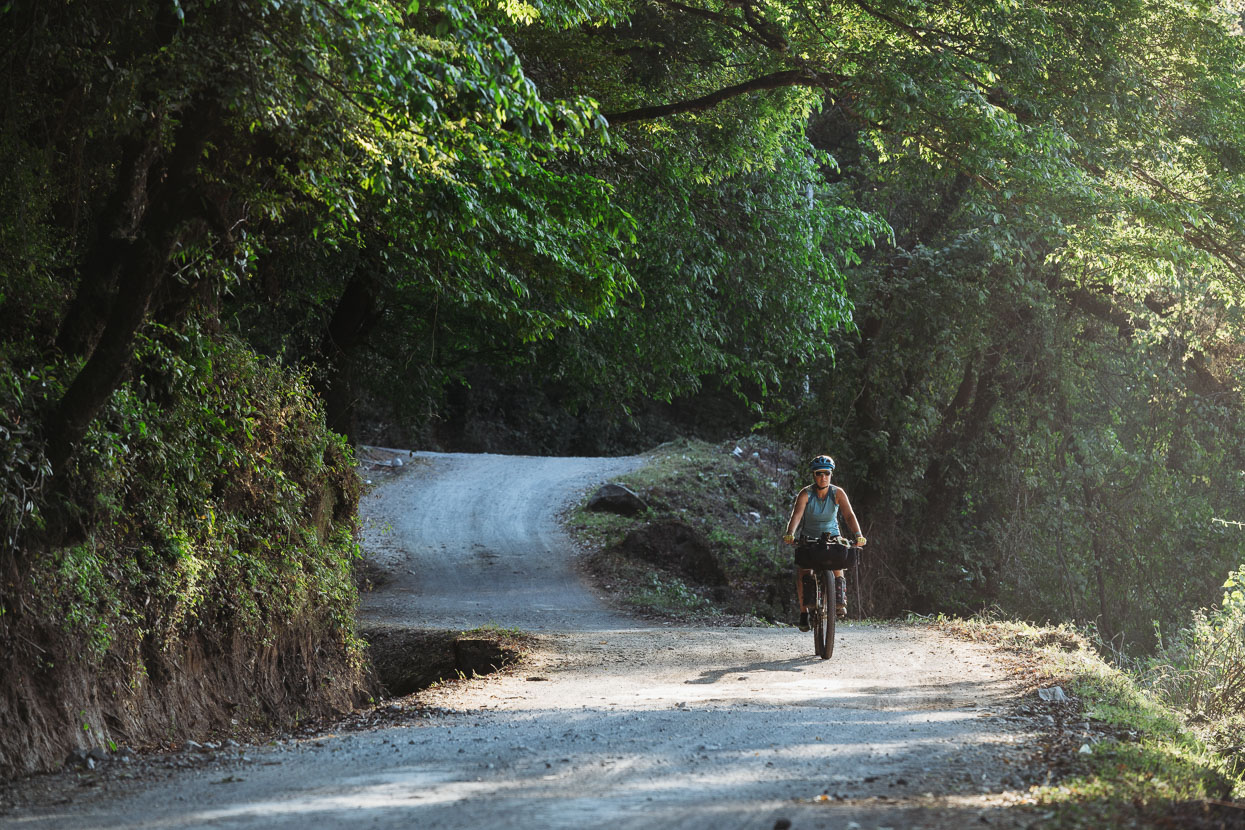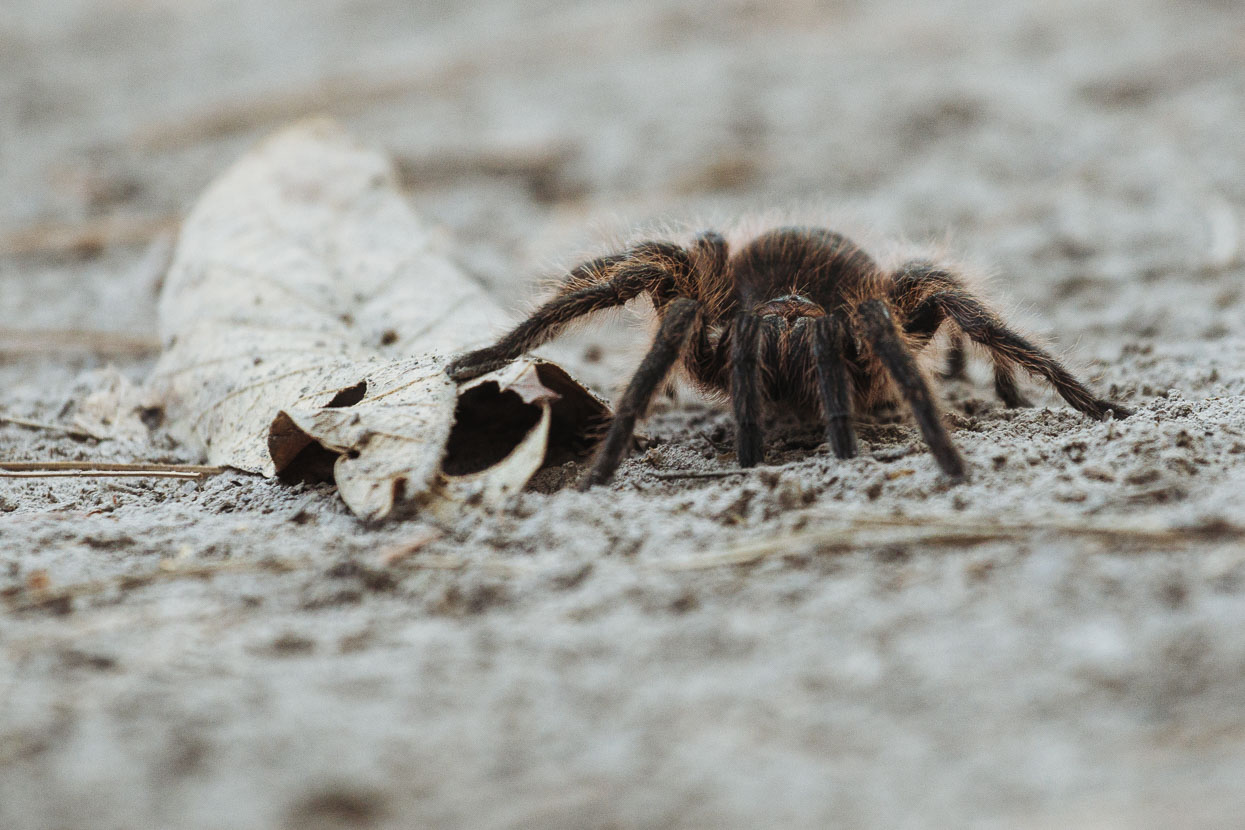 Tarantula on the road as we rode into the Cerro Pelon area. We love these slow moving fearsome furry creatures.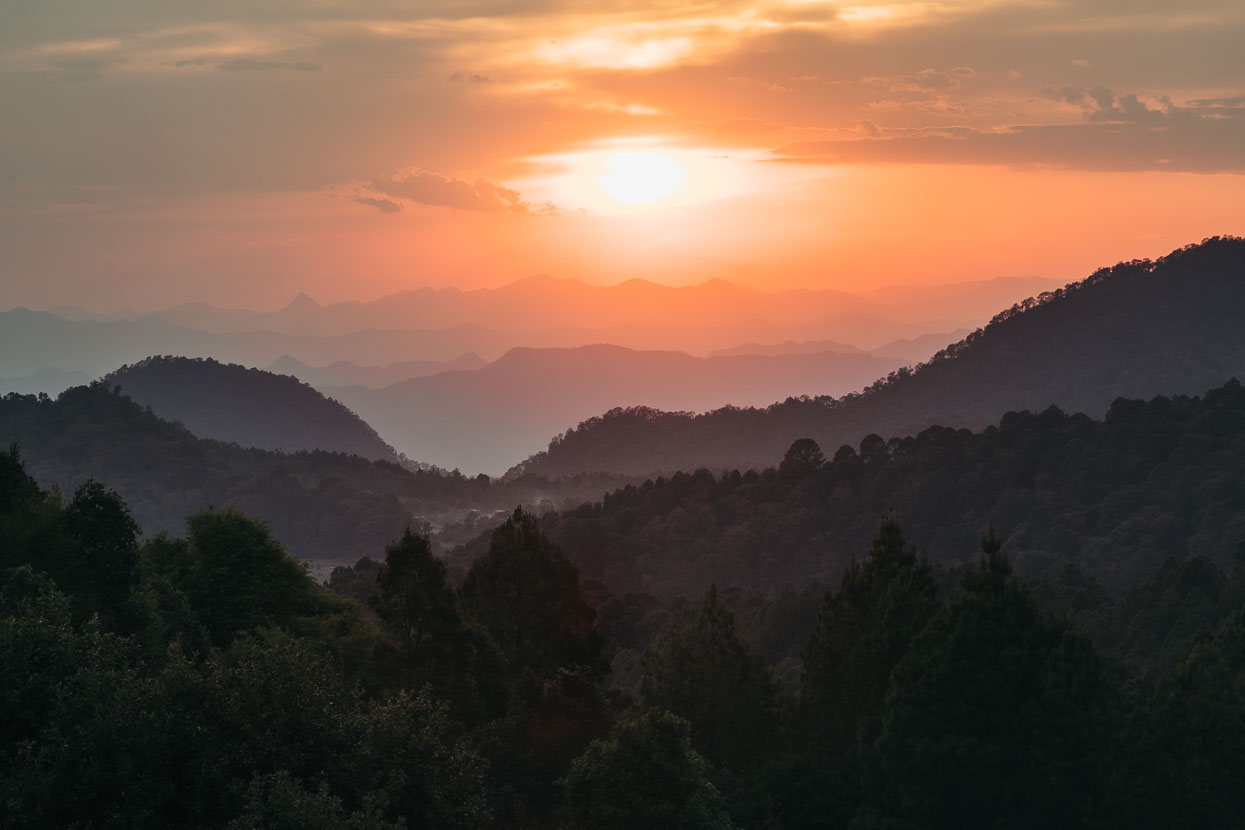 Cerro Pelon is one of the more remote and low key of several sites in Mexico state, north west of Mexico City where monarch butterflies migrate in their millions to winter over. In early spring they begin a slow departure north returning all the way to Canada. It's their offspring that complete the journey though: the complete cycle takes four generations. The butterflies have mated already when they head north – the second longest migration that is undertaken by an insect population.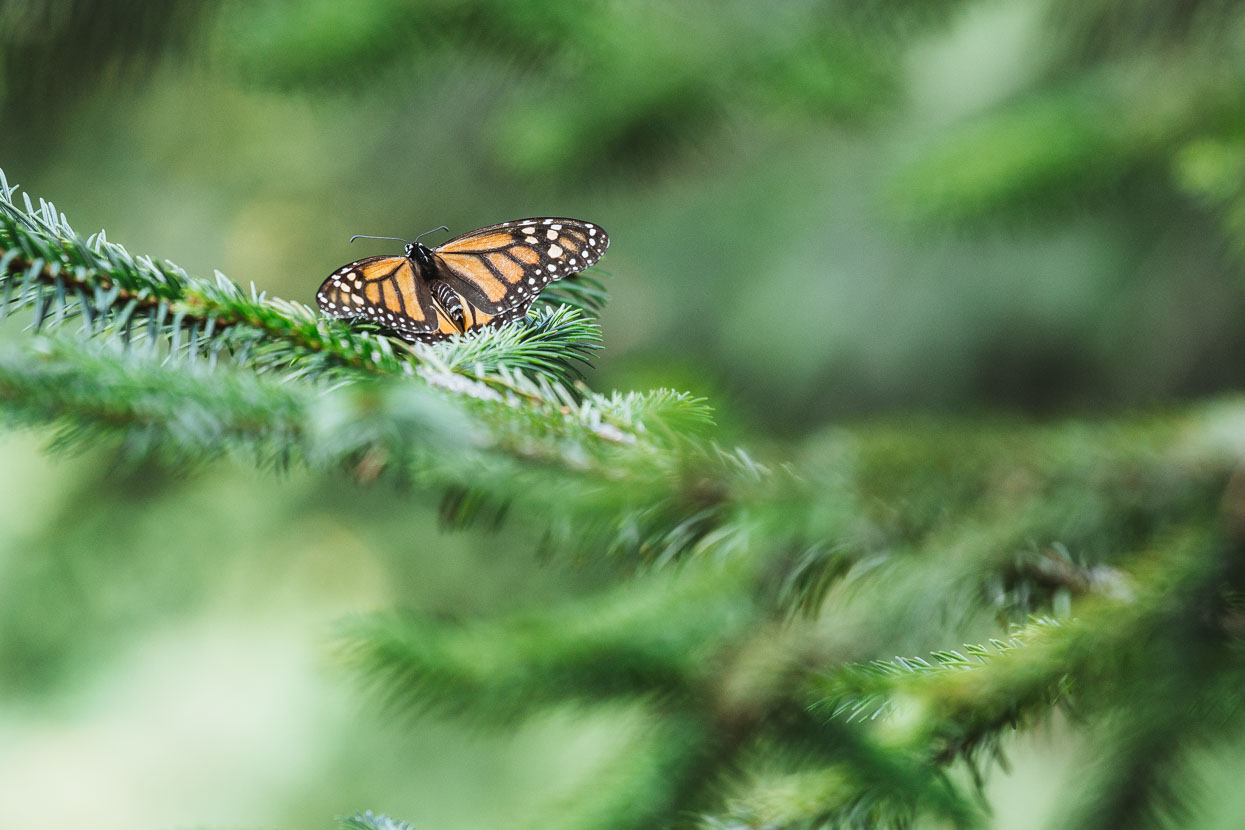 We camped on the grass at the JM Butterfly B&B in the village of Macheros. The same family run a small restaurant with great food right next door. A local guide can take you into the butterfly migration area. It's an uphill walk of about an hour from the village.
At first I was perhaps a little underwhelmed. Sure, there were quite a few vivid orange butterflies flying around – beautiful when back lit by the sun, but the millions didn't seem to be there. We soon realised they were hiding high in the trees, inactive in the cool of the morning. We spent about 2 hours at the site. As the morning warmed they became more active. The sun would hit the trees and the air would be filled thickly with butterflies above our heads. I'd always thought butterflies flew silently, until you hear several hundred thousand take to the air at once.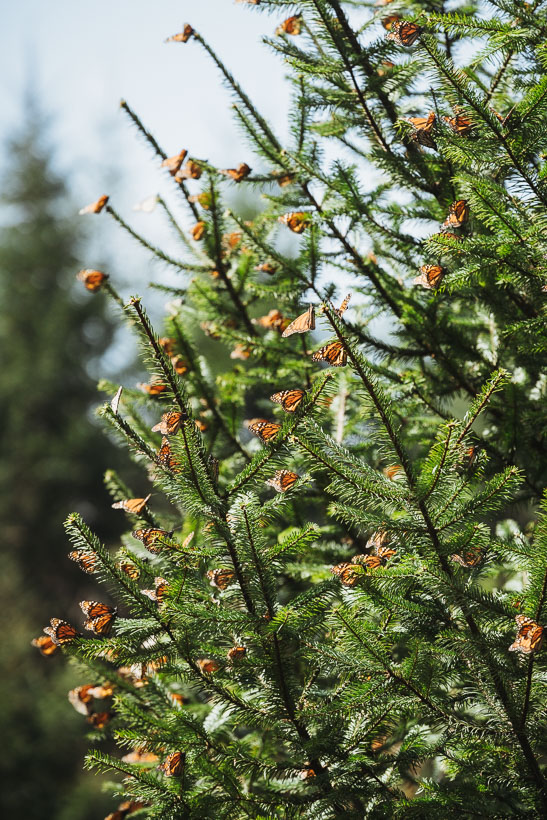 We were back on the road the next day and it didn't take long for the landscape to change. After a long descent we left the forest behind and were back in steep arid hills, occasionally dotted with small villages.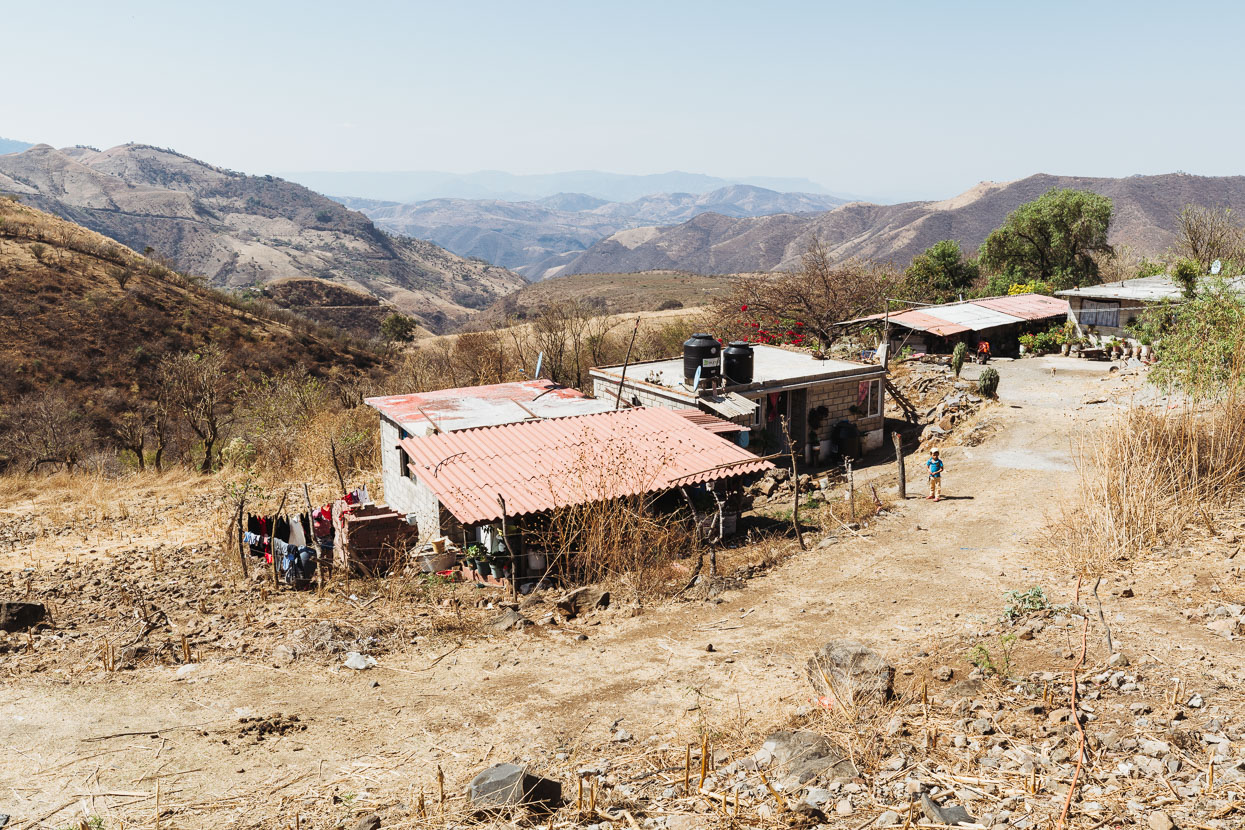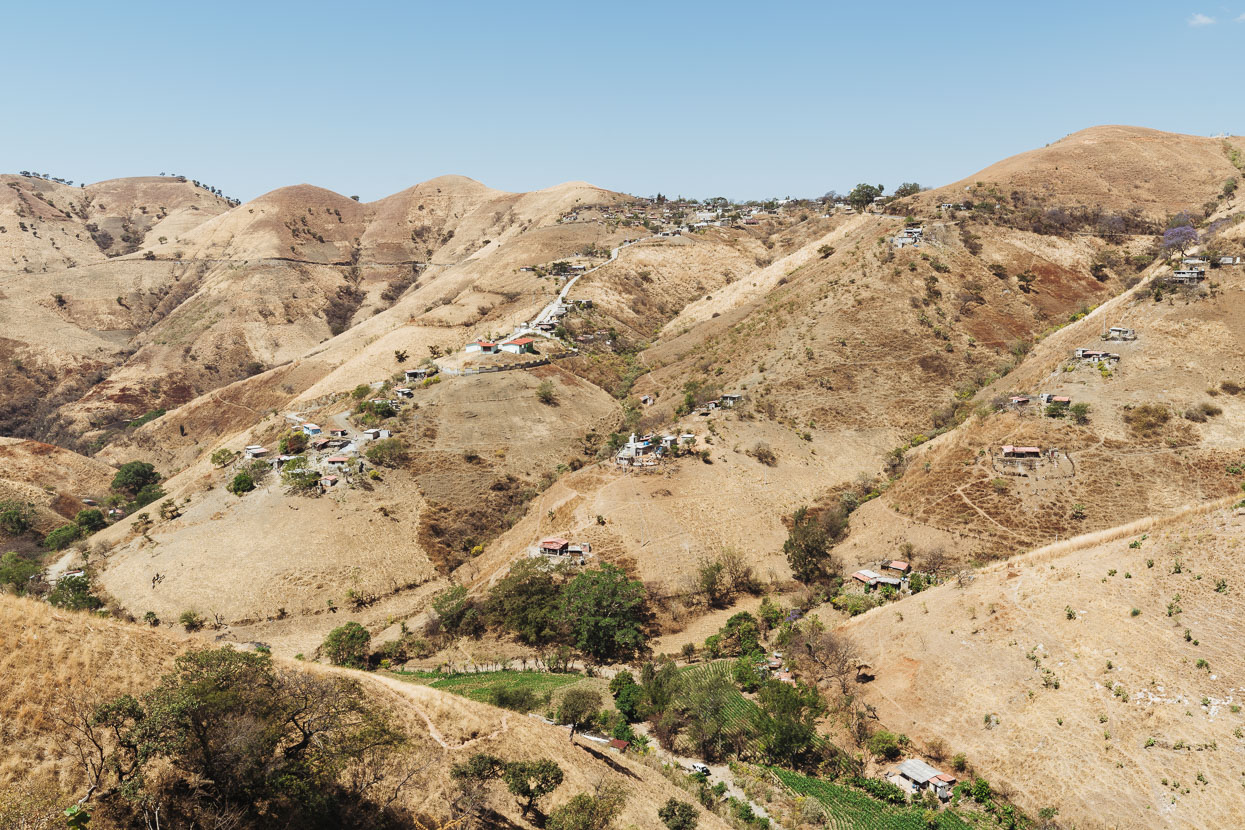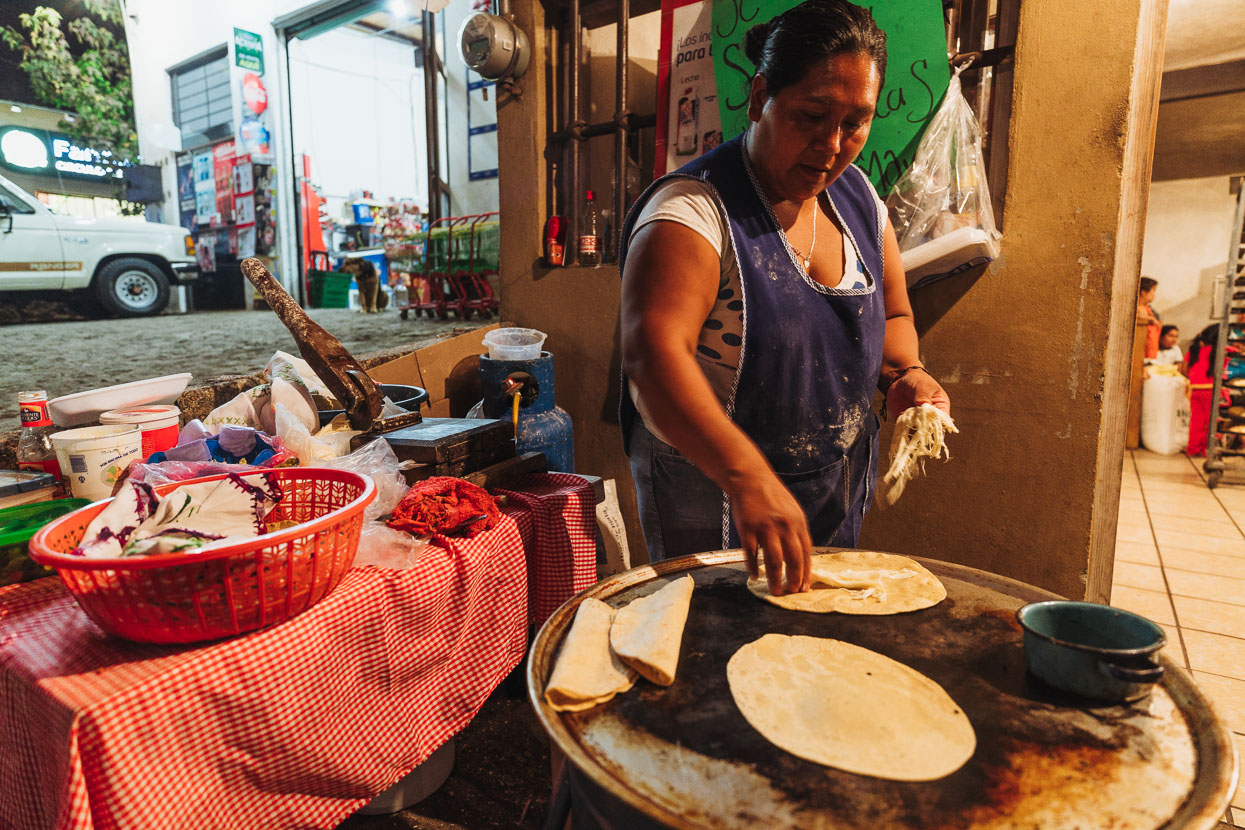 That same day we passed through the insanely busy Valle de Bravo. This lakeside town is a weekend alpine retreat for Mexico City's upper class and was a staggeringly different change of scene. Waterskis and jetboats churned the surface of the lake, kids in ATVs hooned around and the town was absolutely heaving with the crowds of a long weekend Saturday. We tried over a dozen hotels for a room, even well away from the centre and eventually gave up. After riding several kilometres away from the city – and steadily uphill, finally a woman who owned some cabañas (that were full) gave us a room in her house – for 500 pesos!
We ate half a pollo al carbon and some quesadillas for dinner to offset the cost (about the cheapest dinner in Mexico).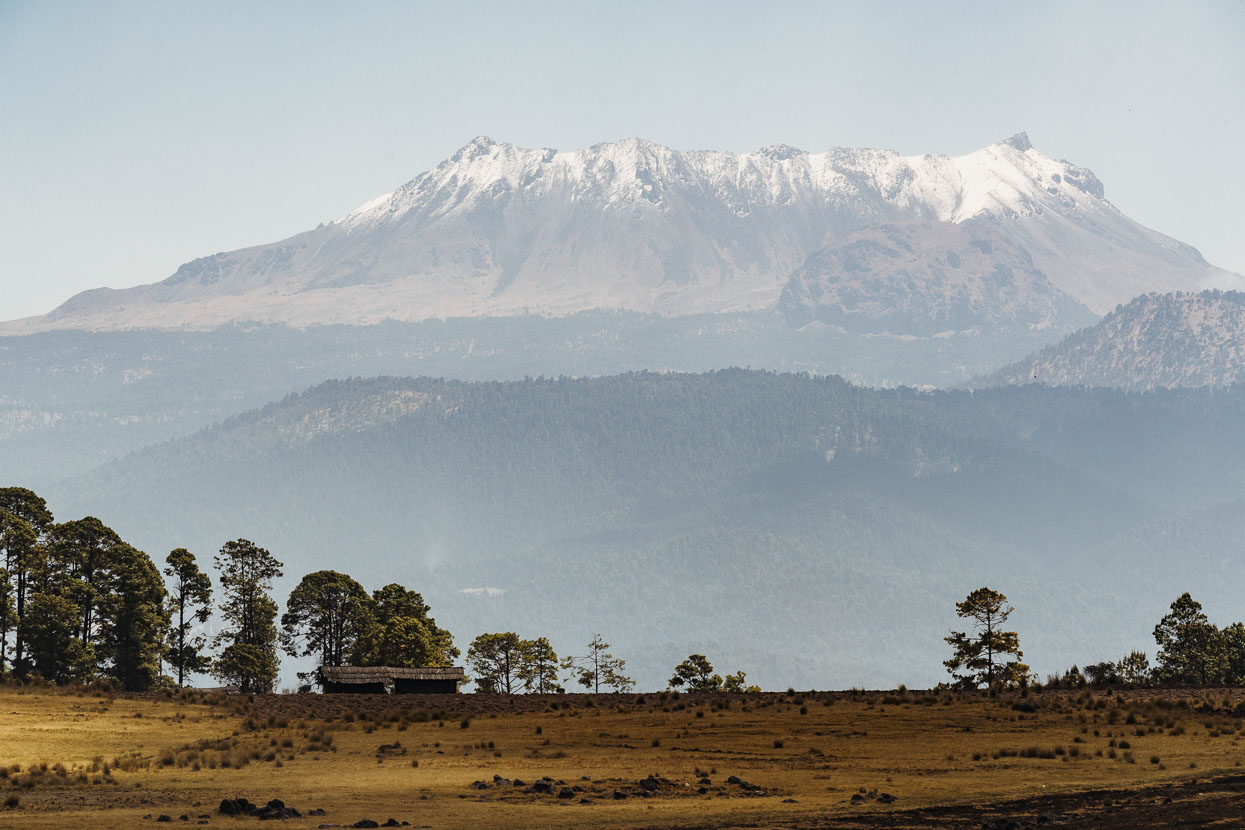 That moment when the mountain you have been riding up all morning and half the afternoon finally reveals its summit. Volcan de Toluca (4680m). We aimed to camp in the mountain's crater (at about 4300m) the following night. Valle de Bravo was at 1850m – it's big country!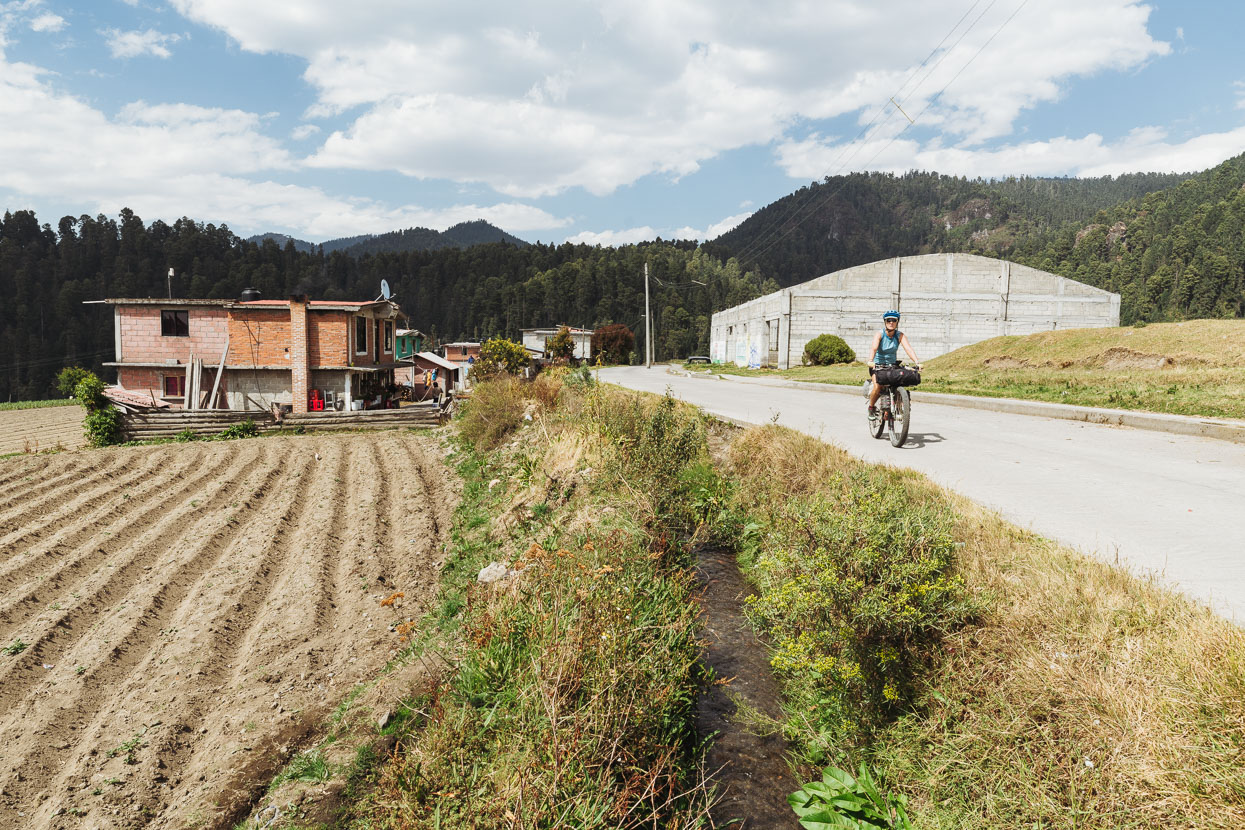 Most of the climb from Valle de Bravo had been on the busiest paved road we'd ridden in Mexico, but it was made magical in places by the sight of hundreds of butterflies drifting down the road corridor through the trees – this area too is one of the main migration sites. In the mid afternoon we finally turned away from the busy highway onto dirt roads and passed through a couple of small villages.
A nice section of fir forest as we neared the village of Raices at the base of the mountain access road.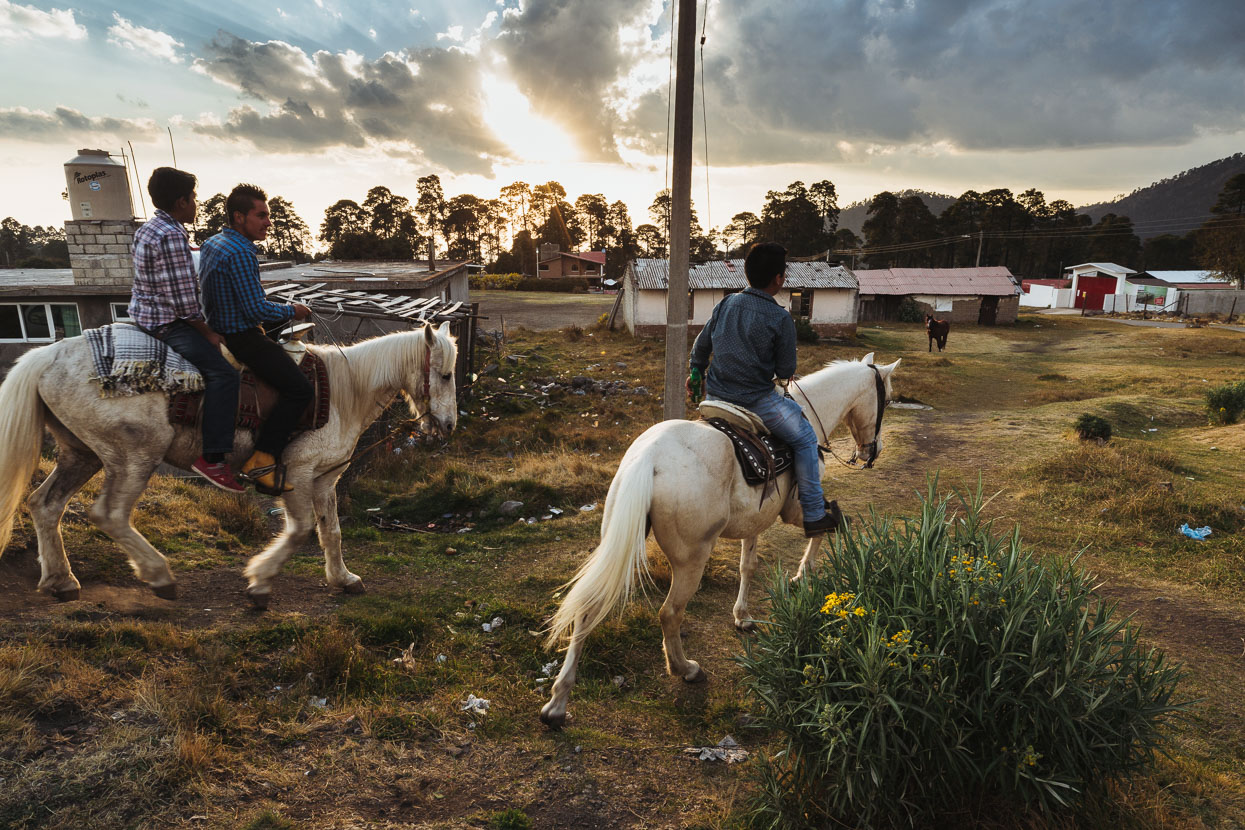 Dusk in the village of Raices. Hana bought a 20 peso hat to keep herself a bit warmer in the expected below-freezing temps. 'Trucha' is trout – they fished a couple out of that tank for our dinner.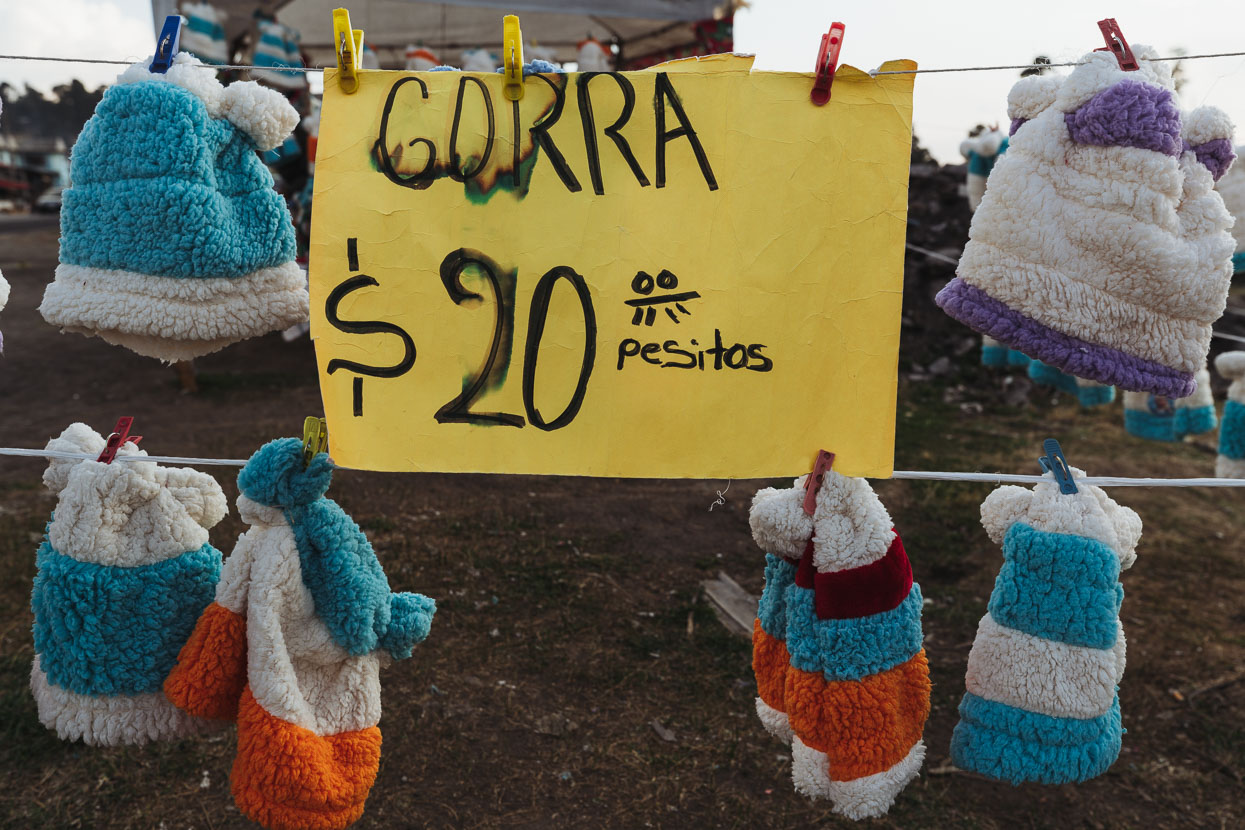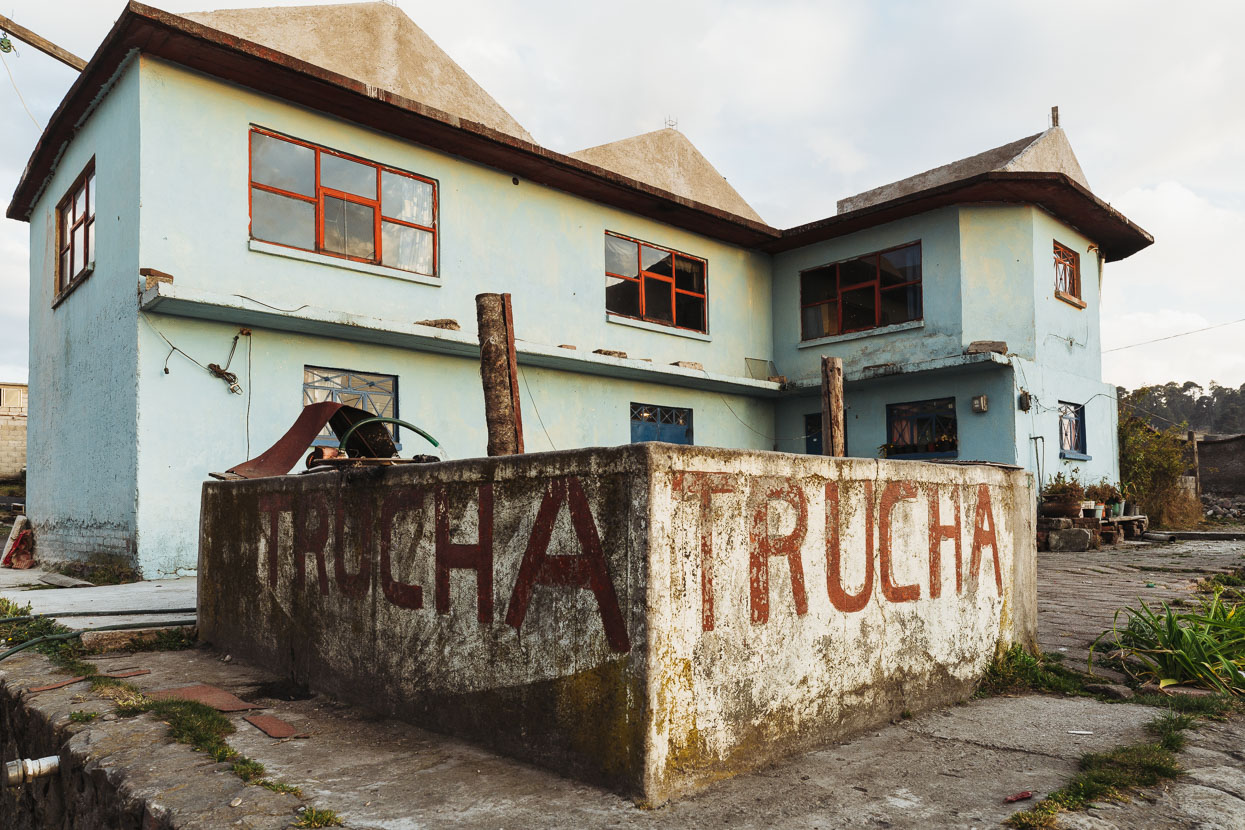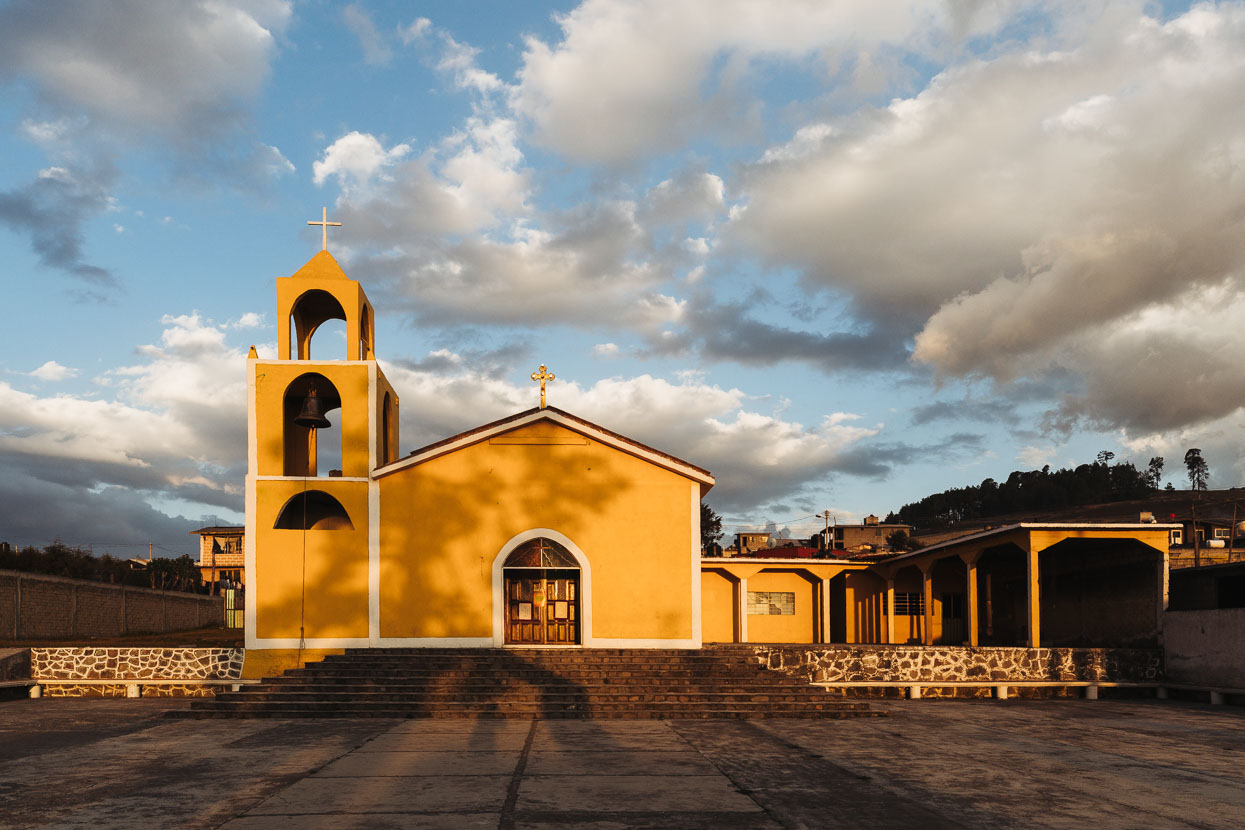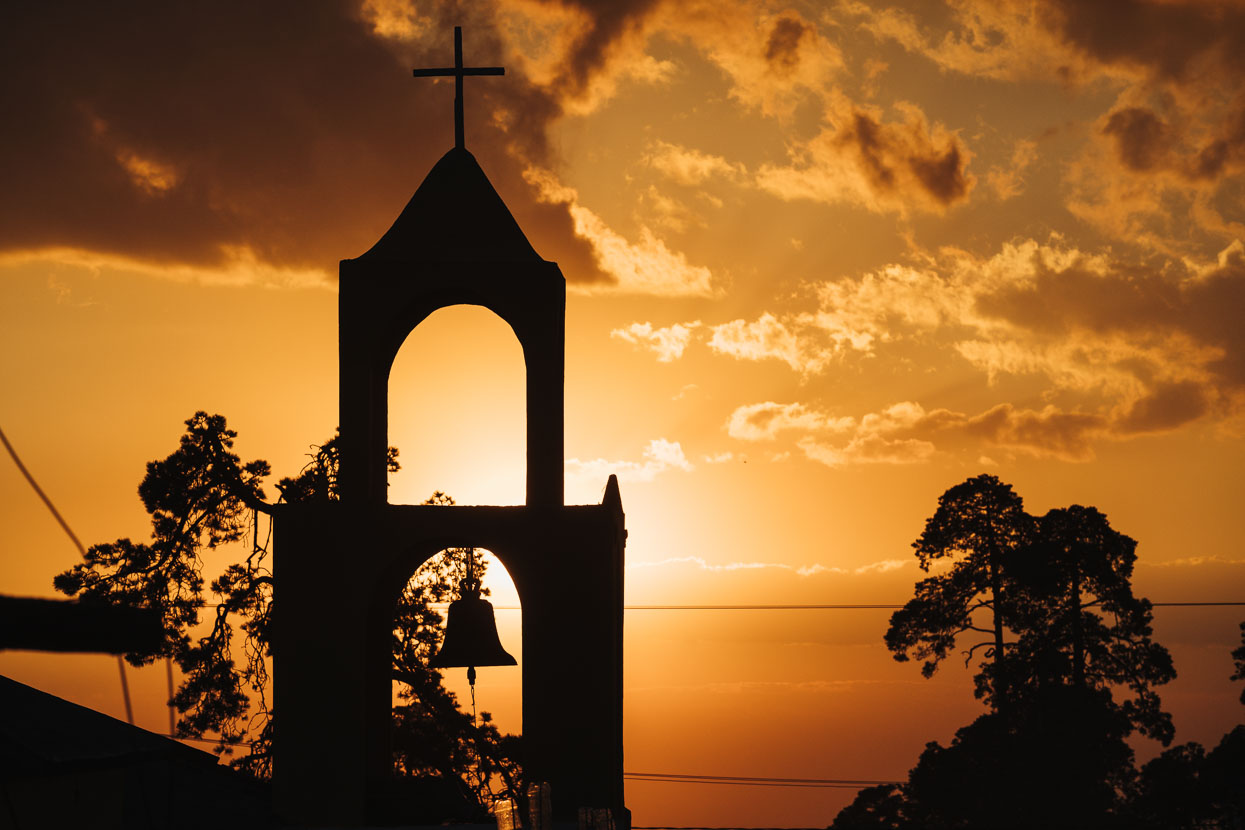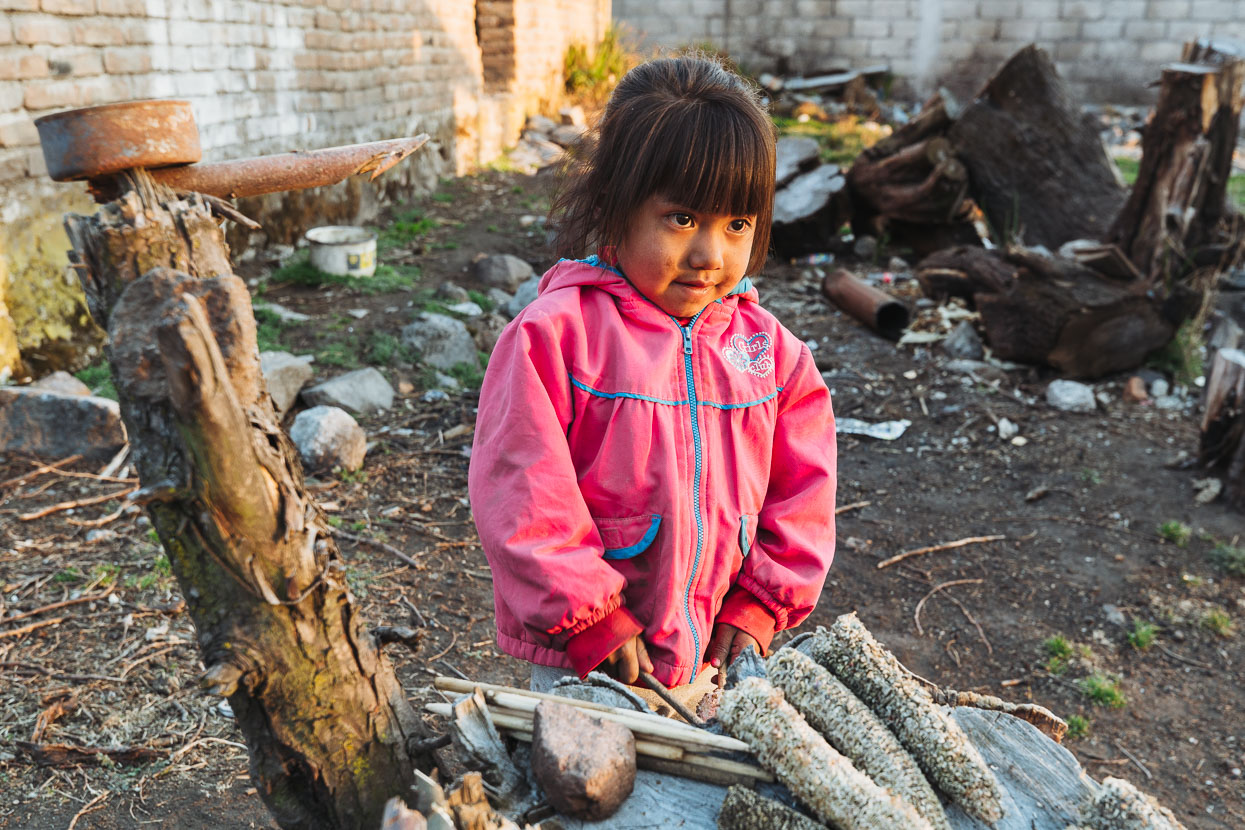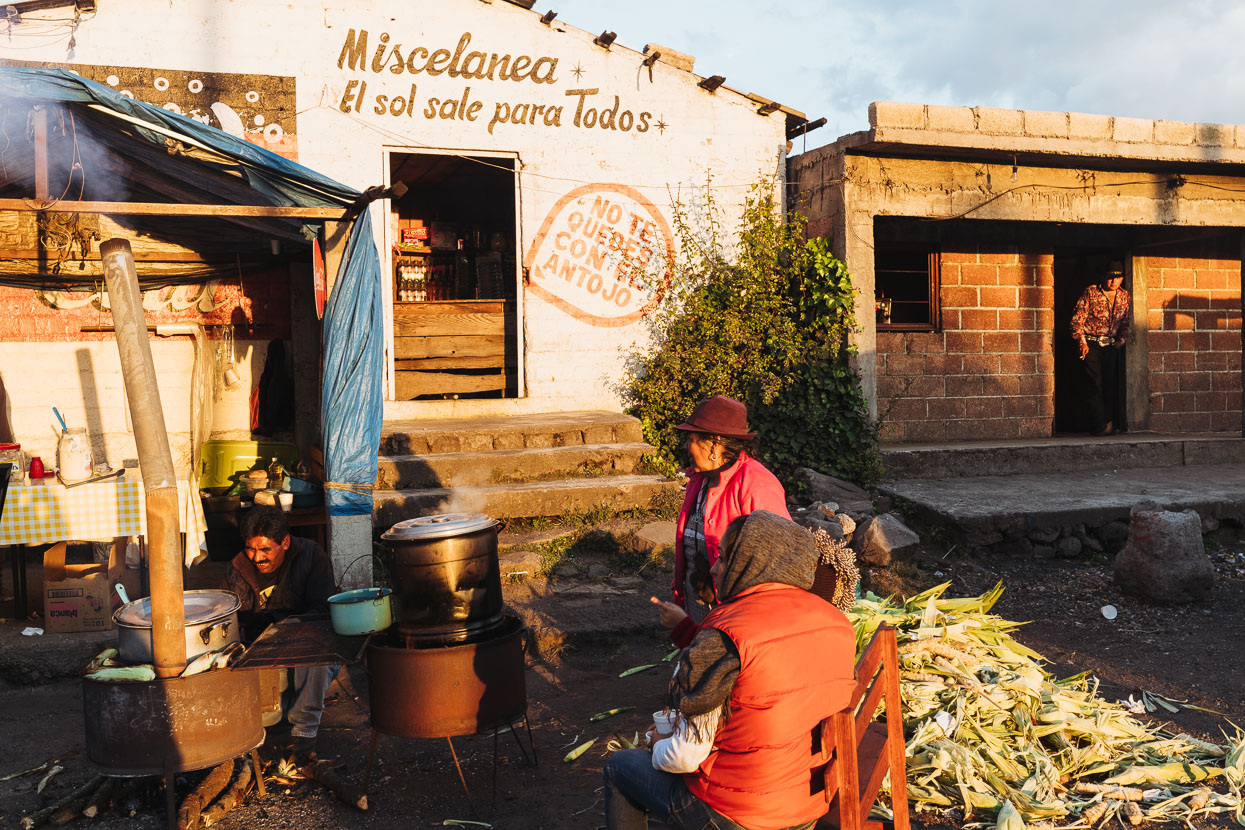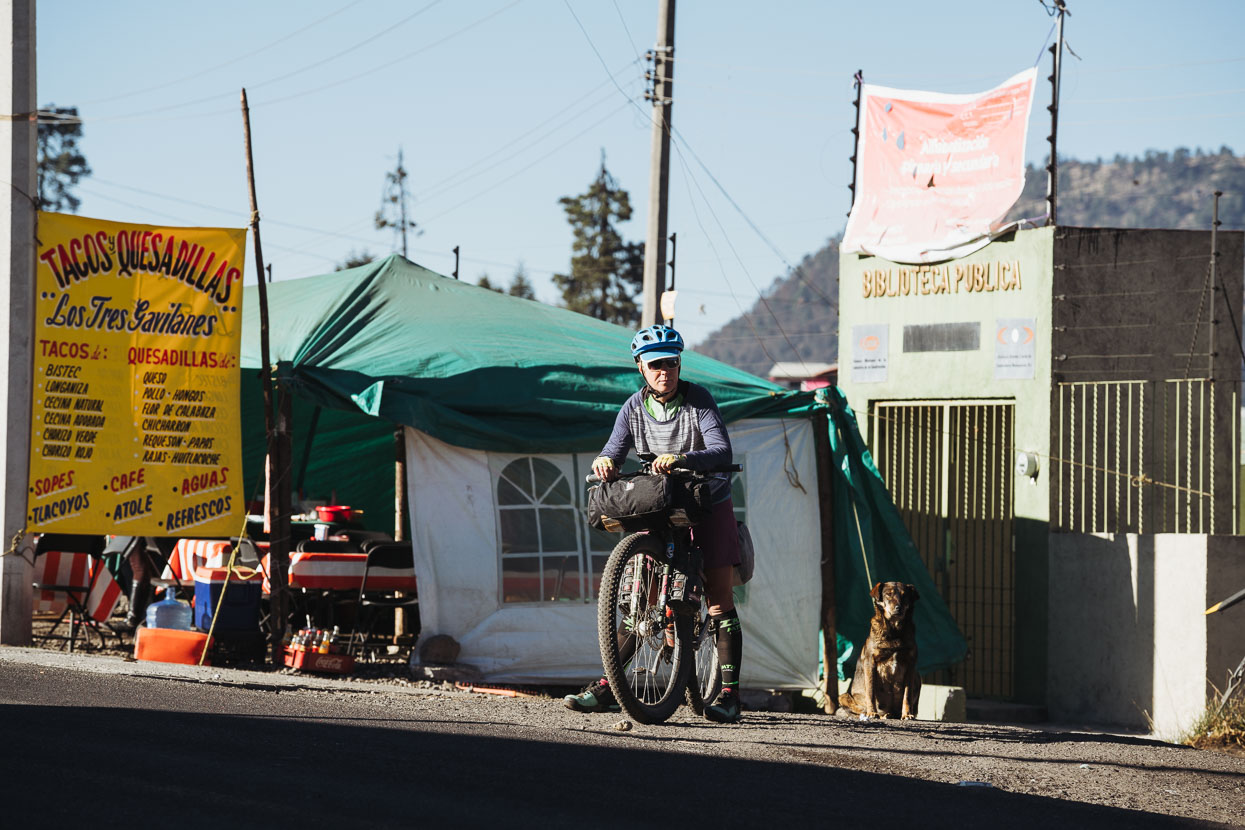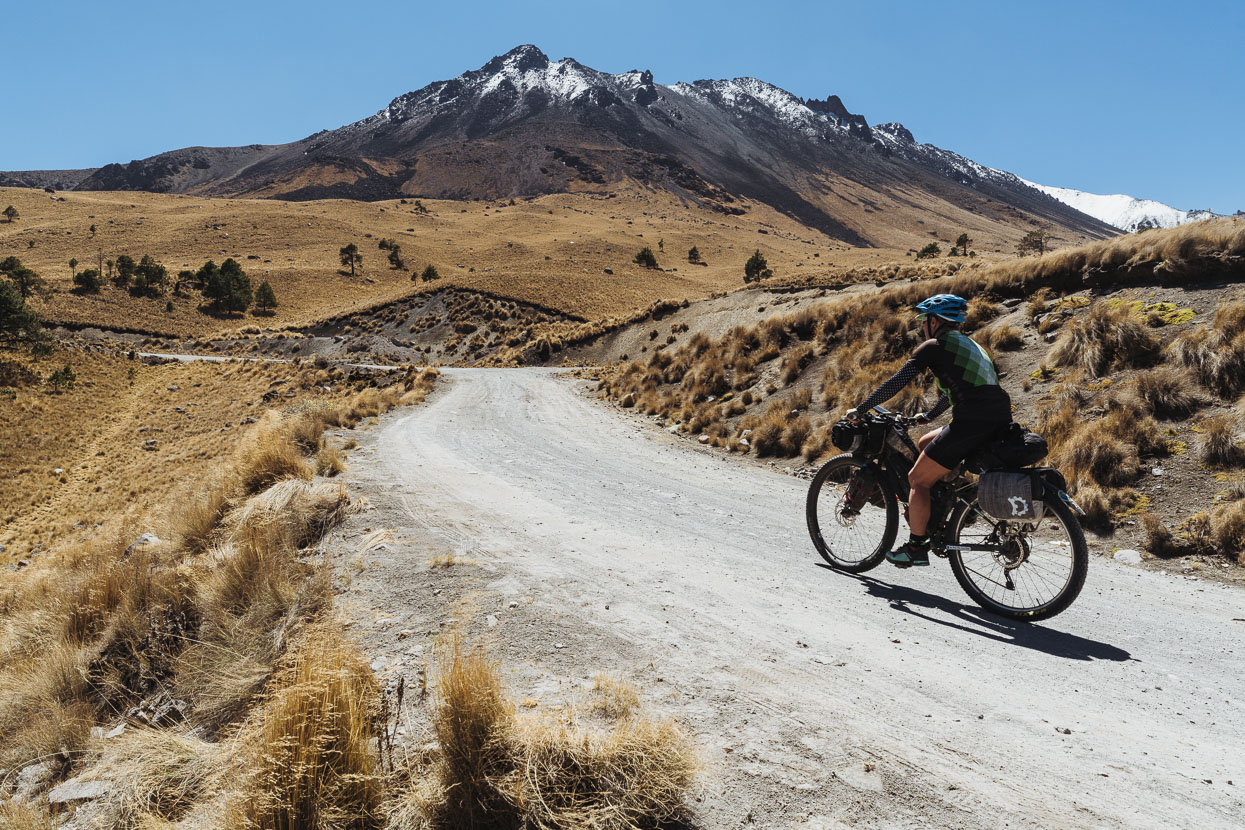 We'd gotten ourselves a basic and cheap room in Raices for the night and in the morning began the final 900 metre climb to the crater.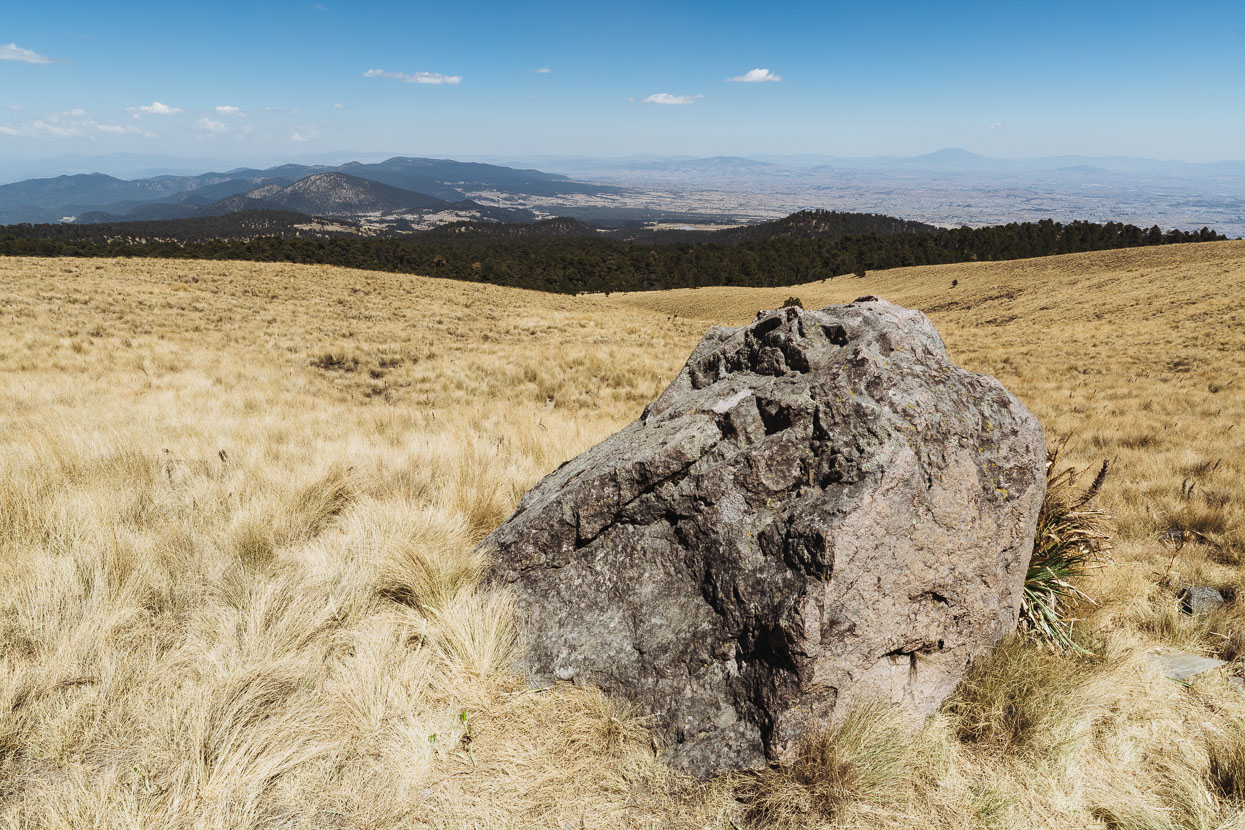 Looking down on the altiplano near Toluca city (on the right). To the left the forested landscape begins a dramatic fall away to lower elevations and eventually the west coast.
Being the long weekend still the mountain was very busy with day visitors. Mainly typical middle class Mexicans enjoying a day in the outdoors. After so much time in the poorer rural areas it was good to see a different side to Mexican society (of which there are many!).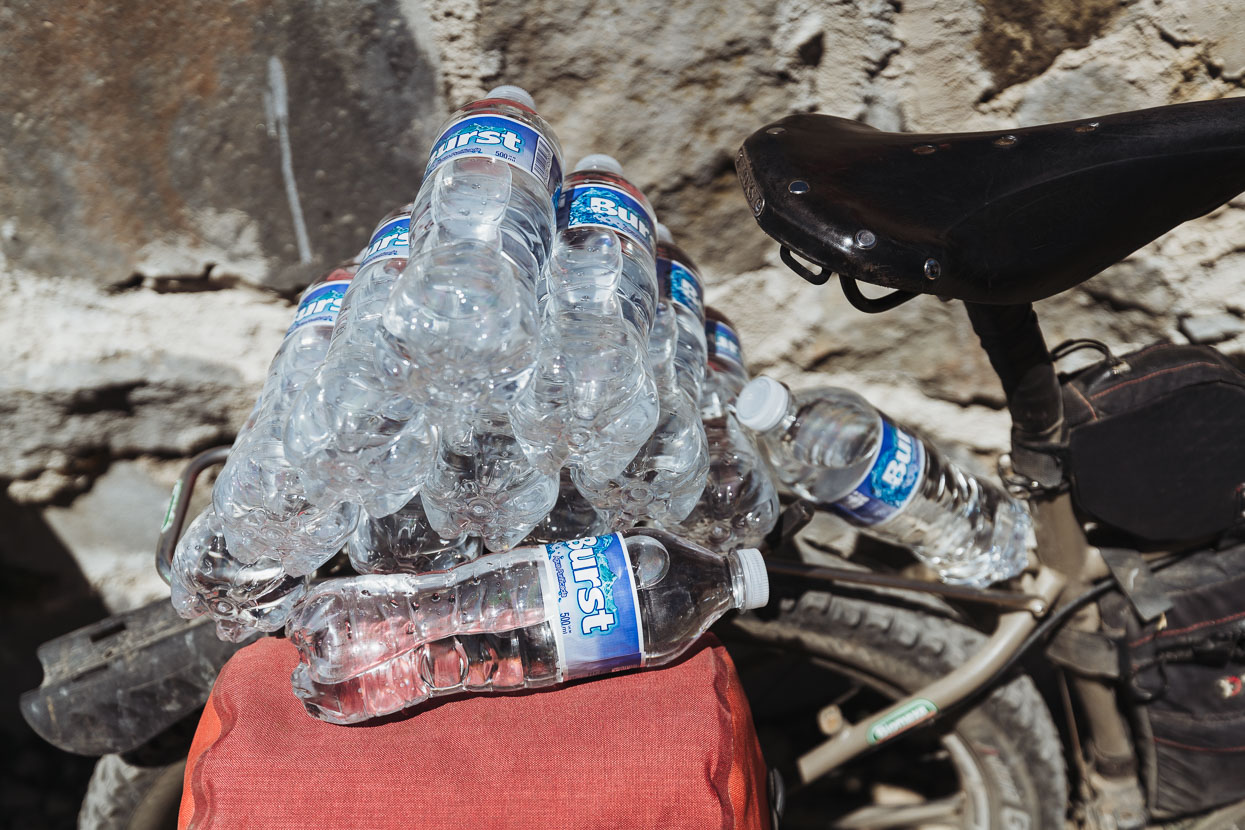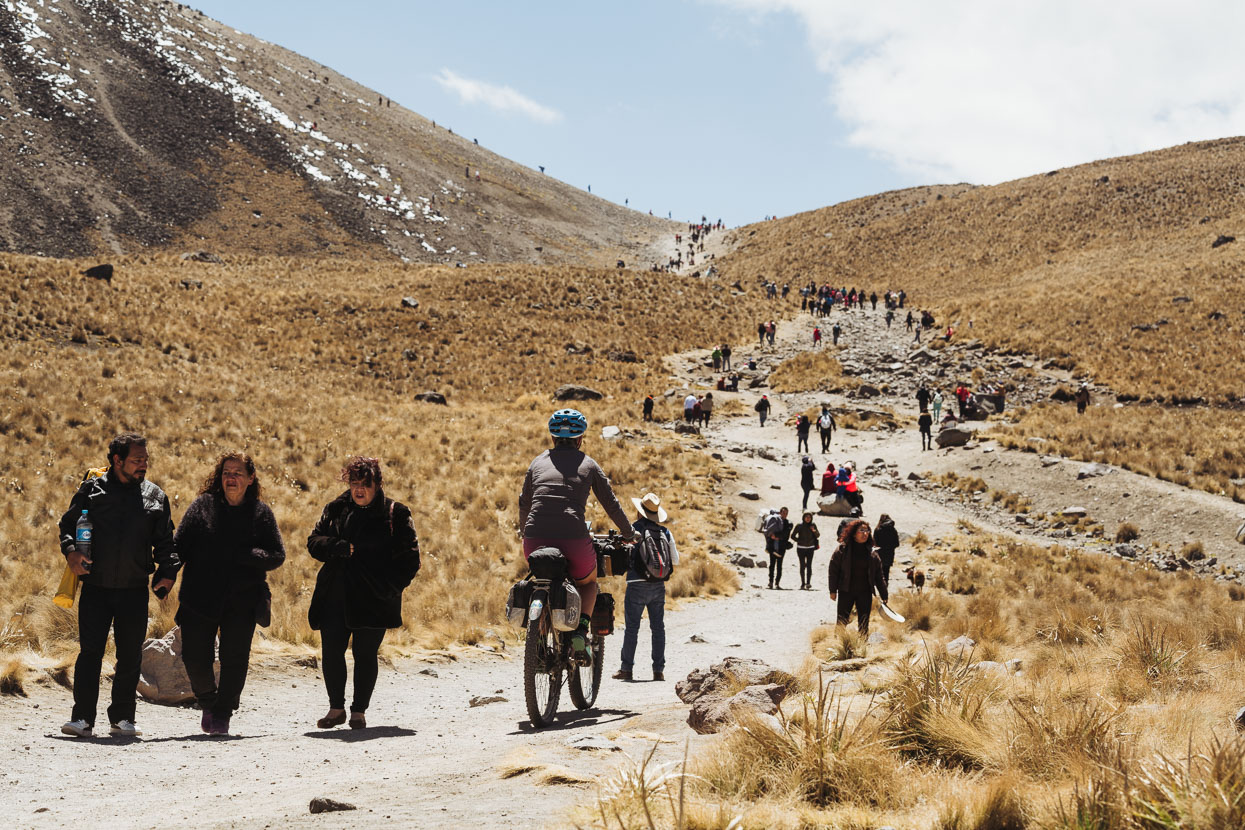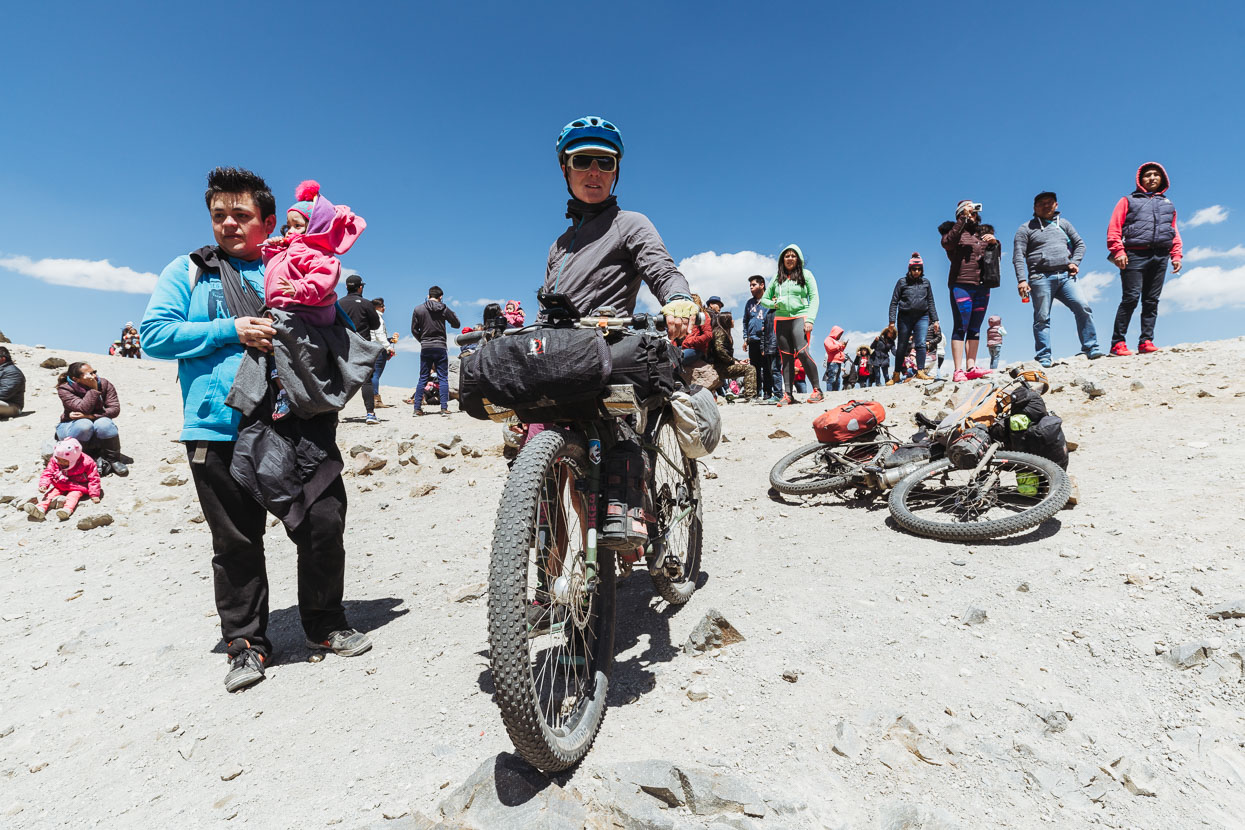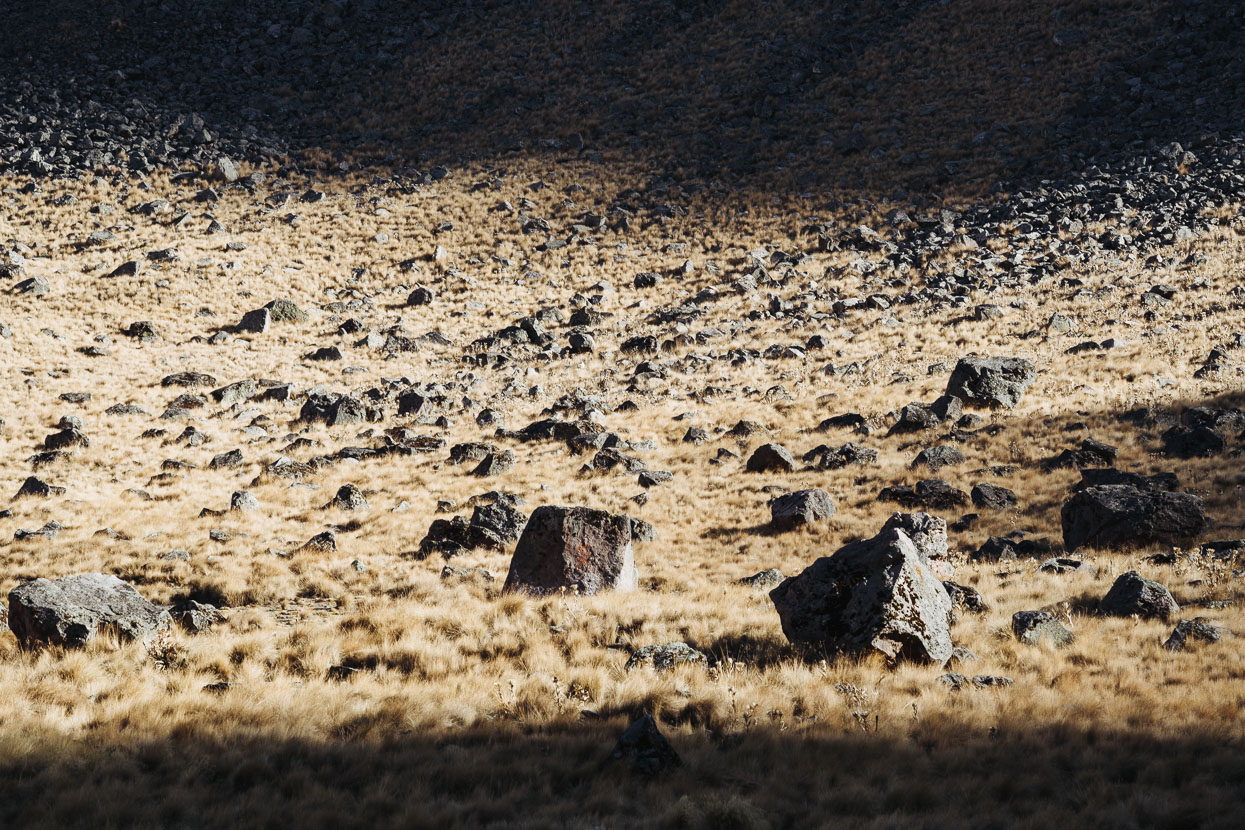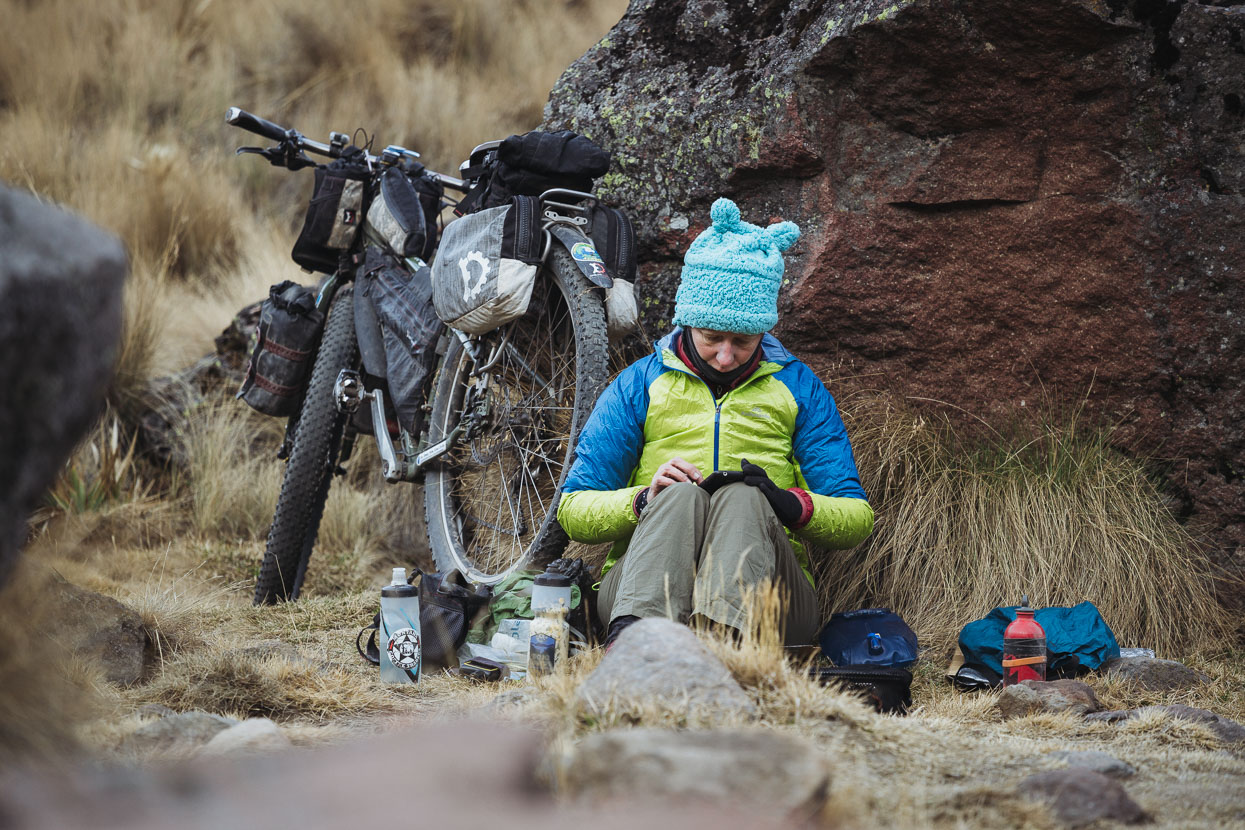 The park authorities don't officially allow camping in the crater, but we discretely waited until the last of the hoards had gone and the sun had dropped over the mountain's rim. As the air rapidly cooled we pitched our tent, put on all our clothes and made some dinner.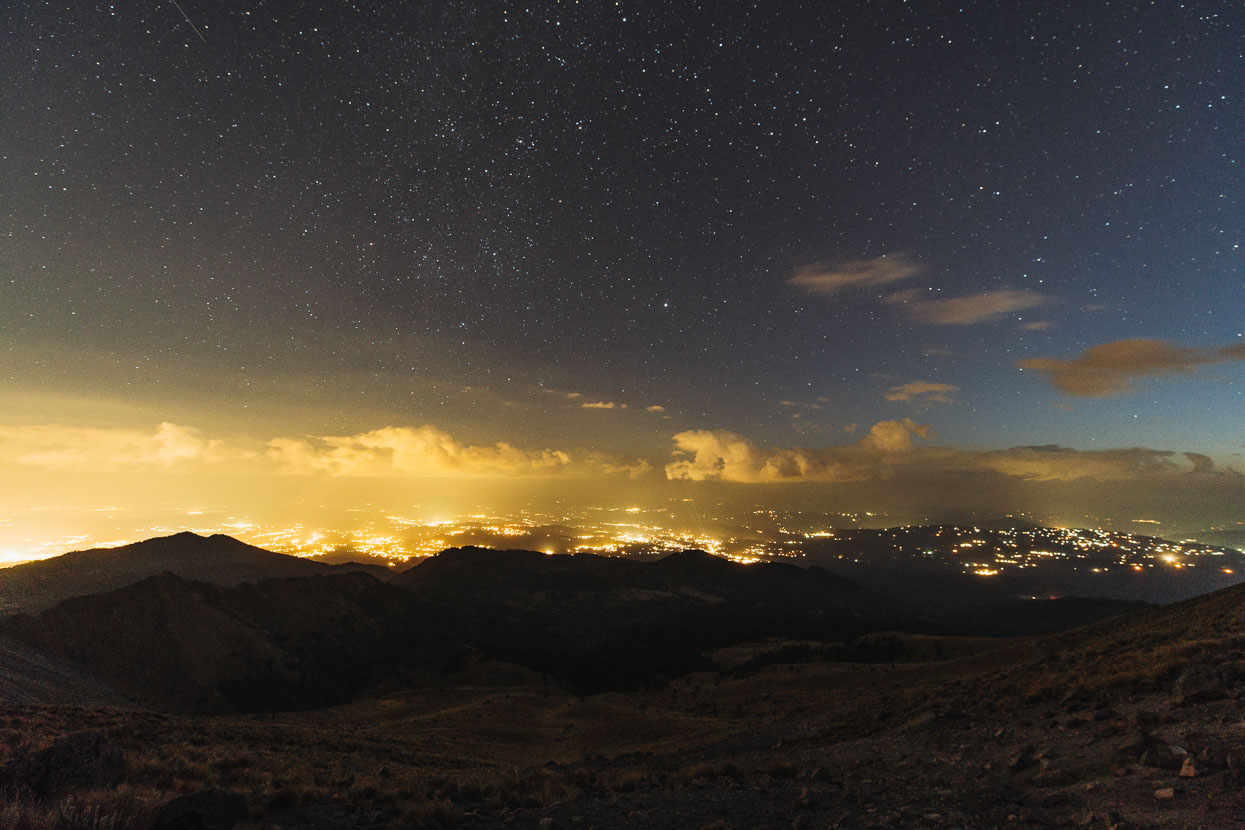 A little after sunset we hiked up to the crater rim (45 minutes) to take a couple of shots and to scope it for a return visit in the dark in the early morning. This view is looking pretty much due south. We were amazed how many townships there were out there.
Being early spring the night was cold enough to freeze some water in our bottles, but we were warm enough in our light summer bags with them zipped together and most of our clothes on!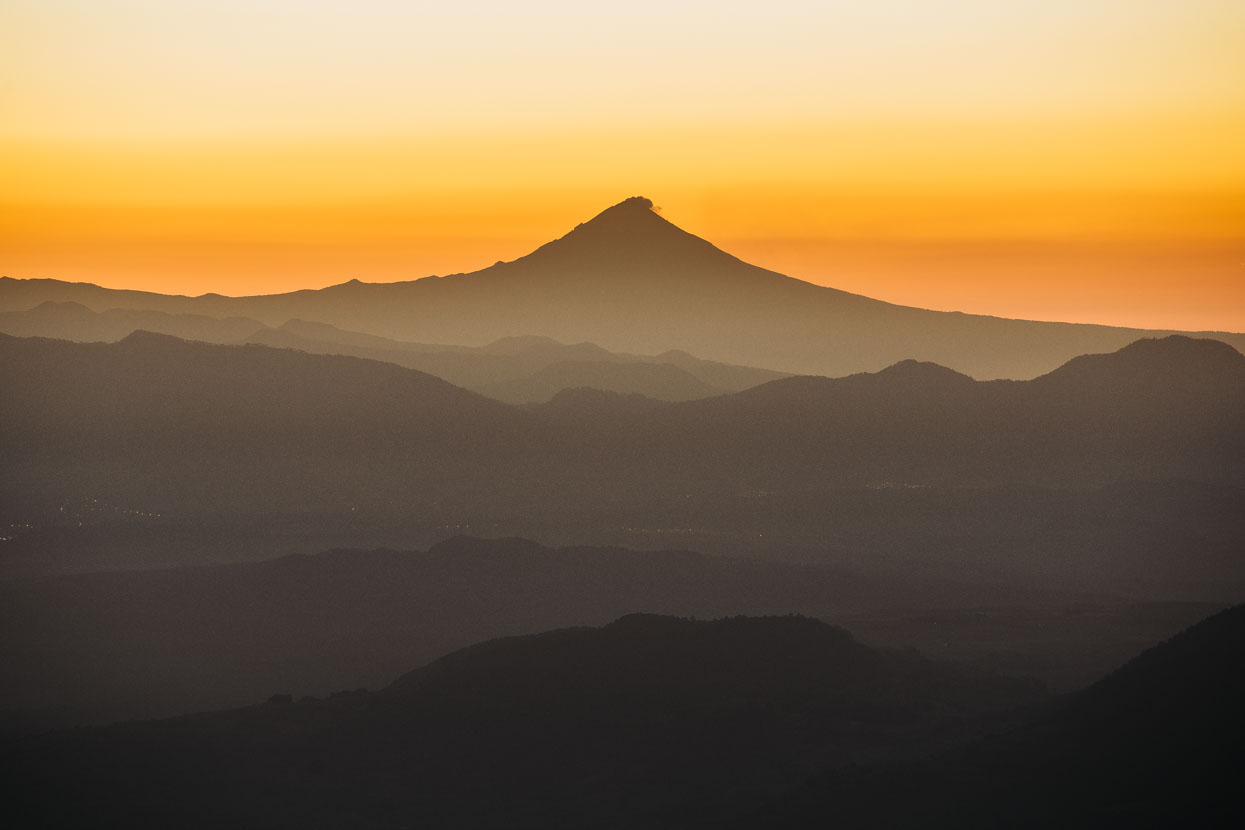 The famous cone of Popocatépetl – a volcano very close to Mexico city – shortly before sunrise.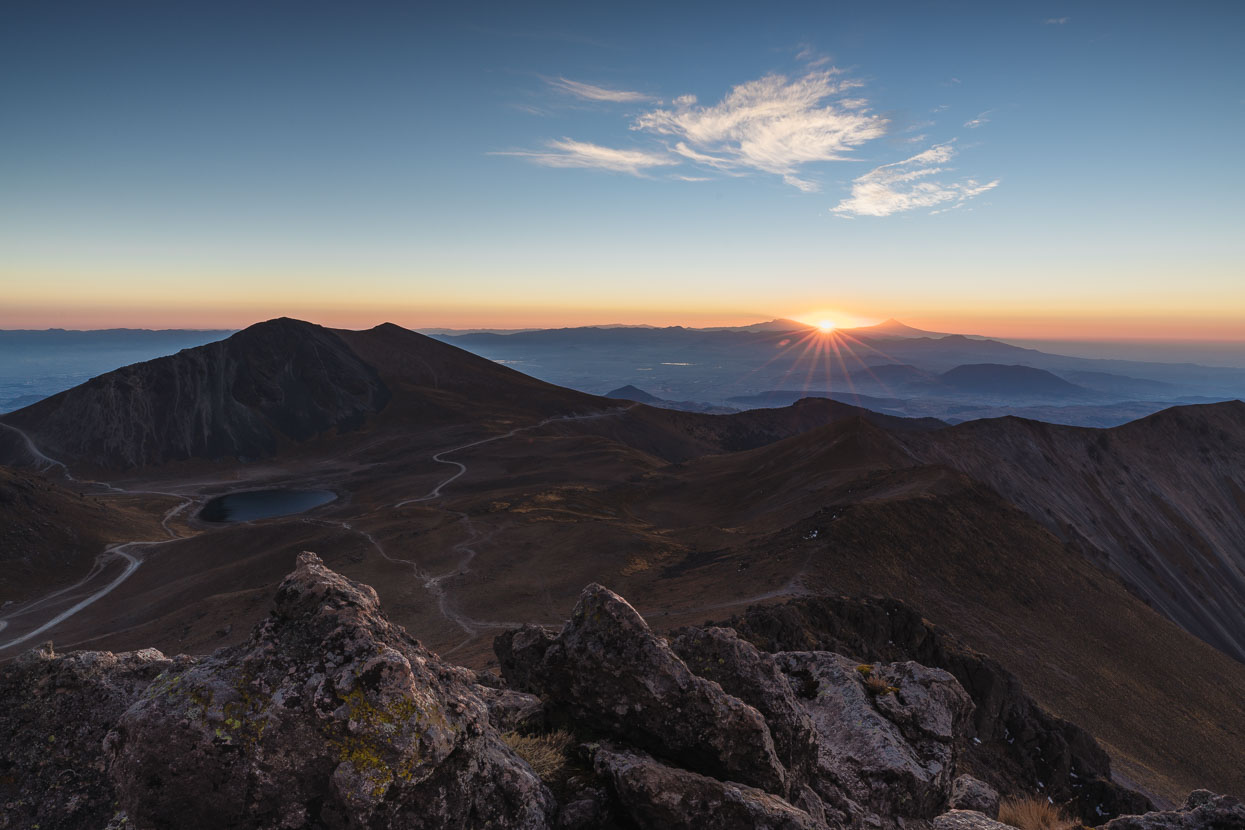 Sunrise on Volcan de Toluca, at roughly 4460 metres. A steady and cold wind made it a little bit grim on the ridgeline but the view distracted us from cold fingers.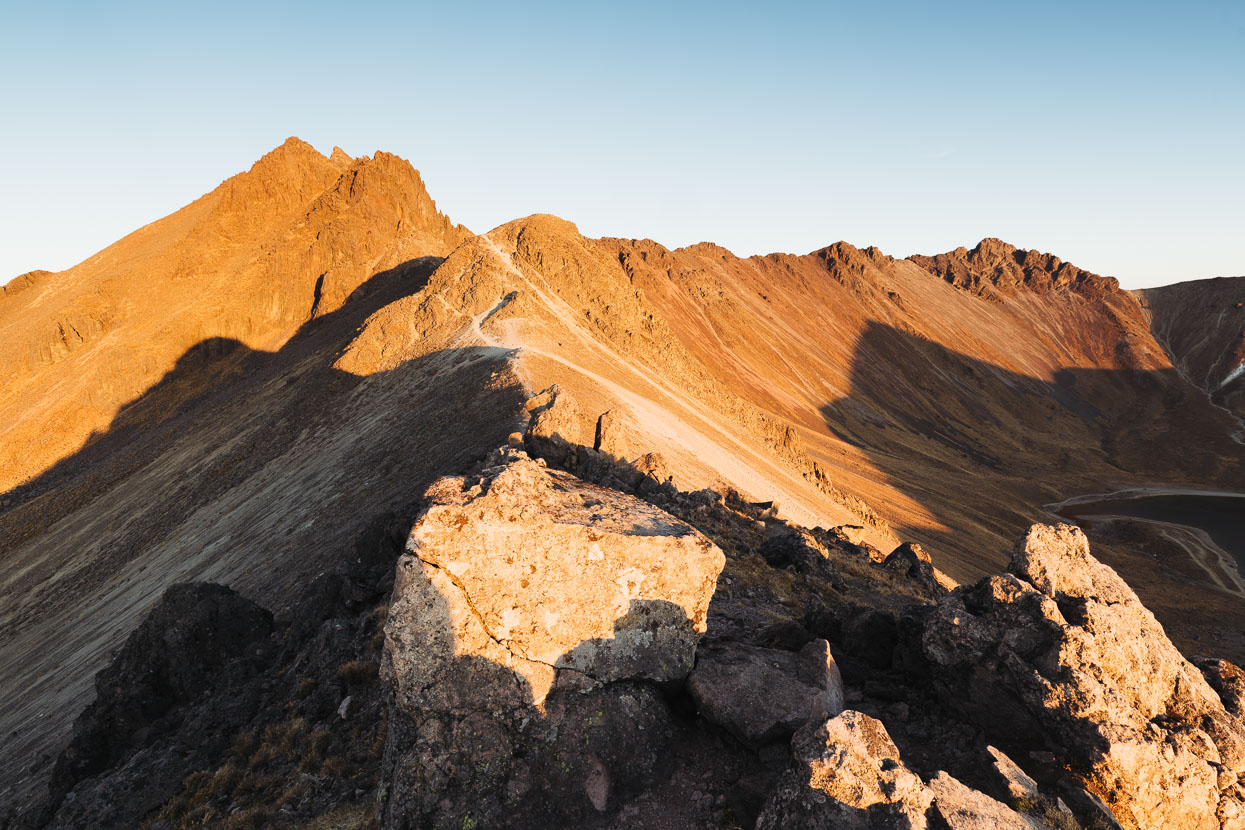 Looking back at the true summit.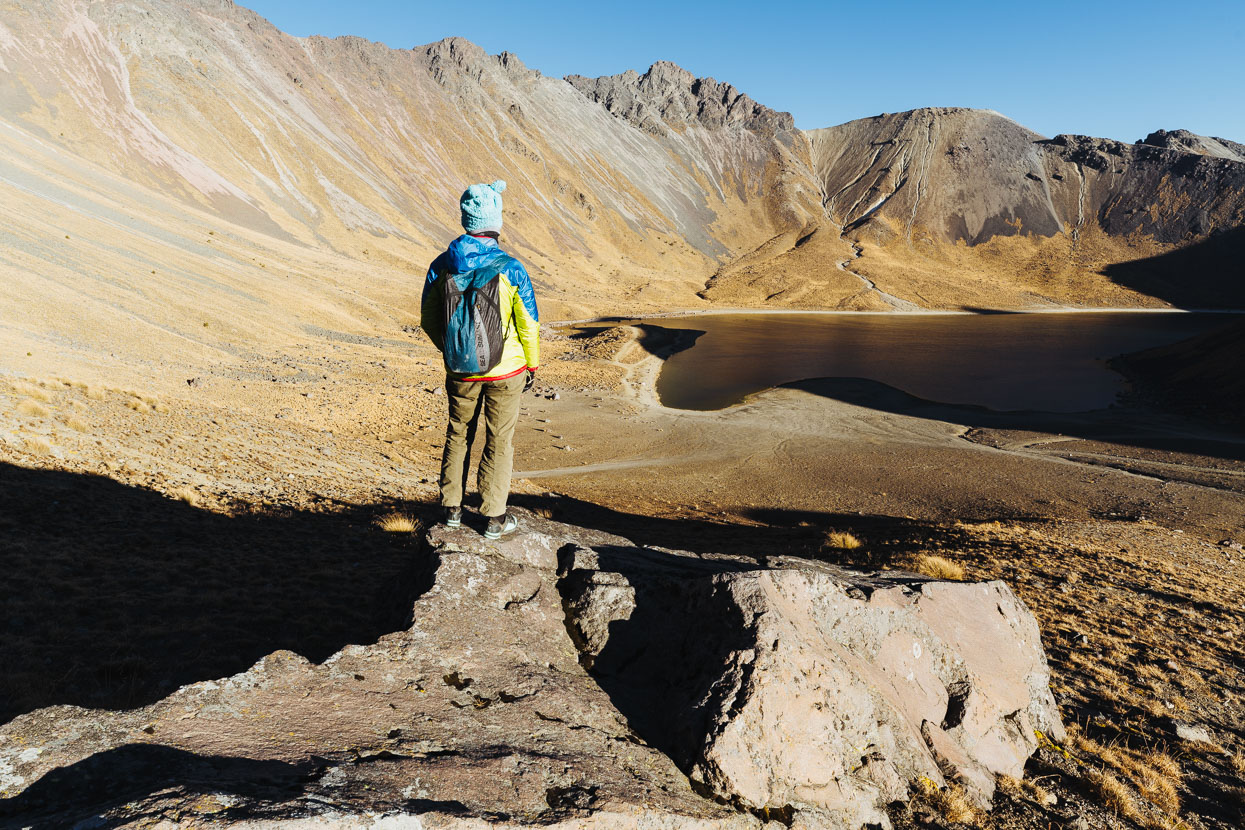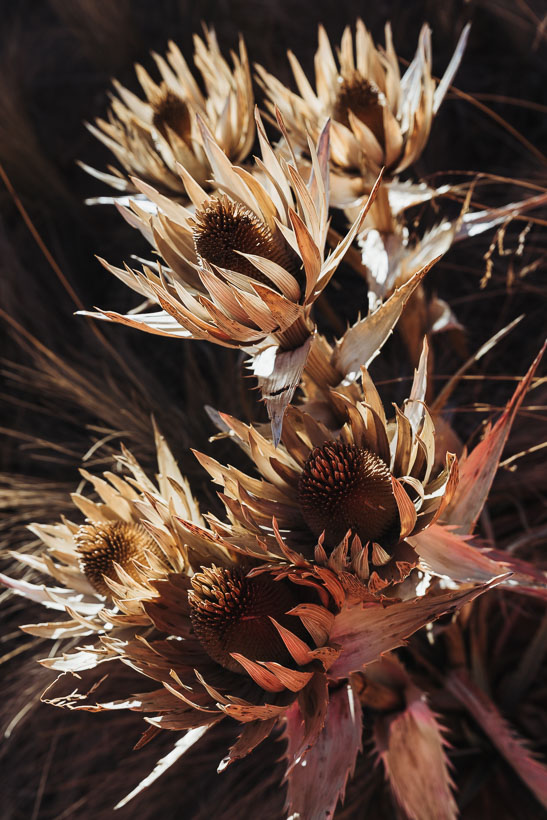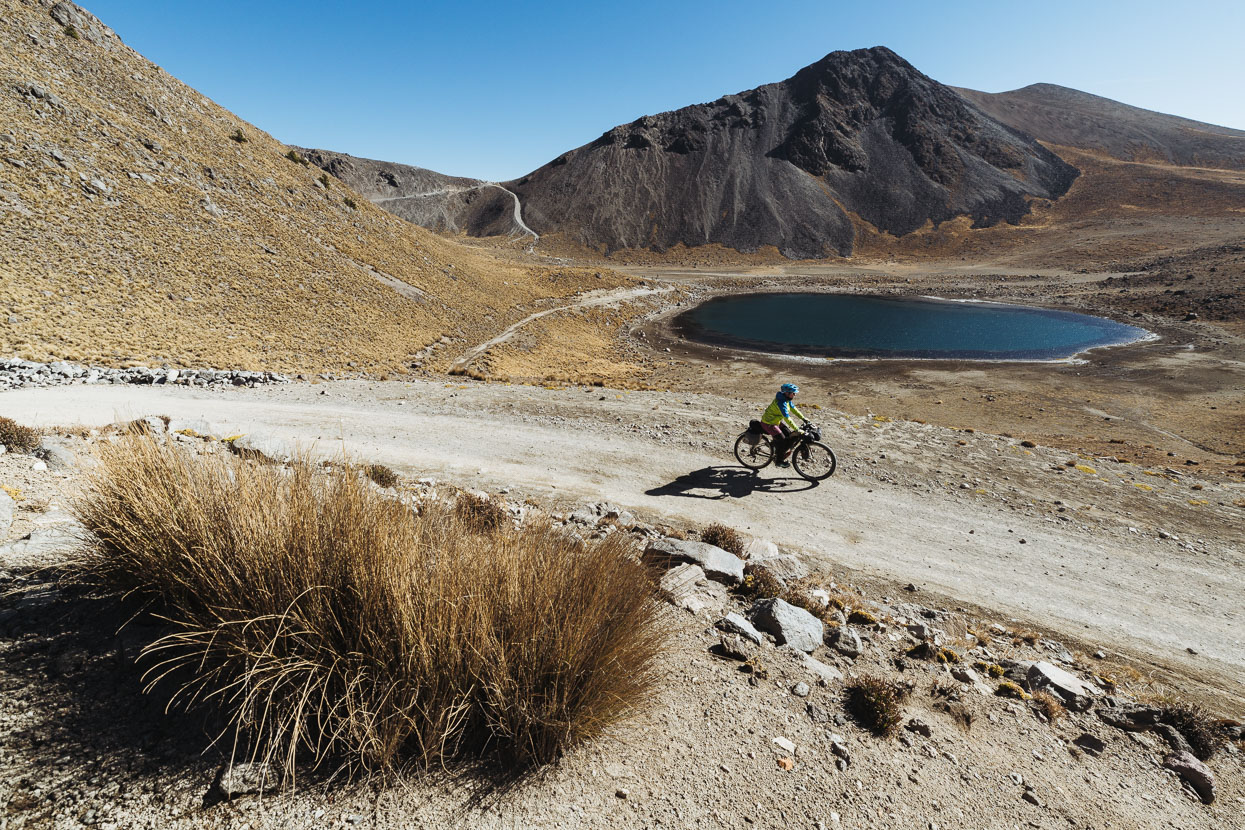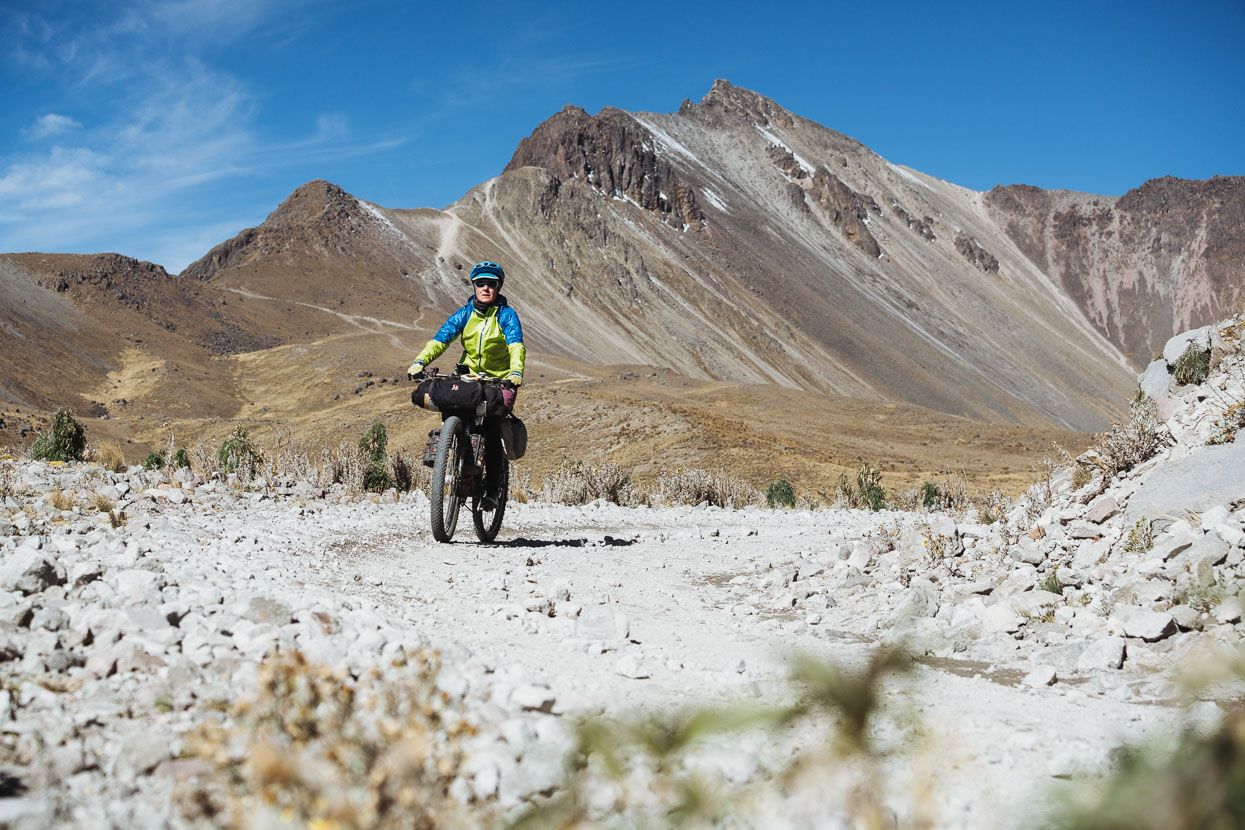 We headed back to camp, packed up and were heading off out of the crater by 9am, with a 1500 metre dirt road descent to Zaragoza de Guadalupe coming up. There was even a fine section of singletrack too.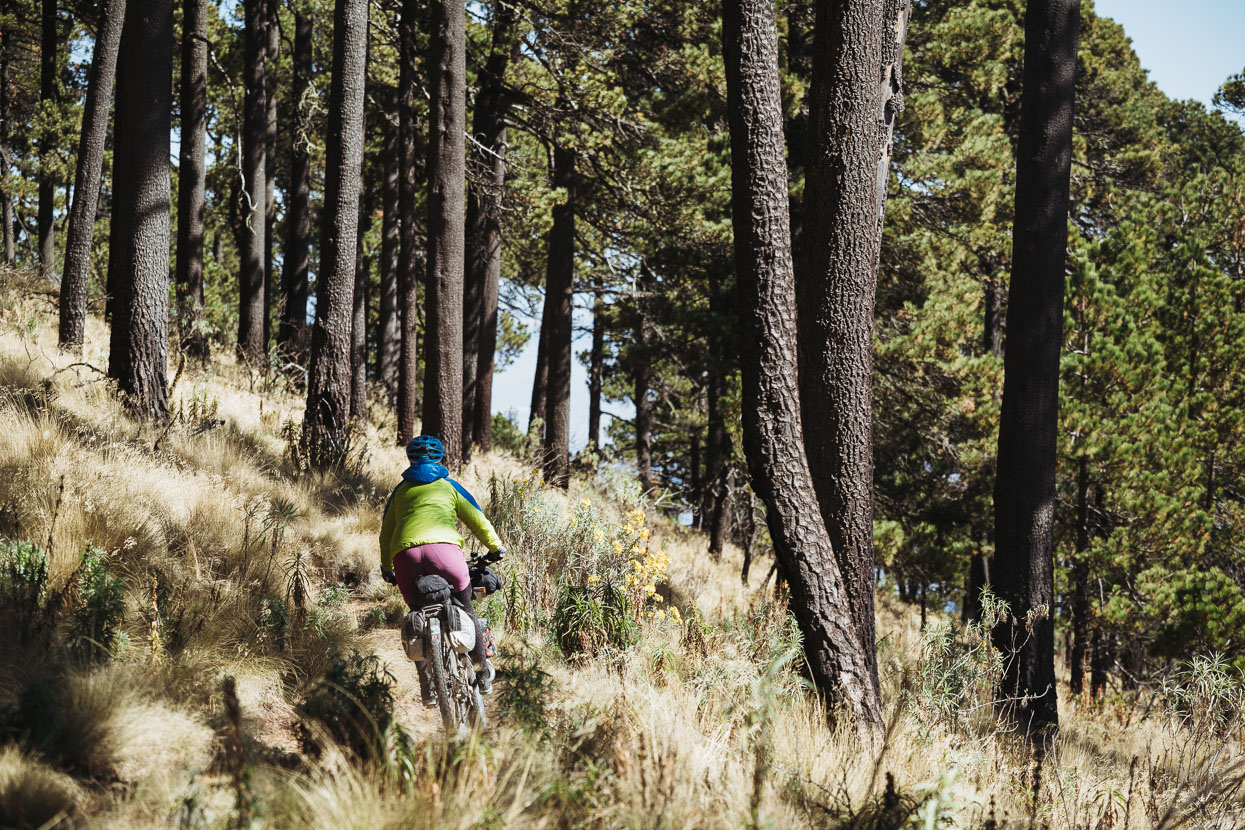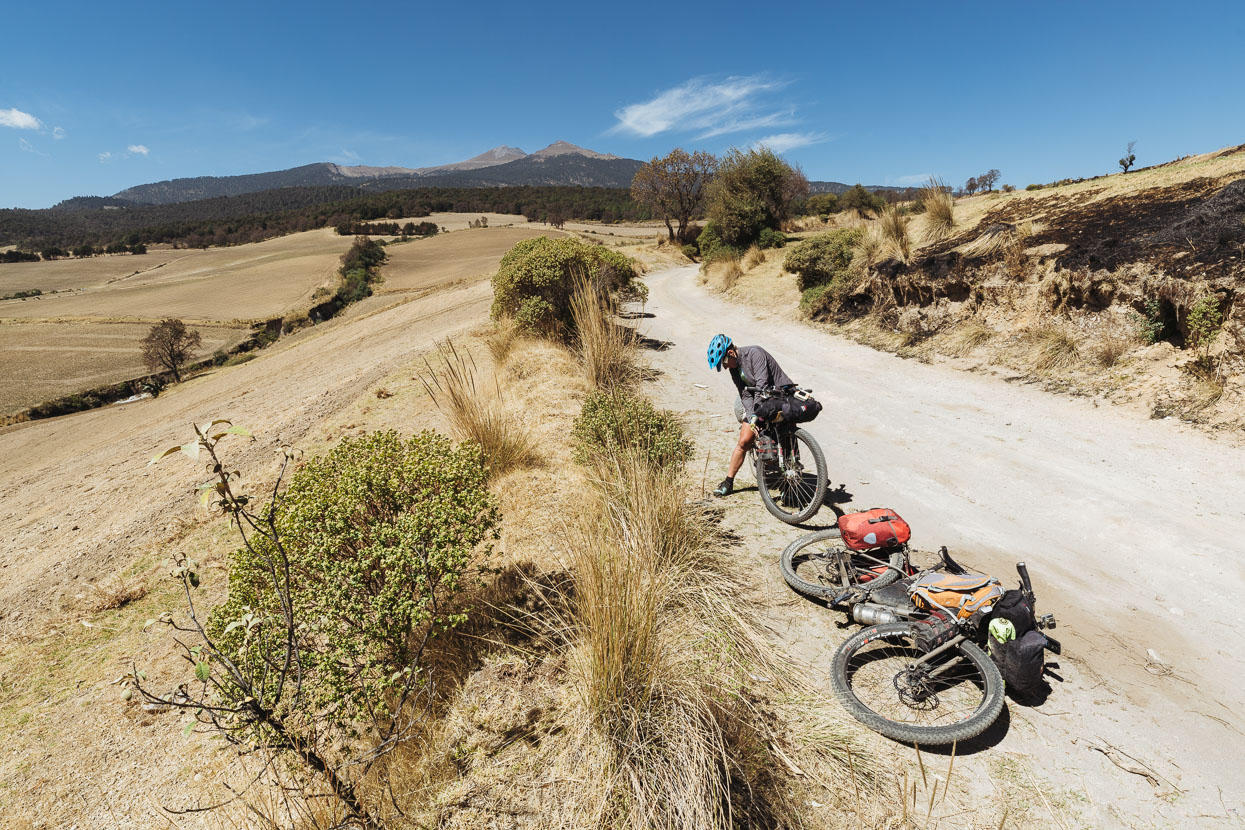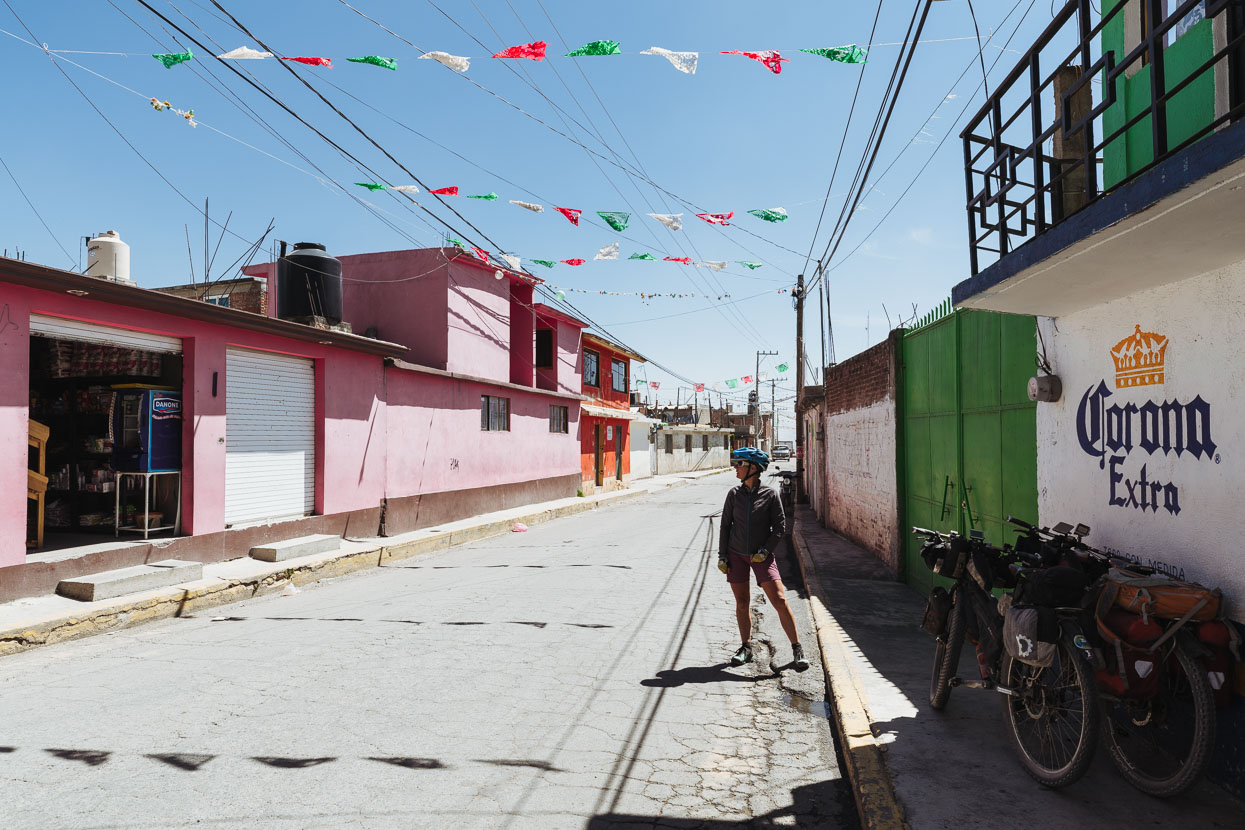 Zaragoza de Guadalupe. We only stopped for a moment, before coasting on to the next village. There we got on the free wifi in the town square and started to plot our route south towards Oaxaca. There we just worked out where we'd aim for that night. Malinalco sounded good: a Pueblo Magico, at only 1740 metres and with an interesting sounding Aztec temple site. We plotted a Google 'walking route' to get there and it turned out to be a good one – with nice tracks and dirt roads mostly well away from the busier highways.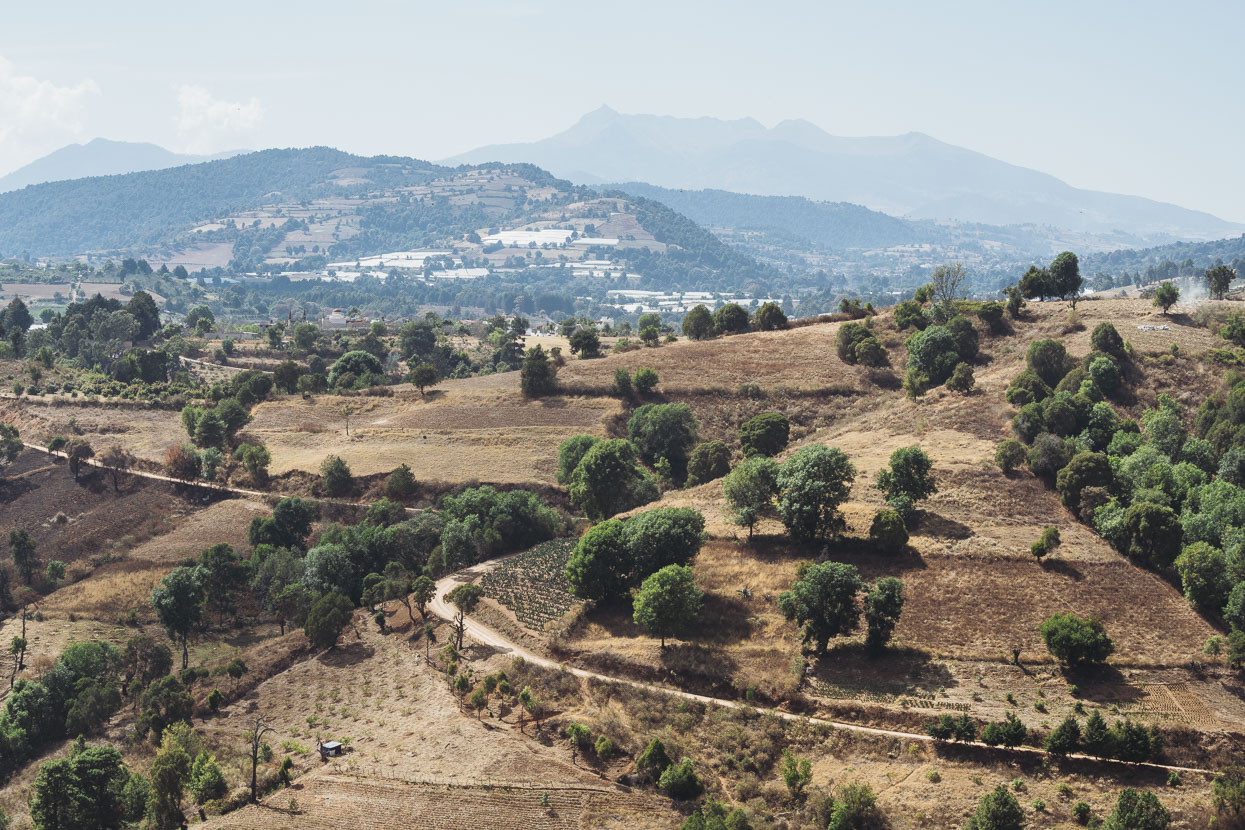 Looking back at Volcan de Toluca as we left the altiplano behind for the last time and began our descent towards Malinalco.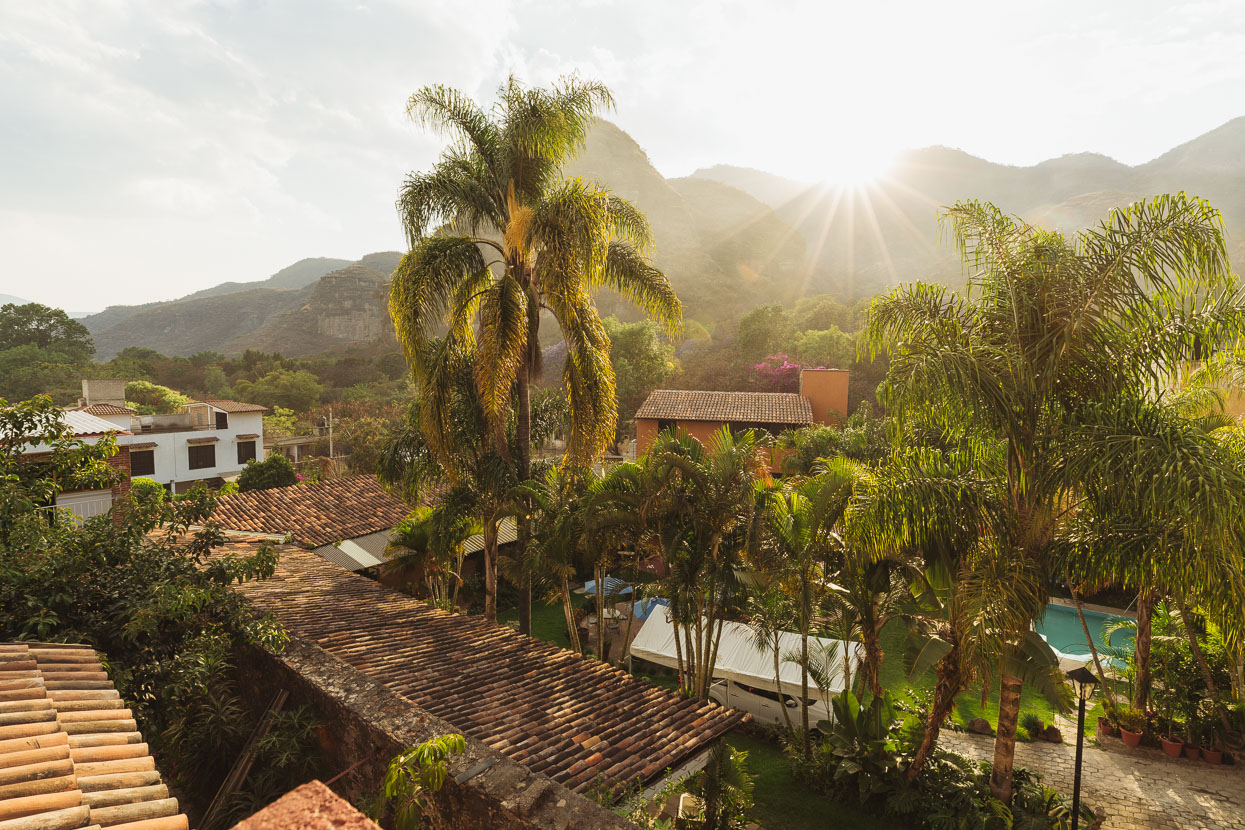 We'd ridden into a totally different climate by the time we reached Malinalco later that afternoon. The temperture was in the high 20s and when evening came, for the first time in Mexico, we didn't need to wear more than a t-shirt. It was a really pleasant change. We spent two days there, resting after our higher elevation adventures, blogging and checking out the Aztec temple site etched into the cliffs high above town.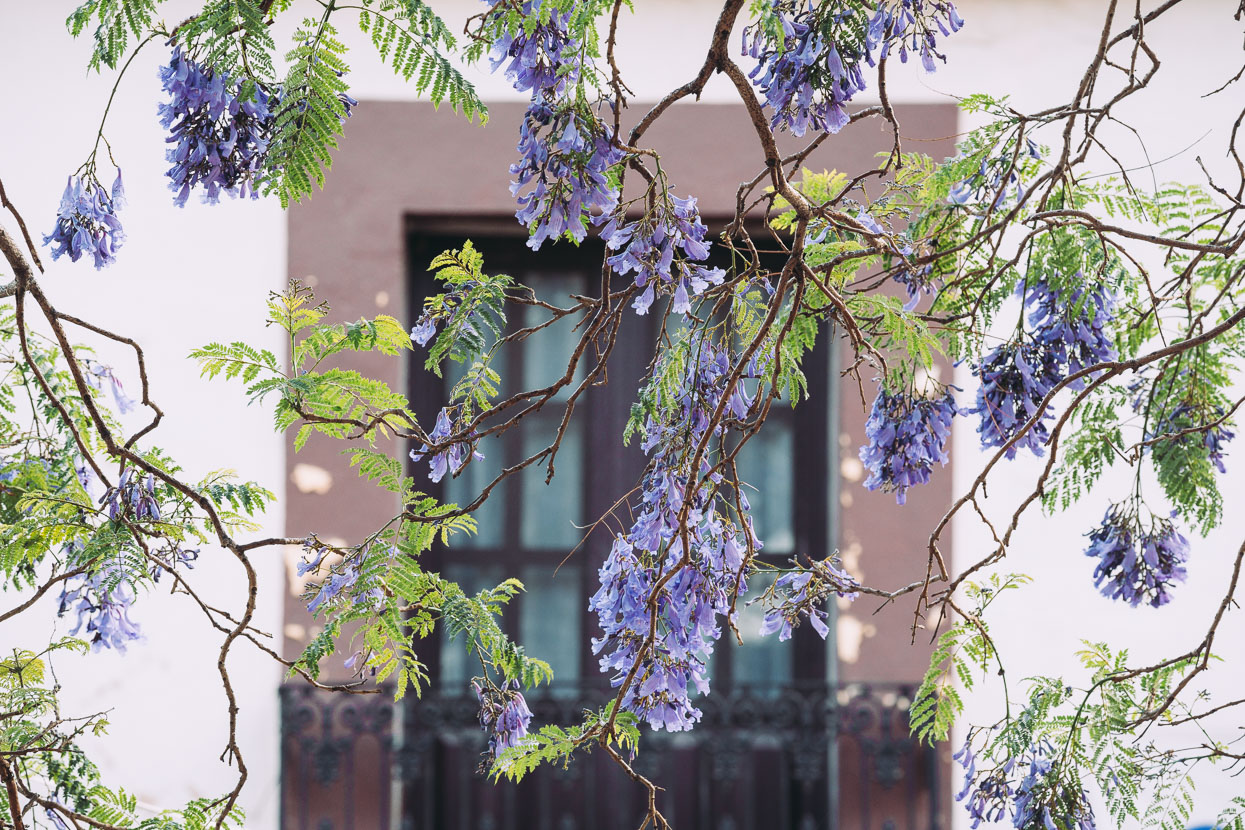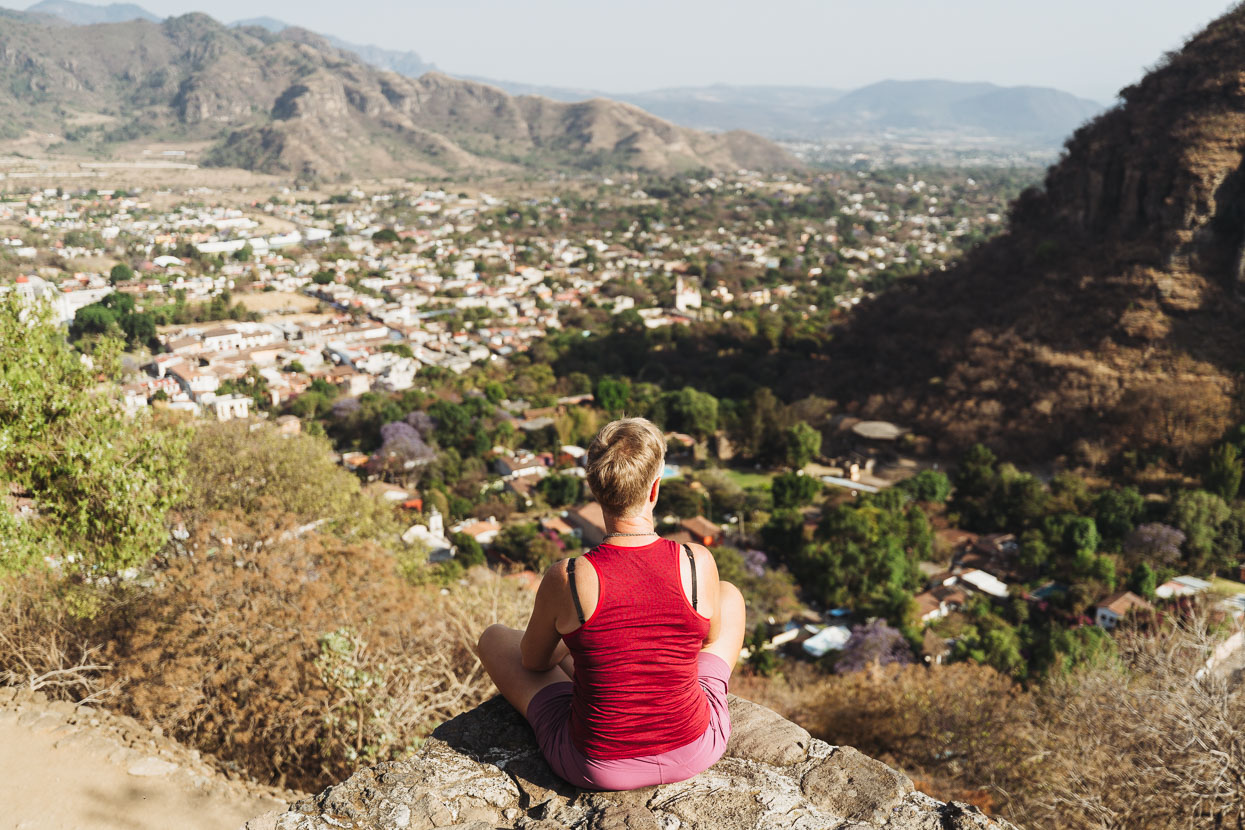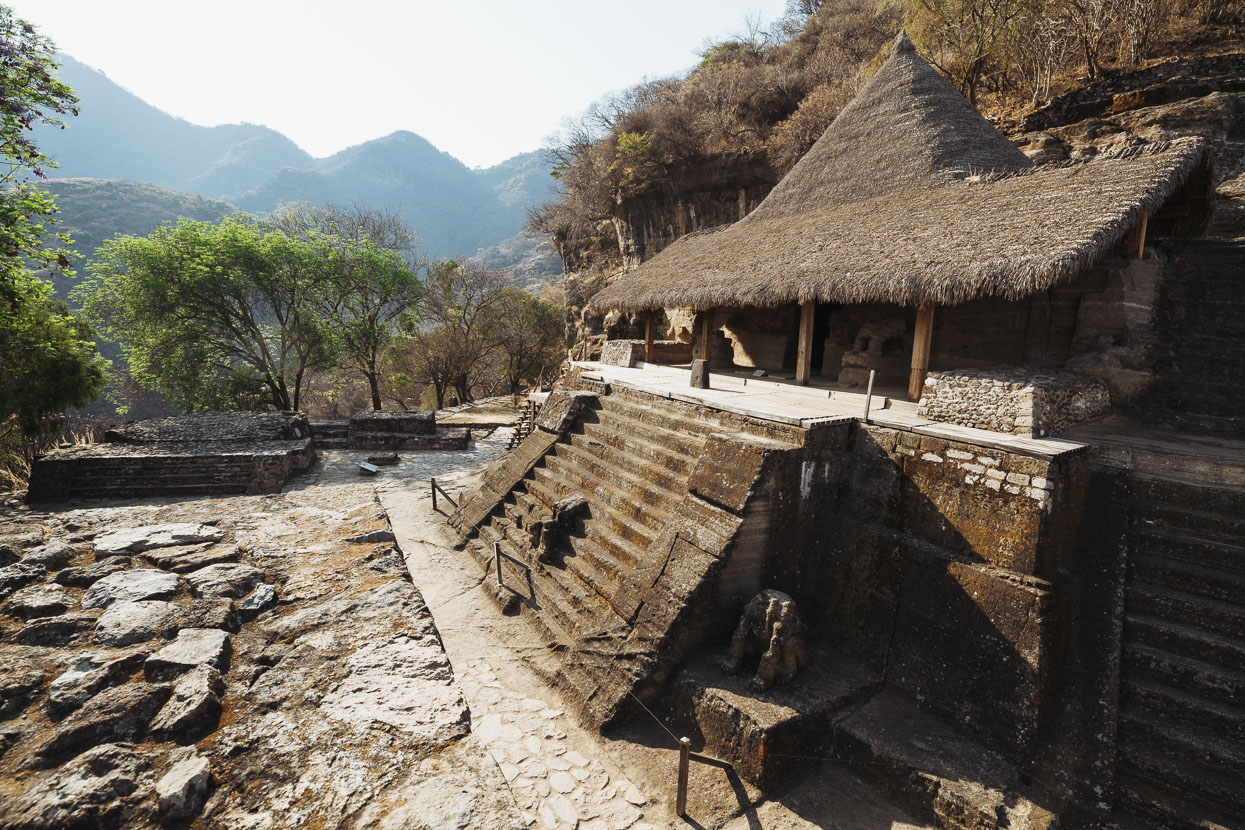 Do you enjoy our blog content? Find it useful? We love it when people shout us a beer or contribute to our ongoing expenses!
Creating content for this site – as much as we love it – is time consuming and adds to travel costs. Every little bit helps, and your contributions motivate us to work on more bicycle travel-related content. Up coming posts: camera kit and work flow, route planning & navigation.