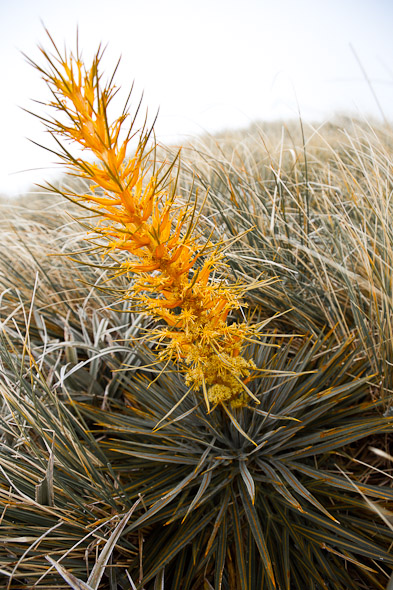 Back in January this year, not long after returning from our cycle touring journey, I headed into the Tararua Ranges (just north of Wellington city) for a 6 day solo trip. I was looking for some solitude, some good light, and a chance to stretch the legs on some sections of ridge I'd not walked before. Entering the range on its western side at Ohau Pipe Bridge (Poads Road) I headed up Gable End Ridge to Te Matawai Hut for the first night. Rain, high humidity and a heavy pack made it a sweaty grind up the long ridge.
Next day I headed up to Pukematawai, around to the new Arete Biv and them onto Tarn Ridge Hut for the night, where I was lucky enough enough to meet some hunters who'd shot a deer and taken the back steaks during their walk in. In the morning I left early for a long day and navigated over Girdlestone to the Broken Axe Pinnacles in clearing cloud. A brisk northerly blew, clouding over much of the range but sometimes I could glimpse the Wairarapa to the east – basking in sunshine. Late afternoon saw me on top of Mount Holdsworth and heading in the direction of Isabelle with the long descent to Mid Waiohine Hut still to go. I arrived to the warmth of the valley at 7.30pm after a 11 hour day of exceptional tramping (and quite a few photo stops).
The following evening I was at Maungahuka Hut, after a stiff climb to Aokaparangi from the river and then a wind-battered traverse over Wright and Simpson.
Day five was going to be another long one. With the wind still battering the tussocks with sideways drizzle I headed over the twin peaks of Tunui and Tuiti, Yeates and Vossler and was at Kime Hut for morning tea. By the time I got to Mount Hector the weather was improving a bit and I headed west down the spectacular and sinuous Neill Ridge for the long walk to Cone Hut, arriving there about 8pm – just in time to photograph the Tauherenikau before sunset. The trip ended with a cruise down the valley to Kaitoke the next day.
I hope you enjoy the photos.
[Photo notes: I carried a Canon 5D MKII & 16-35mm, 70-200mm and 50mm lenses, tripod, 3 stop ND filter and remote shutter release.]