Day 165: Kanchanaburi – Petchaburi, 149km. Flat on good highways & short section of dirt canal road.
Day 166: Petchaburi – Pranburi, 100km. Flat on 3147 then highway 4.
Day 167: Pranburi – Prachuap Khiri Khan, 82km. Flat on highway 4 and back roads.
Day 168: Prachuap Khiri Khan – Chumpon, 112km. Flat on highway 4 and back roads.
Kanchanaburi's peace was a great antidote to Bangkok's smog, traffic and throngs of tourists but it was time for us to make a beeline south and get some more miles under our tyres. We still had the whole of Southern Thailand to cover and plans to meet Rebecca and Ryan (who we'd met in Bangkok) for some riding together from Chumpon onwards towards Krabi and the far south of Thailand.
The choice of roads is limited heading south and with only a 1:750,000 map and a small road atlas it was impossible to navigate the maze of tiny back roads with any certainty. Consequently we spent most of our time on the 450km ride south to Chumpon sticking to the very busy four-lane highway 4. For the first time in 6 months of cycling we lost the 'journey is the destination' feeling of the trip and our days on the road very much became just miles to be belted out to get to the more interesting bits. On the upside, the regular 7 Elevens became a Godsend with their air-con, cornettos and coke!
The highlights of the journey south were good ones though, so read on…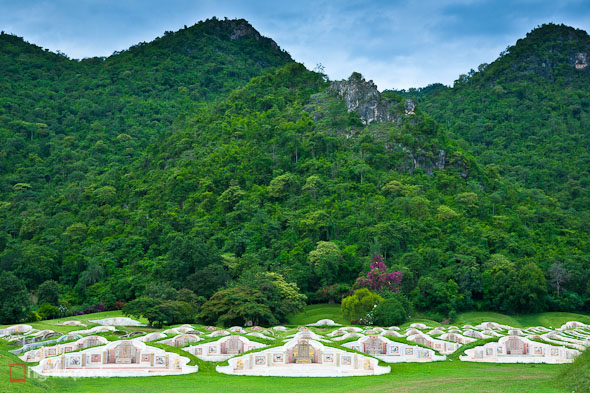 Chinese cemetery on the roadside shortly out of Kanchanaburi.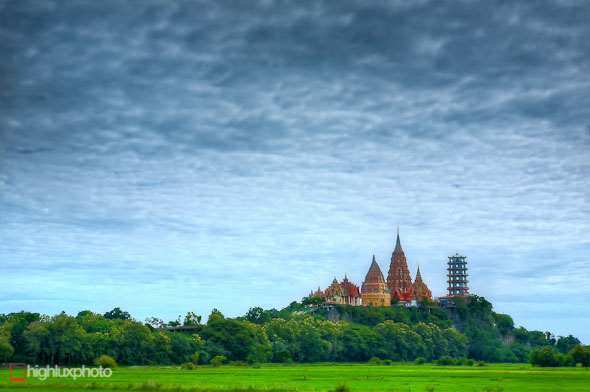 We had our usual dawn start getting out of Kanchanaburi, with plans to stop and check out the hilltop Wat Tham Seua as we headed towards highway 4. After a while the mystical forms of its spires appeared over the rice paddies.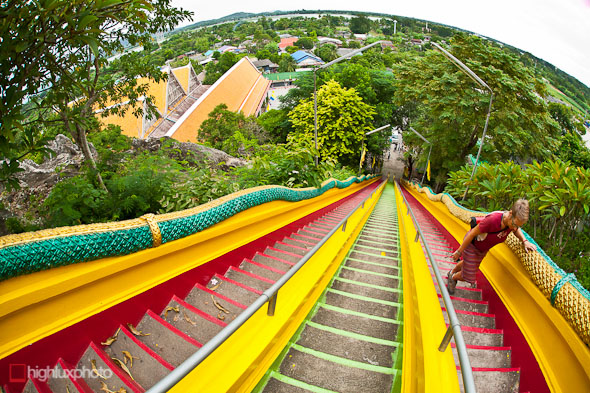 It was nice to arrive long before other tourists started to turn up.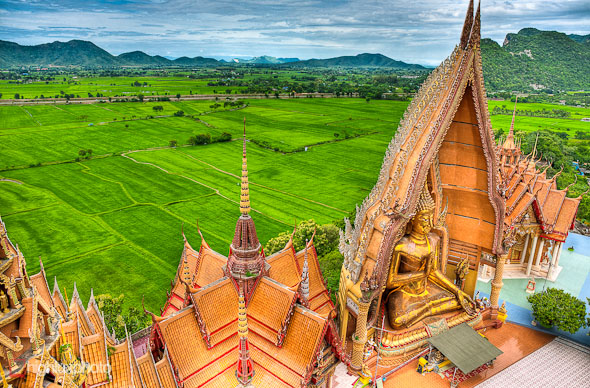 The three main towers are all accessible and give awesome views.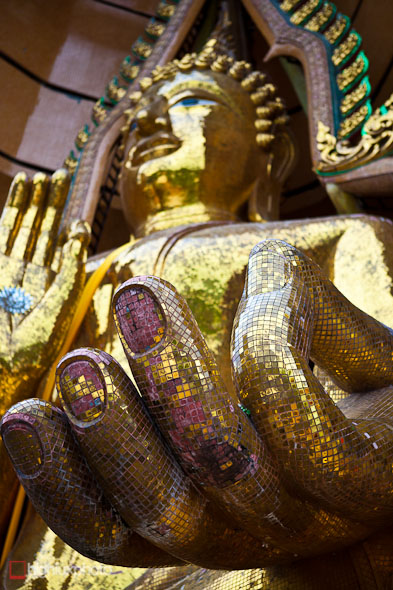 Detail shot of the giant tile-covered Buddha.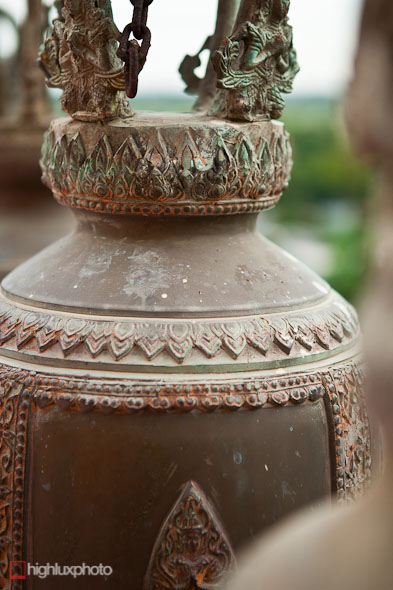 Bell.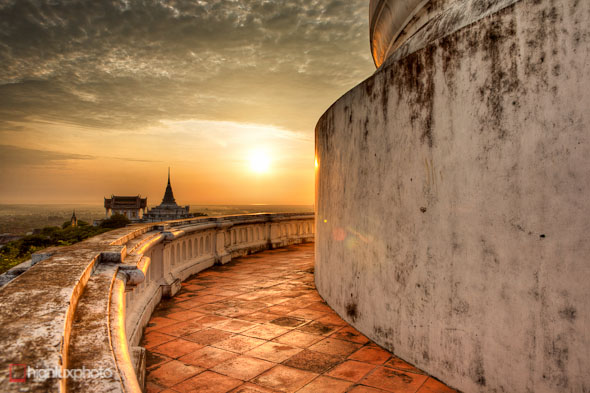 We managed to spend the first half of the ride to Petchaburi off-highway, following quieter back roads and canal lanes. Petchaburi's a cool town, dominated by a temple & palace covered hill, and bereft of groups of tourists. We spent one night there, getting up before dawn the following morning to catch the sunrise from the hilltop.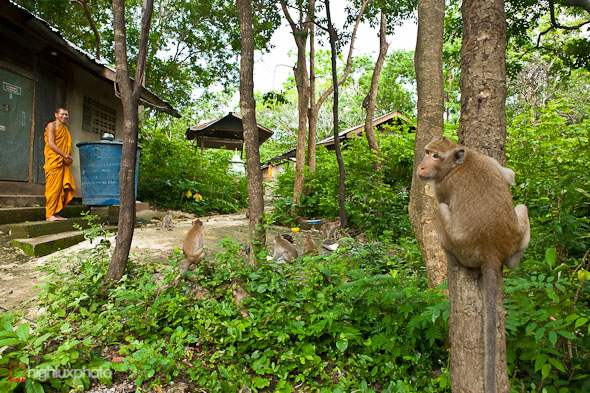 After sun up we headed off to Khao Luang Cave, a 10 minute ride away, but it still hadn't opened. While we were figuring out how to kill half an hour, without getting mauled by the large gang of monkeys that was roaming around, a friendly monk invited us to breakfast in his musty jungle hut. We hung out for a while, eating the alms he'd collected that morning and watch in amusement as he then fed a menagerie of dogs and monkeys the leftovers.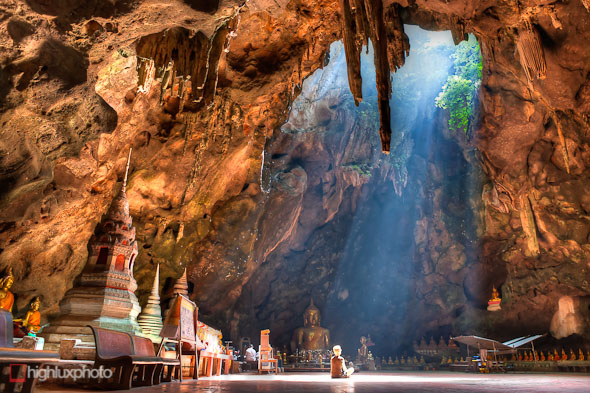 Khao Luang Cave was well worth the wait though. The main cavern has a natural skylight through which a shaft of sunlight streams. The cavern's intensely decorated with buddhist shrines and carvings and while we there a few visitors came in for their circuits of worship around the cave's chambers.

There's all sorts of cool stuff to check out in the main and side chambers.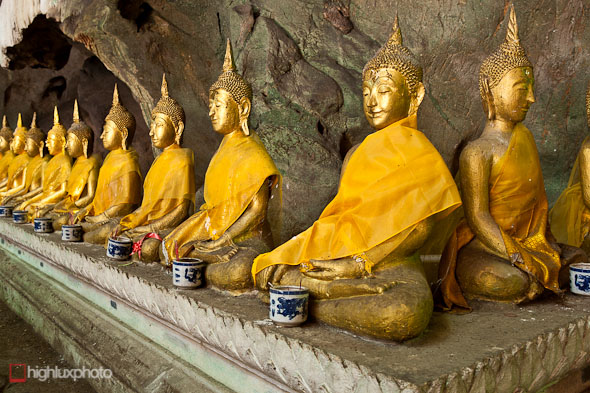 Buddhas galore.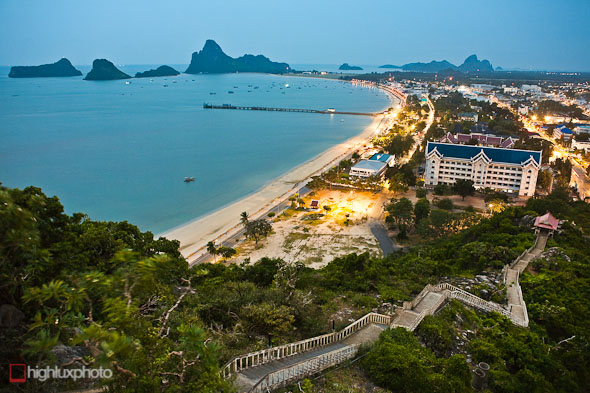 After a night in Pranburi, the next day we biked to Prachuap Khiri Khan: a beautiful bay with a small town, sandy beaches and karst hills.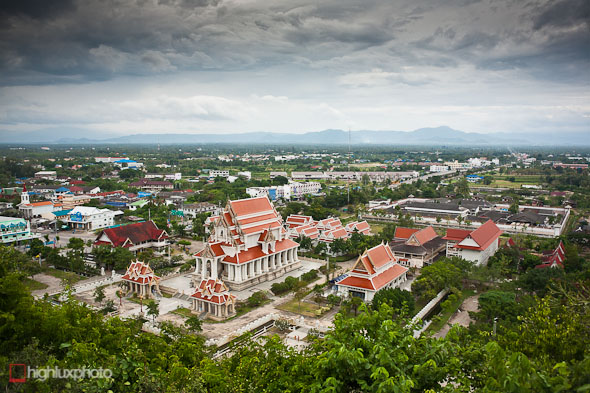 We wandered up the hill, Khao Chong Krajok, by town to check out the view …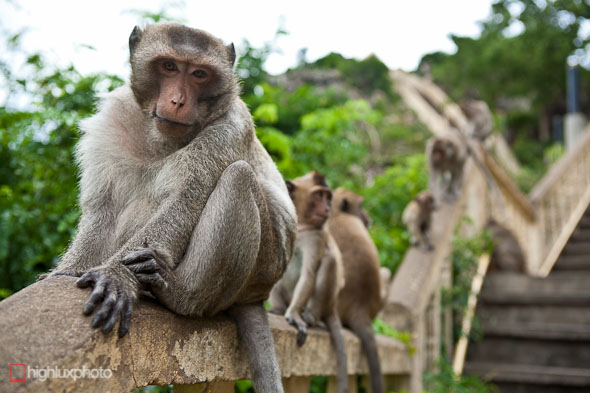 … and the gangs of monkeys.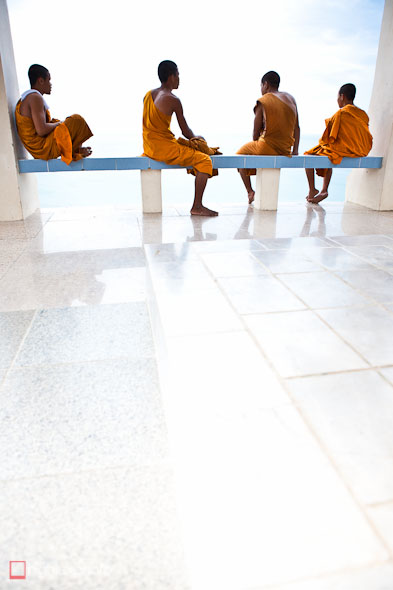 … and the gangs of monks …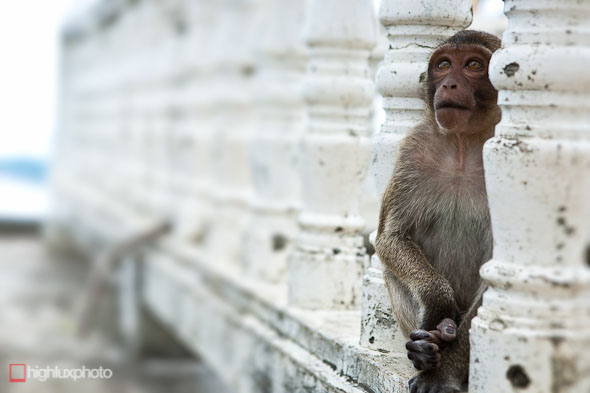 The sunrise was a non event, but on the upside the hundreds of monkeys that roam around the hill had congregated at its summit, and I spent a good hour our so watching their antics in amusement and sneaking off the odd shot.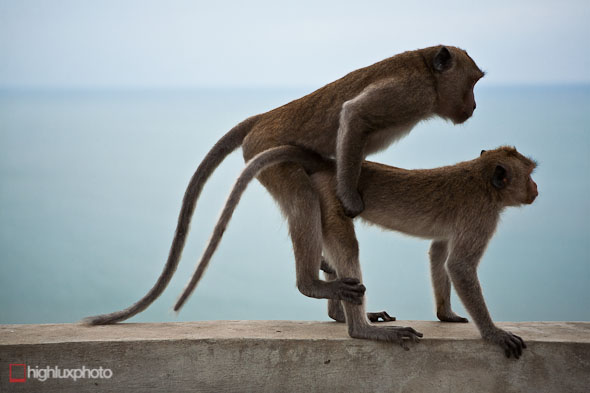 They're active little critters first thing in the morning!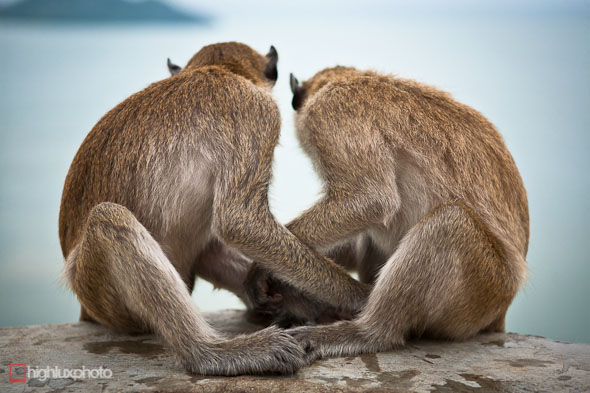 There was lots of alpha male competition going on, and those not involved would just stop and stare.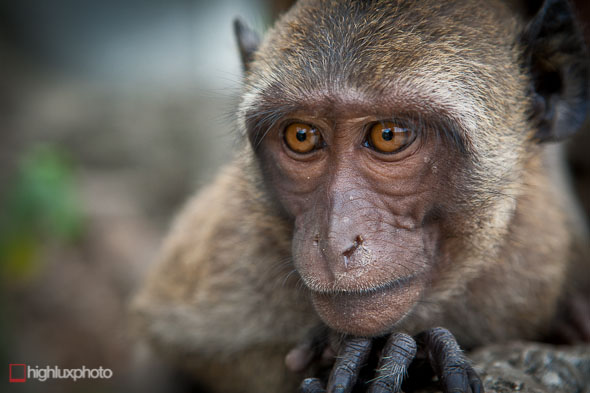 Managed to get my lens pretty close after a while.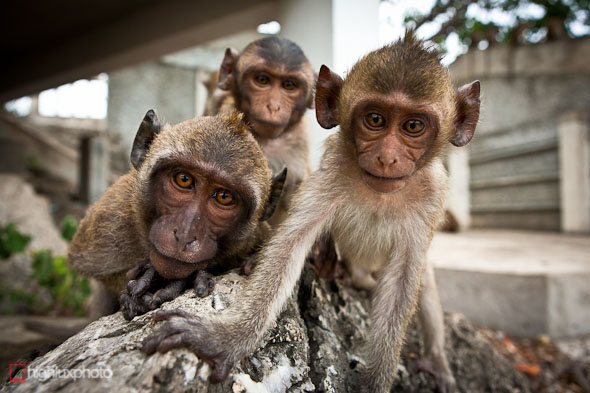 And it seemed to be utterly fascinating to young monkeys.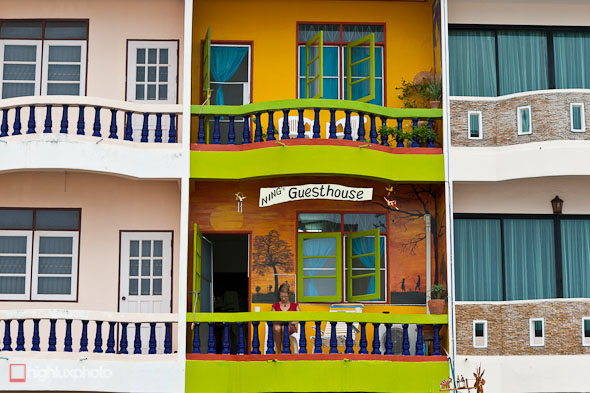 We were planning to leave after only one night there, but the vibe of the town and the sound of the sea lapping on the beach from our sweet guesthouse room was more than enough temptation to convince us to stay a second night.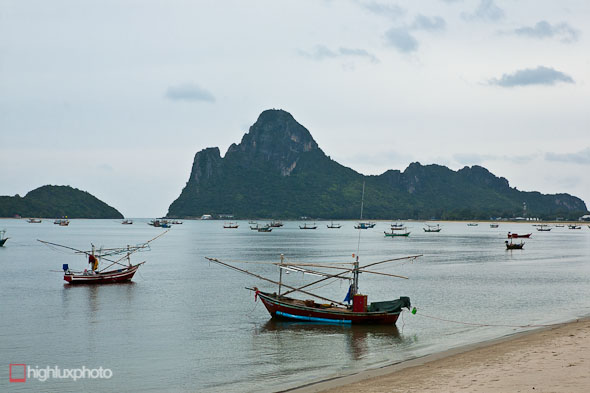 I'm sure our legs appreciated it.