Luang Prabang – Vientiane
Day 69: Luang Prabang (370m) – Kiew Ka Cham (1415m) 82km. 1965m total climbing: 27km rolling, 15km/600m climb, 15km descent, 23km/1000m climb.
Day 70: Kiew Ka Cham – Kasi (505m) 100km. 1340m total climbing: big climb to Phou Koun, then long descent & rolling.
Day 71: Kasi – Vang Vieng (300m) 60km. Mostly flat.
Day 72: Vang Vieng. Rode 48km loop found on Vang Vieng Hobomap, checking out karst, caves and small villages. Ultra muddy & flooded in places.
Day 73: Vang Vieng
Day 74: Vang Vieng – Na Nam (200m) 108km. Mostly rolling & then flat(ish). Caught in the midst of Tropical Depression Haima – pouring rain all day and substantial surface flooding.
Day 75: Na Nam – Vientiane (170m) 98km. Depression Haima still, rain & drizzle. Some sections of road see us pedalling underwater!
Day 76: Vientiane
Day 77: Vientiane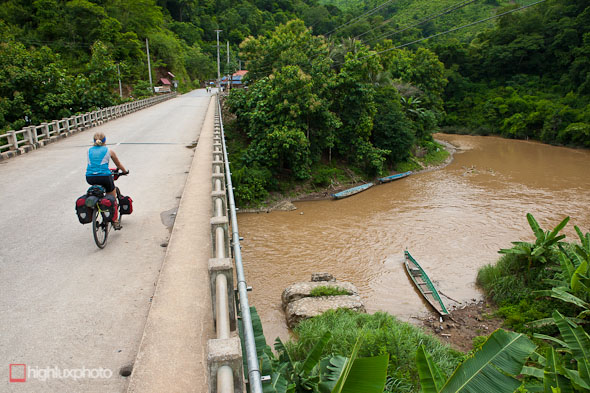 Our route onwards from Luang Prabang towards Lao's capital Vientiane followed the mountainous Royal Road (Highway 13N). The road winds through valleys for a while and then begins to climb through lush jungle, past occasional karst formations, diving into small villages now and then. We climbed solidly for 15km (600m), dropped 15km and then climbed another 23km (1000m), ending the day in the village of Kiew Ka Cham at 1400m.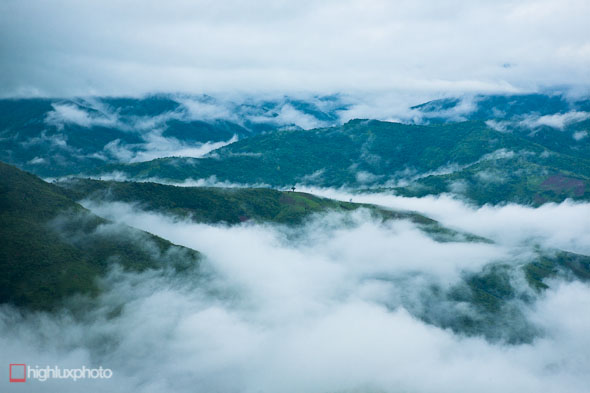 Mist often shrouds the hills in these parts.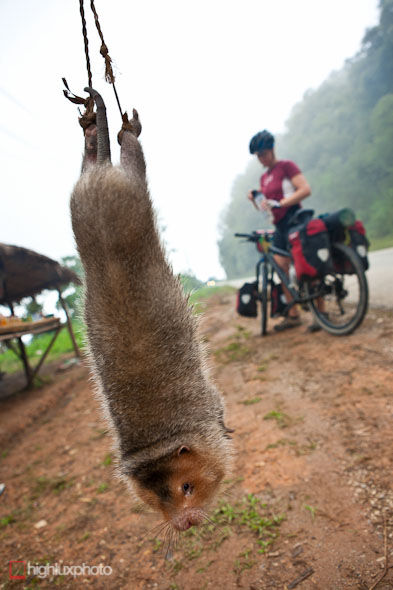 Back on the road the next day we saw this unusal creature for sale on the side of the road; a bamboo rat, commonly eaten in Laos. The hopeful vendor had caught it and strung it up by its back legs, hanging from a bamboo pole. The poor creature kept climbing up its own back legs to try and bite through its bindings.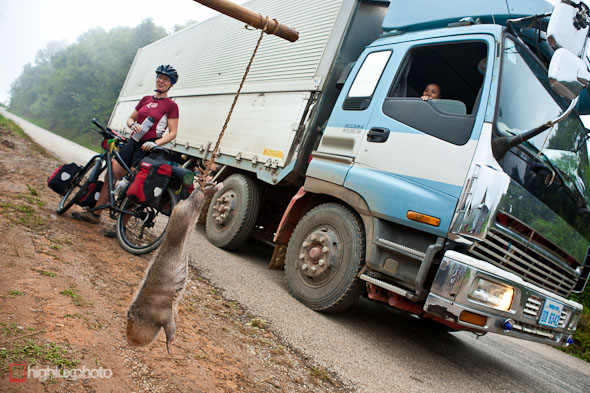 Some interest from a passing truck…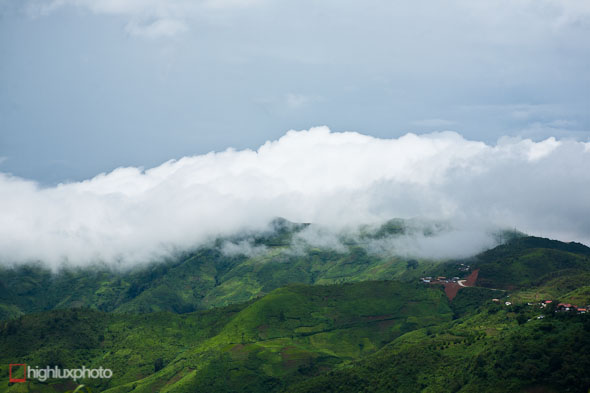 Day two on the Royal Road we climbed another few hundred metres to Pho Koun and then followed misty ridgelines along the range.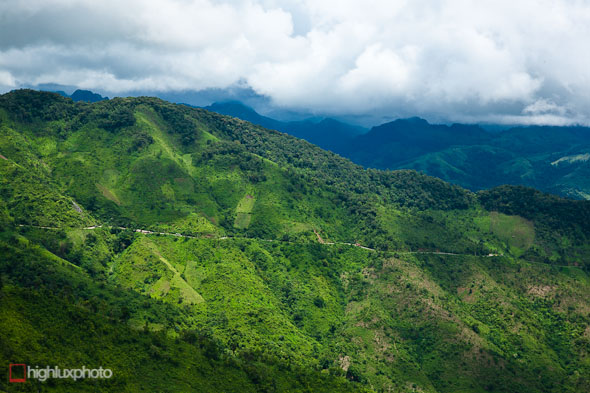 The road then plunges several hundred metres down to the valleys leading to Vang Vieng. Unfortunately it started pouring rain partway down this descent so we had to take it super easy. Earlier in the day we'd found out how slippery limestone-chip highways can be when we both crashed on a wet corner coming into a small village. The inhabitants watched in amazement as two falangs and two bikes slid several metres down the road like hockey pucks, then got up, inspected their grazes and rode off.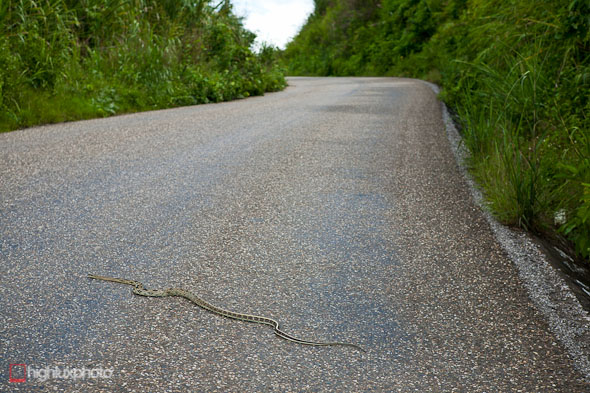 Seen quite a few snakes on the road now – this one, taking up nearly half the road, one of the bigger ones!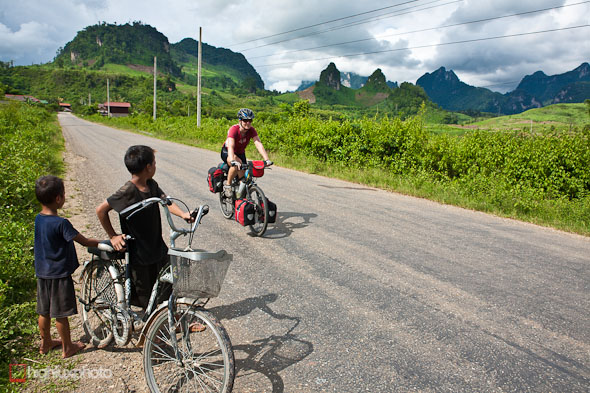 Off the ranges and down into the valley the road dried out and the rolling highway led through a spectacular landscape of karst pinnacles, verdant jungle and tiny settlements.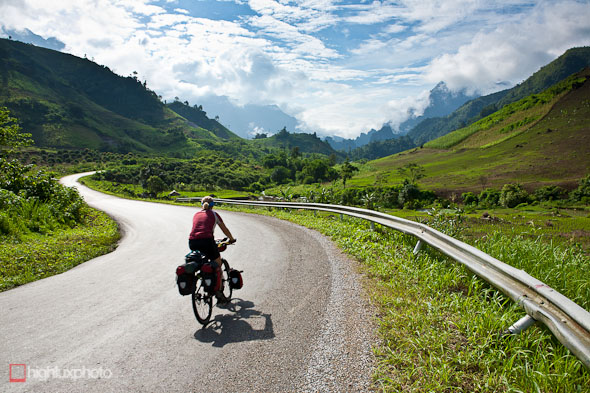 Sweet riding and almost zero traffic.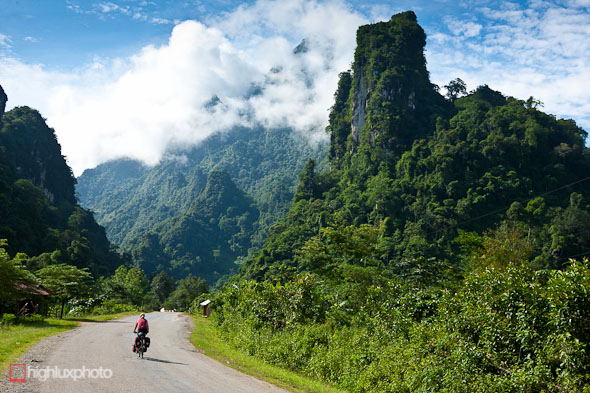 We spent the night in Kasi and then rode the remaining 60km to Vang Vieng the next day – the landscape getting better and better.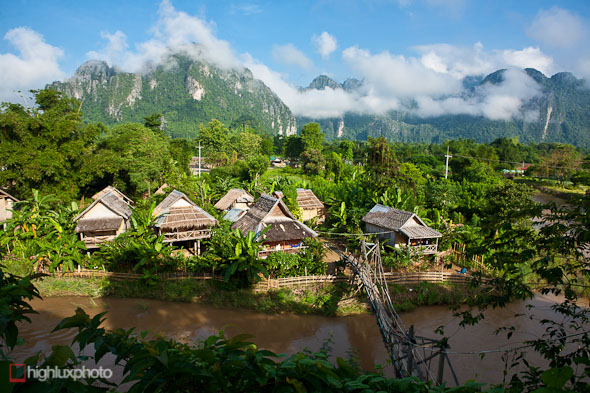 Vang Vieng's an odd place. The town is dominated both by stunning jungle-clad karst peaks and a huge unmaintained air strip used by the USA during its clandestine bombing operations during the Secret War (see previous post). Sandwiched between the two is a backpacker strip of guesthouses, bars and restaurants that has become infamous for unbridled hedonism. Strangely, Laos character reserve has been abandoned here and pretty much anything goes: bikinis, happy shakes, opium and all night partying and it's a magnet for young backpackers. The locals have cashed in (good for them I suppose) but it's created a souless town where strip bars play endless Friends and Family Guy reruns. Where touristy Luang Prabang is all Indochinese class and good behaviour, Vang Vieng has become an ugly duckling. We stayed for a couple of days, hanging out in one of these rickey bungalow, on the other side of an even more rickety bridge.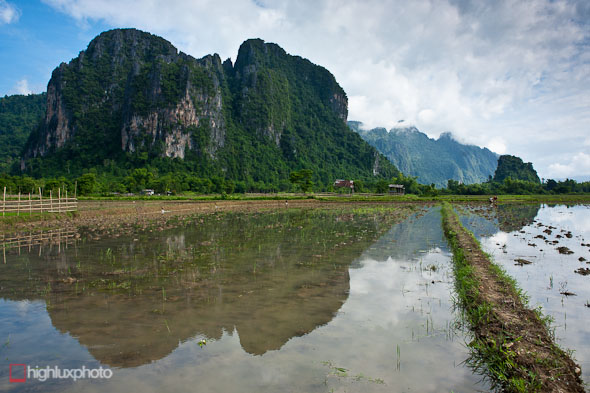 Karst and rice paddies. There is a bit of developed rock climbing here – and unlimited potential for more. Vang Vieng is kinda touted as the adventure sport capital of Laos, with climbing, tubing, rafting, kayaking and caving all on the menu – but the riverside bars with the 'alternative menus' are by far the biggest attraction.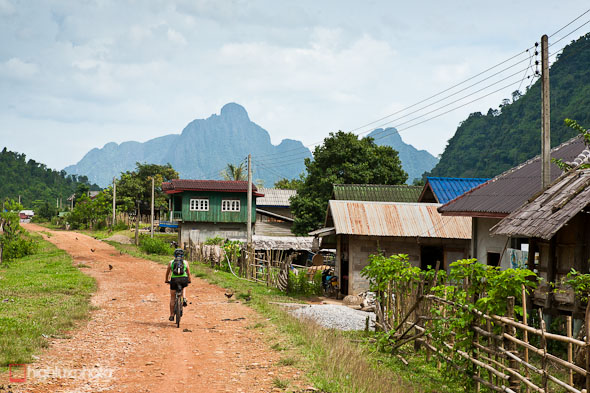 We hung out in Vang Vieng for a couple of days, making a 48km day-ride up a nearby valley to check out caves, karst and some small villages. Check out the Hobomap for beta. The next day? Well – when in Rome…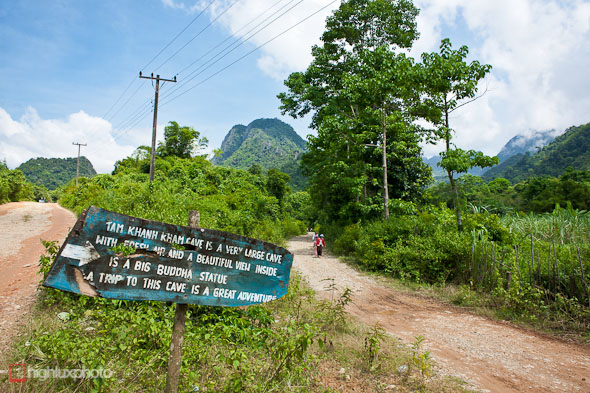 Our 48km loop took us through some cool country (though the road was flooded sometimes). Whimsical signs pointed the way to caves in the limestone mountainsides.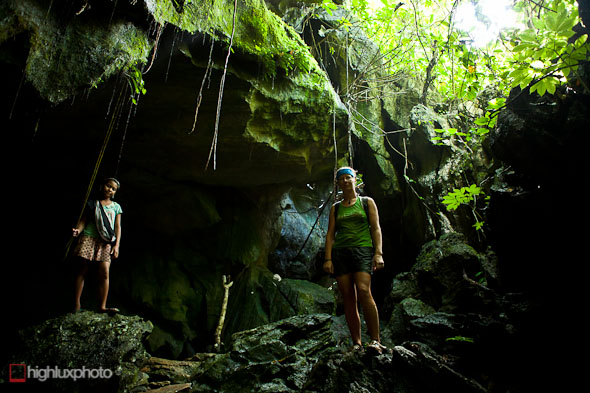 Tam Khanh Kham cave. An 11 year old local village girl was our guide for this excursion – leading us through a fun labyrinth of passages for an hour or so.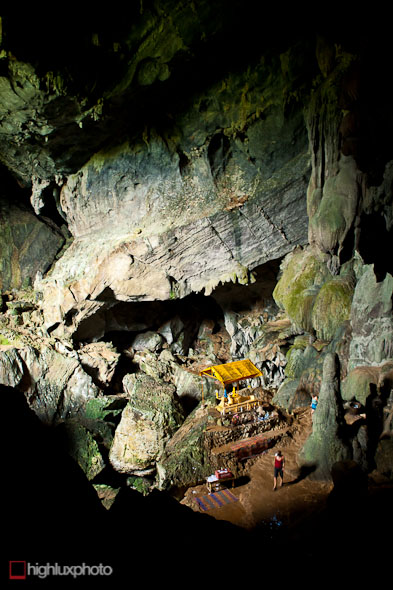 We also checked out this huge cavern in Poukham Cave, up a side valley. Many of these caves contain concrete buddhas and small temples.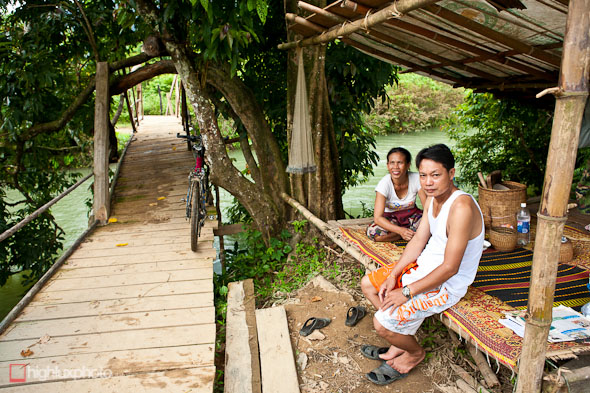 This enterprising couple had built a new bridge over the river (way out the back of our 48km loop) after the previous one was wrecked in a flood. A small toll and we were on our way…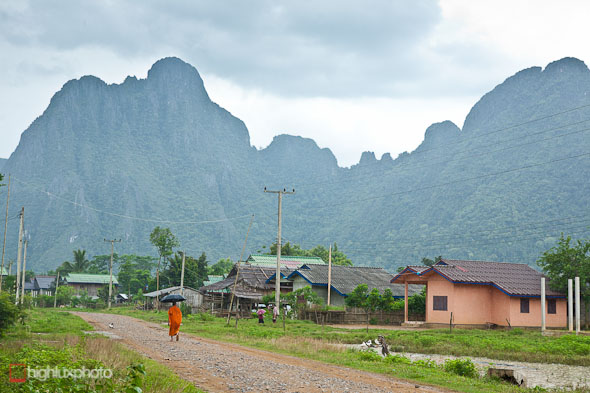 A solitary monk out walking in the drizzle. Shortly after this the road turned into a mud pit.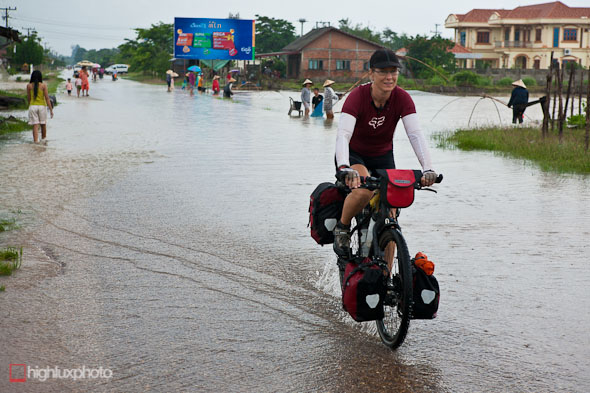 We left Vang Vieng with a two day ride ahead of us to get to Laos' capital Vientiane (we rode via Na Nam and the Ang Nam Ngum reservoir). Unfortunately those two days coincided with the two most intense days of Tropical Depression Haima – basically unrelenting pouring rain, resulting in flooded roads and an abundance of people out fishing with nets. Sometimes the flooding was so bad we were turning our cranks underwater!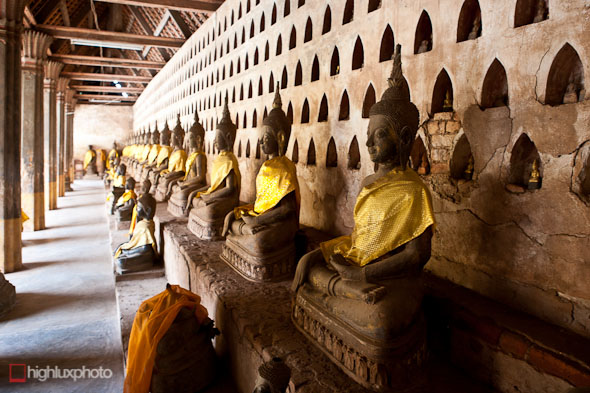 Buddhas at Wat Si Saket, Vientiane. We checked in to a hotel for a couple nights in Vientiane and checked out the museum, this famous wat, and the very interesting Cope centre, a NGO who supply amputees (mostly UXO victims) with prosthetics and rehabilitation. They run a very informative education centre on the UXO issue there, along with a small cinema screening docos.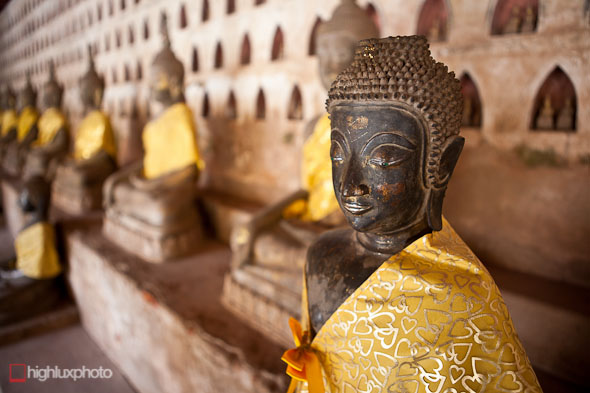 Buddha detail at Wat Si Saket.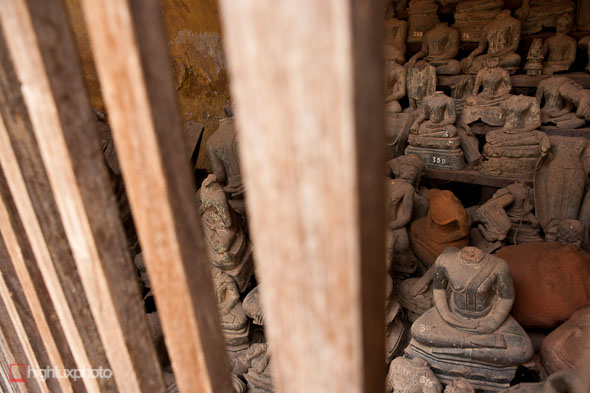 These buddhas were damaged during the Indochina Wars, and are now forlornly locked in this room inside the wat.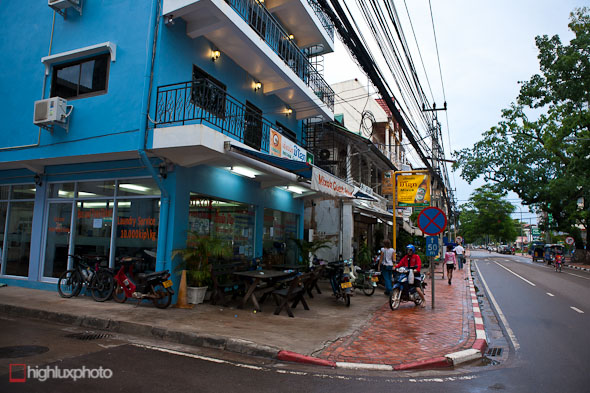 Vientiane – all very urban after the villages of northen Laos and the Royal Road.