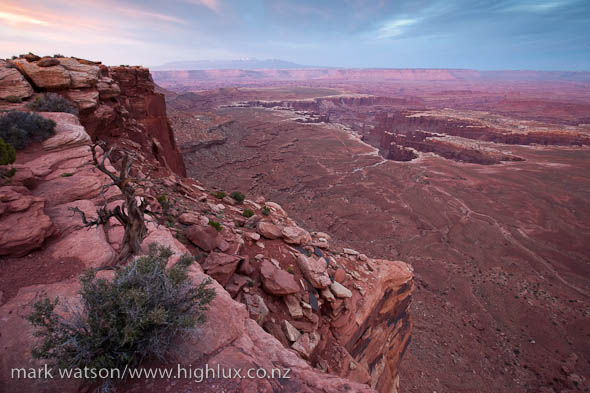 Canyonlands National Park's White Rim road first piqued our interest when we looked down on it from the Island in the Sky mesa on a road trip in 2002. From this incredible vantage point you feel as if you are gazing into the centre of the Earth – it's a view equally spectacular to that of the Grand Canyon. A seemingly infinite series of chasms, canyons and pinnacles form this landscape – dropping in a series of giant 'steps' hundreds of metres from the highest point of the park to the lowest, on the banks of the Colorado and Green Rivers.
Weaving its way ribbon-like along the edge of one of these 'steps' is the White Rim road, a 4WD passage that was first established in the 1950s for uranium exploration in the region that would later become Canyonlands National Park. Ridden as a 160km loop, the road descends steeply from the Island in the Sky to the contour that the White Rim follows and hugs the canyon edge for kilometre after kilometre – sometimes climbing over small passes on the surrounding mesas. The low point of the road takes you to the edge of the Green River, before it begins to gradually climb again – several hundred metres back up to the Island in the Sky.
Permits are required for any overnight stays on the White Rim, and the few official campsites are heavily booked. With some forward planning though we managed to get ourselves a spot for a night and planned to do the ride over two days – with our campsite perfectly located smack on the halfway point.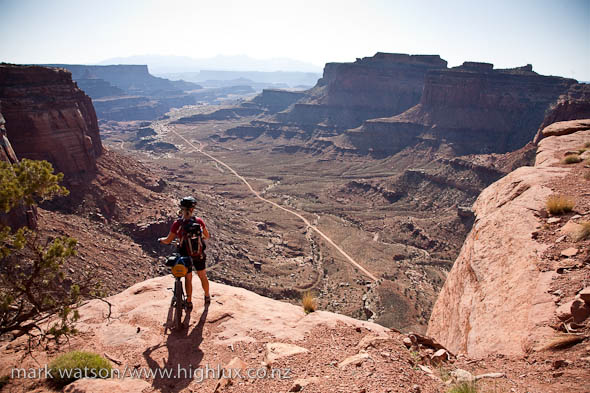 With some sifting around in Moab's multitude of bike shops we found a pair of racks that would fit onto full suspension bikes for $30 each – perfect for holding our sleeping kit. We also arranged with one of the companies that runs supported bike tours on the White Rim to cache 12 litres of water for us at our campsite, covering our overnight and day-two hydration. We needed a permit to deposit a cache too; such are national park regulations in the USA!
The ride went off without a hitch, except for a very windy, sandblasted campsite for our night out. Day one was hot with a constant but not-too-strong headwind, and day two was slightly cooler with great riding conditions. Riding the White Rim is a surreal experience that plays with the senses and your perception of space – it's truly a place where the landscape becomes too big and too complex to comprehend and you become a mere speck among it all.
Check out the shots below. [click 'notes' for captions].
Get the flash player here: http://www.adobe.com/flashplayer