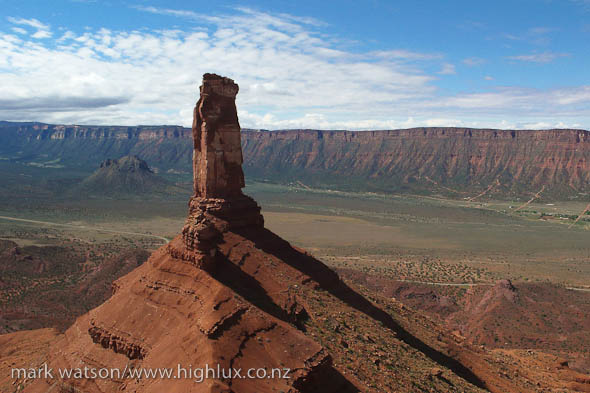 We couldn't visit Moab without checking out the desert towers that this region is famous for. Fisher Towers and the iconic corkscrew summit of Ancient Art was one that we'd seen dozens of photos of over the years so we decided to check that out first.
The climbing on this route is relatively trivial, going at 5.8 AO or 10d if you free the bolt ladders (which we did) but the summit is absolutely unique and incredibly precarious. We ticked this one in a morning, both taking our turns to stand on the minute summit despite a fresh wind that was whipping the ropes around.
In the afternoon we nipped over to Castle Valley to check out the much sought after desert spire of Castleton Tower – an awesome, isolated monolith of calcite-glazed sandstone that just begs 'climb me'! With an early start the next morning Hana and I were second in line for the classic Kor-Ingalls, a kinda sandbag 5.9 with several sections of squeeze chimney and offwidth climbing. The omnipresent calcite glaze keeps things very interesting and is quite like climbing ice, but without tools or crampons… Still, with some thrutching and squeezing we got to the summit with ton of time left for lounging and got the additional bonus of watching as Steph Davis and friend BASE jumped from the summit. Sick!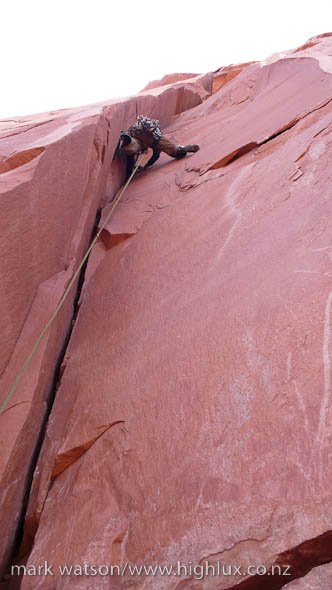 A few days later I was back with crack climbing machine Russ Facente, who I'd met back in the Yosemite in September. I'd suggested to Russ that we team up and either do the classic 4 pitch 11a Fine Jade on the Rectory (a short walk from Castleton Tower) or the North Face of Castleton (5.11). Russ had countered with the idea that we tick both, and then rap the Kor-Ingalls to score booty. A fine suggestion!
A cold start had us suffering from flash pump on the first pitch of Fine Jade but we warmed up and were soon whipping up the fine splitters of this cool line. We soaked up the sun on the summit for a bit and then rapped off and walked over to Castleton's steep and shady north face. I was about to start following pitch 1 when Kiwi Andrew Nevin appeared – having just rapped off the Kor-Ingalls (it truly is a small world – especially if you're a climber!). Andrew asked we could take up his rope and have him hitchhike up with us, and so we became a three. Shivering on the belay ledges aside, the north face was a super awesome and very memorable line – with a opening long pitch of enduro wide hands/fists and a tricky offwidth/chimney closing pitch that threw in some interesting bouldery cruxes.
Booty? Yep – we scored a 3 Camalot and a blue Metolius off the Kor-Ingalls. Score!
Here's some more shots [click 'notes' for captions]…
Get the flash player here: http://www.adobe.com/flashplayer