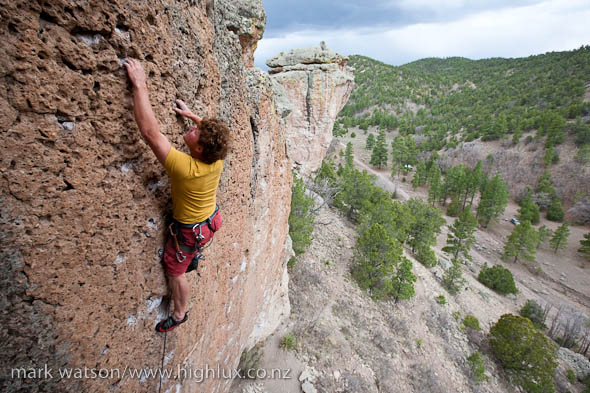 With a fairly uneventful border crossing back into the USA we found ourselves on the desolate highways of southwestern Texas. We were heading northwest towards a sport crag that we'd heard about in New Mexico. The enticingly named Enchanted Tower promised a low key camping scene in National Forest land and steep pocket pulling on ignimbrite-type rock.
During our US road trip in 2002 we'd ended up with the company of Andrew, an Australian who'd just climbed Denali. We met at Yosemite, climbed the East Buttress of El Cap together and then he'd accompanied us north for a few days, to be forever known of as 'The Australian'. This time we had 'The Swiss'. We met Martin at Potrero Chico, spent a day tripping around a remote Mexican desert with him and then he and I flew up the 23 pitch Time Wave Zero together. Martin, a committed yoga practitioner, departed Mexico with us and we spend five days climbing at Enchanted Tower before dropping him off at the Albuquerque Greyhound station with instructions on how to get to Joshua Tree.
Texas flew past with not much to see but the occasional ghost town (and towns about to become ghost towns). The highway took us through Roswell – site of an alleged alien landing cover up by the Government back in the 1950s. After three days on the road we arrived in the two-horse town of Datil, with the crag not far away. Enchanted Tower is a relatively new school sport crag with ongoing development and it's similar in climbing style to Smith Rock, but with mostly much steeper routes. There's enough climbing there to keep you busy for a week to two, but the best routes are in the 5.11-12 range.
Here's a few shots [click on 'notes' for captions]:
Get the flash player here: http://www.adobe.com/flashplayer