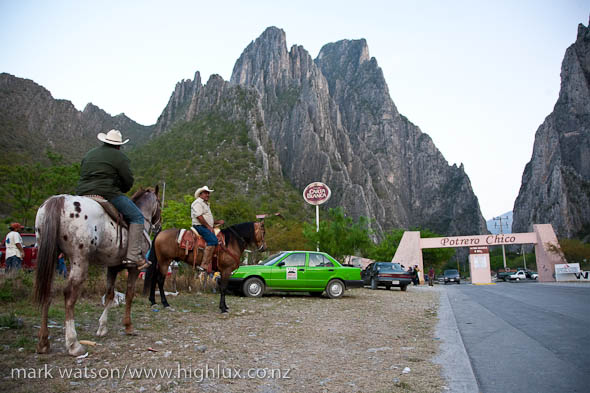 The limestone walls of Mexico's El Potrero Chico offer climbing in just about every style: juggy slabs, steep tufa-infested walls and vertical crimp-fests, but it's the long multipitch routes that climb Potrero's walls and pinnacles that most people go there for. If you're looking for multipitch sport climbing in the 5.10-5.11 range Potrero is the place to go. Most of the multipitch routes are around 5-15 pitches in length, require no gear but draws and have bolted belays 30 metres apart (so you can rap on a single rope).
There's a range of places to stay either side of the road that enters the canyon of the Potrero, but most of them were virtually deserted this late in the season (it starts to get too hot to climb around mid April). Among the accommodation options the campground of La Posada has by far the monopoly, and for good reason: it's got free wifi, a mint swimming pool, hot showers, a restaurant and a huge communal kitchen area. We parked our van there for 120 pesos (NZ$14) a night, hung our hammock in a nearby tree and called it home for three weeks.
Climbing again was a small shock to the system after a three month break while we were touring around the rest of Mexico but after a few days the skin on our fingertips got nice and leathery again and our feet stopped aching. We mixed our climbing up between single-pitch 'cragging' days (there's loads of great single pitch climbs) and days spent climbing longer routes, the best of which were Space Boys (11 pitches/10d), Snott Girls (7 pitches/10d) and Jungle Mountaineering (4 pitches/10b).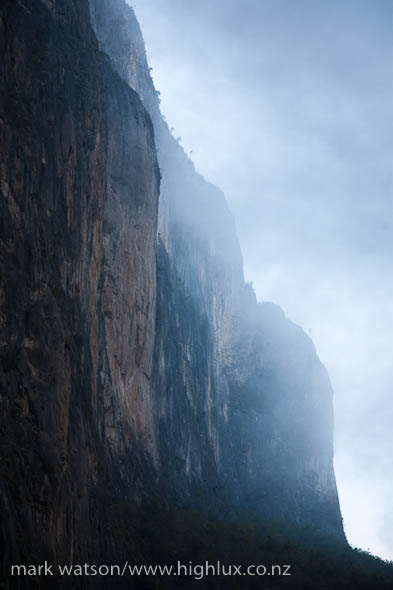 The longest route at Potrero Chico, Time Wave Zero (12a) is by some definitions a big wall; at around 650 metres and 23 pitches, but it's a one-day climb for most parties. I teamed up with a Swiss guy called Martin for this one and we were up and down (via 21 rappels) in around 7.5 hours. The route was awesome – with slabbier, easy climbing flying by as we linked a lot of pitches. Steeper sections offered the cruxes and kept it all interesting.
With endless climbing, a cool scene, and an even cooler swimming pool to dive into at the end of a day's climbing, Potrero makes a perfect climbing holiday destination. Three weeks at the Potrero brought to a close four amazing months travelling in Mexico. By the time I post this we'll be back over the border and in the USA for a final 2.5 months as we make our way back to Vancouver.
Here's a slideshow from 3 weeks at El Potrero Chico [click on 'notes' for captions].
Get the flash player here: http://www.adobe.com/flashplayer