One of the goals for our Mexico trip was to climb 'one of those volcanoes near Mexico City', so the day before we left Oaxaca we hopped on the Internet to do some last minute research. Ultimately we were heading towards Mexico's capital and we knew a few pointy things with snow on top lay between us and there, notably some mountain called Pico de Orizaba which someone had recommended to us on a beach on the Pacific Coast one day.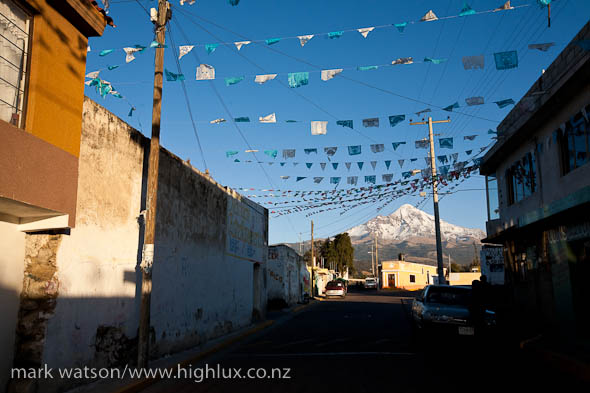 A quick Google search revealed a few facts we didn't know about Mexico's volcanoes; but principally that Pico de Orizaba – at 5610 metres – is the third highest peak in North America, after Denali and Mt Logan. A bit more reading indicated that Orizaba is also well known for way-freezing temps and that is is notorious for strong winds. On top of that was the news that snowfalls on the mountain this year had been the heaviest in 20 years!
Deciding that our lightweight gloves and instep crampons might be a bit marginal for this excursion, we tracked down a company called Servimont – a family owned guiding/outfitter business – that's based in the tiny village of Tlachichuca at the base of the mountain (around 2600m). Servimont run a cool operation out of the village, and as well as renting us some decent gloves and crampons they also let us park the camper in their courtyard while we were on the mountain. We also used their 4WD service to drive up to 3600m on the approach road, leaving us with a couple of hours walk – and some acclimatisation time – to get to the base hut at 4200m.
Pico de Orizaba, it turns out, is pretty high on US climbers' ticklists: it's high enough to make the altitude a serious consideration and challenge, yet being non-technical it's perfect for less experienced or less technically inclined mountaineers. It seems most people aspiring for the summit hire the services of one of the Mexican guiding companies.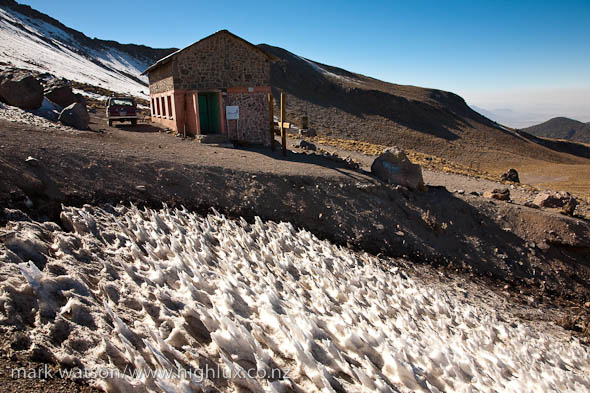 We spent the next day hanging out at the hut and went for a gentle acclimatisation climb to suss out the start of the route for the darkness of the following morning. Normally the climb starts with a few hours of scree to reach the Jamapa Glacier, but with the extensive snow falls there was snow right to the hut. I'd gotten a bad headache not long after we'd arrived the day before and couldn't seem to shake it. Hana though was doing fine and seemed to be acclimatising well. With the guided parties starting their climbs at around 1.30am the following morning we didn't have much choice but to join them for an early departure.
Hana and I were cramponing-up outside the hut by 2am and spent the next few hours climbing steadily in the dark – passing the guided parties and generally feeling really good – apart from a headache I was trying to ignore. At around 5000m the route changes from snow slopes, basins and low-angle couloirs to a broad glacier as you ascend the upper cone and we we lucky to strike sweet cramponing conditions. The glacier steepens gradually as you climb and after a couple of hundred metres height gain we were really starting to hurt. Despite the effort, Hana was climbing really strongly, but my headache was by now heinous and I felt generally sick and was wondering if it might be the precursor to worsening altitude sickness. We thought about turning around a couple of times, but in the end pushed on for a hundred steps at a time, keeping an eye on whether I was getting any worse. Strangely I seemed to improve a bit after another half hour or so and Hana started feeling headachey and weak – but eventually we hit the crater rim at just under 5600m – totally stoked to be there despite my exploding head and slight nausea. It was about 8am.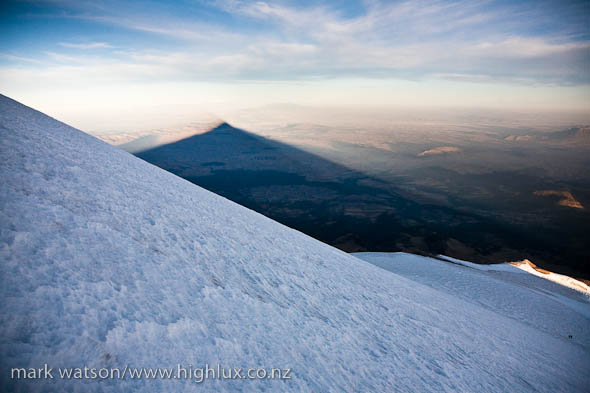 The views were awesome: Popocatépetl and Iztaccihuatl – Mexico's second and highest mountains – lay to the north west, with Mexico City behind them. To the north and east the high volcanic plateau dropped away into endless jungle covered gorges and valleys. As we'd climbed during the night the plateau and ranges below us had been dotted with the lights of hundreds of small villages, some of them perched in unlikely places.
With the actual summit only about 50m higher, but probably an hour-return along the crater rim we decided to bail, in case I got worse, and so we started cramponing back down the slopes – finding even the work of descending hard with the altitude. I actually felt sicker as we dropped down the mountain, but once we got back to the 5000m mark started to feel a bit more with it again – no longer speaking really slowly and with a returning appetite. We descended the 1400m climb in about 3 hours and were kicking back at the hut by 11.30 – sitting in the sun and soaking up a cool, if not slightly surreal experience.
I'll take another day of acclimatisation next time, thanks.
[Slideshow below]
Get the flash player here: http://www.adobe.com/flashplayer