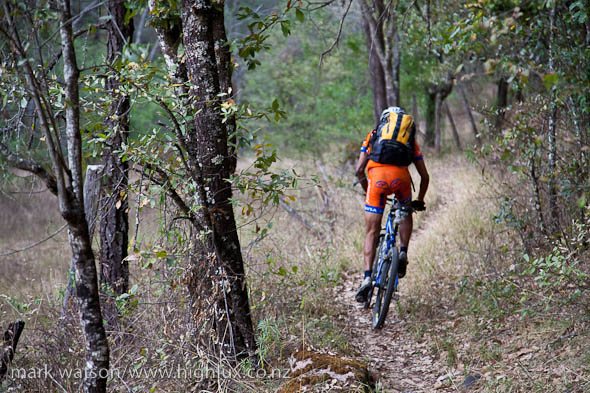 12 days of work (see previous post) was a shock to the system after 8 months of road tripping and full time recreation, so it was nice to know we had two days of mountain biking in the Sierra Norte (the Oaxaca highlands) lined up before we left the city.
We departed from our usual modus operandi for this one and actually hired a guide to take us on a custom two-day mini tour in the hills. Maps, trail info and, in fact, any information at all seemed to be impossible to get so we visited Pedro Martinez in his wee shop in downtown Oaxaca. Riding with this guy was perfect: he's a local legend, and was right into taking us on a trip that suited our abilities. After day 1 in the hills he called us 'special tourists' and said he hardly ever got to ride with anyone who could actually, well … ride!
Our trip started with loading the bikes onto the back of a taxi outside Pedro's shop and from there we drove to a pass (c. 2400m) high in the Sierra Norte and the start of the riding. Day one took us over 54km of dirt road and single track – with the tracks mostly following hiking trails through high altitude pine forest (cloud forest as they call it here). The highlight of the day (apart from just about totally blowing apart before lunch) was a long section of hiking trail through to Amatlan that we followed in the afternoon. The trail is part of a route used for centuries that leads from the highlands to the Pacific Coast. It offered some awesome singletrack with rocky cruxes and more ooze than a tube of toothpaste. It follows a valley and gorge for its length and twisted and turned through some nice woodland, mossy forest and the occasional cactus patch – an odd combination!
We spent the night in cabins in Amatlan and the next morning rode about 10km downhill to another taxi rendezvous. The taxi took us back to the saddle from the previous day and we re-rode some of the previous days trails to a high point above the Oaxaca valley. The next 2-3 hours were spent descending towards Oaxaca down the flanks of the range. The forested track plunged down some awesome luge-like trails, thick with pine needles for a while and then hit a scrubby, rocky section that was gnarly enough to make the Karapoti look lame. A kilometre or so of total rock-garden soon gave way to some more flowy riding for the remainder of the descent: with nice singletrack and the odd-rideable rock garden to keep things interesting.
The adrenaline peak of the day came as we followed Pedro though some hideous traffic at break neck speed back into Oaxaca, where he left us shaking and sweaty outside our hostel.
Get the flash player here: http://www.adobe.com/flashplayer