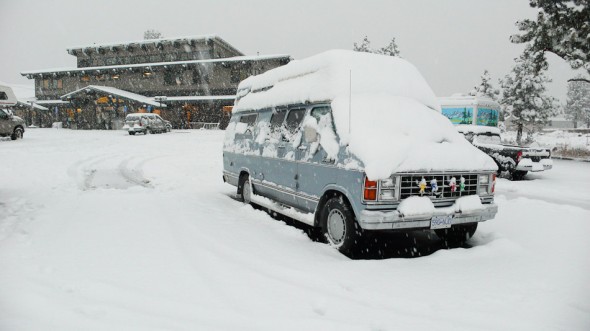 We bailed out of Yosemite in the face of the 'storm of the century' (according to Tommy Caldwell's Dad), and drove through Tuolumne Meadows and over Tioga Pass shortly before they closed the road. With Max and Mayan in tow, we were hoping to find hot and dry weather over the east side of the Sierra – instead we found ourselves hiding in the Mammoth public library, while it snowed a foot outside and blew a gale (we spent a cramped night with four of us in the van stranded in the library carpark). As fast as it started though, the weather mellowed again, and we got in a day sport climbing at Owens River Gorge. After the double or triple racks we'd been lugging up climbs in the valley it was quite nice to climb with only a few draws for change!
Next day we said goodbye to M&M in Bishop as they set off in a RV borrowed from a friend for a month, and we pointed our camper in the direction of Lone Pine and the Mt Whitney trailhead.
Mt Whitney is the highest mountain in the Lower 48 (at 4419m), and a much sought-after summit among hikers and climbers. There are some classic long rock routes to the summit, as well as a very well built hikers trail that takes you right to the top. We'd originally planned for a rock climb but with freezing temps and wind we decided to flag lugging rack and ropes for a change and go light – bivving at the high camp and taking the trail. With fresh snow from not far above the trailhead it kept it a bit more interesting.
You meet all sorts on Whitney: from the over-laden couple, on their third attempt, who we met in the car park, to four college kids shivering in wet jeans and hoodies on the summit ridge, to speed demons ticking it in a day from the trailhead. One eager peak bagger (wearing a new Gore-Tex jacket with all the tags still attached) told us this one earned us 'bragging rights'. While we won't claim them, it was a pretty awesome view from the summit.