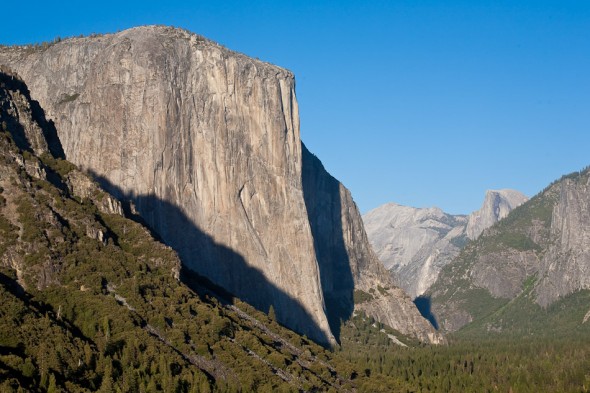 From Burning Man we drove to Reno and cleaned the last of the playa dust out of the camper, before heading onto the clear-water-and-granite paradise of Lake Tahoe for a few days (and Hana's birthday). We then pointed our van in the direction of Tioga Pass and Tuolumne Meadows and arrived in Yosemite Valley in mid September planning to spend 2-3 weeks – and winding up leaving a month later! In that time the valley swung from the grip of a heat wave to snow on the tops and freezing temps.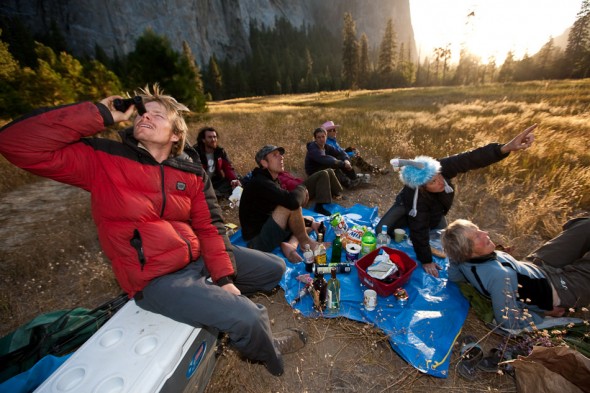 In Camp 4 already when we arrived were Brian 'Balder' Alder, Matt 'Baldrick' Evrard, and Helen 'Hardcore' Sinclair and rolling in a week later with their eyes glued to Freerider on El Cap were Mayan and Max (M&M). Having a Kiwi crew to hang out with after 4 months on the road was awesome, not only for company and gossip – but also for brewing psyche and energy. We'd been to the valley before (in 2002), so we thought we knew what to expect, but during this trip I discovered a whole lot more of Yosemite, and a lengthening list of things to try, so despite having left only a few days ago, we're already planning a return trip.
Here's a few shots from a month in the valley! [Hover over photos for captions].
First stop for a lot of climbers in the Valley is the Five Open Books – a clutch of 3-4 pitch routes just a short walk from Camp 4 – perfect for getting used to jamming and slippery granite again. We climbed here a couple of times in our first few days in the Valley.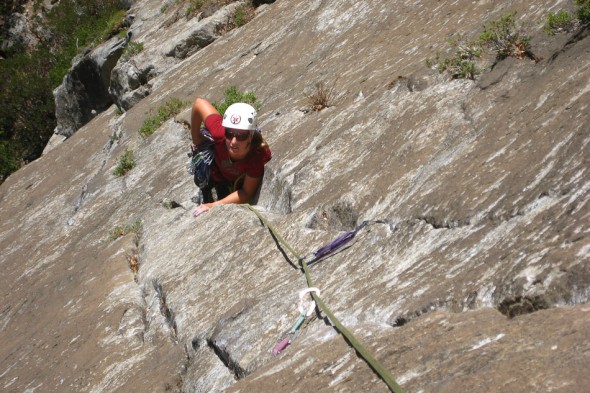 Day two in the valley I teamed up with Helen and Matt and Brian for a foursome on the East Buttress of Middle Cathedral. One of the supposed grade IV classics of North American rock. It was a good climb – but not quite as classic as I was hoping for, with too much broken ground and less than awesome rock.
Hana and I found a much more quality line a day or two later (below left) when we got on Central Pillar of Frenzy (Five pitches, 5.9). Pitch after pitch of really nice rock and quality crack climbing. We'd learned to tape our hands properly by now too.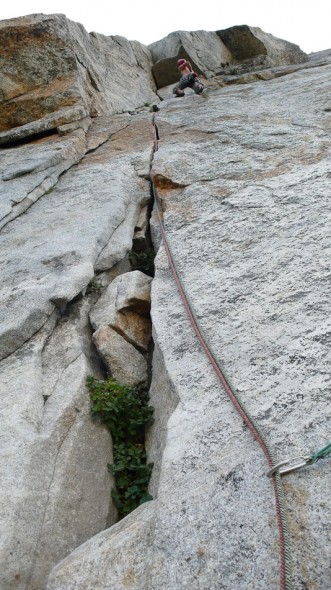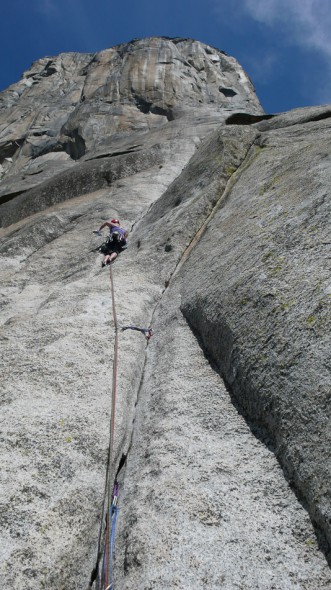 A climb I'd wanted to get on ever since reading about Todd Skinner and Paul Piana's free ascent of the Salathe Wall back in 1988 or so was the Free Blast, the first 10 pitches of the Salathe which go free at 5.11c. Helen and I got off to an early start from Camp Four, but still arrived at the base of climb to find three parties ahead in the queue – so we waited at the base for 2.5 hours before even starting. Eventually we got going and had an amazing day out on perfect rock and pitch after pitch of varied and interesting climbing: hand cracks, wide cracks, pin scars, slabs, chimneys – the works. Definitely a classic.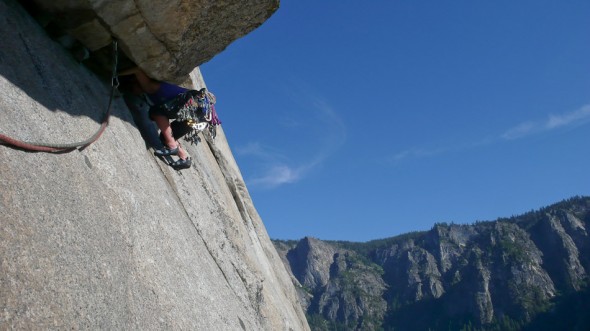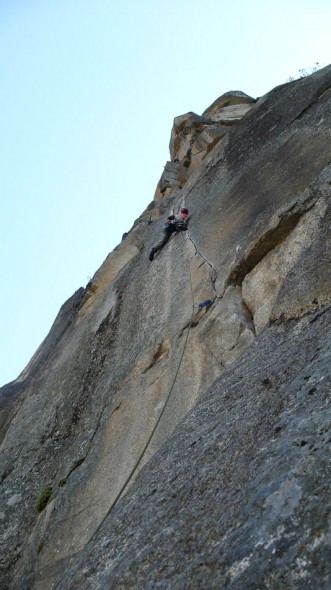 One of the goals I had for the trip was The Rostrum. Though a valley trade route these days this climb is one of the classic test pieces of Yosemite free climbing. Having cruised The Moratorium – at 11b a similar grade but much less sustained and steep than The Rostrum – I was keen to see how a sustained valley 5.11 felt. Suffice to say Helen and I got pretty schooled on this thing: even the 5.10 sections were burly and pumpy (my biceps felt like they'd been beaten with a hammer the next day). We made it clean to the 4th (crux) pitch, where I fell near the top. I then got thrashed and humbled in the greasy guano-stained 10a offwidth section two pitches higher – slumping onto the #5 Camalot I'd been pushing ahead of me. Helen got the final 11a pitch as darkness neared (we hadn't started until 11am) and with muscles cramping ended up desperately french freeing the steep crack that led to the final offwidth section to the top. Almost needing a headtorch I scurried up the offwidth – again pushing a #5 with me, while Matt and Russ, who were also on the route, waited for us on top.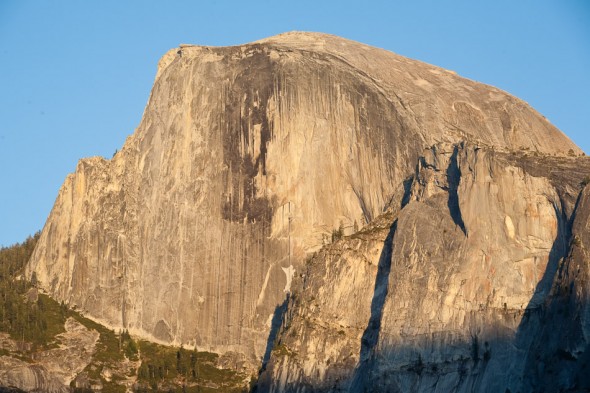 After the Rostrum, the next big mission was to climb the Regular Route on the North West Face of Half Dome. With the option of going for a 'one-day' attempt, or carrying more stuff and getting a bivi on a great ledge high on the face, we decided to go for the latter – hauling a light bag with water, food and bivi stuff. Hana, Helen, Matt, Brian and I walked into the face via the tourist track and bivvied at the base after fixing the first three pitches. Next day Hana set off for Cloud's Rest (another nearby peak) while Helen and I and Matt and Brian jugged the ropes. We spent the rest of the day climbing and hauling 14 more pitches to Big Sandy ledges – the most urine stained and stinky ledge you can imagine. The climbing was a mix of straightforward aid and moderate free climbing (we freed up to 10c) and is totally classic – getting better and better the higher you go.
With the weather warm, I bivvied with just a down jacket and light fleece blanket, and we had a great night on the ledge. Next morning we got off to a casual start and climbed 6 more pitches to the top – while Hana peered over the edge…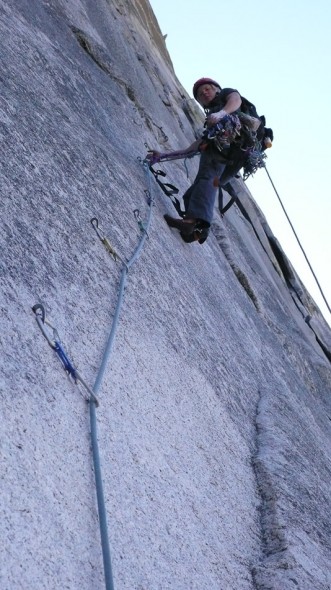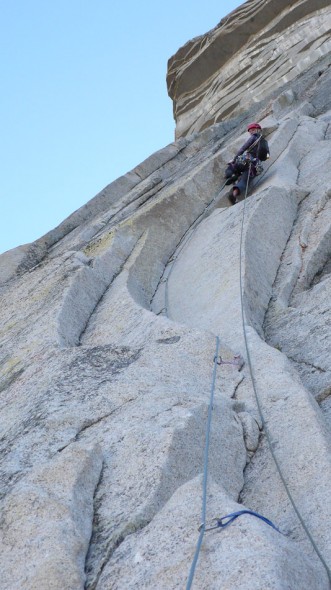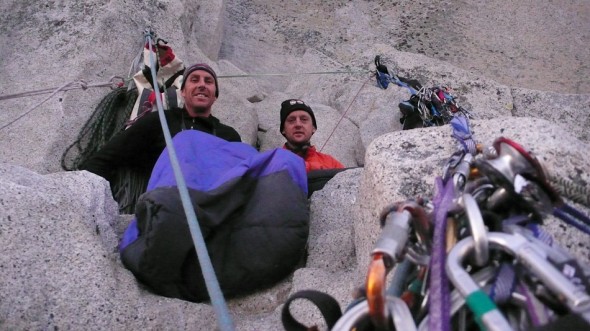 Another of the classic, more moderate we routes we climbed on the trip was the Regular Route on Higher Cathedral Spire – one of the first climbs done in the Valley. Hana and I climbed this 5 pitch 5.9 with Helen, while Matt and Brian climbed South by Southwest on Lower Cathedral Spire, with both parties topping out at the same time we could yell to each other from our respective summits.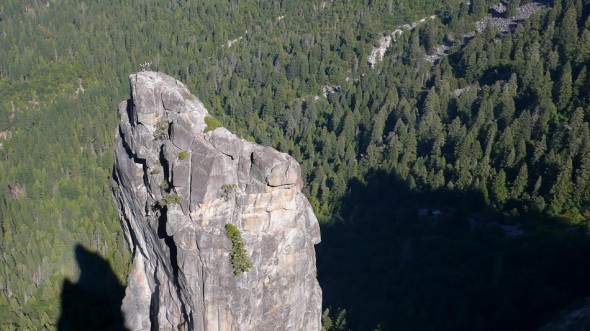 Another route that I'd wanted to climb for a long time was the West Face of El Cap, a big wall sized climb that goes free (if you are lucky) at 5.11c and 19 pitches. Matt, Hana and I walked into the base one afternoon, freeing and fixing the first pitch (11b). We bivvied at the bottom that night, with the luxury of a fire to keep us warm while we watched shooting stars and gazed up at the face. The next morning Hana (the most awesome basecamp support ever!) headed out with the sleeping bags, while Matt and I zoomed up the rope and got on with the first pitch. With a pack on, and dew on the rock the 11b section of pitch 2 felt absolutely desperate and I fell early in the pitch. Still, with 17 more to go there was no time to muck around so we just kept going, and going, and going… We french freed a couple more crux sections further up and eventually topped out after climbing the last three pitches in the dark. Overall it was an awesome climb, but definitely spooky in places with some long run-outs and insecure climbing on water polished rock. Some of the belays were on old 1/4 inch bolts and Leeper hangers which definitely gave us the creeps.
Having found our way to the top after dark, we just had the issue of returning the 1000 vertical metres to the valley floor. A vague attempt at finding the East Ledges ended in confusion and we ended up wandering back to the top of El Cap, finding the tourist trail and following that back to valley – ending up back at the van at about 1.30am. A long day…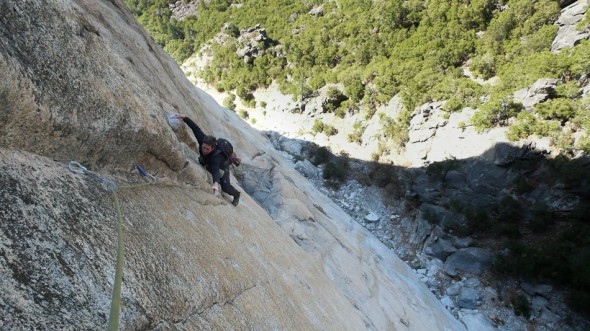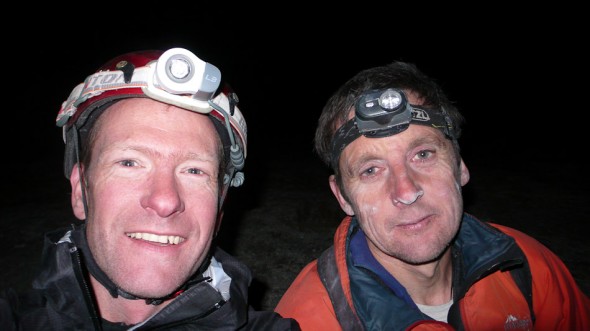 After the West Face of El Cap we were pretty smashed. We spent a day chilling, and the next day were still feeling the last month all catching up with us. Still, it was Matt's last day – so we had to climb something! Nutcracker it was – the valley's best 5.7, 5 pitches long – and only a short drive from Camp 4. Matt, Hana and I swung leads up the thing, enjoying the fall sun and loving the rock and climbing on this Yosemite classic.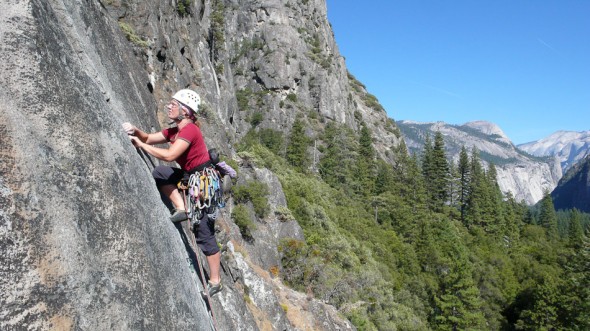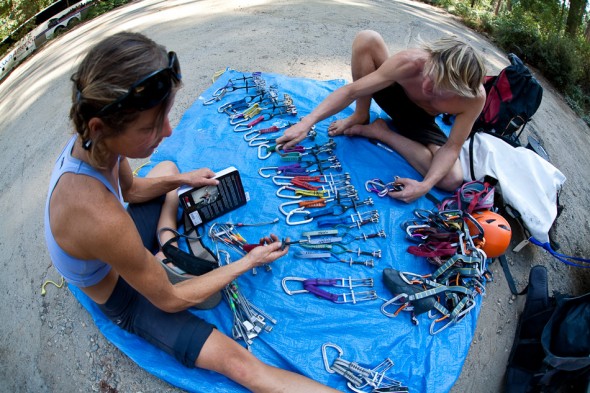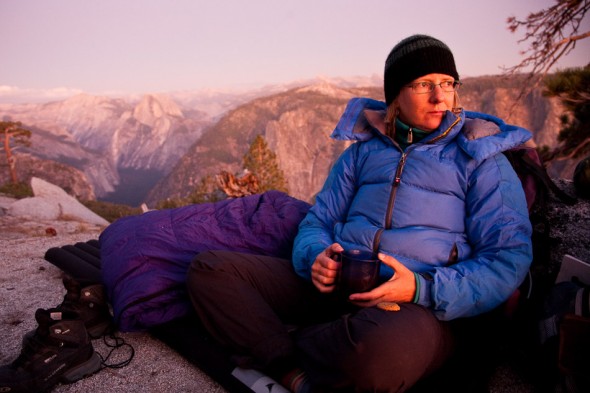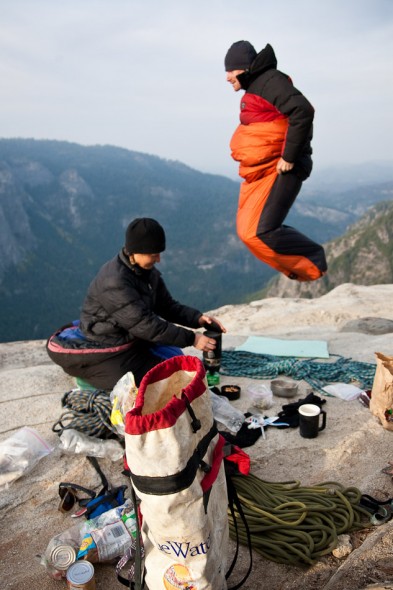 The last thing (actually there were a few) left on mine and Hana's list of stuff to do before we left the valley was hike up to the top of El Cap and spend a couple of nights hanging out under the stars – enjoying some dawn and dusk light, and appreciating the valley from a different perspective. We timed our trip up there to coincide with Mayan and Max's arrival off the top of the Salathe Wall as they topped out Freerider, and with some 2-way radios we kept a regular radio sched with them as they climbed. Carrying some extra water and food, we hiked up the tourist trail and bivved for the night on top, spending the next day exploring and helping out other climbers who were topping out on the Salathe. At midnight on our second night up there Mayan and Max topped out after a massive final day. I'd intended to get photos of them on the last 3 pitches, but their topping out in the dark put an end to that plan. Still, I rapped about 60m off the top of El Cap in pitch darkness in time to watch Mayan determinedly flash the second to last pitch (11a) by head torch and after 17 hours on the go!
(check out Mayan's blog here)
Next day the four of us hiked and rapped down the East Ledges descent, and that afternoon left the valley – ending an amazing month.