This is an overview of the Otso Voytek carbon plus/fat bike, covering our impression of these versatile bikes for long distance touring, as well as explaining how we set the bikes up and why we picked the parts and components we have.
From June 2016 until March 2020 we bikepacked from the north coast of Alaska, USA to Aysén, Patagonia. The goal had been to reach Ushuaia by winter 2020, but our trip was curtailed, temporarily we hope, by the Covid-19 pandemic.
Slowly and circuitously–ever eager to explore– we made our way along the American Cordillera totaling 45,500km of riding. Often following the classic bikepacking routes including GDMBR, Baja Divide, Tres Cordilleras, Mama Coca, Lagunas Route and Ruta de los Seis Miles and sometimes planning our own routes in even less travelled regions. The results of some of those explorations have been written up as routes and stories for Bikepacking.com and on our own routes page.
Over that distance we've racked up diverse experiences in conditions ranging literally from Arctic to Amazonian, and a great many climates and elevations in between. Having both been touring and bikepacking for nearly 30 years we thought we knew a fair bit before we started this journey, but it's a big world out there and there is always more to learn and improvements in equipment and technology to adopt. Pandemics aside, there has never been a better time to explore the wild regions of our planet by bike, thanks to the tools available.
Since Cusco, Peru we have been riding a pair of Otso Voyteks which have been put through their paces with over 8000km of mountainous riding in Peru, Bolivia, Chile and Argentina. We started out riding Surly Ogres, but as our journey progressed the benefits of a true plus bike, with a big tyre footprint; ample tyre clearance; and a more fun, trail-oriented, geometry became clear. Combined, those features open up more possibilities for the places you can comfortably take a bike. I emphasised 'comfortably' there, because intrepid cycle tourists have been taking bicycles to all sorts of crazy places for decades, but what we seek is not only to be masochists sometimes, but to have as much fun as possible while we're doing it.
Otso Cycles was established by the same innovative band of engineers who create the Wolf Tooth Components products and, as well as the carbon Voytek, they have created a range of cutting edge gravel bikes from carbon, titanium and stainless steel.
One of the many beautiful things about bicycles is that they can be made complete with all manner of different parts and components to suit the machine's purpose, as if it is the rider's own personal formula. Here's ours for the Otso Voytek.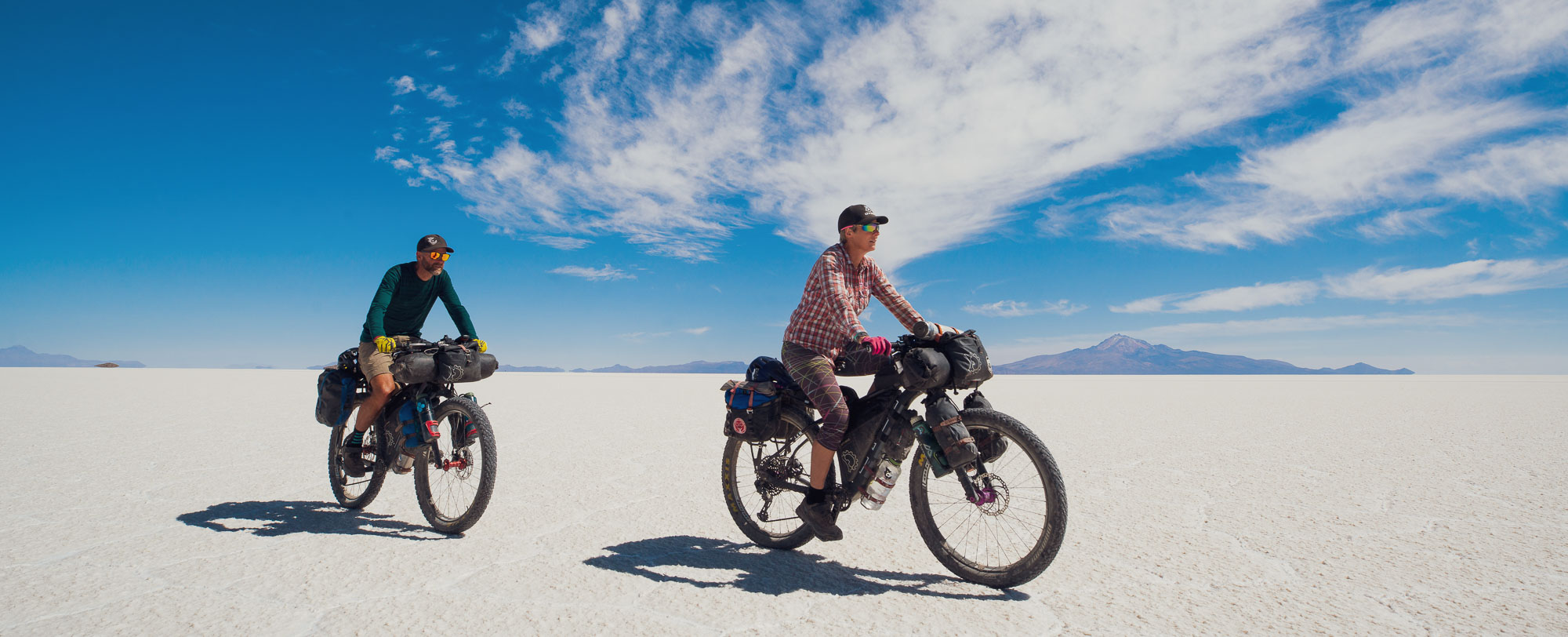 Frame & Fork
The only carbon framed bikes we'd previously owned were our road bikes back home in New Zealand, so using a carbon bike for the rigours of, sometimes heavily loaded, wilderness bikepacking was something that was new to us.
There seems to be a widespread misconception that carbon frames, for bikepacking, are generally only suitable for relatively light loads, such as might be carried in bikepacking races or shorter tours, and for some models of carbon framed bike, this is true.
However, after using the Voytek for nine months now, on the gnarliest bikepacking trails and with loads that have included up to 18 days food and 13 litres of water at a time, I feel confident taking the Voytek anywhere I would have gone on my steel bike. From fast gravel downhills to sustained rocky single track and barely ridable hike-a-bikes, we've put the bikes through many different challenges and they continue to be reliable and comfortable.
Something we particularly appreciate about the carbon frame and fork is the weight saving (~1.7kg for frame and fork alone), which is not a difference that will make a profound change among all the other weight, and variables, of a loaded bike while riding, but when you have to carry it, it's a clearly noticeable difference.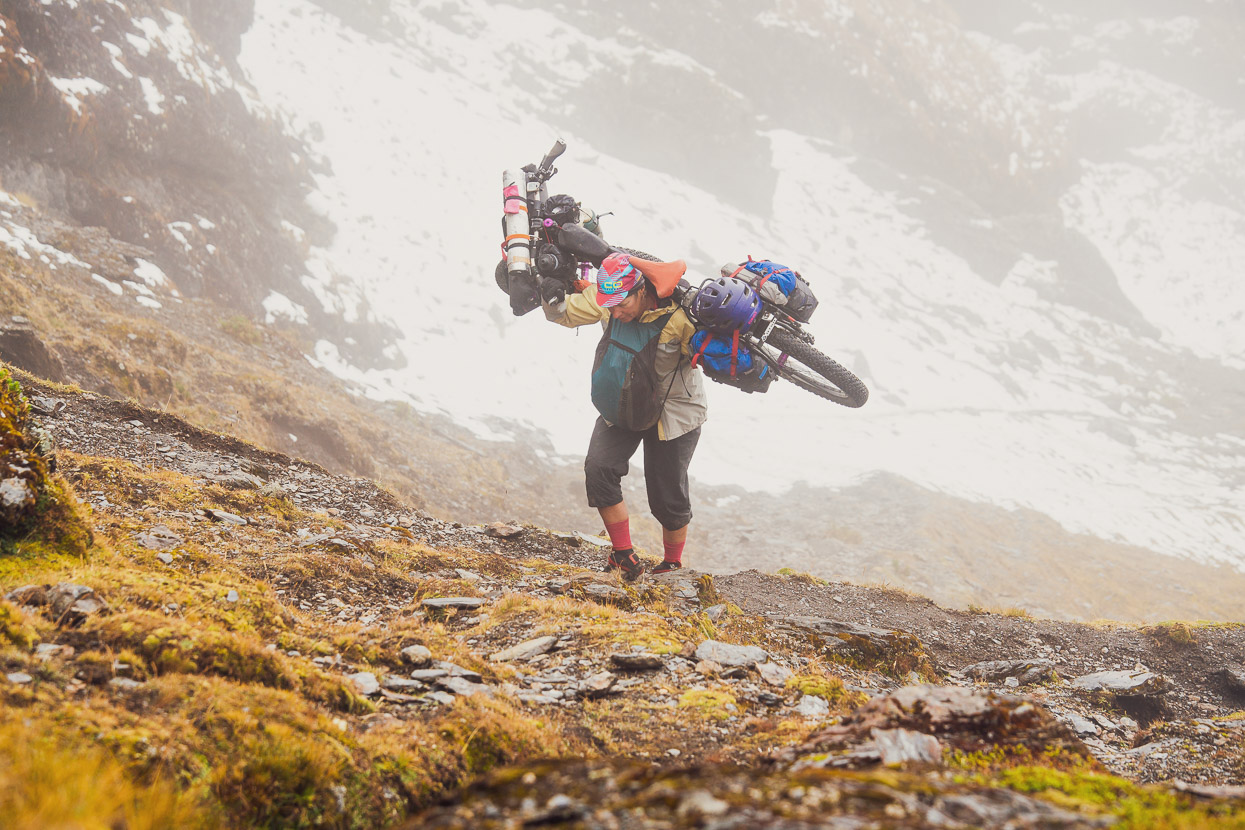 It's fair to say that when it comes to unanticipated forces on carbon frames, such as high impact crashes, tube crushing or getting handled badly by bus or airport staff, carbon frames can fare less well than other frame materials. Personally I'd be suspicious of any frame material if I crashed it hard with a touring load, but when it comes to other stresses (at least those that you can't put down to bad luck, such as the bike falling sideways onto rocks) you can mitigate these by packing the bikes carefully. The one time we used a bus for a long transfer in Chile, we chose to box the bikes, just in case. And flying home to NZ, we beefed up the bike boxes for side impact by taping in some rolled cardboard 'pillars'.
If you're the type of touring cyclist who likes to catch buses often or hitch rides, you might be best to steer clear of carbon frames, but if you're looking for a bike that's light, responsive and engineered to handle well under load on all sorts of terrain, read on.
The size of the tubes; particularly the oversize down tube and the bottom bracket and head tube clusters of the Voytek suggest that it's probably a stiff bike, and indeed it is. This is very much in the rider's favour when you load it with equipment and food and hit back country trails. Climbing, accelerating and riding standing up, there is no perceptible frame flex. Our Surly Ogres were notably flexible, when heavily loaded, by comparison.
Whether it was a deliberate decision by the Otso engineers, or just a side benefit, somehow the geometry of the bike seems to nail the sweet spot for loaded riding too, with the bike being confidence inspiring on steep, technical and sandy tracks. The head angle is more XC oriented than trail (at 69°), which by comparison to the Ogre is 4° slacker, and the same as the Surly Karate Monkey. While I'd always thought the Ogre handled technical singletrack quite capably, the Voytek is a different beast. The head angle is about perfect for a bike of this type I think, making it assuring for slower speed riding (important for sand & snow) and stable for slow or technical climbing, which has been beneficial for us on massive Andean climbs.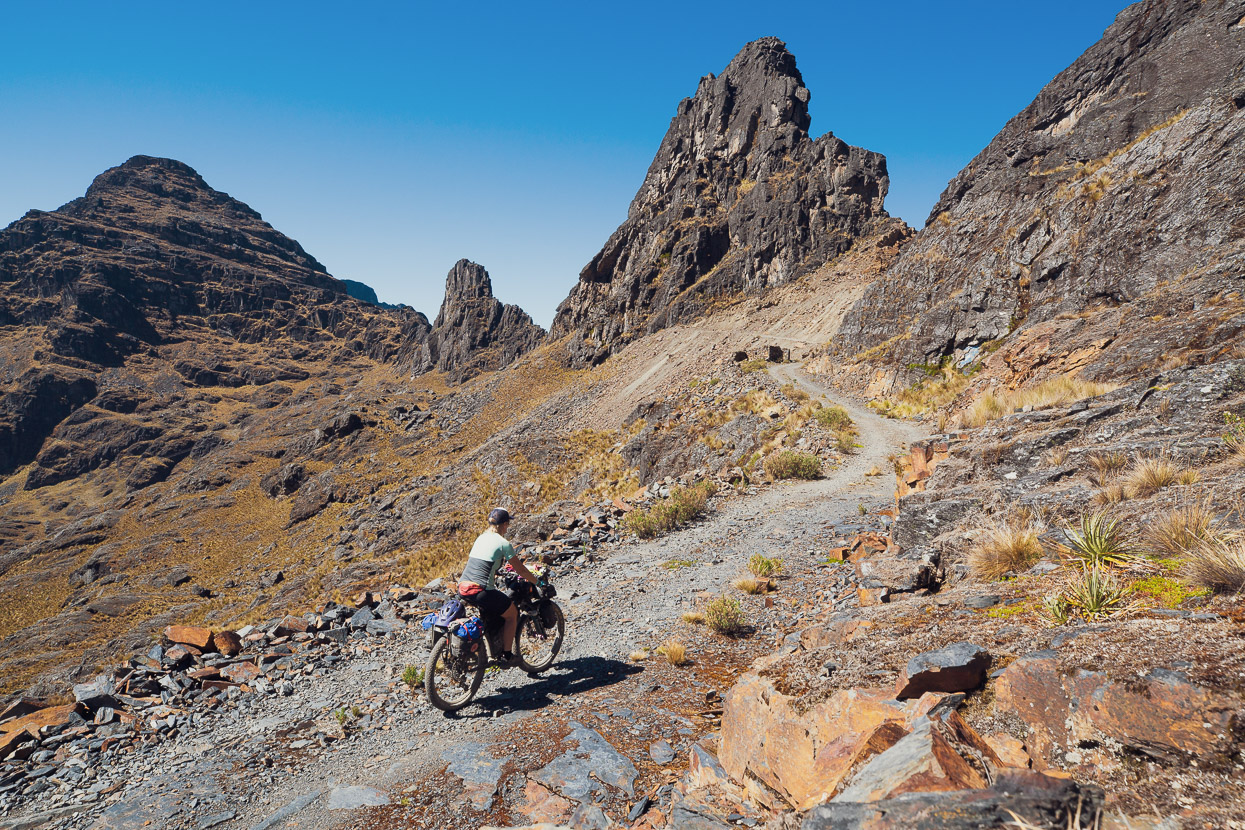 Proprietary to the Otso Voytek are the 'Tuning Chip' adjustable dropouts, meaning the length of the chainstay can be adjusted, depending on how you want the bike to handle and which size wheels you're running. The shortest position makes the bike more nimble and responsive (best unloaded or lightly loaded), while the longest position increases the wheelbase (slightly increasing the head angle) making the bike a more stable bikepacking platform. This is the position we ride them in. Wolf Tooth make a version of the Tuning Chip with a thread in it for mounting a rear rack, which is what we use. The top of the rack mounts to a seat collar with a 'piggyback' rack thread.
It's important to note that how the bike handles loaded is also a product of how you pack and distribute your gear – more about that later.
The fork we are running on the bikes is the Salsa Kingpin Deluxe, because it has a double set of mounts for cargo/water cages, which we like to utilise for a balanced load and extra water capacity. Something else that has been a stand out for us has been shifting from regular quick releases (as we had on the Ogres) to through-axles front and rear. These 'tie' the bike together with a stiffness that quick releases can't match, improving handling, especially with a load and keeping the bikes quick and responsive to steering input on all terrain. This is further enhanced by the large headset bearing and beefy steerer tube assembly.
If I were to throw an analogy out there, it would be that shifting from the Ogre to the Voytek has been like upgrading from an old Toyota Hilux to a new Range Rover.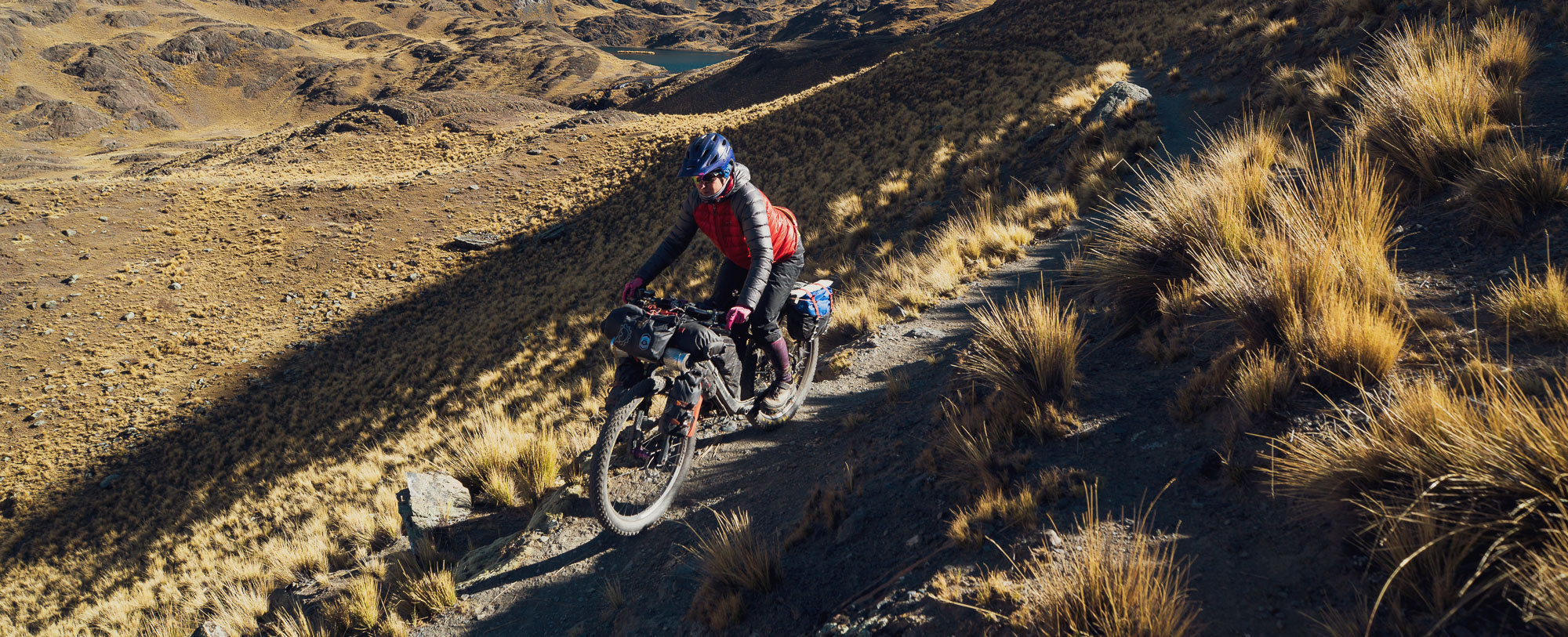 Wheels & Tyres
Although the Voytek can take up to 4.6 inch tyres (with a 26 inch wheel), our requirements for long distance bikepacking are best met with the combination of a 27.5 inch wheel and 3 inch tyre. Neither of us are particularly tall, so 27.5 inch (especially with a 3 inch tyre) suits both of us best for technical riding. Because the clearance of the frame is designed for a fat tyre, when running 3 inch tyres, there is a surfeit of clearance all around both wheels which makes riding in mud a breeze. Conditions would have to be really bad for this wheel combination to get clogged.
We have spent a lot of time in past months in sandy regions and on sometimes very rough roads (with no suspension fork) so 3 inch tyres have been our go-to as they strike a balance between efficiency-over-distance, traction and float over sand and rocks. However if you were running a suspension fork, or riding firmer and less extreme conditions, 2.6–2.8 would be ideal for long distance riding on this bike, giving you even more generous clearance for mud. Likewise, were we on a shorter trip with desert riding or very rough trails, we'd probably opt for a 4 inch tyre.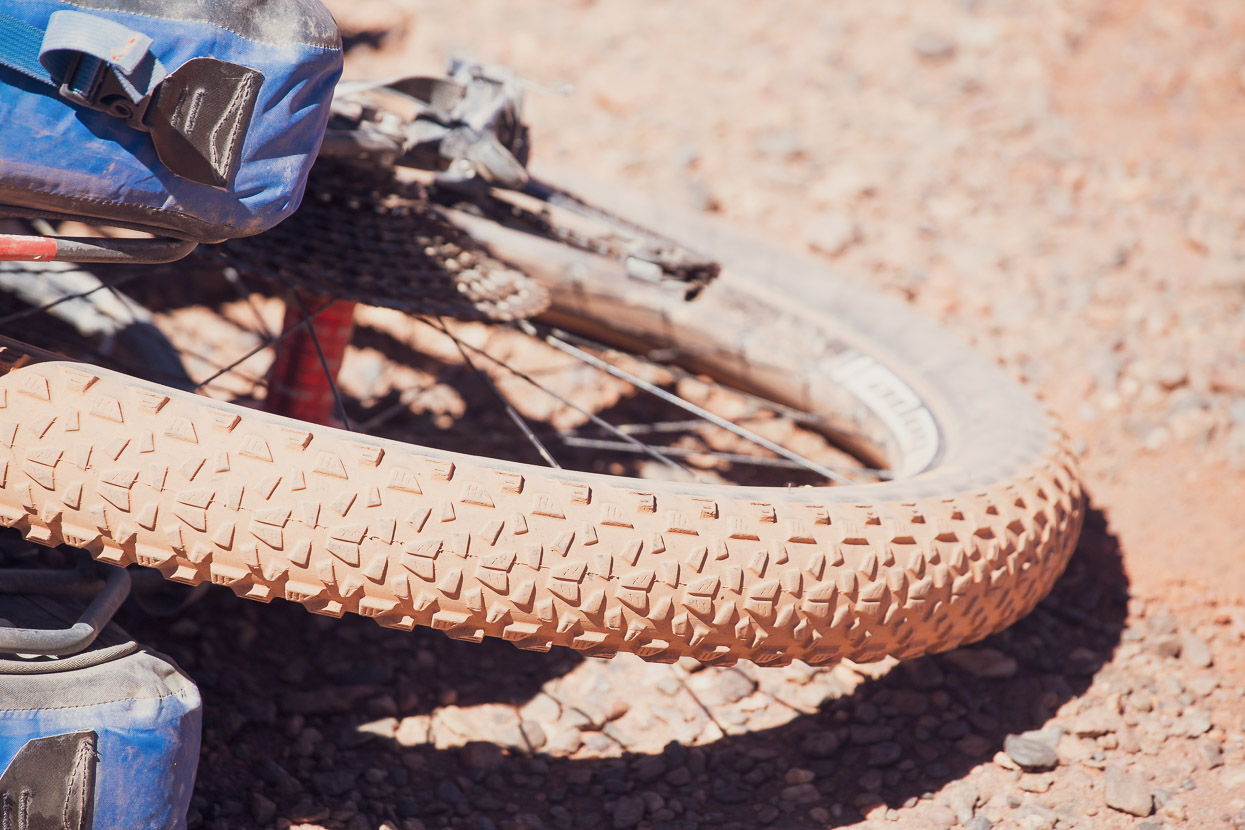 Our rim size of choice, the Hope Technology 35W, is at the narrow end of the spectrum for a 3 inch tyre (35mm internal), but the reason for this is that 27.5+ size tyres are very difficult/expensive to obtain outside of a select few cities in Latin America, so we like to have the option to run a more widely available tyre size, such as 2.35 inch, in an emergency. A narrower rim saves us rotational weight and we like that this particular model is also eyeleted for longevity. The non-eyeleted Stans rims that I used for the back wheel on my Ogre for the first two years (Arch EX and Flow MK3) all cracked around the eyelets (I went through three).
It's also worth mentioning for prospective tourers headed to Latin America that 27.5 inch is by far the most common tyre size in high quality tyres these days. If you're headed to a high end bike shop, you'll find the widest range in that size. The traditional wisdom that 26 inch is best for wide availability is no longer true unless you want very cheap tyres. There is more choice in 29 inch, but not as much as 27.5 inch. 29+ is virtually impossible to find.
The traditional school of thought for heavy loads and long distance is that 36 spokes are the way to go, however, in general plus rims have greater inherent strength making 32 spoke wheels sufficiently strong as long as the rim is eyeleted, they have strong spokes and are correctly tensioned. We have not broken a spoke on the Voyteks yet, but broke a few on the Ogres when we were on narrower 32 spoke rims.
Hope Technology supplied us Fatsno Pro 4 hubs to combine with their rims and so far these have not skipped a beat, despite some extremely wet and dusty riding conditions for days at a time. After 8000km we have not had to replace a bearing.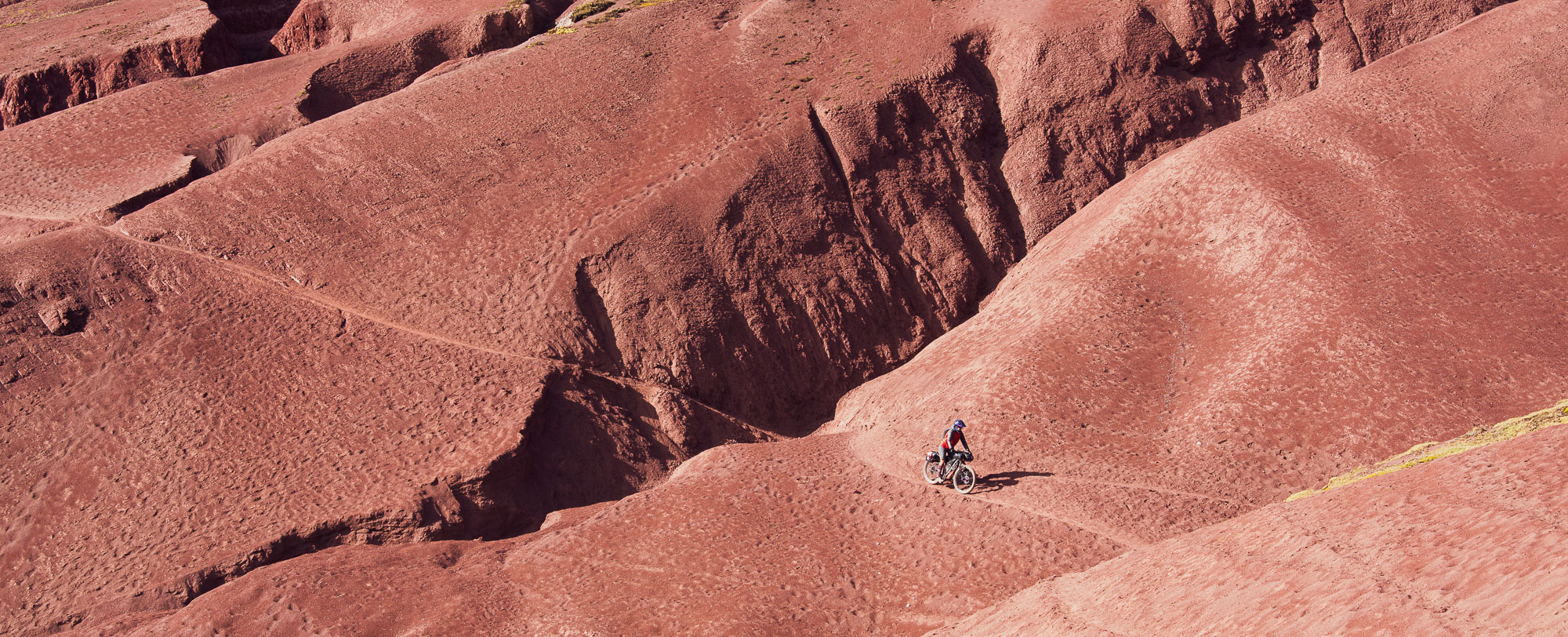 Drivetrain
Riding these Voyteks was the first time either of us had used a 1x drivetrain—Sram Eagle GX—which again is a system that has its skeptics for long distance bikepacking. We have found that the pros, so far, outweigh the cons of these drivetrains for touring, but this will also depend on the riding style and requirements of individual riders.
For us, with older knees and a penchant for finding rough and remote roads that are often steep, an easy climbing gear is key. So we paired the 10–50 12-speed cassette with a 28 tooth Wolftooth CAMO stainless chainring, giving us a minimum (easiest) gear-inch of 16.24, which has been enough, even with nearly 3 weeks food on board. We do get 'spun out' riding paved descents, but while touring this is not an issue for us. If we were running a consistently lighter load (say for shorter trips back home) we'd use a 30 or 32 chain ring.
Eliminating the front derailleur saves weight, improves mud clearance, and reduces mud on your chain (from the derailleur dragging mud off the tyre) providing a more reliable bike when conditions are bad. After nine months now we have not missed our big chainrings at all.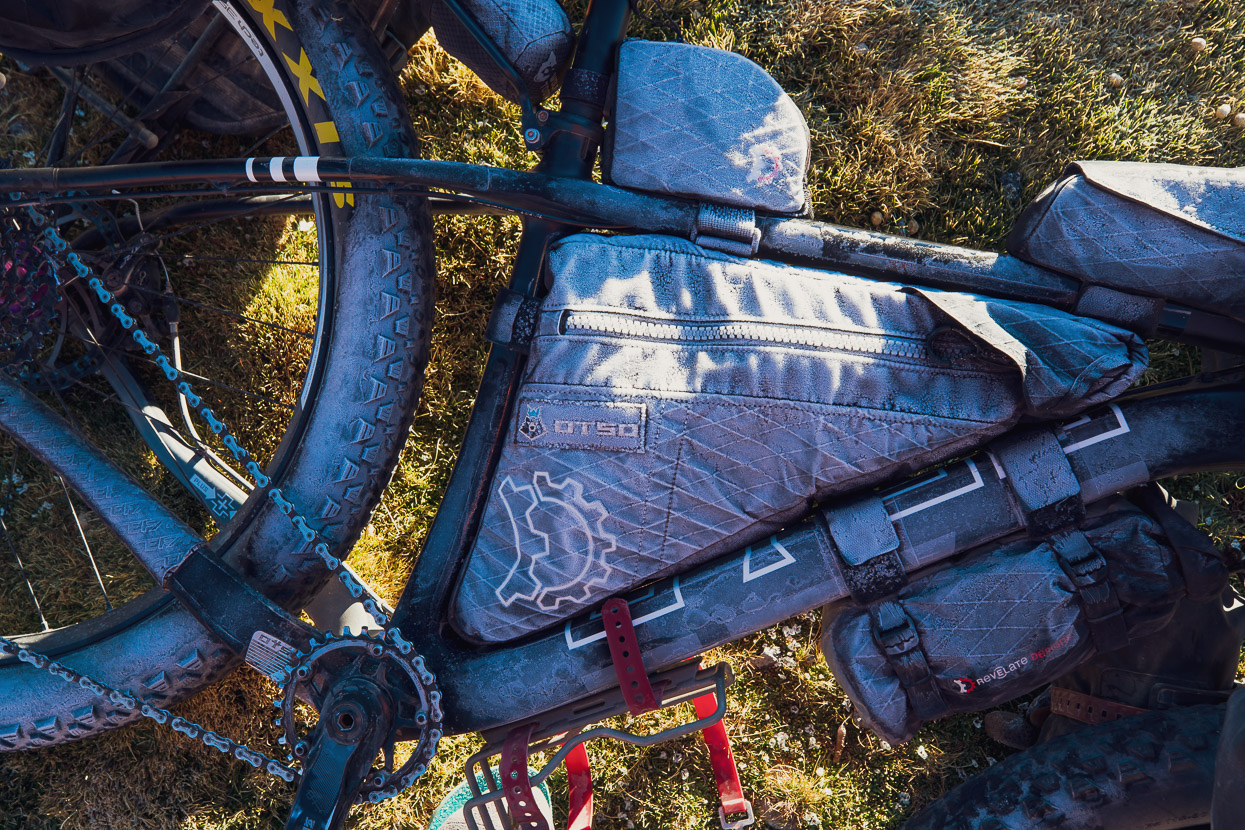 We put new chains on the bikes after close to 2000km of tough riding but due to lack of availability didn't try to change them again until we'd done nearly another 4000km, by which time the second chain had stretched enough to have worn the stainless steel chainring causing the new one to catch badly on the chainring teeth. This was surprising, as we'd expected the stainless chainrings to last longer. Interestingly that third chain seemed to work ok with the cassette, but this probably confirms that 12 speed chains do stretch faster than 10 and 11 speed, and require regular changes to extend longevity of the rest of the drivetrain.
Since the failed attempt to change chains (from #2 to #3), we've left #2 on the bikes for nearly 2000km more with no slippage yet.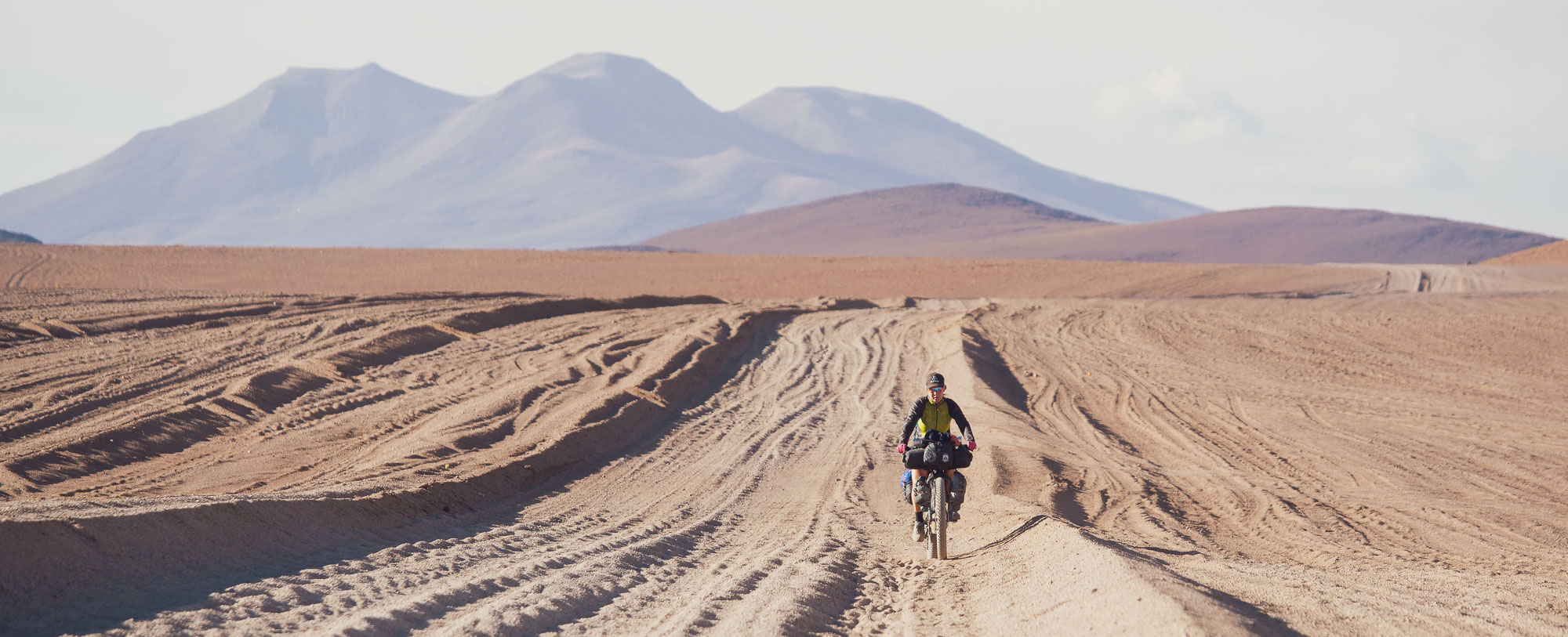 Brakes
As much as we love hydraulic brakes for trail riding and less remote trips, for us the best option for long distance and remote riding are mechanical disc brakes. The consequences of damaging a hydraulic hose or snapping a brake lever (as we did on a high pass once in Peru) are too great. At least if you break a front brake lever with a mechanical brake you have the option to swap the cable to your rear brake lever.
Mechanical systems are more reliable and maintenance free, and depending on your system, the pads will usually be more widely available in Latin America too. We prefer the TRP Spyke as it has two active pistons (unlike the Avid models which only move on one side). This gives the brake a more modulated and hydraulic-like feel. We pair them with 180mm rotors front and rear for better braking with a load, and this also extends the life of the pads and rotors compared with smaller rotors. We've found Shimano's IceTech rotors to be less prone to damage during rocky hike-a-bikes and long heat-inducing descents due to their separate aluminium spider.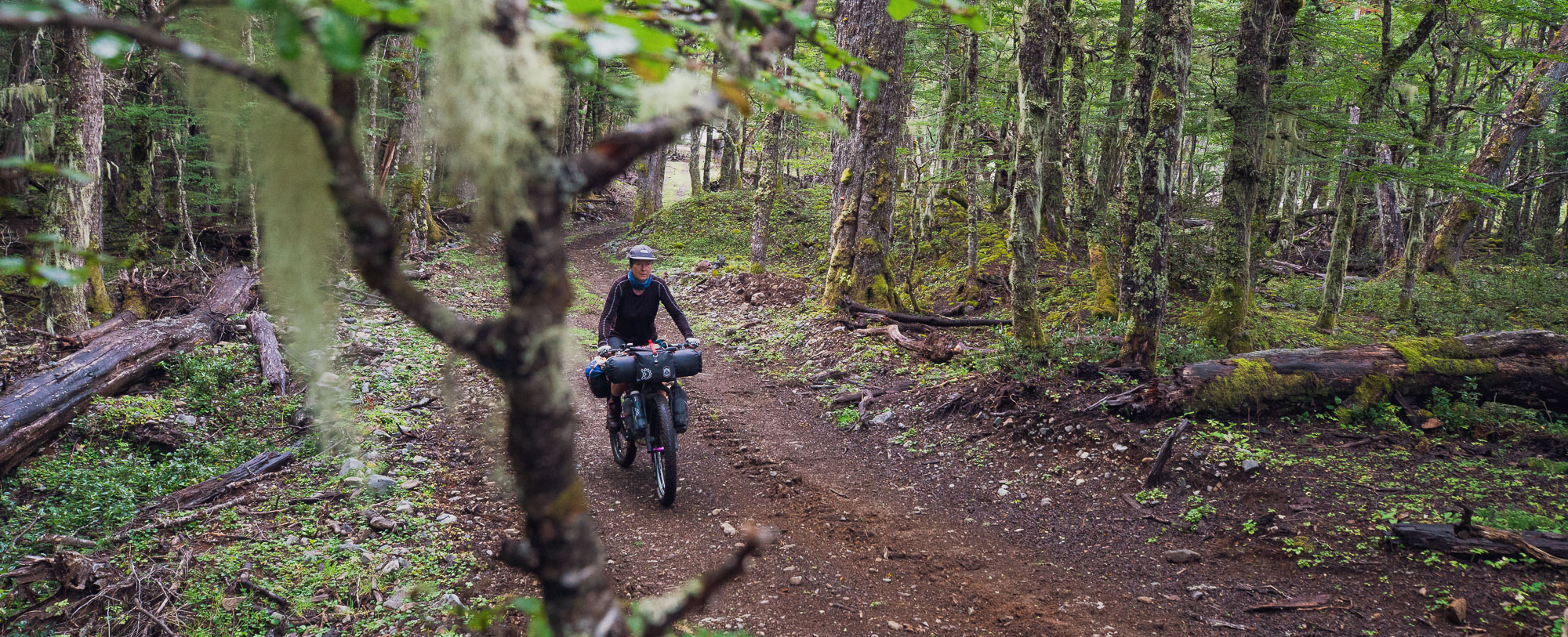 Handlebar
Having both experimented with different handlebars over the years, our preferred bar for long distance riding is the Watson (no relation) Cycles Revelation titanium handlebar. Titanium is a good choice for long distance bars because it is extremely strong, making it reliable for many thousands of kilometres of rough riding, and is also more shock dampening than aluminium. This bar is 680mm wide with a 32 degree sweep, which we find hits the sweet spot between comfort and suitability for technical riding. We've used this bar since day one and have never once wished for bar ends, or any other kind of bar.
On the Voyteks we have paired the bars with 70mm (Mark) and 50mm (Hana) stems. The shorter stems partly compensate for the longer front centre of the frames, but also speed up the steering, which is of extra benefit with the relatively heavy loads on the front of our bikes.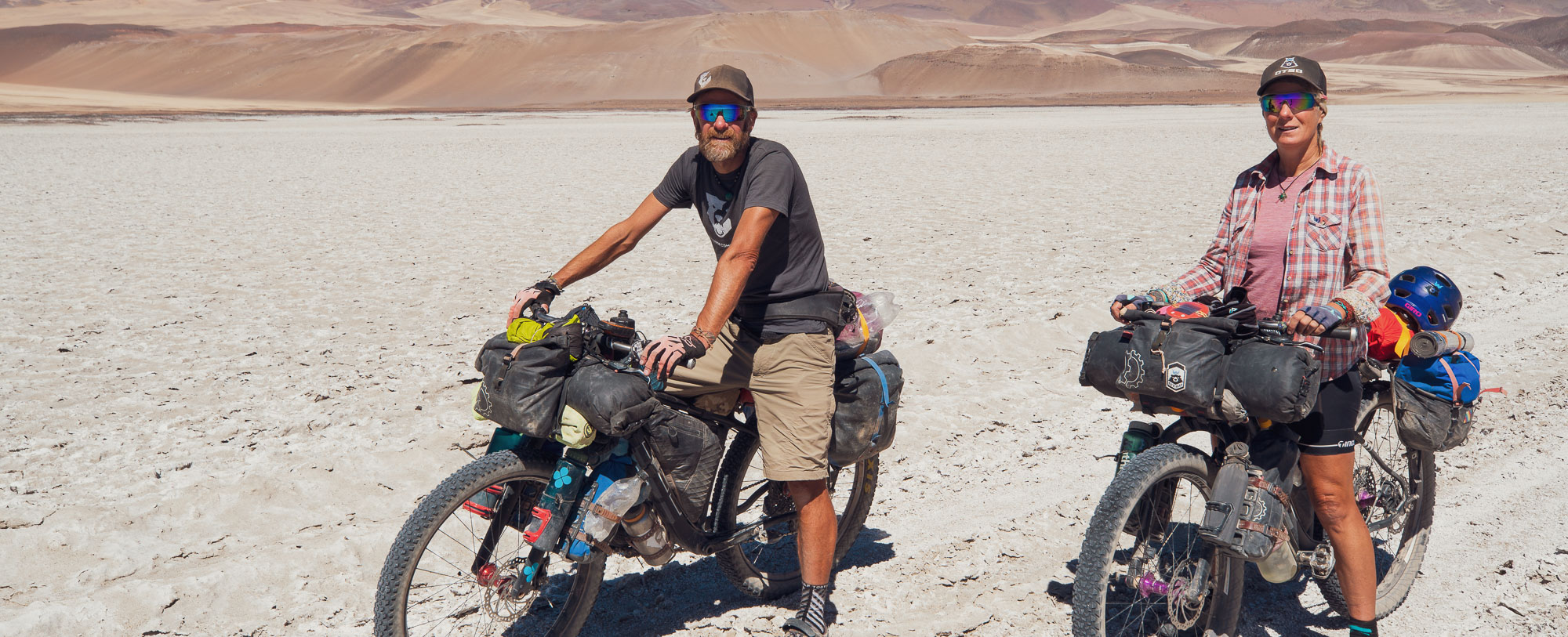 Luggage
For ideal bike handling in a range of conditions, an even distribution of the load over the bike is key. Revelate Designs supply us with their excellent bikepacking bags and we use a range of their models, as well as custom mini panniers to achieve both optimal load distribution as well as luggage capacity to suit longer distances between resupply. This system was pushed beyond capacity when we rode the Ruta de los Seis Miles Norte (18 days no resupply), so we expanded our capacity with lightweight drybags attached to the decks of our Axiom Fatliner racks.
In our front harnesses we tend to carry bulky but light items such as sleeping bag, tent, down jacket, sleep socks, leggings and sleeping mat, while the fork bags hold the rest of our spare clothing and rain wear (for quick accessibility). The framebag, with its low centre of gravity position, is best for heavy items such as my camera lenses & spare tyre sealant. It also works well for water or in Hana's case; multiple small but dense items that she likes to keep quickly accessible, such as the pump, tool kit and Steripen.
Items that we most rarely use, such as spare inner tube, brake pads, spare parts and day packs are kept in our Revelate Designs Joey downtube bags and Wolftooth B-Rad roll top bag. Laptop, minimal toiletries, food and cooking equipment occupy the mini panniers, while other small and frequently used items go in our Revelate Designs Egress Pockets, up front.
Read our full packing list
Summary
Overall, our ethos towards long distance touring and bikepacking is to remain agile. We ride with loads that are light and consciously selected, but not ultralight. This is sufficient to keep our choice of roads and tracks wide open, and gives us plenty of options for where we chose to carve our southbound trail.
Secondly, and just as important, is the choice of bike. For us, having a bike that is equipped to deal with the worst a trail might throw at it, means that it's rare that we feel out of our depth, and it keeps the riding (mostly) enjoyable. It's about having a bike that's capable on all sorts of surfaces and that allows us to make the most of the riding, not riding one that just manages to cope. The bottom line after all is to have fun, and for us a light plus-tyred bike with generous tyre clearance is the perfect tool for this.
As we've experienced ourselves and witnessed with other cyclists over the past 45,500km; if you are riding mixed surfaces, including pavement, the advantages of a plus-sized tyre on all dirt surfaces will always greatly outweigh its minor disadvantage of added rolling resistance on tarmac – after all, what's 10 minutes extra at the end of a 10 hour day?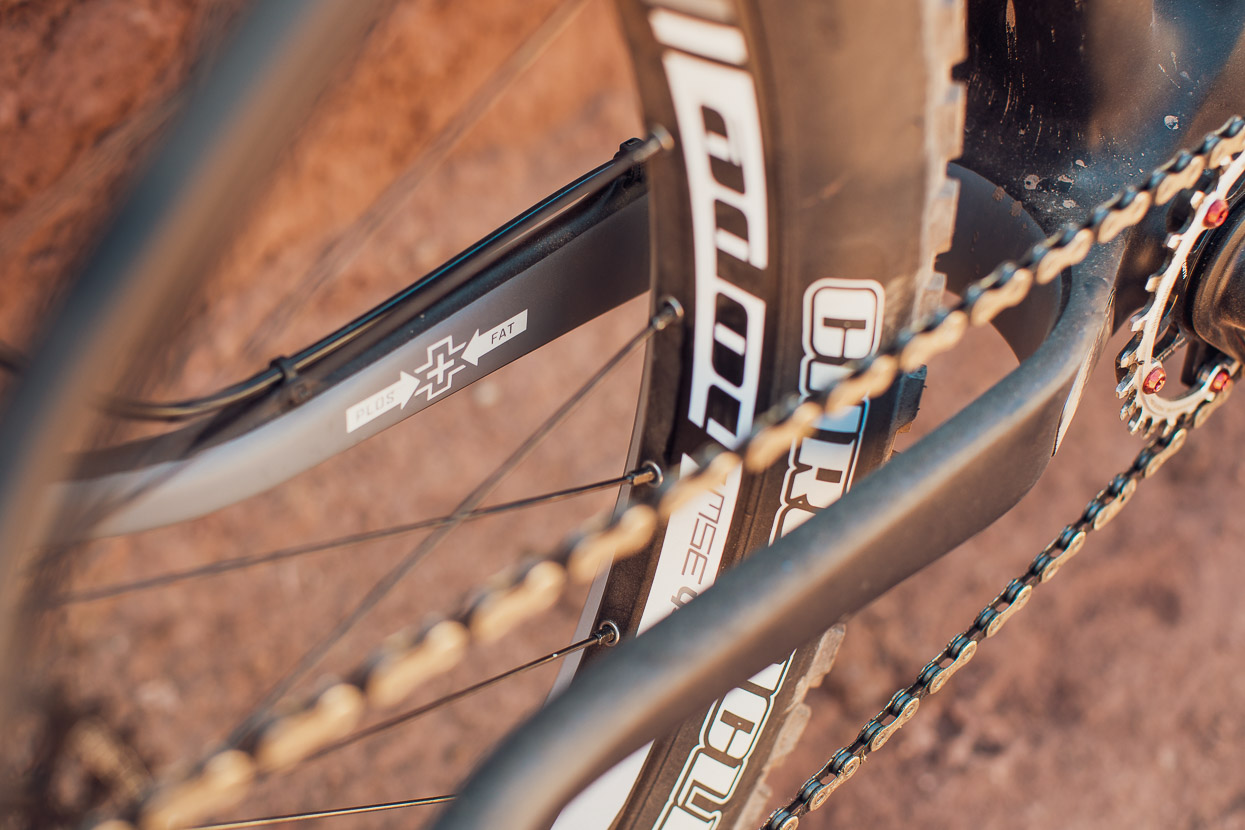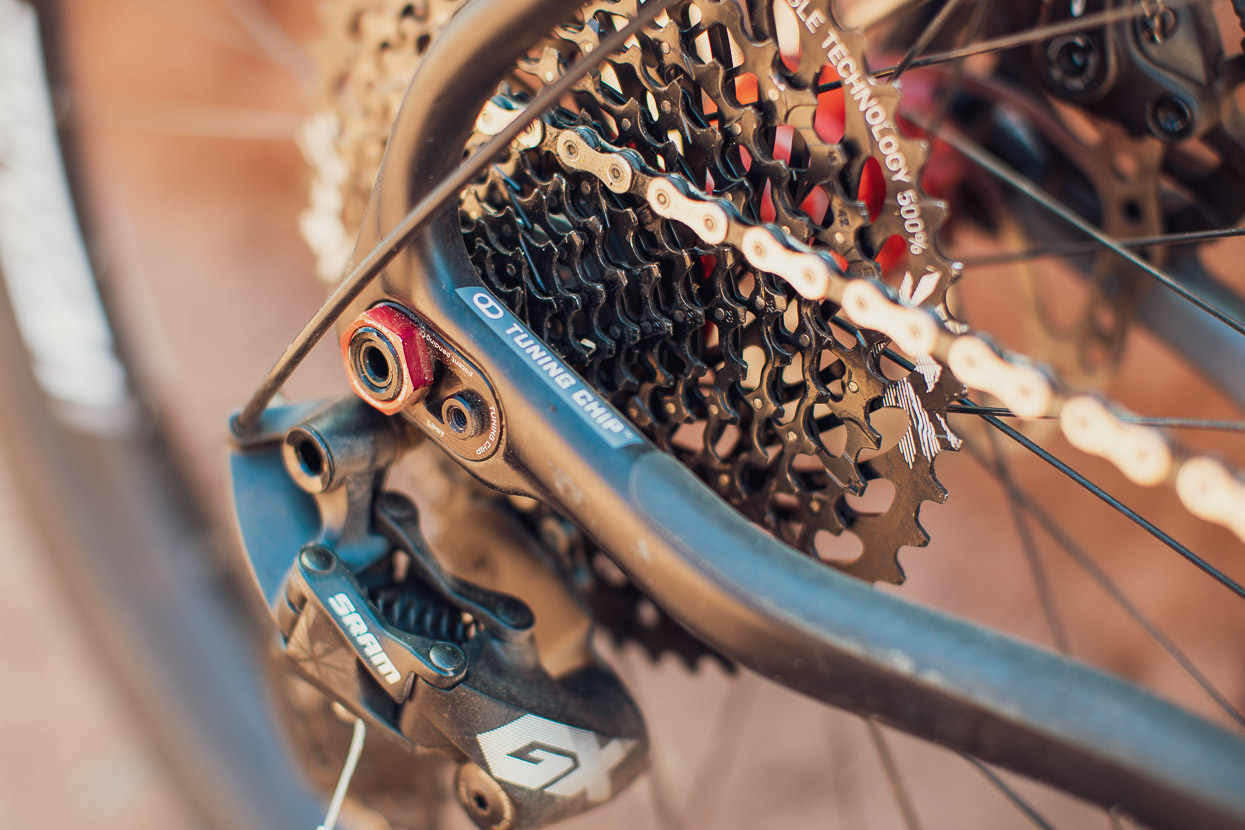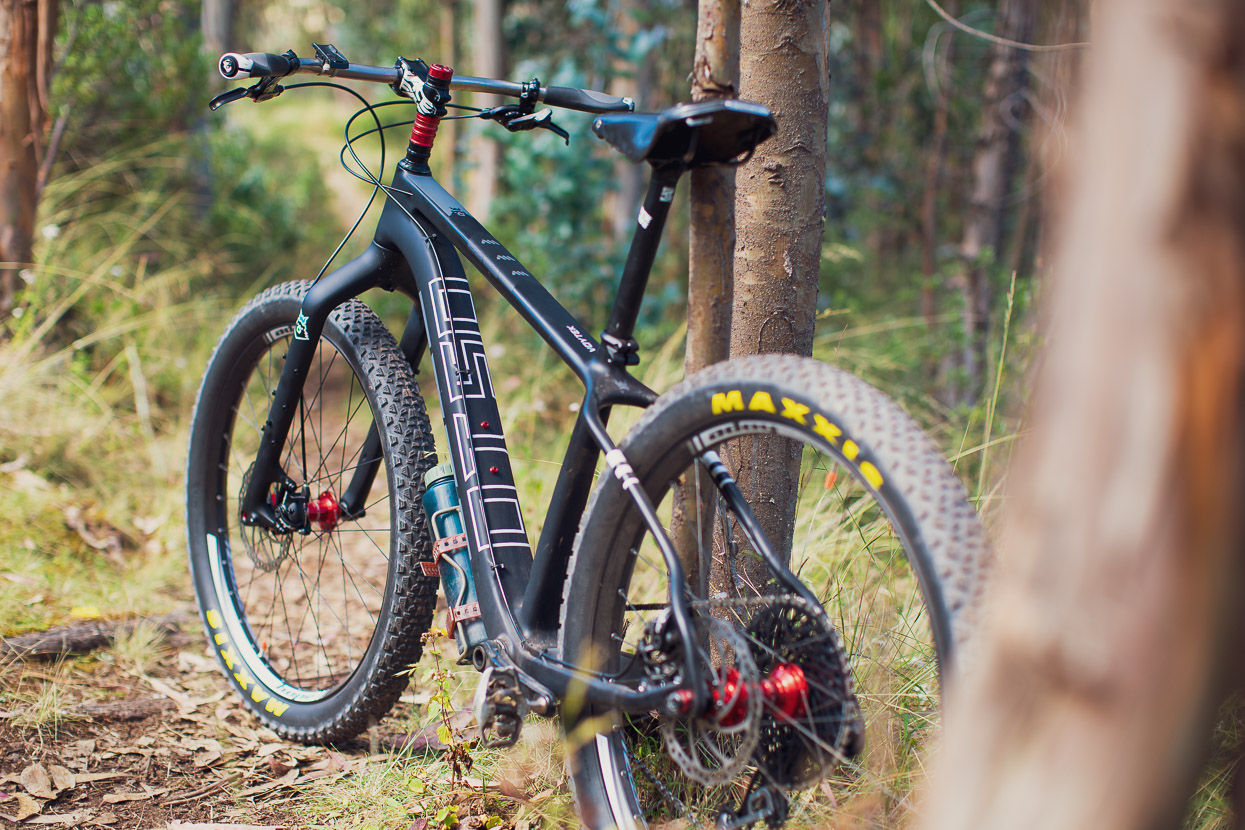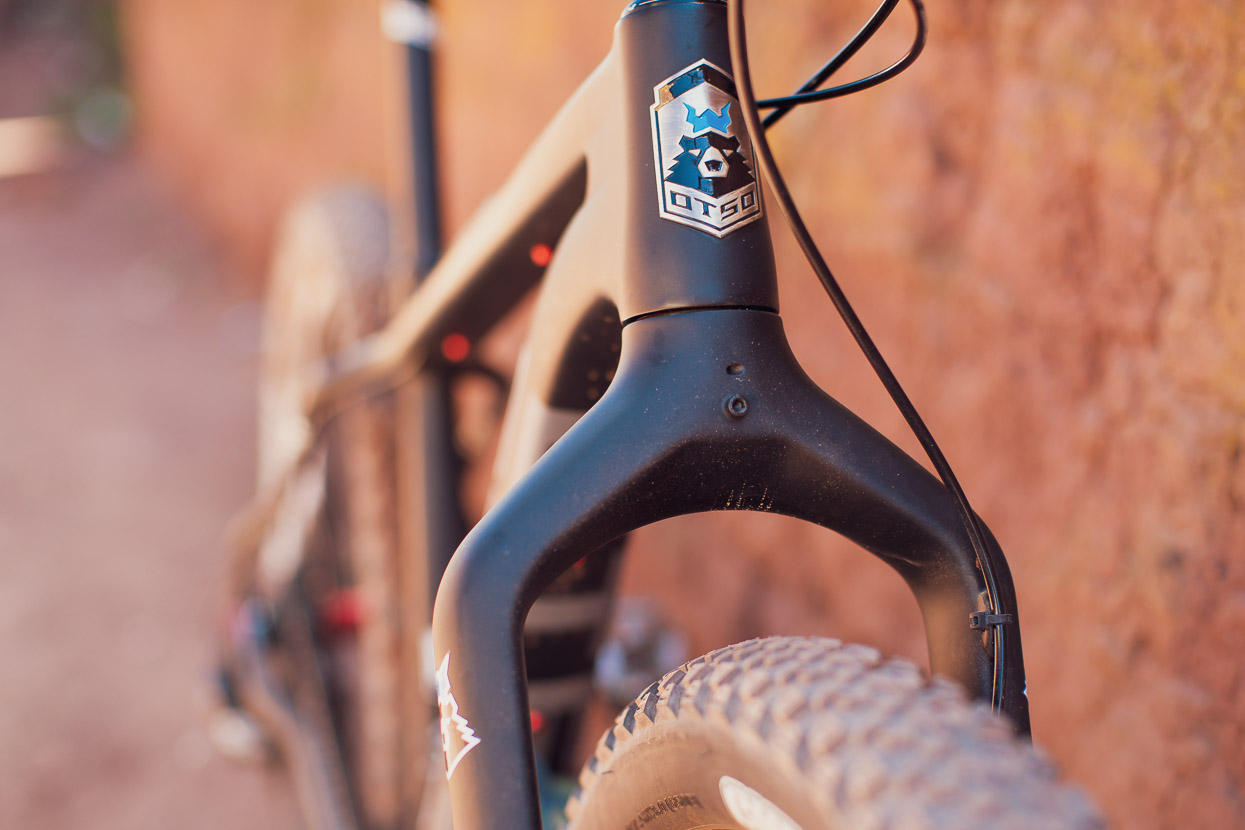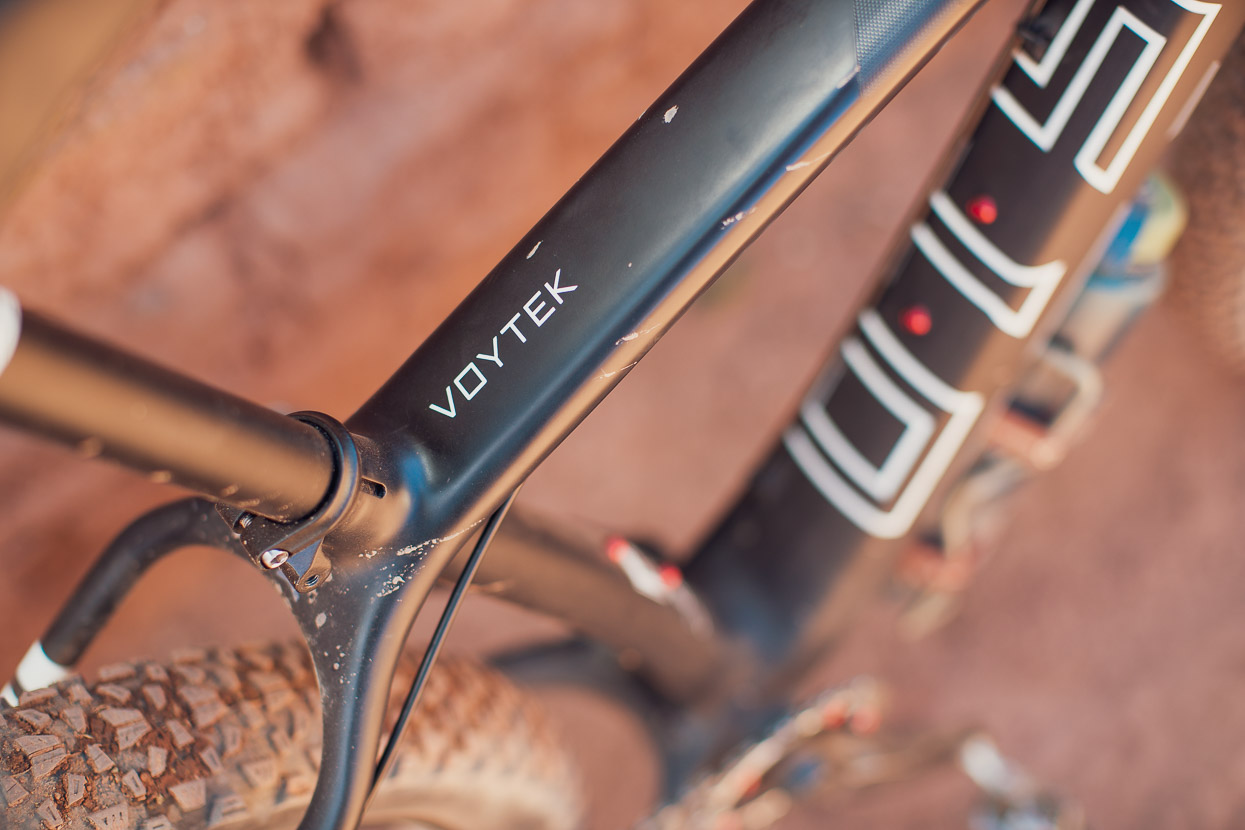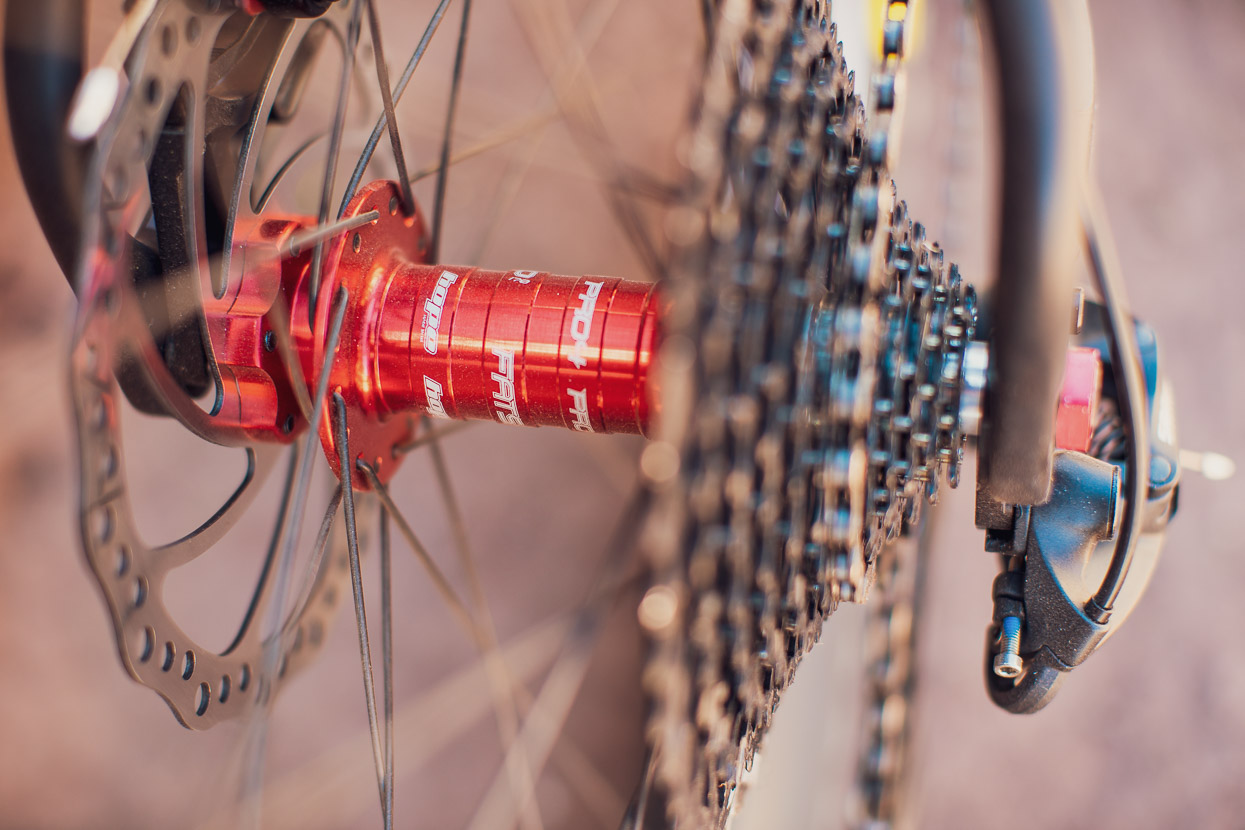 Otso Voytek Medium Frame
Fork
|

Salsa Kingpin Deluxe with carbon steerer
Headset

|

Cane Creek 10 Series (noticeably more worn than Hana's 40 series)
Rear derailleur

|

Sram Eagle GX, 12-speed
Shifters

|

Sram Eagle GX
Cassette

|

Sram Eagle GX 10-50t, 12-speed
Chain

|

Sram Eagle GX
Brakes

|

Spyke TRP with 180mm rotors
Cranks

|

Race Face Aeffect 83mm with 175mm crankarms and Wolf Tooth CAMO spider
Front Chainring

|

Wolf Tooth CAMO Stainless 28t
Bottom bracket

|

Race Face BB107
Handlebar

|

Watson Cycles Revelation Titanium (32° sweep, 680mm wide)
Grips

|

Ergon GP1, Small
Stem

|

Salsa Guide, 70mm x 15° rise
Seatpost

|

Raceface Ride
Seat

|

Selle Anatomica X2
Rims

|

Hope Technology 35W 27.5 inch
Hubs

|

Hope Technology Pro 4 Fatsno 150x15mm thru axle / 177x12mm thru axle
Tyres

|

Maxxis Chronicle 3 inch (tubeless)
Rack

|

Axiom Fatliner with Wolf Tooth rack adapter
Otso Voytek Medium Frame
Fork
|

Salsa Kingpin Deluxe with carbon steerer
Headset

|

Cane Creek Forty Series
Rear derailleur

|

Sram Eagle GX, 12-speed
Shifters

|

Sram Eagle GX
Cassette

|

Sram Eagle GX 10-50t, 12-speed
Chain

|

Sram Eagle GX
Brakes

|

Spyke TRP with 180mm rotors
Cranks

|

Race Face Aeffect 83mm with 170mm crankarms and Wolf Tooth CAMO spider
Front Chainring

|

Wolf Tooth CAMO Stainless 28t
Bottom bracket

|

Race Face, BB107
Handlebar

|

Watson Cycles Revelation Titanium (32° sweep, 680mm wide)
Grips

|

Ergon GP1, Small
Stem

|

Race Face Chester, 50mm x 8° rise
Seatpost

|

Race Face Ride
Seat

|

Brooks B17
Rims

|

Hope Technology 35W 27.5 inch
Hubs

|

Hope Technology Pro 4 Fatsno 150x15mm thru axle / 177x12mm thru axle
Tyres

|

Maxxis Chronicle 3 inch, tubeless
Rack

|

Axiom Fatliner with Wolf Tooth rack adapter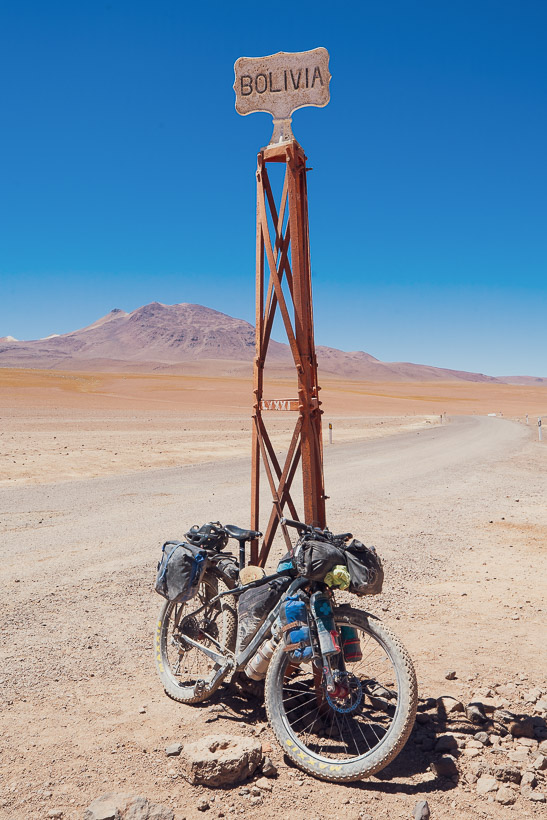 Do you enjoy our blog content? Find it useful?
Creating content for this site – as much as we love it – adds to travel costs. Every small donation helps, and your contributions motivate us to work on more bicycle travel-related content.