Una problema con la frontera.
As I write this update we're now in the breezy seaside Spanish colonial city of Cartagena, Colombia. Resting up after a challenging three weeks cycling the length of Cuba.
Cuba's an incredible place to visit, as I'll write more about later. While we're used to the physical challenges of dirt-road touring now after a year and half on the road, Cuba tests you in others way too that make it all the more memorable.
Cartagena's a Colombian tourist hot spot, and in the build up to Christmas it's filled with tourists both local and international and buzzing with energy and the sounds of street hawkers voices, bells and horses hooves clopping on the road. For us it's a time to decompress from Cuba, eat lots, repair and clean equipment and get some new parts on the bikes for the next big chapter. We're searching the Internet now for the ultimate Cartagena Christmas brunch.
For now though, here's another installment to bring you up to date with more of Central America: the continuation of our long, mostly dirt, ride down through Colón and Olancho and into Nicaragua.
We'd been a little bit nervous about what Catacamas might be like after reading that it was ruled by drug cartels, and then on arrival learning that two men had been shot dead in a revenge killing in the central park the weekend prior to our arrival. But to our naive eyes it seemed like a sleepy rural service town, serving the valley's extensive cattle ranches.
We made it out of town safely anyhow – rested after a day off – and a ribbon of red dirt road and a gentle tail wind carried us south.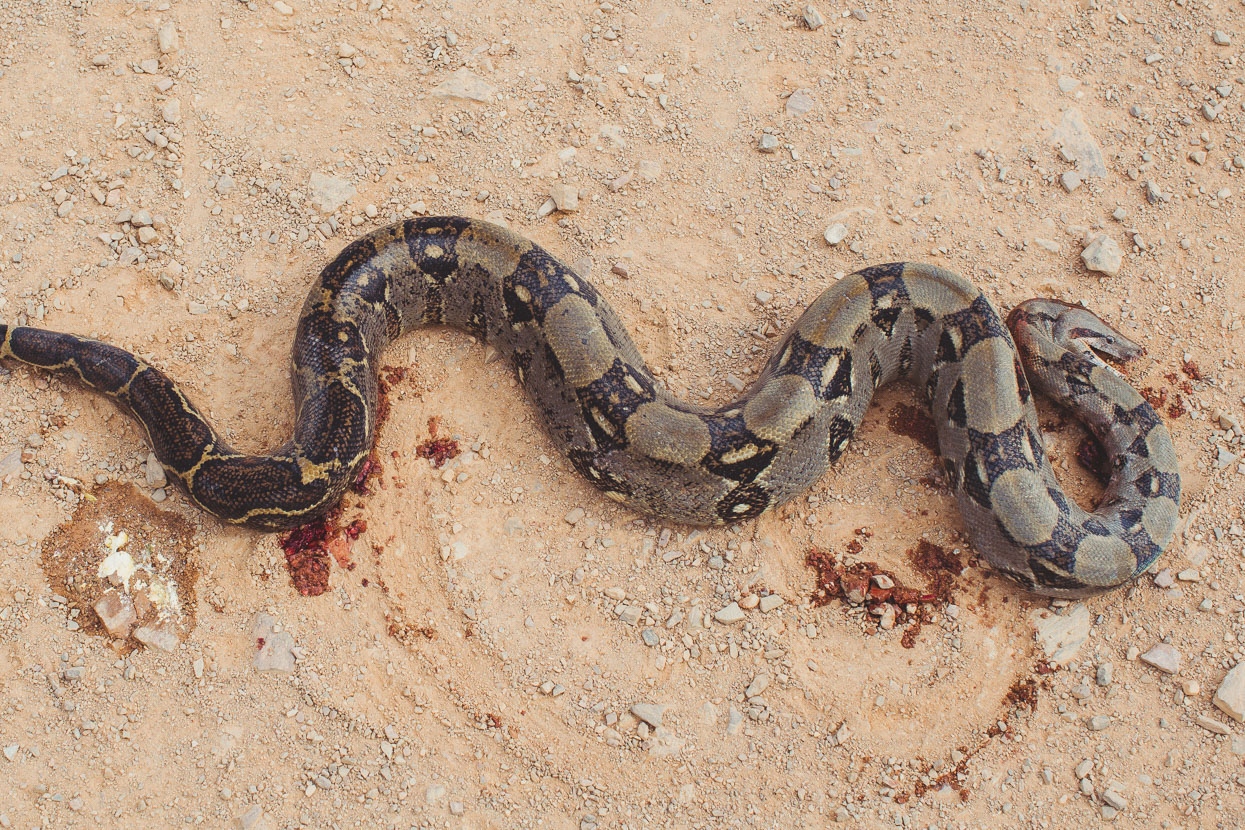 One of the larger snakes we've seen – a python I think. A group of locals had been standing around it just before we arrived and had probably killed it. As we've seen before – in Mexico – campesinos (peasant farmers) are merciless when it comes to serpientes – they're a threat to both their own safety and their poultry. Humans definitely come first in this part of the world.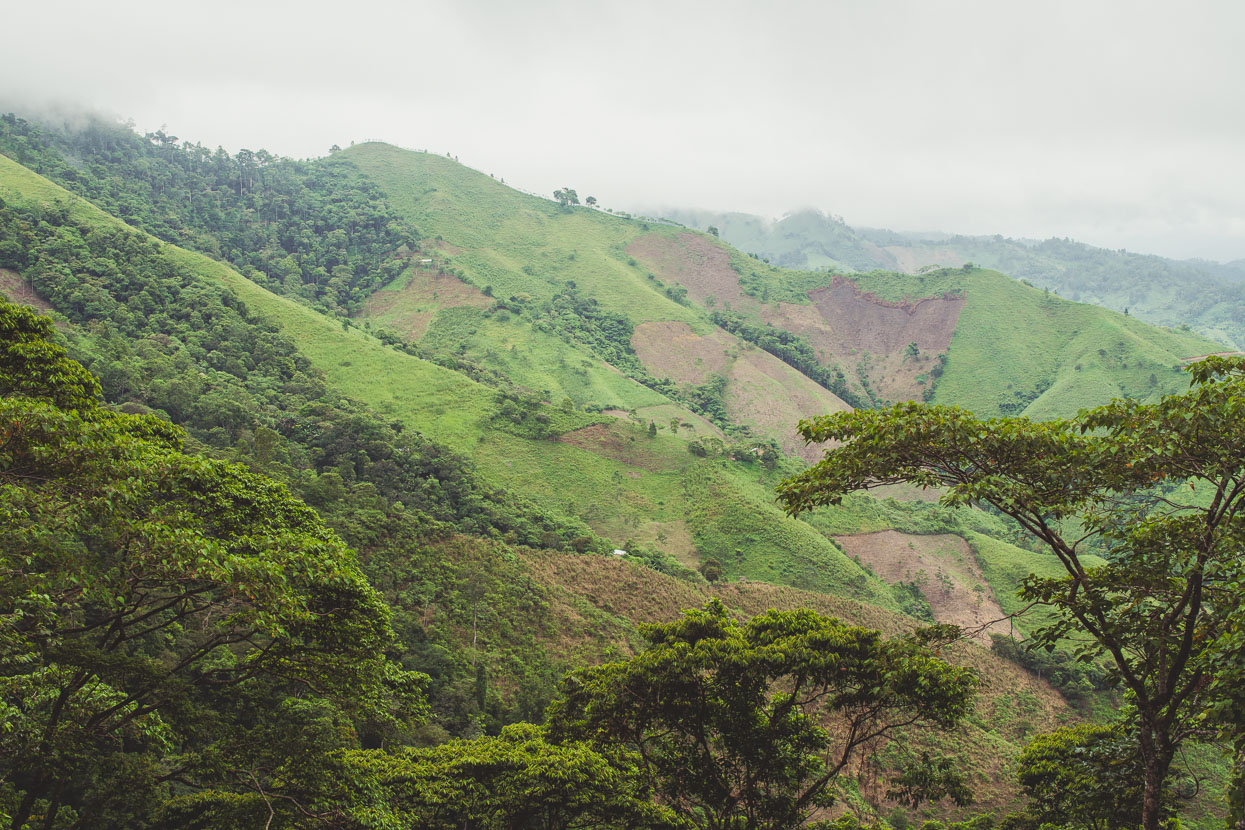 Between us and Nicaragua (just two day's ride away now) lay more steep ranges and isolated townships. The climb over this range took us out of the Olancho Valley.
Well away from tourist areas in heartland Honduras food is cheap and hearty – this full meal for lunch costing us roughly US$2. Generally we try to eat a decent meal at lunchtime, and often in small villages and towns a meal is the only option as the small comedors tend to cook a couple of things in bulk for the day: pork, chicken or beef; with beans, rice, fried platano (big bananas) and salad. Many Central Americans eat their biggest meal of the day at lunchtime so food is plentiful and fresh at this time of the day. If we eat a reasonable meal for lunch we tend not to need snacks in the afternoon. Generally finding healthy ride snacks is hard; bananas are plentiful but most days we tend to survive on biscuits and nuts unless we have been able to find muesli bars in a bigger town.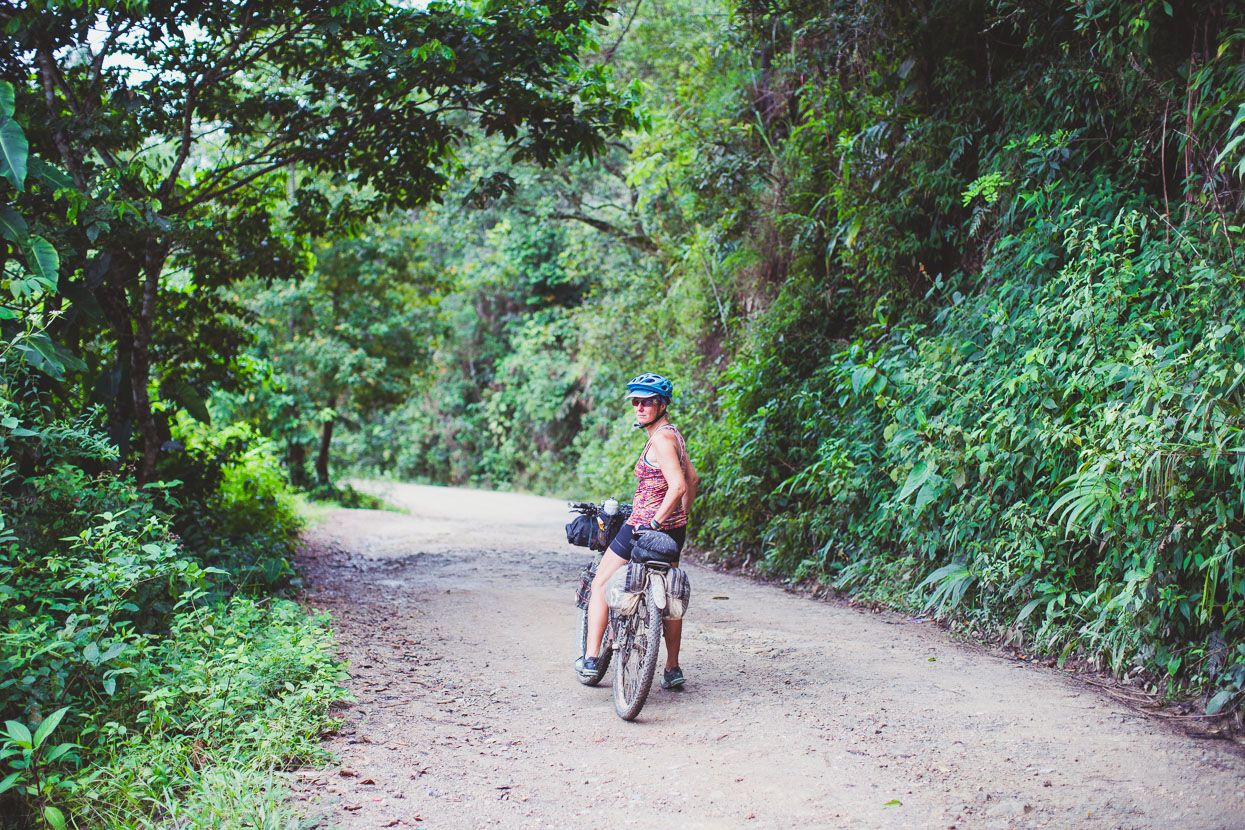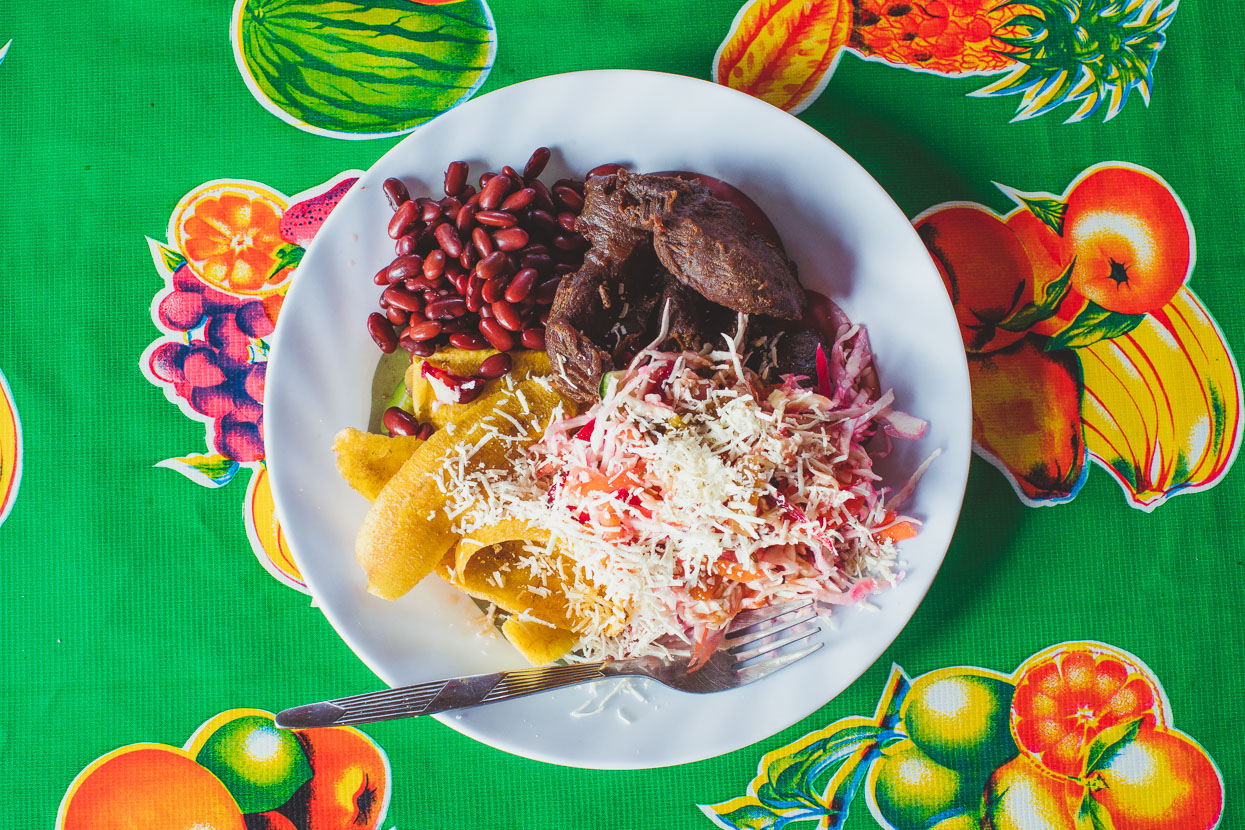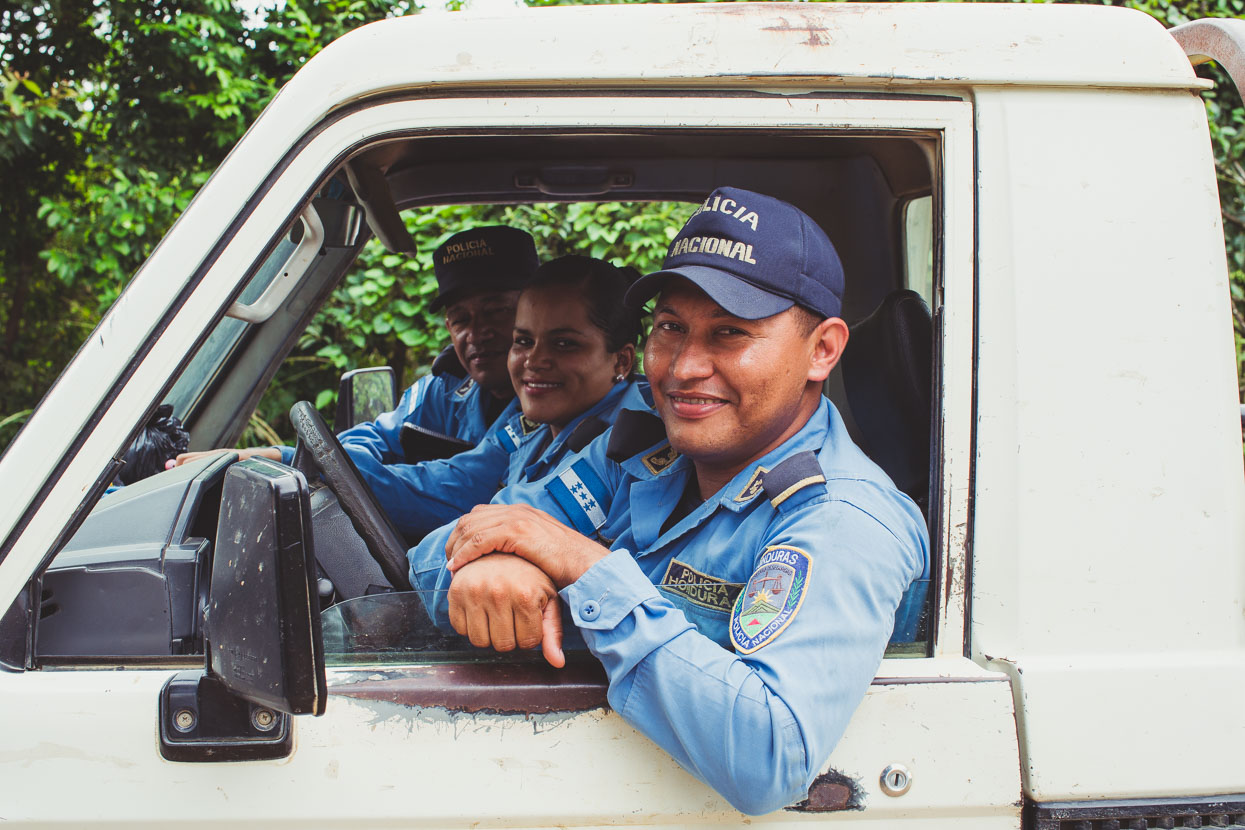 These rural police on the beat in their battered truck were interested to see a couple of cyclists on their turf. A short while later we saw them again stopped at a junction and at that point they invited us to camp at their station in the next village.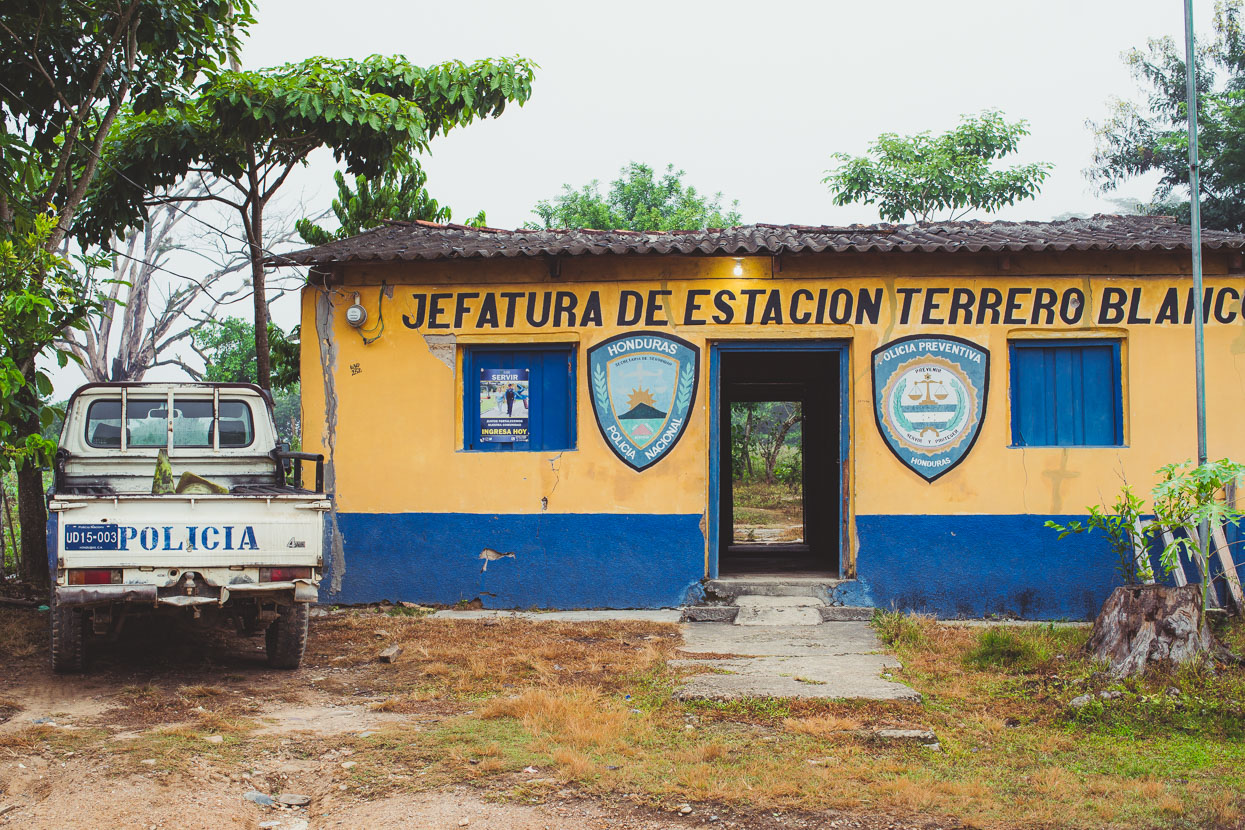 Police Station, rural Honduran style in Tererro Blanco. The police here were laughably relaxed – a Dad's Army sort of outfit with slightly ill fitting clothing, worn out looking equipment and little in the way of serious policing. When we walked through the station to the area out the back the officer escorting us casually dropped their single assault rifle down on a scruffy bunkbed and left it there while we made our selves at home. I wondered if they even had ammunition for it.
We set up our tent on a patch of damp grass next to their toilet and I worked on replacing a broken spoke while the sun was setting. Chickens scratched and pecked for insects nearby and sometimes wandered in and out of the station. For food we were directed to a table at the back of a small tienda where a robust and jolly sort of woman was happy to cook us some eggs to eat with rice and beans.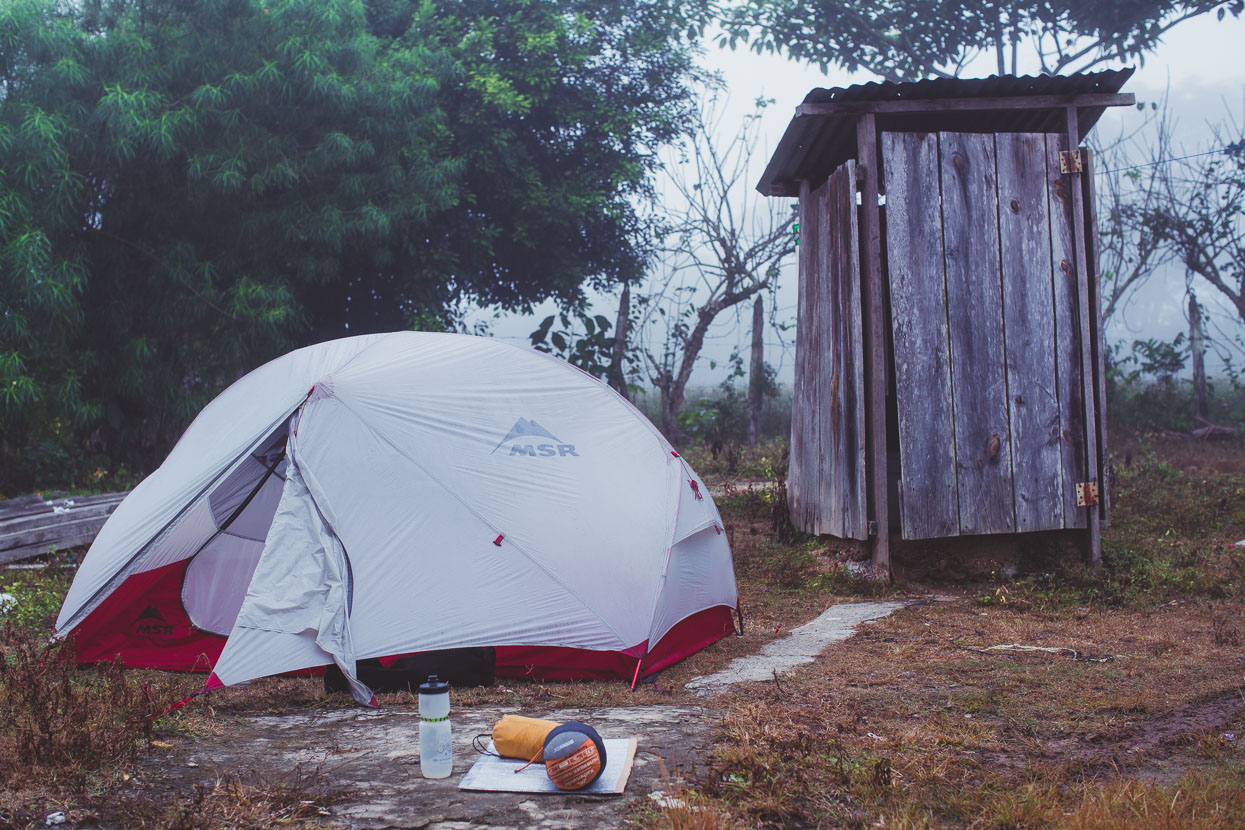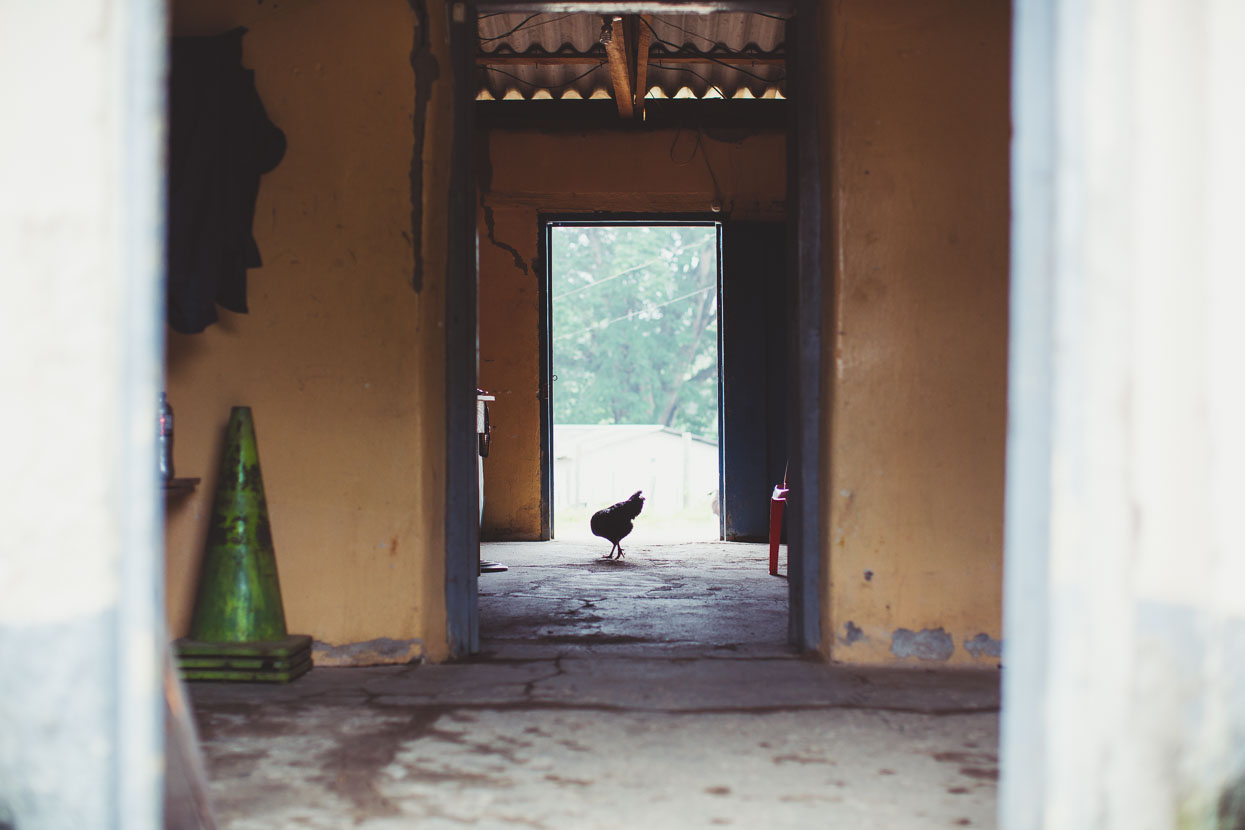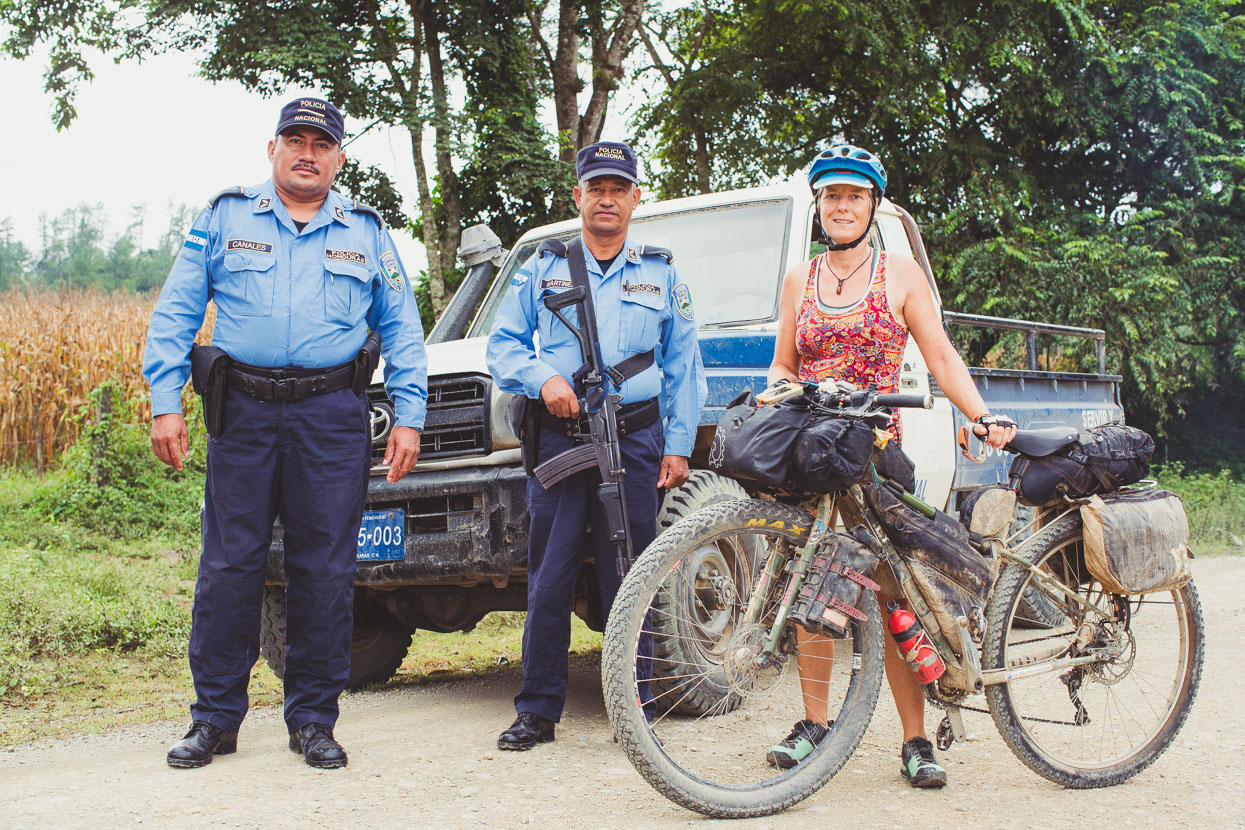 As usual we left soon after sunrise in the morning, but after a couple of kilometres the police truck appeared behind us. We stopped.
'Gente malo aqui', the police said. (Bad people here).
The escort continued down the road for another ten more kilometres until we were past the 'danger', or maybe they just got bored. A nice gesture all the same.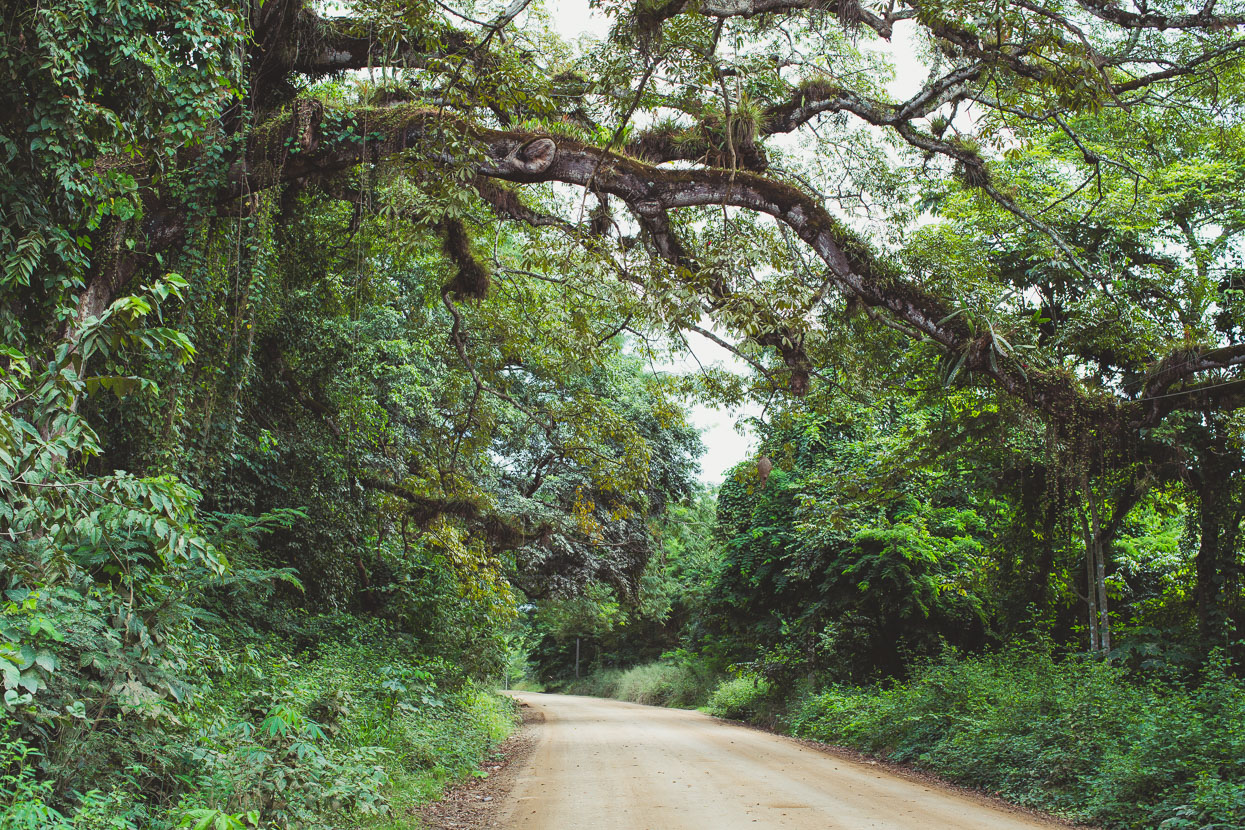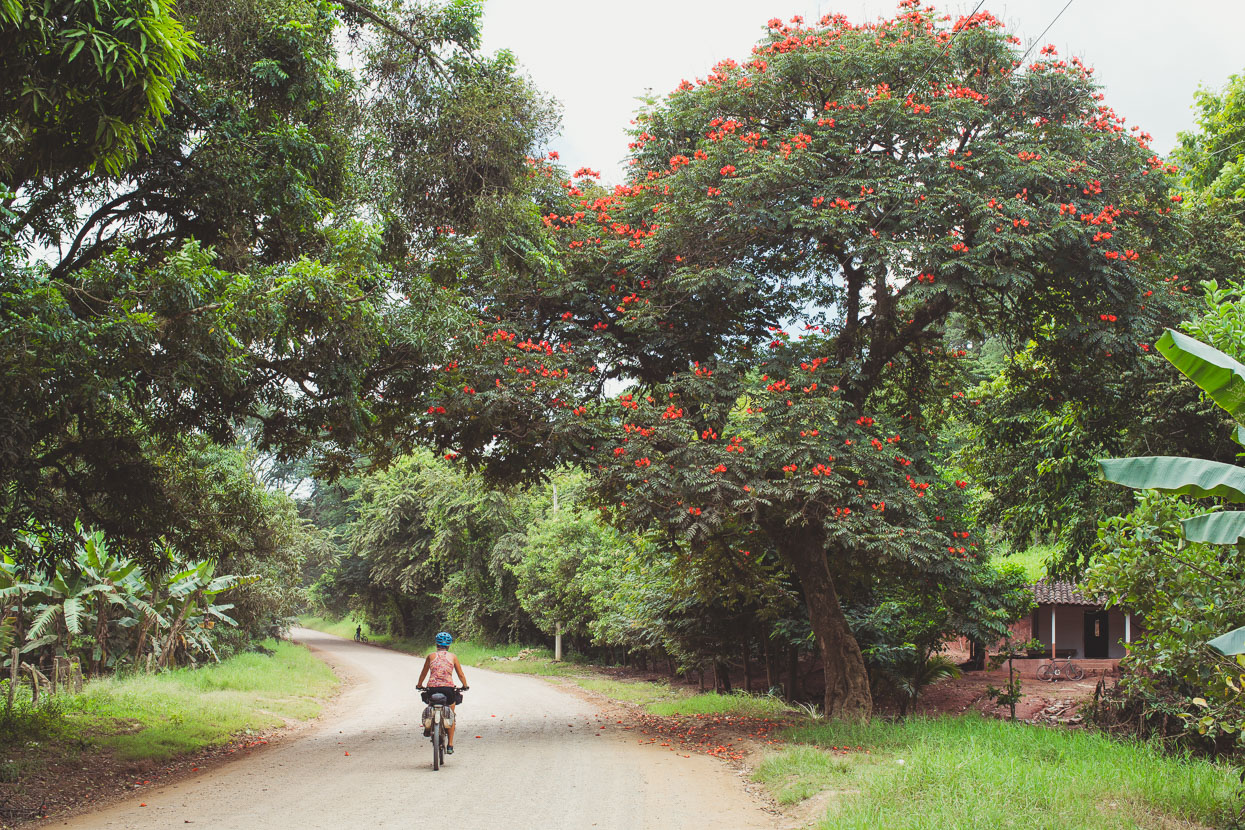 Good dirt roads continued up valley as we rode towards Danli. At this point we'd been on dirt roads for most of the ride from La Ceiba over 500 km back.
The ultimate sugar hit in these parts is pure cold jugo de caña (sugar cane juice), perfect for that lass pass of the day.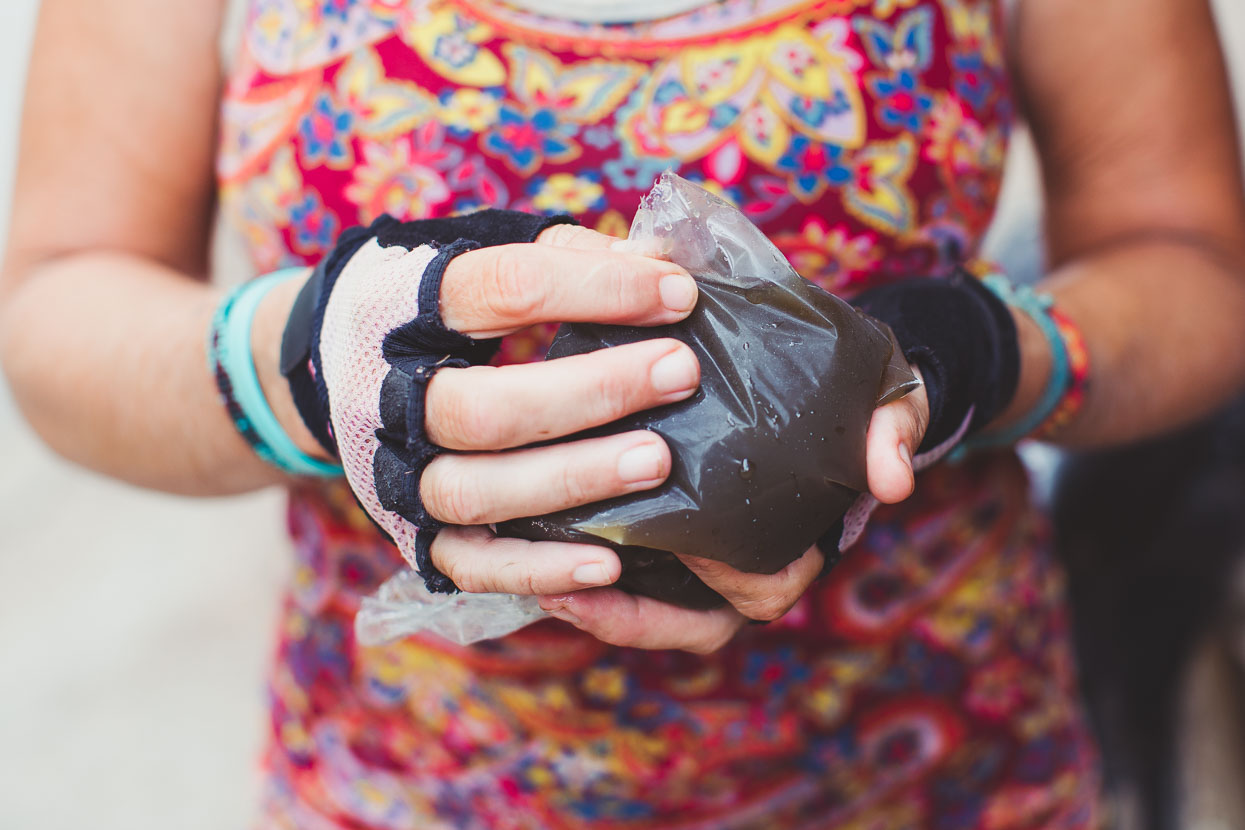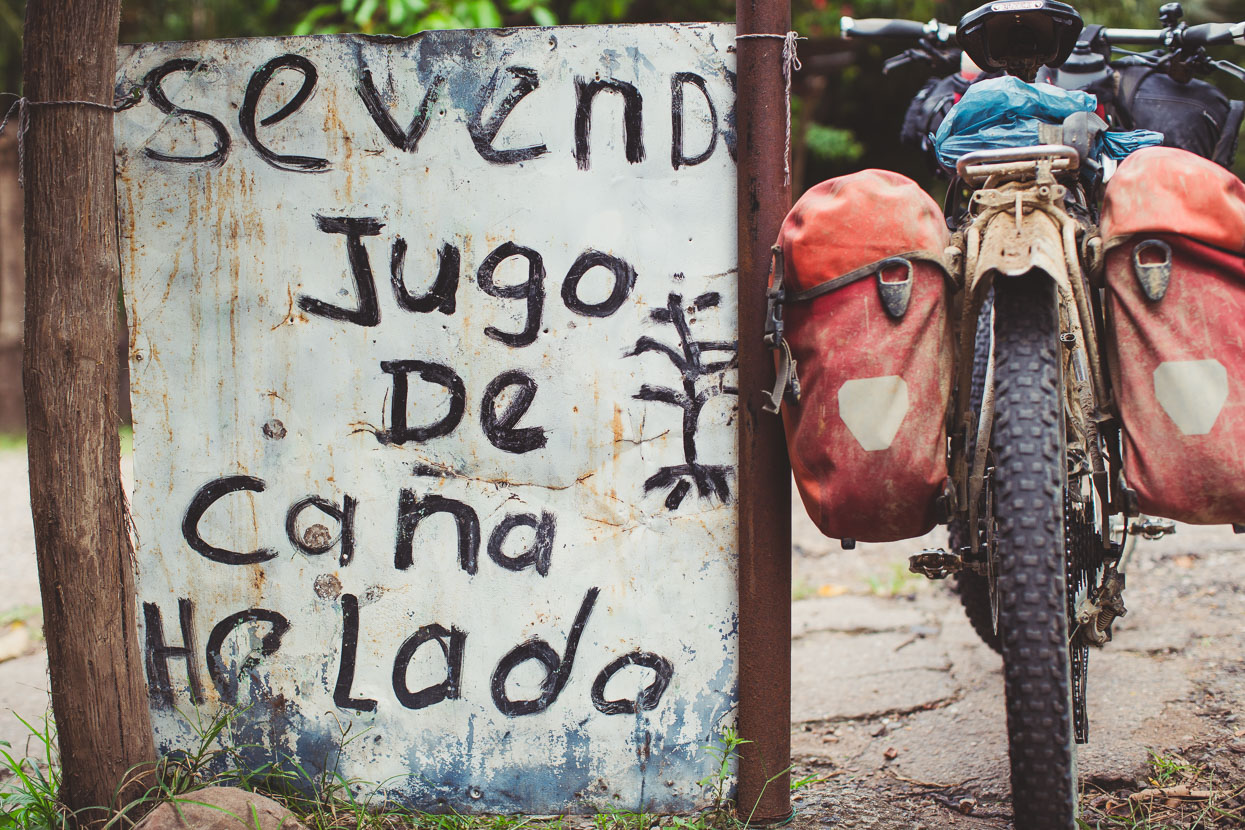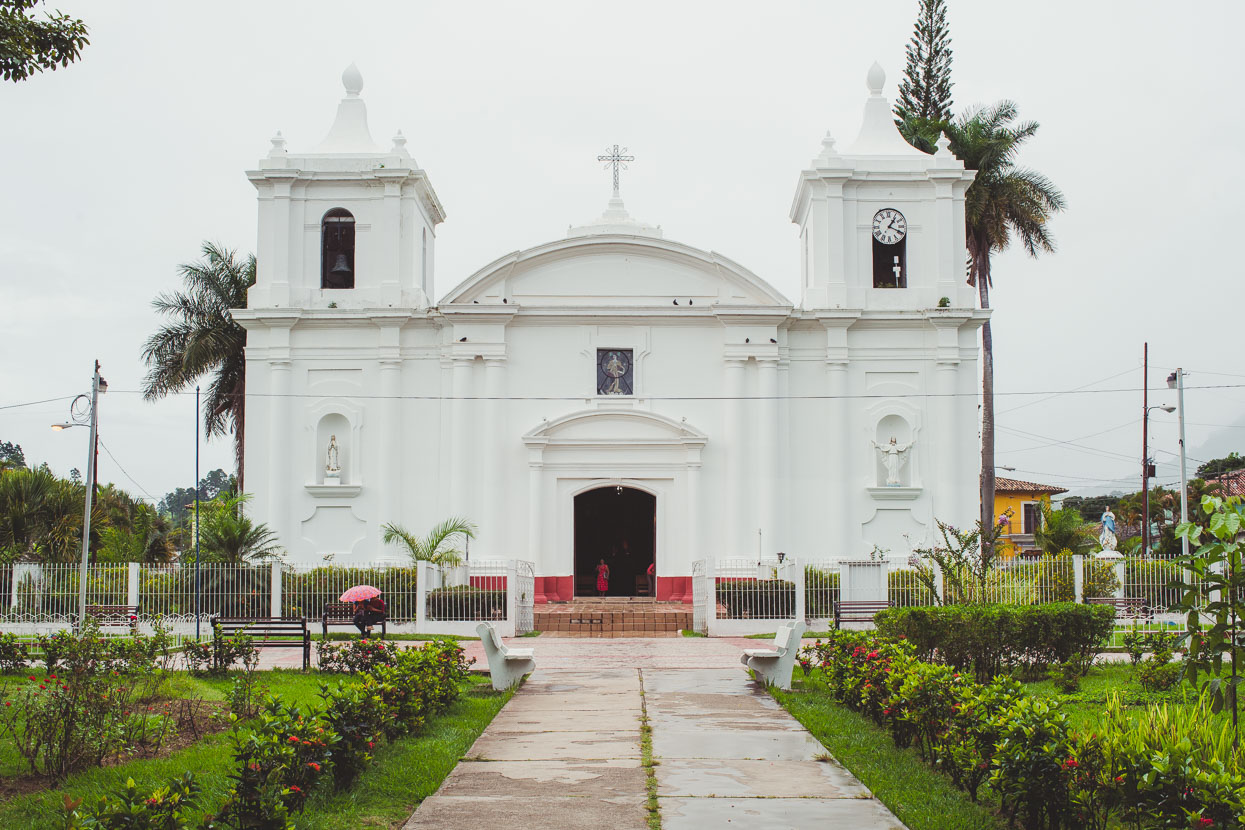 Danli's main plaza. After small villages or characterless larger towns the past few days Danli was a pleasant surprise, with plenty of buildings and architecture harking back its post-Columbian Spanish colonial roots. We looked around on the off chance that there might be a bike shop with a suitable bottom bracket to replace mine, which was failing dramatically after the constantly wet conditions of the Paulaya Valley and had been on my bike since northern Mexico. But the only place we found was a very basic mechanic/puncture repair outfit with some basic tools and bizarrely a couple of dusty folding 29er tyres on the shelf.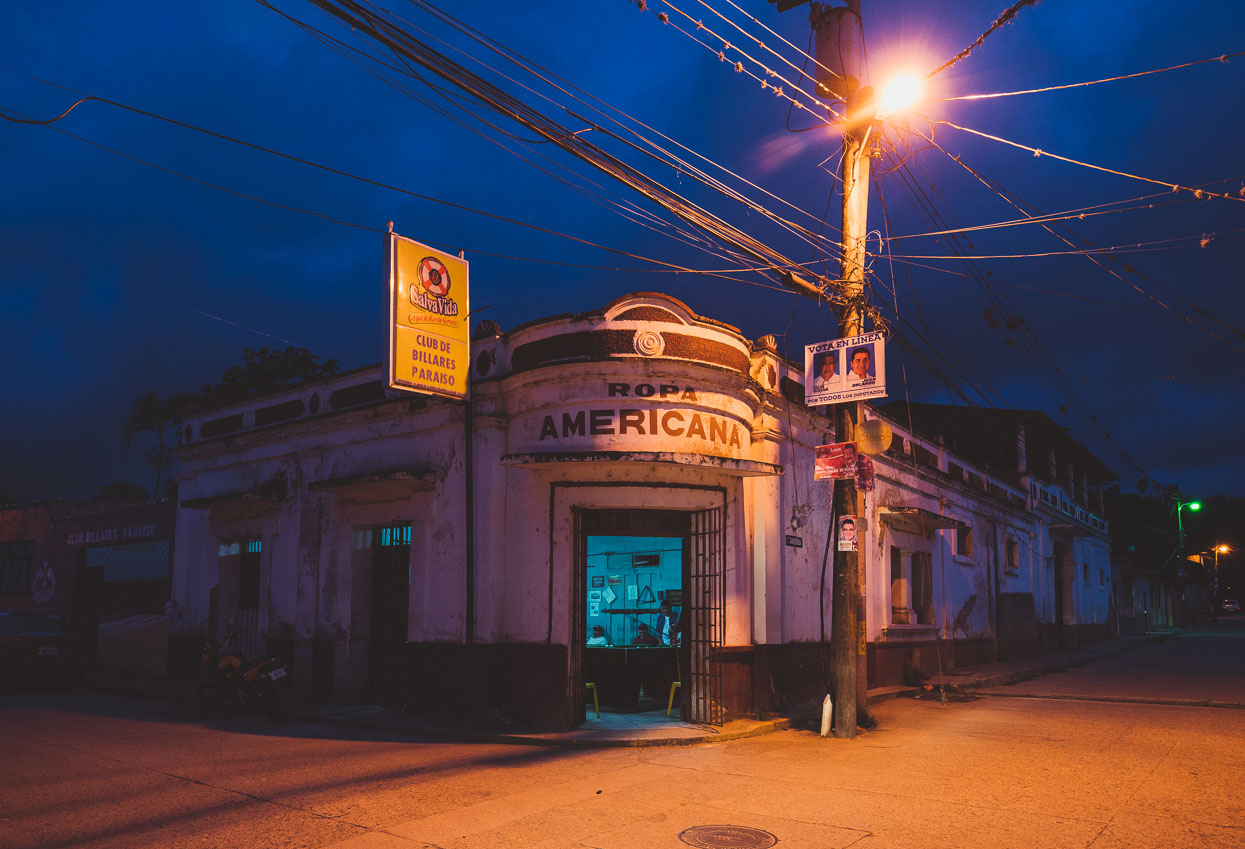 We spent the night in El Paraiso, 13 km from the Nicaragua border and when we popped out from the hotel to find something to eat were surprised to see a large group of cyclists preparing to set off for a night ride. Many of them were on good quality mountain bikes and quite by accident we'd stumbled on the core of the healthy local cycling scene. We got talking and explained our search for a compatible bottom bracket for my bike. Much was lost in translation, but eventually a fellow confirmed he had the right BB sitting at home, unused and he'd drop it by the hotel after his ride.
Another young guy ran a local bike repair outfit and had the necessary tools and agreed to install it the following morning. He even came to the hotel in the morning to make sure we knew how to find his shop. Not only was it cool to meet some local cyclists but they did a meticulous job of the installation and were able to sell us some brake pads and spare tyre sealant. Sorted!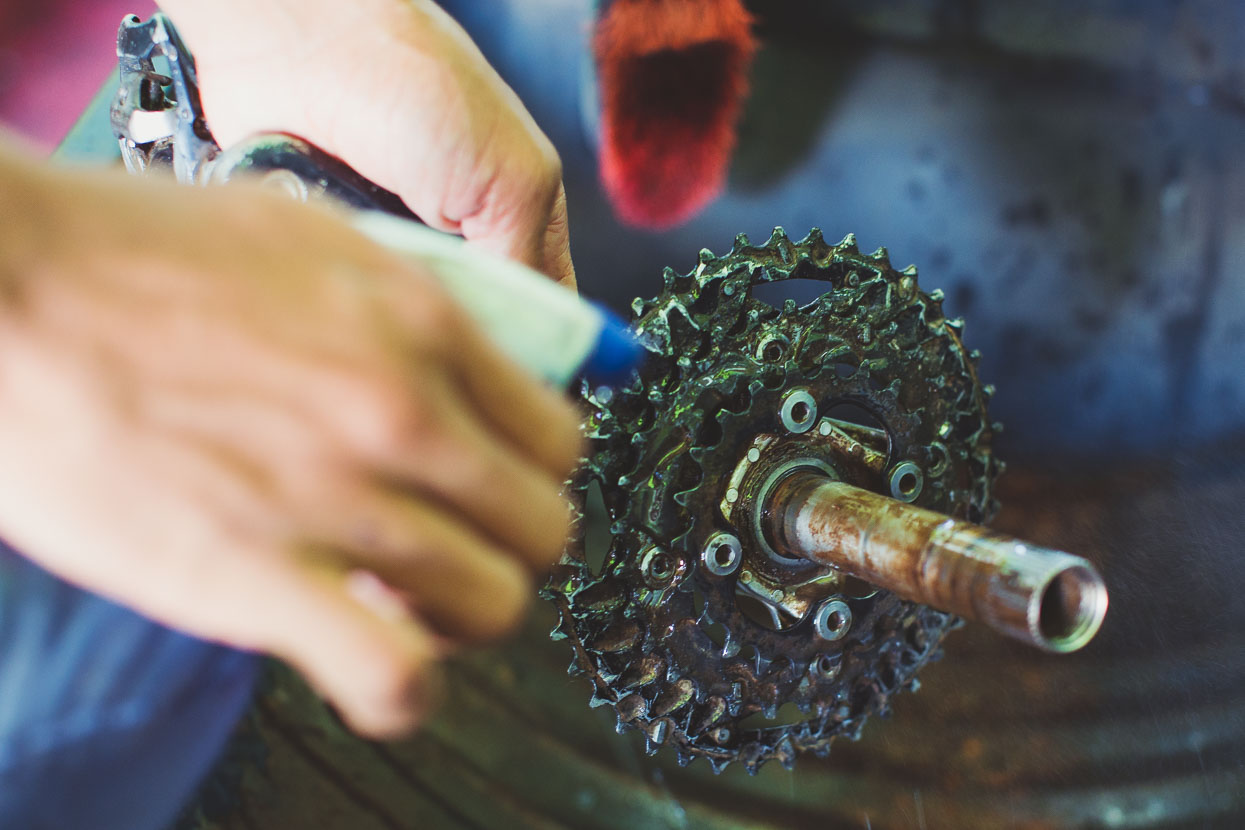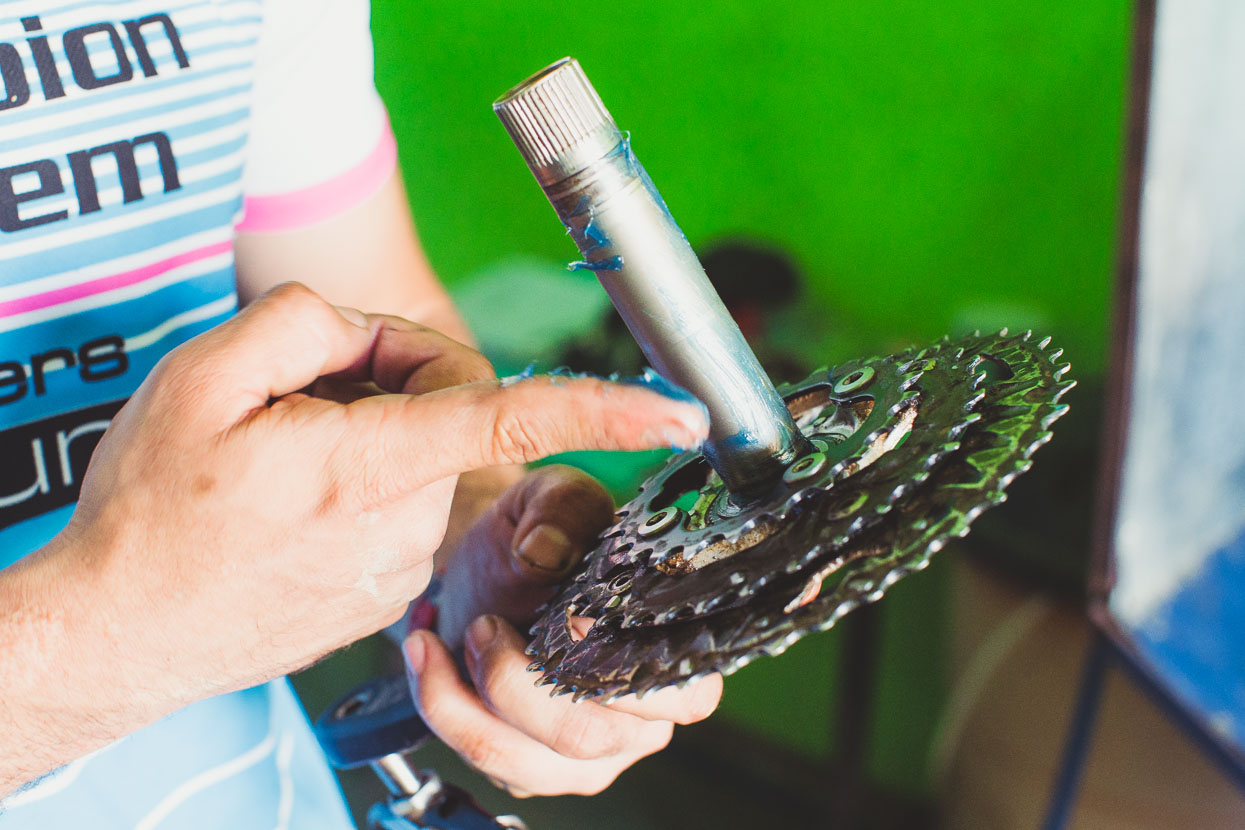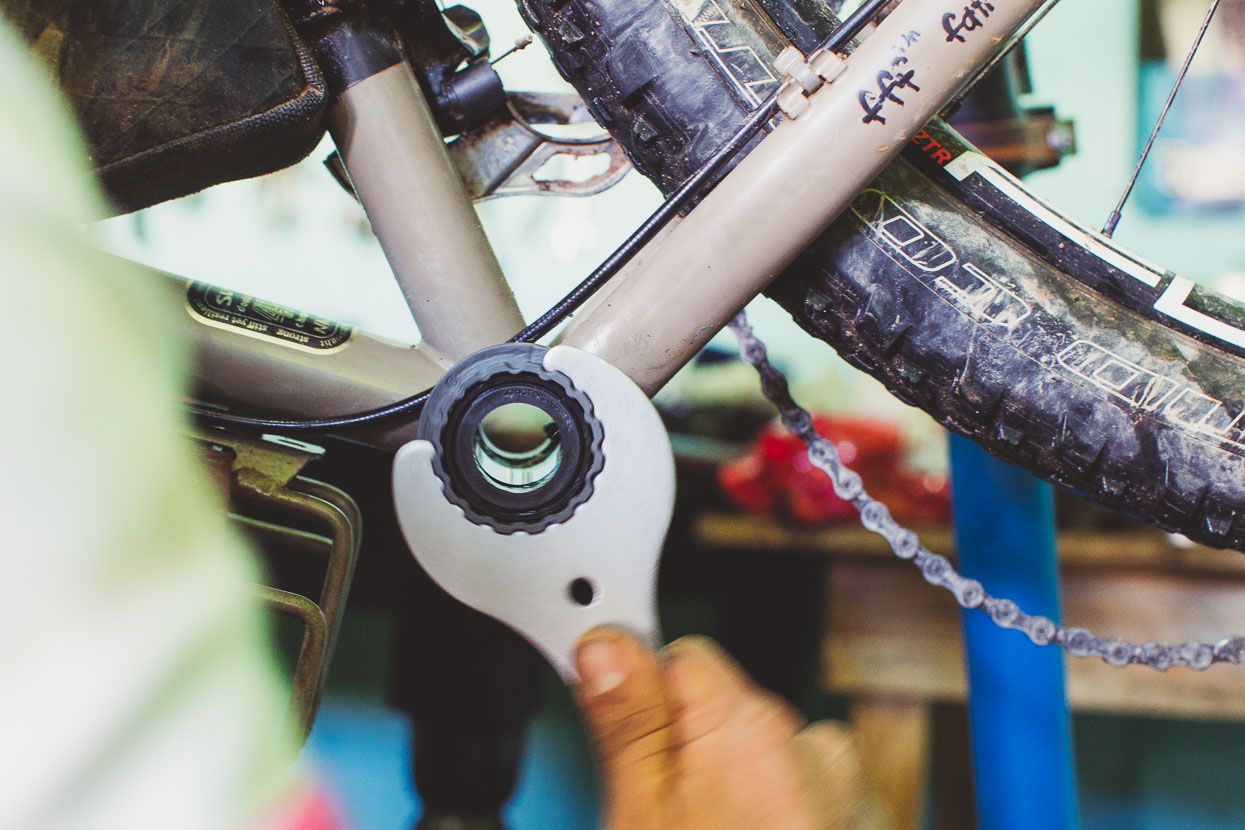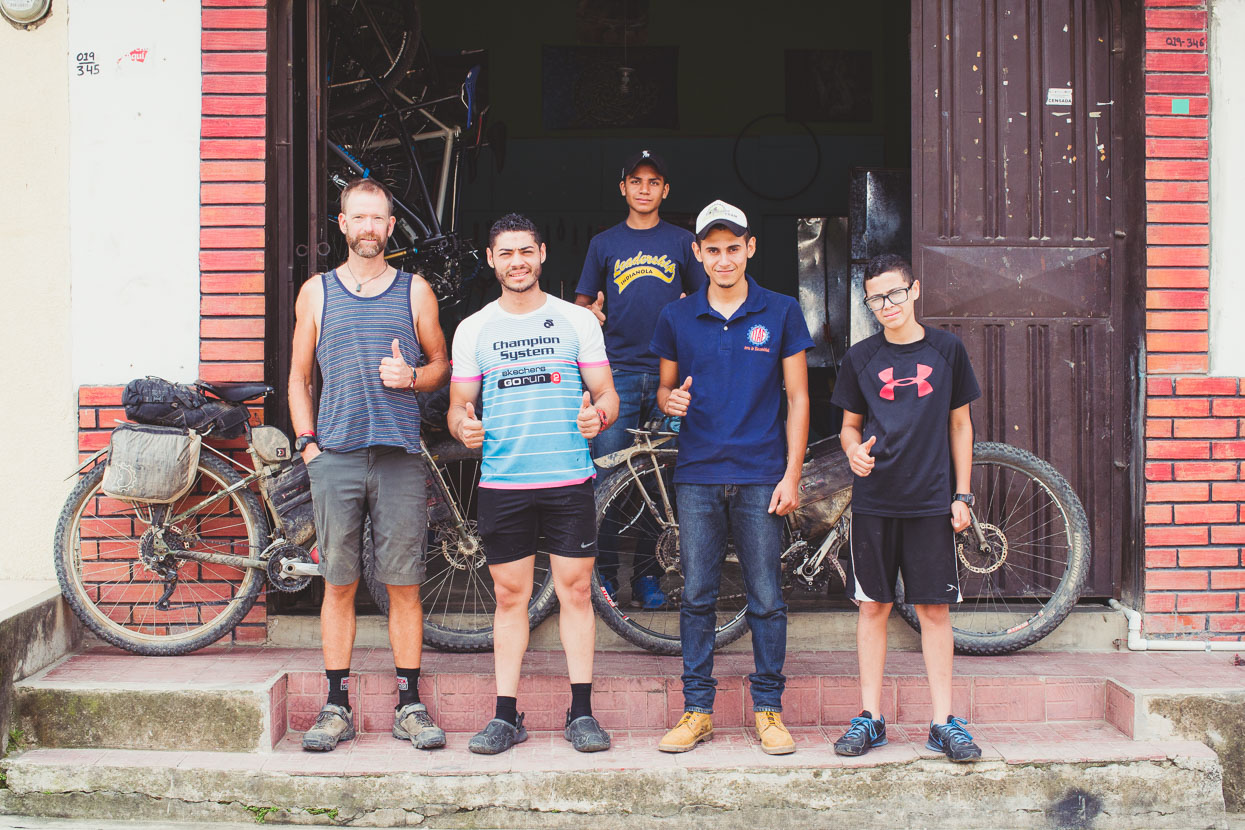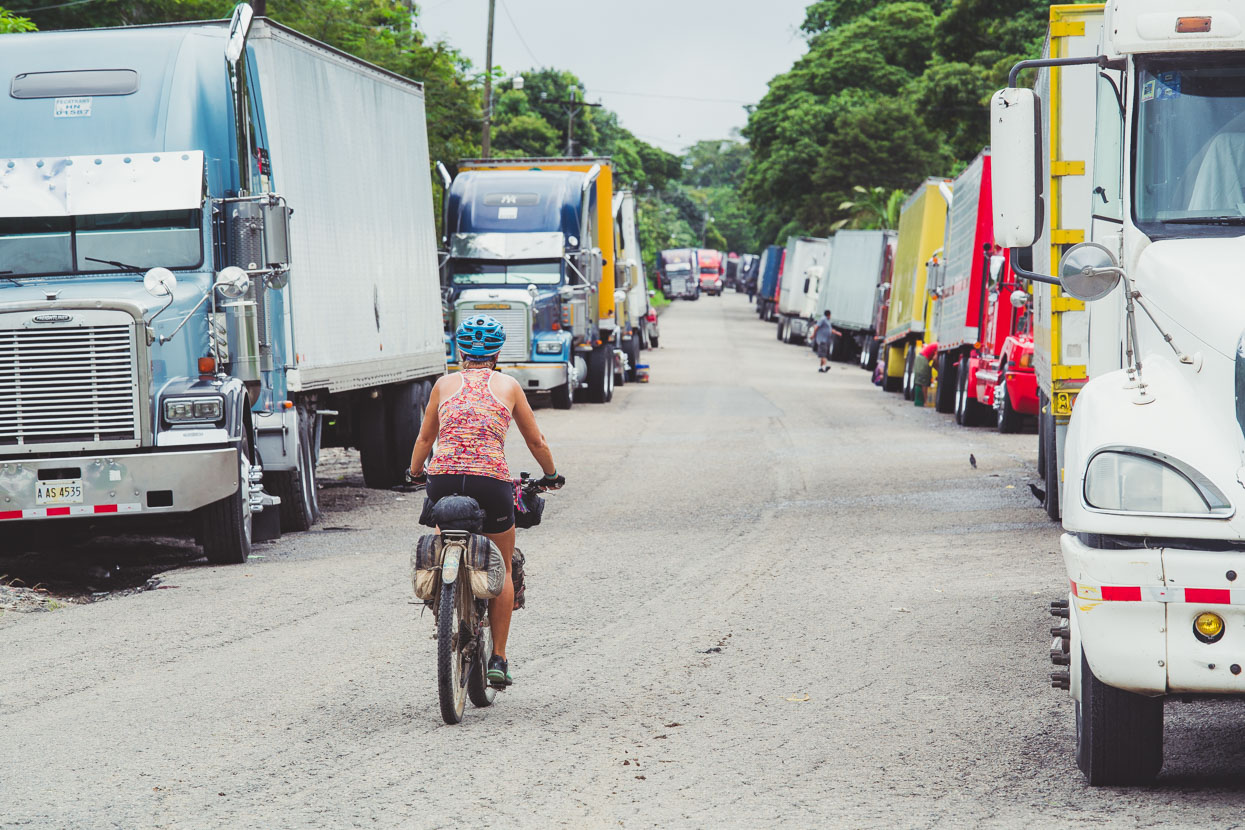 By mid morning we were making the 13km mostly uphill ride to the border, passing long columns of trucks awaiting their customs paperwork. At the border we changed our money and got stamped out of Honduras, proceeded into no mans land and then to the Nicaragua immigration office. Here our so far smooth transition took an unexpected turn.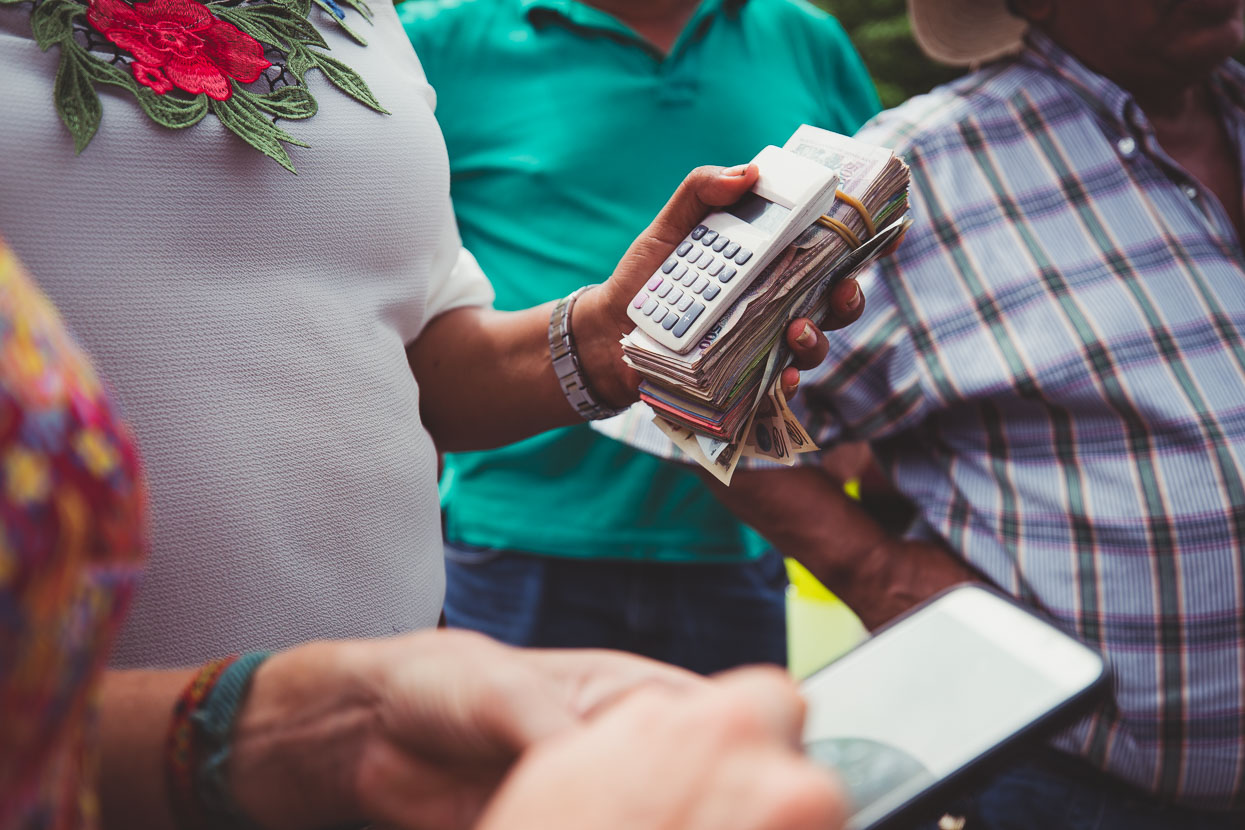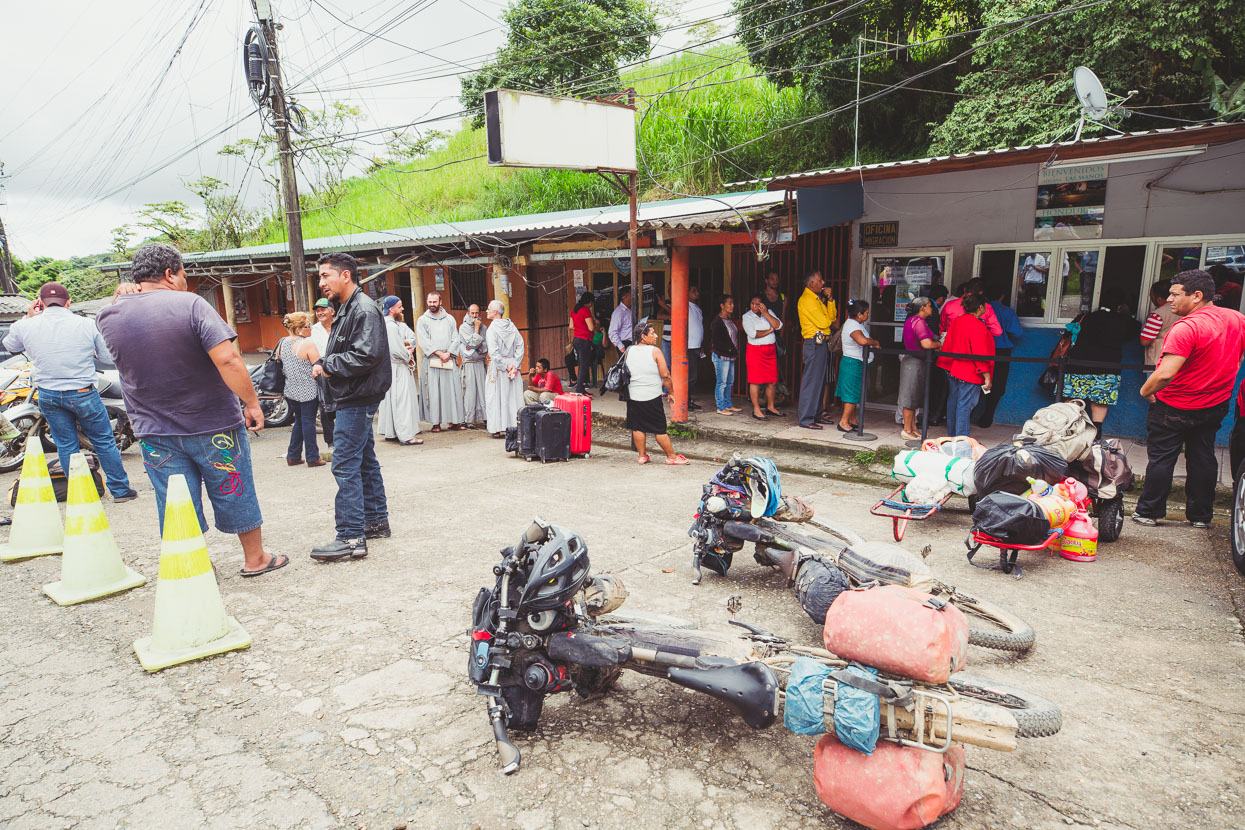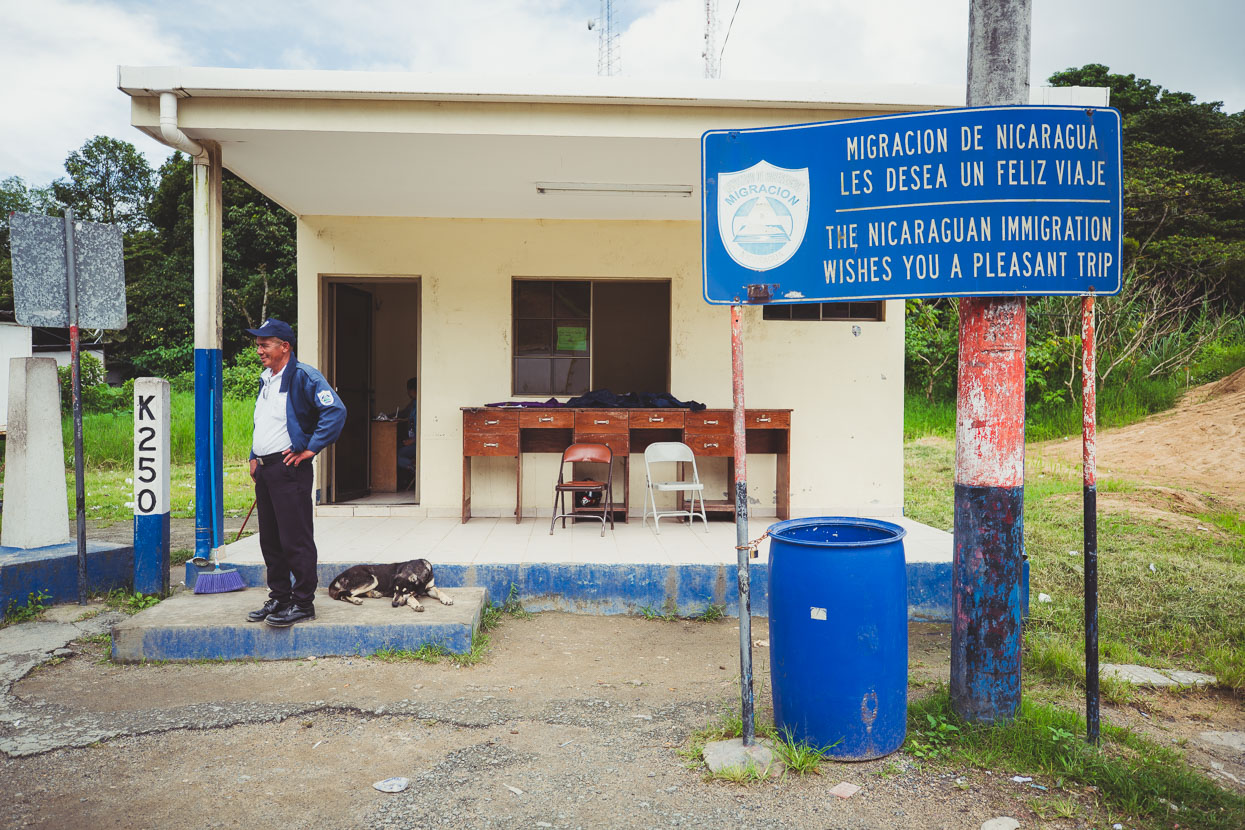 We were looking forward to country number seven, and still had plenty of days left on our visa (or so we thought) to enjoy some time in Nicaragua before heading into Costa Rica in about 10 more days.
We were travelling on the 'CA4 Visa' which is a 90 day shared travel visa that's valid in Guatemala, El Salvador, Honduras and Nicaragua. Coming into Honduras from Guatemala we knew we were getting short on days, and were aware that one can apply for a further 30 days in some of the bigger cities. But we thought we'd ask if it could be extended there on the off chance. 'Yes' was the answer at our Honduran entry border, and we rode on with a further 30 days stamped in our passports that would cover us for Honduras and Nicaragua.
At the border we were stamped out of Honduras without question and proceeded to the Nicaraguan immigration office (inside a shipping container). Our passports were scrutinised, heads shaken, and our so called 30 day visa extension completely ignored.
"It's not valid" they say.
We argue that we verified with the immigration officer that it was valid in both countries.
"No, it's not"
"You've overstayed by seven days – your visa has expired"
At that point an immigration officer led us back towards Honduras without explanation.
We asked where we were going.
"Honduras"
"Por que?"
"Multa" (fine).
"Oh!"
Back at immigration in Honduras (where we'd already been stamped out), the officers informed us that actually, as Nicaragua had told us, our visas were expired, and we had overstayed.
If we wanted to enter Nicaragua we had to pay a NZ$500 fine (for both) AND we were only allowed FIVE days to cross Nicaragua.
You can imagine the following arguments… We'd been told we had a visa extension that was valid for both countries (and was unexpired) but it wasn't recognised by immigration for either country on this border. Not our fault, but the only way we could now enter Nicaragua with an expired visa was if we had the receipt for the fine in-hand.
We were told the only other possible solution to avoid the fine was to go to Tegucigalpa (the capital of Honduras) and argue our case – but they didn't sound optimistic about a good result. Plus we were short on time to get to Panama for our Cuba flight and could not afford to lose at minimum two more days on top the half day we'd already spent there.
We decided to pay the fine and proceed. Only to discover that you can't pay by credit card and that there is no ATM at the border!
Back 13km down to El Paraiso it was.
Back to the hotel.
In the morning we biked 13km back up the hill to the border. On the way we stopped to cool down and wrote a letter explaining our case one more time in Google Translate to present to the officer in charge.
This time we didn't have to suffer the dehumanising exchange through a small window and were invited into the air conditioned office.
We presented our letter.
The officer explains the black and white of the situation.
"Sure, it's the other office's fault, but if you want to proceed, you have the pay the fine. There's no other way."
We argue (politely) some more and we try compromise. All of the fine, but more than just FIVE days, please?
The officer calls his boss in Tegucigalpa.
Answer's the same – there's no leeway in the system.
We pay the fine.
So thanks to an incompetent officer at the La Florida border crossing we're $500 poorer and our plans for Nicaragua went down in flames. No highlands, no dirt roads, no exploring: just a 380km highway slog. Super frustrating.
The upside (there's usually an upside if you think positively): we get to spend more time in Costa Rica.
The irony of the situation is that were the border arrangements here still prone to corruption and bribes, we probably would have been better off!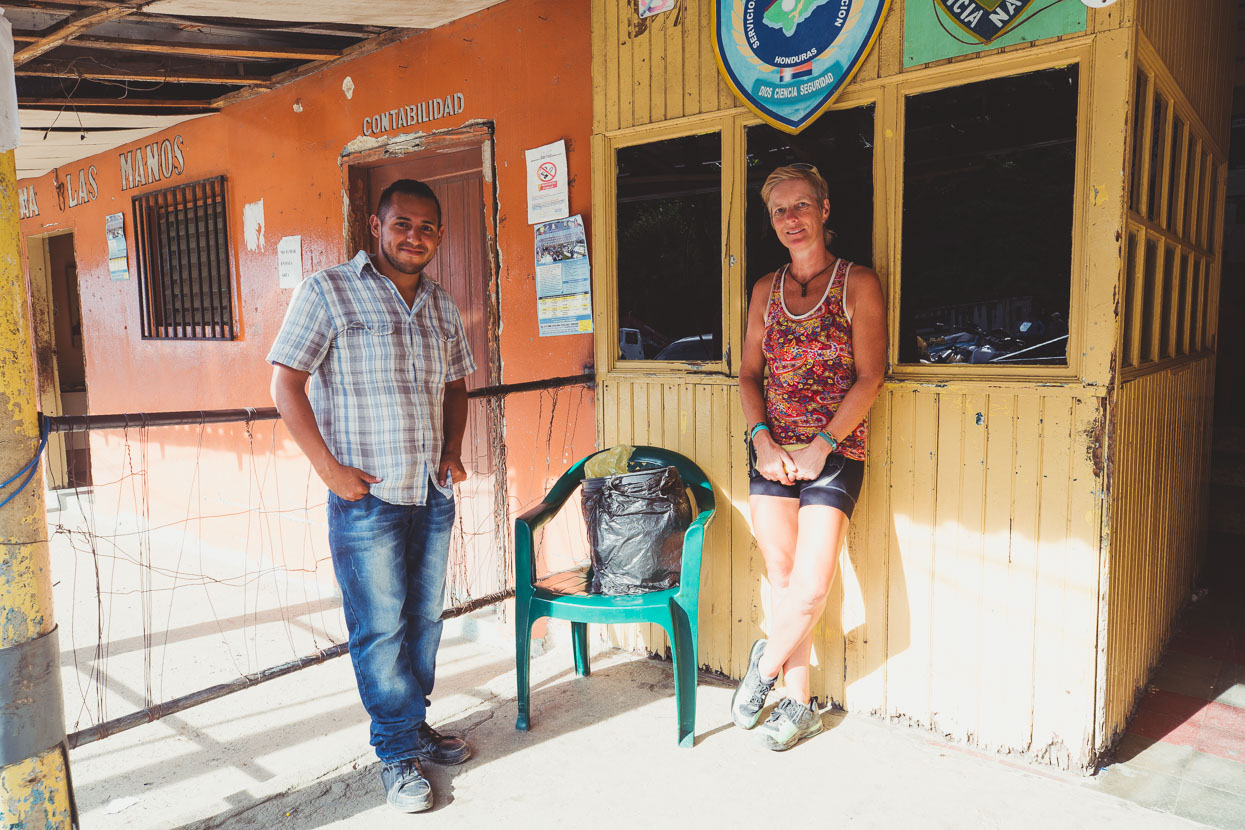 This guy makes a living selling local snacks out of a plastic bucket, but in exchange for a propina (tip) helps out people like us with language difficulties at the border. He was patient and genuinely helpful while we tried to persuade the customs officers to cut us some slack.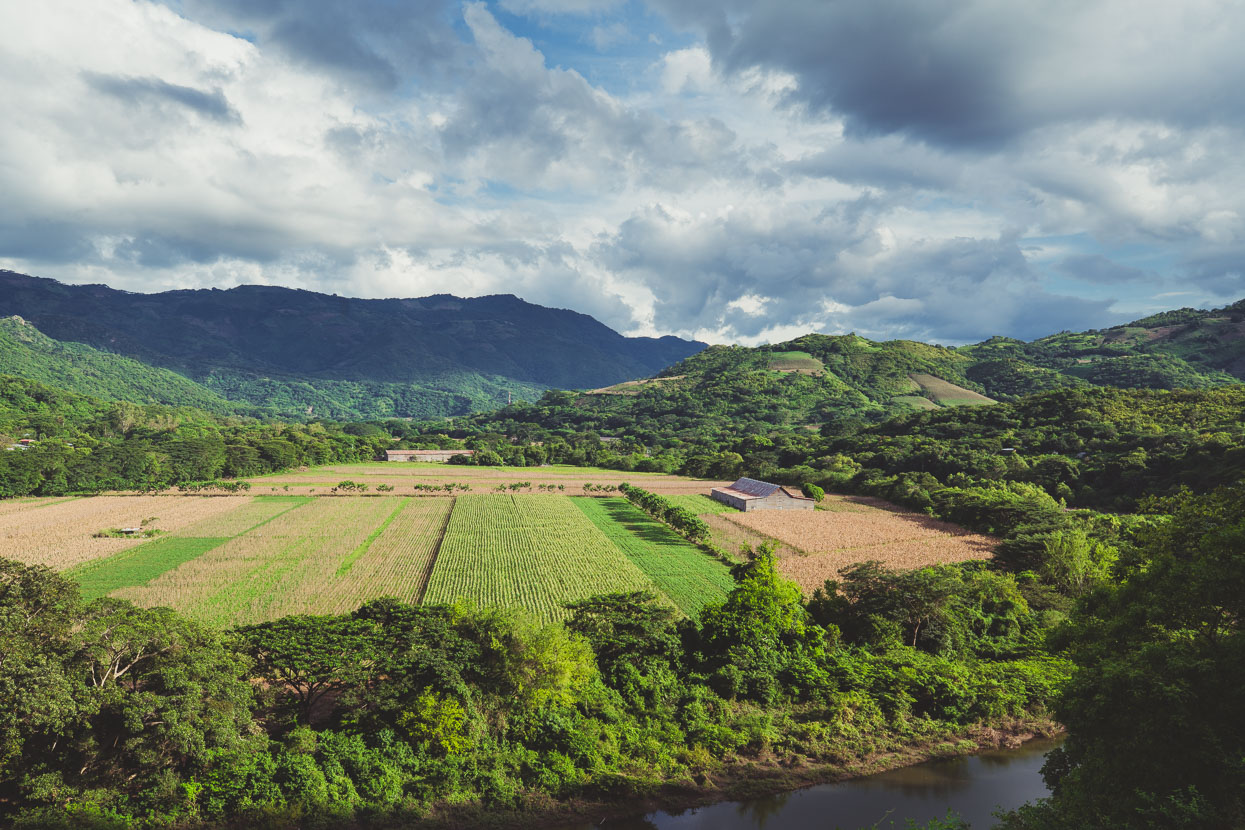 Nicaraguan countryside close to the Honduran border.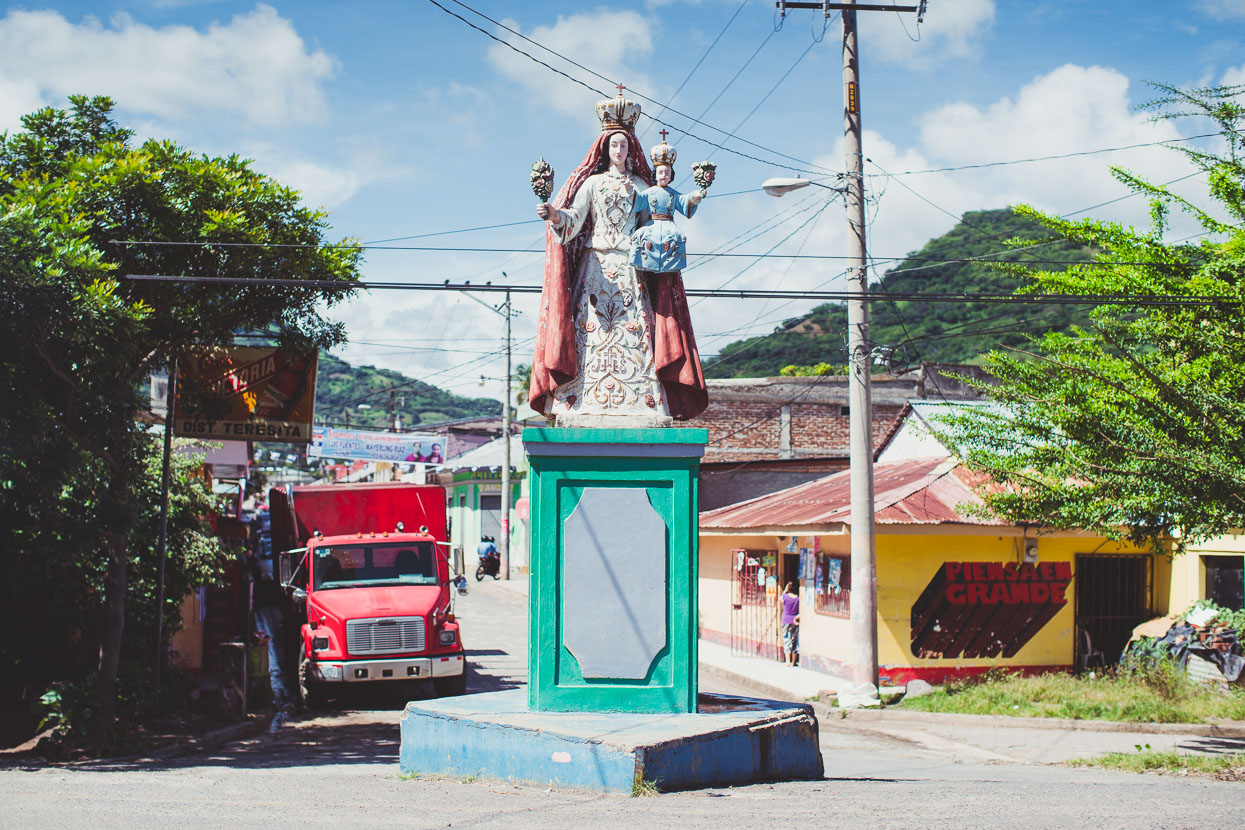 Five days is plenty of time to ride 380km, especially on paved roads, but it didn't leave much time for sightseeing or any margin if we had an illness or serious mechanical, so we decided to put the pace on and get to Granada as fast as possible. The rugged, partially farmed countryside and scruffy towns we'd been used to in Honduras gave way to a slightly more orderly world in Nicaragua. Over a couple of days we finally rode out of the hills and onto Nicaragua's broad southern coastal plain. There were street signs, highway safety barriers, convenience stores and much newer cars on the roads (or I should say: cars on the roads full stop!).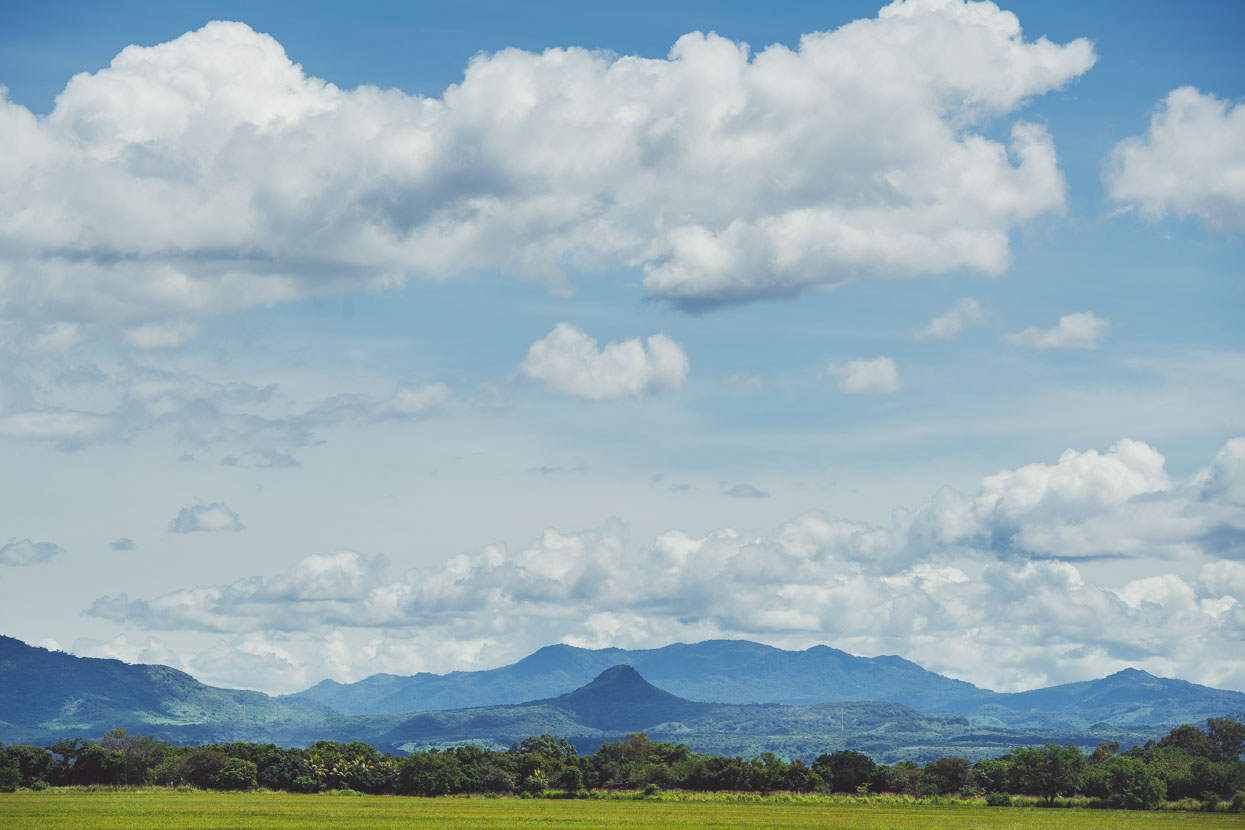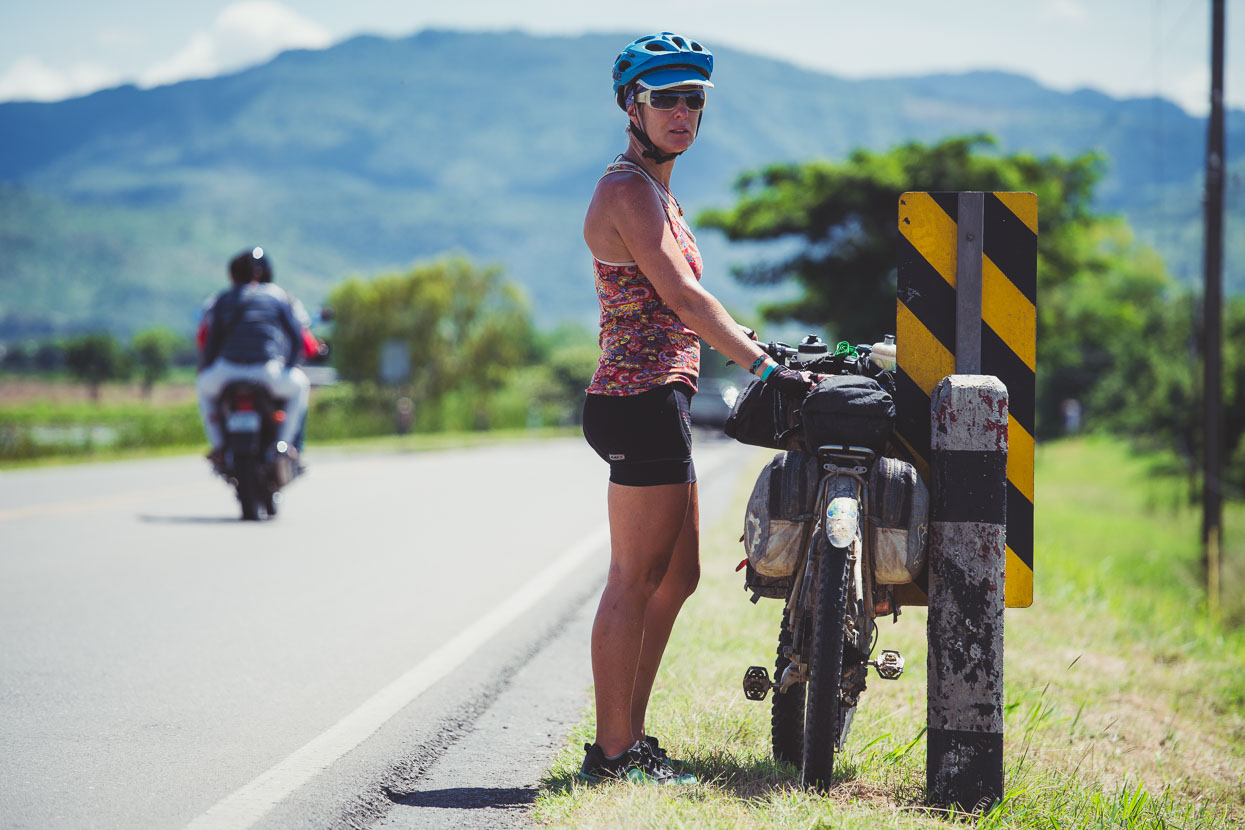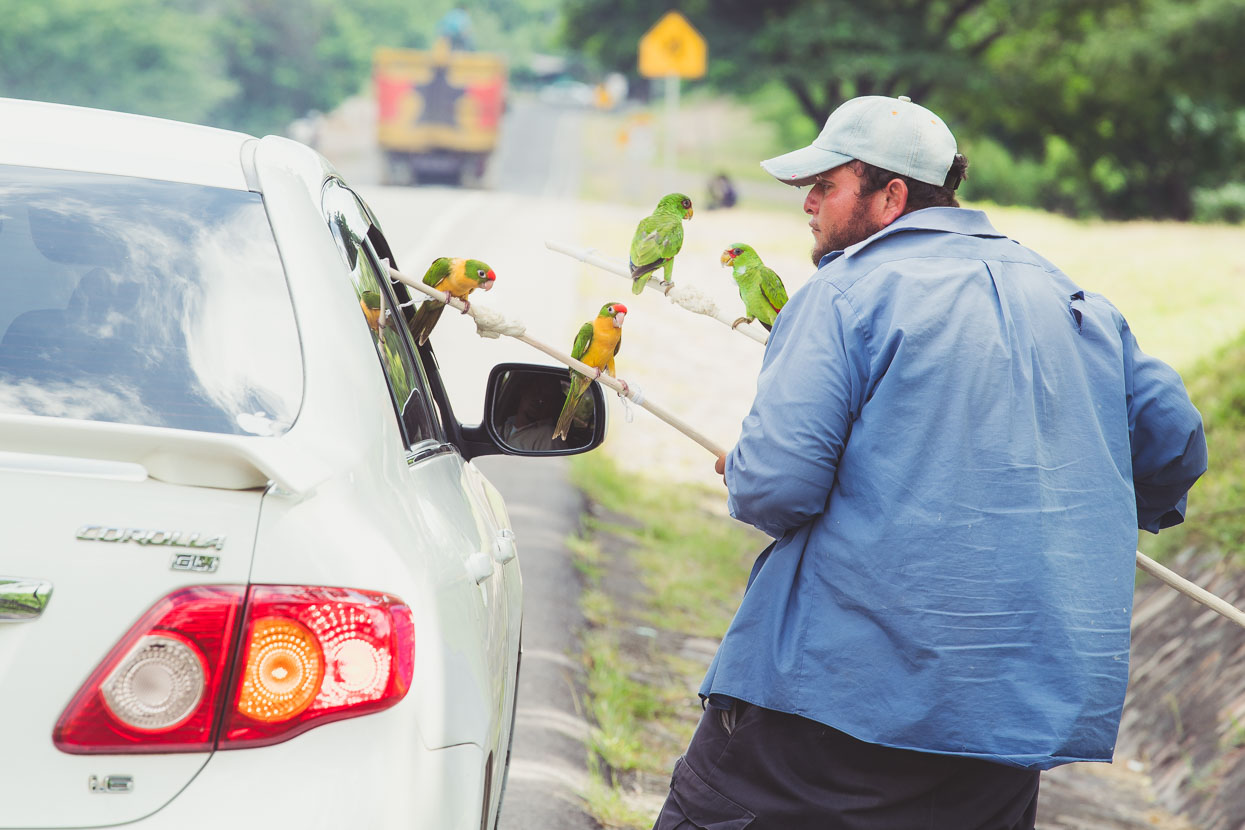 On one stretch of highway we came across a few men on the roadside selling parrots. When cars stopped to show interest, the poor birds are thrust through the windows for inspection and the inevitable haggle over price.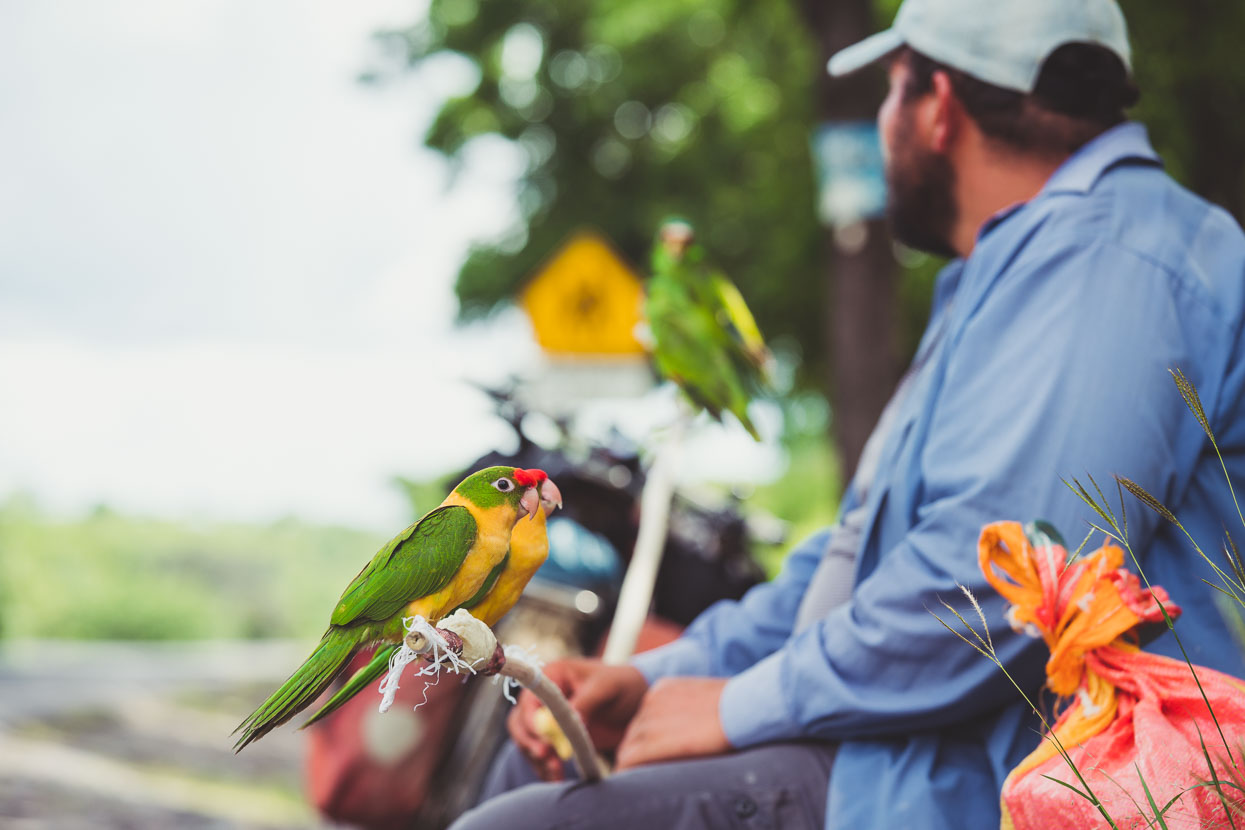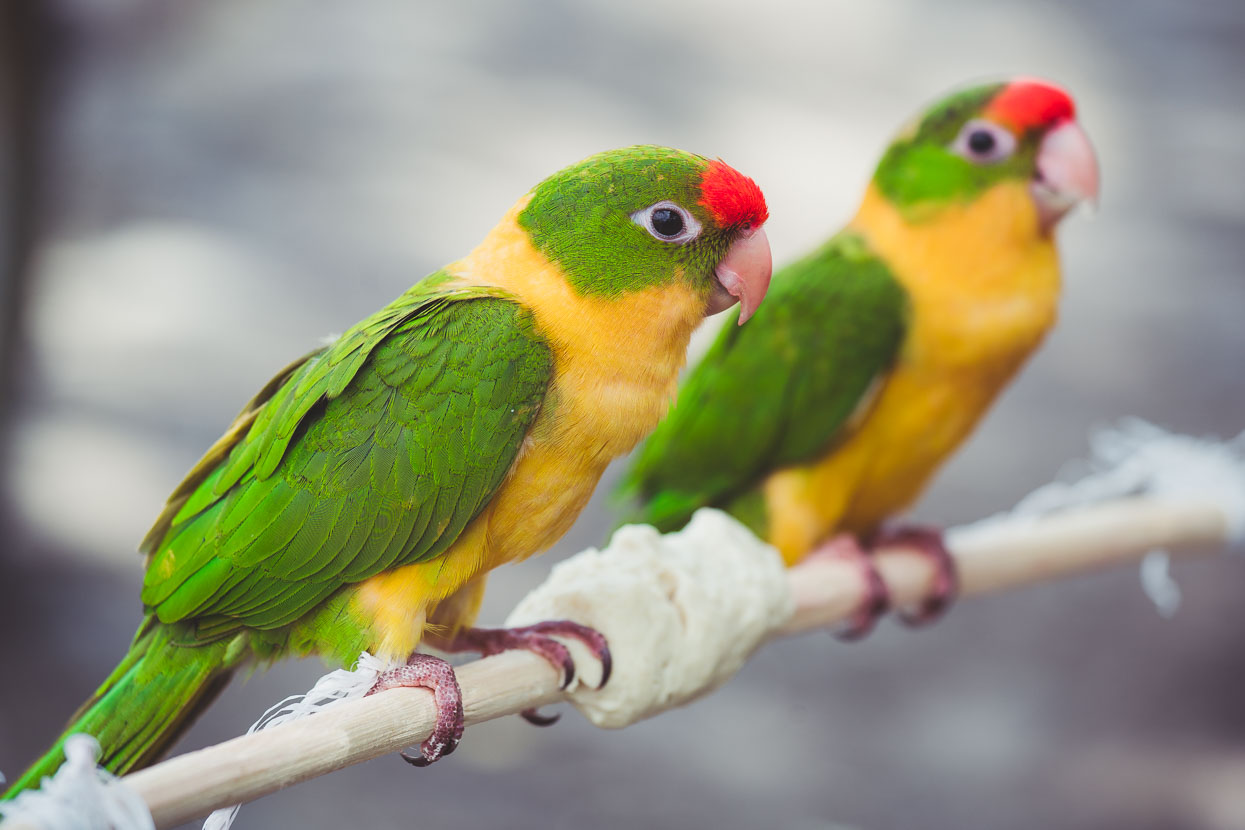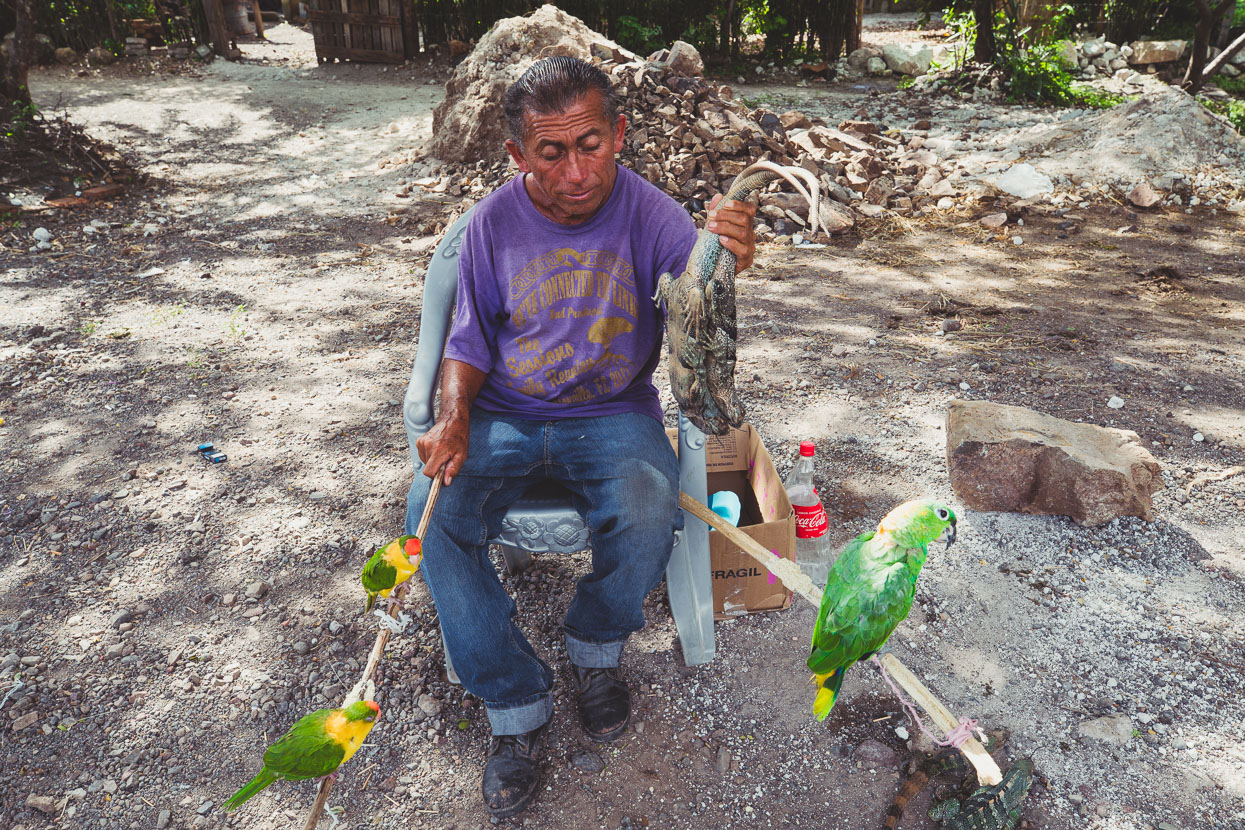 This chap had a couple of miserable looking iguanas too, their hands and mouths bound with string.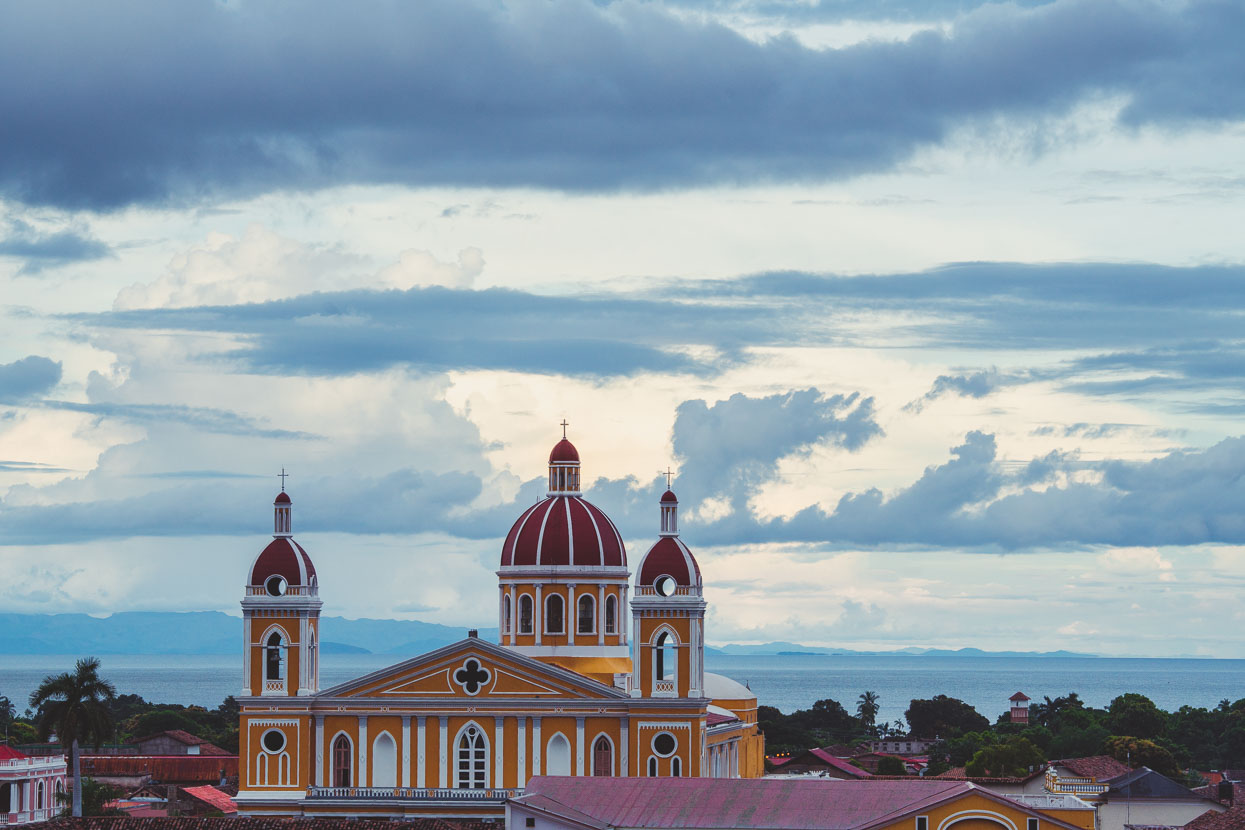 The colonial city of Granada sits on the Nicaraguan coastal plain; a gem of a city located both on the edge of sparkling Lago Cocibolca and within a long string of volcanoes that stretches west to Guatemala and east into Costa Rica.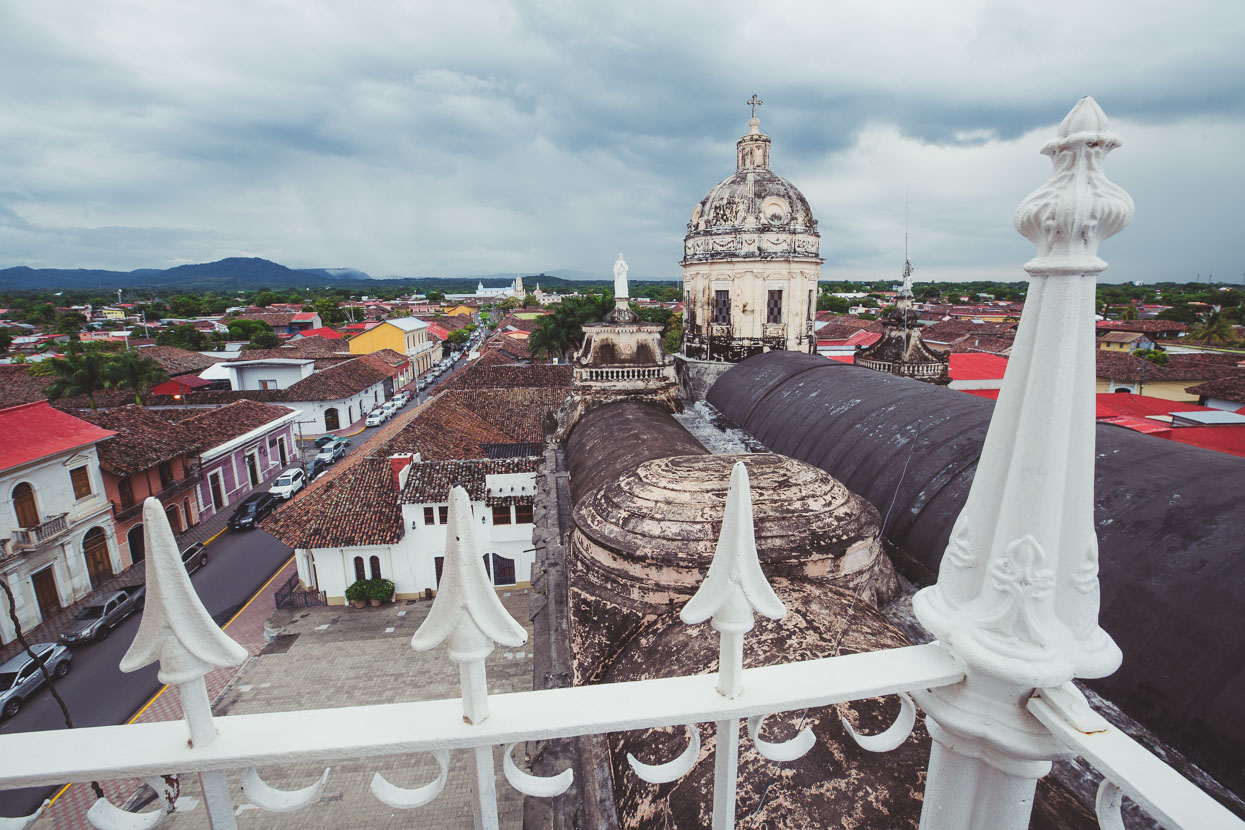 Having done some long distances from the border we'd bought ourselves most of a day off, so found a hostel for the night and spent some time exploring the city. The hostel was a great find – one of those centuries old house compounds with implausibly tall doorways and a peaceful internal courtyard filled with greenery and flowers. A nice contrast to our dirtbag existence of the past weeks.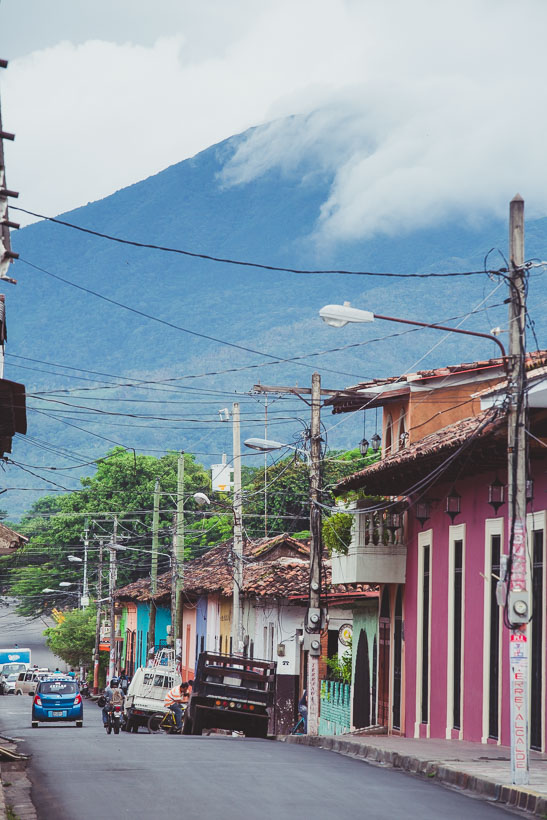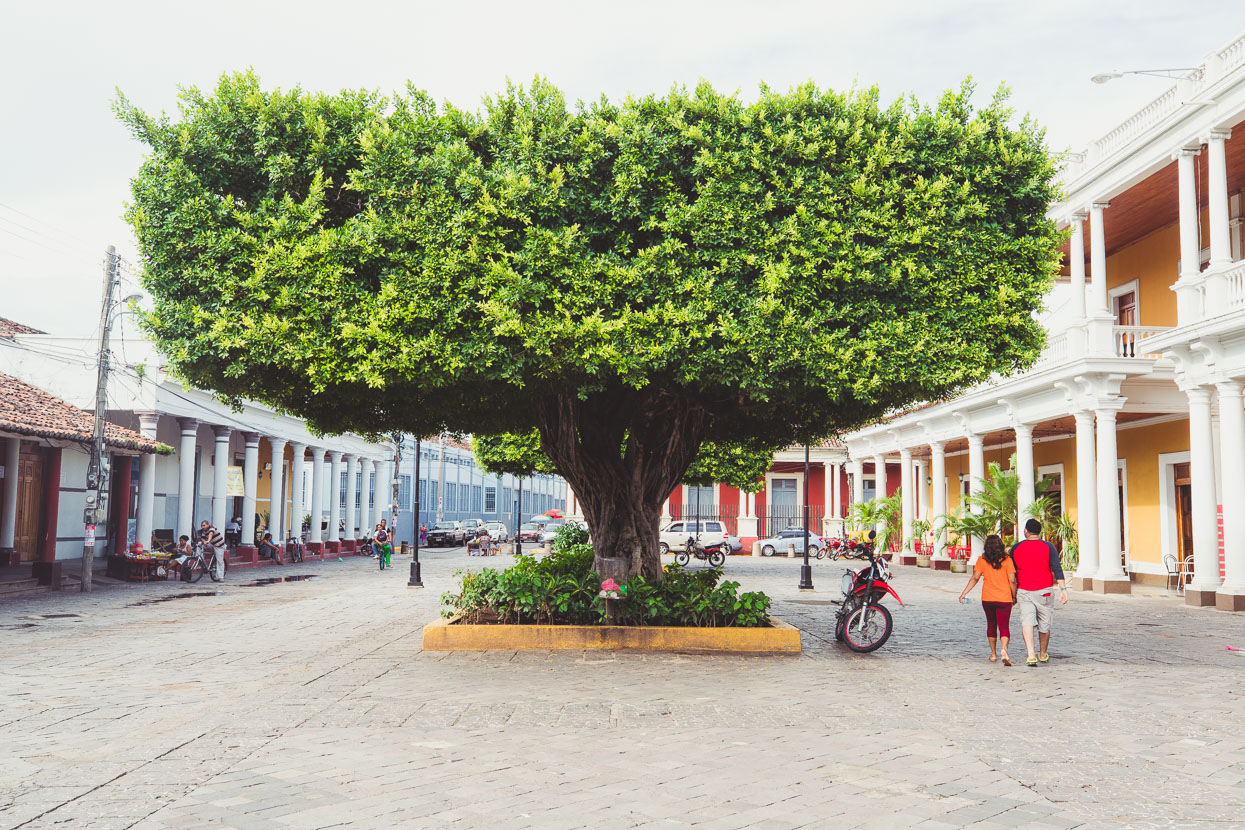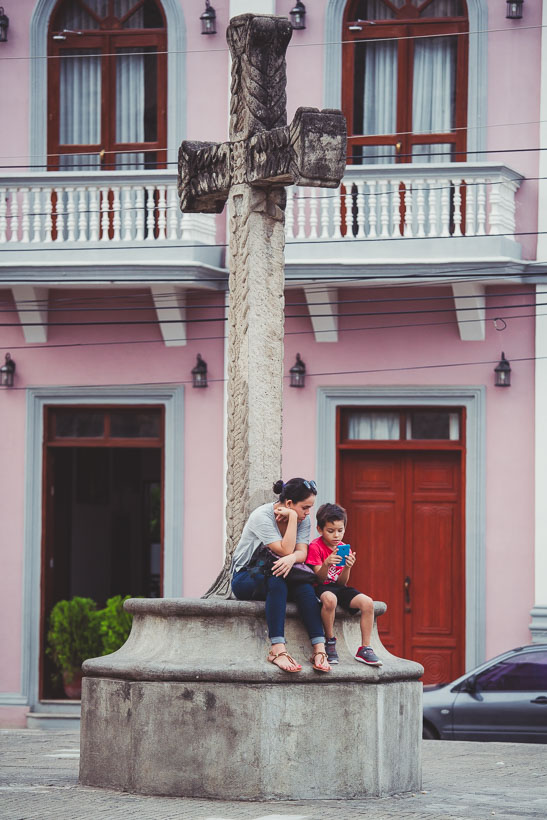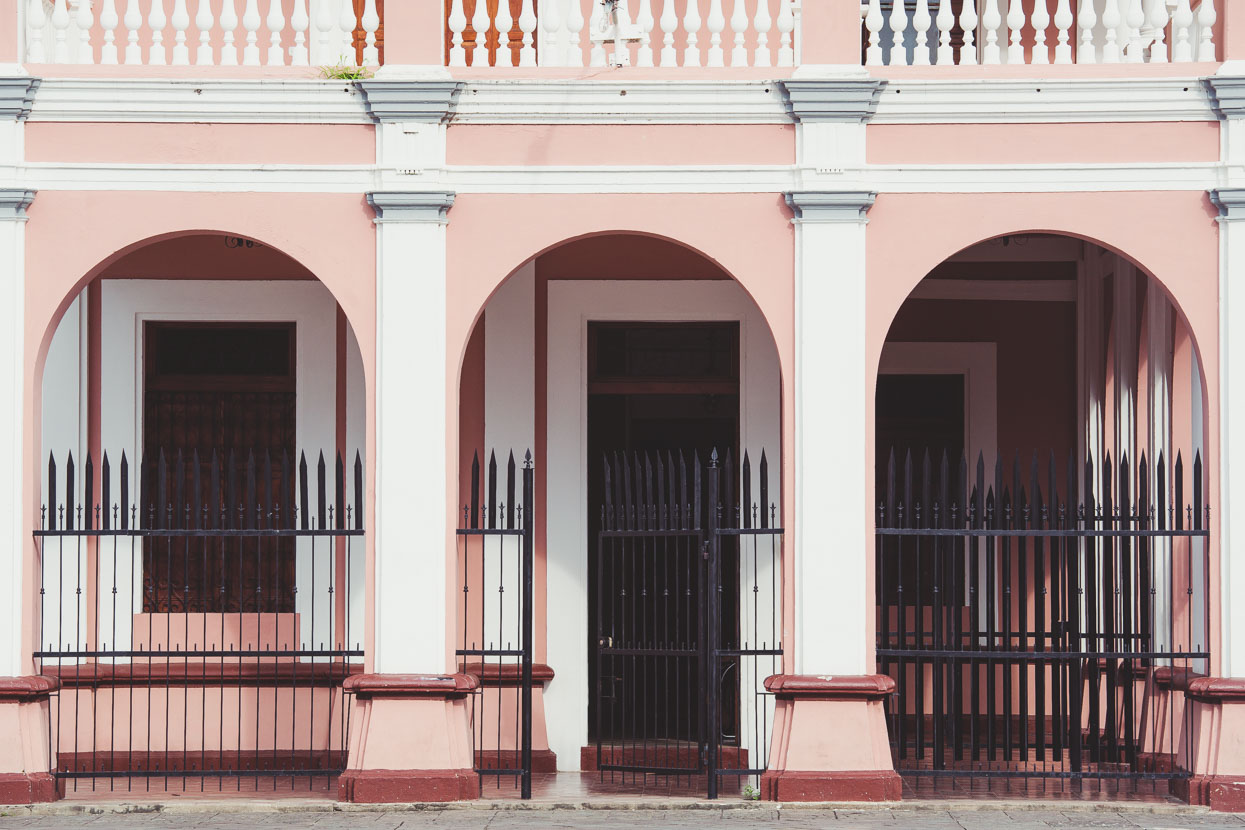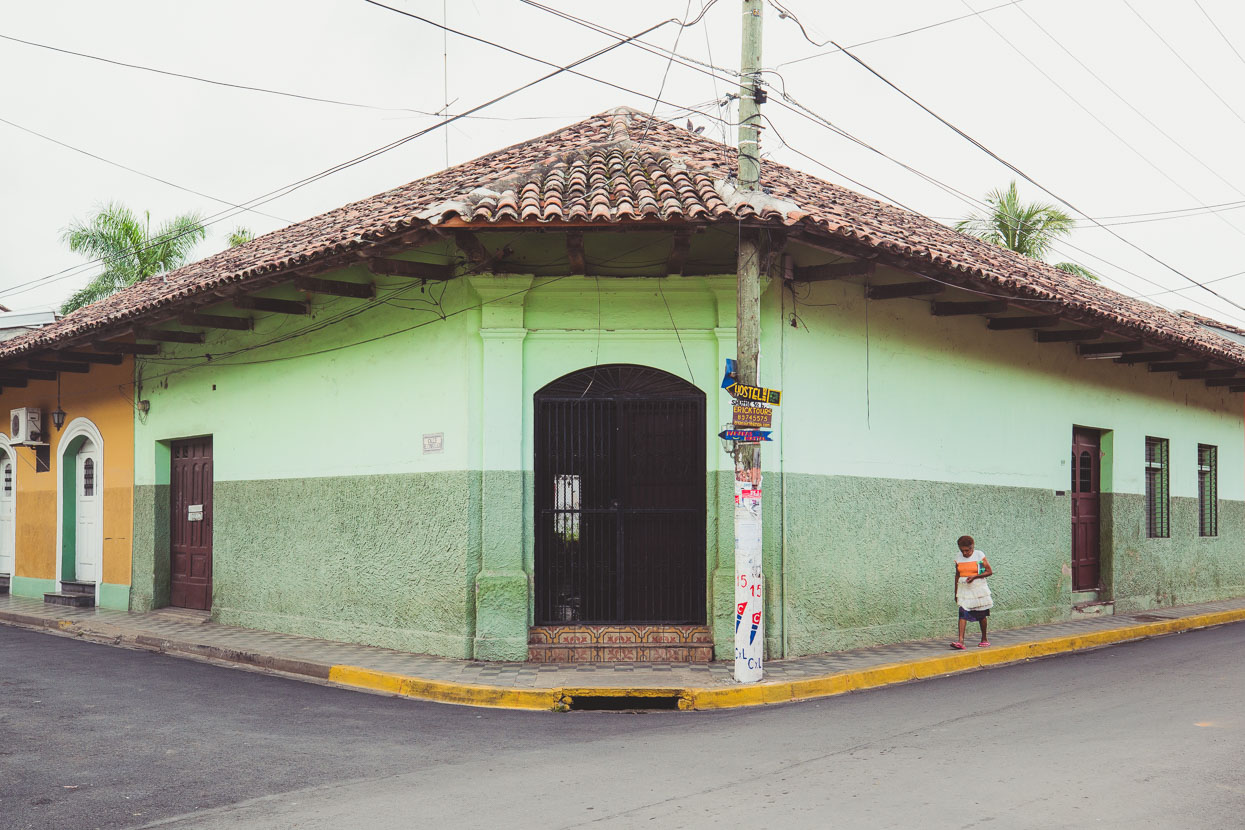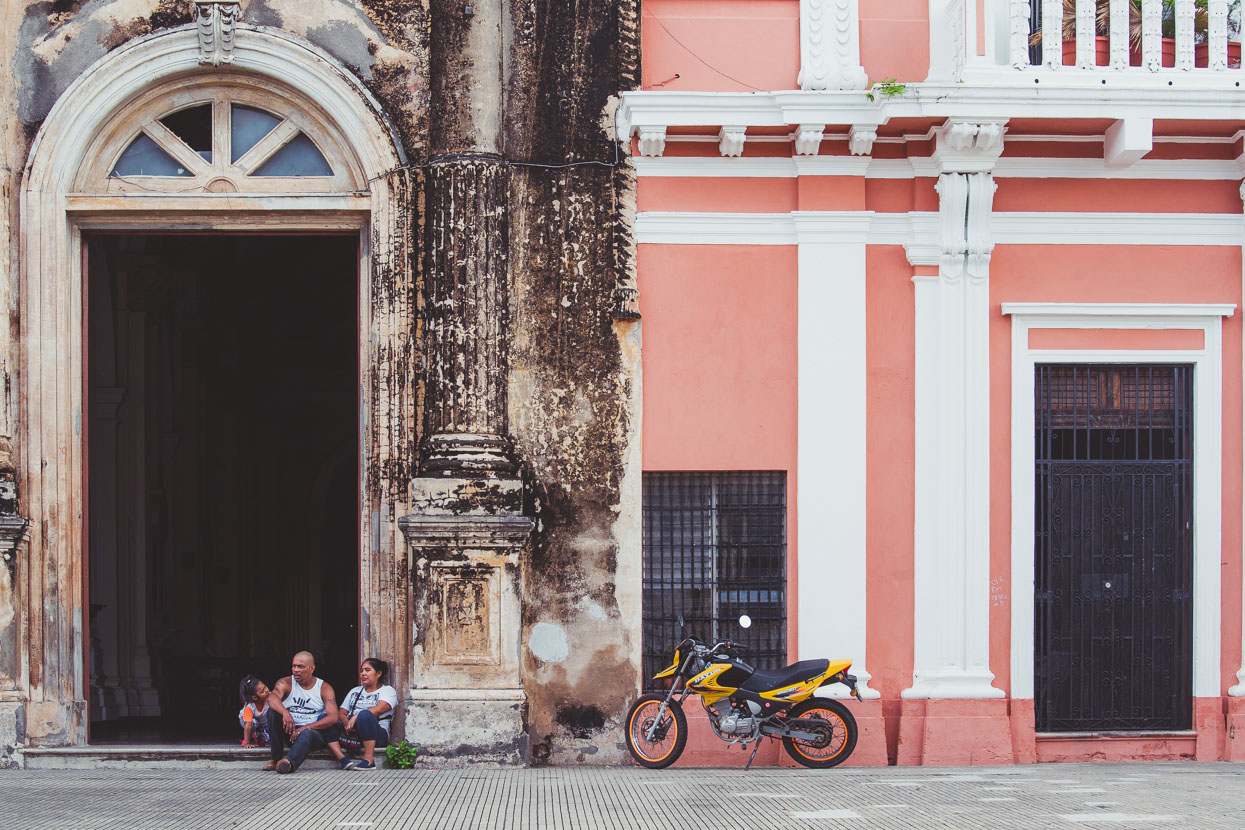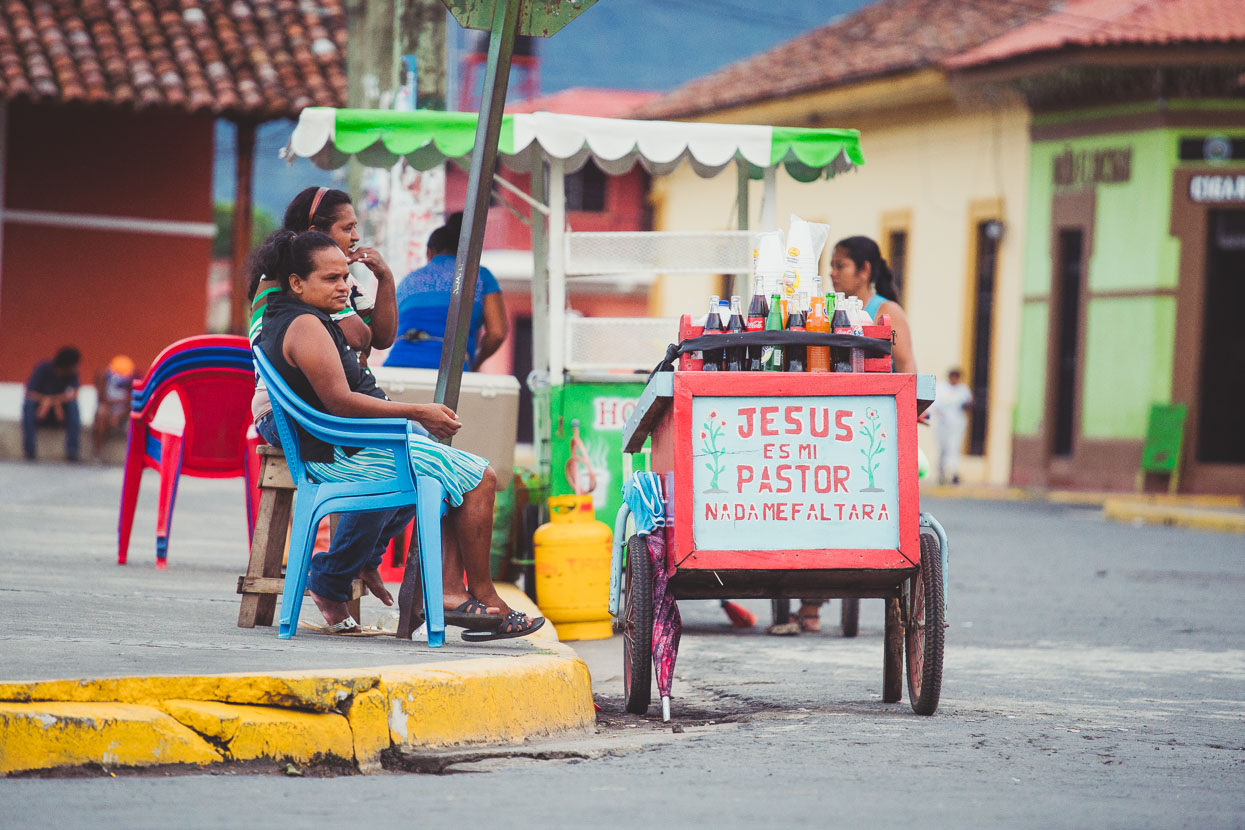 Granada's reputation as a must-visit city of Central America is well deserved. While definitely touristy, it's a place where beautiful colonial structures and a regal atmosphere combine with the more gritty daily life of Nicaraguans; horse and carts are a common sight within a block or two of the central plaza and for every well cared-for colonial street front there's another that's crumbling blocks and peeling paint. The market is close to the centro, so it's very easy to escape the tourist trinkets and sample some real life Nicaragua in all its overpowering sounds, smells and energy. For us the tourist scene was the thing that irked: we had barely seen another tourist since Copan – weeks back near the Guatemala border.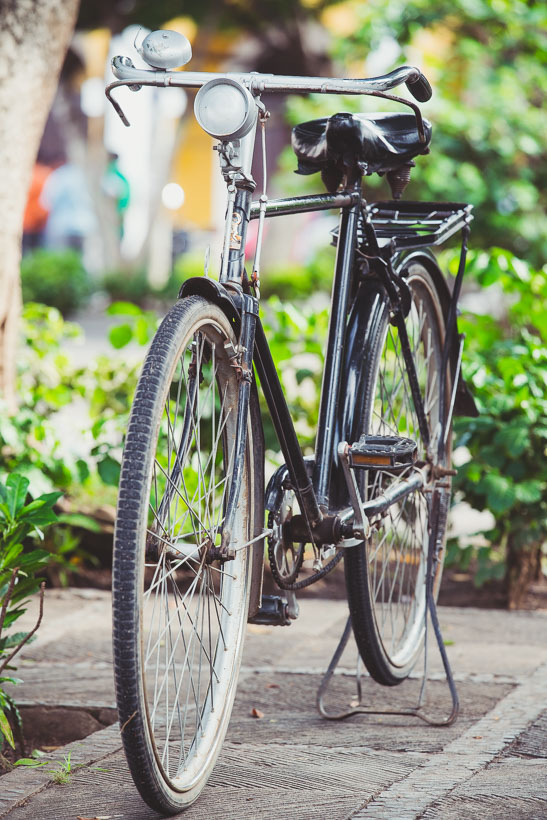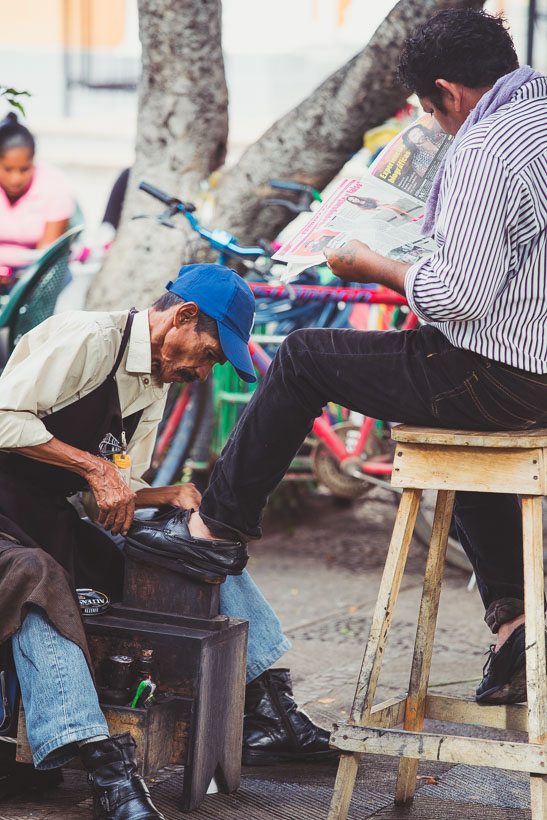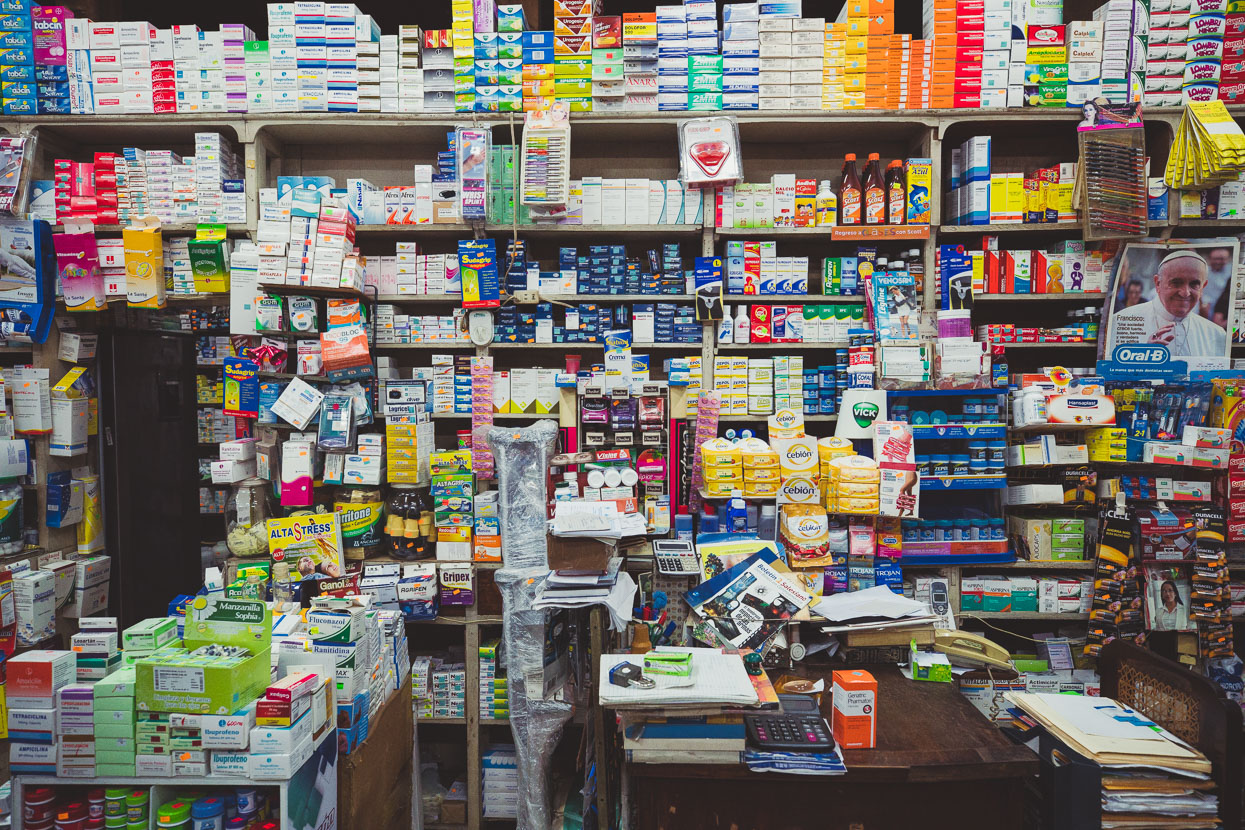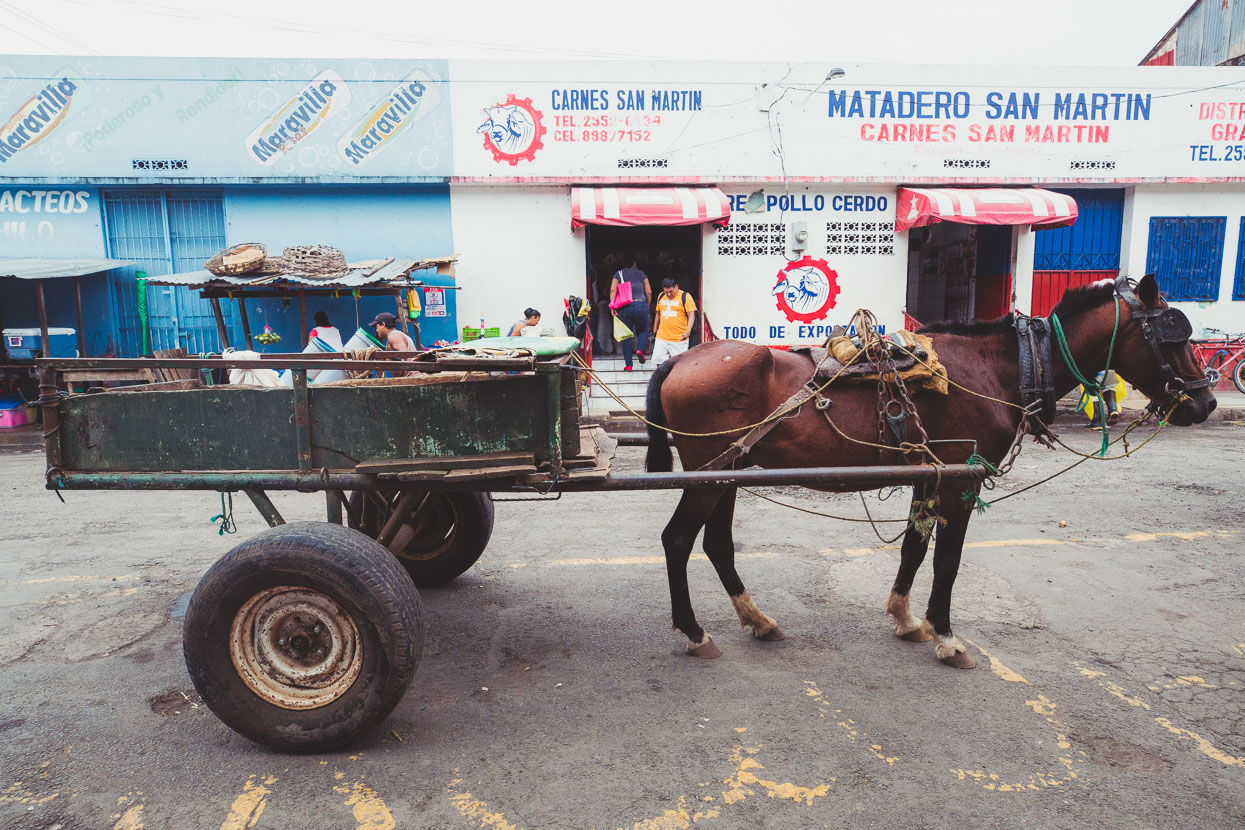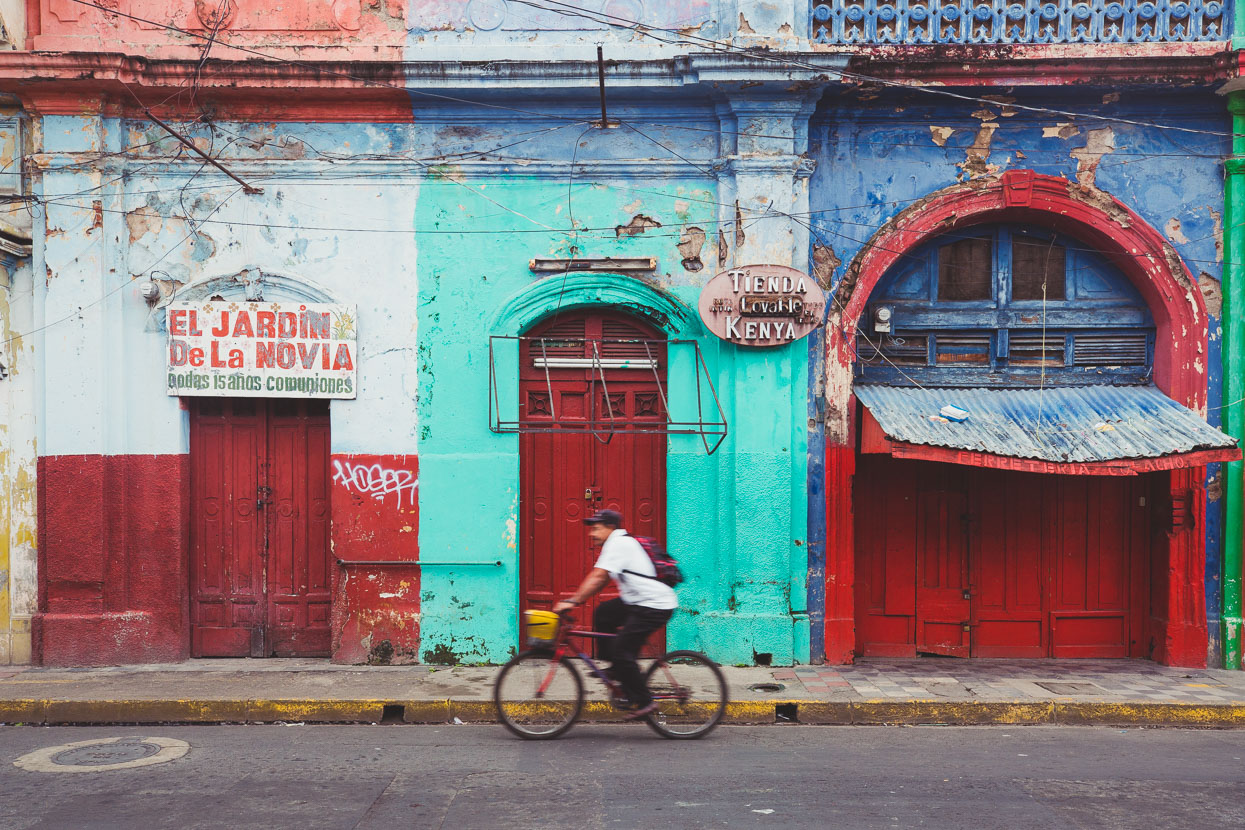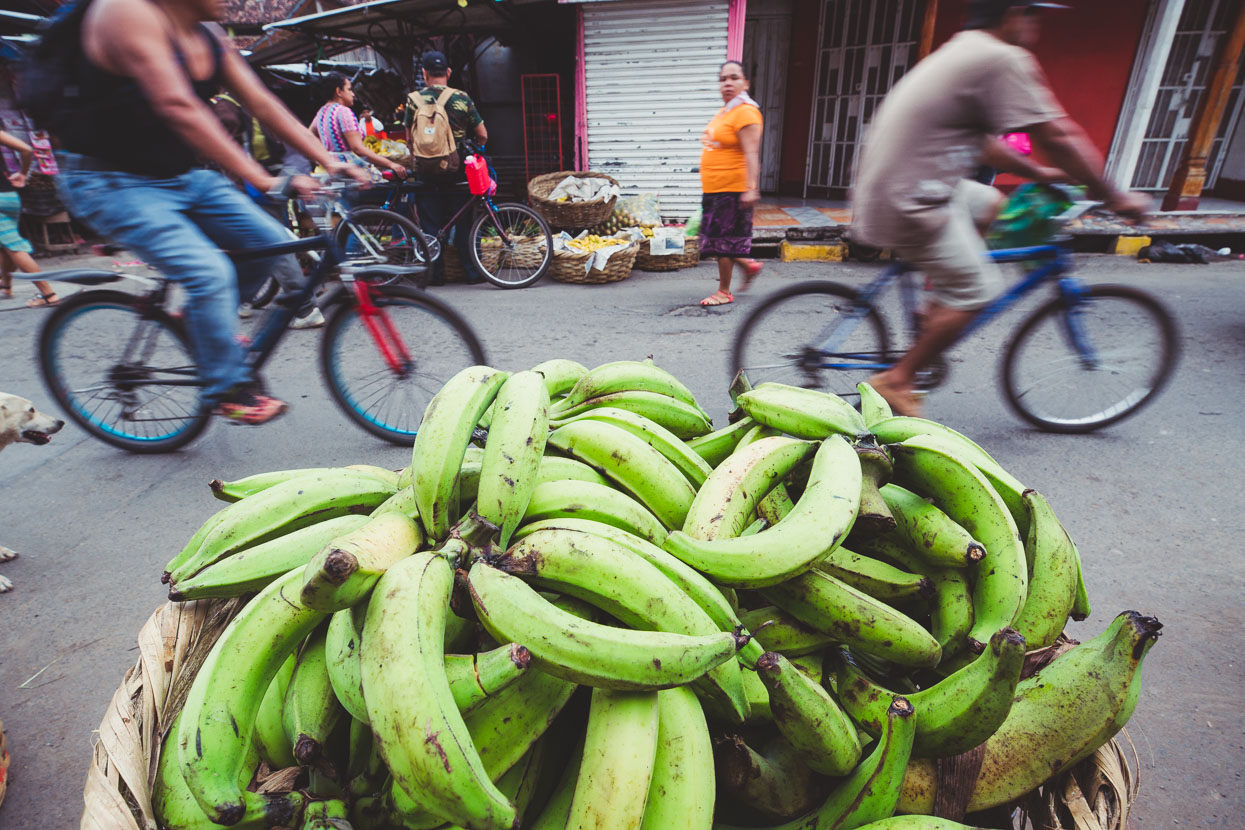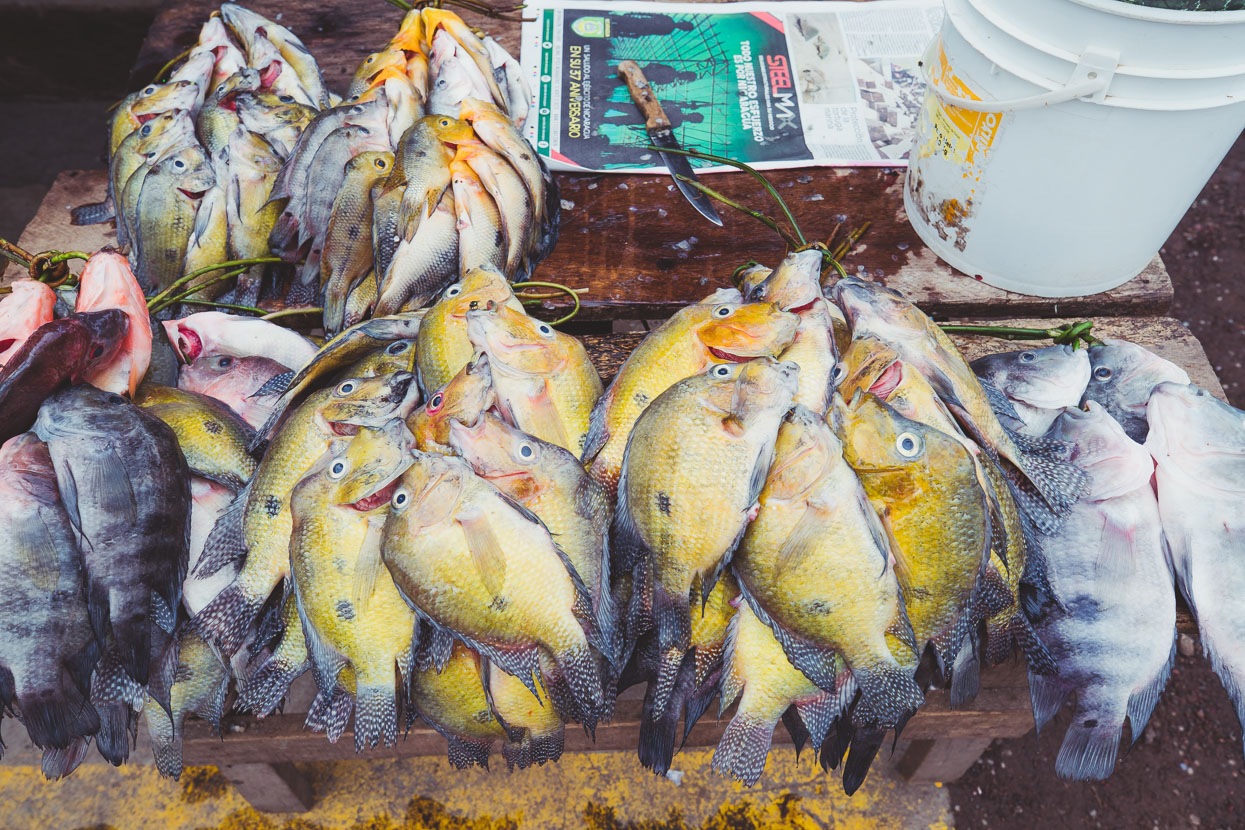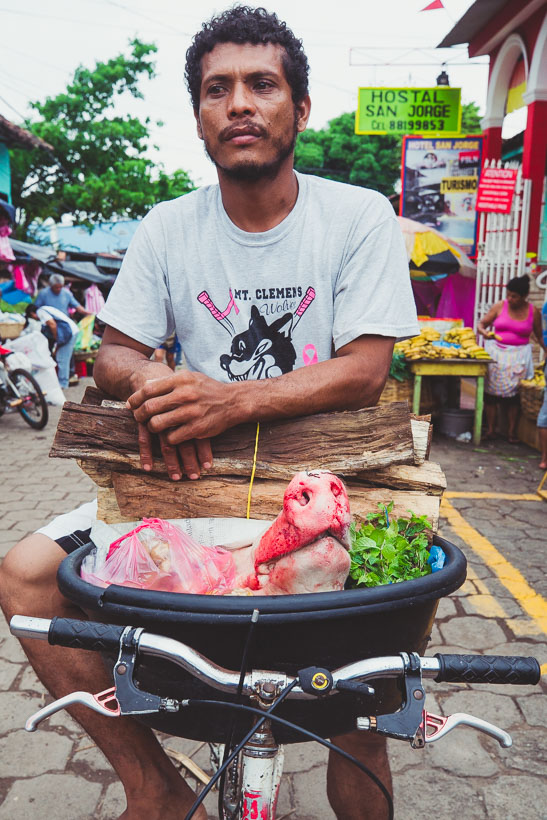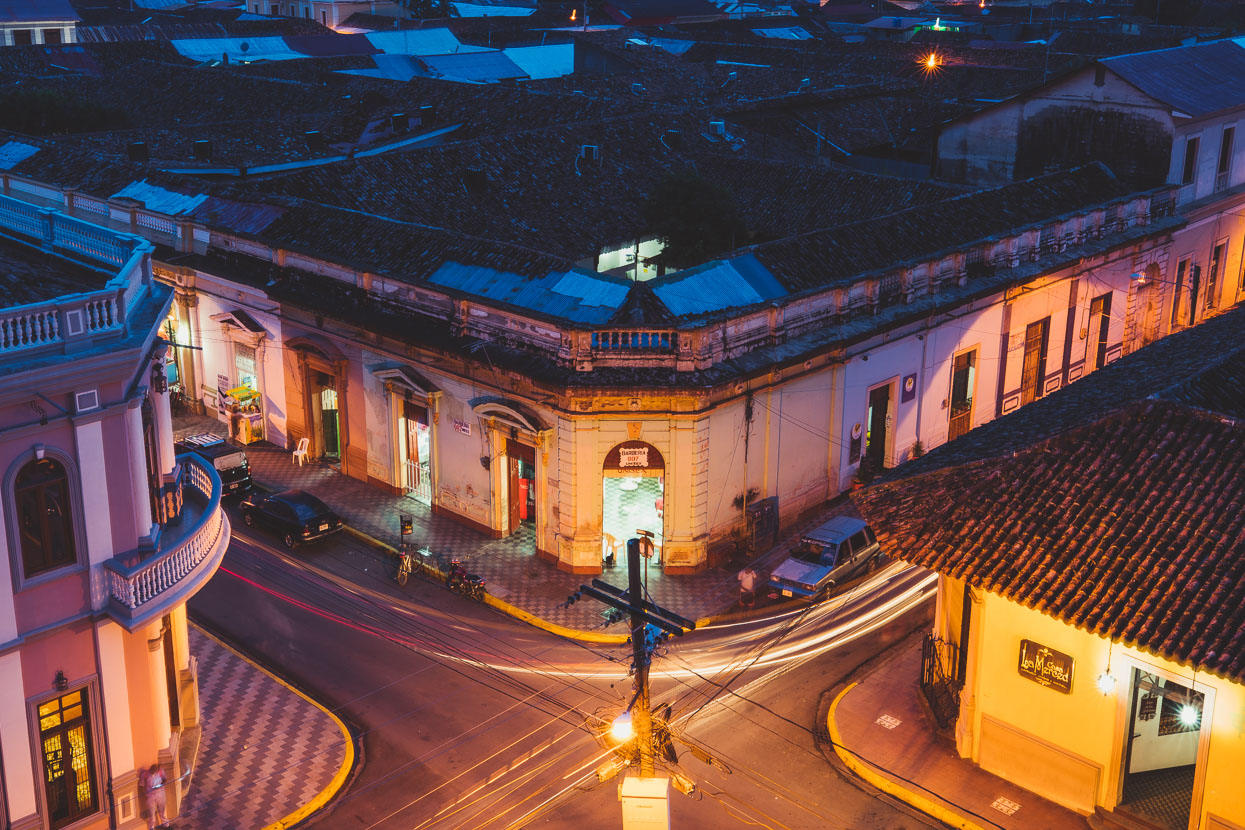 One Nicaragua highlight wasn't enough though – we also wanted to see the famous twin-volcano island of Ometepe. The island was close by but to ride it would require two more days than we had remaining on our visa, so we hatched a plan to bike to Rivas, near the Costa Rica border the next day, cross to Costa Rica for a couple of hours and then re-enter for a fresh visa – giving us time for Ometepe, which will be the subject of the next post.
Thanks for reading, and to all those who have followed our travels the past 18 months, made donations, or sent words of support: thanks so much! It's wonderful to have an audience and to share our journey. The past 18 months have been a string of amazing places, people and experiences linked by a common mode of travel, one that allows so many special travel experiences, interactions and memories. If you have ever dreamed of taking to the bicycle for travel just do it – we are both convinced it's the best way to see the world.
Merry Christmas and Happy New Year.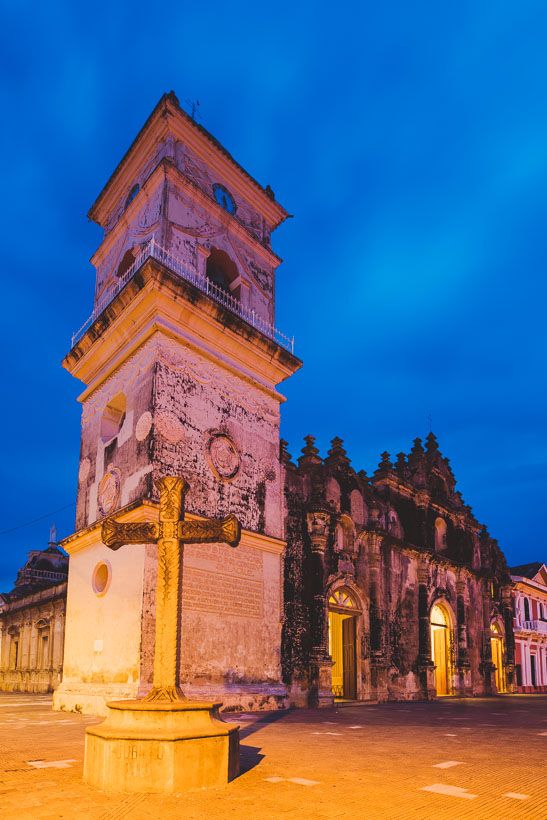 Do you enjoy our blog content? Find it useful? We love it when people shout us a beer or contribute to our ongoing expenses!
Creating content for this site – as much as we love it – is time consuming and adds to travel costs. Every little bit helps, and your contributions motivate us to work on more bicycle travel-related content. Up coming: camera kit and photography work flow.