Exploring Belize.
A former Caribbean outpost of the British Empire and still a part of the Commonwealth, Belize is a tiny yet incredibly diverse nation. Only 290 kilometres long and 190 kilometres wide, it's bordered by Mexico to the north and Guatemala to the west and south – while enjoying a long Caribbean coastline that's very popular for tourism.
It was something of a shock crossing the border from Guatemala and even though I knew English was the official language I couldn't quite imagine it might be so different from neighbouring Guatemala. We'd come from Petén province where English is rare and Spanish and Maya dialects are the common languages. So instead of unfamiliar place names and indigenous tongue twisters, we rode past the prosaic Bullet Tree Falls, Tea Kettle and Roaring Creek; although Negroman hints at the change from ladino and Maya to the African-descended people who populate so much of Belize.
While some of the place names have a familiar tone, the people and culture are anything but. Belize is a hodgepodge of Maya, mestizo (mixed Spanish/indigenous), Mennonites – circuitously originating from Germany, and Afro-amerindian people who are mostly descended from escaped or shipwrecked African slaves, traded across the Caribbean. These people fall into two general categories: Creole, who are descendants of African slaves and British colonists and Garifuna who originate from African slaves shipwrecked on the island of St Vincent and interbred with Caribs and Arawaks, who migrated to Belize in the early 1800s.
To travel in Belize is to experience something of all of these vastly different cultures, making it one of the uniquest places we have visited. While the landscapes and the almost omnipresent tourism culture here haven't wowed us, the people certainly have.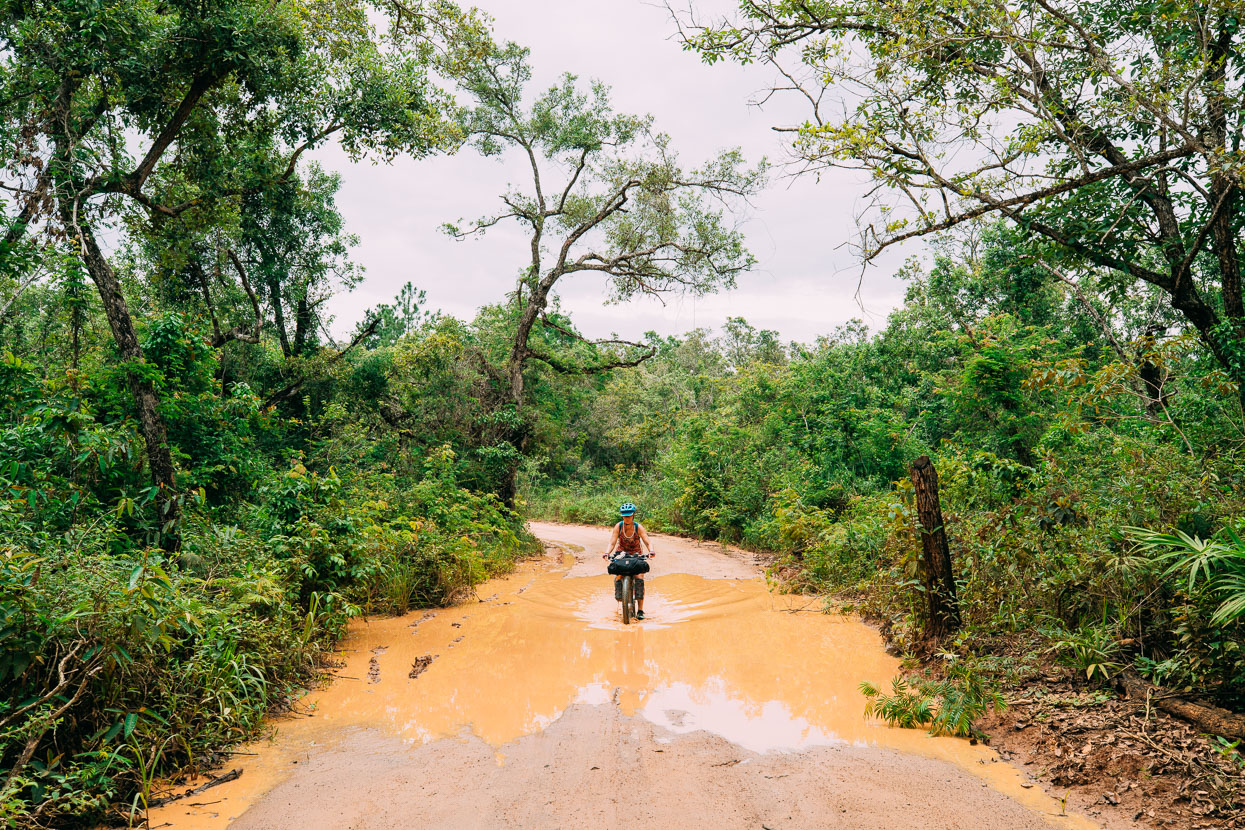 Plan A for Belize had been to ride north through Mennonite communities and into the Rio Bravo conservation area – an extensive and barely populated area of jungle alongside the Guatemalan Border. From there we planned to curve round towards the Maya site of Lamanai before heading towards the cayes and then south. We had no issues with access or private land the entire ride through Mexico, but uncharacteristically decided to check if we needed permission for Rio Bravo. We were met with flat refusal from them, as well as two other sections of private land we'd need to cross. Quite frustrating considering we'd read blog posts from two other cyclists who taken a similar route. There are checkpoints too, so it wasn't worth trying to stealth it.
Plan B was Caracol, probably Belize's remotest (and most impressive) Maya city which was to the south, deep in the jungle and accessed via Mountain Pine Ridge. An unusual name for this mostly jungle and rainforest covered region, but pine actually grows naturally and prolifically even to low elevations in parts of Central America.
A generally good quality dirt road heads into the hills from San Ignacio, but a couple of days of consistent and heavy rain had left it soggy.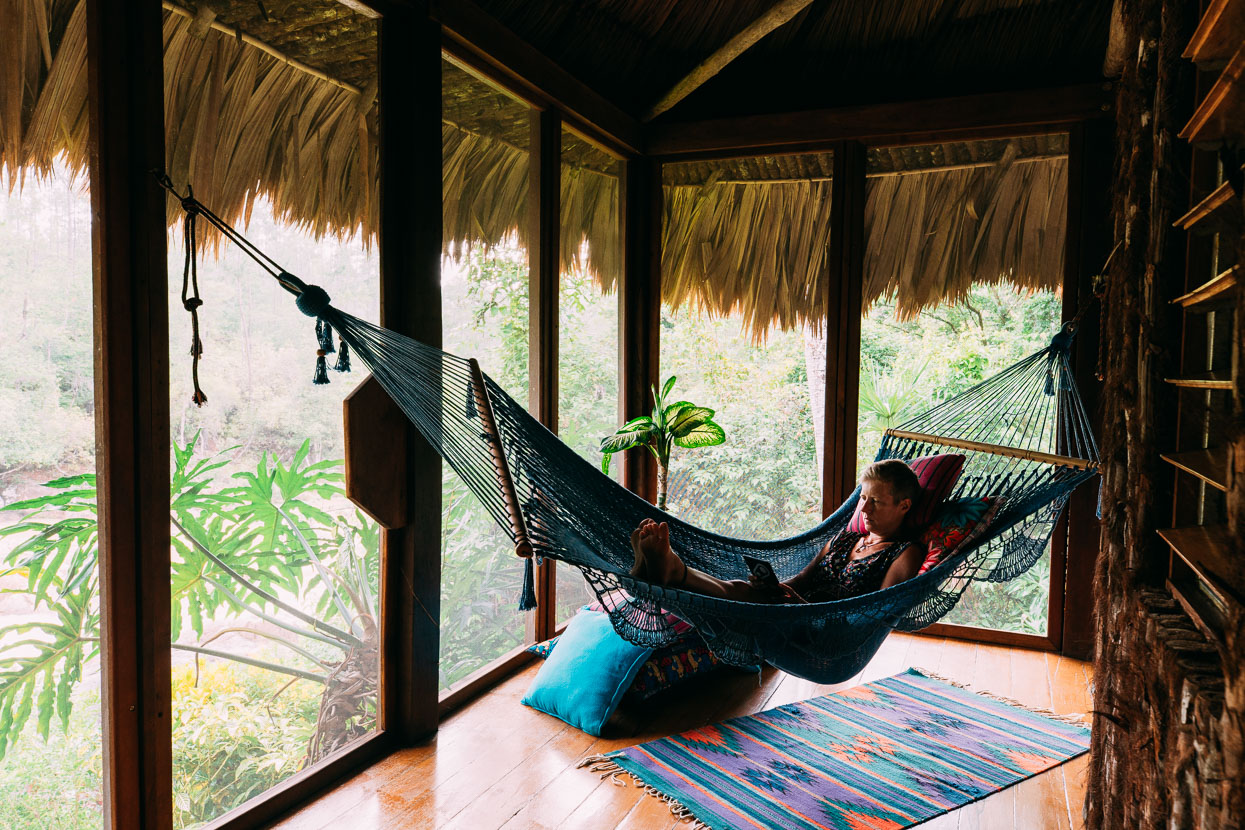 We were only about an hour into the ride when we met Susan and Paul, an ex pat couple from the USA. They passed us heading out for supplies in their truck, turned around, and within about two minutes had given us keys to their house, telling us to make ourselves at home and that they'd see us there later. We rode about another hour, turned off to their house, and discovered a beautiful riverside home optimised for jungle living.
The 'windows' surrounding Hana aren't glass, they're fine mesh. Enough to stop insects, while providing essential airflow. The house's core is through the wall, with another living area and kitchen, while the sleeping area is in an adjoining building.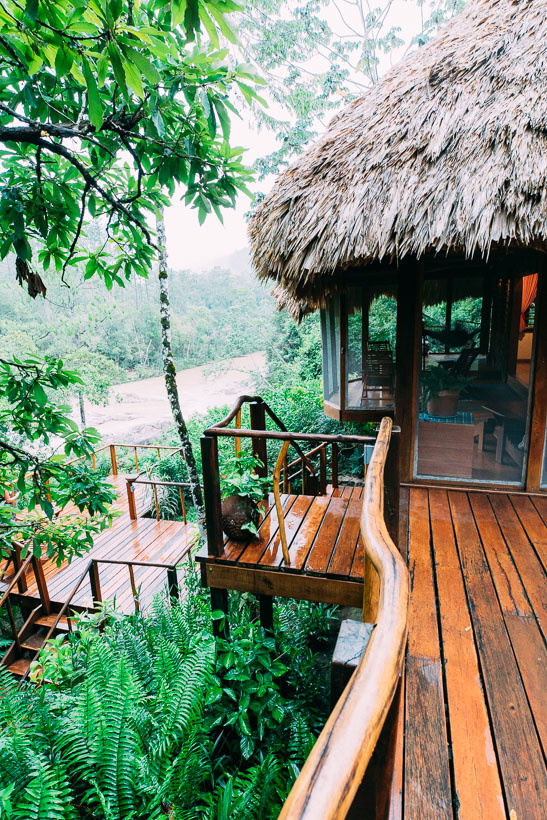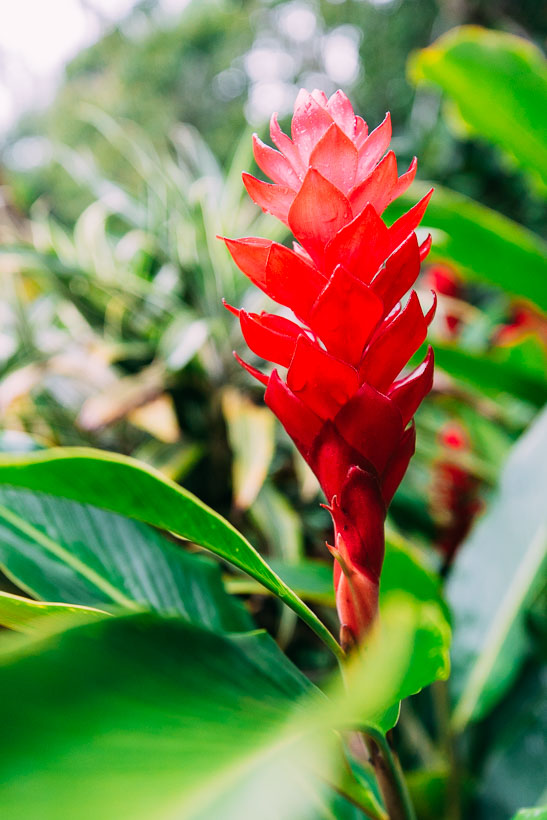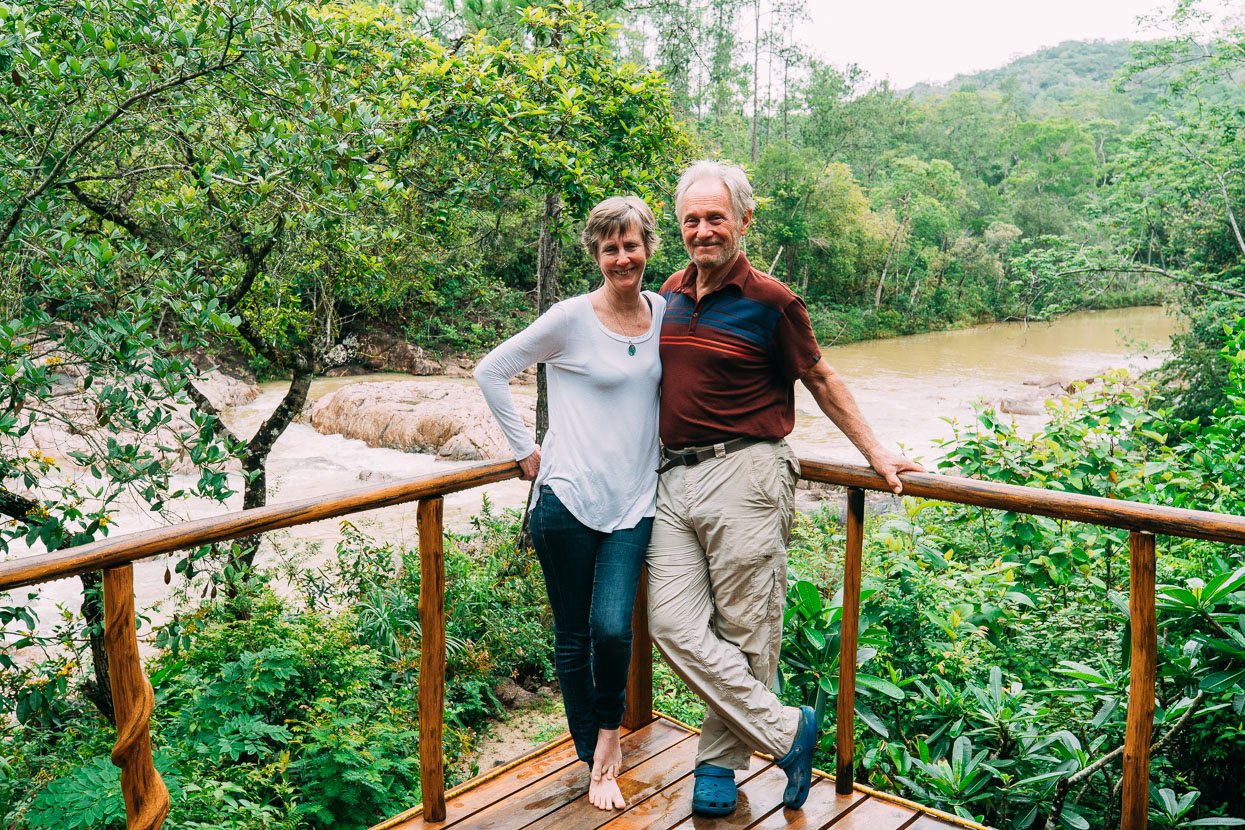 Susan and Paul live in the Virgin Islands but spend a bit of time back in the USA and at their magical Belize property. Avid mountain bikers, they hold the rare achievement of having ridden the Great Divide MTB route along the US Continental Divide twice! It's the same route we took, so it was fun comparing stories and chatting about mountain biking. We had a great evening with them, their friends Tom and Marge (who run Moonracer Farm) and their guest Thomas.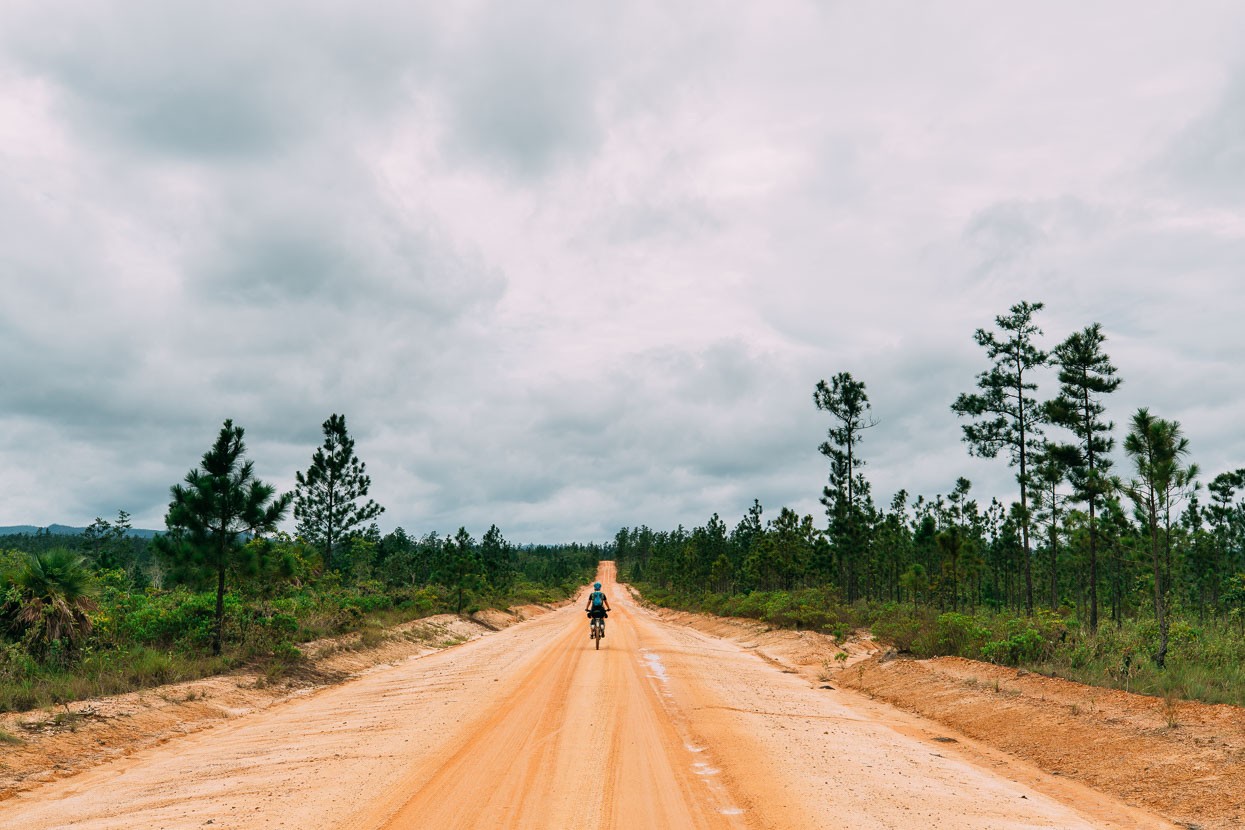 Back on the main road the next day we headed deeper into the Mountain Pine Ridge Forest Reserve. The pine here has had a hammering in recent years with fires, so is relatively young.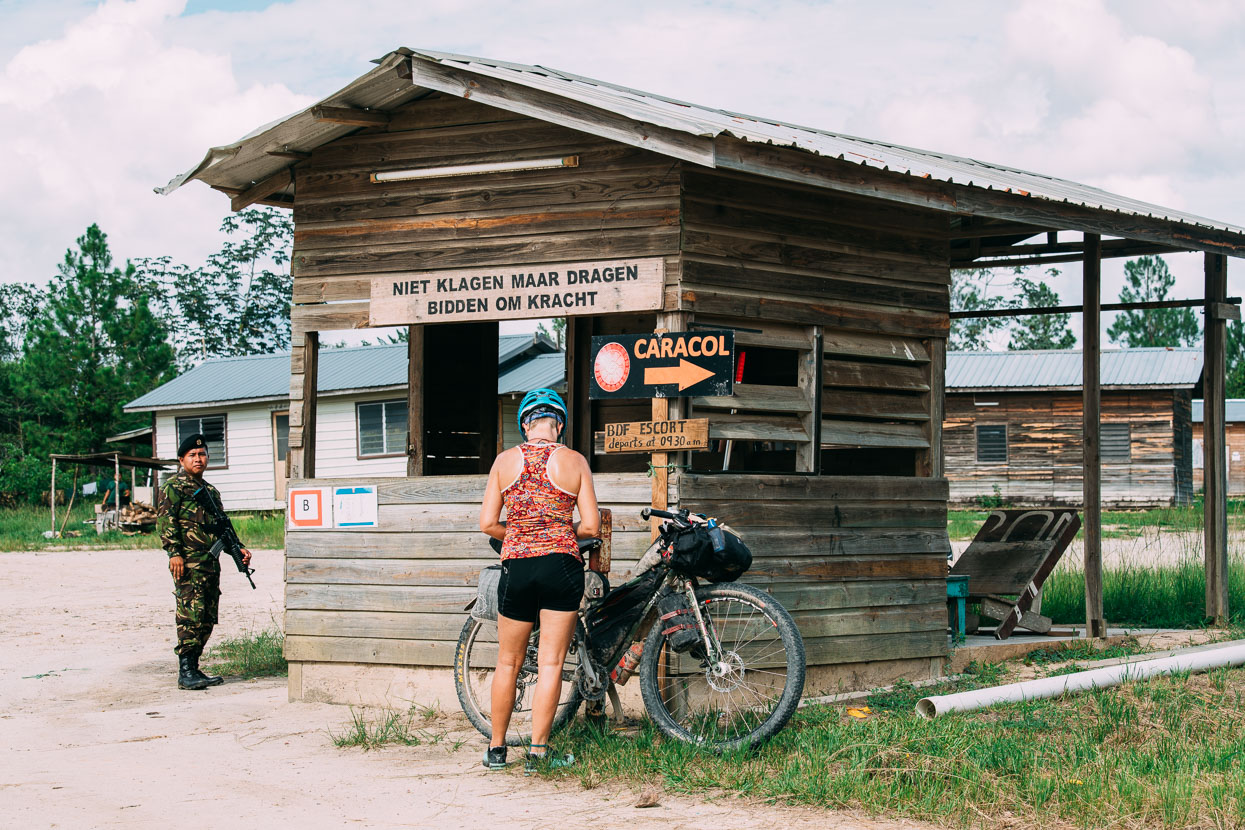 Since a spate of robberies on the road to Caracol it's been standard for tourists to join a military escort and drive in convoy to the site. We read and heard mixed reports as to how mandatory this was, but turning up at the checkpoint about midday the bored looking guard was happy to let us carry on after signing in.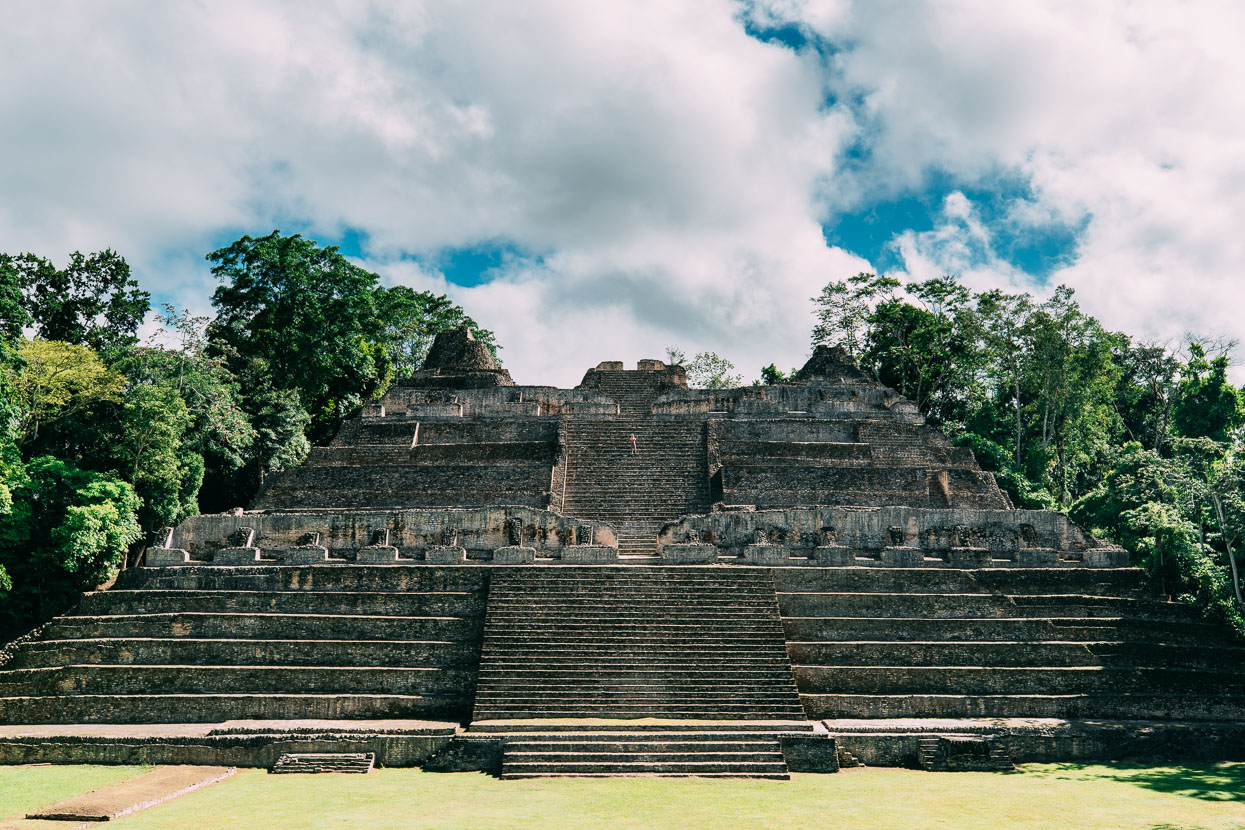 Despite being an out-and-back, the ride into Caracol was well worth it. The main pyramid is huge, well restored and dominates the surrounding landscape. From the summit thickly jungle-covered hillsides roll away only three miles towards the Guatemalan Border.
It's this proximity to the border that has necessitated the military in this region. Guatemalans frequently cross the border to hunt and capture rare animals, animals for food and to clear forest for cultivation. As we discovered, the Belize Defence Force and Caracol guards take their jobs fairly seriously. Guatemala does after all claim Belize as its own.
Cycle visitors to Caracol are rare, and we'd expected we might be able to camp somewhere close to the site or at the guard's camp. Arriving at about 4.30 in the afternoon we were greeted by Sebastian, the manager of the site and its three-man maintenance crew.
Sebastian was somewhat surprised to see us though, pointing out that the BDF checkpoint should not have let us in that late in the day and that we needed a permit if we wanted to camp. But seeing it was so late in the day, for our own safety he couldn't send us back (which he was supposed to do). Instead he offered us a spare room in the two story concrete building that housed his crew along with the site's armed guards. We definitely felt safe, considering that there was also a small contingent of armed BDF guards camped nearby.
We had a fun evening; toucan spotting from the verandah as the sun went down, laughing with the site crew and watching a couple of DVDs – their standard evening routine. First we watched the mega violent/terrible storyline SWAT. While they picked the next film I asked if another "action film with more shooting" was coming.
"Yes – it's not a good movie if there's no shooting."
Mr and Mrs Smith, with Brad Pit and Angelina Jolie as assassins came next.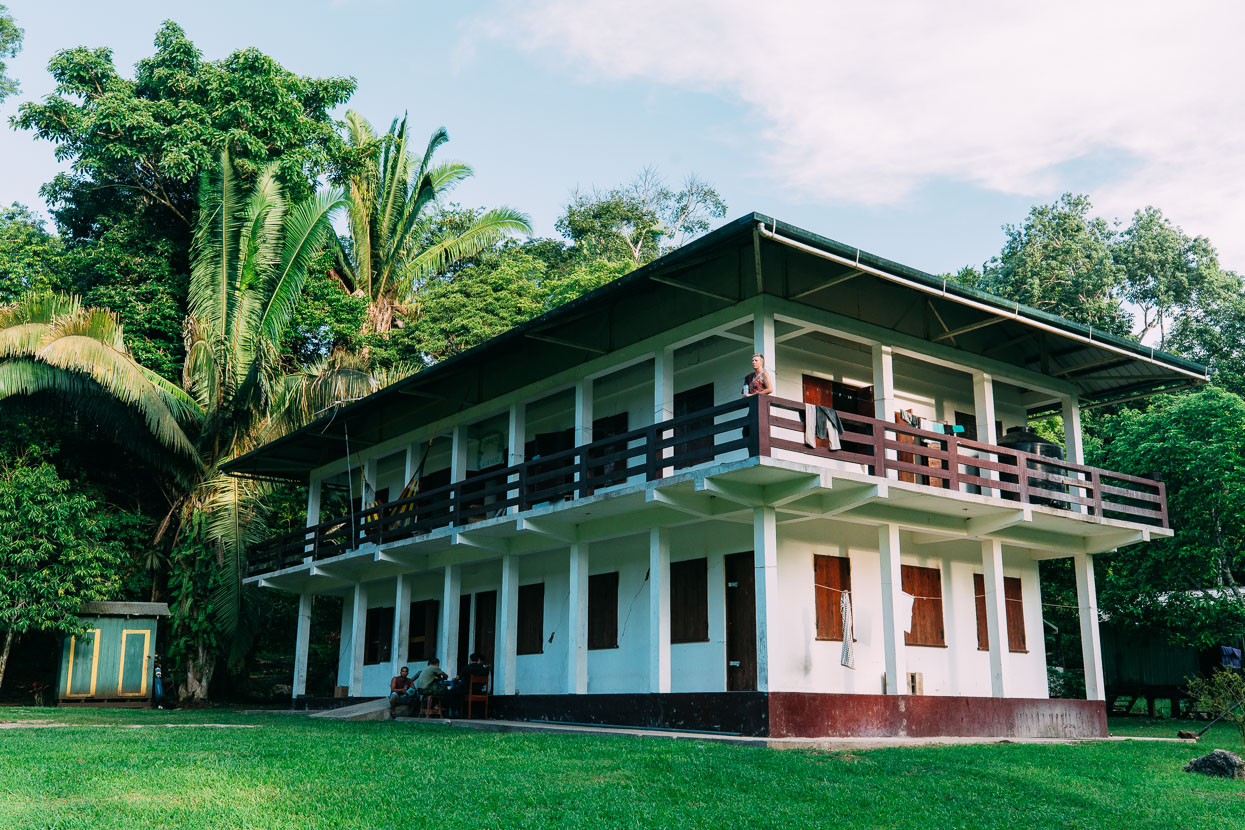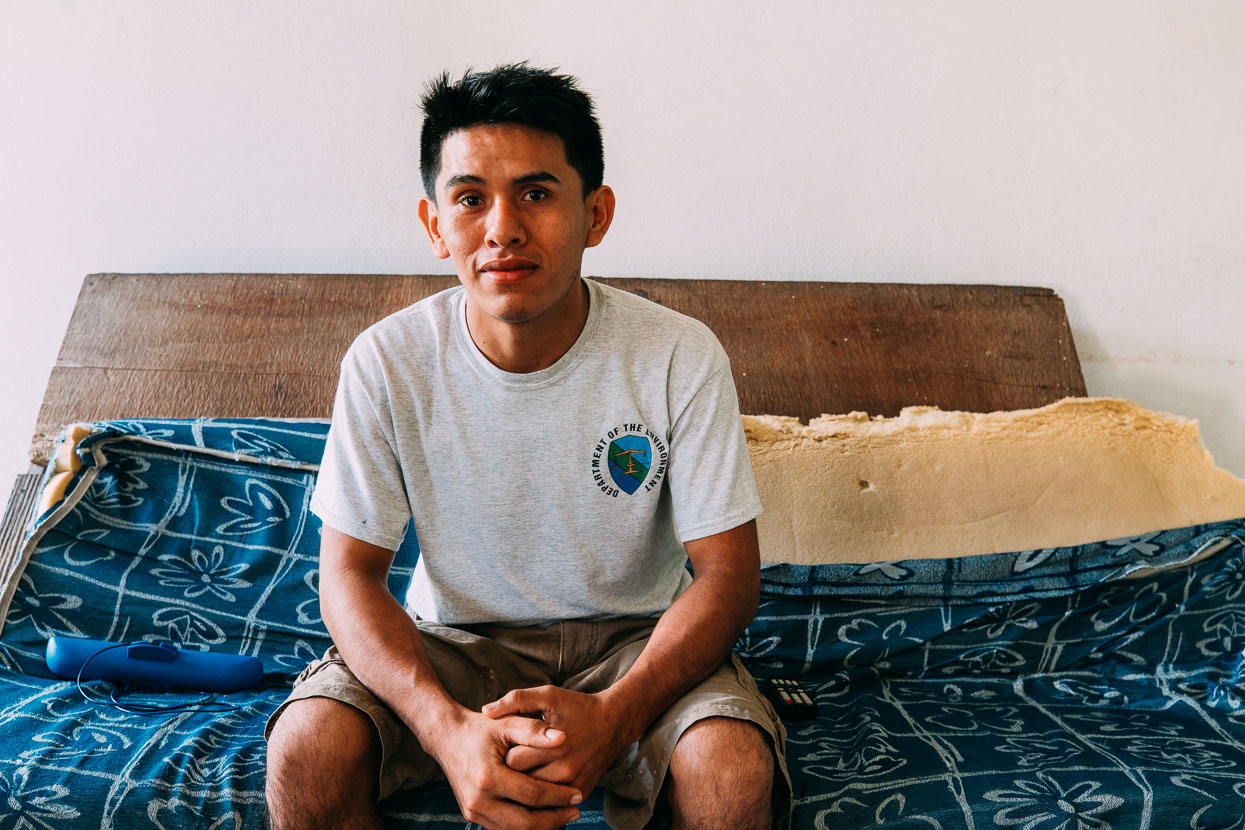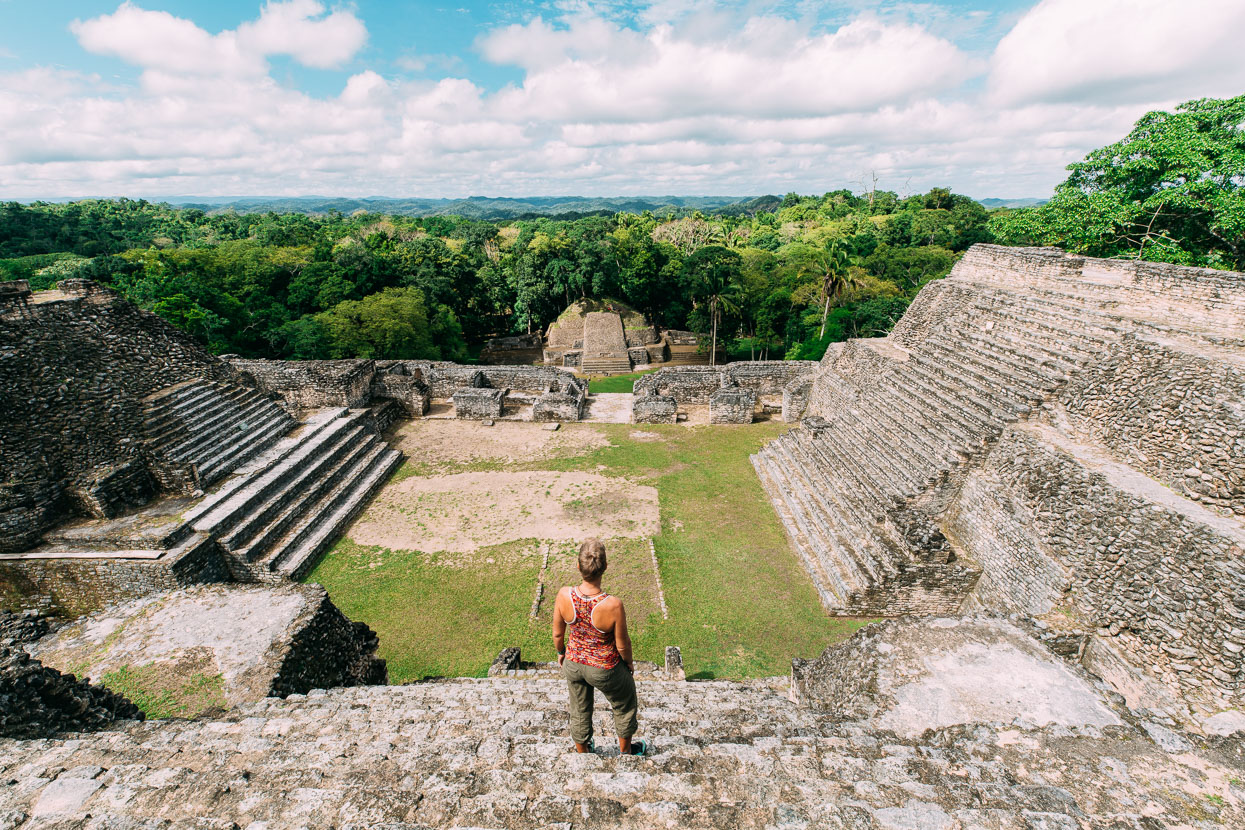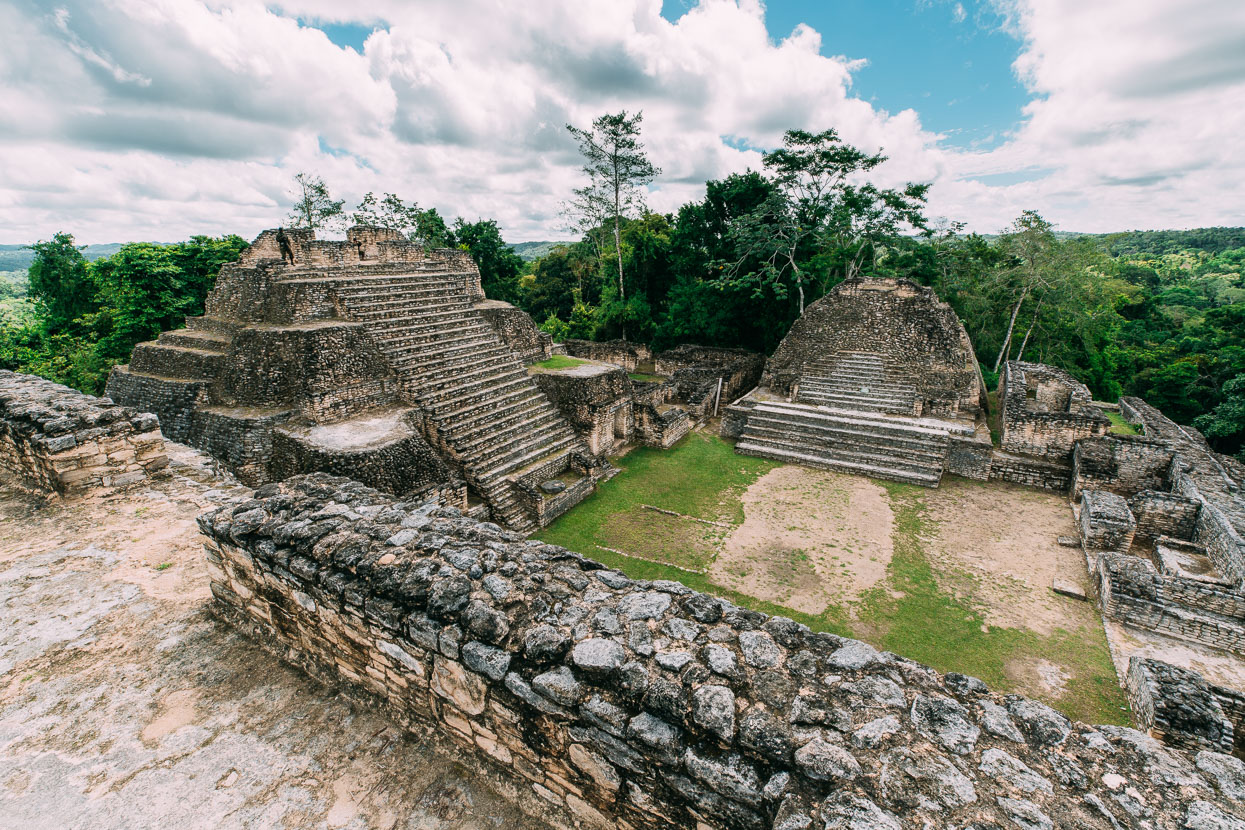 It's evident from the scale of the structures and their ceremonial aspects that this city was important. The city – really more of a state – was a major political centre during the classic Maya period. Compared with other Maya ruins it was reported late: in 1937, by a native logger searching for mahogany in the deep jungle. Archaeologists visited soon after, but real research didn't begin until the 1980s. Mapping of the entire 200 square kilometre city by aerial radar took place in 2009. Impressive tombs, stelae, altars, pottery and carvings have been discovered here. Researchers believe the site was occupied as early as 1200 BC, peaked during the Classic Period (about AD 636), and by 950 AD was mostly abandoned.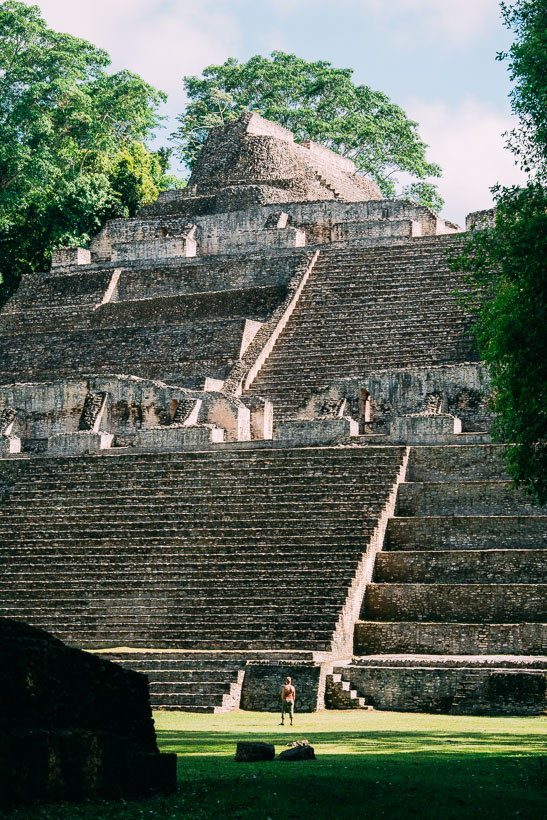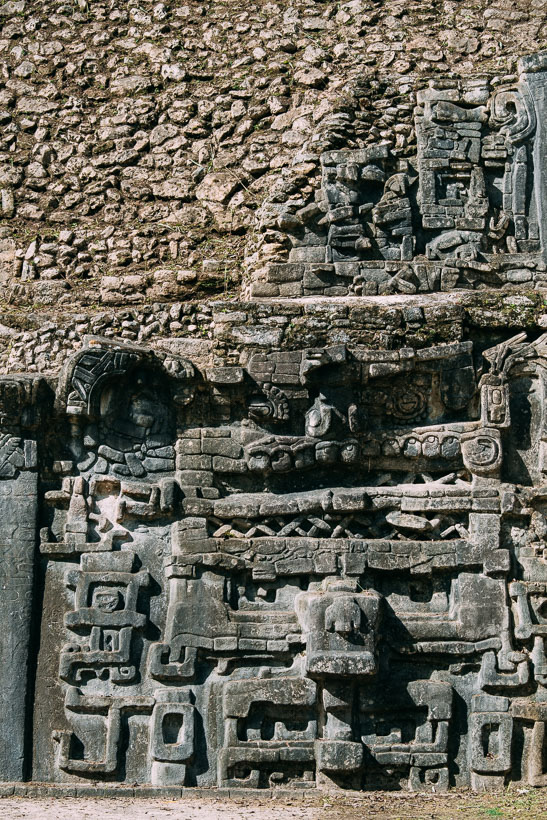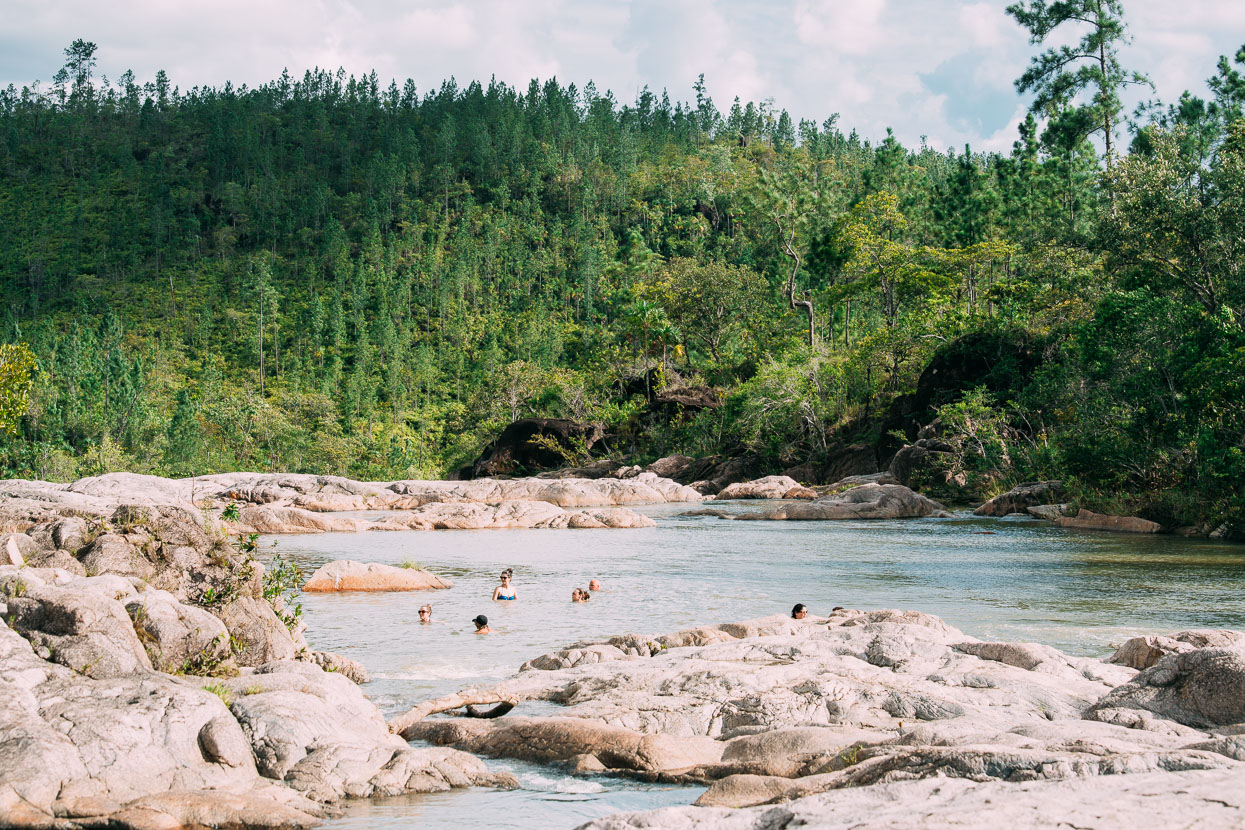 The Mountain Pine Ridge area is also popular for waterfalls, rivers and swimming. At Rio On pools the river – a perfect swimming temperature – flows over granite slabs and any many small pools. A perfect cool off during the ride back out.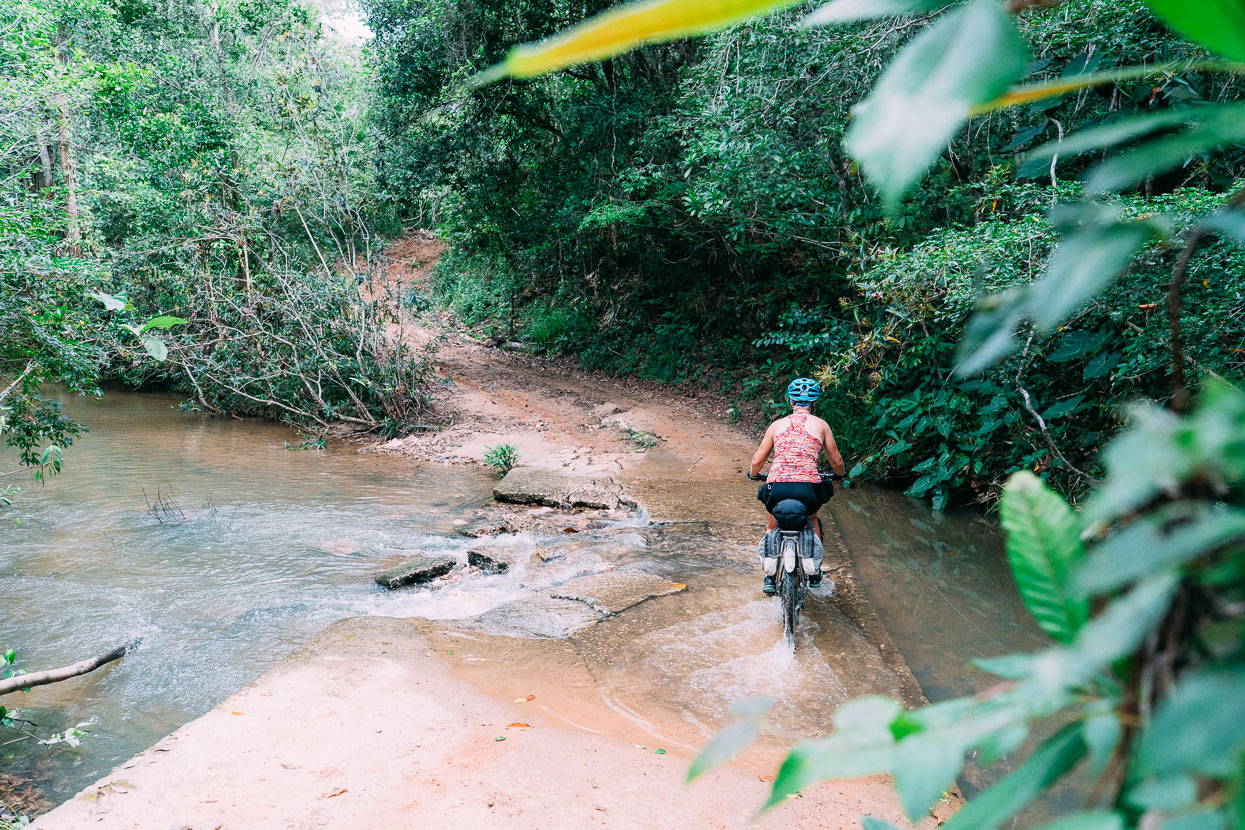 A muddy 'shortcut' to avoid the main road – well worth it, but a bit soggy after the two days of cyclone borne heavy rain we'd had prior to heading into the area. We'd waited out that rain back in San Ignacio.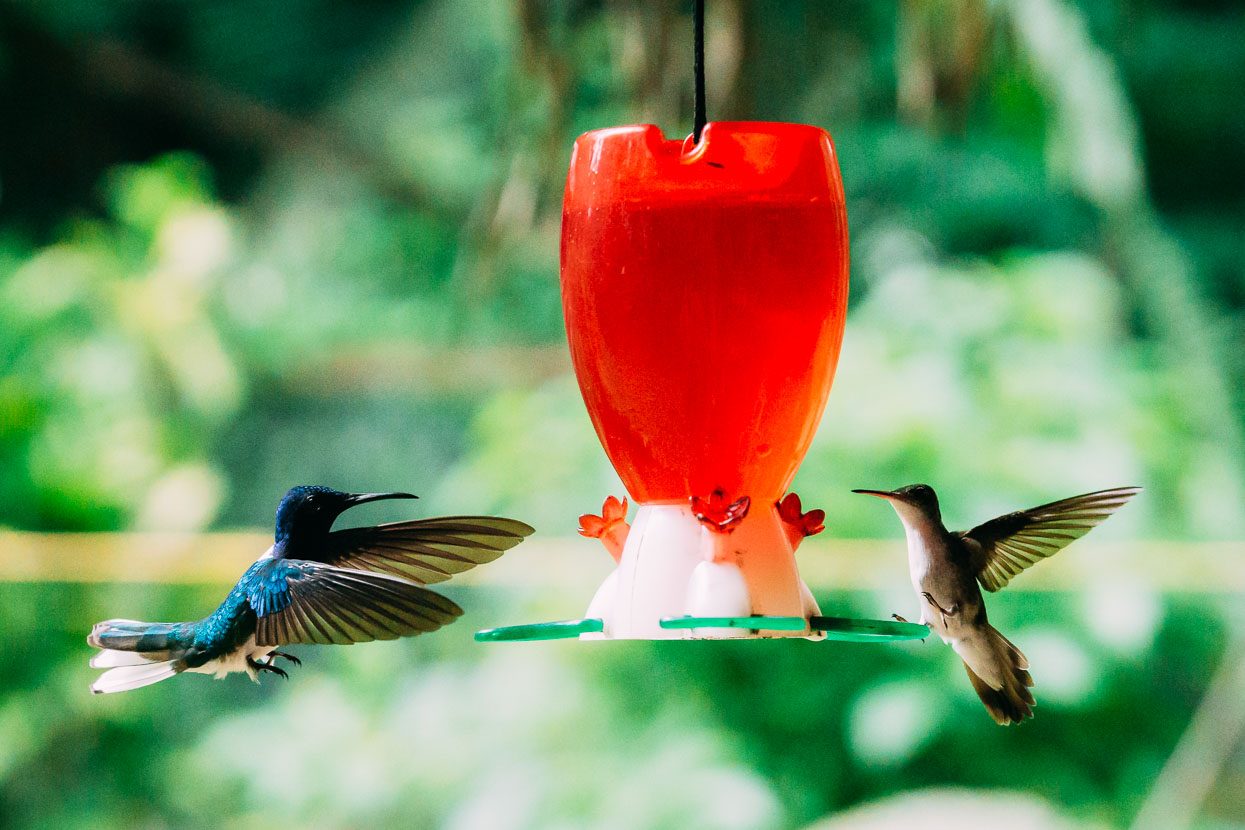 We had an invite to stop at Marge and Tom's Moonracer farm on the way out, and dropped in just before dark. It was great to catch up with them again, along with Susan and Paul. Marge and Tom have hung several hummingbird feeders around their palapa which serves as kitchen and living/dining area. During the morning we watched with amazement as dozens of humming birds came and went with their characteristic rapid accelerations and skittish flight. Through trial and error and using 16,000 ISO in the low jungle light I found I could freeze their wings – which beat 50 times a second – with a shutter speed of 1/3200th sec!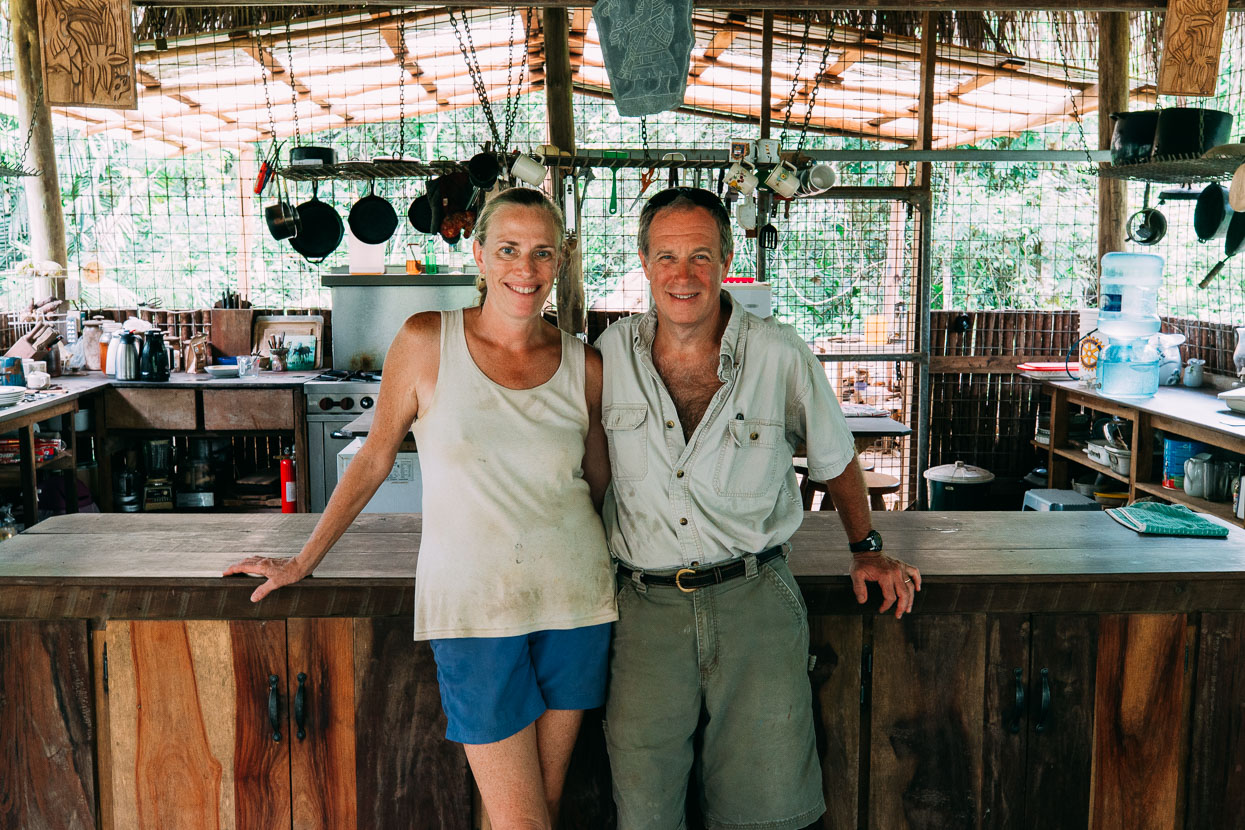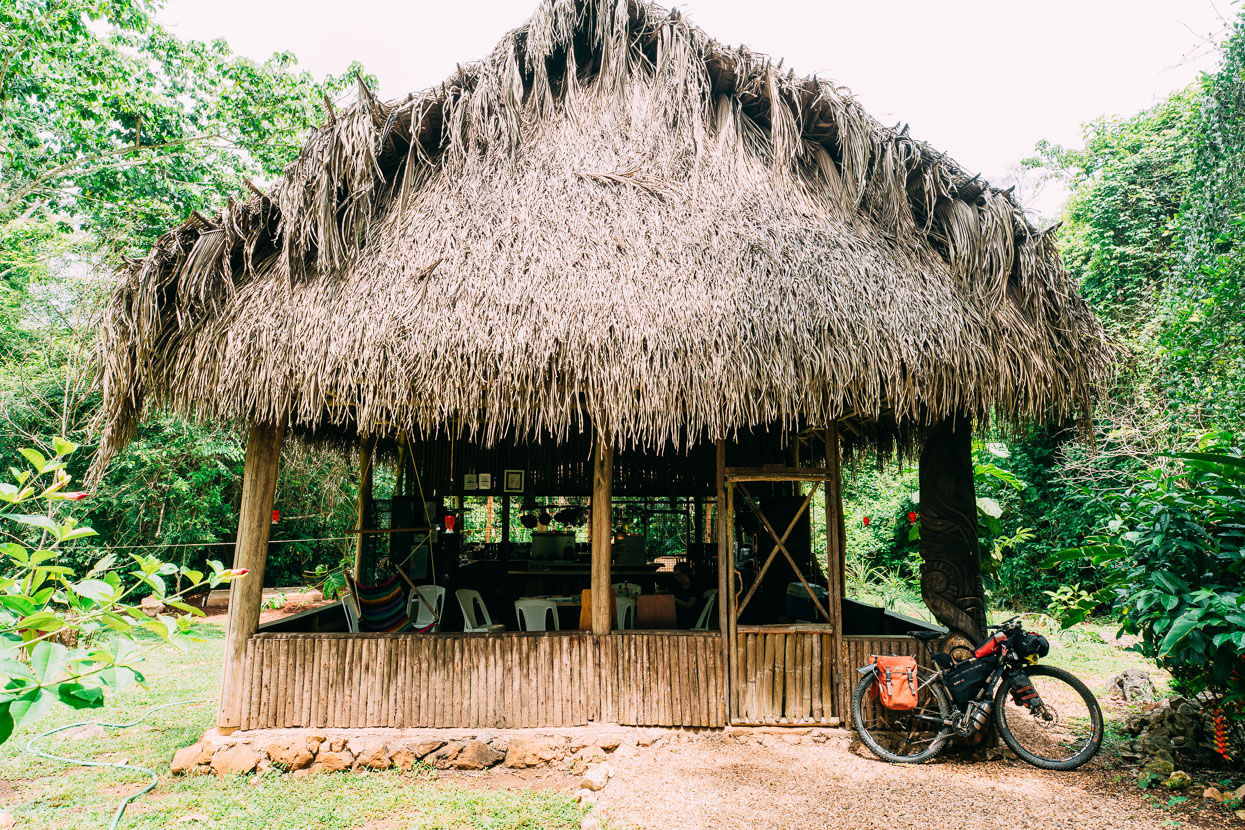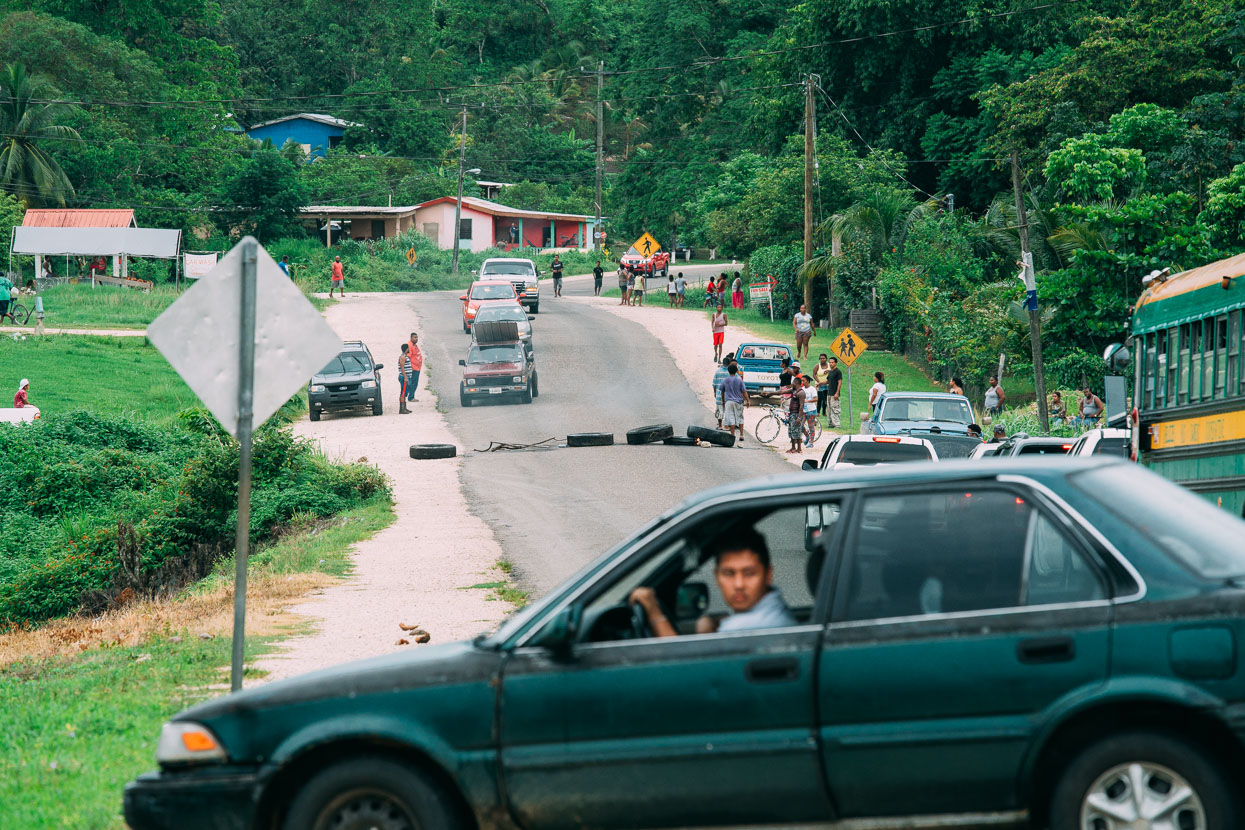 Back out on the main highway between San Ignacio and Belize's capital, Belmopan we slipped through a road block of smouldering tyres in the nick of time. We stood with a group of local bystanders for a while, who said that there had been a murder, a body was missing and that these people were protesting for more action from the authorities. We rode on slowly past the crowd and a dreadlocked rastafarian man handed us some mangoes. Action from the authorities was definitely forthcoming when several trucks with armed police sped by in pouring rain further down the highway. Apparently it made the evening news.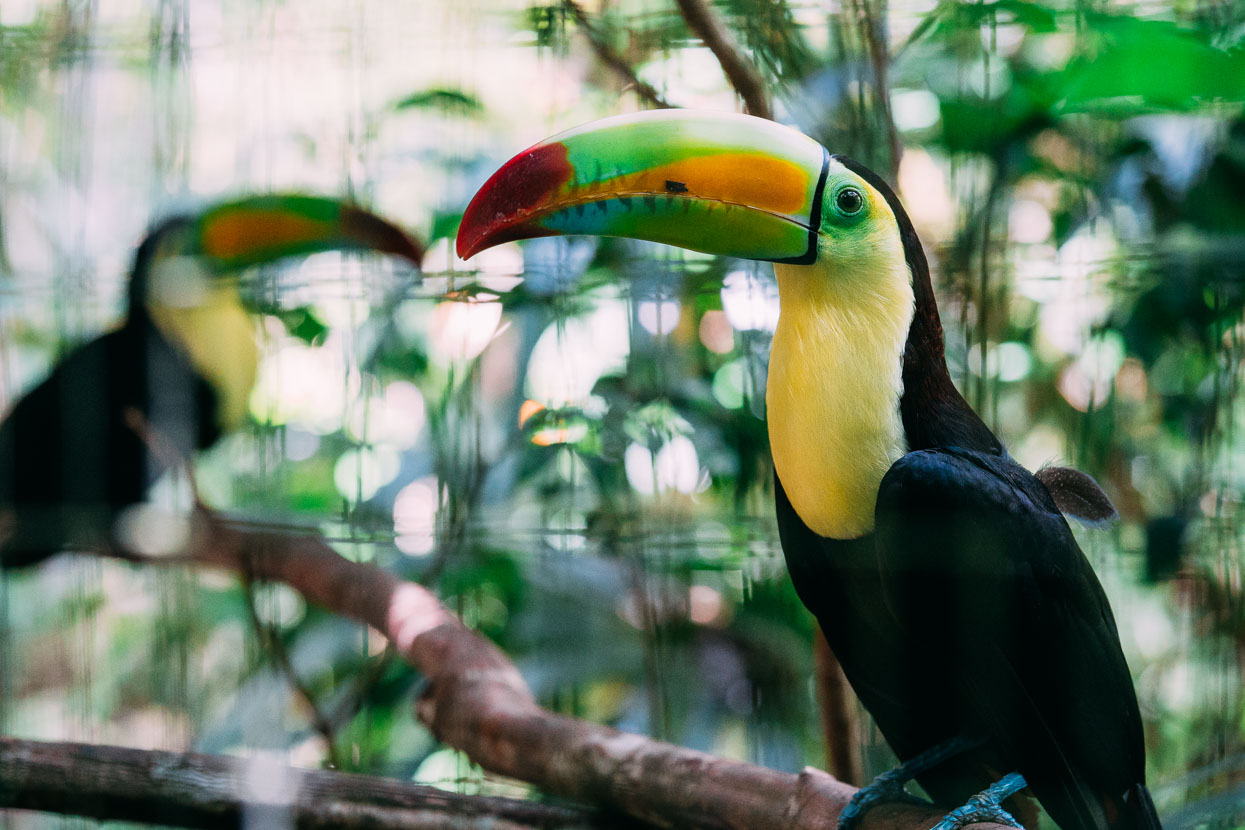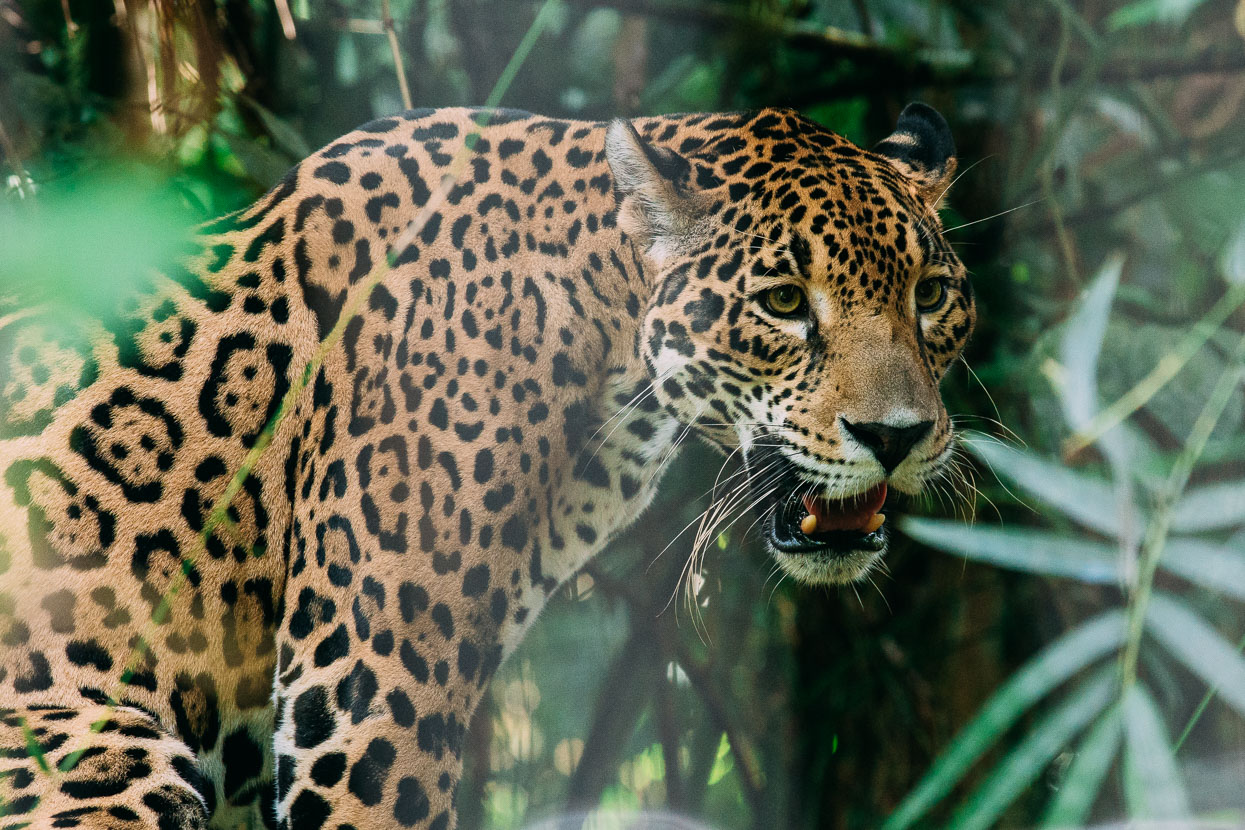 Belize is a small country with a relatively limited road network, so it's hard to get off the highways. That morning we'd made a snap decision to ride north and head to Belize City and the island of Caye Caulker (on the recommendation of Marge and Tom). On the way we stopped for the night at the Tropical Education Centre, which provides camping, rooms, food and wifi, just up the road from Belize's Zoo. We're not fans of zoos generally, but the Belize Zoo started as a refuge for injured, rescued and relocated animals and has good policies. It doesn't have any animals that don't already thrive in the region, so there is no need to create fake environments. Although we'd already seen some of the animals they have there in the wild, it was nice to see a tapir closer up, king vultures, scarlet macaws, and of course the animal king of Central America – the jaguar.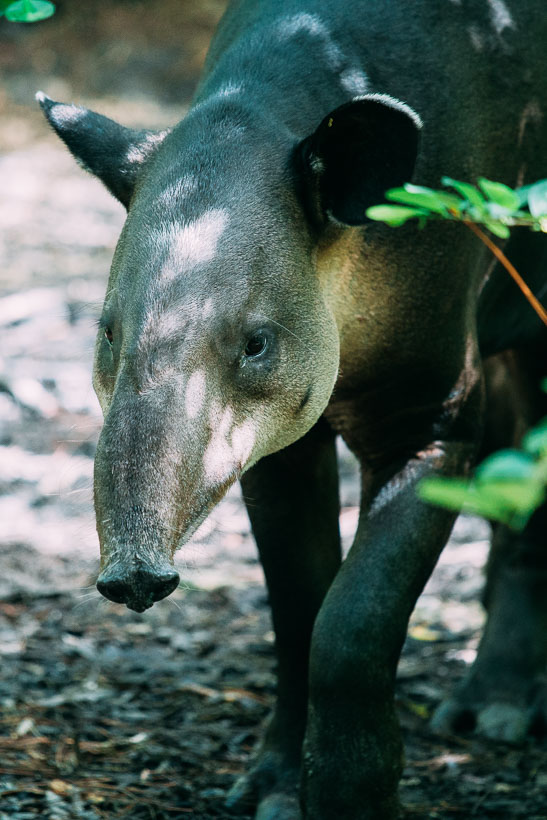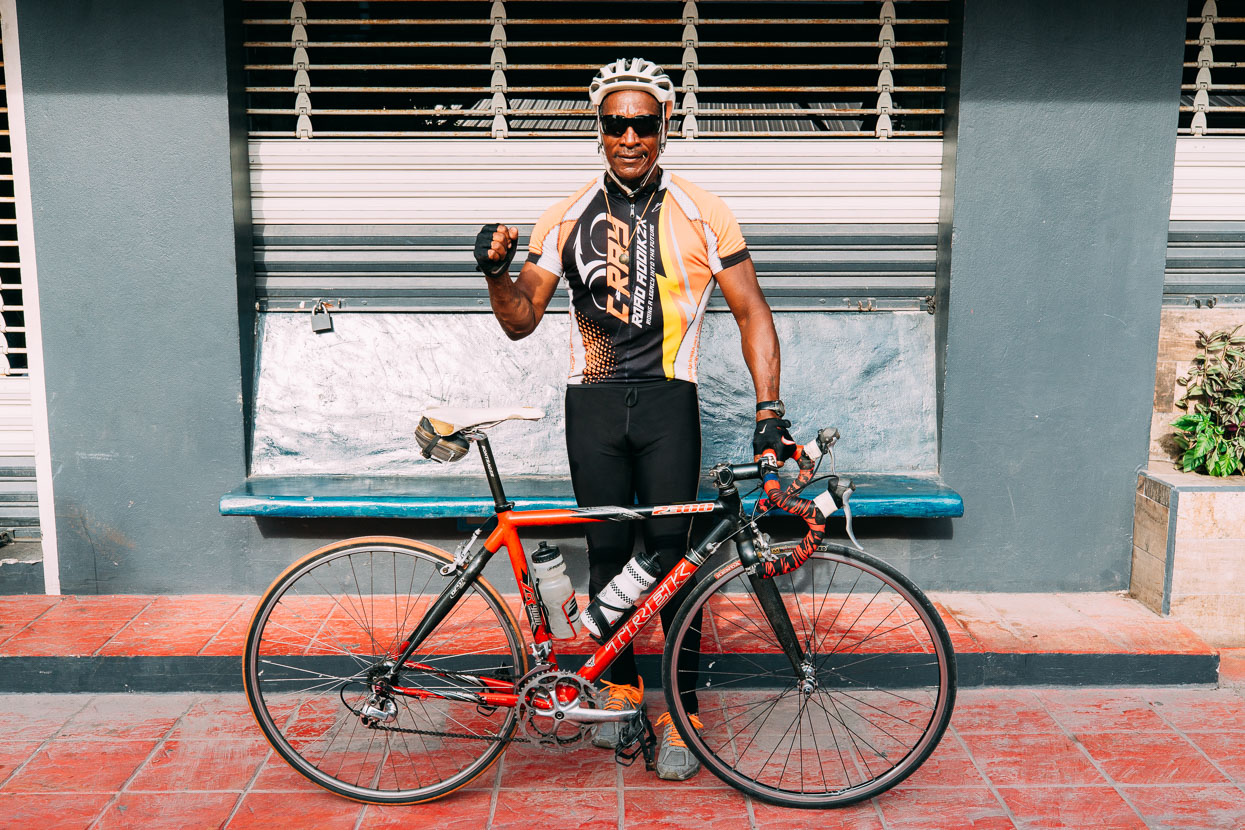 On the ride towards Belize City we were passed by some fragments of Belize's National Road Championships battling into a headwind. Ashly, a Creole and road racer of many years, rode with us for a while and then escorted us around the city while we picked up some supplies for our stay out at Caye Caulker. A good thing considering Belize City's reputation for crime and the fact that it was a Sunday. We left on the ferry with a bleak impression of the city. It had been virtually deserted, seeming populated only by drunks and homeless people lying in piss-stinking alleyways and foyers.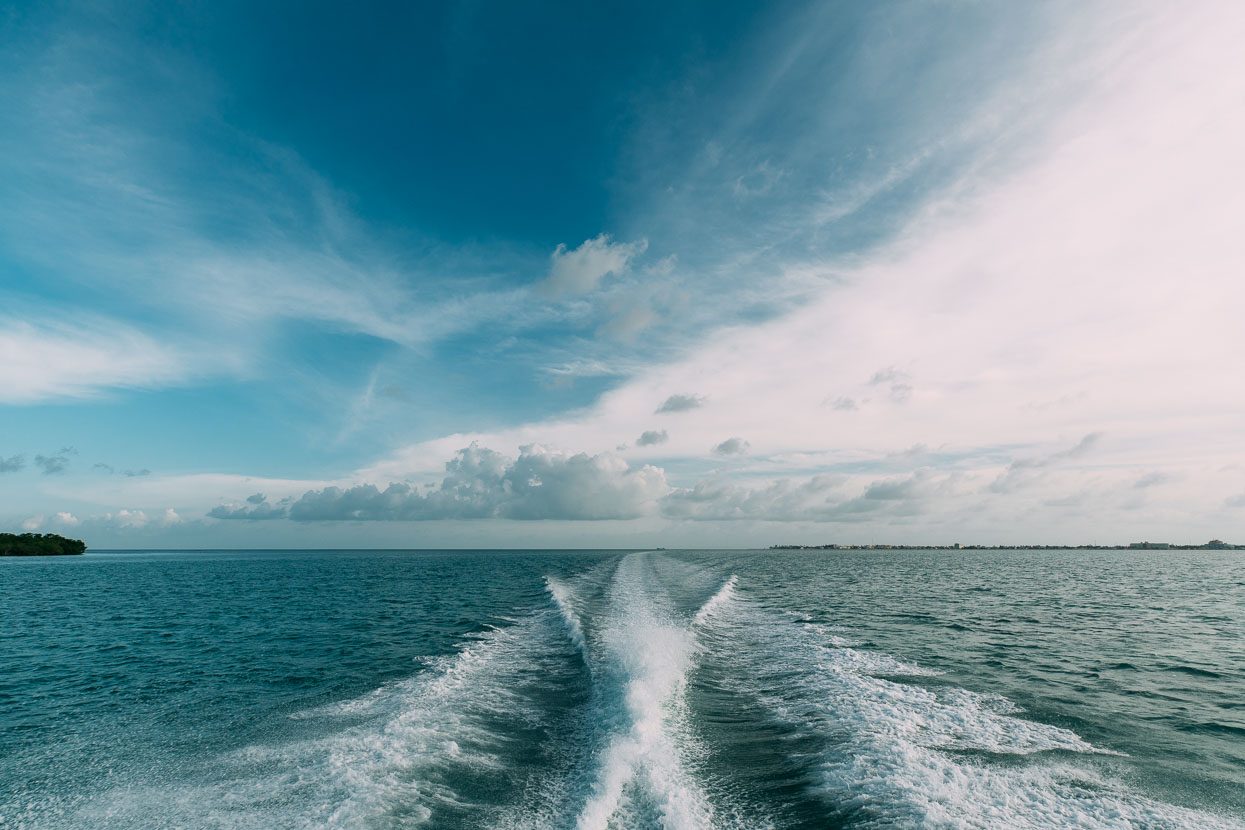 Caye Caulker's a small village on a reef island adjacent to Belize's Barrier Reef and part of a long stretch of cayes that parallel the coast of northern and central Belize. It's a Creole fishing village turned tourist destination and its two faces seem to coexist – the tourists bringing income and need for infrastructure, but without too heavily diminishing from the character that made the caye a spot to visit in the first place. There's no cars, just golf carts, bicycles and a couple of supply vehicles. Most people coming to the caye visit for boat trips out to Hol Chan Marine Reserve, where exceptional sea life can be seen via diving or snorkelling. We headed there for a four night stay, not wanting to miss the opportunity to check out some Caribbean sea life.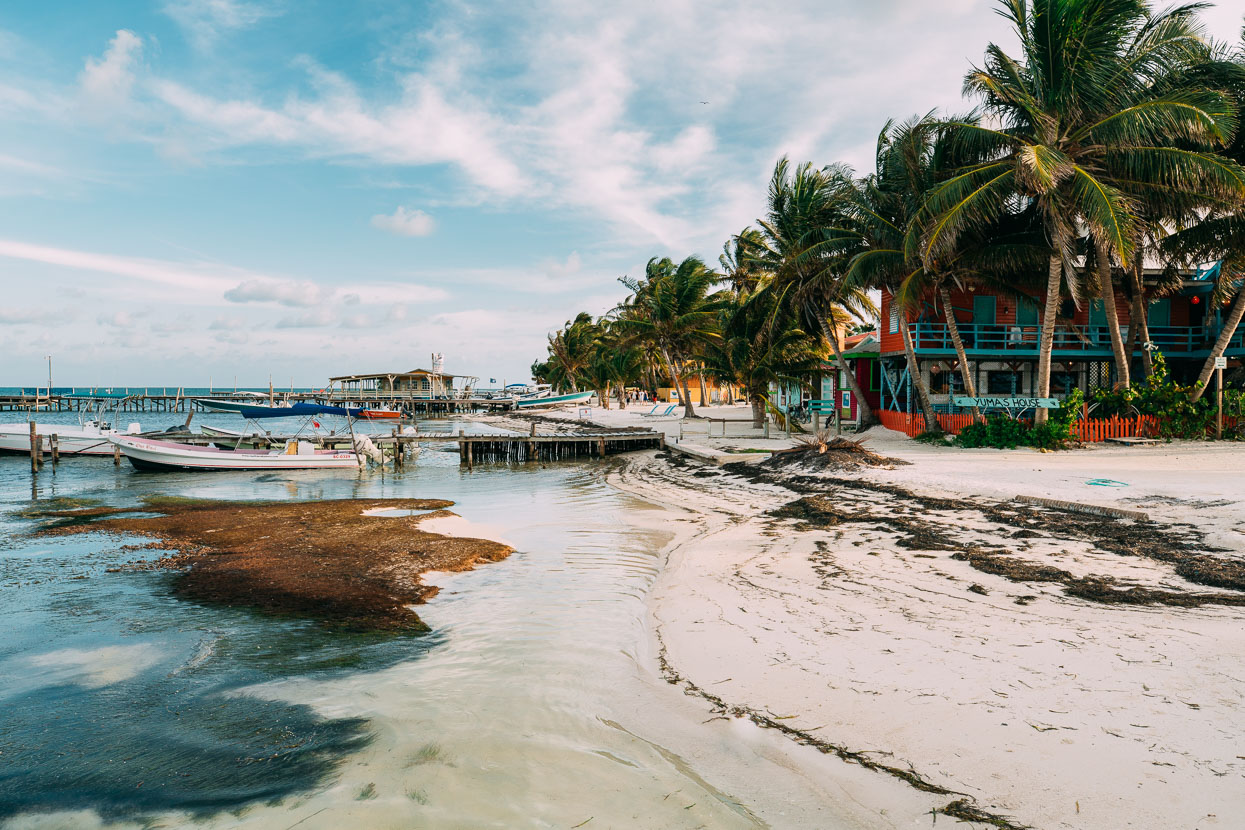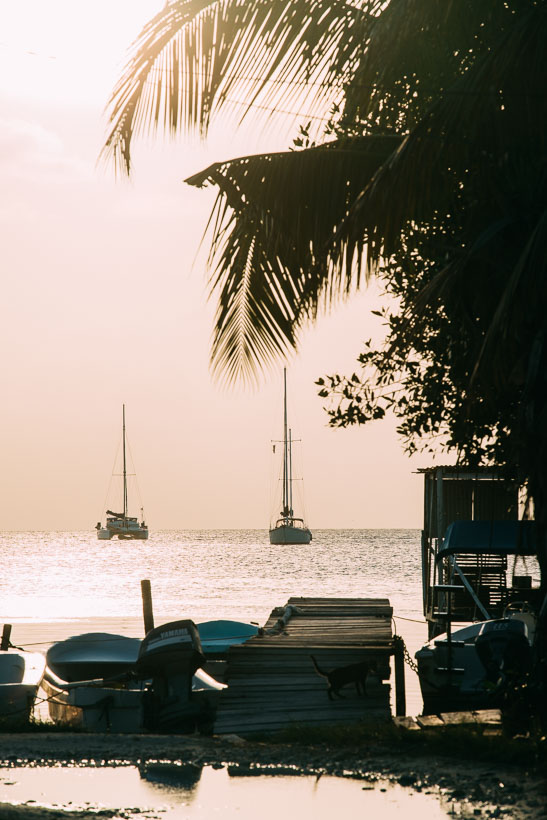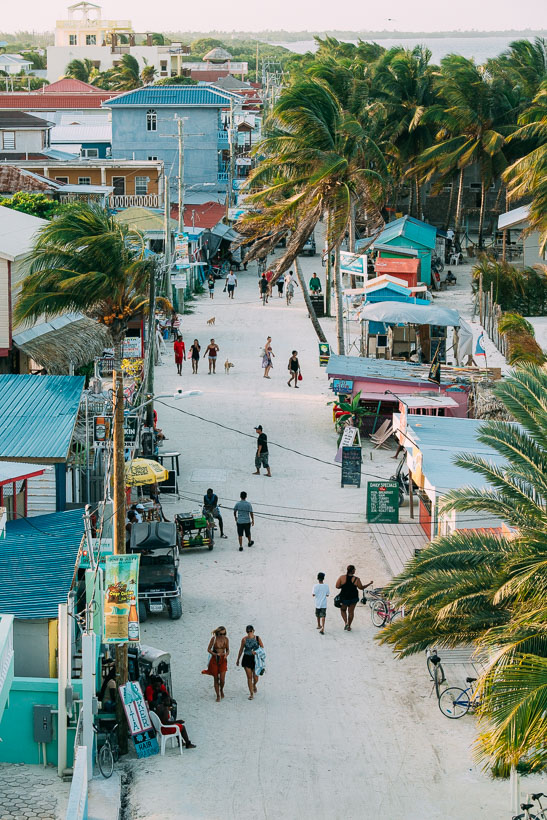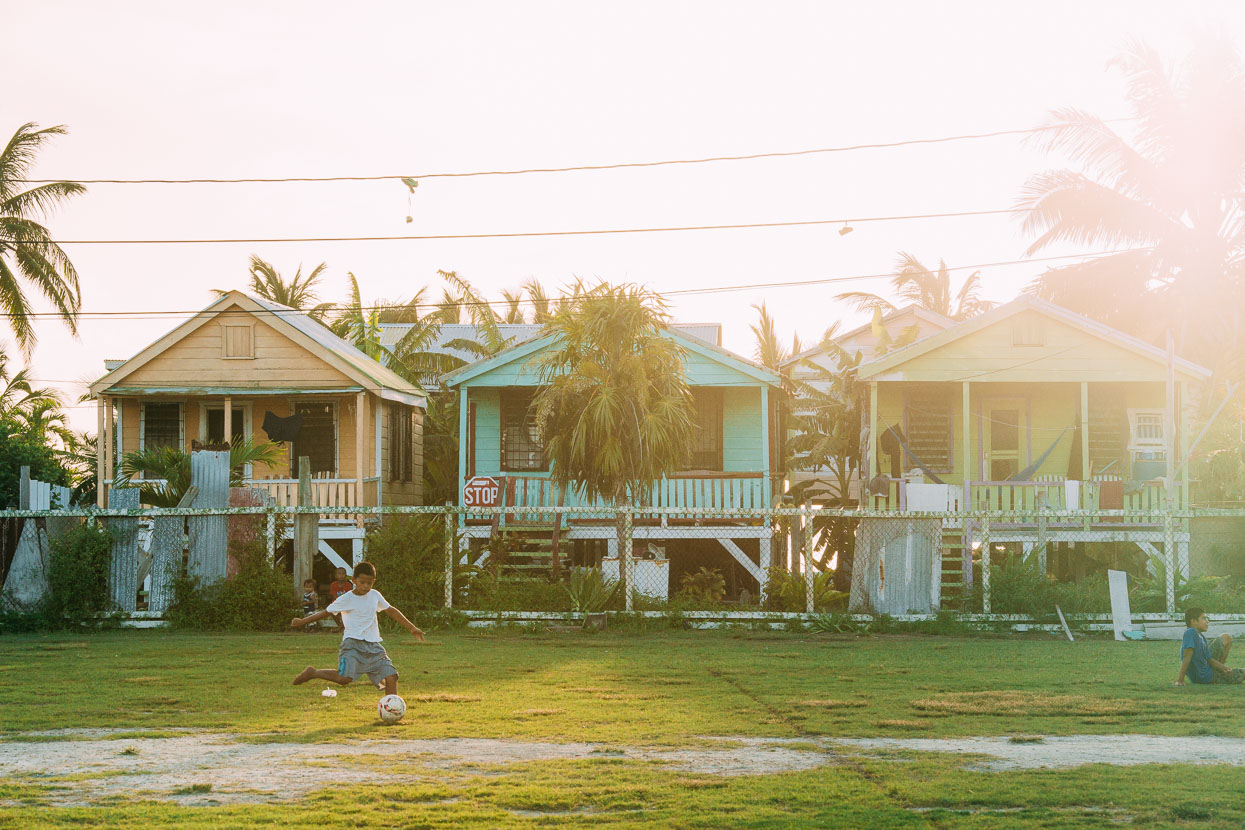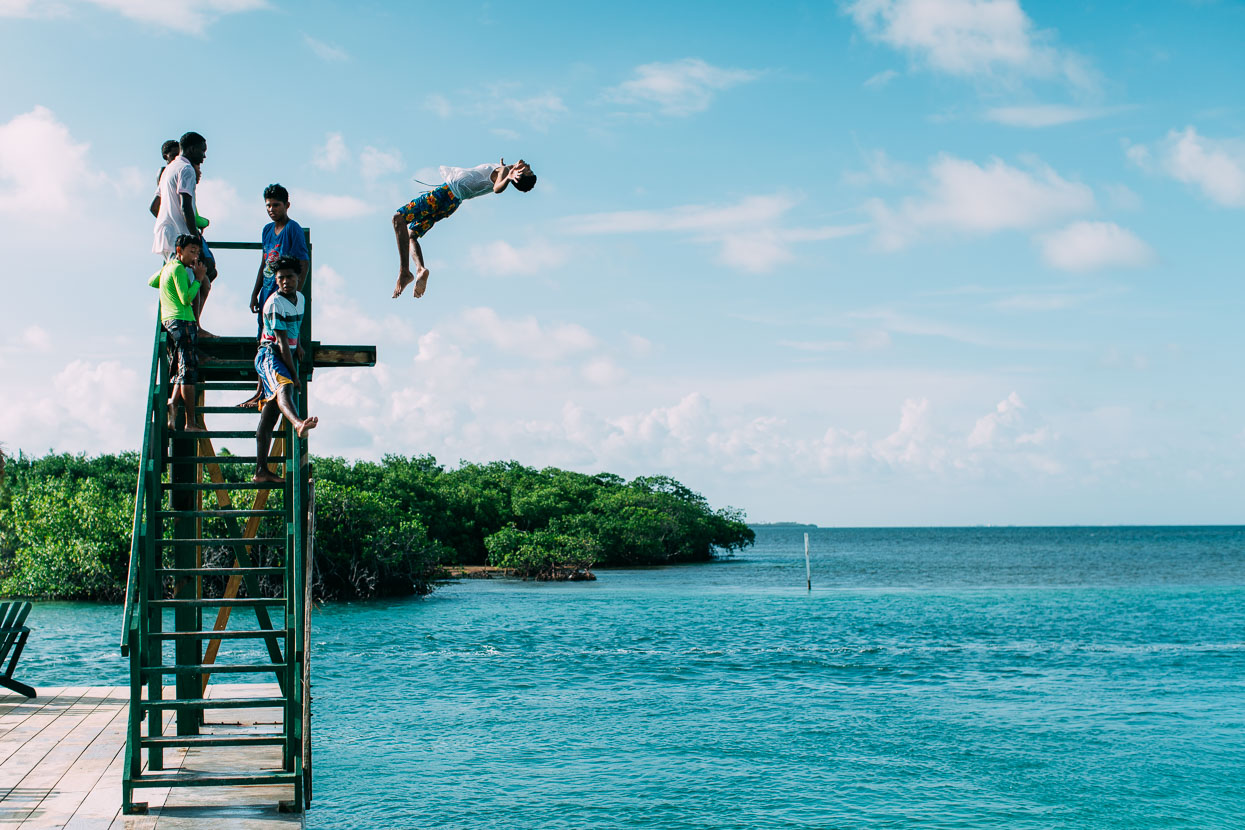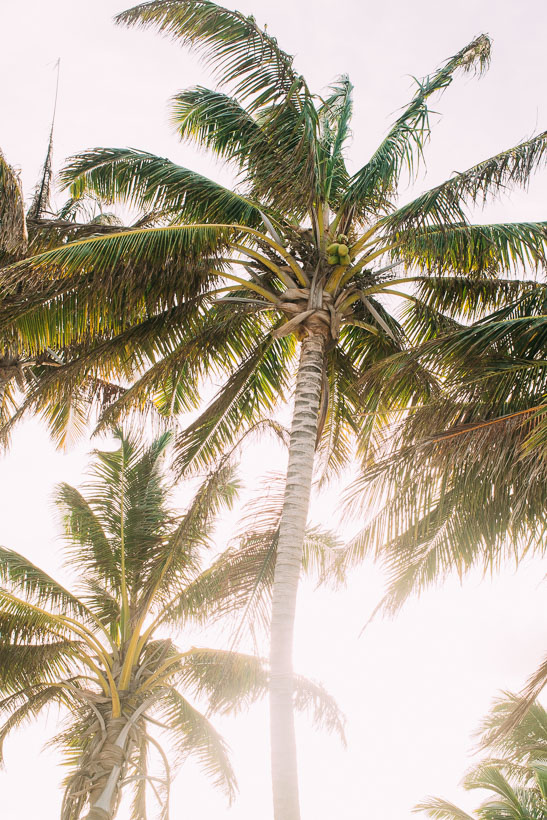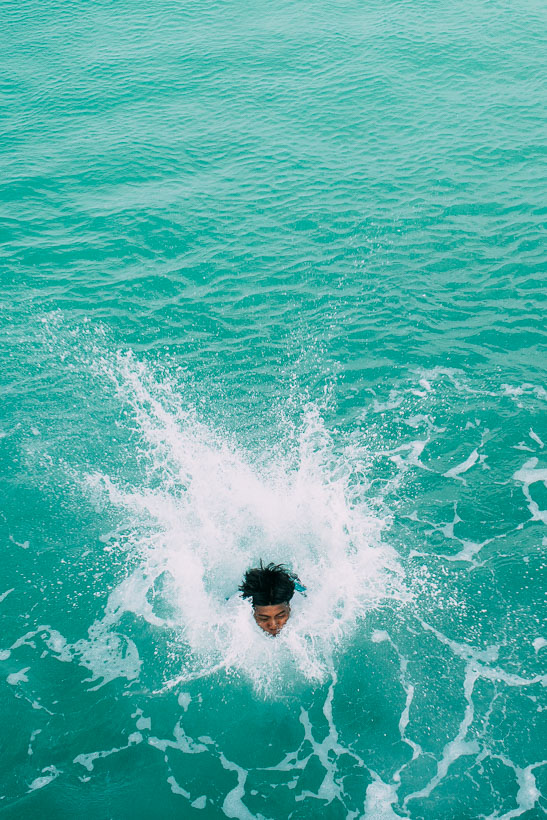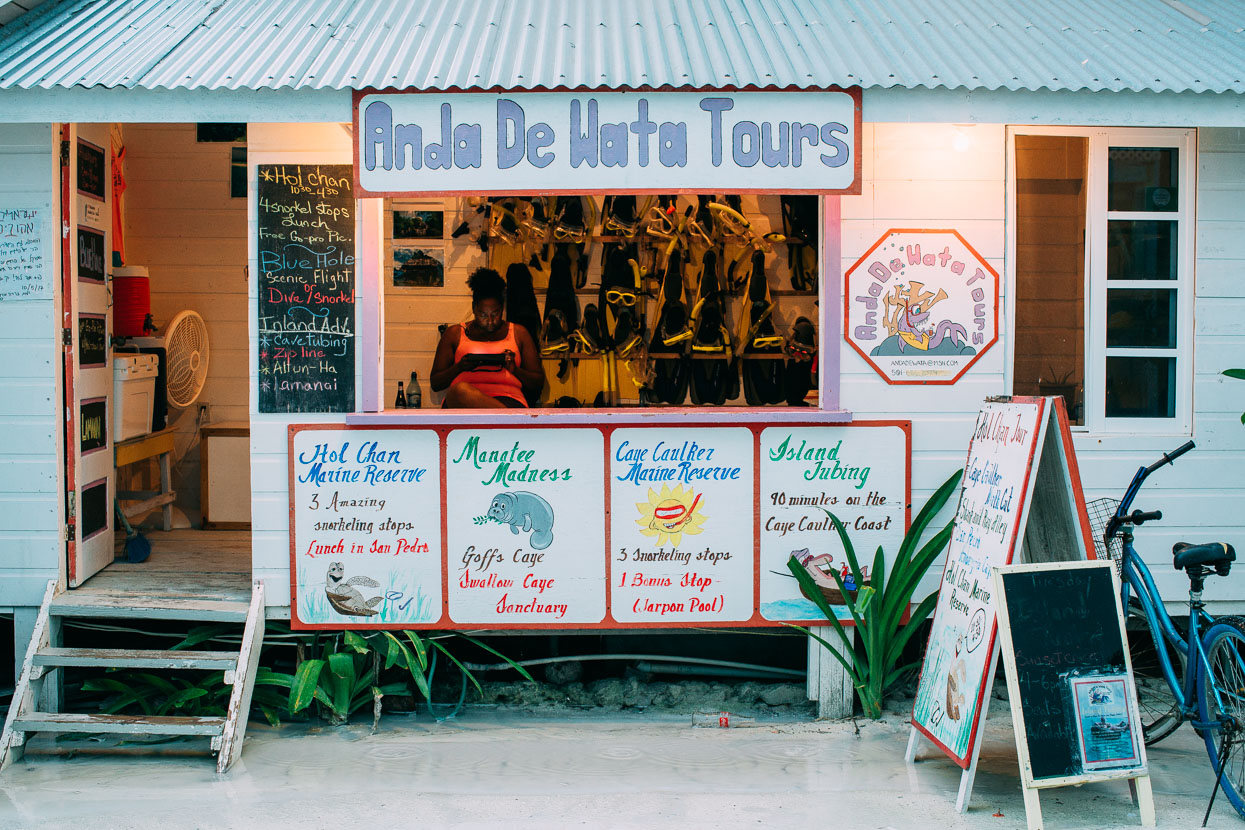 We took a day trip to the marine reserve with Anda De Wata (can you translate the Creole?). It was totally worth it, with close encounters with Loggerhead Turtles, nurse sharks, a large moray eel, various sting rays and tons of different reef fish. We've snorkelled in tropical waters in six different countries and saw many creatures we haven't seen elsewhere. The tour took us to four different locations, including a sunken barge, so there was plenty of variety.
The video below is just a small sample from one site.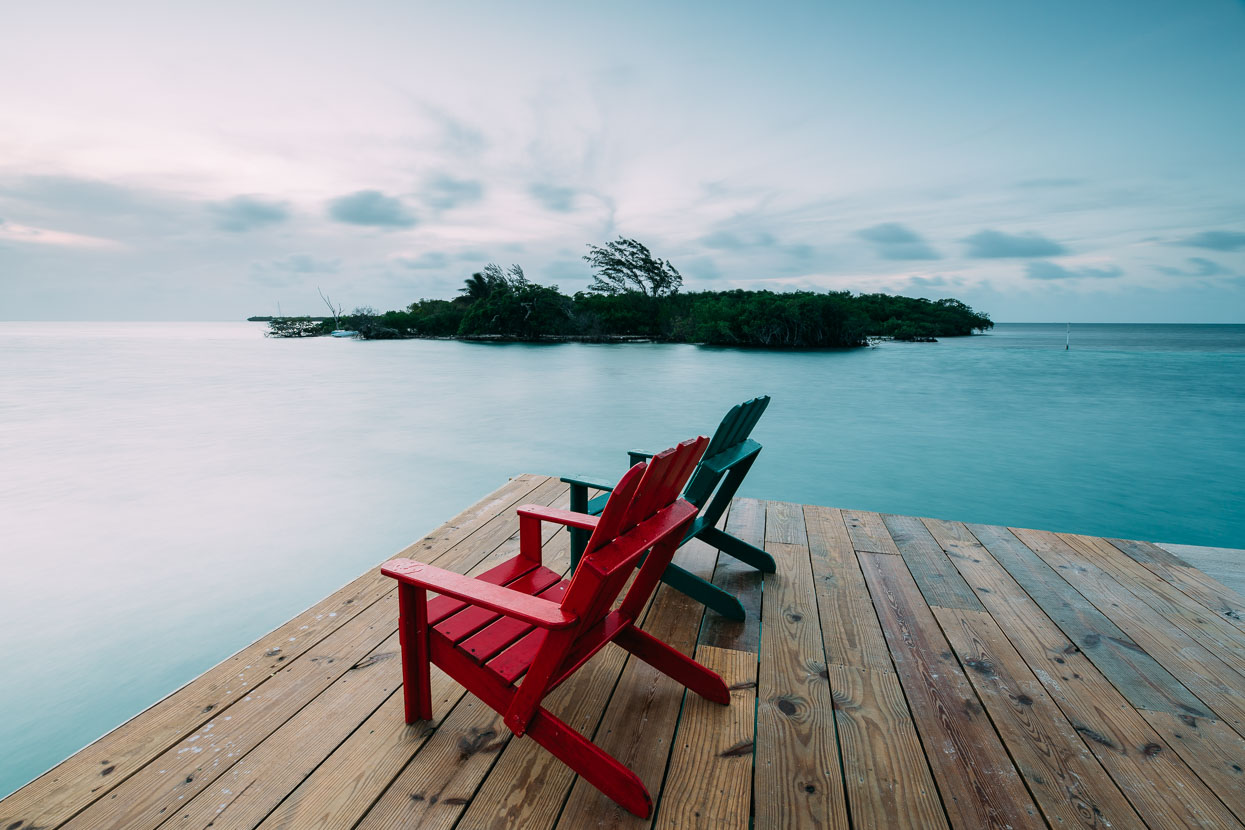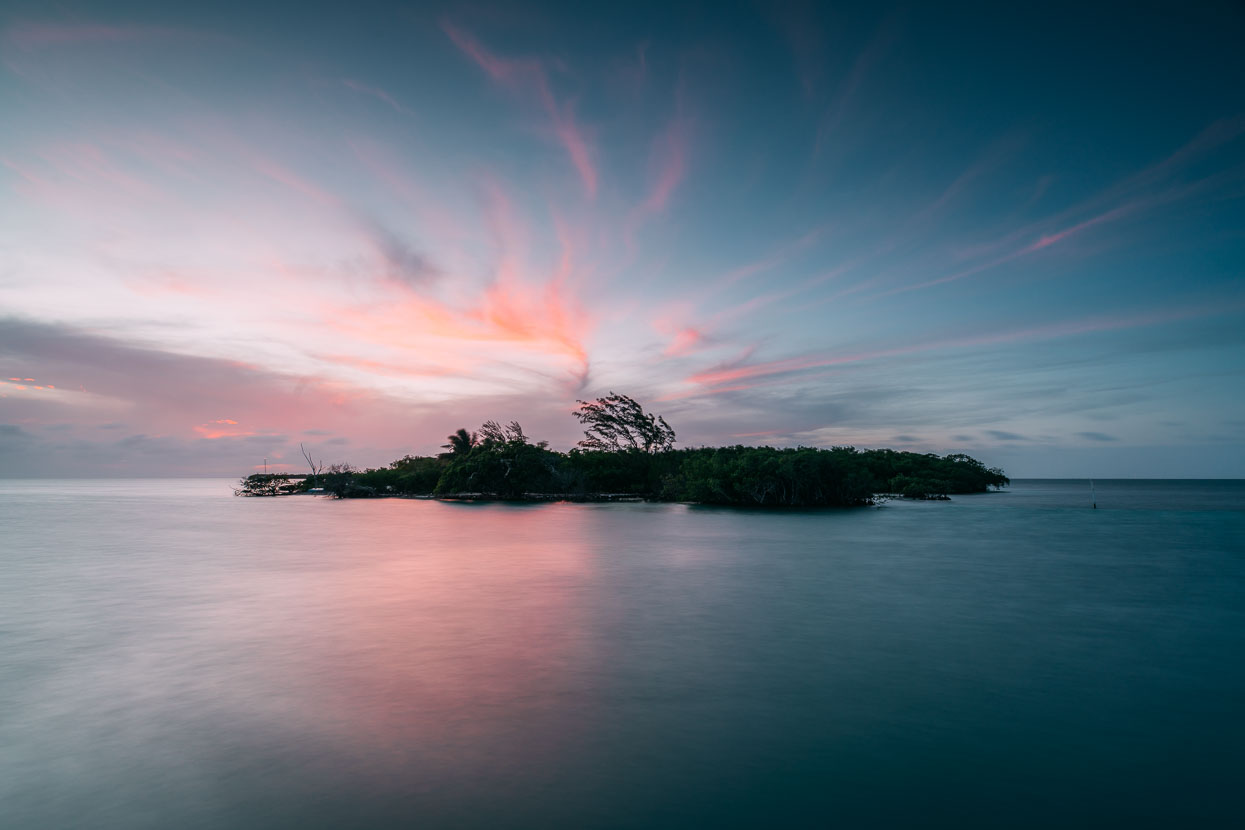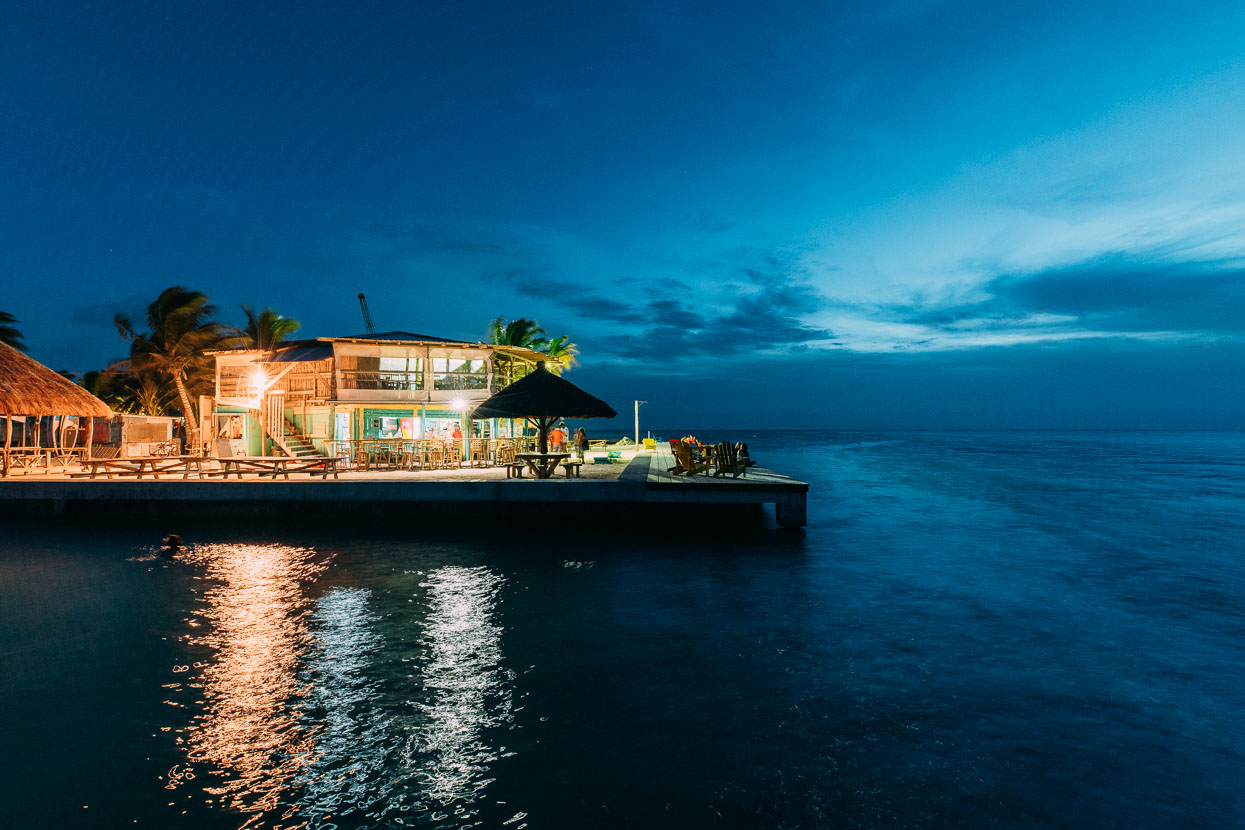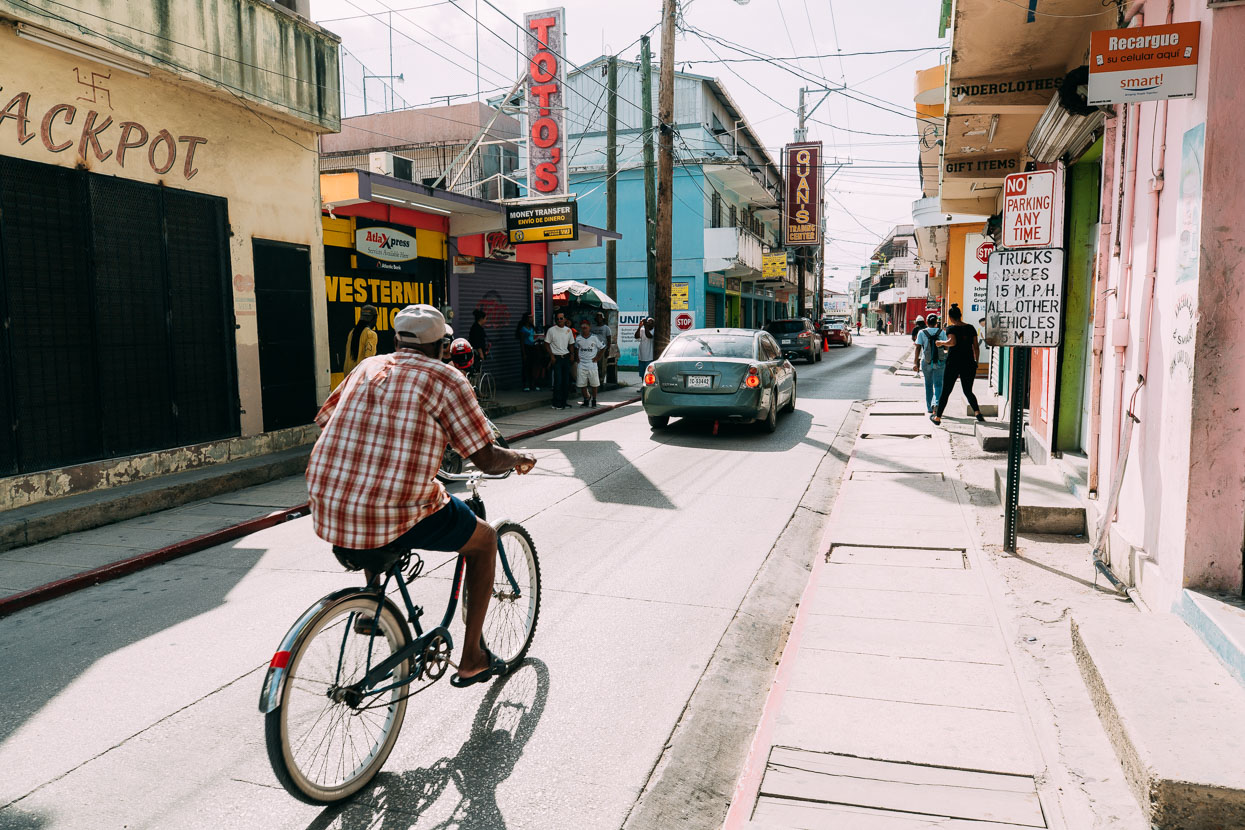 After four days we returned on an afternoon ferry (40 minutes) to Belize City. With a worsening tooth ache (plus a tooth broken a few weeks back) I decided to visit a dentist there. A deep abscess was discovered and I ended up having a tricky root canal done that evening, as well as other repairs and walked out of the clinic with a fistful of antibiotics and painkillers and a referral to get two crowns done when we get to Antigua. We spent the night in a hostel in a better part of town but generally found Belize City to be a bit more agreeable on a mid week morning than it had been on a Sunday afternoon. Still, we had no reason to linger and hit the road, enjoying the prevailing easterly tailwind as we sped down the highway.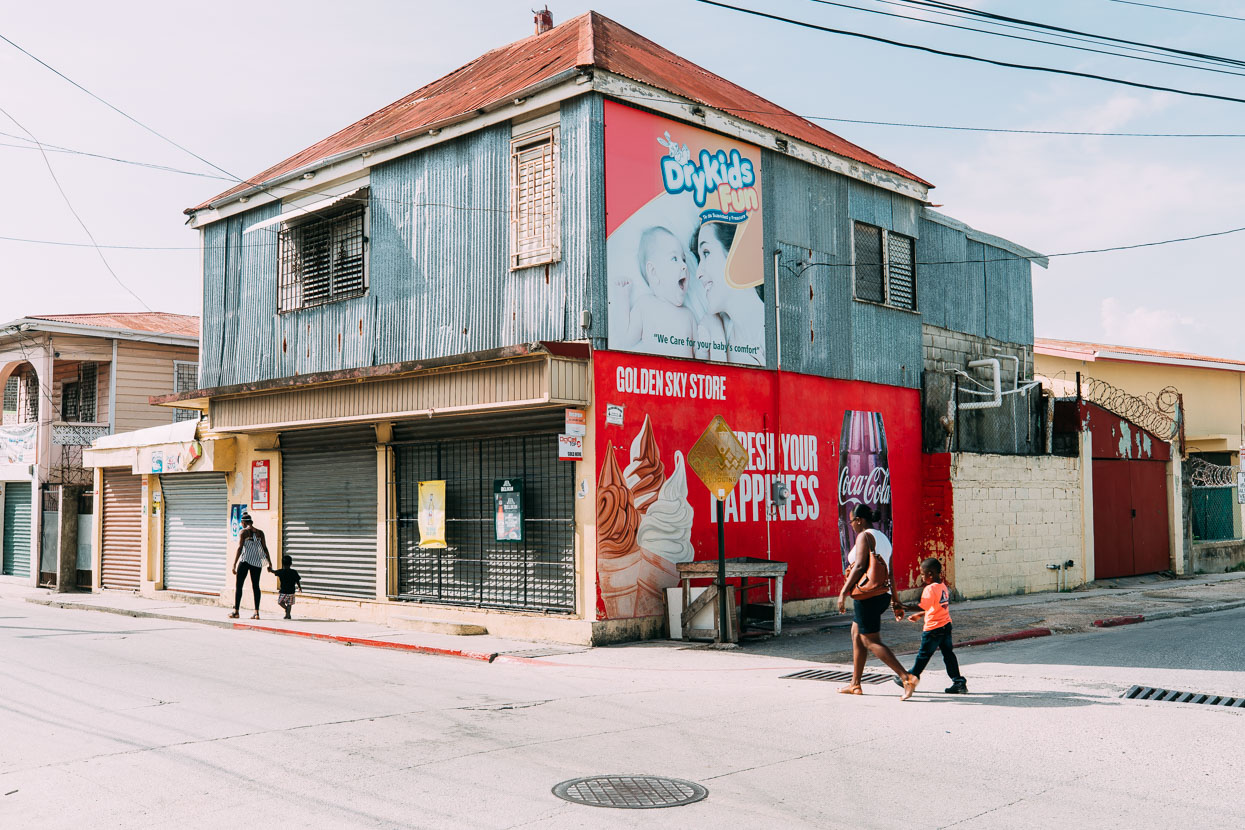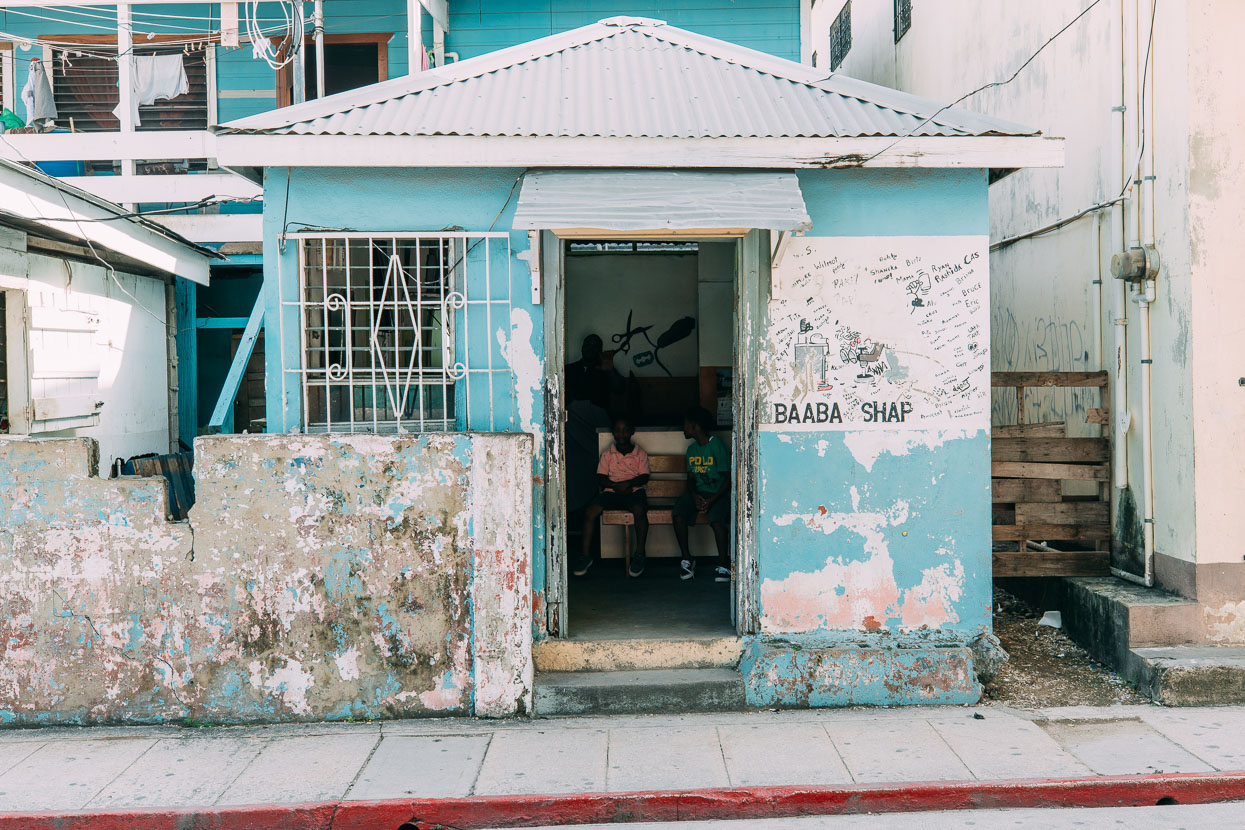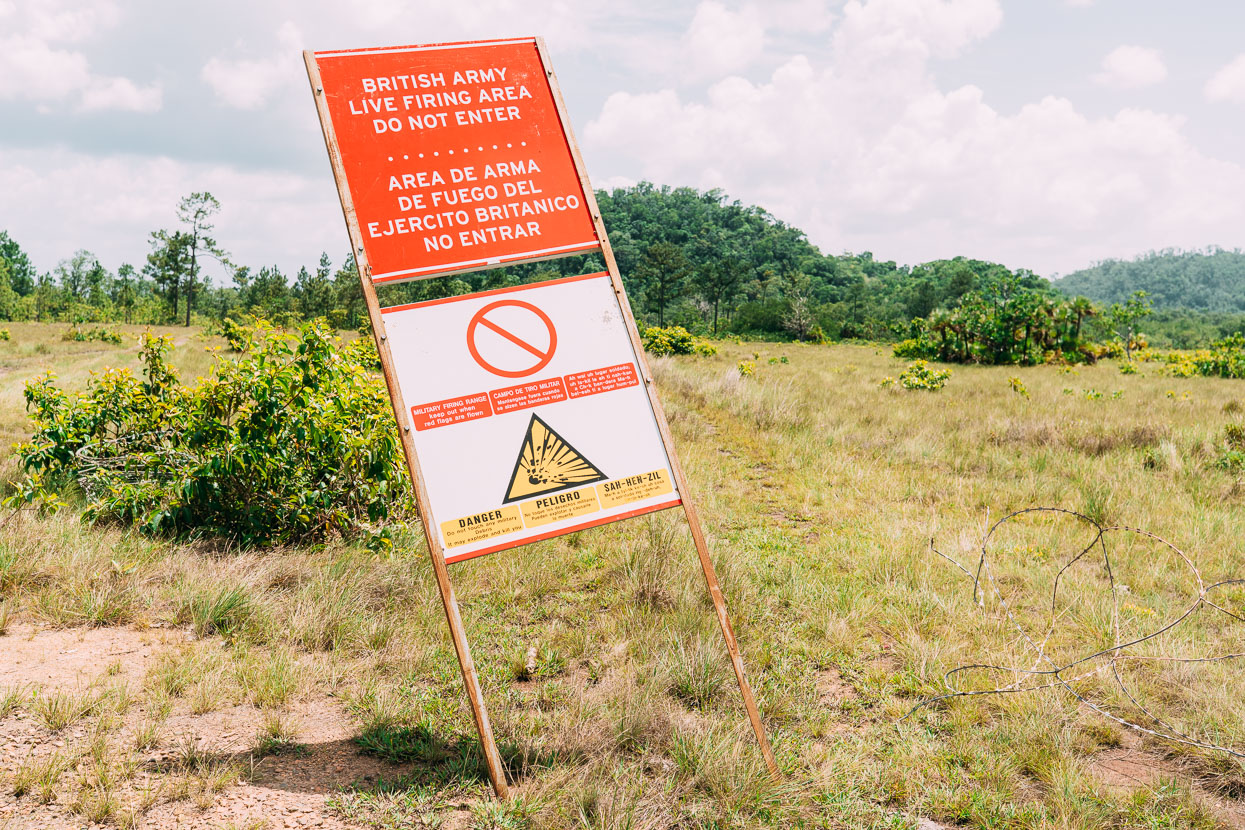 Belize's Hummingbird Highway is reputed to be the country's most beautiful road, but we couldn't face the thought of more pavement bashing. The Belize City – Belmopan road is busy, narrow and has no shoulder. We also wanted to avoid Belmopan, so we opted to get off the highway as soon as possible and took the unpaved 'Coast Highway' towards Gales Point and Hopkins, two Garifuna coastal villages. The road was a good option on fat tyres but might be tedious for the skinnier tyred tourer with its corrugations and pot holes.
Mostly the road traverses coastal lowlands, scrub and pine, but as it nears Gales Point jungle covered karst outcrops dot the land as Belize's southern mountains merge with the plain.
Below, through Belize we mostly buy purified water in small 400ml bags, bolsita (small bag) de agua, in Spanish, or pouch wata in Creole.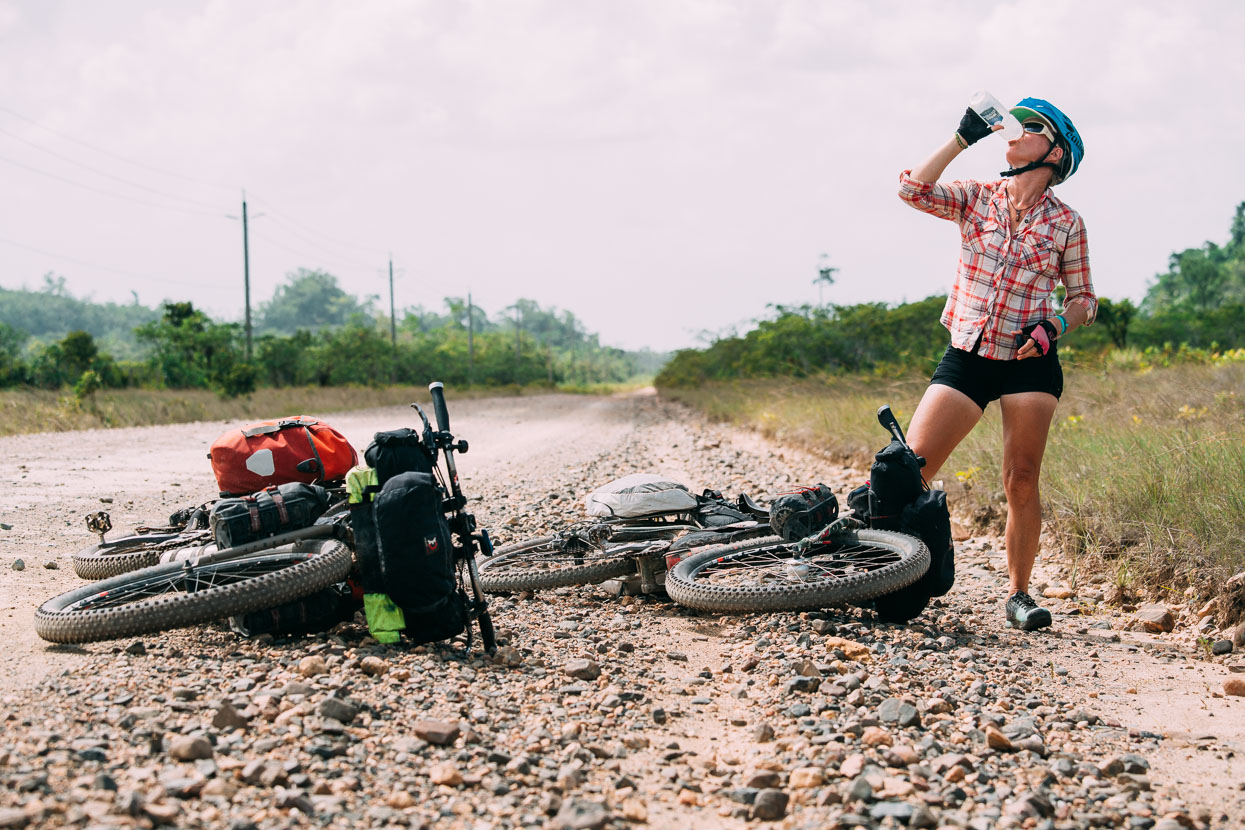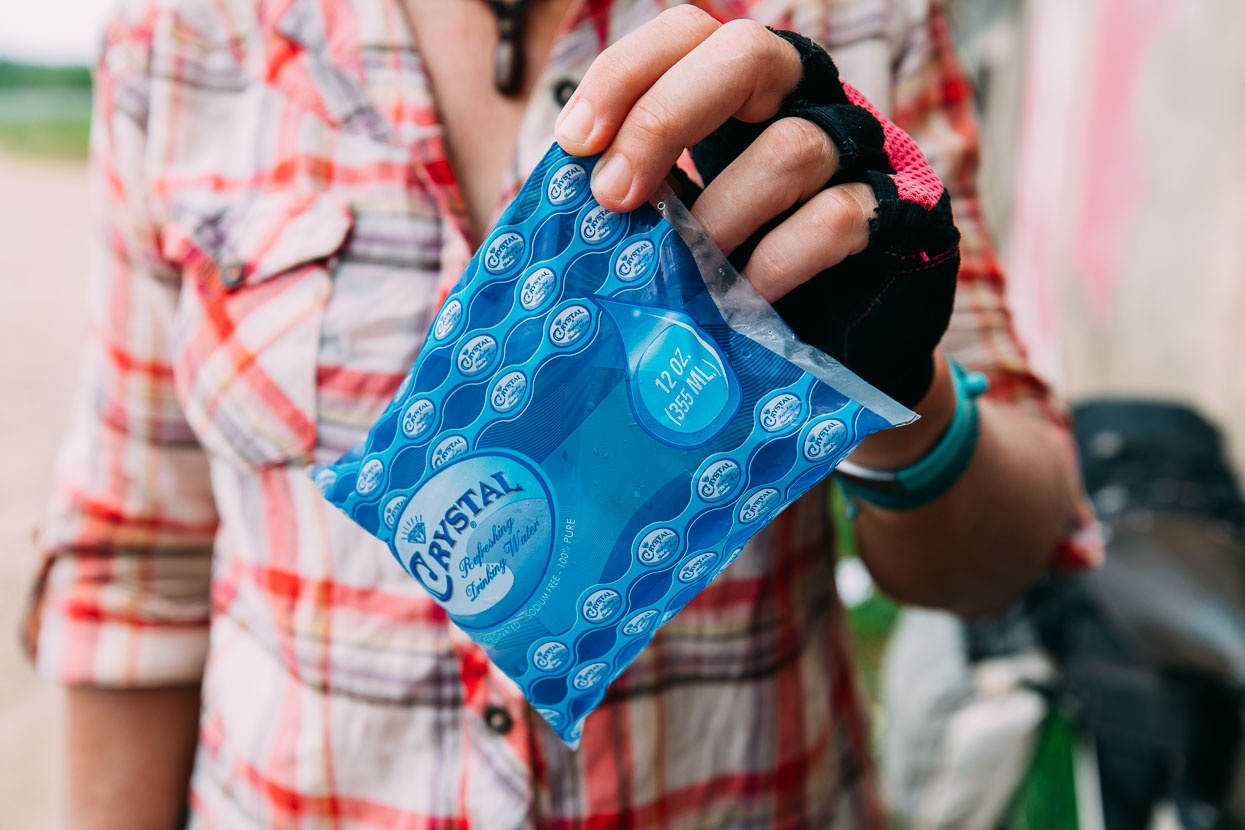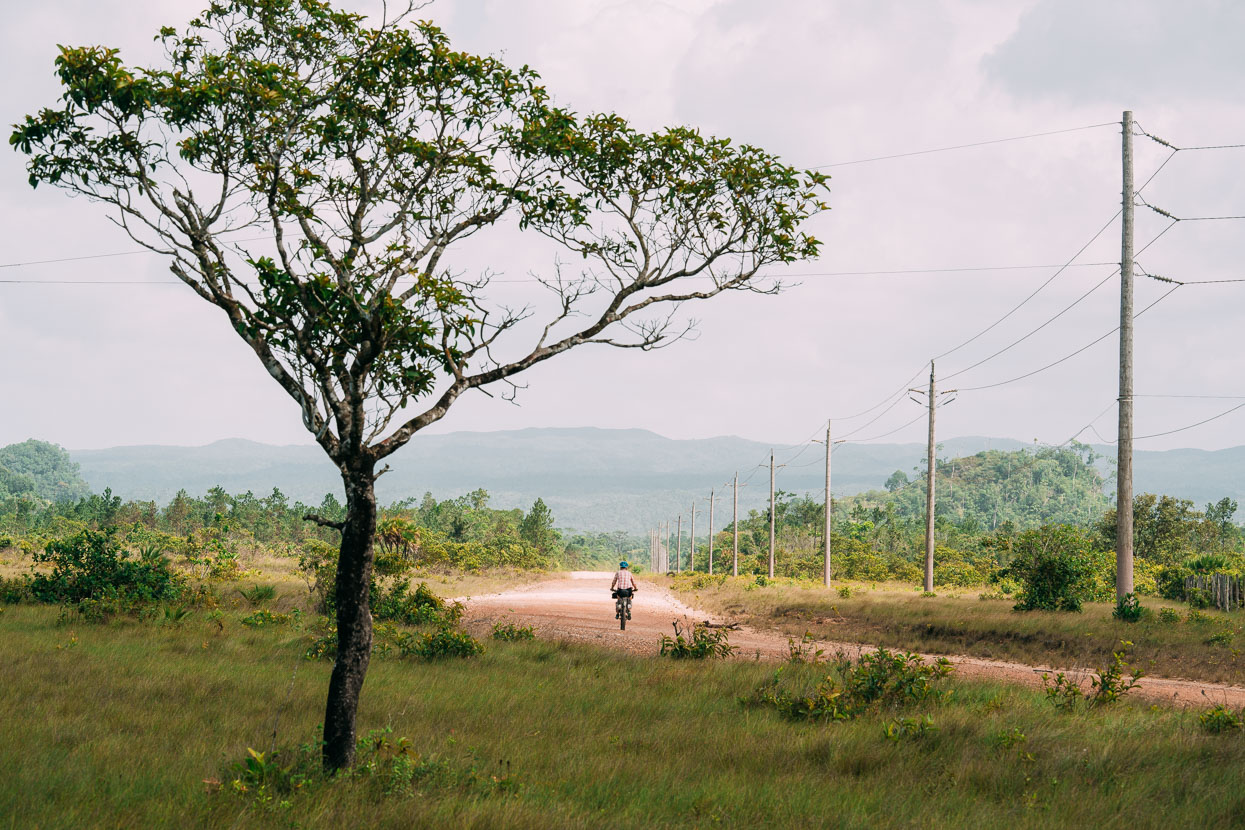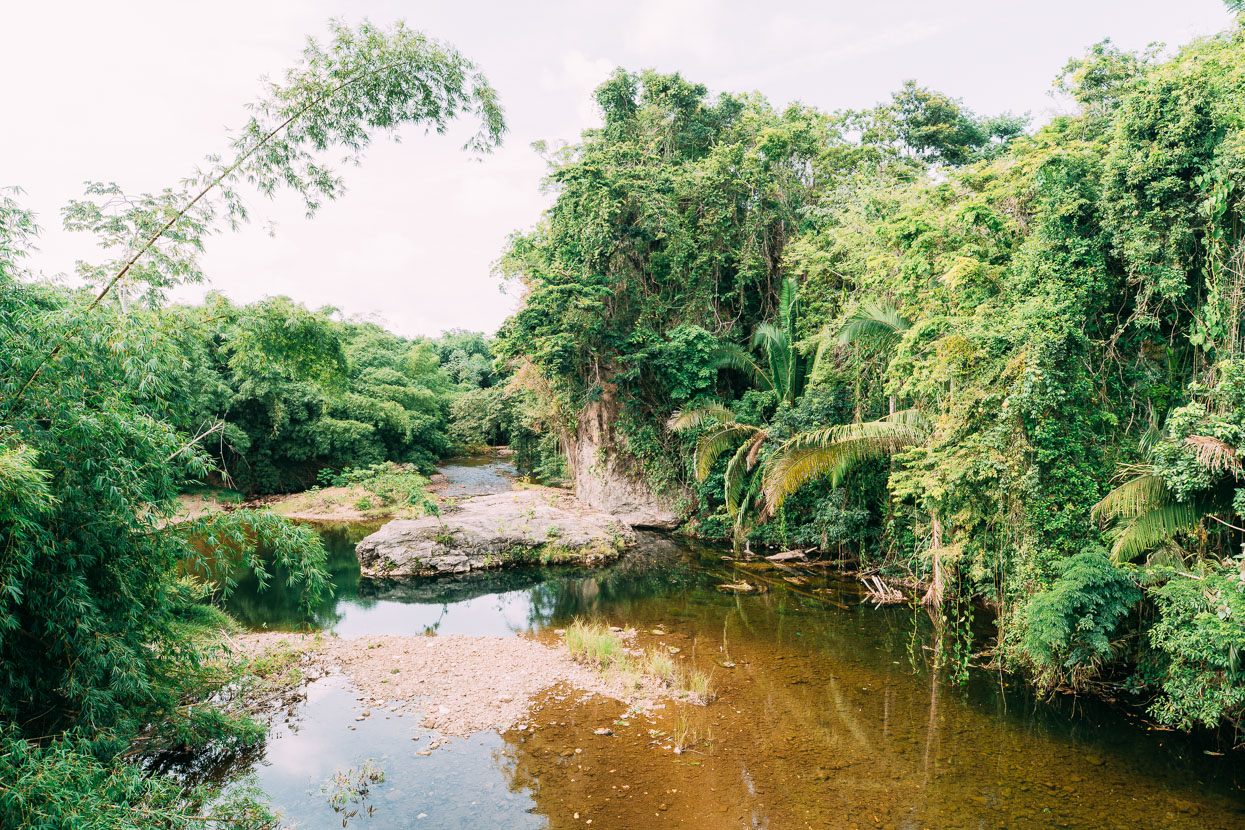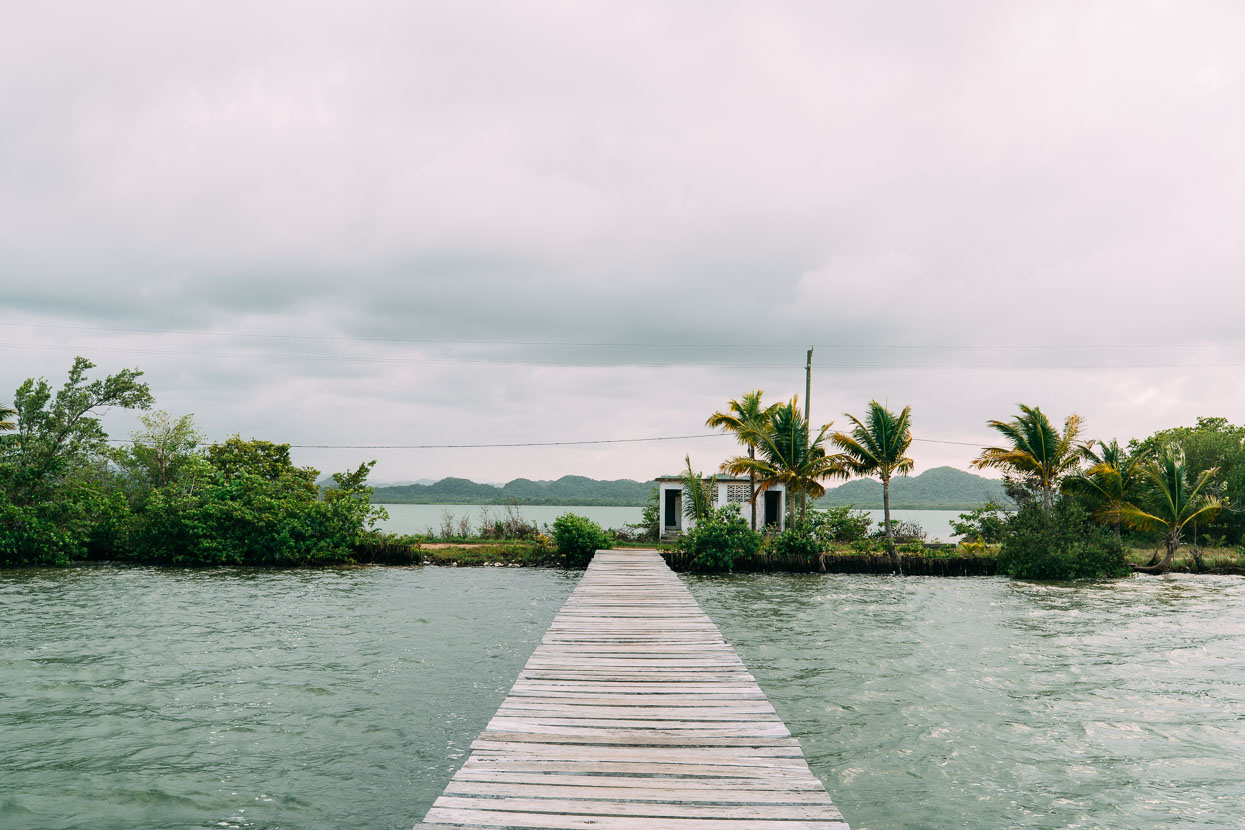 Gales Point occupies a needle-like spit that intersects a large lagoon. The village is scattered along its length in a haphazard way for a few kilometres and is probably best known as a place to come and see manatees (aka sea cows) a gentle herbivorous sea animal a bit like a large seal. We didn't want to do a tour though, so were just there to spend the night and check out a Garifuna village.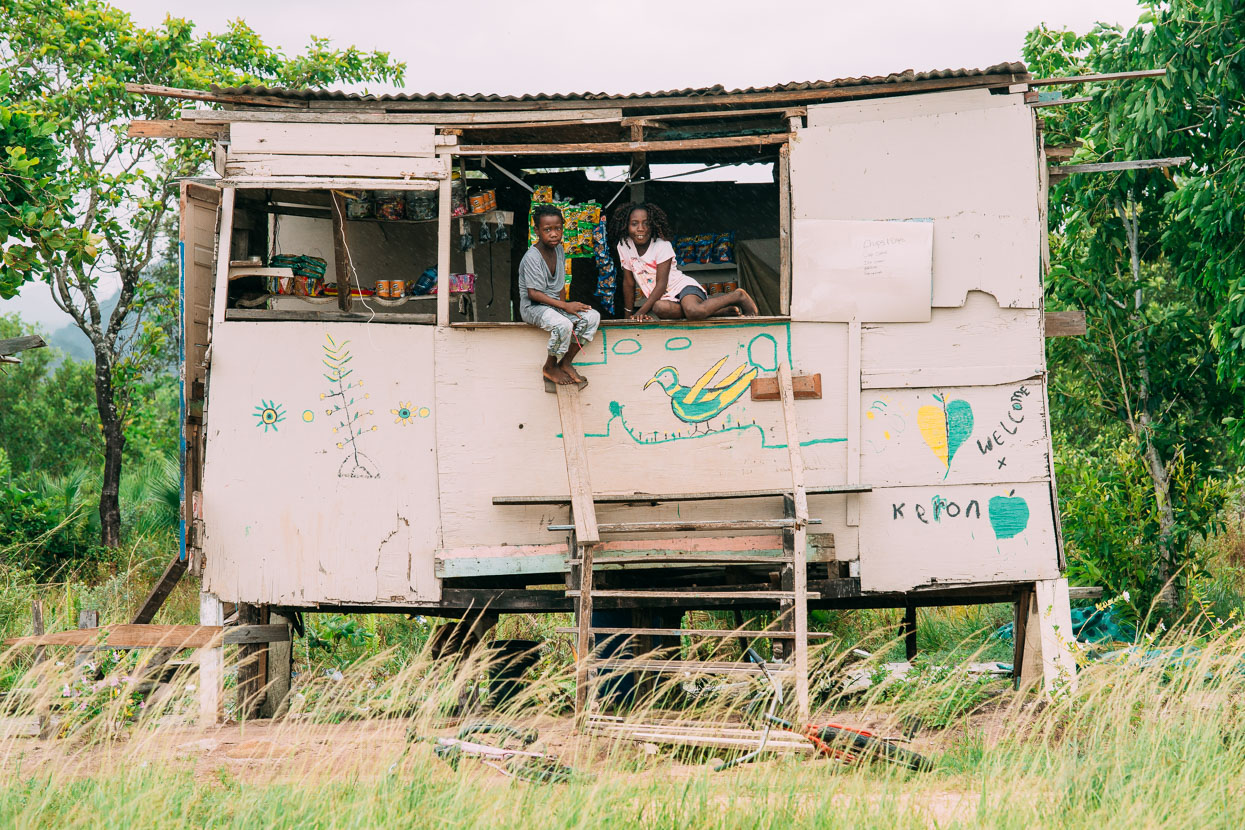 Hurricanes regularly take their toll here and a lot of the wooden buildings were very weather beaten, if not completely abandoned. This one was the first shop we saw in the village.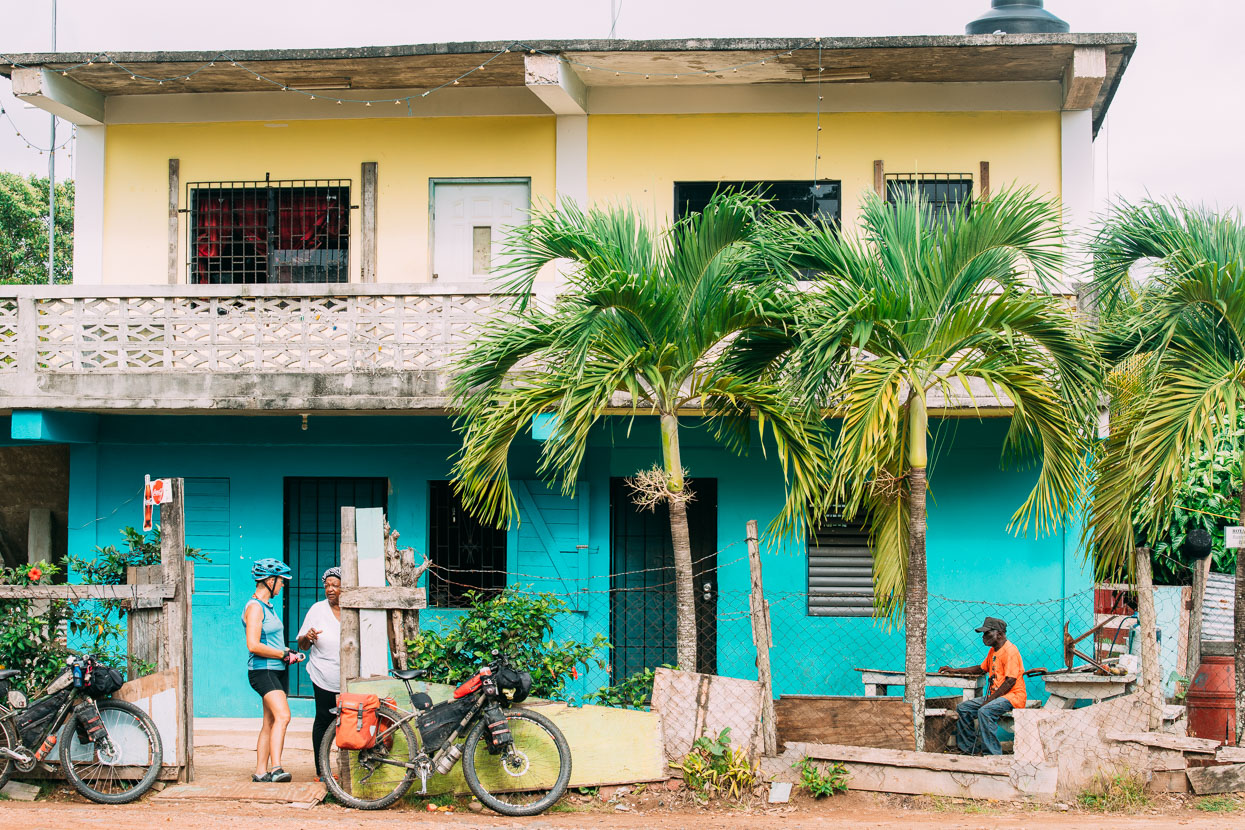 A larger shop a bit further along is run by the family of an ex town chairperson and JP. She shared a few stories with us.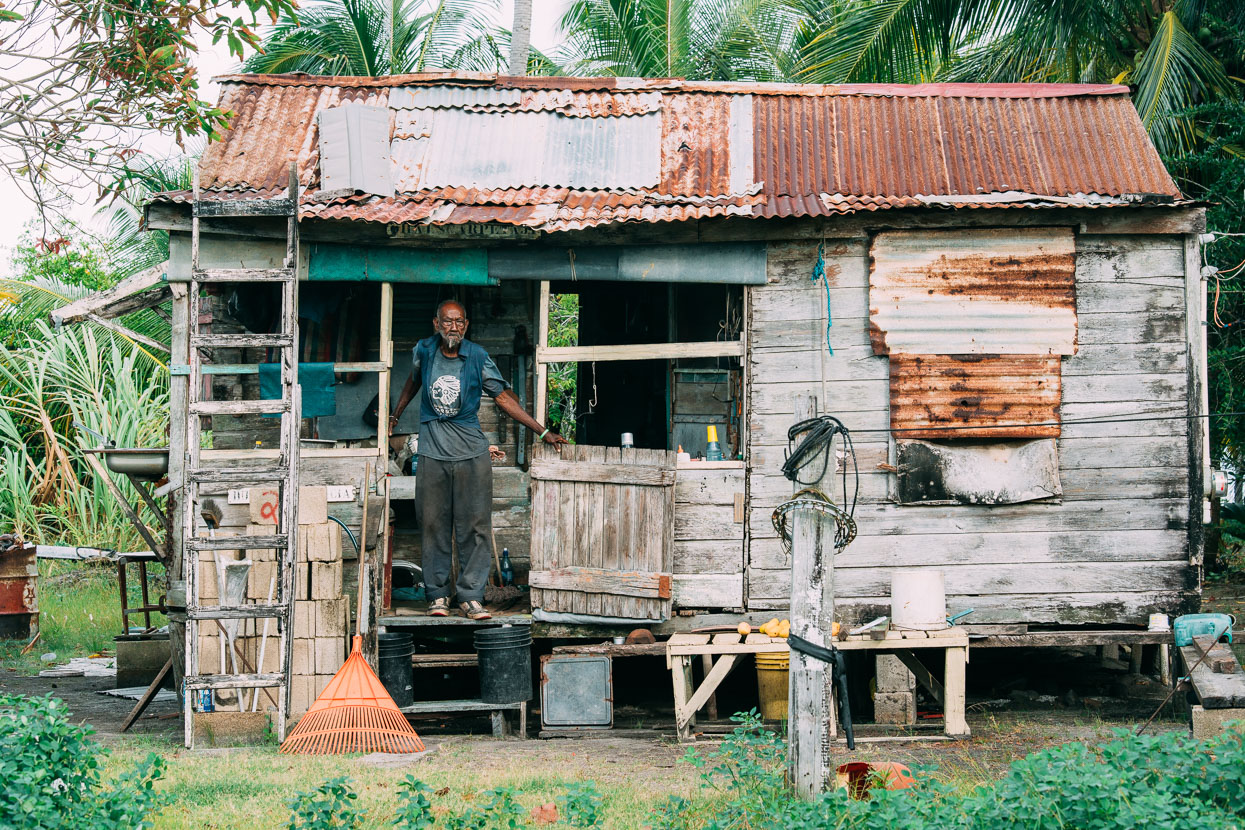 This man had lot of mangos on a bench outside his house but when we asked if we could buy some he just told us to take as many as we wanted. But we gave him a couple of dollars anyway.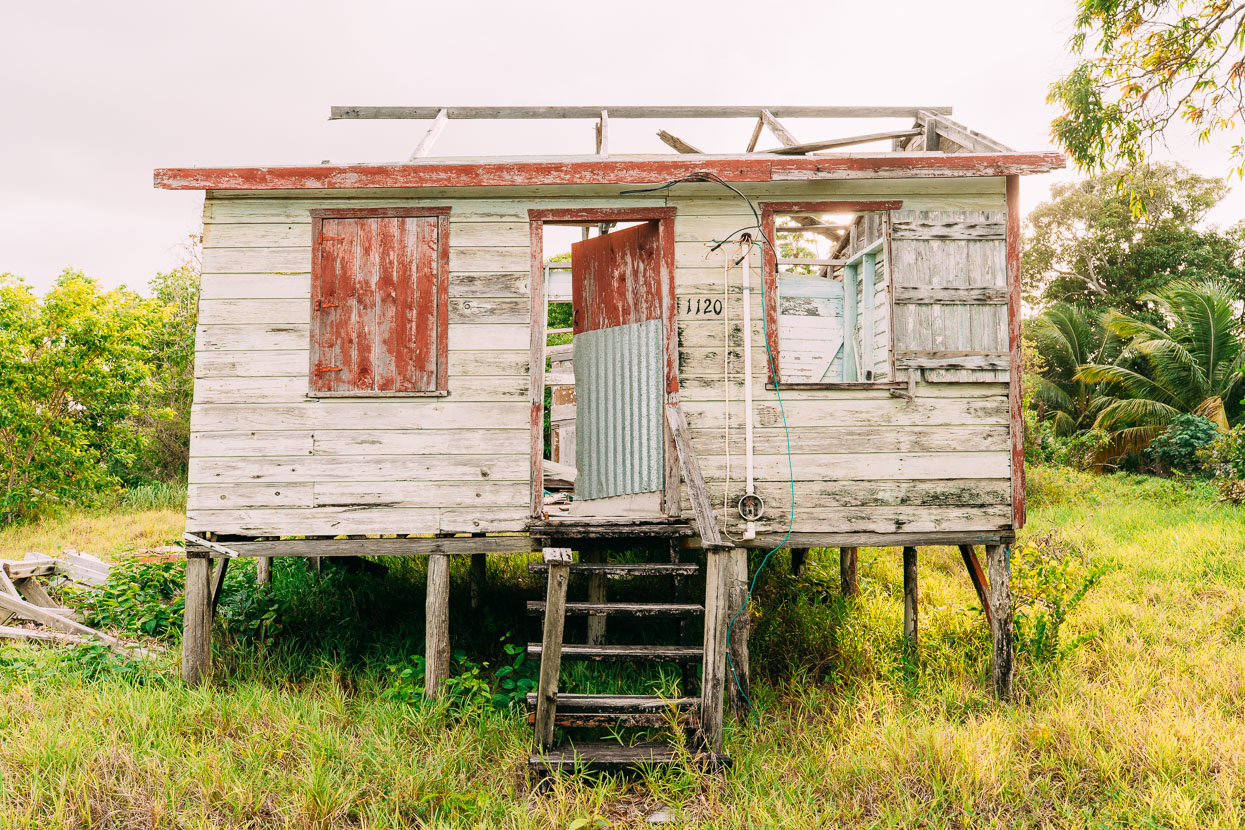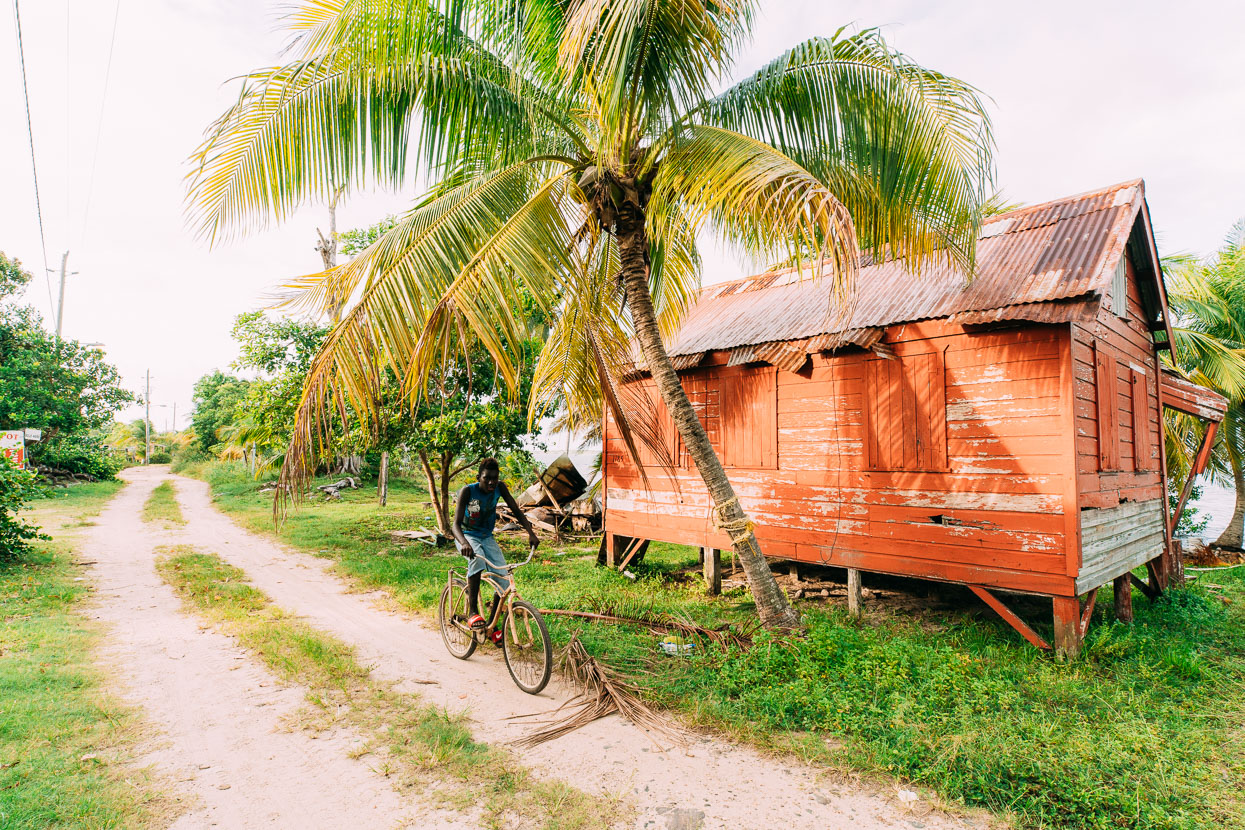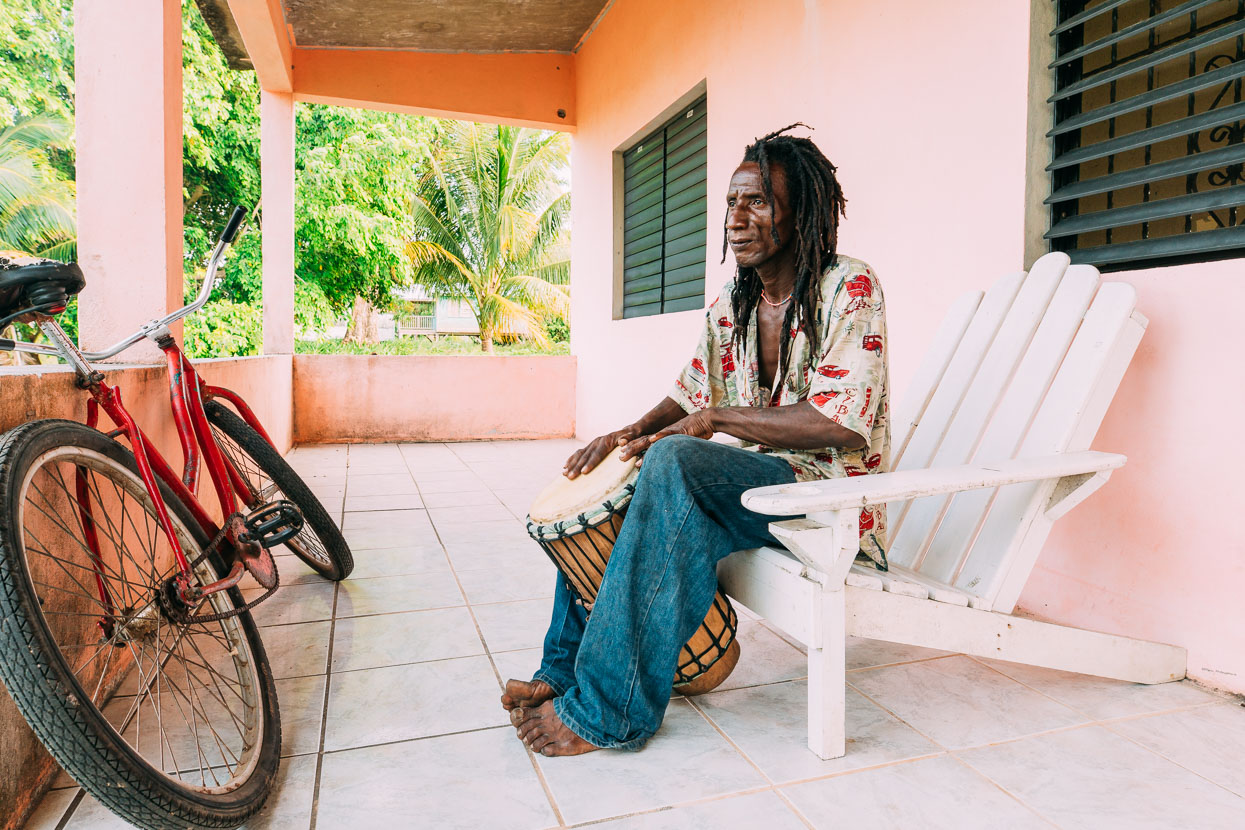 Towards the end of the spit we rode by Norman and without introduction he invited us to sleep in a spare room in a house he was minding for a friend. In a community where people are desperate for money of course a payment was expected. Norman simply said "It's yours for whatever you want to pay".
He seemed like a good character so we took a look inside and immediately agreed. It looked like a big thunderstorm was building and it would be good to have some shelter.
Mumbling non-stop to himself Norman set about sweeping out the room, tidying up the house and then went to another room and produced a couple of dusty mattresses for us to sleep on.
With the housework done he sat on the porch with his drum, pattering out a beat and humming to himself.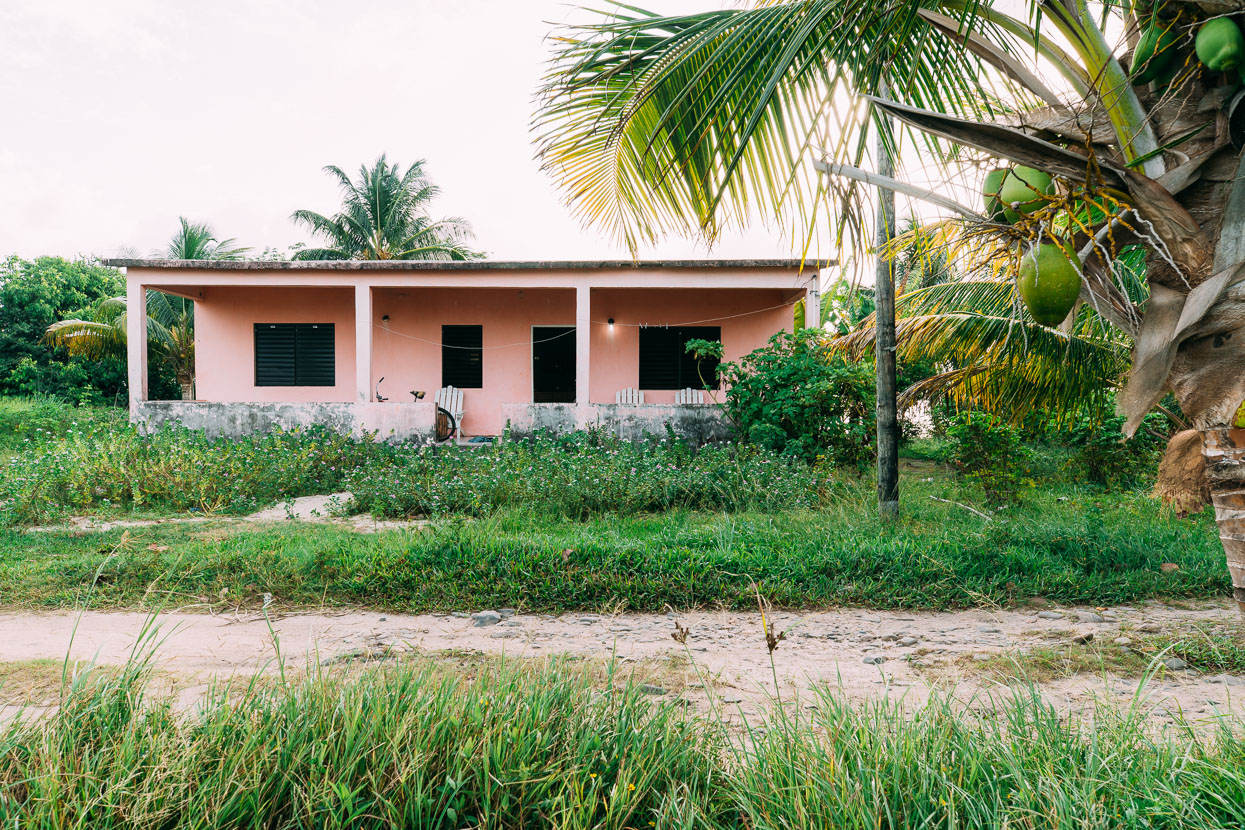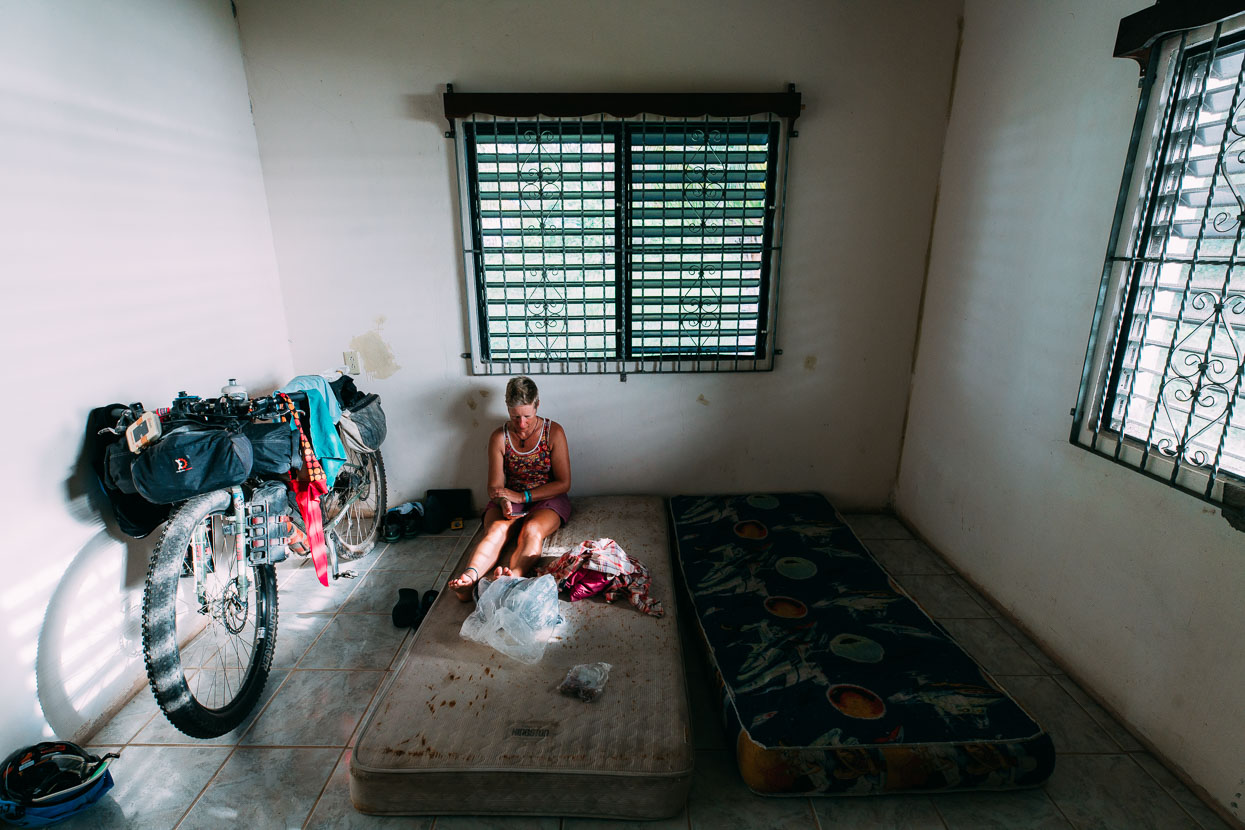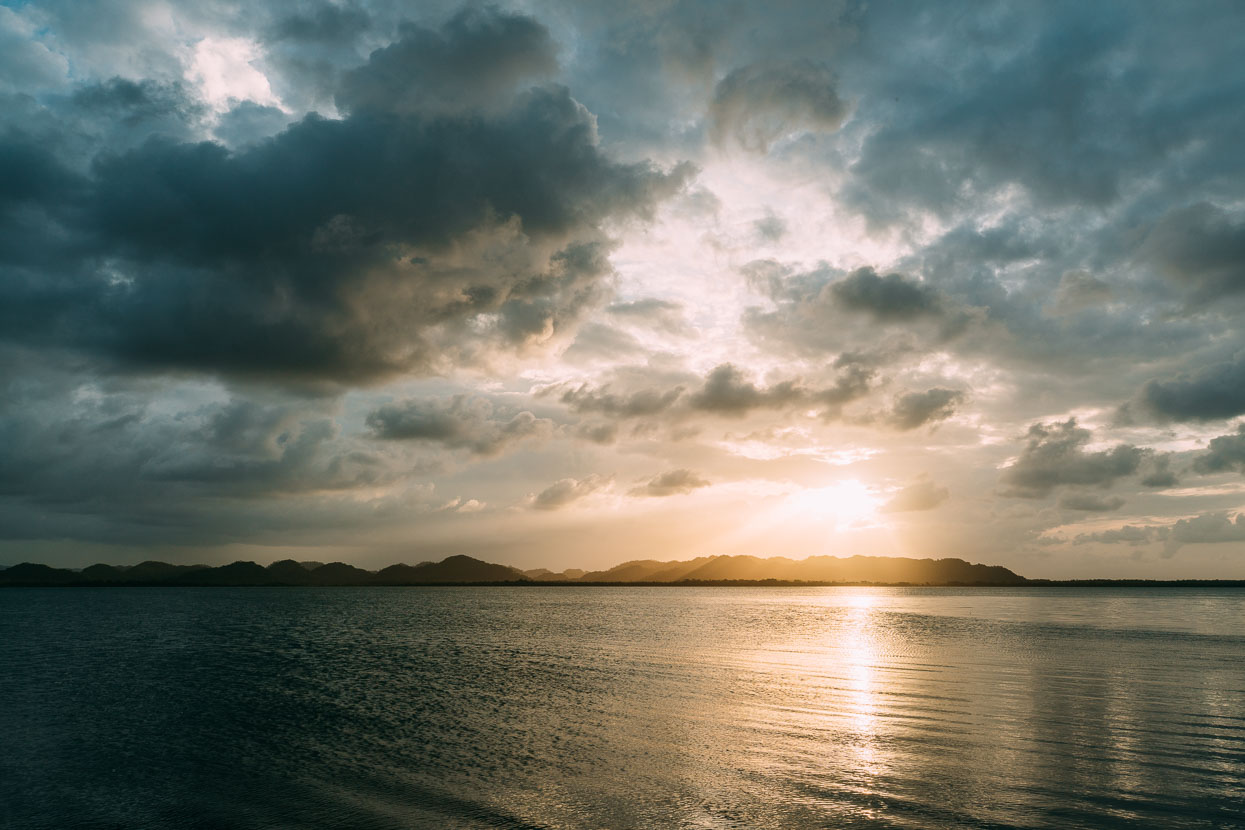 Looking west across the lagoon towards the mainland and the setting sun. Gales Point is loosely set up for occasional tourists so it wasn't difficult to find some stewed chicken and rice and beans for dinner at a tiny restaurant a short way down the road. There are a few accommodation options too including an expensive, but still rustic looking, lodge at the very end of the spit.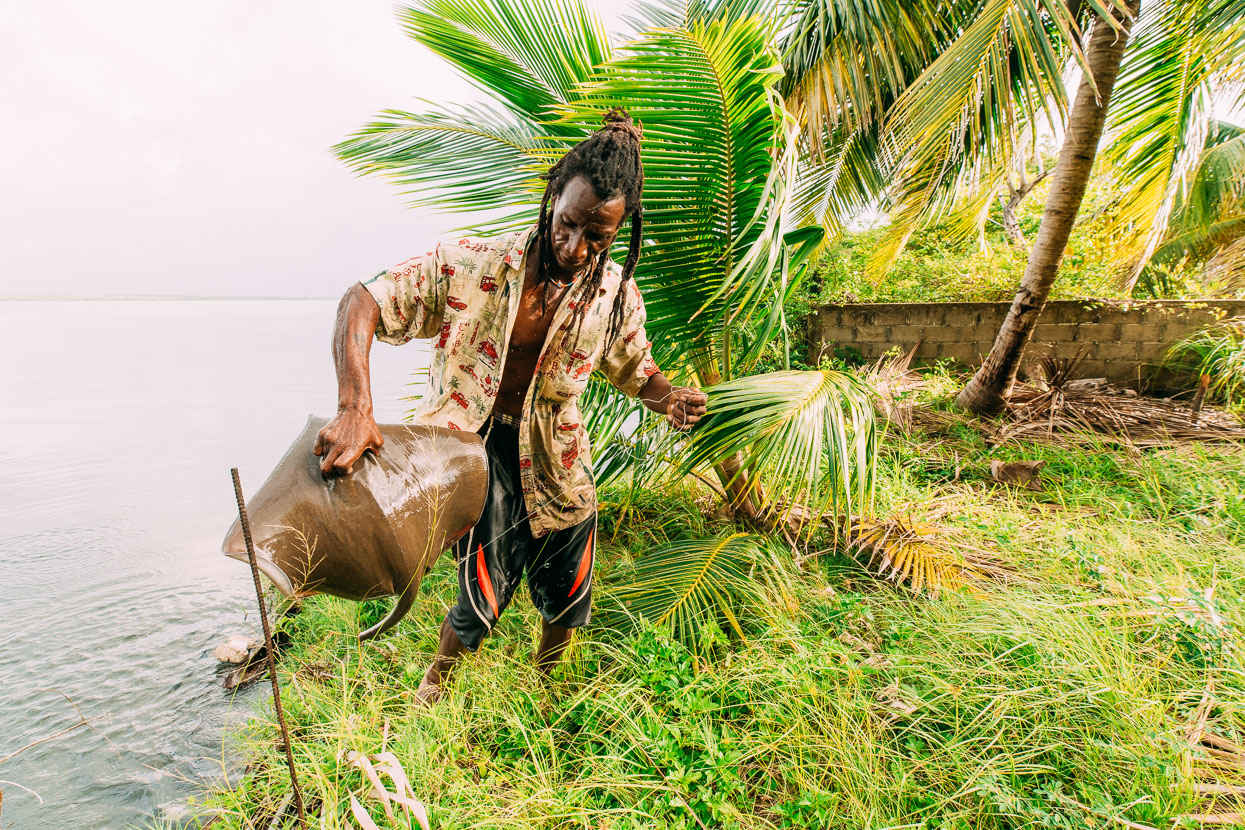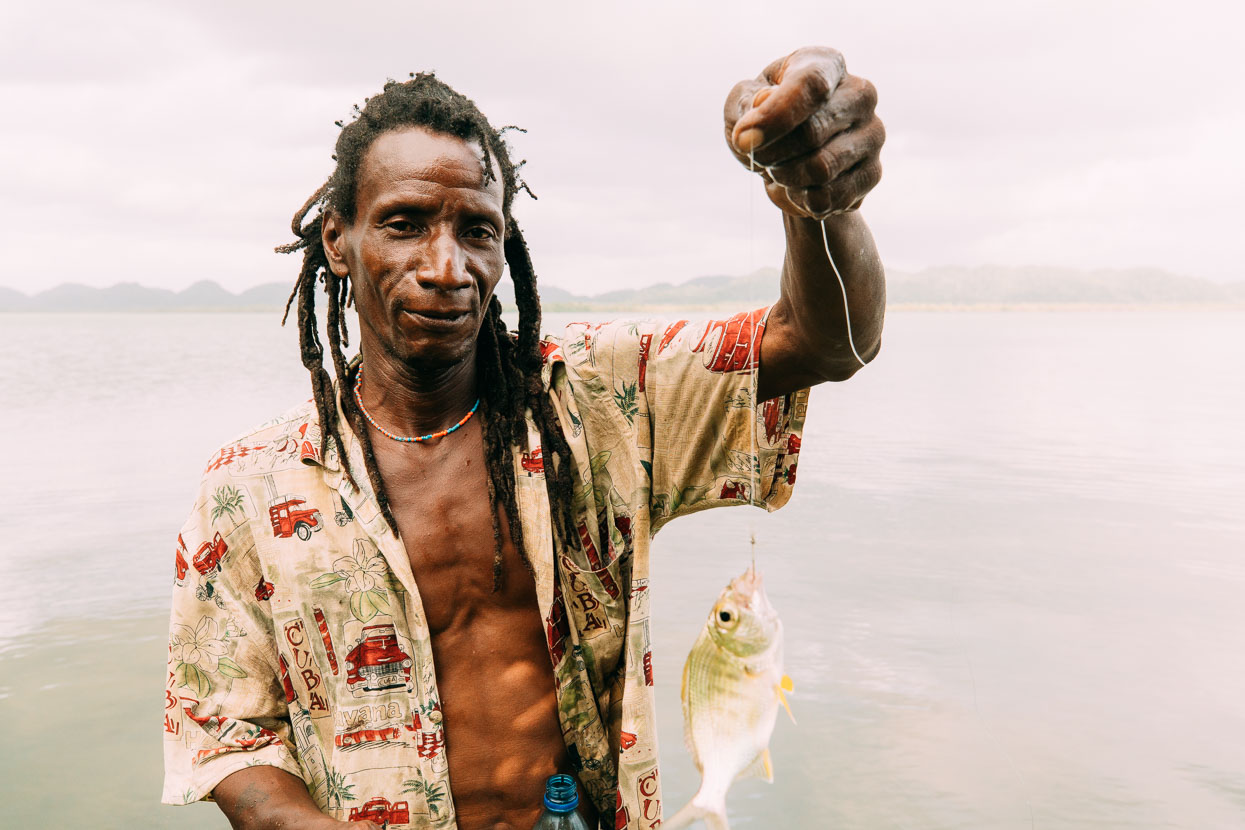 As far as we could tell Norman fishes for a living. He spoke English but with every other word being Garifuna (a medley of Arawak and African with bits of English and French) we only understood about half of what he said. While we were there he fished the lagoons either side of his house. He had a net on one side and fished with a line on the other. Sadly he brought up a small sting ray in the morning, which promptly lost its tail to his machete before being left to suffocate on the grass.
Between the mangos we bought from the old man and the ones Norman gave us we had enough to last a couple of days.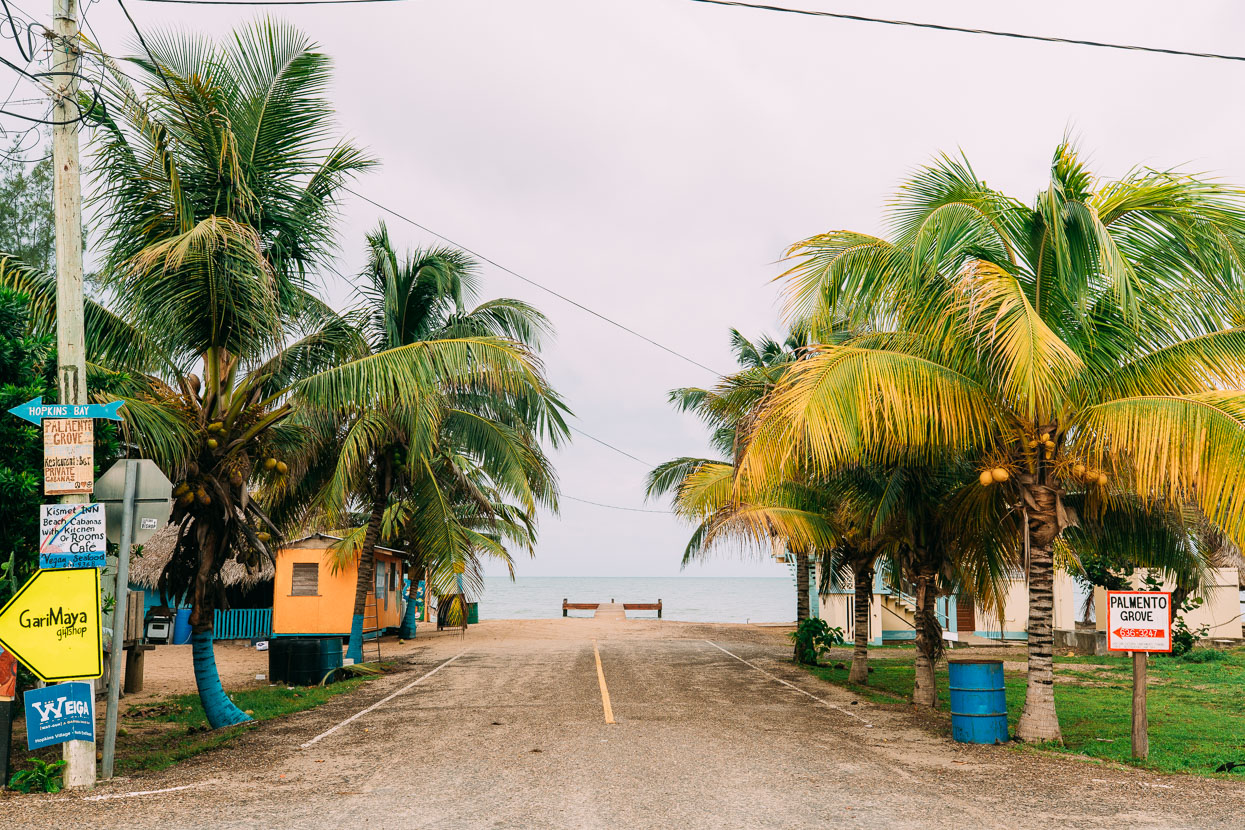 Through some heavy morning rain we rode on to Hopkins, a Garifuna village that stretches thinly for a couple of kilometres along a palm tree lined coast. Hopkins is a busier tourist hub, though still only busy enough to have one hostel and a few beach cabana/hotel outfits. Most tourists visit for snorkelling and dive trips, jungle hikes, beach time and simply to relax in this low-key village. There's lots of restaurants both local and tourist-oriented to choose from and some Chinese run grocery stores. The local population survive off tourism and fishing.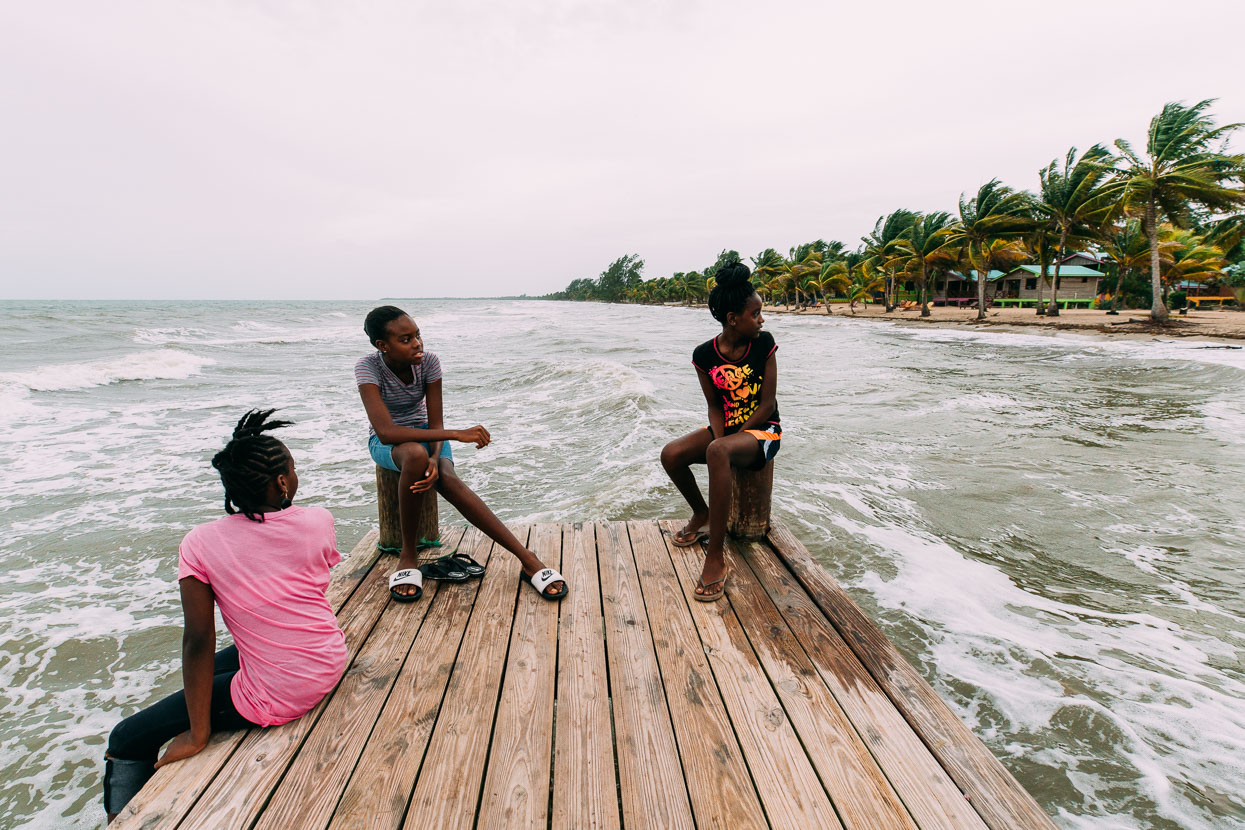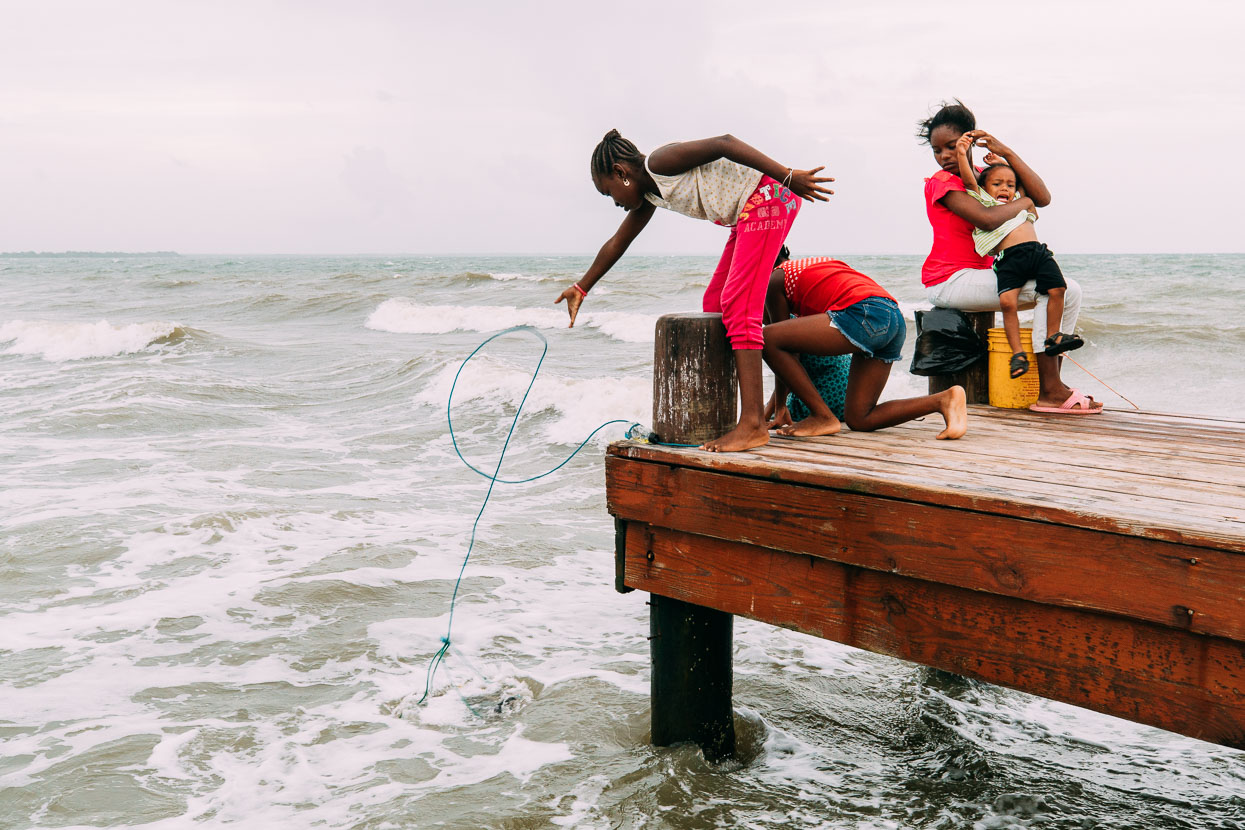 Crab fishing off the jetty is popular with local kids.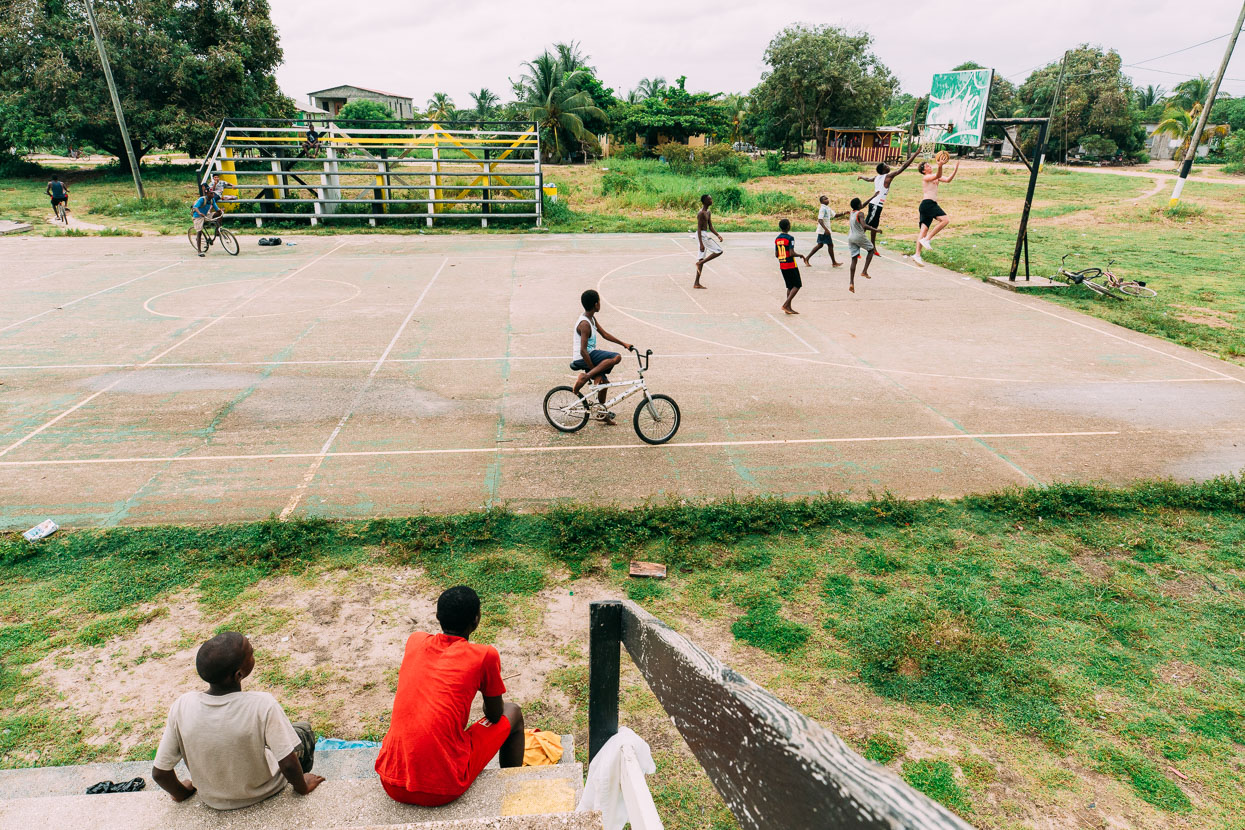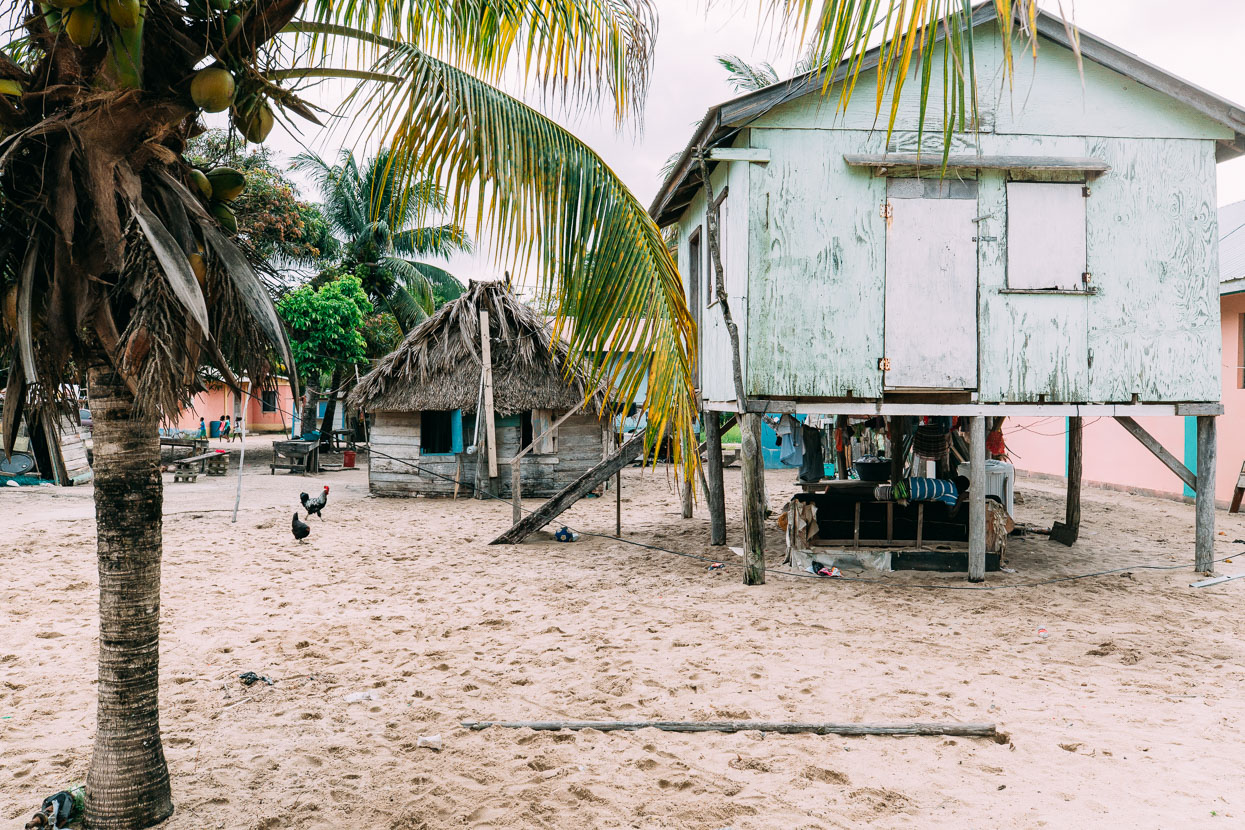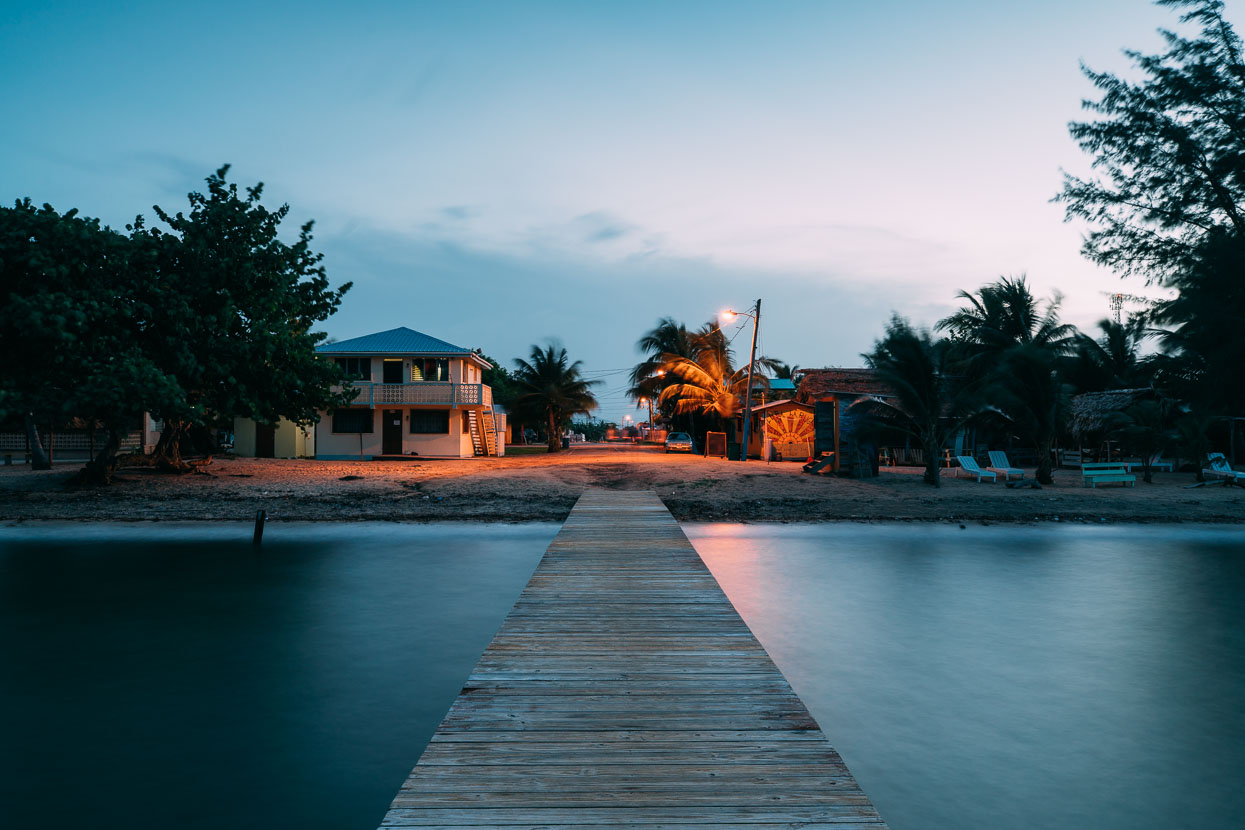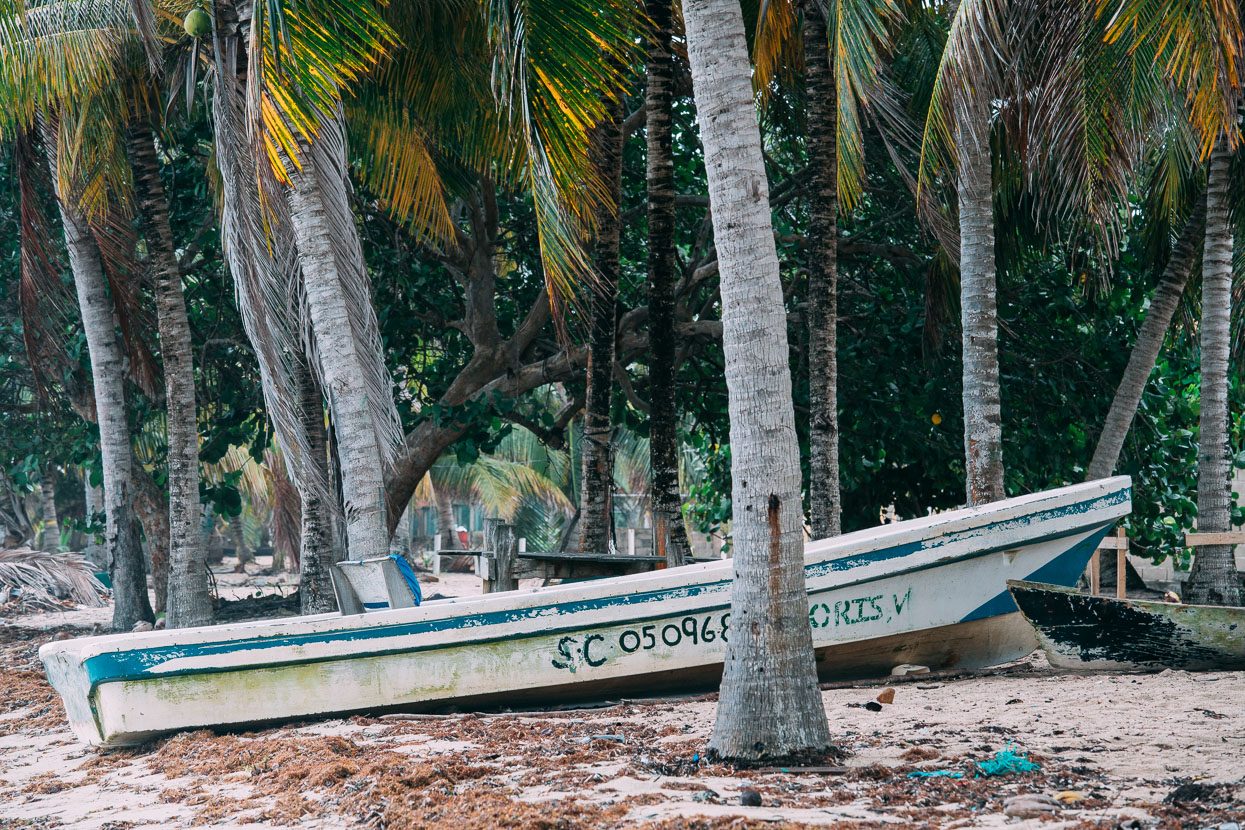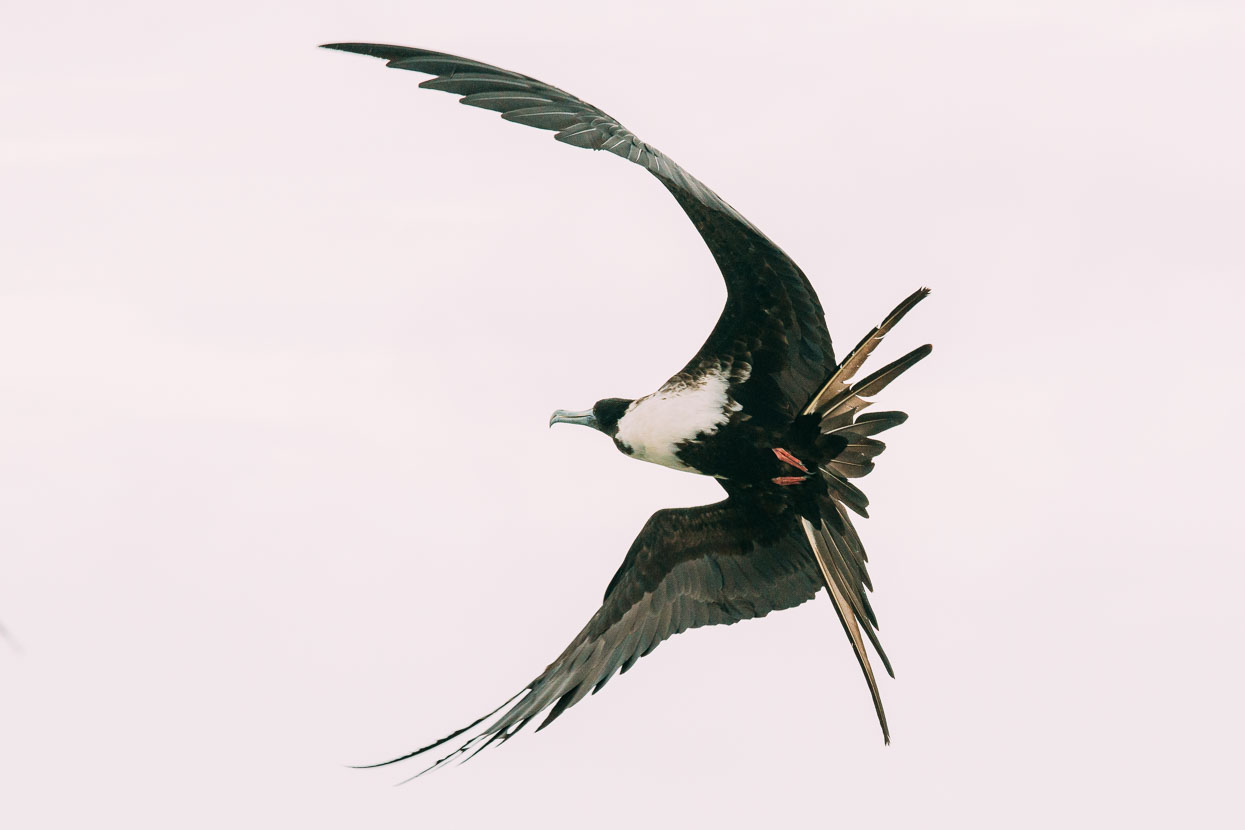 Frigate birds with their huge wingspans soar in the constant wind along the shoreline, sometimes swooping to collect discarded fish scraps.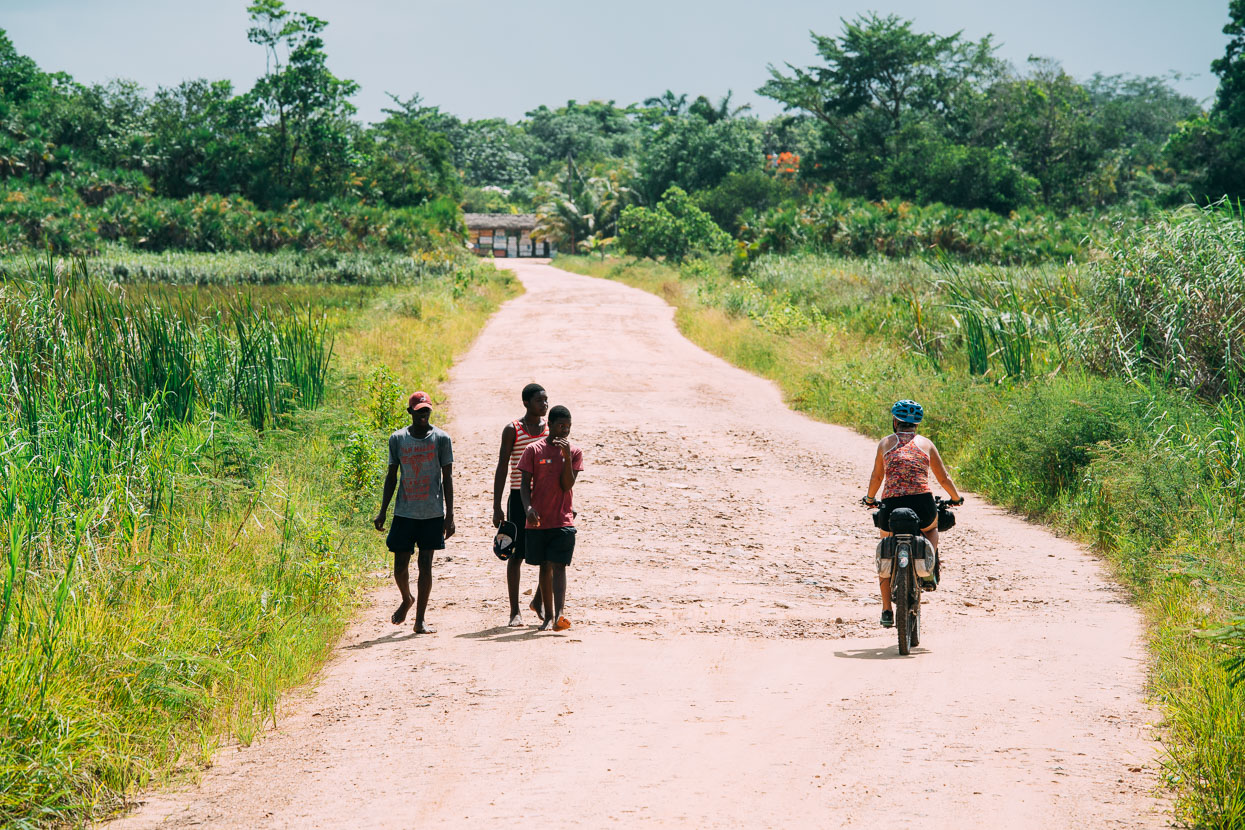 We'd only planned two nights in Hopkins, just enough to get a feel for life in this community, and left for Placencia after a day off in the village. After a few kilometres I noticed my back wheel was making some unusual clunks and rubbing on something when I pedalled standing up. Not a good sign. We pulled the wheel out and immediately obvious was a broken axle – the second of the trip for me, and both around the 6 month mark. Seems I'm reaching the fatigue life for the tubular aluminium axles Stans use in their rear hubs. We limped carefully back to town.
Stans have been excellent with support, despite me losing faith in their rear hubs entirely. They're sending me a new wheel, with their latest 3-bearing freehub along with an alternative, stronger axle that fastens via bolts rather than a quick release. Hopefully this is a permanent fix to the issue, but I wish Stans had suggested it the first time this happened. My other option is to buy a different brand hub, but we are far from a bike shop that I'd trust to do the build and the warranty support Stans have provided has been amazing. They could have send me just a hub, but to get us back on the road asap and to save us costs a whole wheel is on the way.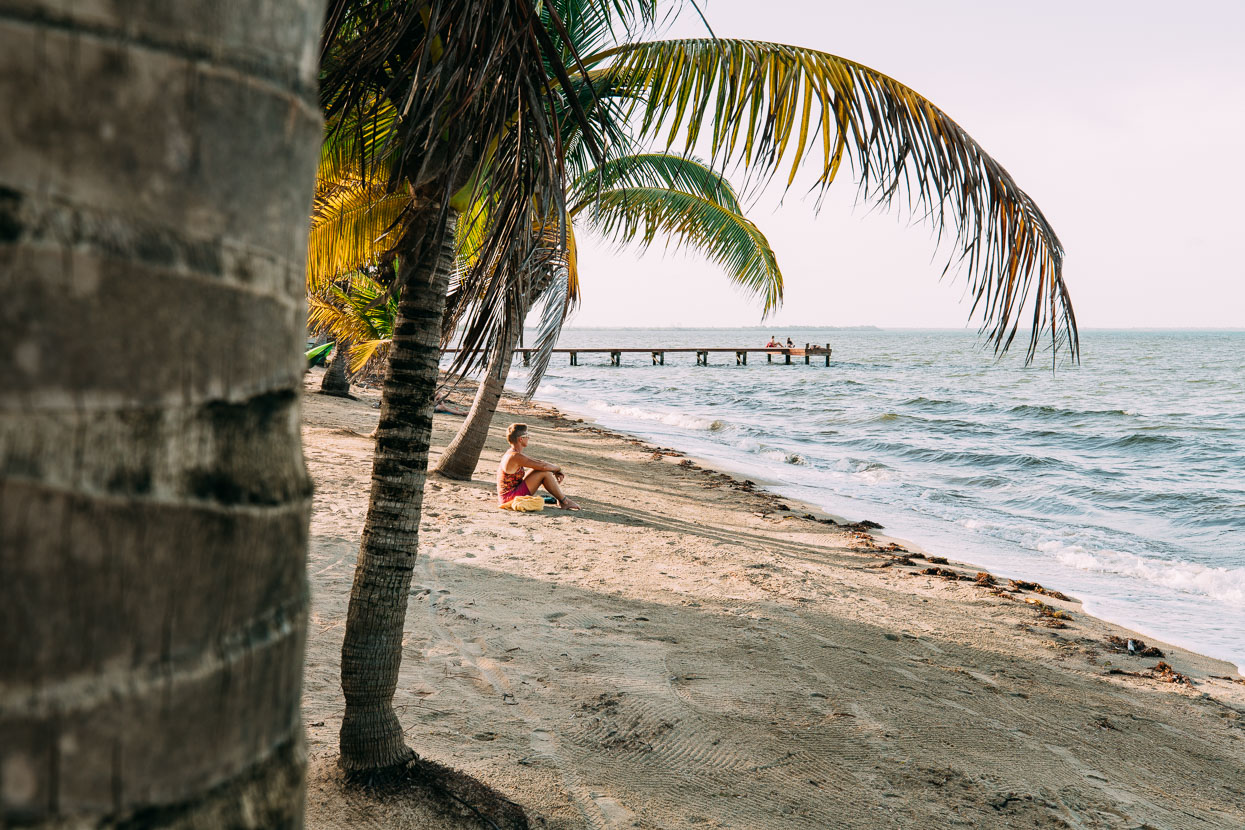 Certainly there could be worse places to be stuck!
Do you enjoy our blog content? Find it useful? We love it when people shout us a beer or contribute to our ongoing expenses!
Creating content for this site – as much as we love it – is time consuming and adds to travel costs. Every little bit helps, and your contributions motivate us to work on more bicycle travel-related content. Up coming posts: camera kit and work flow, route planning & navigation.