A Highland Sanctuary.
The town of San Cristobal de las Casas sits high in a mountain basin in Mexico's southern-most state of Chiapas. After the simmering heat of 38 degree days in the lowlands the air here has a welcome freshness to it. It's an atmospheric place: pine covered ridges ring the city and hot air rising from the lowlands up to the lofty height of 2100 metres brings billowing cumulus, wafting mist and sometimes afternoon thunderstorms. While its cooler here it's still only 'I might need long sleeves on this evening' cool.
Until the establishment of modern highways during recent decades San Cristobal was considered very remote, tucked away deep in ranges previously accessed only by windy and unreliable mountain roads. The Zapatista Uprising of the 1990's had a part in making this region more accessible due to the Mexican military's need for roads, and the government's view that its isolation played a part in political instability. Its remoteness has been significant for the many indigenous peoples that call these mountains home; collectively known as the Tzotzil- and Tzeltal-speaking Highland Maya. Within these groups customs can vary significantly from village to village. Theirs is a culture which has prevailed as one of the most intact within Mexico, thanks in part to this region's isolation and the toughness of the people. The now legendary villages of Chamula and Zinacantan, close to San Cristobal, put up fierce resistance to the Spanish in the early 1520's and were never totally subdued, the consequence of which is a fascinating amalgam of tradition and religion, where ancient animist beliefs meet the catholic church.
The streets of the city are vibrant and busy as tourists from all over the world, local Mestizos and the distinctively dressed Highland Maya mingle in markets and city squares. Daily the indigenous people come to the city to trade vegetables and fruit and sell their colourful handcrafts and woven fabrics, making this place the most dynamic of all the cities we've visited in Mexico.
After a really great week here we're leaving tomorrow with clean and serviced bikes (long overdue), admin tidied away, an updated blog and planning sorted for the route into the Peten region of Guatemala. We've got fresh legs too. I hope you enjoy the photos.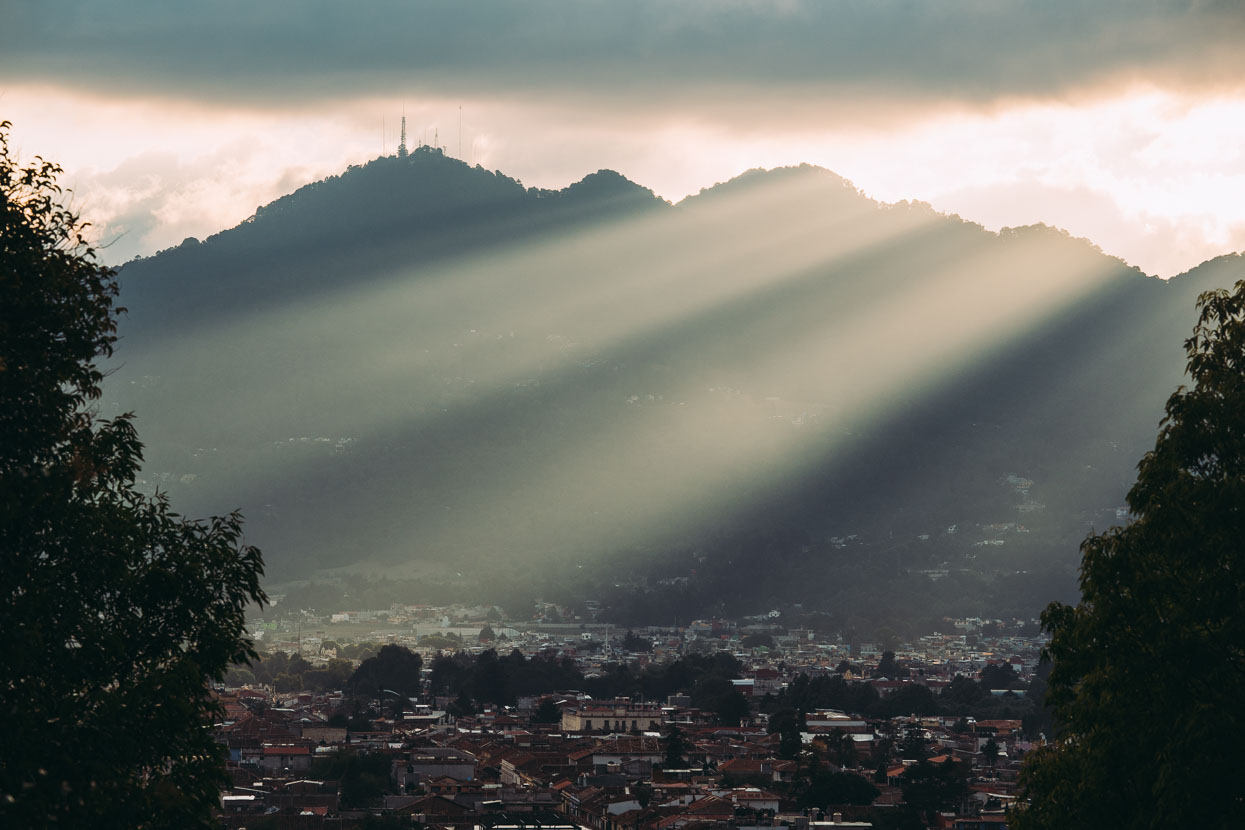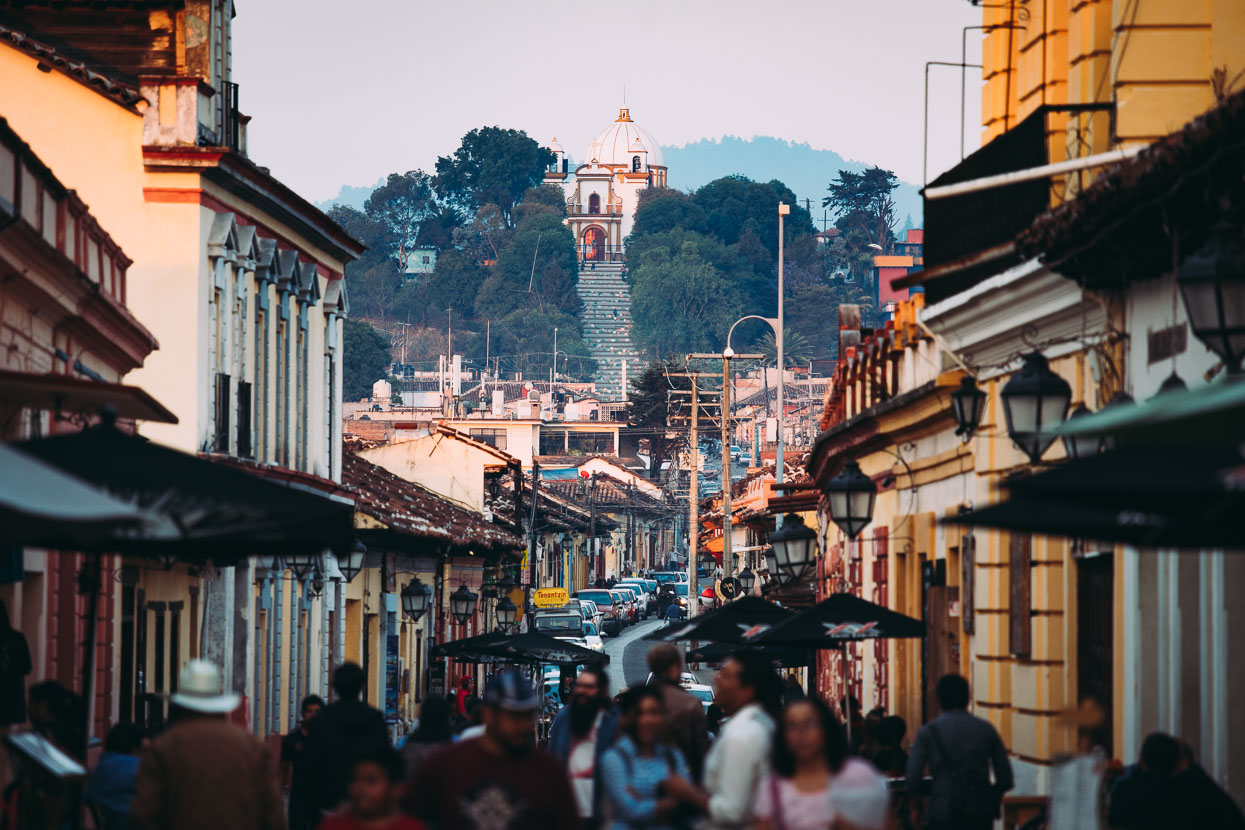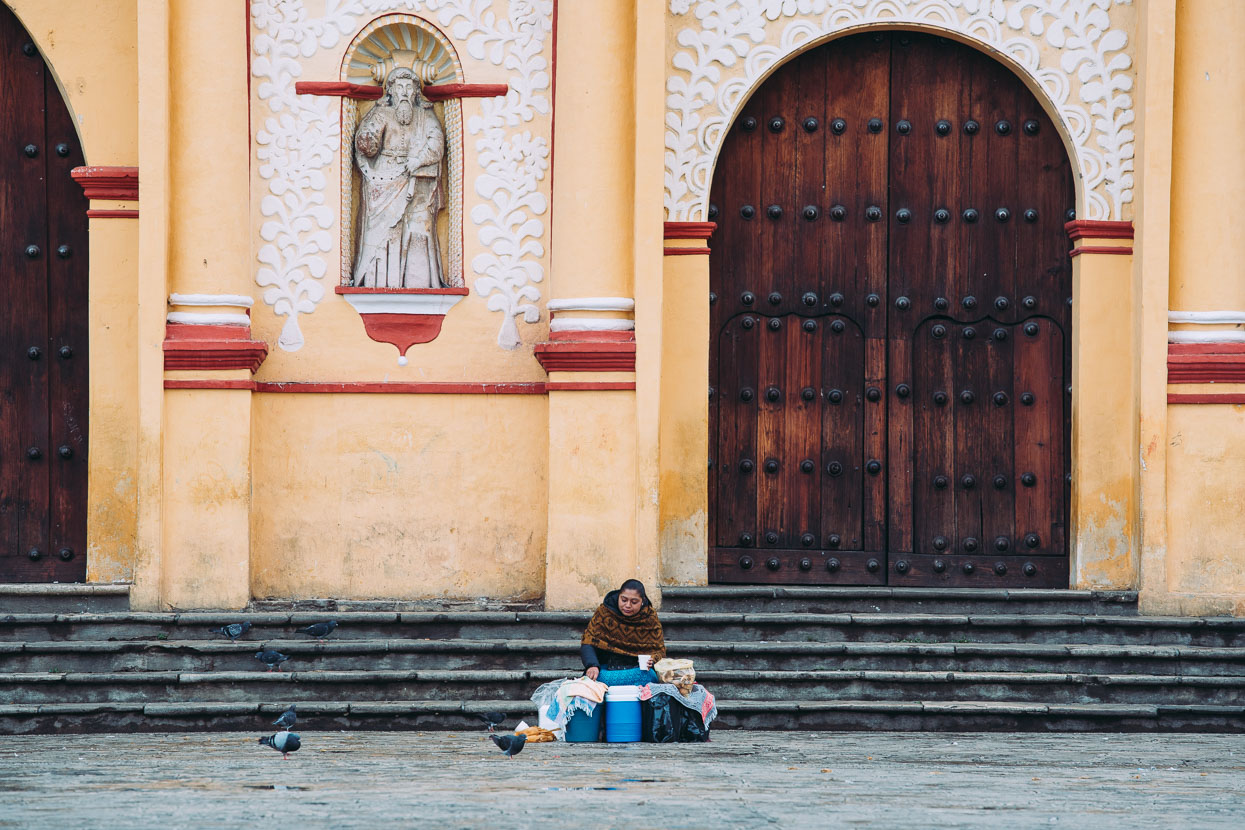 San Cristobal de las Casas is very easy to explore on foot and most evenings we walked, seeking the city's interesting corners. Below, the Templo de San Cristobal – at the top of a long flight of stairs.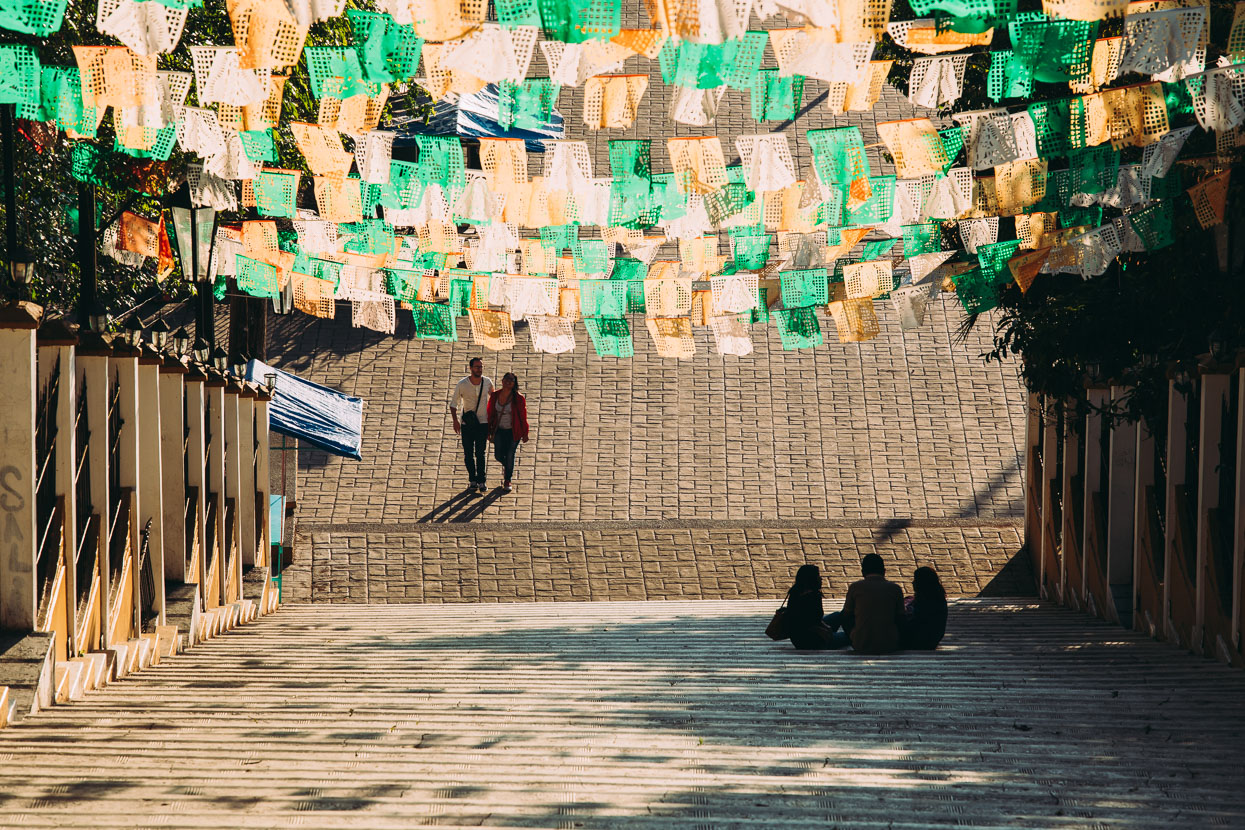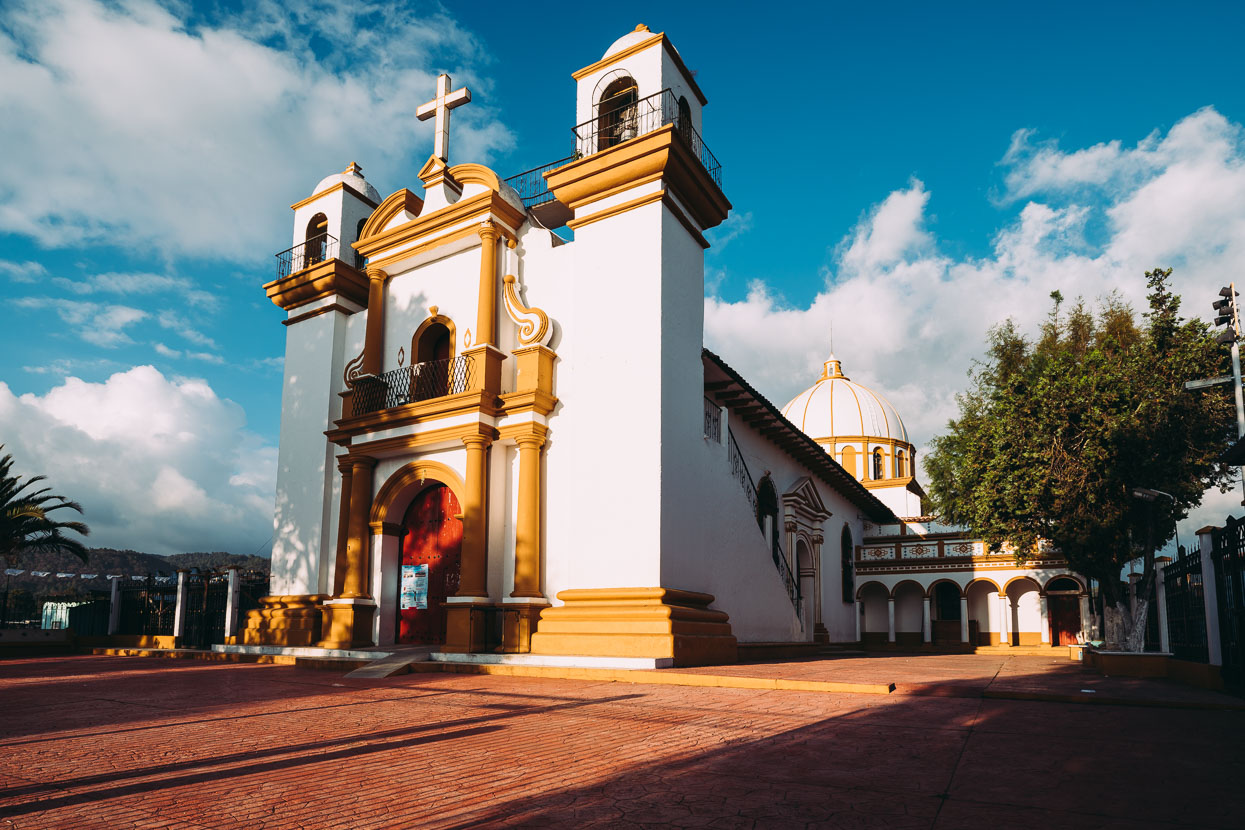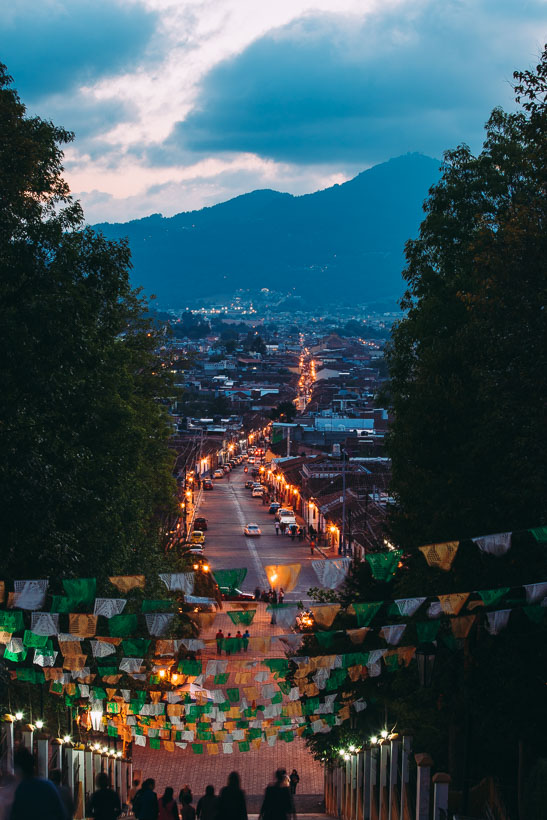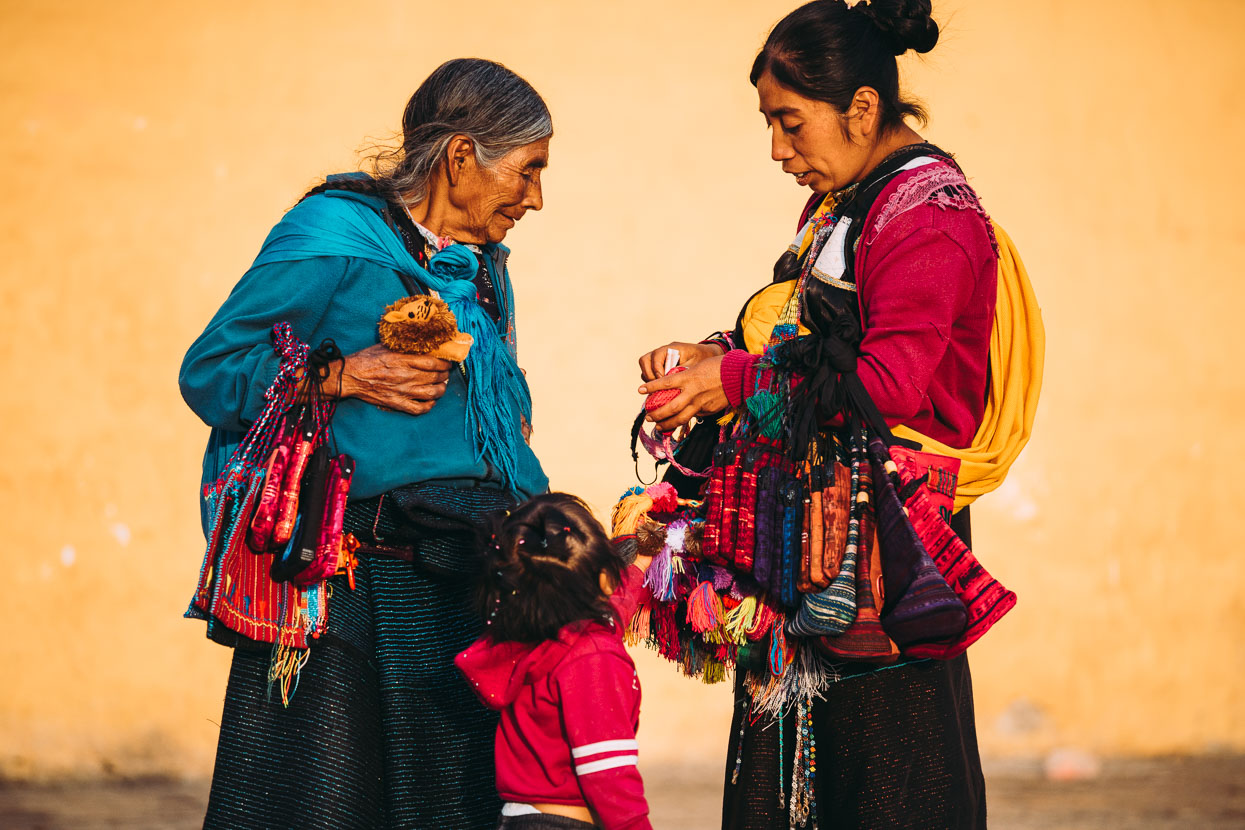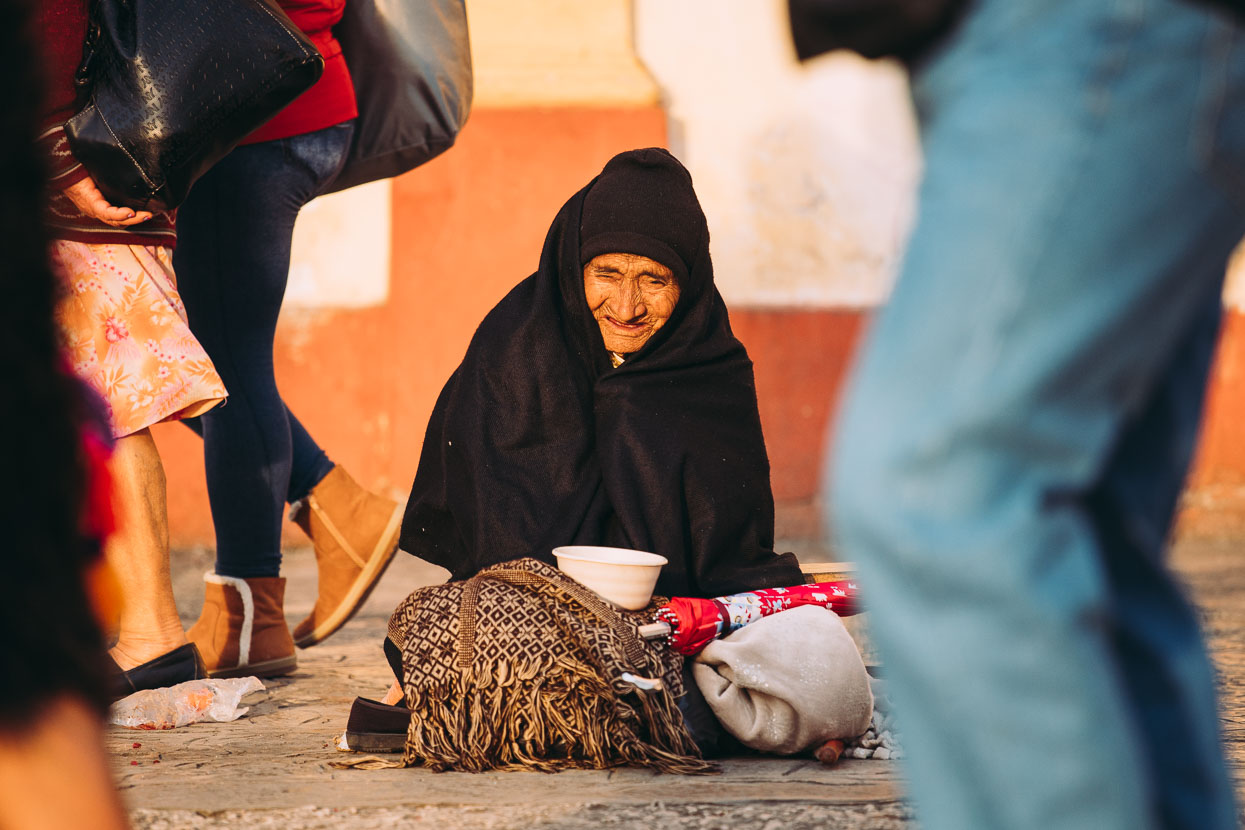 While you might run out of interesting churches and sights to see, you seldom run out of people to watch here. This old lady, begging in front of the Cathedral of San Cristobal, was oblivious to my interest but was very grateful when I dropped a few pesos in her tin as thanks.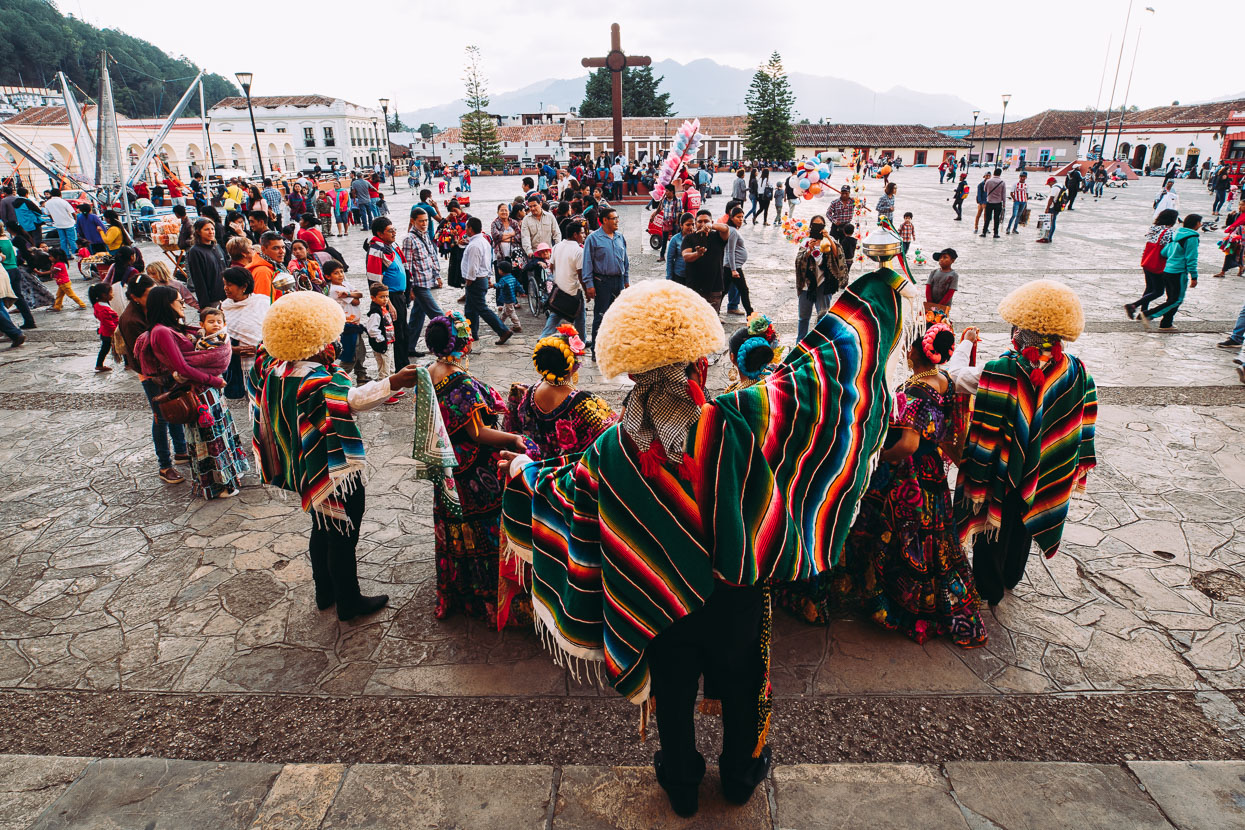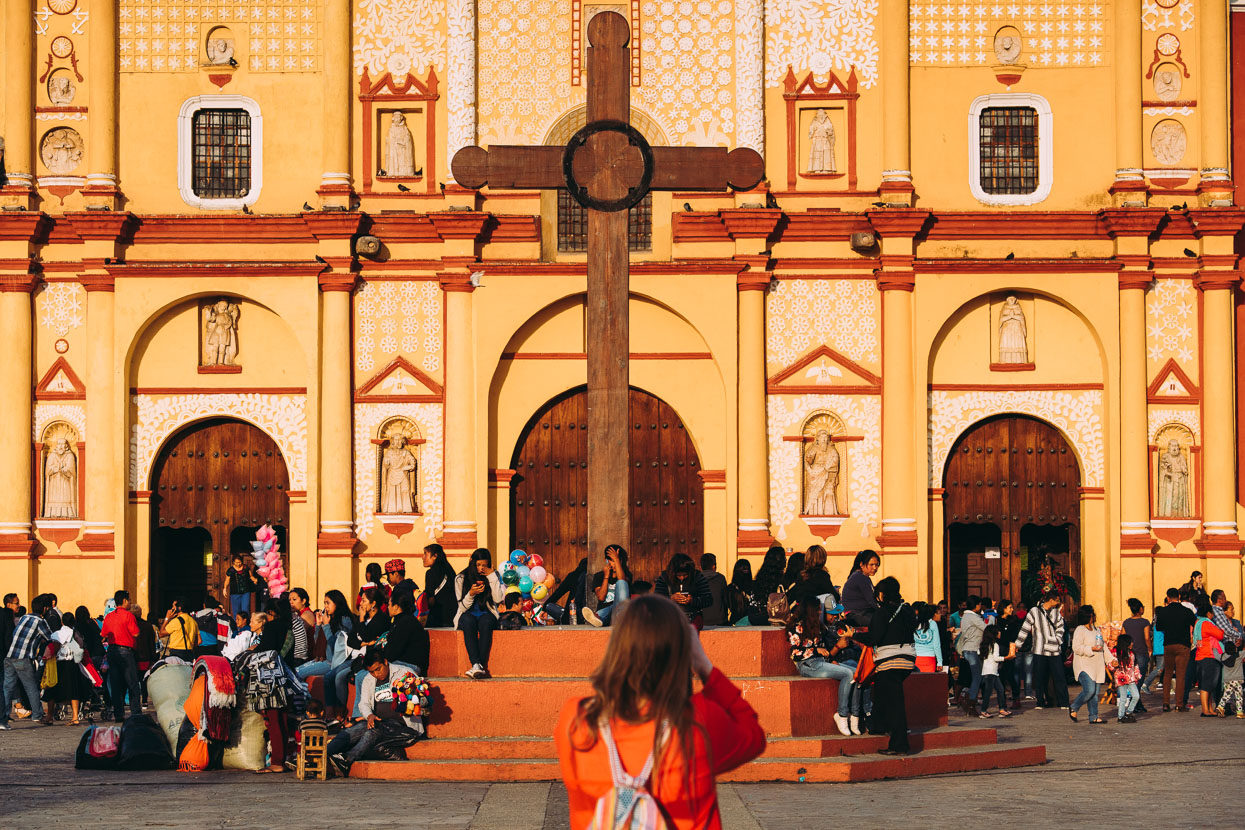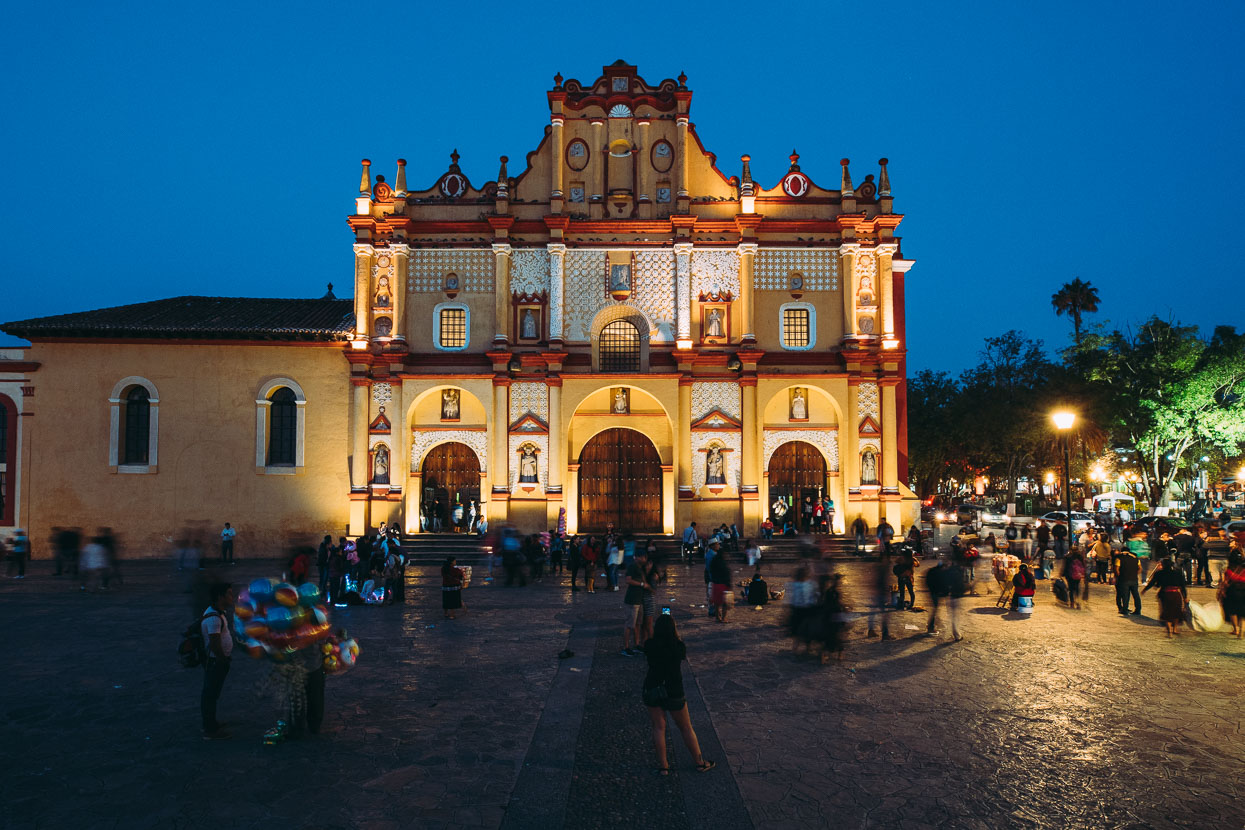 Every evening the plaza in front of the cathedral hosts a lively crowd of tourists, families, indigenous craft sellers and all manner of people. Old men relax at the edges, children play, colourfully dressed Maya perform and stand for photos while drunks repose in the shadows.
Between paved and carless boulevards lined with restaurants, bars and hostels, grungier streets remind you that you're still in Mexico.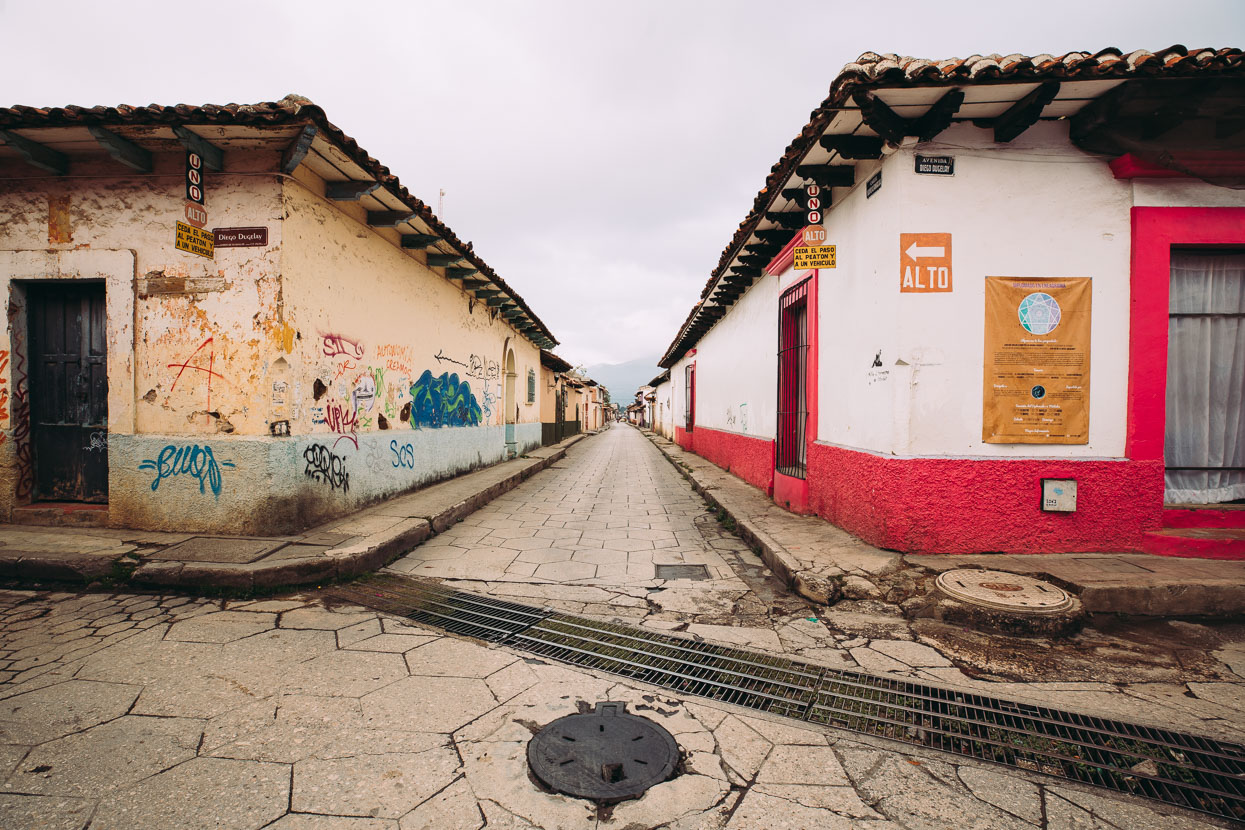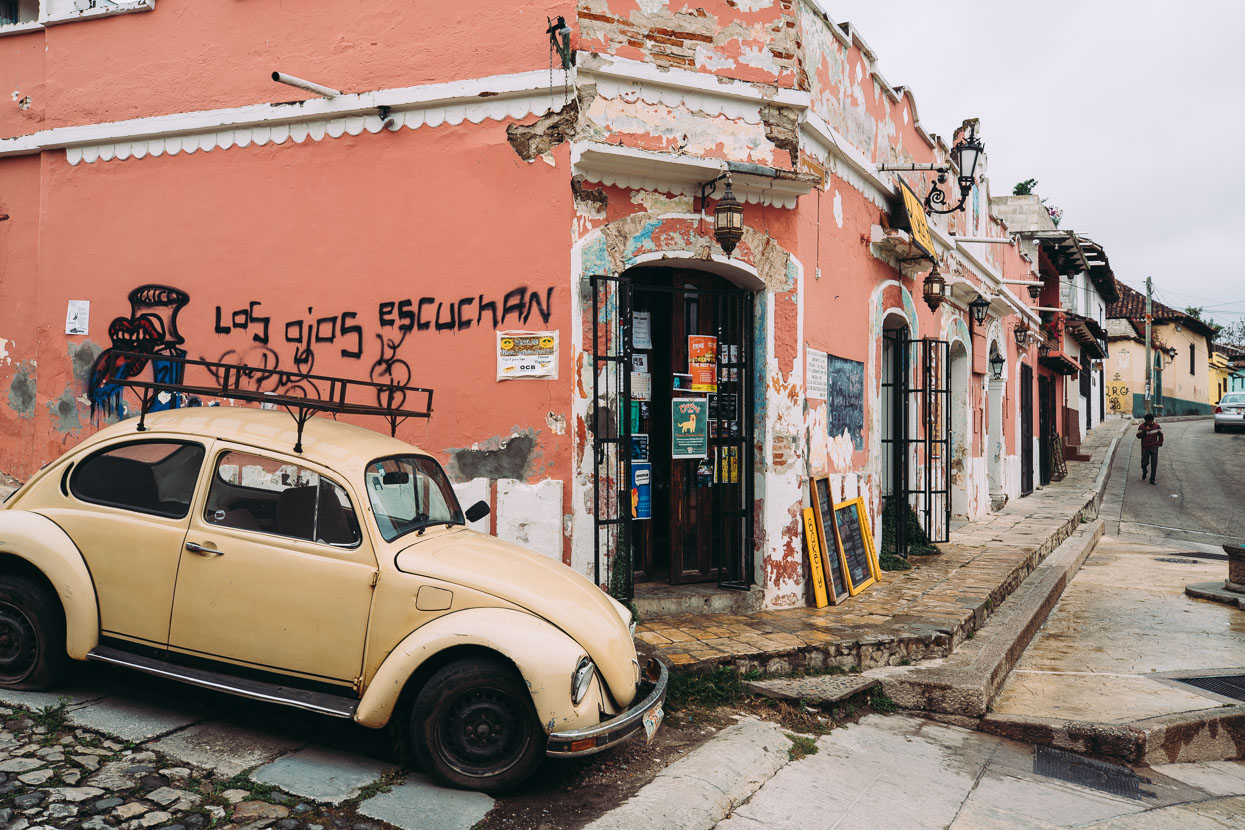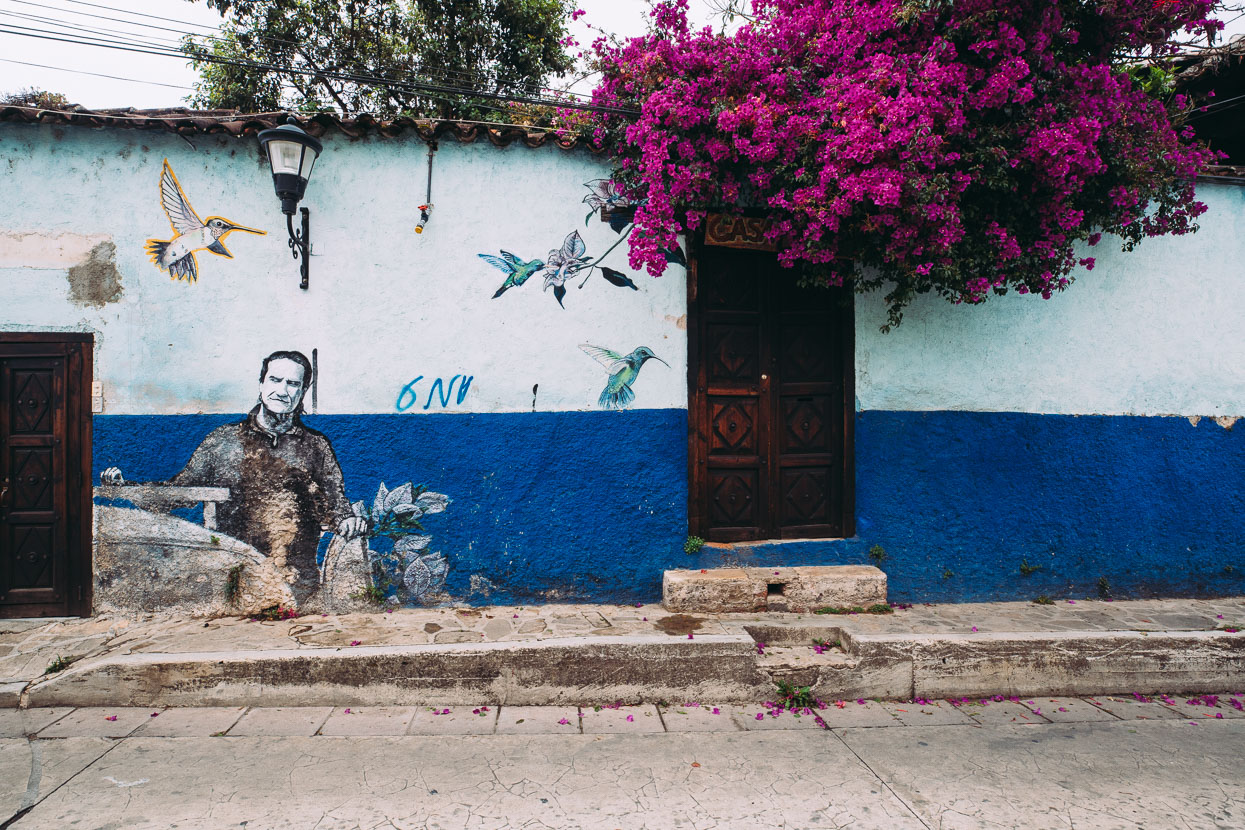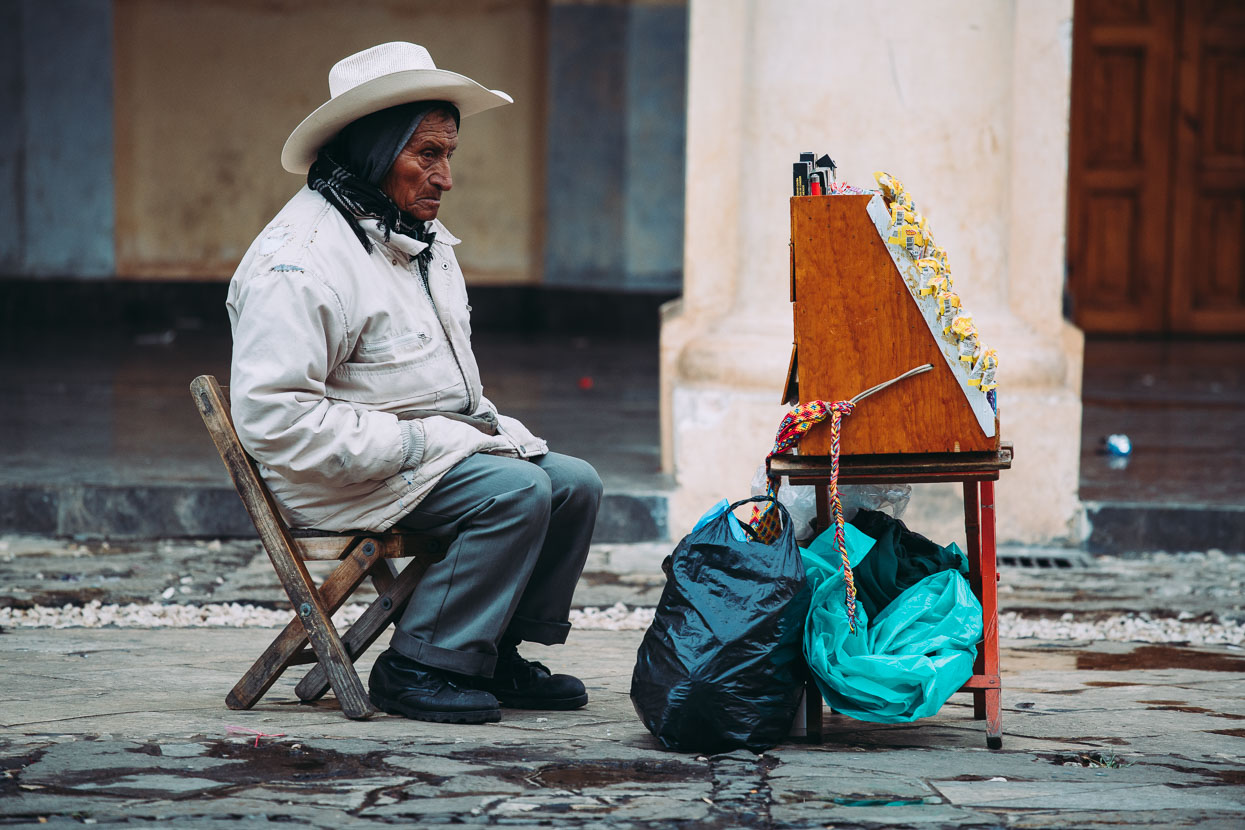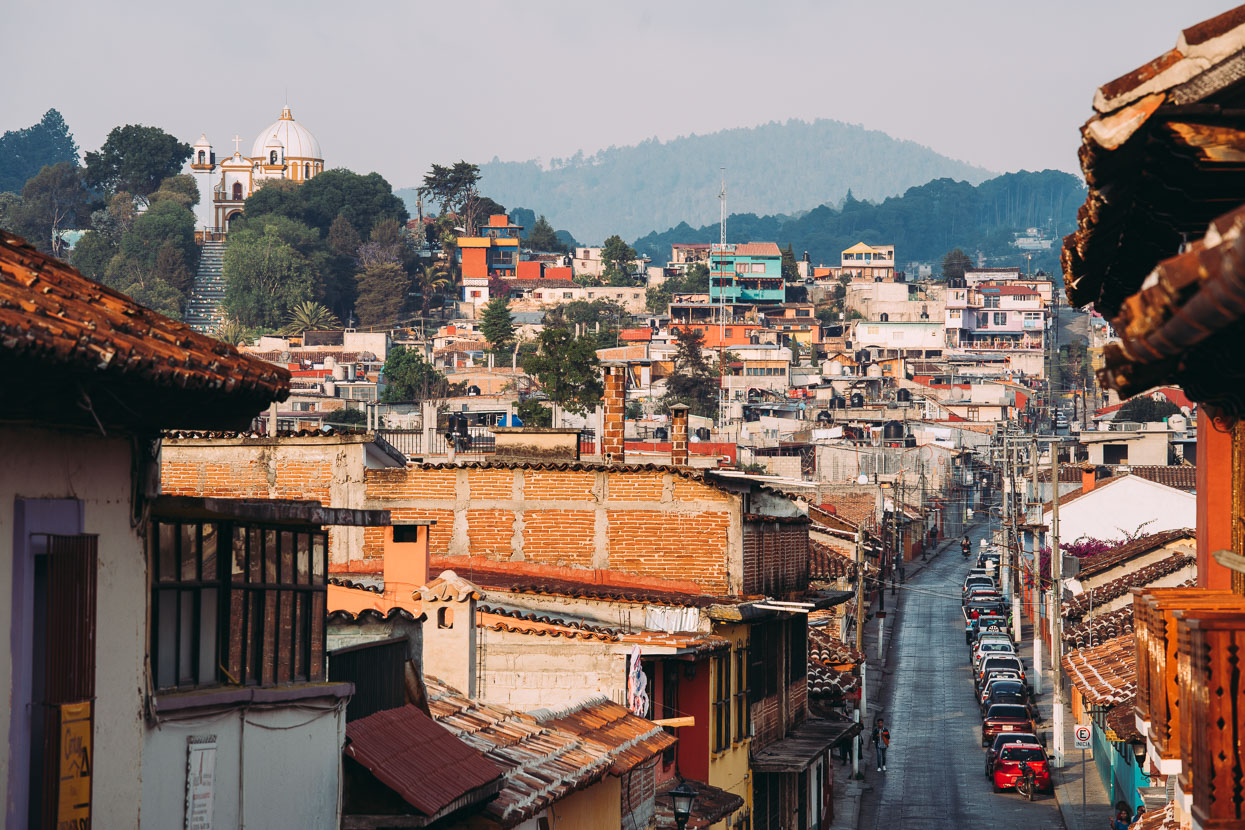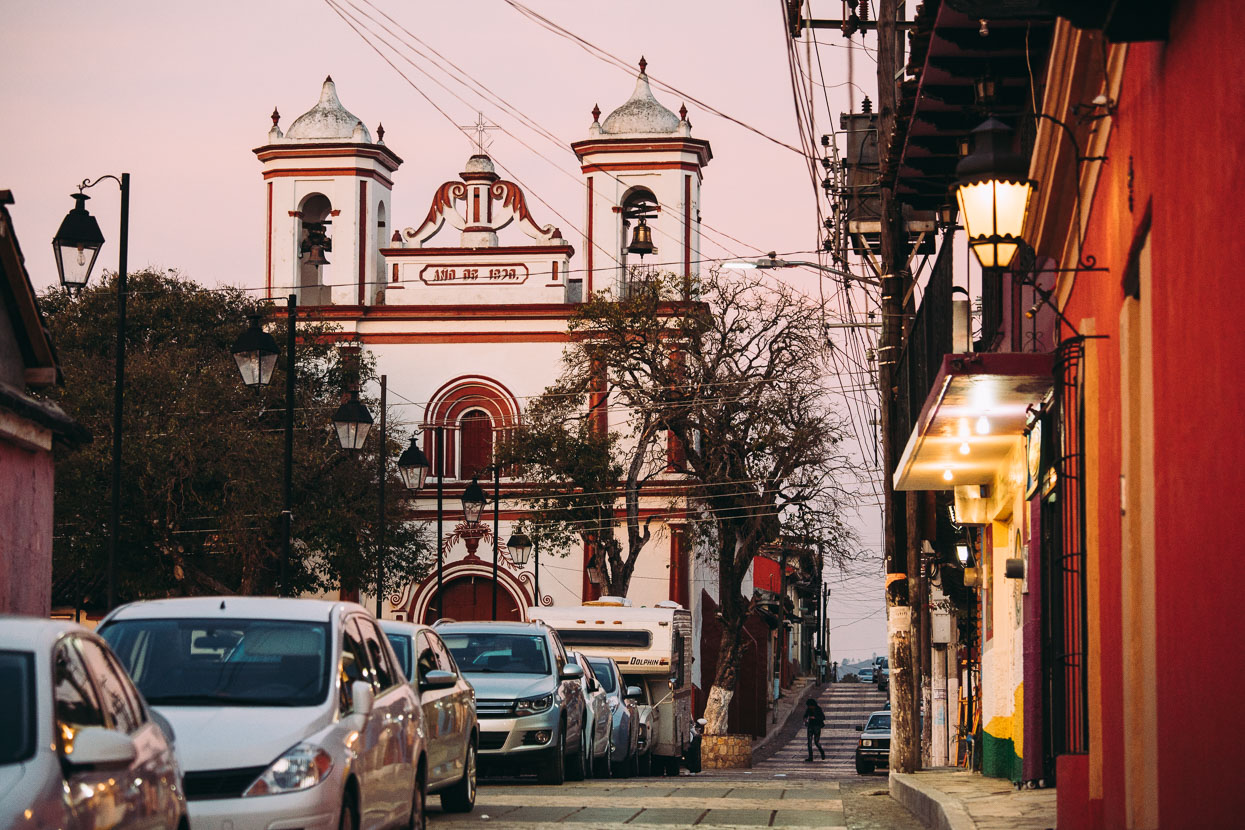 Templo de el Cerrillo, the original structure of which dates back to the 1700s. The facade was built in 1890.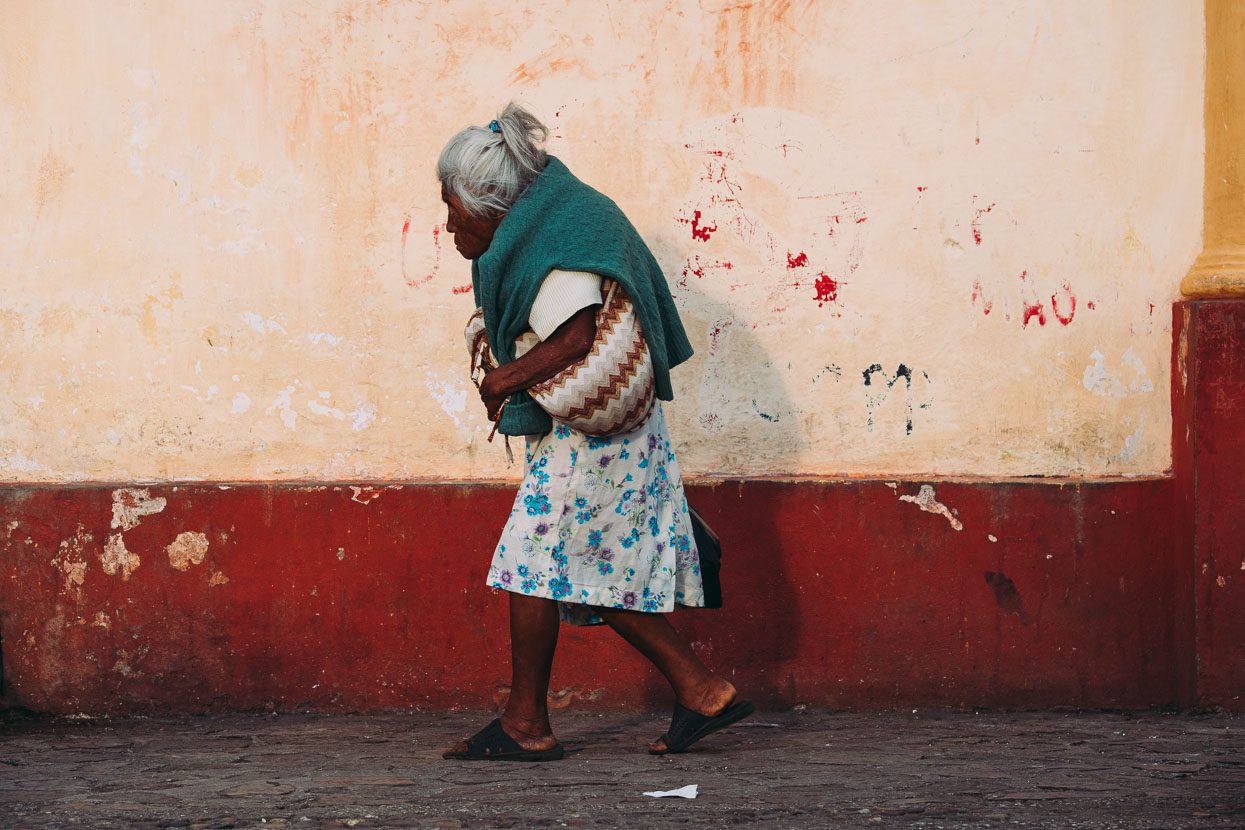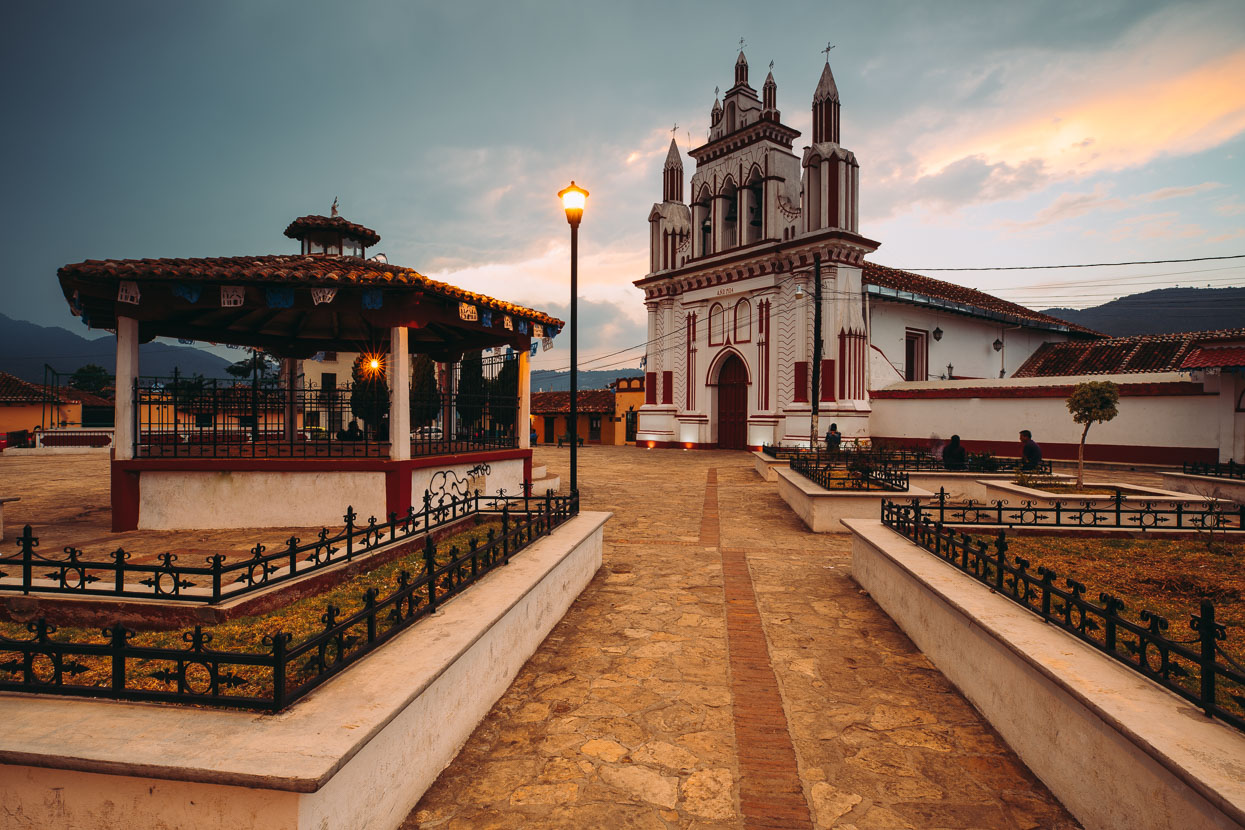 The Templo de Mexicanos in evening light.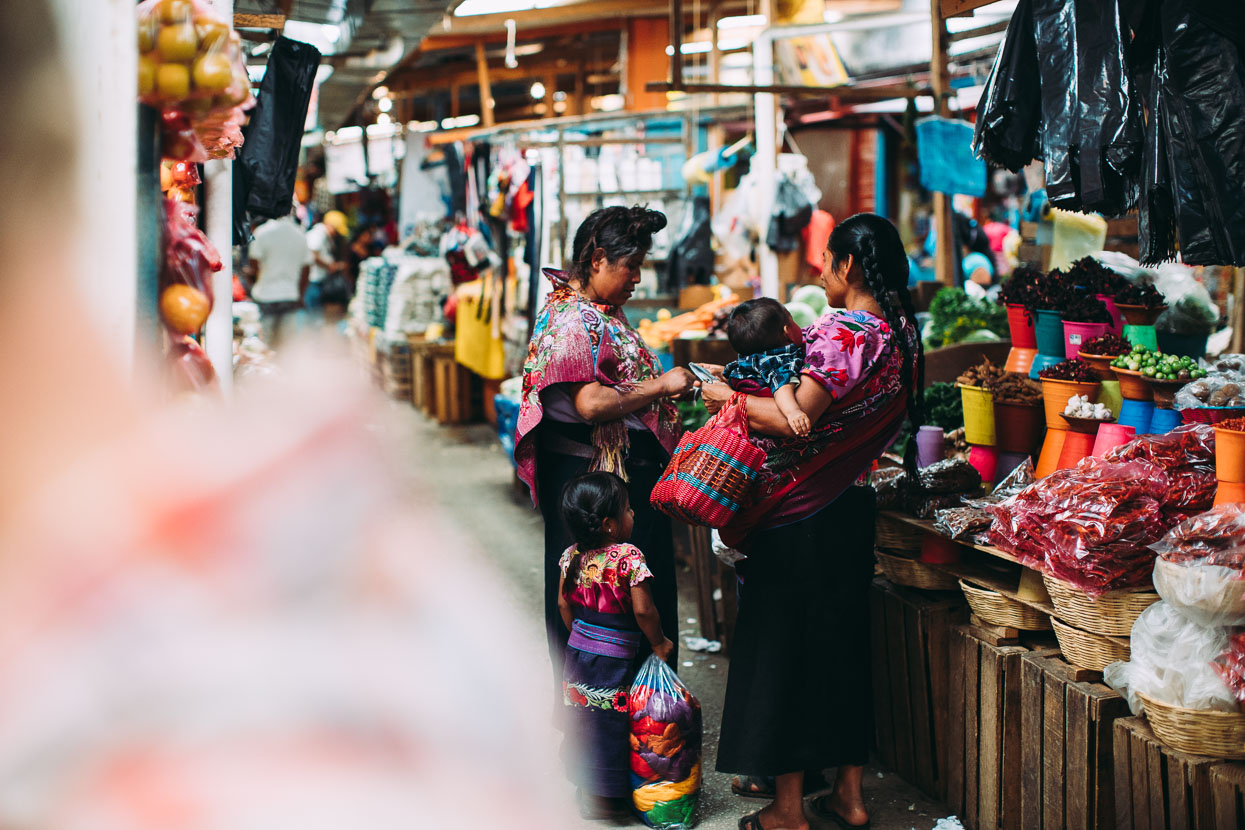 San Cristobal's main market, like most markets in Mexicos's cities, is not for the faint of heart. It's hot, crammed and the ground is filthy. Once you walk past the produce arranged in perfect stacks the smell of the butchery section hits your nostrils. The pungent odour of unrefrigerated meat. Offal, tongues and heads sit stark on white tiled counters. Flies are swatted away. Chickens are arranged uniformly. This is where the meat for even the finest restaurant in the city comes from.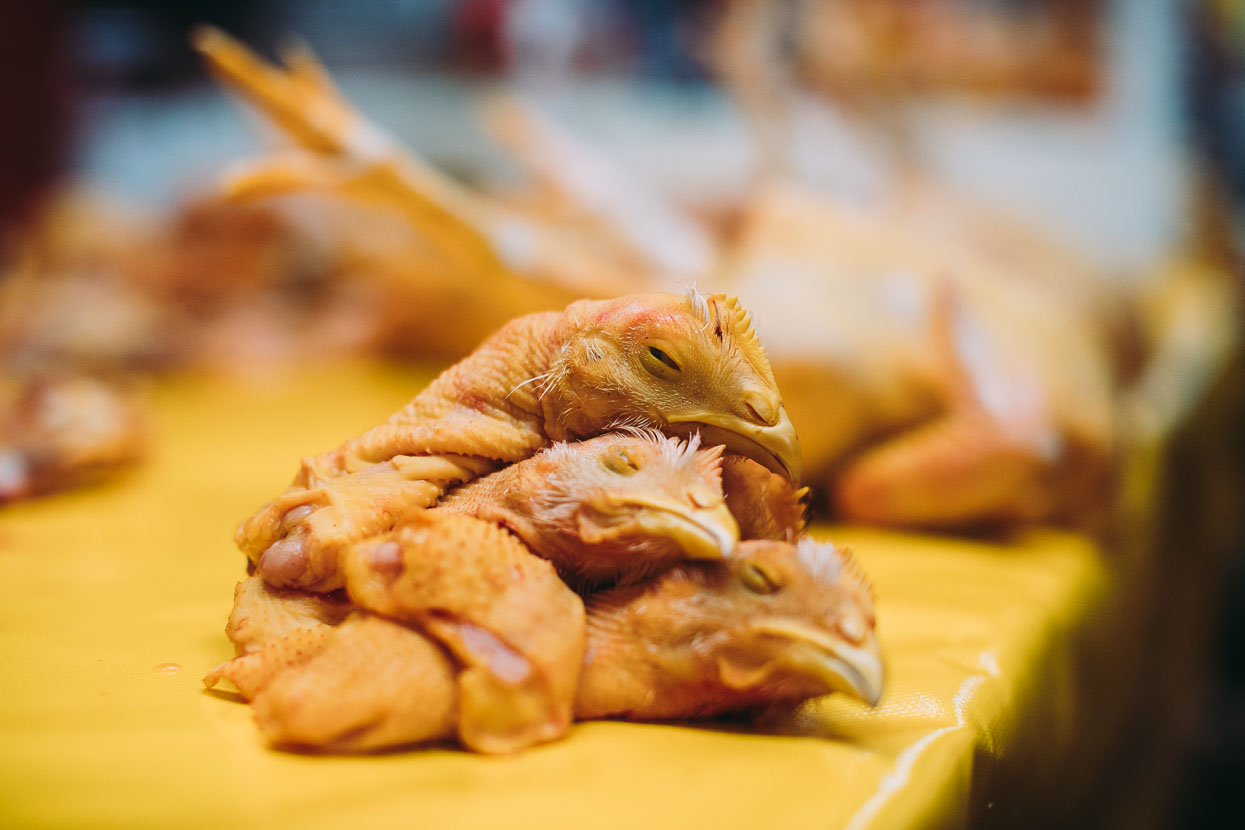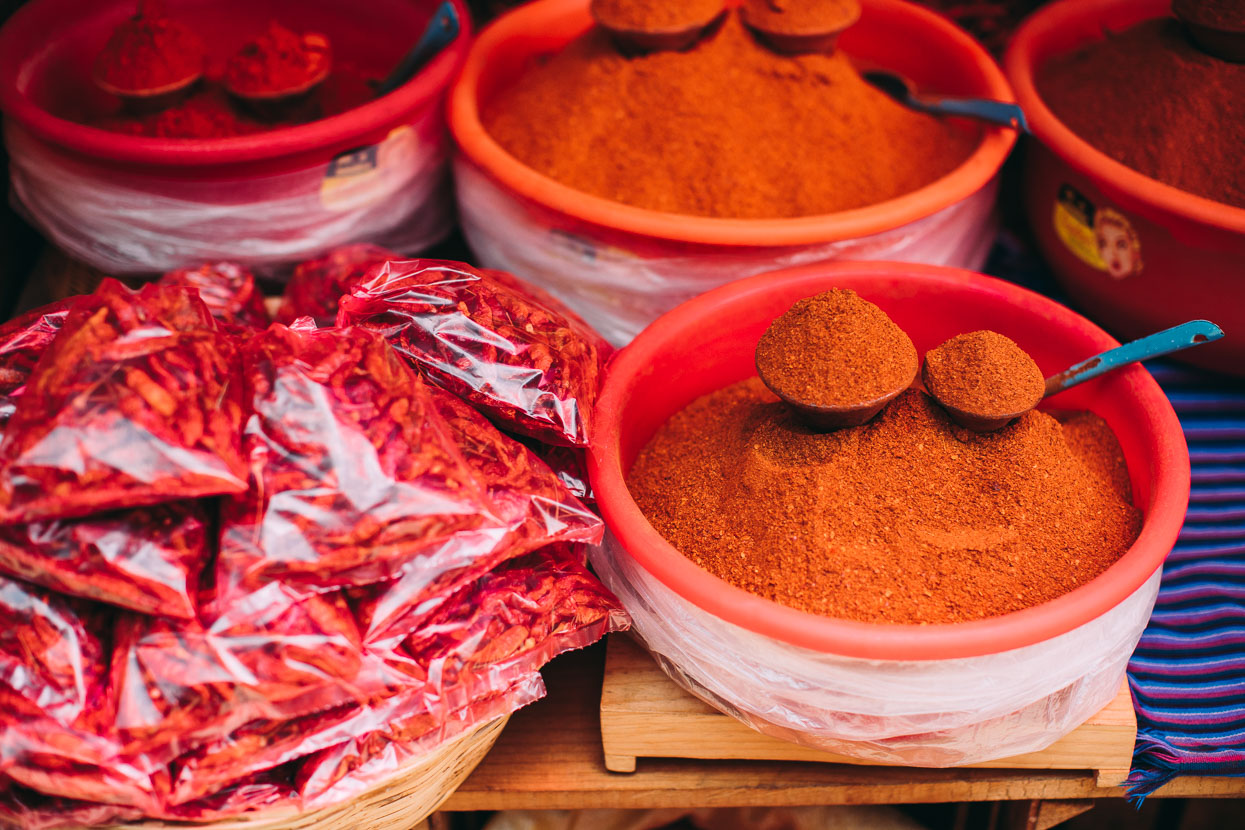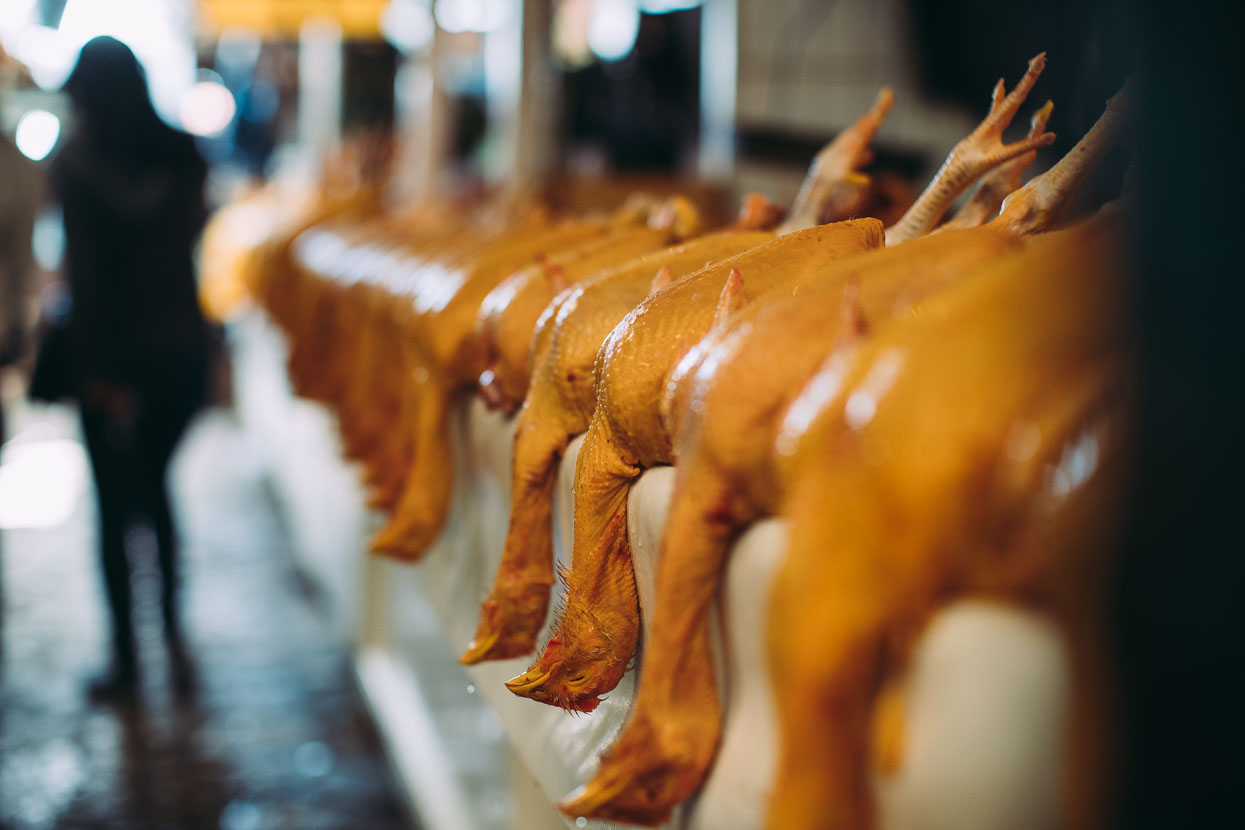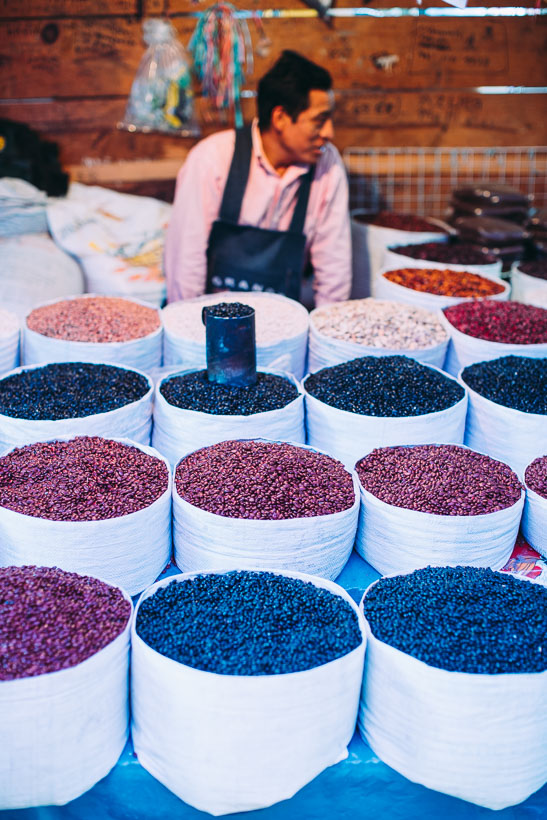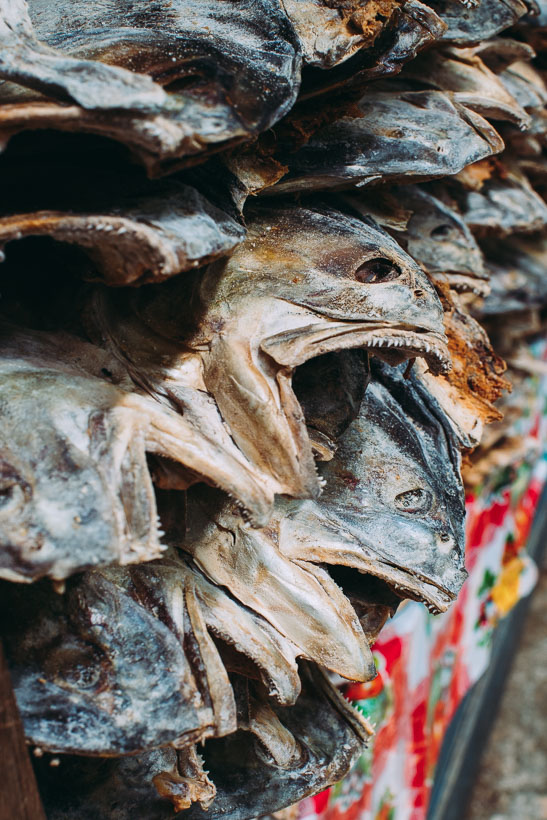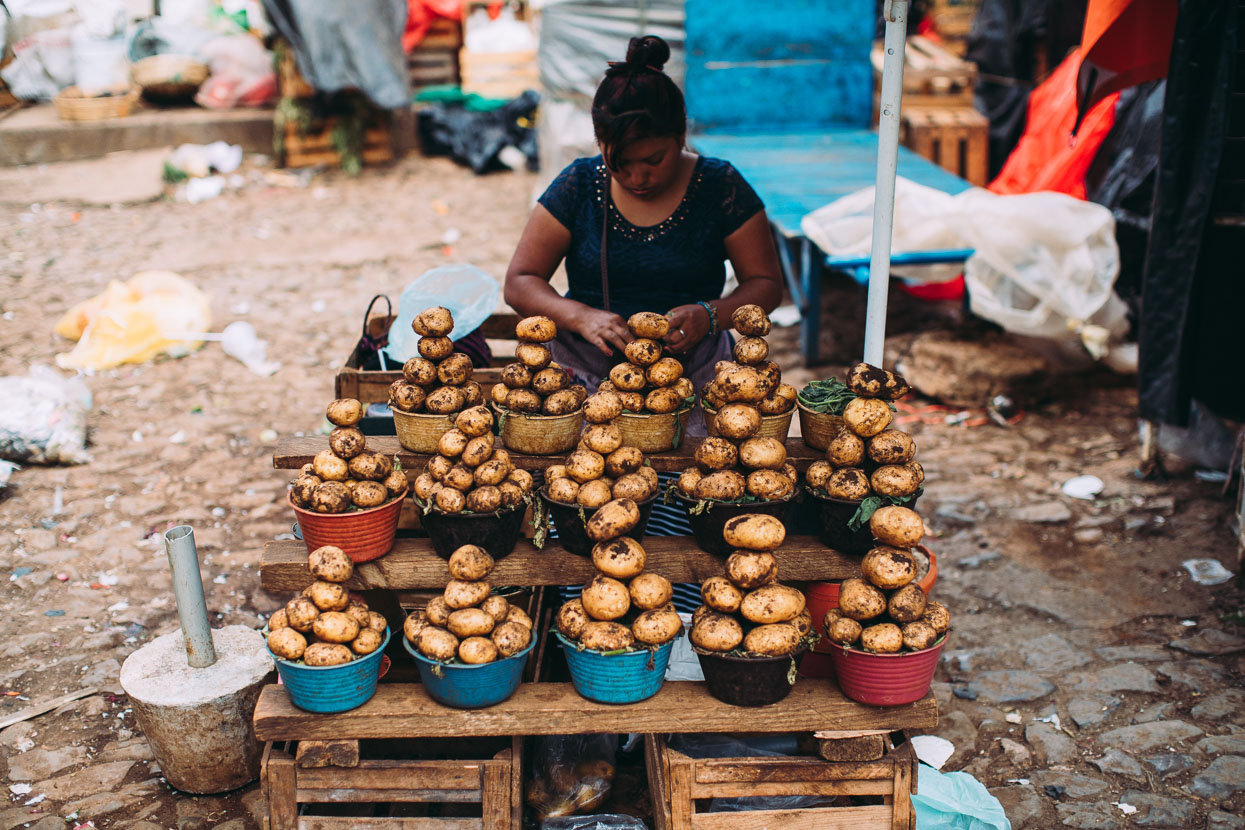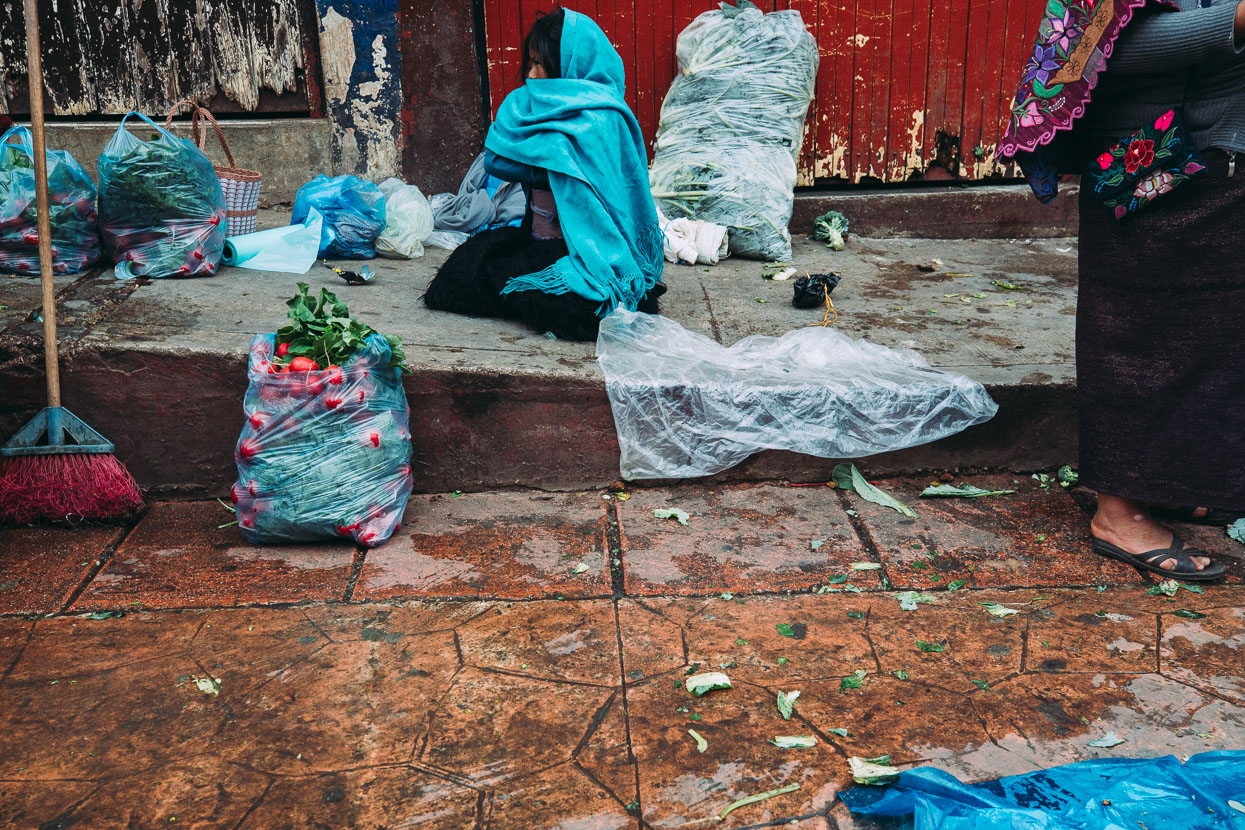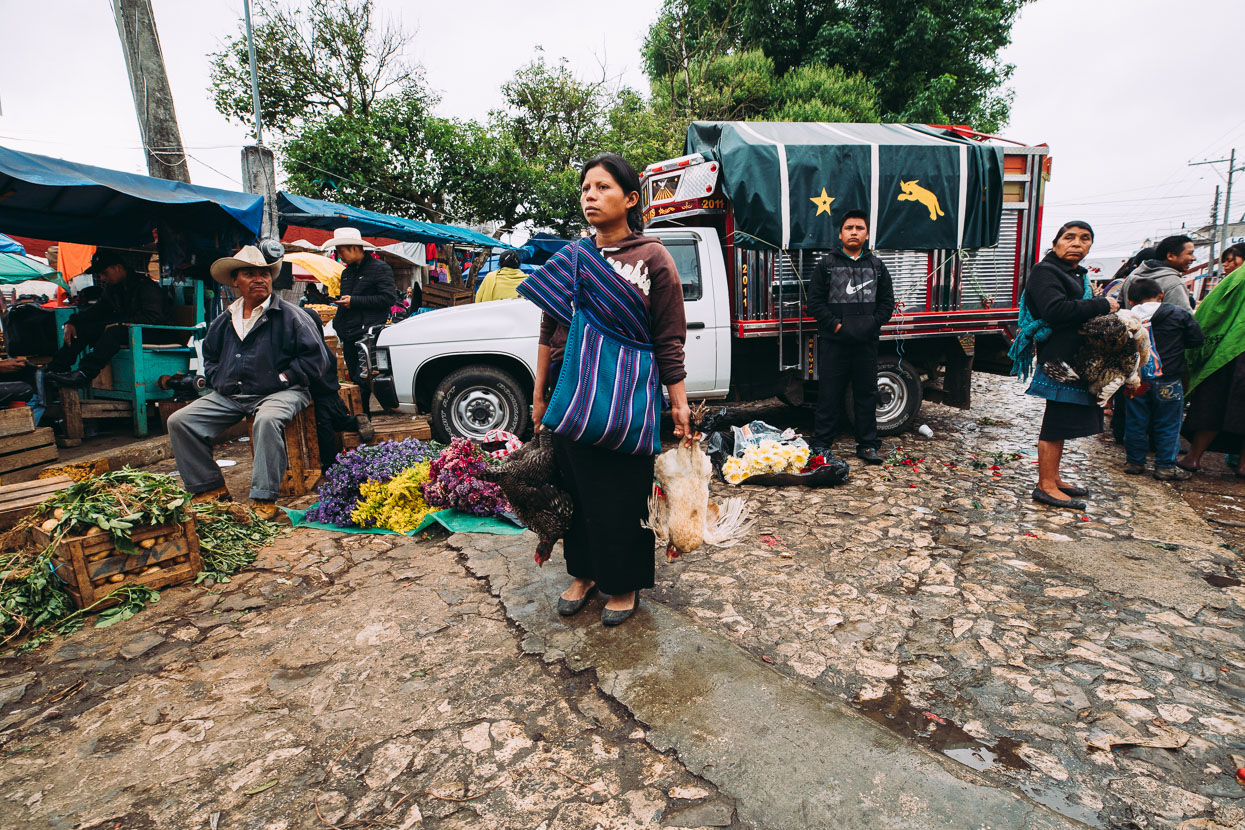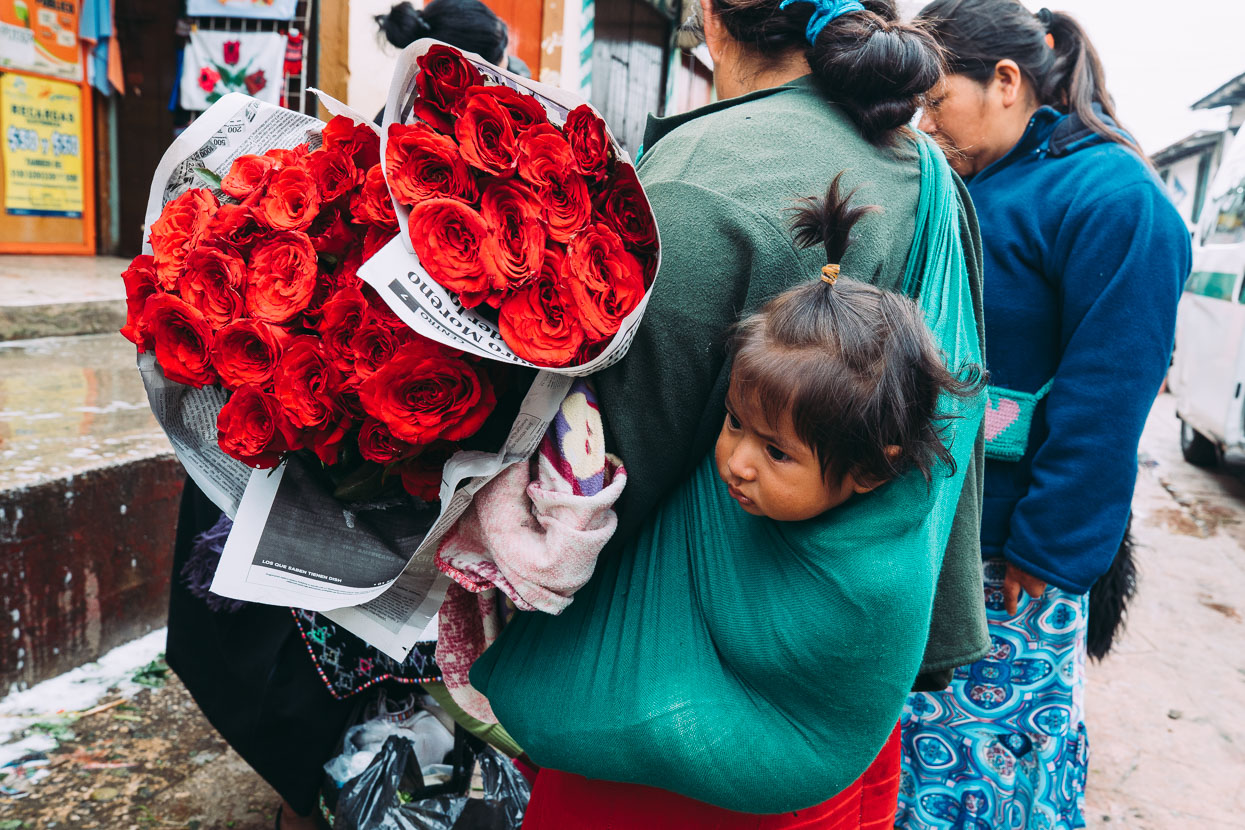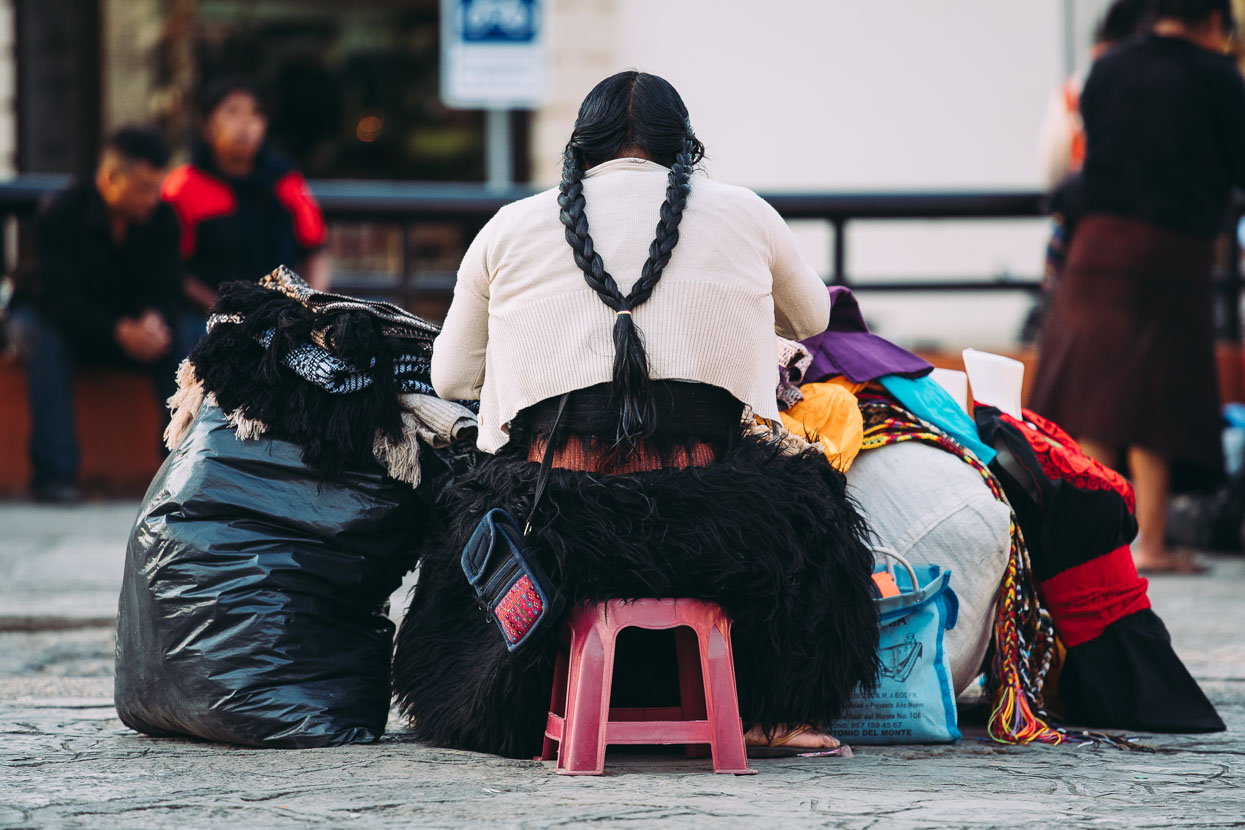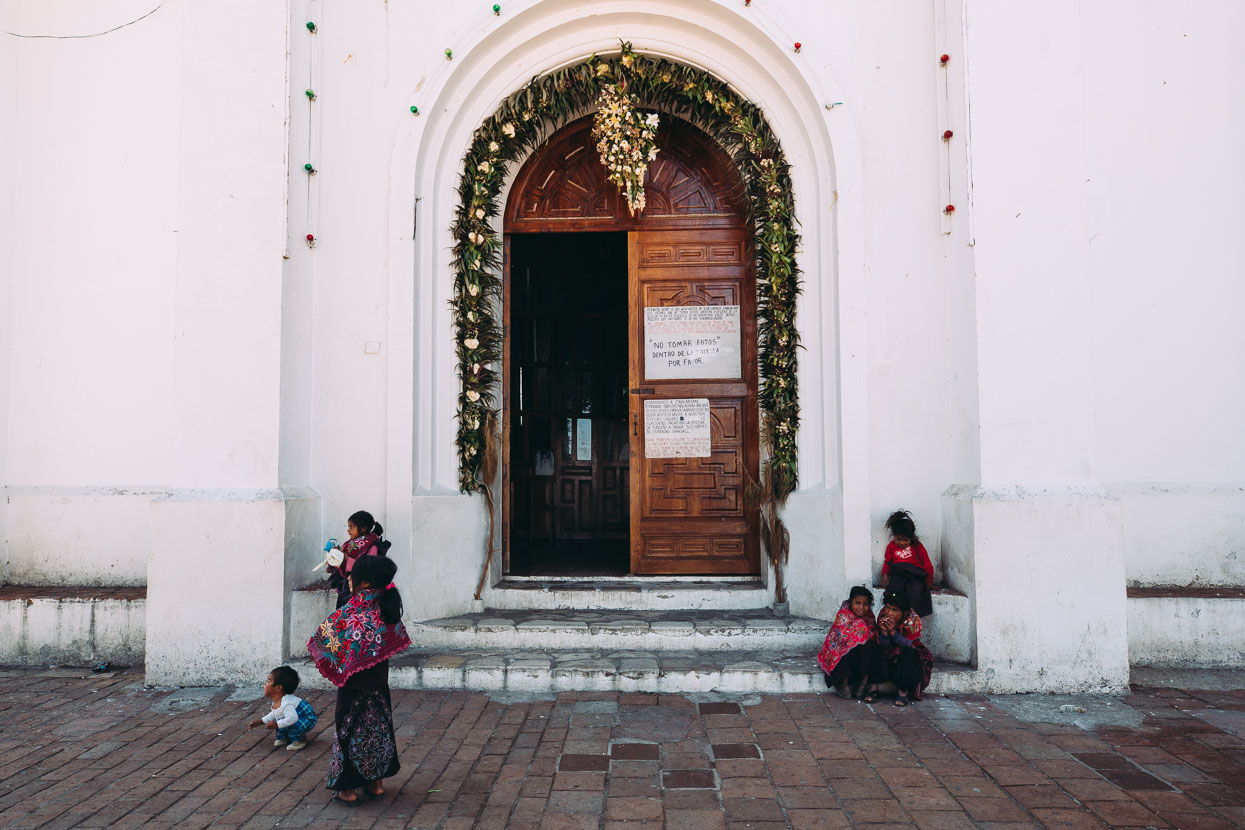 On Sunday we took a tour to the Highland Maya heartland villages of Zinacantan and Chamula. We'd visited these interesting villages in 2010, but this time we're keen to return with the insights of an English speaking guide. It's well worth the 200 pesos (NZ$15) each.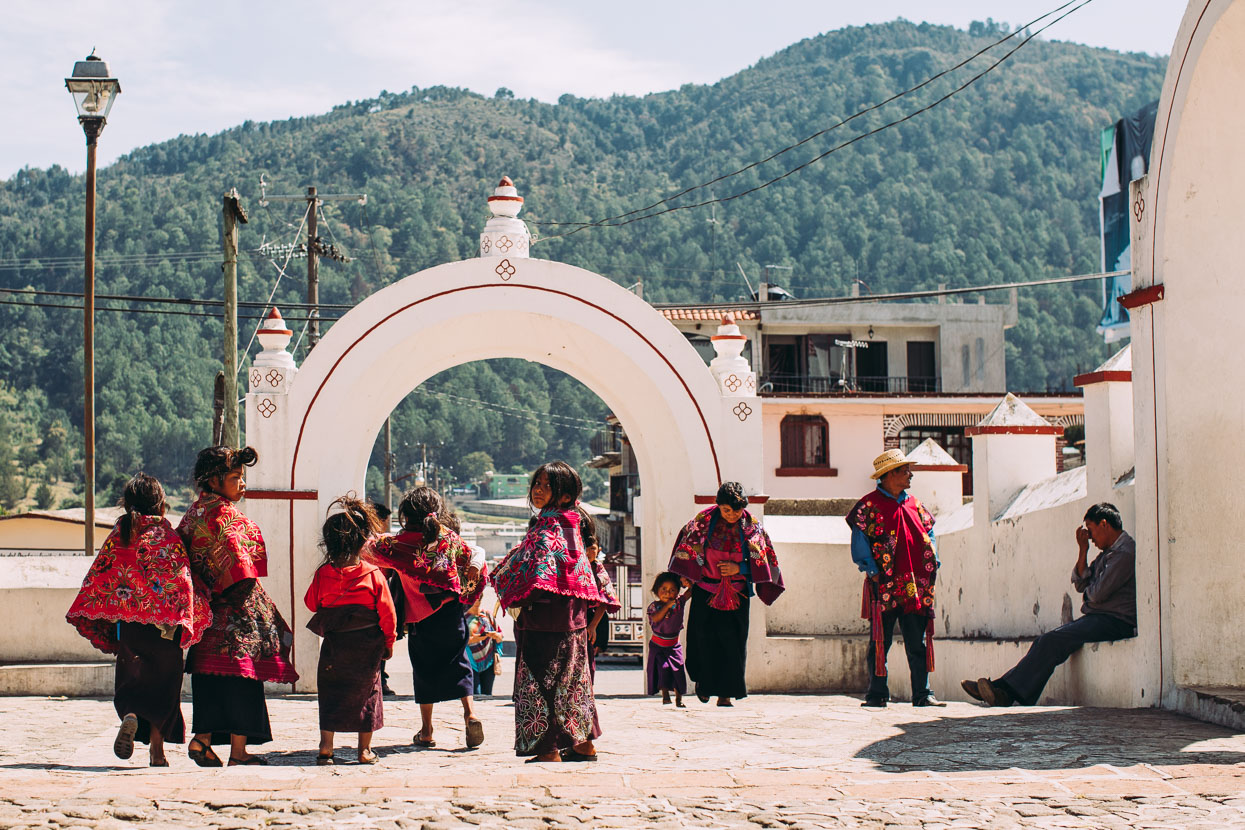 Our first stop is the church in Zinacantan where children eager to pose with you for few pesos crowd around us.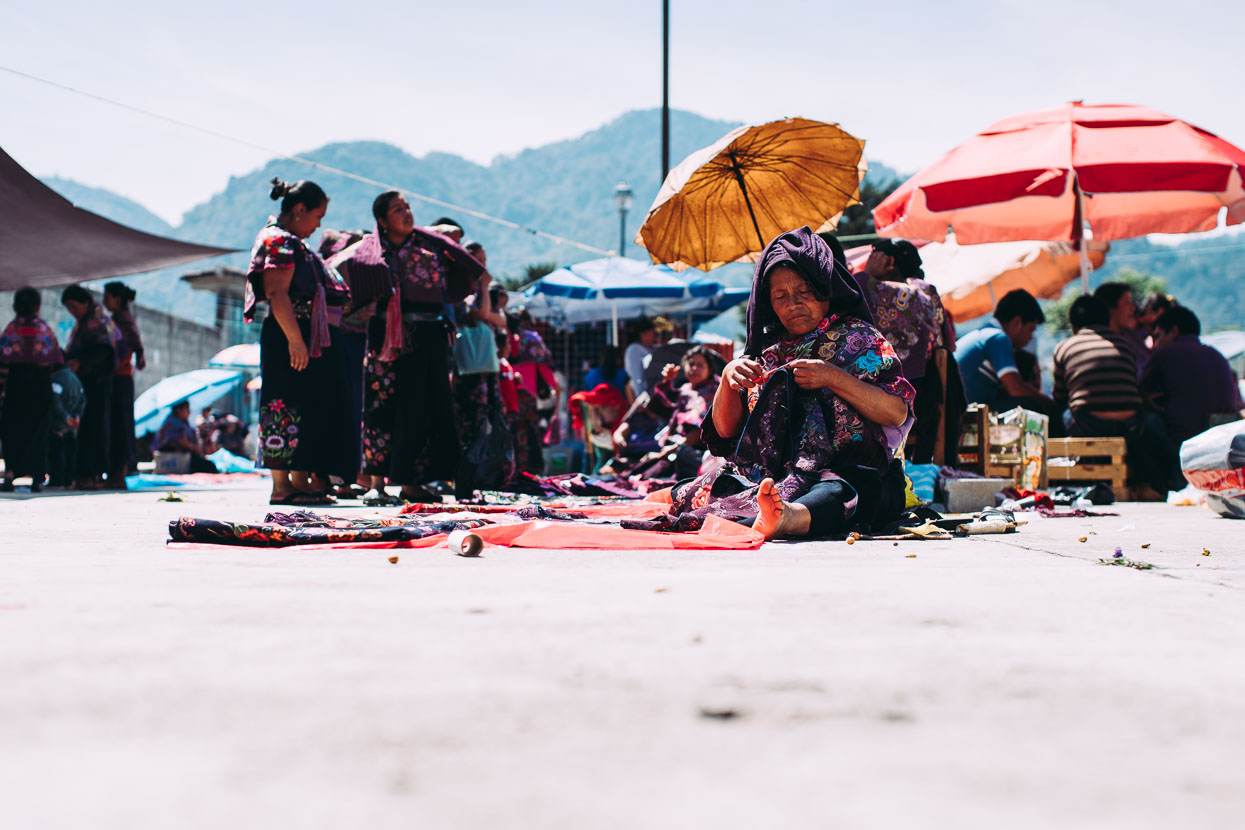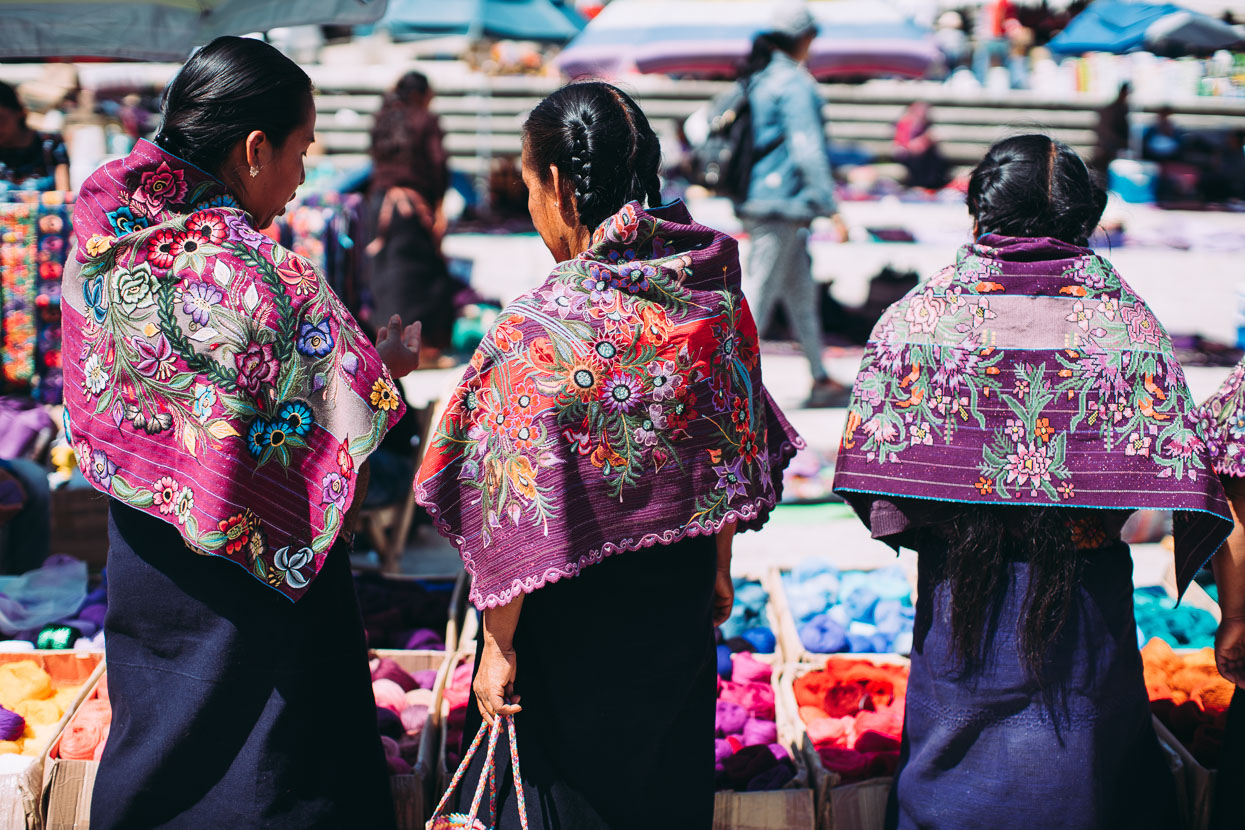 At the market every woman and many of the men are in traditional dress. It's not a show for the tourists. These people are proud. Proud of their traditions, heritage and unity. Photography is strictly banned in the church and not particularly welcome in the village in general, but it is tolerated. I'm careful not to poke my camera in people's faces.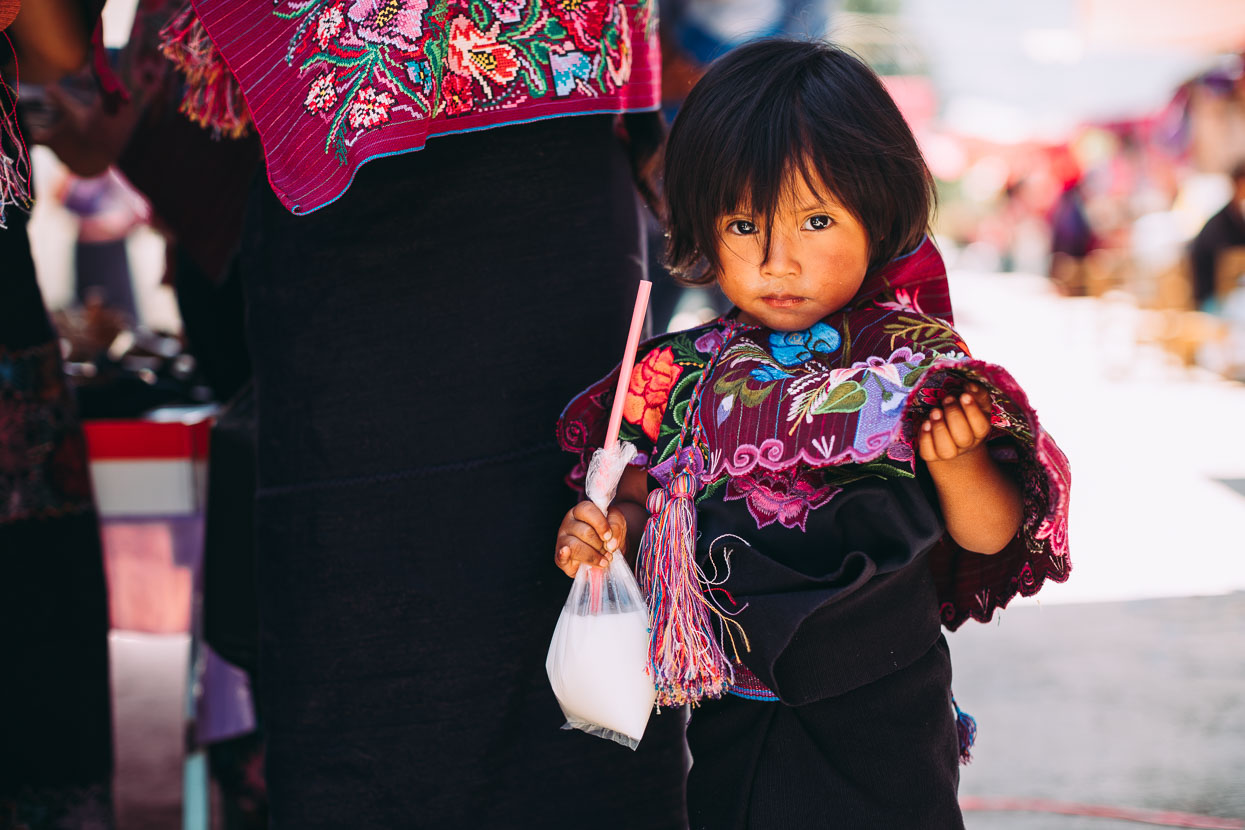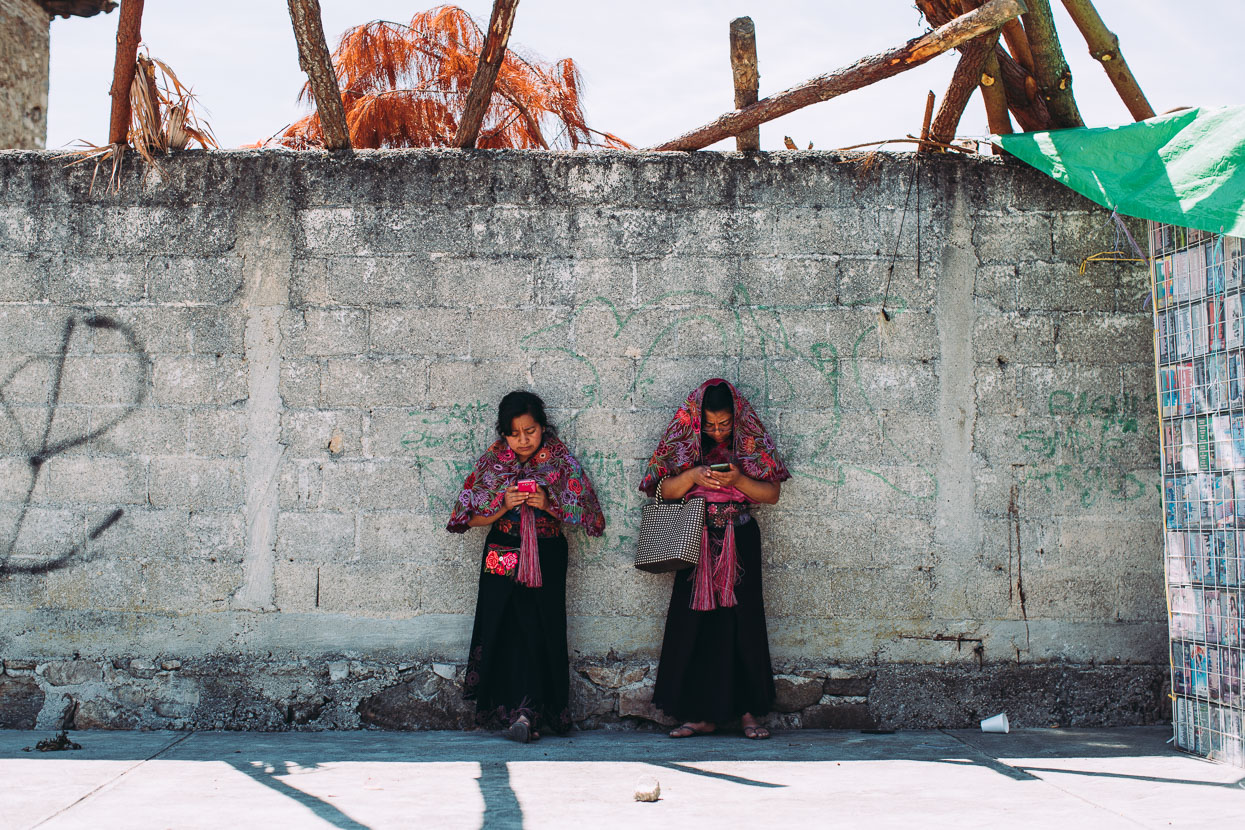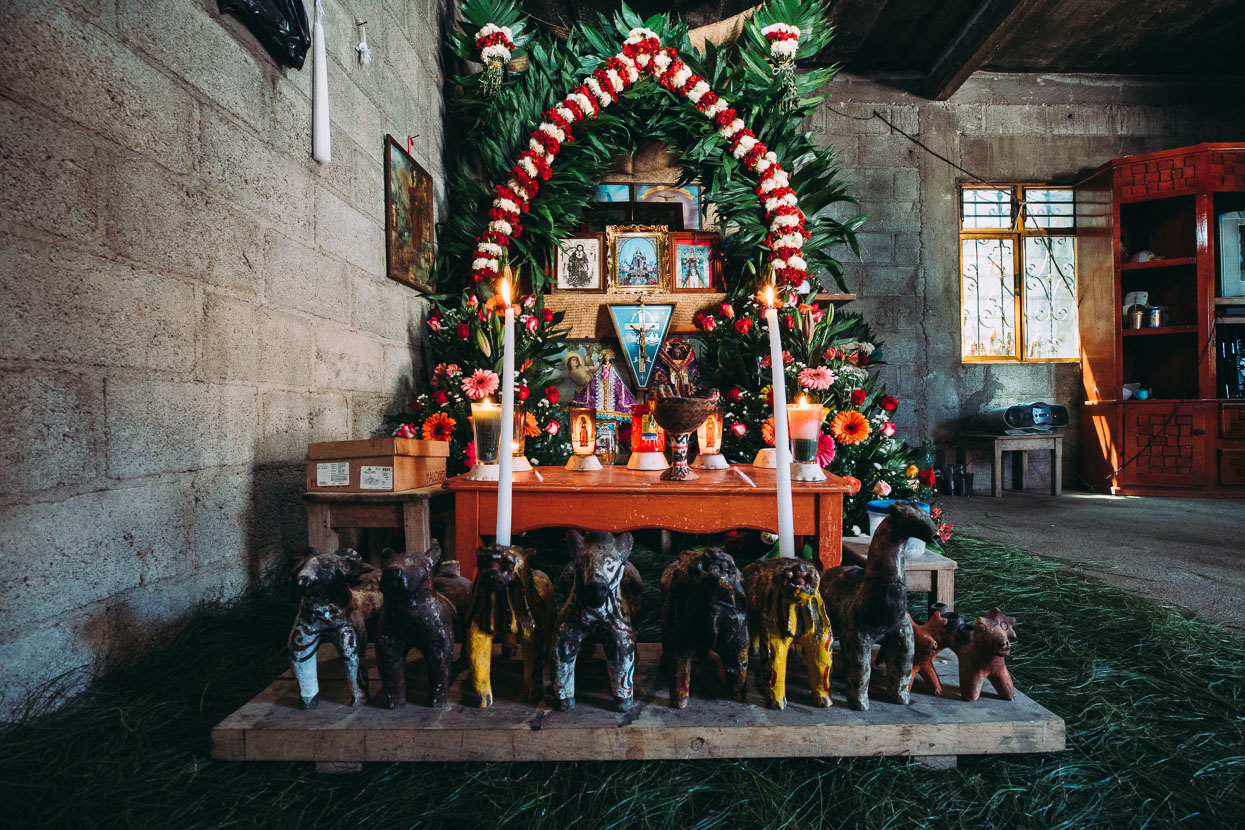 Shrine in a private home. Clay animal figurines representing gods and spirits alongside catholic saints.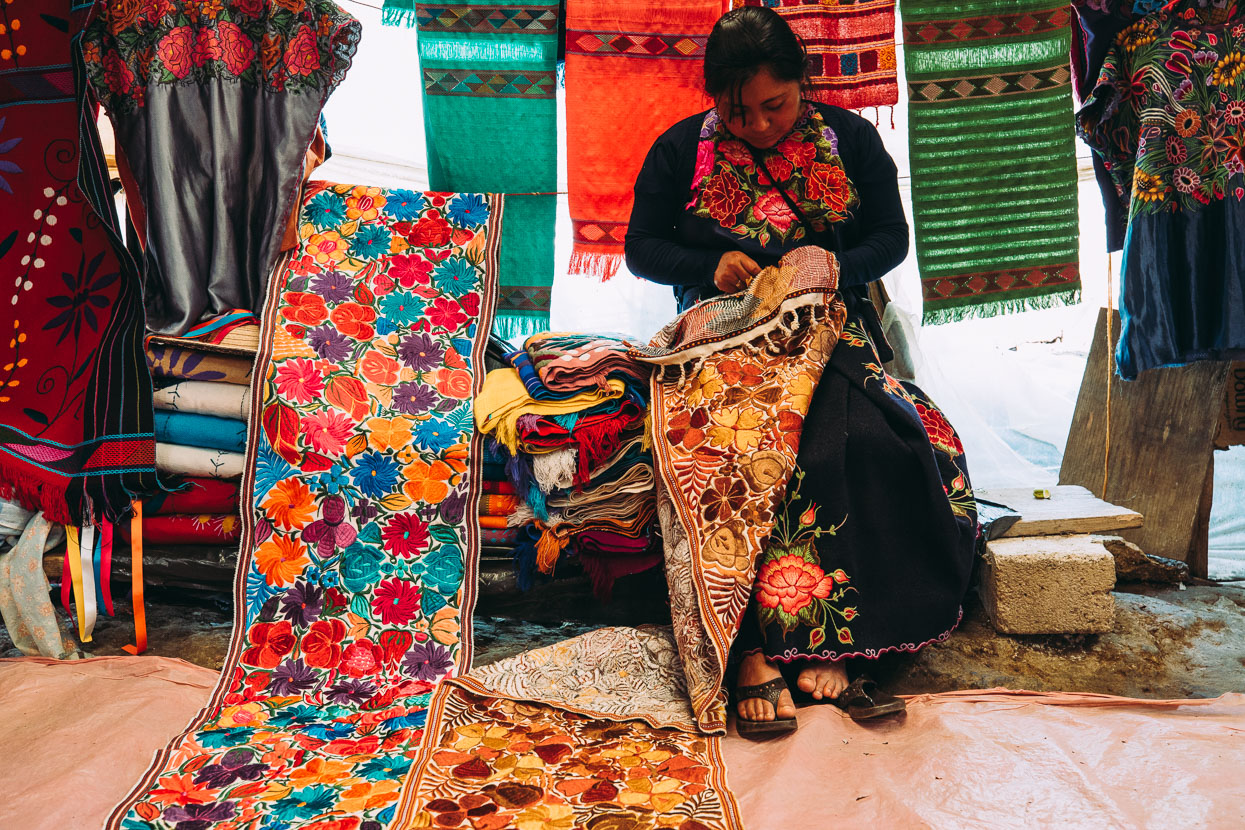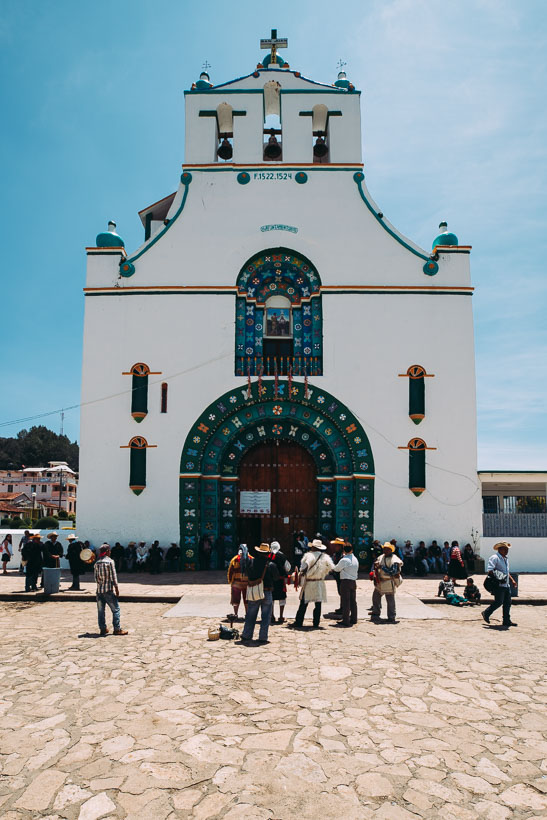 Our visit to the church in Chamula is the highlight of our stay in San Cristobal and the cultural highlight of our time in Mexico. While tourists are welcome inside the church, photography is banned. Hats and sunglasses must be removed and cameras placed inside their bags.
The outside of the church is colonial in style but it's painted white and decorated with unique flower-like motifs. Inside, it's a church like no other. There are no pews. The floor is almost completely covered in pine needles and Chamulans are seated about in small groups, clustered around regimented arrangements of candles stuck to the floor. Beside one group lies a dead chicken and a bottle of Coca Cola. The air is thick with smoke from burning copal, an earthy scented incense that's billowing in clouds from ceramic pots. Men with strange hats and thick white sheeps' wool tunics keep it burning vigorously.
We walk deeper inside. The atmosphere is fiesta-like. There is a group of men playing a wooden xylophone, guitar and drums. People cluster about them and chatter quietly while people on the floor pray. Benches down both sides of the church are laden with painted figures of the saints, while above us big deltas of fabric form arches to represent the mountains among which these people originally worshipped their gods; along with the pine needles they have brought the outside world inside.
At the front of the church, near the altar two men sit on the floor beside a cardboard box tied with string. They pray and chat and the box shudders from time to time. One of them turns to open it, and reaches in with both hands to release a chicken. The chicken is calmed, and then held firmly while it's cradled and rocked from side to side above burning candles.
Then the man pulls its neck and lies it gently on the floor. The chicken kicks and twitches, then kicks some more. The band plays on and the copal is rich in my nostrils. Finally a foot judders softly and then stops. The chicken is dead, and hopefully too is the disease which has been ritually passed from patient to poultry.
The Coca Cola too is a form of ritual. Burping releases evil spirits, and coke helps people burp. This region has the highest cola consumption rate in all of Mexico.
The painted forms of a bull, a jaguar, snake and eagle remind me that these people seek strength not only from conventional saints but also from nature and the landscape. Chamulans believe that from birth all people share part of their soul with an animal.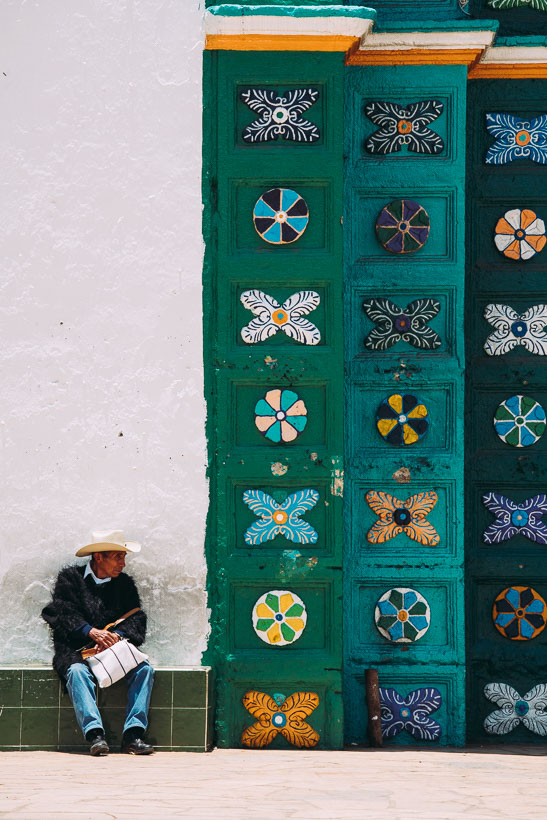 Do you enjoy our blog content? Find it useful? We love it when people shout us a beer or contribute to our ongoing expenses!
Creating content for this site – as much as we love it – is time consuming and adds to travel costs. Every little bit helps, and your contributions motivate us to work on more bicycle travel-related content. Up coming posts: camera kit and work flow, route planning & navigation.