Day 191: Fly to Banda Aceh, Sumatra, Indonesia.
Days 192 and 193: Sightseeing around Banda Aceh.
The final leg of our 8 month cycle touring odyssey commences in Banda Aceh, Sumatra; a name synonymous with the devastating 2004 Boxing Day Tsunami which killed over 61,000 people in the city alone. During the short bus ride from the airport to the city the reality of the disaster's far reaching effects hit home when the bus driver tells us that eight in his family were killed. He alone survived, he said, because 'I swam'. There are few indications of the scale of what happened here now though, due to the energy and speed of the rebuilding effort.
For us Banda Aceh is going to be the start of a 2500km ride south along the coast and through the highlands of Sumatra. We've got a ticket home to NZ now and only a few weeks left before our journey ends.
Before we hit the road though, we spent a couple of days chilling out and checking out some of the sights around Banda Aceh. After the relative affluence and 'normality' of Thailand and Malaysia it was exciting to be back somewhere a little wild, where language was a challenge again and the food and customs a mystery.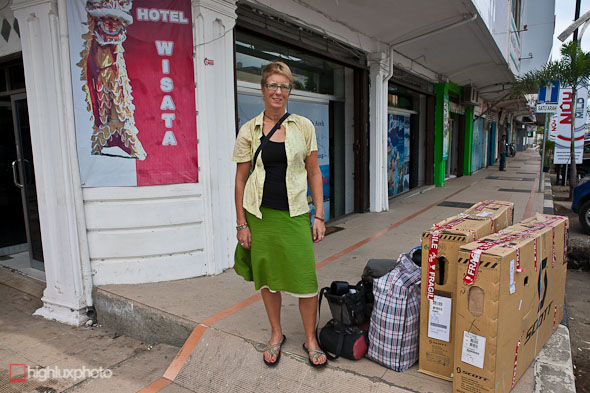 The bus driver kindly dropped us off right outside our hotel, with our bikes still boxed and our panniers stowed in some 'Samoan suitcases' (a top tip for flying with panniers!).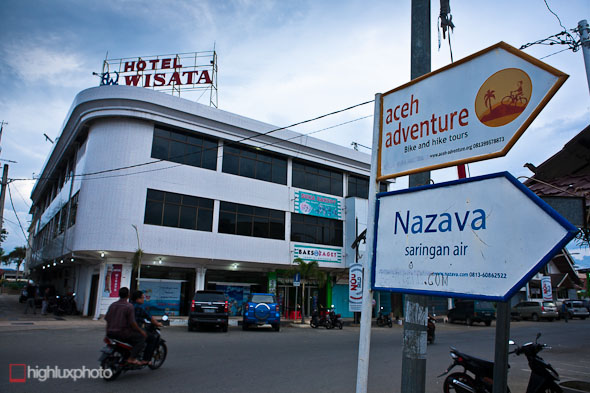 Apart from putting the bikes back together, our top priority was to see the folks at Aceh Adventure for some beta about the route we were planning to take south. Their website has a good itinerary through the highlands and we used this as the basis for the first week of our route south. The course profile looked frightening, with some tellingly steep spikes indicating back to back 2000m+ climbing days. These guys run guided trips and here's their site. Thanks to Lisa for taking the time to chat to us.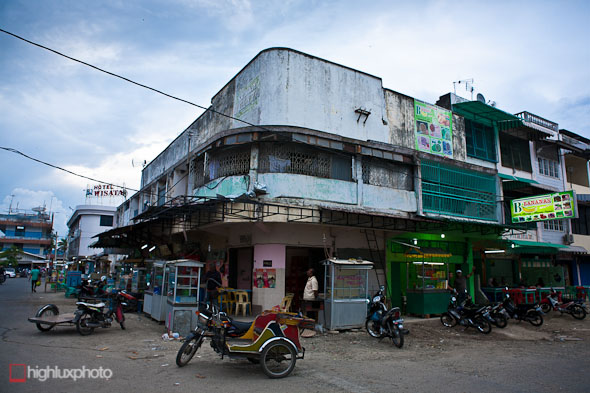 Downtown Banda Aceh.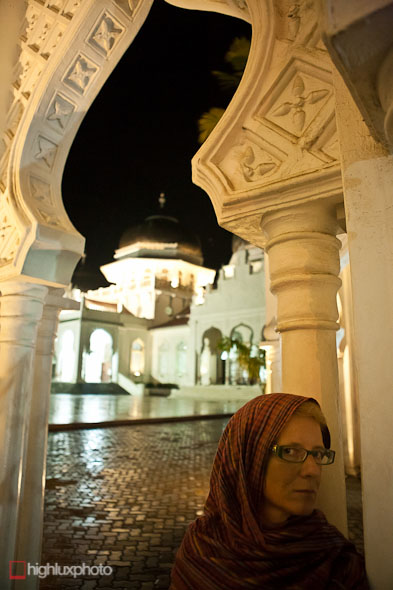 Aceh province is regarded as the home and origin of Islam in all of South East Asia, with roots dating as far back as the 13th century. It's the most strictly Islamic state in Indonesia and consequently sharia law applies. That means stoning to death for adultery, no drinking, and making sure one dresses in line with Islamic teachings; that includes tourists!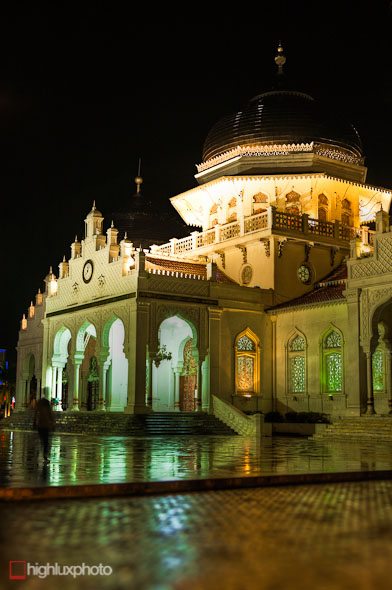 The Masjid Raya Baiturrahman, built partly by the Dutch in 1879 as a sign of goodwill after the original burned down. It was later added to. The mosque survived the tsunami and its courtyard served as a crisis centre; with bodies laid out in the courtyard awaiting identification.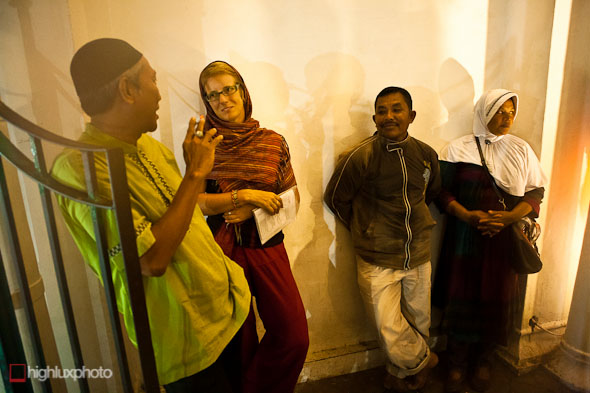 Immediately we have found the Acehnese to be curious, friendly and chatty. If someone speaks English, they won't hold back in approaching you for a brief – or sometimes not so brief – conversation.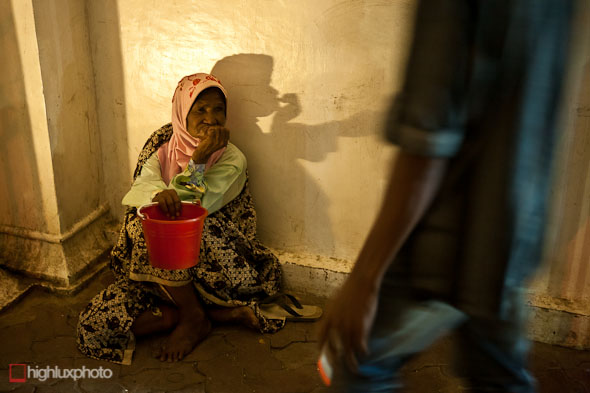 Woman begging outside the mosque.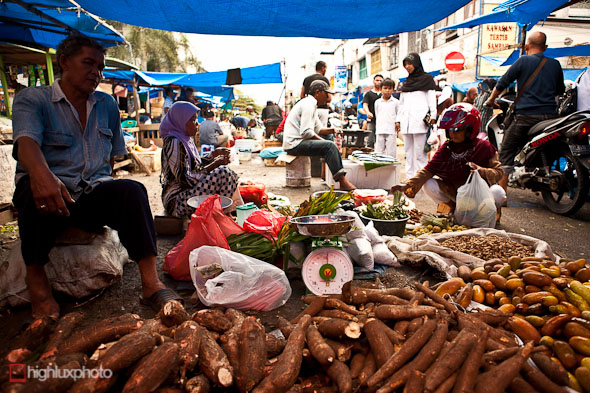 Banda Aceh's scruffy market street took us right back to memories of Vietnam and Cambodia.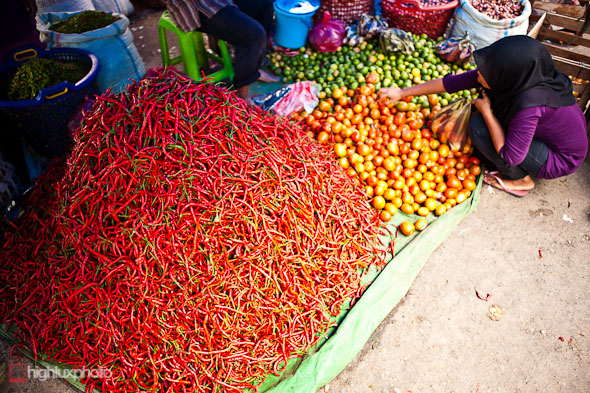 Don't like chili in your food? Too bad…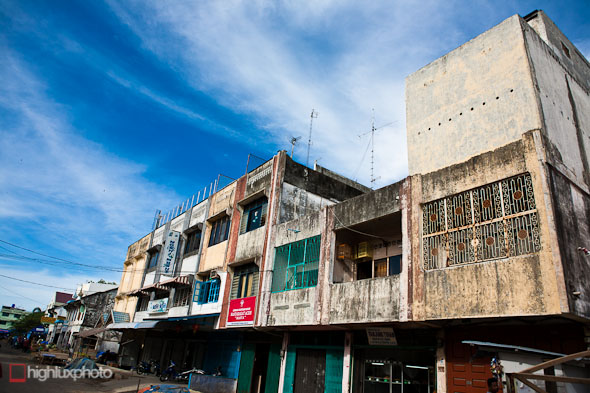 Despite floodwaters around the 3-6 metre mark (reports vary) in town much of the retro architecture survived. The city's a hodgepodge of old stuff like this and post tsunami rebuilding.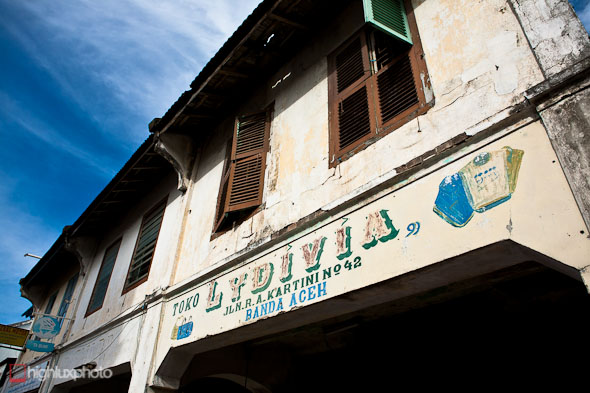 There's plenty of character left.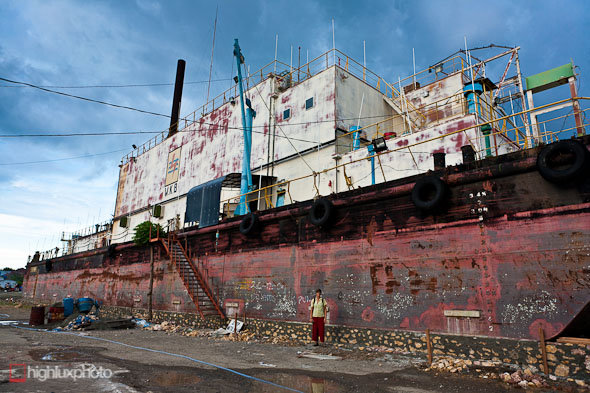 Wandering around Banda Aceh now you'd hardly believe there had been such widespread destruction, such has been the rebuilding effort. The undeniably tangible exists though in the form of this 2500 tonne power generator vessel that was carried 4km inland by 6 metre-high floodwaters. It's surrounded 360 degrees by houses and in fact rests on two which were flattened beneath it. The ship is now being turned into a memorial/park.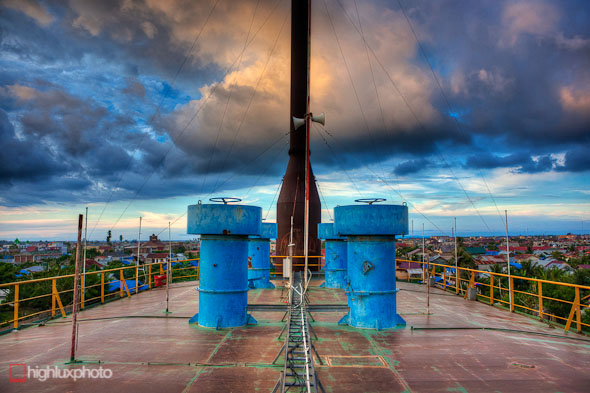 View from the top of the power generator vessel. Completely surrounded by houses and 4km from the sea!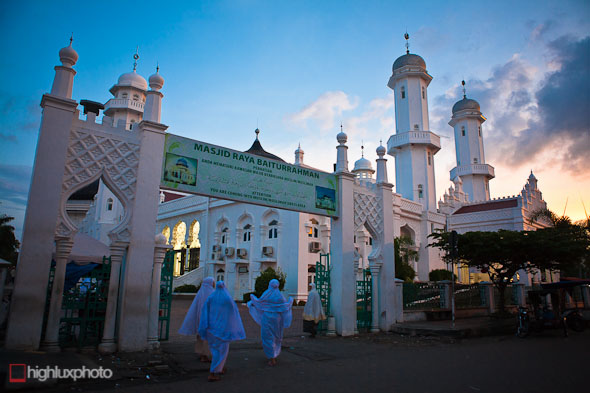 The Masjid Raya Baiturrahman. As with Malaysia, the 6pm call to prayer puts a halt to all activities while people go to pray. Too bad if you're a hungry cycle tourist looking for dinner.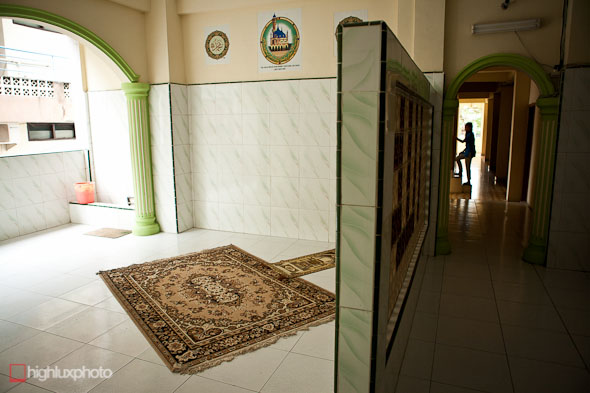 Our hotel even has a prayer room…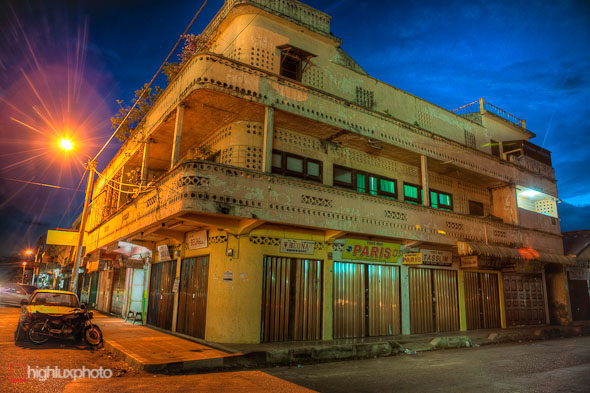 Old shop house building in Banda Aceh. This image, like a few others in this post, is created from five separate exposures. The single exposures are merged into one HDR image in Photomatix and then touched up with Photoshop.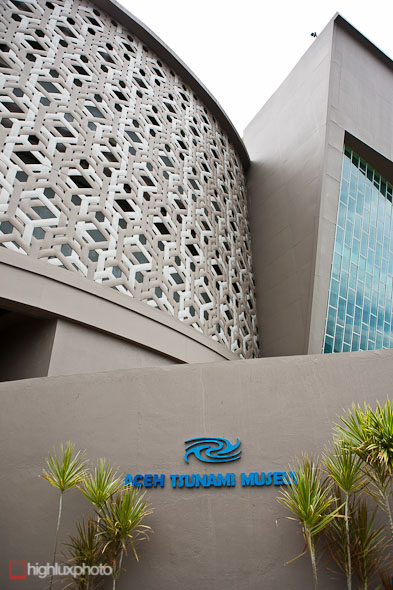 The Aceh Tsunami Museum is worth a visit. Exhibits are still being completed, but it's a well conceived building and monument.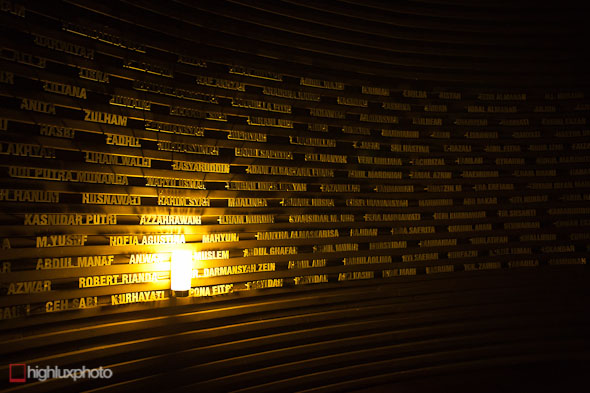 Gallery of tsunami victim's names inside the museum.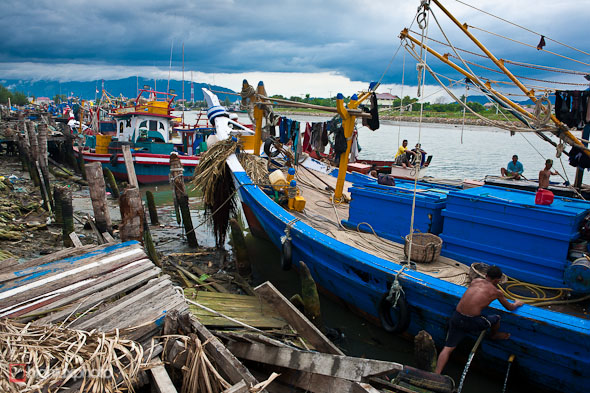 Fishing boats on Banda Aceh's river.

Interesting style of boat design.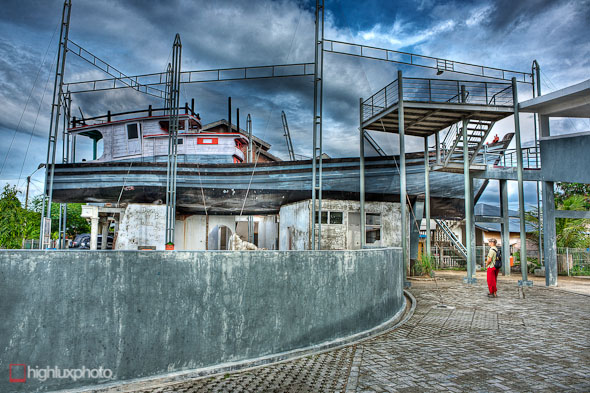 The 'Boat in the House' is another of Banda Aceh's tsunami sights.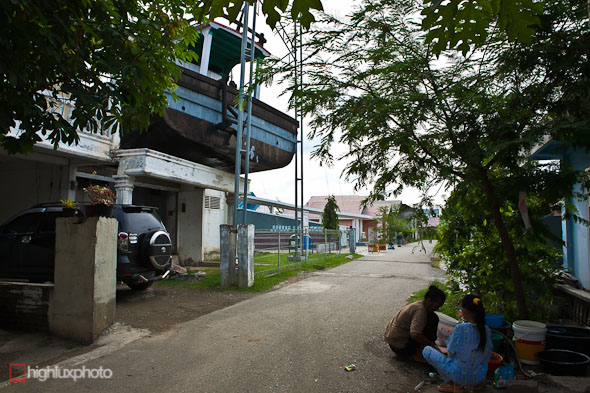 Life goes on…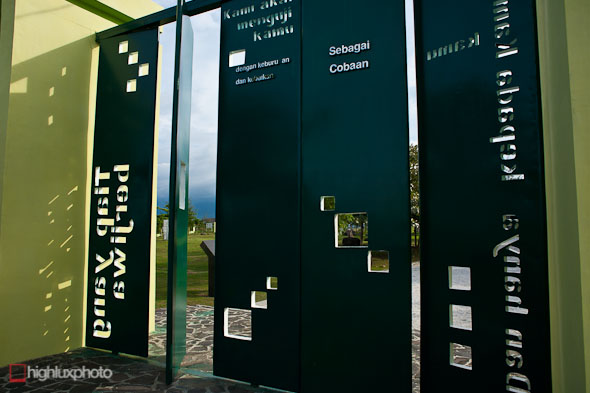 Heading out towards the coast from the city you pass this mass grave site, containing 46,000 unidentified bodies …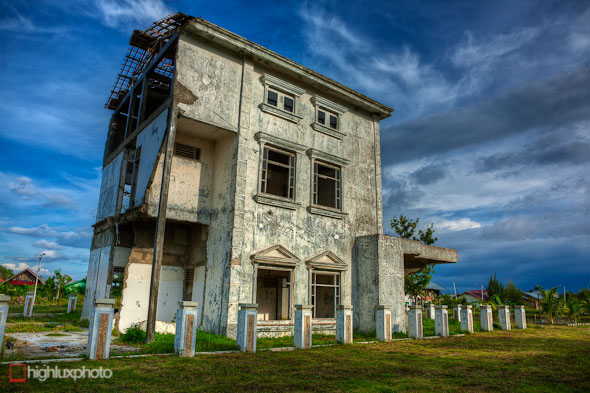 …and nearby a wrecked building preserved as some kind of tsunami memorial.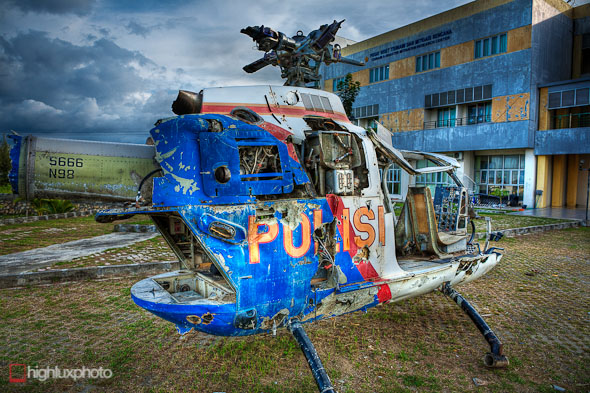 This police helicopter, now outside the Tsunami and Disaster Mitigation Research Centre was one of several we saw that were destroyed by the tsunami.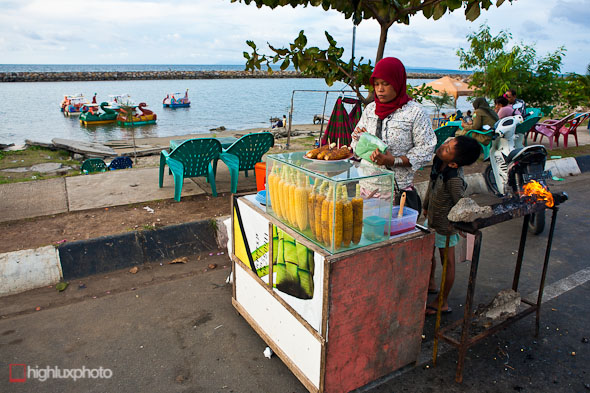 The suburbs on the road out to the coast and this coastal strip area were totally destroyed, with not a building left standing save for the mosques. It's slowly coming back though, with trees replanted along the avenue and new shops and houses being constructed. Every night hundreds of people come down here to eat BBQ corn and watch the sun set over the sea that has left such an indelible mark on their lives.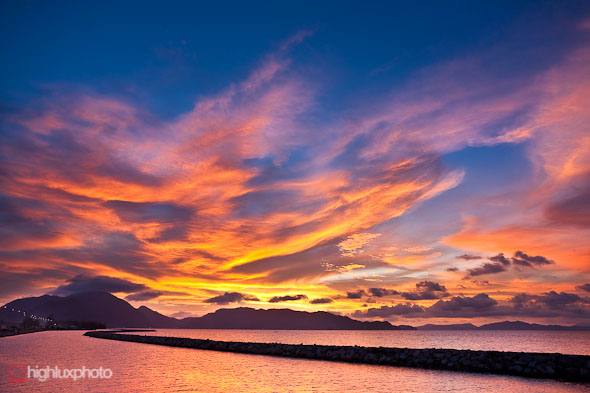 And awesome sunsets they are…