Kangding – Litang
Day 7: Kangding (2500m) – Xinduqiao (3500m) 81km, with 39km climb to 4298m
Day 8: sick in Xinduqiao
Day 9: sick in Xinduqiao
Day 10: Xin du Qiao – Yajiang (2800m) 77km, with 21km climb to 4412m
Day 11: sick in Yajiang
Day 12: sick in Yajiang
Day 13: sick in Yajiang
Day 14: Yajiang – Campsite (4015m) 24km, 1200m climb straight out of town
Day 15: Campsite – Truck Hostel (4380m) 73km, with passes at 4659m, 4610m, 4718m
Day 16: Truck Hostel – Litang (4014m) 51km, passes at 4500m, 4350m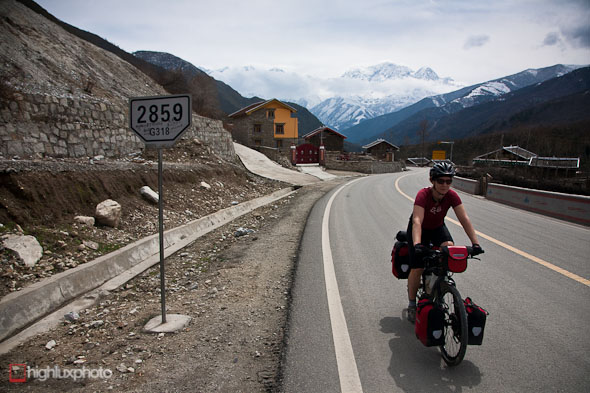 After a rest day in Kangding we were back into it, with the warmup well and truly over. From Kangding the road's uphill all the way for 39km to a pass at 4298m – it's the climb that takes you onto the Tibetan Plateau proper. It was the first big pass of the trip for us, and the first of the more epic climbs. Unfortunately I started the day with bad diarrhoea and stomach cramps!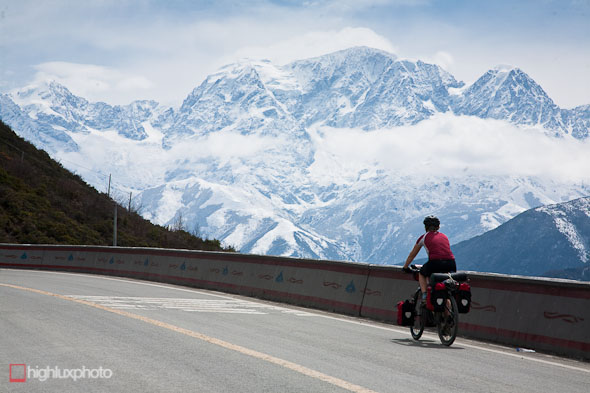 The road switchbacked its way out of Kangding and gave awesome views of the surrounding mountains. Gongga Shan (7500m) dominates the valleys not far from here.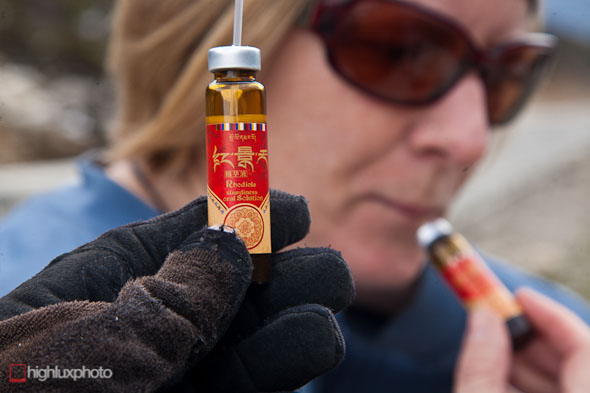 To mitigate the effects of altitude we're trying a couple of local remedies: Rhodiola Sturdiness Oral Solution, as well as some plant roots we make tea from. On this climb I found that neither were working for me though; the altitude, coupled with dehydration from the stomach bug had me feeling really rough from about the 3600m mark. From previous trips to altitude we've noticed Hana acclimatises faster than me (women often do). I seem to need an extra day.

One of the many hair pins about two thirds of the way up. From here on I started stopping about every kilometre to let my heart rate get back in control. Hana meanwhile cruised on.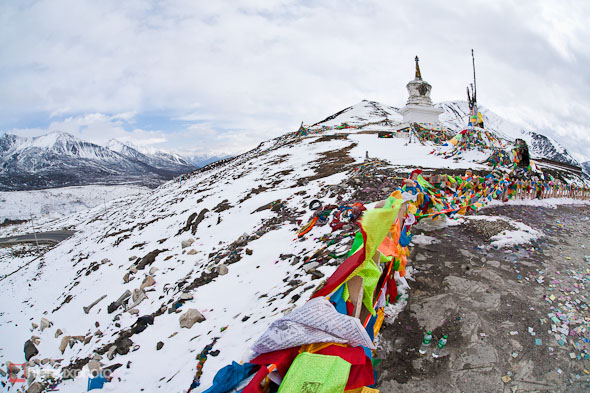 Zheduo Pass (4298m). By the time we got here we were both pretty wrecked; feeling sick and headachy. We stopped just to bludge some water off some Chinese tourists who were posing for photographs with us. It was freezing cold too, so we donned all our clothes and bombed down the other side of the pass on a smooth and fast road.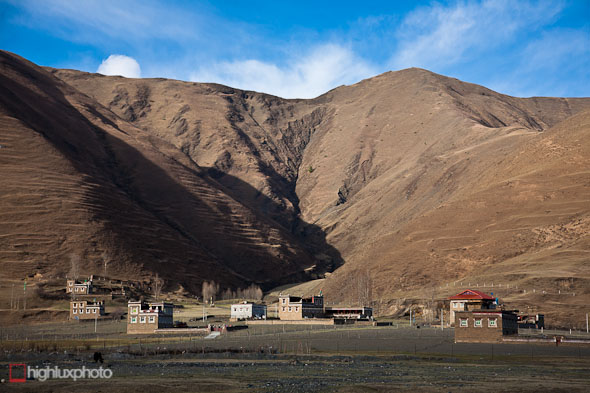 Once we got below the snowline we started to see typical Tibetan homes for the first time, and the landscape mellowed into rolling ranges and grasslands – quite like NZ's Central Otago.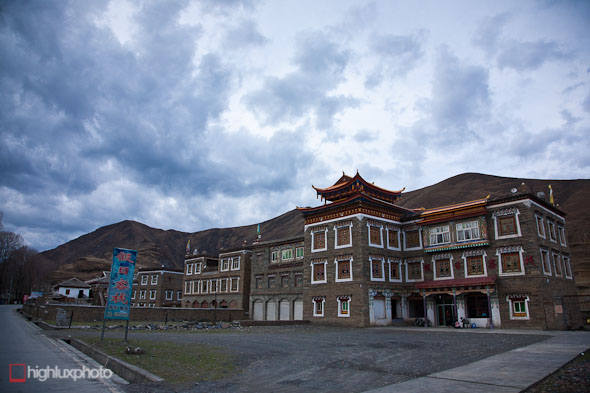 We arrived in Xindiqiao after 81km (and a very long descent to 3800m) and found ourselves a room in this hotel. The ground and first floor comprise the hotel and it's run by a Chinese family who rent it off the Tibetan owners who live on the top floor – complete with a full Buddhist shrine.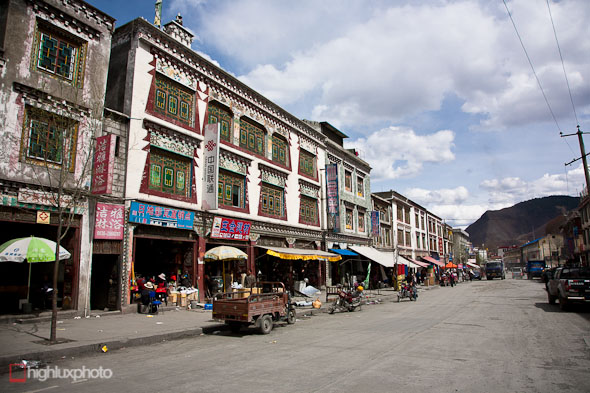 Xinduqiao's a colourful, filthy, dusty, windy but incredibly friendly place. We got stared at big time walking around here, but always with a smile and a 'Tashi Deli!' Still feeling sick the next morning, and unsure if was altitude or the bug, or both, we decided to stay put for a day (Hana was feeling average too). We ended up staying a third night as my diarrhoea contined – not seeming to be touched by the antibiotics I'd taken.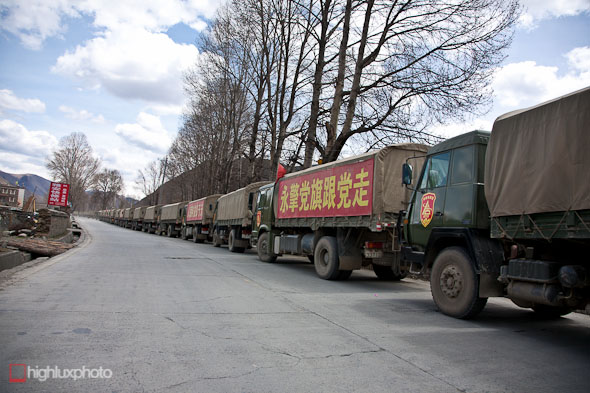 The Chinese Army has been omnipresent on the roads of this trip so far – with convoys up to 100 trucks long. Almost all of the large towns we pass through have an army base.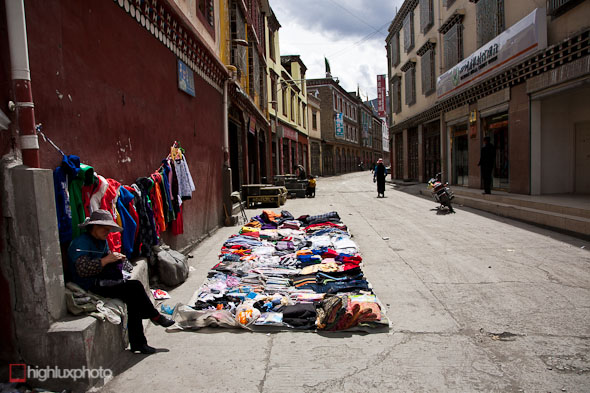 Xinduqiao.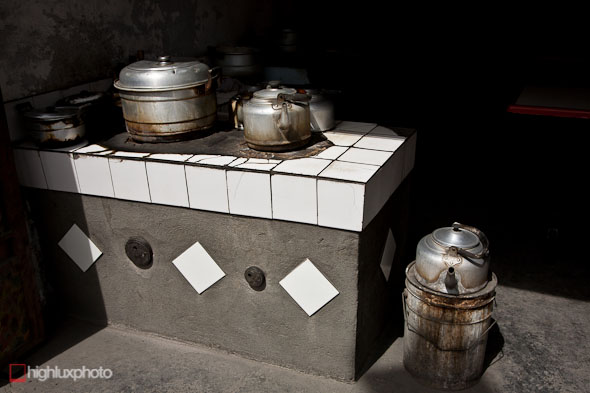 Tibetan kitchen.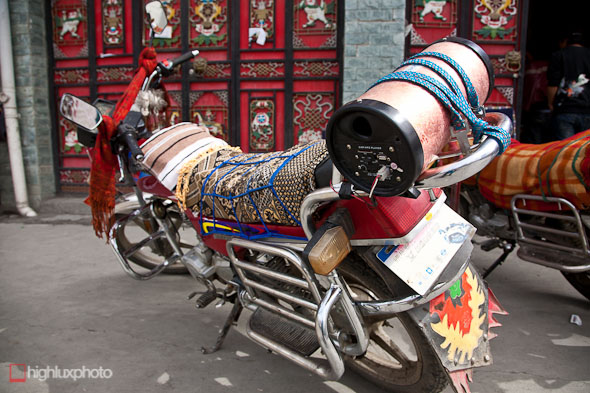 Tibetan motorcycle stereo: just about every bike has a subwoofer like this strapped on the back – perfect for the long rides these guys make over the passes to get supplies.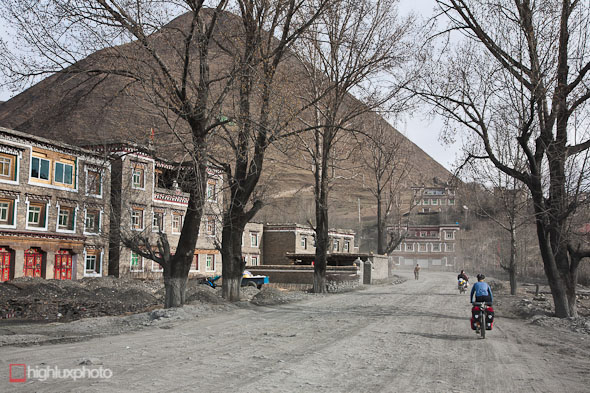 After 3 nights in Xinduqiao I was feeling well enough to get back on my bike. Ahead of us was a 77km ride to Yajiang (at the lower elevation of 2800m), but to get there we had a climb over a 4412m pass to make.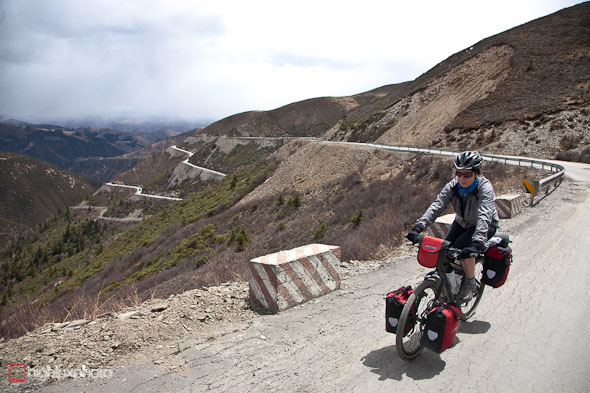 After 21km of climbing (at a pathetic average of 8.9km/h) we topped out. Again I felt really lame from about the 3500m mark and we were both definitely struggling a bit, both having eaten bugger all in the last two days due to nausea (or general lack of appetite on Hana's part).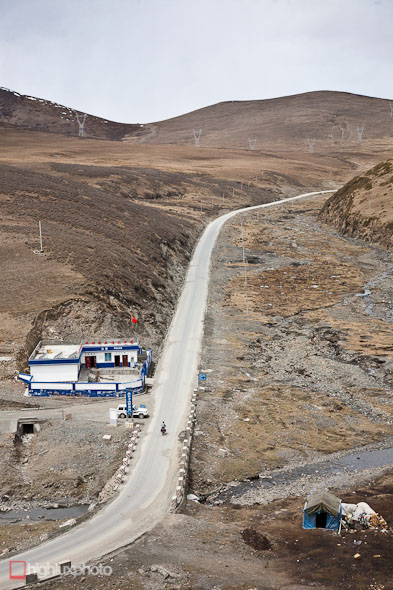 Hana nips past the PSB (Police) post on the plateau after the pass.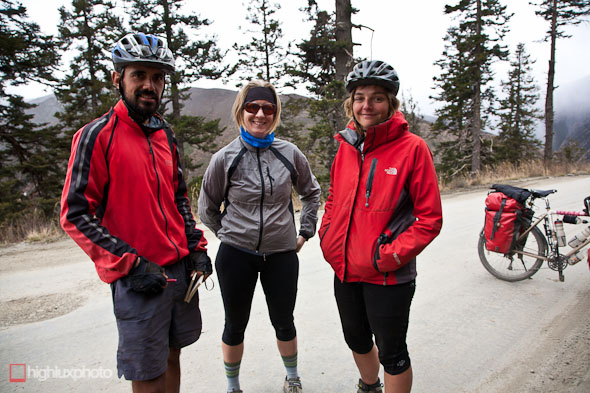 On the way down the other side we met Spanish cyclists Alvaro and Alicia, who were pretty much doing the same ride as us, but in reverse. Was cool to see some other Engilsh speakers – the first in days, and to gain beta about the road ahead.

Just as we were resuming our 1600m (40km) descent into Yajiang a snowstorm blew in and as the kms bumped by we started to freeze. Some friendly road worker guys invited us into their hut to drink hot water and sit by the fire. Paradise. We did have a bit of trouble communicating with each other though!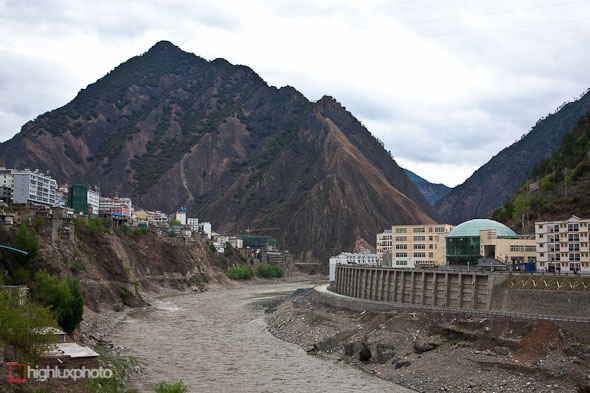 The road really deteriorated as we descended and some sections into Yajiang are just a muddy track (though it is all being upgraded in the near future). Apparently the road is pretty shit for the next few 100kms. That evening we both ate very little and the next morning my intestines were purging with a vengeance. We decided to stay put and stay a second night. In the mid afernoon the PSB (Police) turned up and kicked us out of the hotel, as it was not 'officially for tourists' so we had to book into the only sanctioed hotel at about 6 x the price! The following day I still wasn't better, so we stayed another night. I'd continued with the antibiotics, but they clearly we're touching this bug, so on our third morning in Yajiang I decided to take a dose of Tiberal, the antibiotic for giardia. Within hours my intestines had settled and my appetite was returning. We decided to get out of Dodge the next morning and start the 1600m climb back on to the plateau.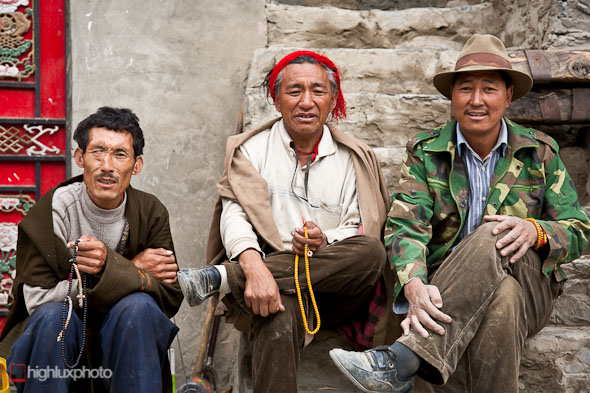 Some local dudes in Yajiang.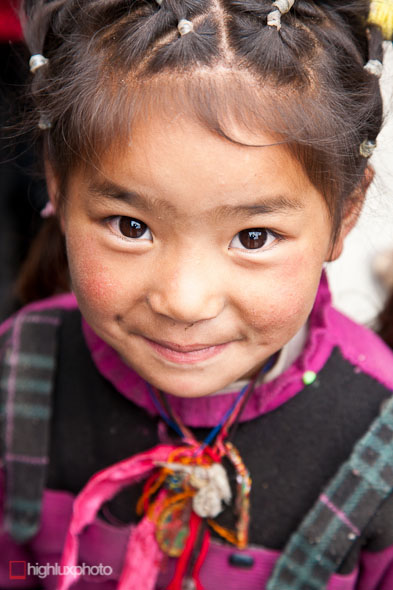 People generally welcome having their photo taken here. Not much shyness at all.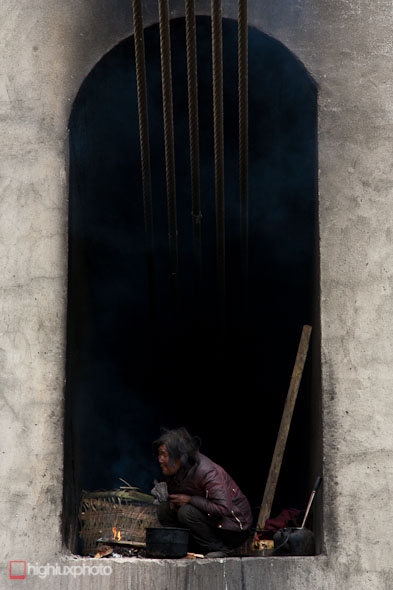 Homeless woman living in a bridge foundation.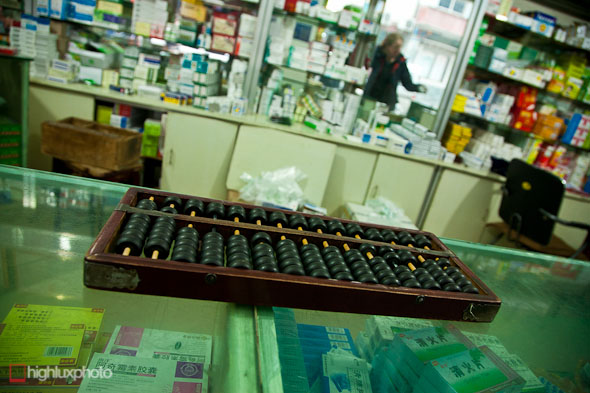 Abacus' are real common here – this one in a pharmacy.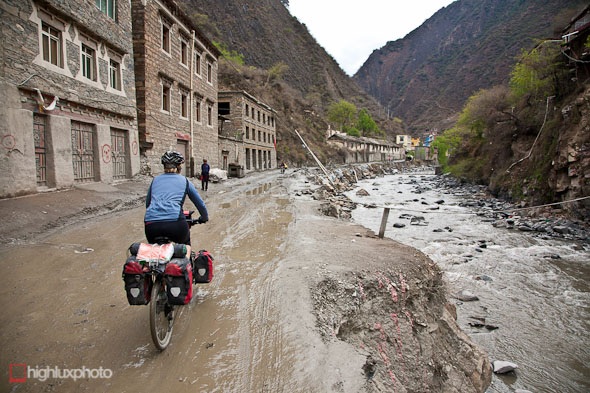 Escaping the grip of Yajiang was not easy. We'd beaten the giardia, but the PSB (police) provided the next challenge. At the town fringe checkpoint they waved us over, and with a routine with which we were now familiar, noted our passport details and asked as a few questions. In broken English the officer in charge then informed us that we could not proceed to Litang. The reason is heavy snow up high and too much danger for tourists. We offer our rebuttal that we're properly equipped and so on, so why not let us go on.
The officer calls another guy to the office who has a few more pips on his epaulets, this guy plays it a bit more hardball and simply says 'No, go home.' 'Foreign tourists are not welcome here, this area is too dangerous, besides the Government does not allow it'. We ask him why Alvaro and Alicia were allowed through then, along with a dozen or so Chinese cyclists we've seen. He then tells he refused 4 Canadians the day before and sent them back to Chengdu. An hour of discussion passes and neither side wishes to budge. Hana and I sit there resolutely, refusing to let our dreams slip away at the hands of a bored policeman.
Again we produce our letter of introduction (completely unofficial), and this seems to encourage discussion among the three police there. It seems one guy is determined not to let us past, one guy is rooting for us and the other is on the fence. We to and fro a bit longer, with the senior cop staunchy determined not to let us go and us just sitting in their office, persistenly pointing out the flaws in their reasoning.
Eventually a flurry of Chinese takes place, and one cop turns to us and says 'Go quietly, don't go into town, the Government does not want you here. We have not seen you.' It's an incredible relief, and with a thanks and a nod we pedal away up the muddy riverside out of town.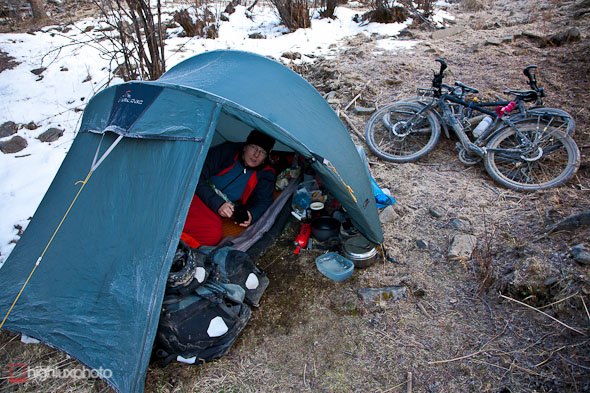 After about 1100m (24km) of climbing up the valley we camp at 4015m, just on the snowline. The first time we've camped in China so far. The mercury drops well below zero overnight and our water bottles freeze. It's the first test for our ridiculously light summer sleeping bags and we sleep the night with only half of our total clothing on in the bags – always good to keep something in reserve for a colder night!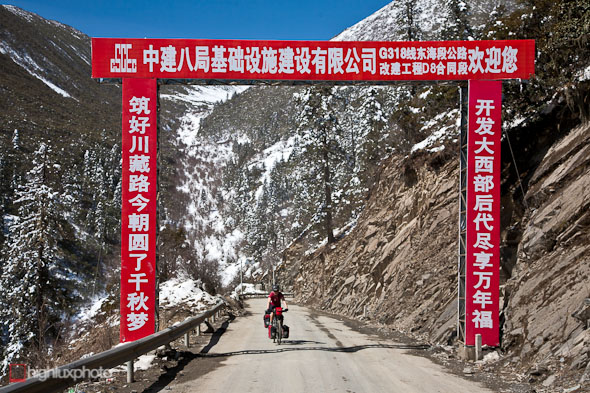 Hana passes under the flamme rouge on the second day out of Yajiang.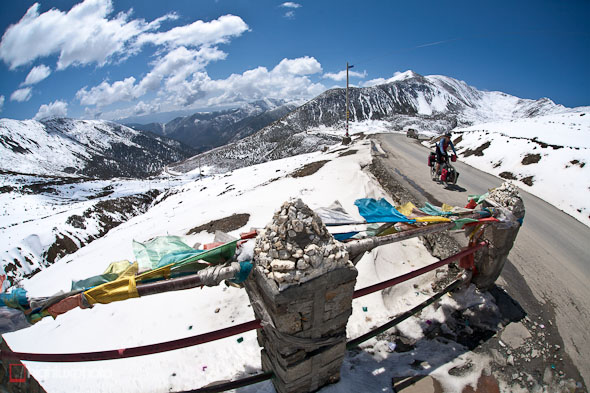 If there's going to be a Queen stage of the ride so far, today is it. From the camp we climb another 600m to 4659m, our highest pass yet. Ahead is a course profile to make the TDF look lame: a descent to 4260m and then two more passes at 4600m and the highest of the road at 4718m. We're feeling really good though; acclimatised properly and I'm over my bug.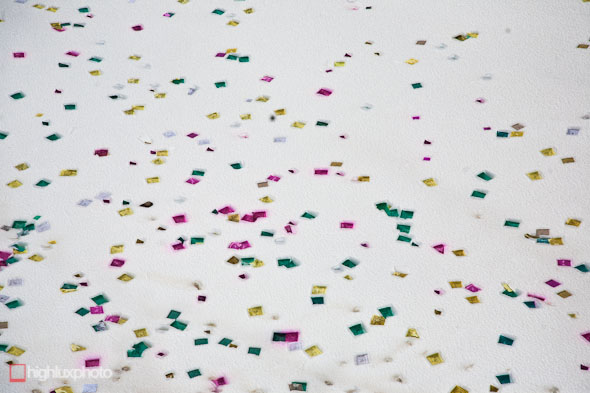 Prayers scattered in the snow at the 4659m pass.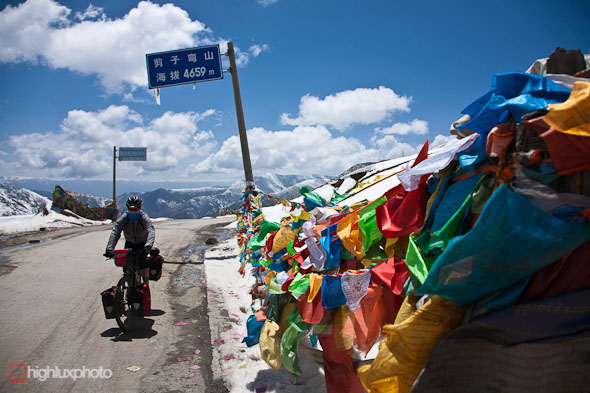 4659m pass. One down, two to go…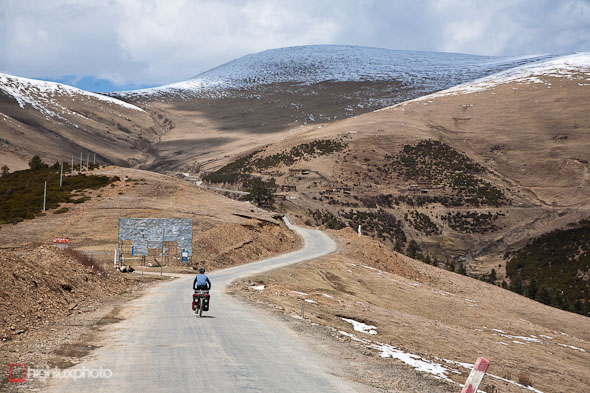 The road undulates a lot, passing remote settlements and then climbs towards the 4610m pass.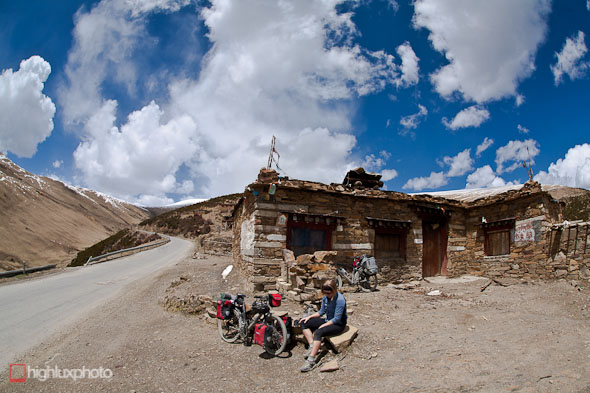 Resting at an abandoned Tibetan house on the 4610m climb.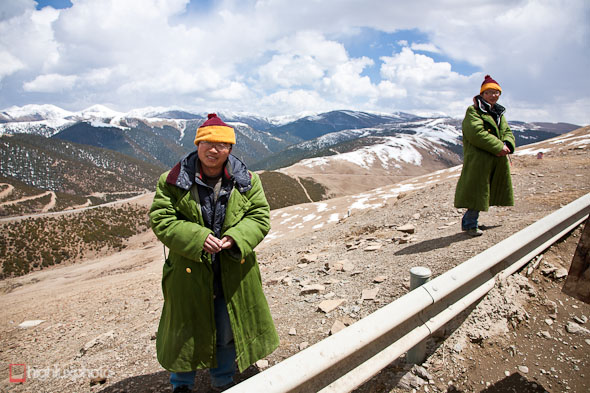 I think these guys were surveying the road for future improvements.

Nomadic Tibetans – this was a convoy of 6 tractor pulled trailers – laden with people and possessions.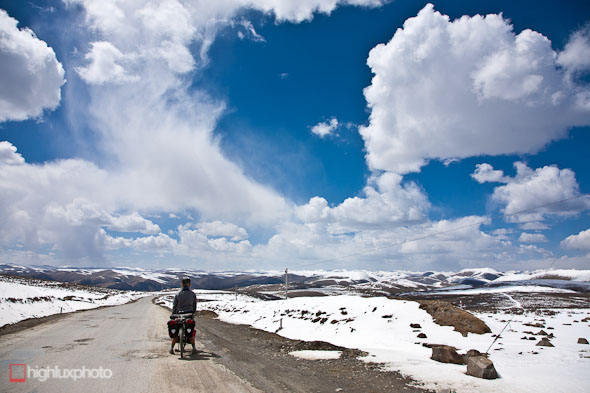 Wide open. Just after the pass at 4718m.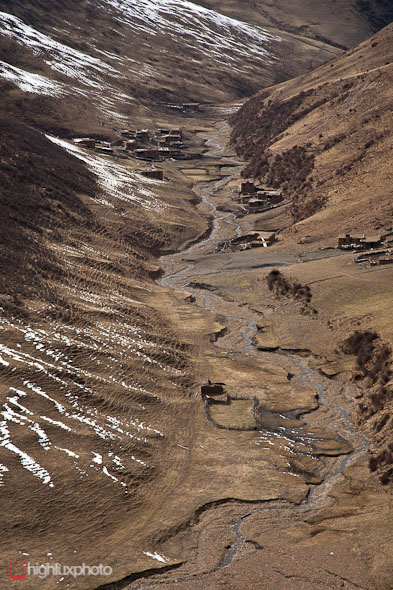 Tibetan village.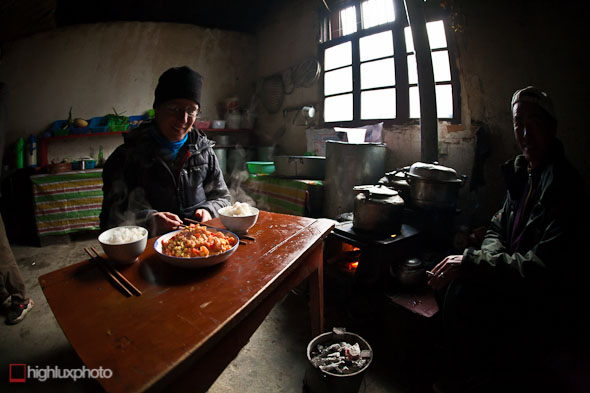 After the pass at 4718m we dropped down to 4380m and found a small village in the valley bottom (total of 73km). There was a small truckers/road workers hostel there and they took us in for the night. Stir fried tomato and egg never tasted so good!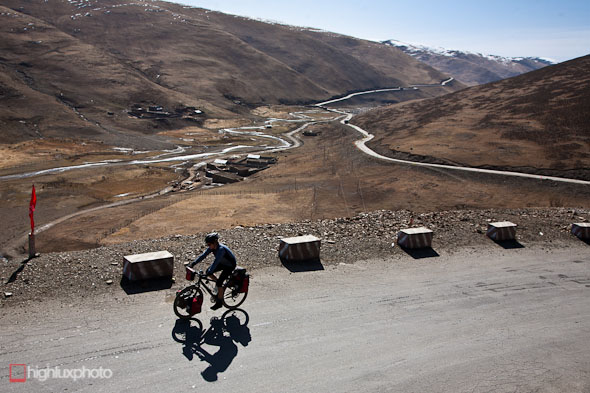 Next morning we're climbing again – straight out of the village to a pass at 4500m. It's an awesome sunny day again but our legs are feeling it a bit from the previous day.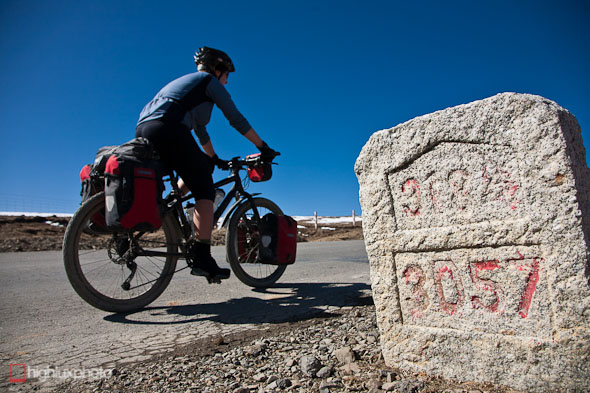 318 Milestone.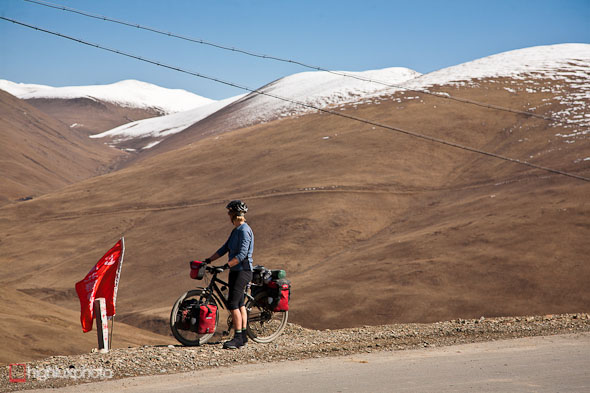 Rolling grassy hills reminiscent of Lindis Pass.

10km of riding takes us into Hong Long, a small Tibetan town.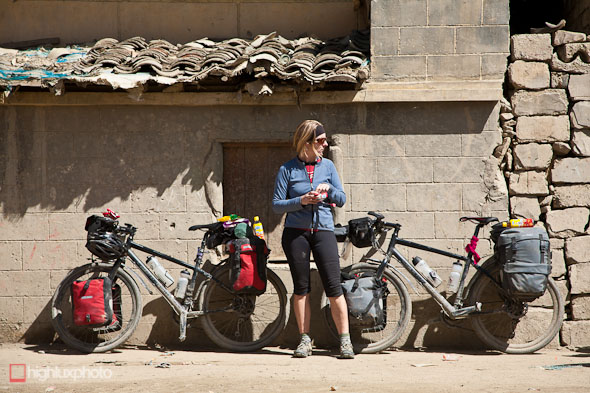 While we were in the shop buying some food for the day someone nicked my gloves (left sitting on the back of my bike). Real pain in the arse and quite suprising, but there was nothing we could do about it.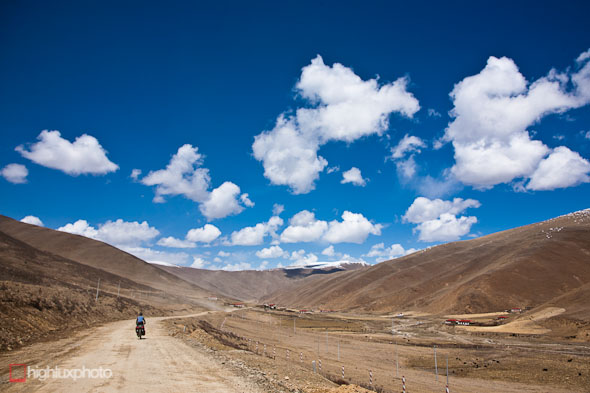 Nice riding …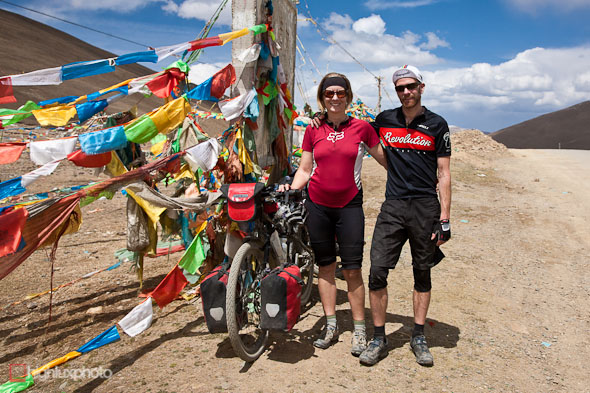 The final pass (4350m) before the long descent into Litang and the end of our ride west. Stoked to be there after 2 refusals from the police and some epic days in the saddle.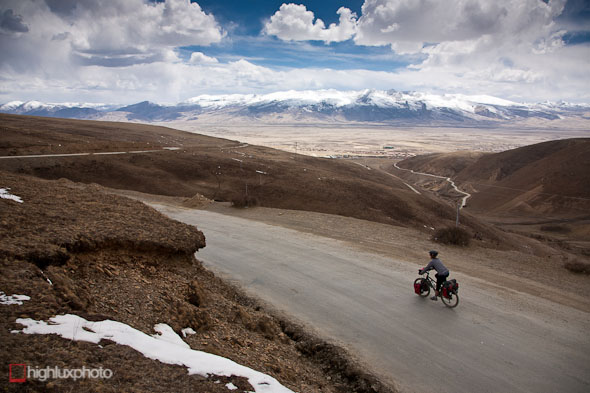 Dropping into Litang. It's the highest town of its size in the world apparently (51,0000 people at 4010m).
More photos from Litang soon … tomorrow we head south through more mountains towards Sandhui and on towards Shangri La. Thanks for reading.